Lawrence Berkeley National Laboratory
75th Anniversary Symposium and Gala Dinner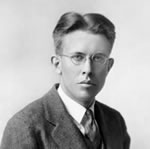 Ernest O. Lawrence
The year-long celebration of Berkeley Lab's 75 years of science and service will be capped on Tuesday, November 14 with an all-day scientific symposium and gala anniversary dinner that will feature Energy Secretary Samuel Bodman as keynote speaker.
The Symposium

The symposium will feature a series of 30-minute talks by some of the lab's most distinguished scientists. One of the symposium highlights will be a panel discussion by current Director Steve Chu and former Directors Andy Sessler and Charles Shank, all reflecting upon the past achievements and future challenges of the Laboratory. Other invited guest speakers include energy efficiency pioneer Art Rosenfeld, Nobelist Don Glaser, science historian John Heilbron, and Fermilab Director Pier Oddone. Seats will be limited and will be offered on a pre-registration basis. A full agenda is available here. A buffet lunch will be available for $15.

The Dinner

The gala dinner, which is by invitation-only due to space constraints, will be held at the Claremont Hotel following the symposium. Secretary Bodman and most of his federal DOE laboratory directors will be in attendance.

Accommodations
All meeting participants desiring accommodations should make their own arrangements. For the convenience of attendees, a block of rooms has been reserved at the Claremont Hotel, 41 Tunnel Road, Berkeley. To receive the special rate, please phone the hotel directly at 1-800 551-7266 to make reservations and mention you are a member of the Berkeley Lab Anniversary Group.

To Register
Please register online for the event you would like to attend: