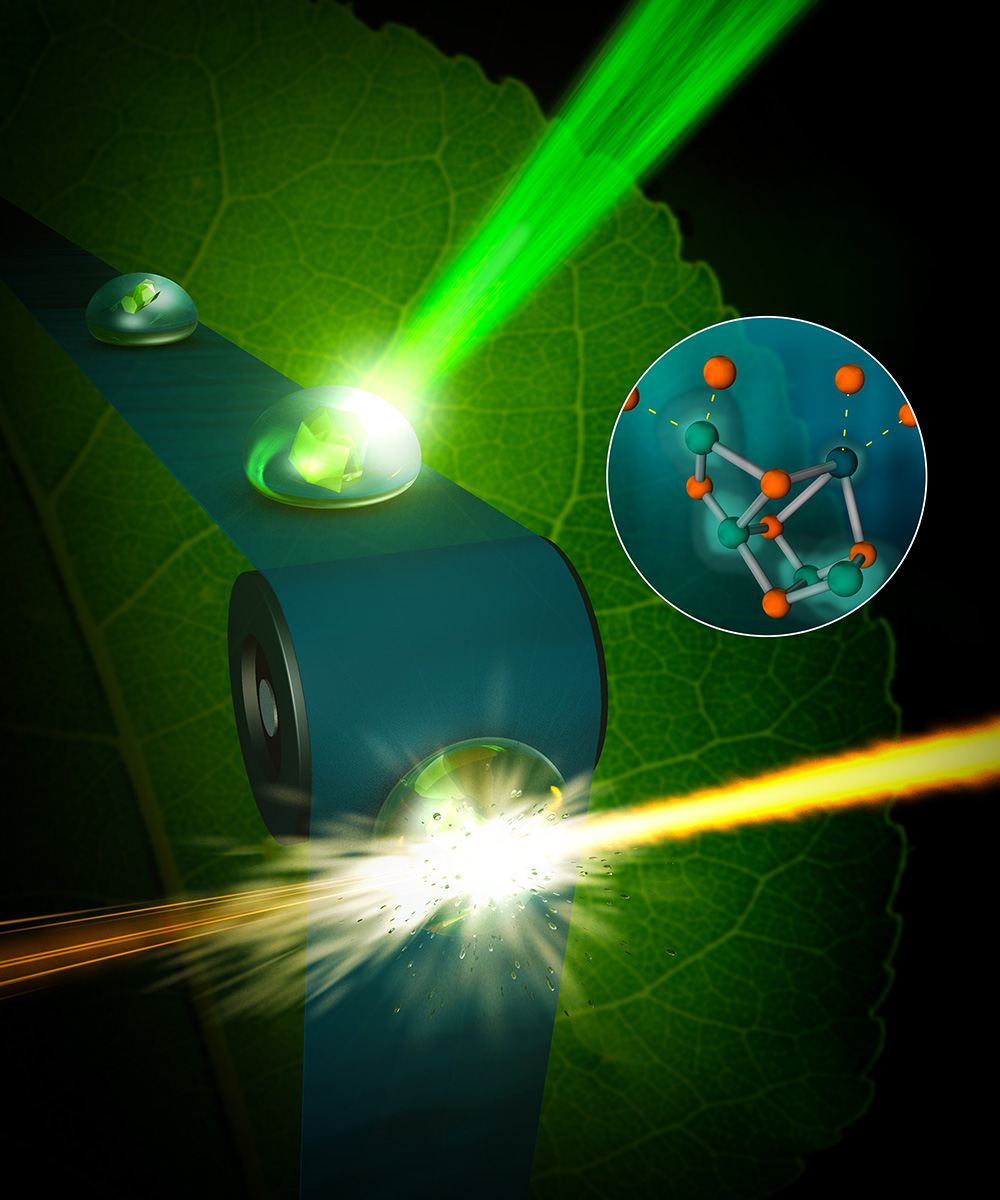 Schematic of Photosystem II crystals on a Droplet-on-Tape system being advanced through the S-states by visible-laser flashes, and then probed using the femtosecond pulses from an X-ray Free Electron Laser.
WELCOME TO THE
YANO/YACHANDRA GROUP
Most of the O2 in the atmosphere that supports life on earth is generated by plants, algae, and cyanobacteria via the photo-induced oxidation of water to dioxygen:
2H2O → O2 + 4e- + 4H+
This light-driven reaction is catalyzed by a manganese/calcium complex (Mn4CaO5), which sequentially stores four oxidizing equivalents used to oxidize two molecules of water to molecular oxygen.
In our group, we primarily apply X-ray spectroscopy and X-ray crystallography techniques using X-rays at X-ray Free Electron Laser (XFEL) and synchrotron sources, and electron paramagnetic resonance (EPR) spectroscopy to investigate molecular and electronic structure of the catalytic Mn4CaO5 cluster and the mechanism of water oxidation. The XFEL studies allow us to follow the catalytic reaction at room temperature in a time-resolved manner. We also study inorganic transition metal complexes involved in energy conversion and electro- and photo-chemically activated catalysts for water-oxidation and carbon dioxide reduction.
Related research interests are in the use of XFELs to investigate the structure and mechanism of metalloproteins, in a time-resolved manner at room temperature, using X-ray spectroscopy and crystallography, simultaneously.