INORGANIC SYSTEMS FOR ENERGY CONVERSION
The decades-long search for efficient, long-lived photo- and electrocatalysts for water oxidation, using earth-abundant and cost effective metals such as Mn, Fe, Co, Ni or others, has begun to produce important results. However, crucial breakthroughs are still required for the development of highly active, stable catalysts that promote rapid water splitting at a negligible overpotential. Significant improvements in catalyst performance have been hindered by a lack of structural and mechanistic understanding that will assist in the design of new catalytic structures.

Promising catalytic materials include first row transition metal complexes. Related systems of importance are heterodinuclear units that exhibit tunability of redox properties. XAS/EXAFS/XES are ideal methods to determine the electronic and geometric structure of such materials. We have gained experience in developing and using such methods in our work with the natural photosynthetic system and we have begun to specifically tailor the methods for the study of artificial systems..


Although, steady state X-ray K- and L-absorption and emission techniques have been an enormously important tool for understanding the mechanism of these catalysts, it is critically important to be able to follow the reactions, in real time and

in situ

, to understand the dynamics of the systems. We are using

in situ

X-ray spectroscopy to study water-oxidation/CO2 reduction catalysts that are initiated chemically, photochemically or electrochemically, to understand the fundamental processes by which the catalysts operate and the phenomena that limit their effectiveness, so one can improve the efficiencies. We also developed methods for detecting the emission spectra of two elements from dilute systems simultaneously (Figure on the right) using an energy-dispersive emission spectrometer that can collect the entire emission spectra. This detection method allows us to follow the sequential chemistry at two metal sites following ultrafast laser pump and X-ray excitation.

These proposed development of X-ray spectroscopy techniques for studying inorganic systems is in line with DOE interest in generating efficient catalysts for artificial photosynthetic systems.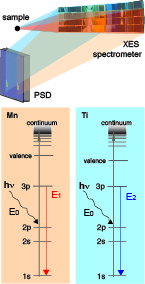 Simultaneous collection of the X-ray emission spectra from two transition metals.