The phone started ringing and hasn't stopped," says Michael Siminovitch, a scientist in Berkeley Lab's Environmental Energy Technologies Division. Siminovitch and fellow lab scientist Erik Page are the brains behind the Berkeley Lamp.
| | |
| --- | --- |
| | |
| | |
| | |
| The Berkeley Lamp uses two fluorescent bulbs to create both an upward and downward light, each independently controlled. | |
| | |
At full power, the two-lamp fluorescent system exceeds the combined luminous output of a 300-watt halogen lamp and a 150-watt incandescent lamp while using a quarter of the energy. More important, people like it.
That's no coincidence. For the past several years, Siminovitch has worked to package efficient lighting in an easy-to-use and good-looking lamp. That's because the most energy efficient light is useless if people don't like it. When testing prototypes, Siminovitch even relied more on what office workers said than on what his lab tests revealed. And what they said prompted him to rethink how America lights its offices.
First, overhead fluorescent lighting doesn't work well, at least for most people. Conventional overhead lighting is harsh and can cause glare on computer screens. Second, overhead lighting is either on or off. It can't be customized to suit different people and different tasks. One person might want diffuse upward light for general illumination, while another needs intense downward light to read a stack of reports.
"Older-style ceiling fixtures can't easily adapt to these demands because the way they're used hasn't changed in 50 years," says Siminovitch.
Overhead lighting isn't the only problem. The typical halogen torchiere lamp used in many home offices consumes hundreds of watts and burns up to 1,000 degrees Fahrenheit --so hot, they're banned in many dormitories.

Time for something new. The Berkeley Lamp sports two high-performance, compact fluorescent lamps, each fully dimmable and independently controlled. Separated by a reflector bowl, one lamp projects light downward to illuminate the desk, the other projects light upward to provide indirect, ambient lighting. The lamps can be used together or separately. A user can control both light intensity and distribution, making it applicable to many office tasks and environments.
The Berkeley Lamp also emits light uniformly, meaning no glaring, eye-fatiguing hotspots. And it looks good. Its sleek design and easy controls ensure that any desk can accommodate it and anyone can use it. These advantages give people the power to create their own lighting, instead of coping with whatever was installed in their office years ago.
"Energy efficient light is useless if people don't like it."
"Some of our success can be attributed to this push-pull dynamic: poor lighting everywhere and a good alternative," says Siminovitch.
Even so, Siminovitch remained modest at first, anticipating the lamp would be used mostly in homes and hotels. Then came the energy crisis, and those ubiquitous overhead office lights came under scrutiny. Although they consist of energy-efficient fluorescent bulbs, they're not used efficiently. A typical office space may have eight desks and eight people, but only one light switch. An early bird comes in at 6:00 am and turns on the lights, which burn continuously until the last person leaves at 10:00 pm. Even at noon, when everyone goes to lunch, the lights remain on.
Instead, why not turn off the overhead lights, place a Berkeley Lamp on each desk, and save energy--which is what officials did in the City of Berkeley's Public Works Engineering Office in the fall of 2001. They installed 18 lamps in a room filled with cubicles and cut lighting costs by 58 percent. And they expect the investment to pay for itself in three years. This approach works particularly well in offices with older lighting systems and in offices that are over-illuminated.
"It's better light and it saves energy," Siminovitch says. "If every person in California had one on their desk, it wouldn't erase the summer power problem, but it would help immensely."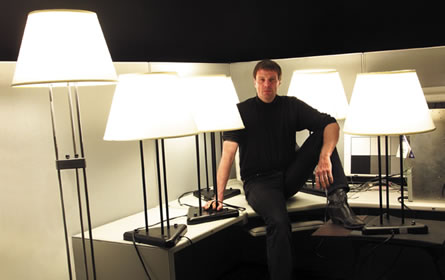 Michael Siminovitch, a scientist in the Lab's Environmental Energy Technologies Division, with the Berkeley Lamp. The two-lamp fluorescent system exceeds the combined luminous output of a 300-watt halogen lamp and a 150-watt incandescent lamp while using a quarter of the energy.
His optimism is spreading. Siminovitch recently returned from Hawaii, where he helped install 50 lamps at Hickam Air Force Base and several more at the mayor's office in Honolulu. Closer to home in San Francisco, the Fort Mason Center acquired 100 lamps. The Berkeley Lamp is also an inexpensive retrofit alternative. Instead of stripping old fixtures and rewiring a room, the National Park Service plans to achieve a 50 percent reduction in lighting costs in every office that installs the lamps and turns off overhead lights.
The Berkeley Lamp works best when it can share the lighting workload with other Berkeley Lamps--that means mid-sized rooms of between two and ten cubicles, an arrangement that accounts for a large percentage of offices in the U.S.
So far, about 6,000 lamps are in use throughout the U.S., and not only in offices. Several Sacramento area hotels are testing it, and physics Nobel Laureate Don Glaser uses two in his Berkeley home. It's manufactured and distributed by the Light Corporation of Grand Haven, Michigan.
Siminovitch is currently developing Berkeley Lamp II, a smarter version with a motion-sensing switch and controls that remember a person's preferred settings. But don't expect its look to change. Regardless of how high-tech it becomes, the Berkeley Lamp will remain an everyday lamp to be used like any other lamp.
"It's meant to be embraceable, not strange or futuristic," Siminovitch says. "It's just a basic table lamp that's not so basic."
-- Dan Krotz