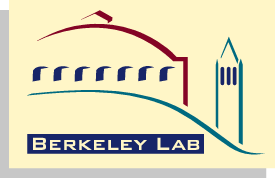 Berkeley Lab Currents
April 23, 1999

By Jeffrey Kahn
Next week, the Laboratory's Strategic Servers Team will release a package of new communication products that will improve the collective ability to find, send and receive information over the Internet. These products include:
Netscape Navigator 4.51, an upgraded web browser customized by the Lab.
Netscape Messenger 4.51, an e-mail software that is faster, has enhanced features, and will replace the current Netscape version.
Netscape Calendar 4.51, an upgrade which gives users a similar interface to that of Netscape Messenger.
A new web search engine that will make it easier to find information on the Lab's 300-plus servers.
"My LBNL," a customizable website featuring a selection of links and information from around the Laboratory that employees can choose from to create their own personalized intranet site.
These new communication products have been developed and customized for the Lab by the Strategic Servers Team's Zach Radding, who leads the Web Infrastructure Upgrade Project.

Says Mark Rosenberg, group leader of the Computing Infrastructure Technology Group, "Employees should use the Lab version of Netscape. We use a tool called `Mission Control' to push out upgrades and security fixes without having to go around to each and every office at the Lab and do this one computer at a time. The Lab version also includes the Lab's employee directory for use in the e-mail client."

On Monday morning, April 26, employees who use PCs will see a window pop open on their monitor advising them to download the new version of Netscape. Macintosh users can download Netscape beginning Wednesday, when they will receive a similar advisory on their desktops. Employees using Unix software will not have to download the new version of Netscape, since the browser resides on a central server rather than on users' computers.

As the new version of the Netscape products are downloaded, existing bookmarks, personal e-mail address books and preferences settings will be preserved.

Damon Hougland, who heads the Strategic Servers Team, said the new Netscape software features an extensive set of new features, which are described in an online help file at Netscape/IMAP4 messaging.

The new Messenger e-mail client has several significant enhancements. To start with, it's faster than the previous version. This is particularly true for e-mail with large attachments.

Messenger now makes it possible for employees to receive a return receipt from other Lab Messenger 4.51 users, advising the sender when the recipient has actually opened their mail. This feature must be turned on through the preferences settings.

The program also allows users to address new e-mail without hunting for addresses in a separate address books. Users can set up the preferences such that as they fill in the address field, both their own personal address book and the Lab directory will be searched simultaneously.

Messenger will be displayed in a three-pane user interface, and messages can be filed by drag-and-drop editing.

The new version of Netscape Calendar has been simplified, with the icons on the toolbar limited to the most frequently used tasks. Also, a new "options" feature has been included (accessible through one of the dropdown menus) that allows individuals to customize their settings.

By Ron Kolb
While a ceremony honoring the opening of the new Joint Genome Institute's Production Sequencing Facility was going on outside the Walnut Creek building on Monday, dozens of JGI employees inside were diligently running the machines that will help decipher the human genetic code. Their only concession to the special occasion: the new T-shirts they wore with the motto "Life ... what it's all about."
That uninterrupted commitment to the task at hand is indicative of the stress being placed on this and a handful of other similar sequencing facilities in the United States: to achieve a "working draft" of the human genome by next March, and a completed genome by 2003. As a result, sequencers run 24 hours a day.
In tribute to this monumental effort -- considered by some to be biology's version of the race to the moon -- Energy Secretary Bill Richardson and about 250 others, including local officials and national laboratory representatives, dedicated the new building under summer-like skies. Richardson himself expressed wide-eyed enthusiasm for what he saw.
"While the ultimate task of sequencing the three billion units of the human genome is daunting," he told the audience, "I think the Department of Energy national laboratories have developed some extraordinary tools to get us there. These advanced tools will arm researchers with the gene-finding and DNA analysis tools necessary to unravel and understand the human genetic code and the countless human diseases with genetic roots."
The JGI, established in 1996, is a consortium of scientists, engineers and support staff from the Department of Energy's Lawrence Berkeley, Lawrence Livermore and Los Alamos national labs. It has assumed a major role in the quest to determine the three billion paired "letters" that comprise the human genome. This global effort, the largest biological undertaking in history, promises untold opportunities to understand the basic molecular underpinnings of life and to improve human health.
The new JGI building is the first of what will be a two-building production sequencing facility. The complex will ultimately provide 56,600 square feet of laboratory and office space, eventually to be occupied by 200 researchers working in three shifts around the clock.
Richardson also spent a moment commending "the scientists who have dedicated themselves to this historic project. You are the cartographers of the modern day, mapping uncharted terrain, and making easier the life journey for generations to follow." He noted that the DOE has been in this business since 1986, when it started the Human Genome Program, and he called the dedication of the sequencing center "a major milestone in navigating this maze."
Added Richardson, "Looking back across these 13 years, I am astonished by the progress made and the impacts brought about by genetic research."
Elbert Branscomb, director of the JGI, said, "We are now finally ready to finish the task at warp speed. We will soon be turning out several hundred million letters of genetic text a year" as part of the international consortium effort.
The project, Branscomb added, "will quickly yield a revolutionizing scientific treasure of incalculable value: full sets of genetic instructions that specify how the bodies of creatures like ourselves are built and operated -- how life actually works."
To explore the genetic landscape, researchers construct "maps" by locating particular biological landmarks along the linear topography of the human chromosomes. These low-resolution maps locate features to within relatively large stretches of DNA, from thousands to millions of individual letters long. To reveal the precise information-carrying details contained in DNA, the methodical process of sequencing is employed, which reads the identity and exact order, or sequence, of the four letters (A, T, C, and G) that make up the alphabet of the DNA code.
All the sequence information generated by the JGI is released to public view daily, so the rest of the scientific community has free and immediate access to it.
Fueled by this burgeoning data resource, the benefits of the genome project are already coming to light. Of the 23 pairs of human chromosomes, the JGI's sequencing enterprise targets chromosomes 5, 16 and 19 -- regions of the human genetic library in which many new genes have already been uncovered, including several already known to be involved in human diseases such as diabetes, cardiovascular disease, asthma, schizophrenia, and various forms of cancer.
Martha Krebs, director of DOE's Office of Science and architect of the three-lab collaboration that became the JGI three years ago, emphasized the value of partnerships to the success of the program. "Labs are notorious for their competitive approach to things and to each other," she said. "Partnerships are not easy in this environment."
But she cited four individuals who were instrumental in "bringing everybody together" and, as indicated on engraved awards, "for inspired leadership that helped make the Department of Energy's Joint Genome Institute a reality." They are Berkeley Lab Deputy Director Pier Oddone and Livermore Deputy Director Jeff Wadsworth, both of whom attended the ceremony, as well as Pete Miller of Los Alamos and Richard Gibbs of JGI's External Advisory Committee.
In accepting his award, Oddone quipped, "It's wonderful to be recognized for committing `unnatural acts,' like collaborations at the laboratories." But he especially thanked individuals whom he called "unsung heroes," who deserved much of the credit, "and who in many cases have done it despite us." Among them are former Berkeley Lab group leaders Chris Martin and Bill Kimmerley, current factory manager Jan Stultz, head for engineering instrumentation Martin Pollard, and PSF engineers Dick DiGennaro and Kirk Haley.
Photo: Energy Secretary Bill Richardson was among the dignitaries who addressed the large crowd at the dedication of JGI's Production Sequencing Facility. Photo by Roy Kaltschmidt

By Lynn Yarris
A highly sensitive experiment now underway to find the axion, a mysterious species of subatomic particle which - if it exists - may explain the existence of dark matter in the universe, will be even more sensitive in the next generation of the experiment. The development of a radio frequency amplifier based on a new type of high-gain, ultra-low noise Superconducting QUantum Interference Device (SQUID) should make it possible for the first time ever to detect even the most elusive axions.
The new amplifier uses a direct current SQUID made from superconducting niobium and configured so that its input coil is used as a microstrip resonator. With this unique configuration, the input signal is coupled between one end of the input coil and the SQUID loop, which acts as a groundplane for the microstrip resonator.
The result is a radio frequency amplifier operating at frequencies approaching 1.0 gigahertz -- the highest at which a SQUID amplifier has ever been successfully operated.
This amplifier was developed by the research group of John Clarke, a physicist who holds a joint appointment with Berkeley Lab's Materials Sciences Division and UC Berkeley's Physics Department. Key contributions were made by group members Marc-Olivier André and Michael Mück.
One of the first applications of the new amplifier will be to enhance what is already the most sensitive search for axions in science.
An axion is a hypothetical elementary particle that has been proposed to explain the absence of an electrical dipole moment for the neutron. If it exists, an axion would have neither electric charge nor spin and a mass that might be a trillion times less than that of an electron.
Despite its slight presence, the axion is widely considered to be an excellent candidate for explaining the nature of dark matter in the universe. Even in light of recent findings about the cosmological constant, there still seems to be an enormous amount of matter in the universe that cannot be seen but which makes its massive gravitational presence known through the motions of the galaxies.
Axions could help explain dark matter through sheer numbers; an estimated 100 trillion of them are packed into every cubic centimeter of space in our own galaxy. But first, scientists have to prove they exist.
An ongoing experiment to detect axions began in 1995 at the Lawrence Livermore National Laboratory, led by physicists Karl van Bibber of LLNL and Les Rosenberg of the Massachusetts Institute of Technology. In addition to scientists from Livermore and MIT, the experiment also involves Clarke and his group at Berkeley Lab/UC Berkeley, as well as scientists from the University of Florida, the University of Chicago, and the Fermi National Accelerator Laboratory.
In this experiment, the static magnetic field of a powerful (8 Tesla), 12-ton superconducting electromagnet is used to stimulate axions to decay into microwave photons via the "Primakoff effect." An excess of microwave photons above thermal and electronic noise signals the decay of an axion. This signal is extremely faint, however, and must be amplified in order to be detected.
With the addition to the experiment of the Clarke group's radio frequency amplifier and its niobium SQUID, signals of the decay of dark-matter axions should get a much needed boost.
Clarke and his group report they have obtained resonant frequencies of 200 MHz to 720MHz and gains of about 20 decibels.
What this would mean to the axion search, according to van Bibber and Rosenberg, is that for the first time the experiment should be able to reach weakly-coupled axions at fractional halo density. These axions are considered to be the most promising of the axion-based dark-matter models.
Photo: Michael Mück (left) and Marc-Olivier André are working with MSD physicist John Clarke (not shown) to develop a SQUID-based amplifier of microwave signals that will aid the search for "dark matter" axions.

By Lynn Yarris
Spallation Neutron Source (SNS) project leadership and the DOE have strongly rebounded from an unfavorable report to Congress by House Science Committee Chairman James Sensenbrenner, Jr. (R-Wis). First, newly appointed project director David Moncton unveiled a management action plan for designing and constructing the $1.36 billion facility on time and on schedule. Then DOE issued the final Environmental Impact Statement for SNS. Both are big steps in response to the earlier criticism.
The SNS, which will be the world's most powerful research facility for neutron-scattering science, is a collaborative effort between Oak Ridge National Laboratory (ORNL), where it will be located, Berkeley Lab, and the national labs at Argonne, Brookhaven, and Los Alamos. In February DOE brought in Moncton to lead the project based on his success in overseeing the construction of Argonne's $1 billion Advanced Photon Source.
"I am pleased with Dr. Moncton's commitment to complete the SNS as a world class research center, on time and within budget," said DOE Secretary Bill Richardson. "Dr. Moncton has a demonstrated track record in managing large scientific construction projects. He has energized the project team and they have a well thought-out and realistic plan."
In Moncton's own assessment of the SNS project to date, he said that qualified people and adequate management systems are in place throughout the partner laboratories to support current research and development activities. However, additional key positions must be filled.
He also praised the present accelerator concept, but felt the technical design needs to be optimized and fully integrated. He further said that business and project management systems to support construction activities need to be strengthened.
Based on this assessment, Moncton and his team developed a management action plan that will be implemented over the next six months.
"By completing this action plan we will ensure that the SNS can be constructed safely and within budget by 2005," said Moncton. "Construction of a leading-edge neutron research facility has become a national priority."
In a direct response to the criticisms of Congressman Sensenbrenner, who recommended that construction funds be delayed in FY 2000, Moncton had this to say to the SNS staff:
"I want to assure each of you that everyone I meet appreciates the scientific merit of the SNS project, including Congressman Sensenbrenner. Ultimately the project's fate will rest jointly on its intrinsic merit and the quality of its implementation by all of us on the SNS project team."
Completing the Environmental Impact Statement (EIS) was a critical requirement for proceeding with SNS construction. Said Secretary Richardson, "We have done this study to be sure that as we conduct science for the nation we also protect the environment."
The SNS is scheduled to be completed in late 2005, at which time it will provide the U.S. scientific community with a neutron source of far greater intensity and power, backed by more instrumentation than any existing facility. It is expected to serve as many as 2,000 scientists annually from universities, private industry and federal laboratories.
The final EIS released by DOE analyzes the potential environmental impacts from the proposed action (to build and operate the SNS) and the no-action alternative of not building the SNS. In addition to ORNL, Argonne, Brookhaven and Los Alamos were also evaluated as possible sites. A final Record of Decision will be issued in late May.
The EIS for the SNS can be viewed at the DOE NEPA website at http://tis. eh.doe.gov/nepa/.

Angus Ellis Taylor, a former University of California provost, chancellor of the Santa Cruz campus, and chairman of the university-wide Academic Council during the Free Speech Movement of the 1960s, died of cancer on April 6. He was 87.

"Few individuals have served UC so long, so variously or so well," said UC President Richard C. Atkinson.

Taylor started his 61-year association with UC in 1938, when he was hired as an instructor of mathematics at UCLA. By 1964 he was elected Academic Council chairman of the statewide Academic Senate and served during one of the most turbulent years in the university's history: the Free Speech Movement of 1964-1965, which culminated in a showdown between the Board of Regents and the Academic Senate.

Former UC President Clark Kerr credited Taylor with constructing much of the compromise that resolved the impasse. "Angus, with his good judgment and calm manner, along with a small number of others, literally saved the university from a possible conflagration at the Board of Regents' meeting," Kerr once wrote. "This made him, in my eyes, one of the giants in the history of the Academic Senate."

In 1975 Taylor was named university provost, the system's highest academic officer, and in 1976 he was appointed chancellor of UC Santa Cruz, where he remained until his retirement in 1977.

He lived in Kensington, California, and in retirement maintained an active association with UCSC. At the time of his death, he was completing a manuscript about the University of California during the Free Speech Movement.

Taylor is survived by sons Gordon and Kenneth, daughter Kathleen "Kitty" Okamoto, and six grandchildren.

Donations in his name may be made to the UC Santa Cruz Foundation (74 River St., First Floor, Santa Cruz, CA 95060-4593) and designated for the Angus and Patsy Taylor Fund, an endowment that supports the academic activities of Cowell College. -- Monica Friedlander

In the April 16 issue of the journal Science, former editor Daniel Koshland Jr. wrote a moving tribute to Glenn Seaborg, the Nobel laureate chemist and long-time associate director-at-large of Berkeley Lab, who died in February.

"Glenn Seaborg had a career that few will emulate in any millennium," Koshland said. "He lived the life of a legend, exemplifying the use of heart and mind for great benefits to humankind."

Koshland credits Seaborg's "great genius for organization," and his ability to "always keep his eye on the goal" as keys to his enormous success.

The Department of Energy has released a 200-page "working draft" detailing the emerging science and technology of carbon sequestration -- the capture and secure storage of carbon dioxide emitted from the combustion of fossil fuels. The goal: to reduce greenhouse gases in the earth's atmosphere.

"We are starting with a bold vision of what might be possible by 2025 -- a safe, predictable and affordable way to prevent carbon dioxide from building up in the atmosphere," said Energy Secretary Bill Richardson. "These research paths could provide new options for the world to respond to climate change concerns."

The new DOE report identifies key research needs in several aspects of carbon sequestration, including technologies for separating and capturing carbon dioxide from energy systems and sequestering it in oceans, geologic formations, and terrestrial ecosystems, such as forests, vegetation, soils, and crops.

It also describes advanced options for chemically or biologically transforming carbon dioxide emissions into environmentally safe, potentially marketable products. The draft report can be viewed on-line at http://www.fe.doe.gov/sequestration.
--Lynn Yarris

Darleane C. Hoffman, head of the Heavy Element Nuclear and Radiochemistry Group in the Nuclear Science Division, has been named the recipient of the 2000 Priestley Medal, the highest honor conferred by the American Chemical Society. She is only the second woman to be recognized with this award.

In an interview with Chemical and Engineering News, Hoffman reacted with surprise. "It is especially meaningful to me," she says, "because these days few nuclear scientists receive this type of broad-based recognition." She also added that it is "important that women have the opportunity to earn these awards," and hopes this recognition will encourage other women to pursue science.

Hoffman, also a professor of chemistry at UC Berkeley, was selected last month by the ACS Board of Directors for her life-long work in nuclear and radiochemistry. She is an internationally recognized expert in the chemistry of transuranic elements. Her many accomplishments include the discovery of plutonium-244 in nature and playing a key role in confirming the existence of seaborgium, element 106.

A native of Iowa, Hoffman began her career at Oak Ridge National Lab in 1952. She later worked in the radiochemistry group at Los Alamos, where she established herself as an authority on spontaneous fission, before joining Berkeley Lab and UC Berkeley in 1984.

A long-time collaborator and friend of Glenn Seaborg, in 1991 she became the first director of the Glenn T. Seaborg Institute for Transactinium Science at Lawrence Livermore National Laboratory.

Hoffman is a recipient of the National Medal of Science (1997) and the Garvan Medal (1990).

She will be awarded the Priestley Medal on March 28, 2000 in San Francisco. Former recipients of this honor include Linus Pauling, Glenn Seaborg, and more recently Ronald Breslow and Albert Cotton.

Architecture magazine has honored a team of Berkeley Lab scientists from the Environmental Energy Technologies Division with the 1999 Award for Architectural Research. The scientists were recognized for a program called "Daylighting with Integrated Envelope and Lighting Systems."

Led by Stephen Selkowitz, head of EETD's Building Technologies Department, and Eleanor Lee, the multi-year program demonstrated how to integrate existing and prototypical window and lighting technologies into an advanced system that can attain greater energy efficiency and occupant comfort than conventional design practice.

Simulations, field tests and full-scale demonstrations were used to solve interdisciplinary technological problems. The team also included Dennis DiBartolomeo, Francis Rubinstein, Liliana Beltrán, Joseph Klems, Robert Sullivan, Edward Vine, and Robert Clear.

The award, co-sponsored by Architecture magazine and the Initiative for Architectural Research, is one of the profession's most significant awards, recognizing innovative research in the field of architecture.

Berkeley Lab's research is featured in the April issue of Architecture magazine.

Selkowitz accepted the award at an April 13 ceremony in New York City's Paula Cooper Gallery.

The research's primary funding comes from the California Institute for Energy Efficiency. Additional support is provided by the U.S. Department of Energy, Pacific Gas & Electric, and the General Services Agency.

More information is available at http://windows. lbl.gov/comm_perf/ daylight/.

Four Berkeley Lab employees received Pollution Prevention Awards yesterday from the Department of Energy's Oakland Site Office. The recipients are:
Don Fike of the Lab's Photography and Digital Imaging Services, for eliminating photographic and print shop waste at the Lab through digital conversion;
Dick Johnson of Technical Services, for eliminating ozone-depleting substance emissions and reducing Engineering Shop waste;
Ken Woolfe of Engineering, for his efforts on the Green Team and for educating the Lab community about environmental issues; and
Shelley Worsham of Environment, Health & Safety, for her "endless enthusiasm" in motivating individuals at the Laboratory to prevent waste.
The presentations, held at the Oakland City Hall Plaza, were part of the Environmental Expo `99. A representative of DOE Oakland operations office presented the awards. Oakland Mayor Jerry Brown followed with a press conference announcing Oakland's Earth Month activities.
-- Monica Friedlander

A new Lab-industry partnership program directed at developing a new energy efficient lighting control system for office environments was recently established between the Lab's Environmental Energy Technologies Division and a Santa Clara-based company, The Watt Stopper, Inc. The new system involves a computer based, desktop control system that will allow PC users to easily control their interior lighting. It was developed by researchers Michael Siminovitch and Erik Page of EETD's Lighting Systems Group.

The Lab's Technologies Transfer Department and the Sponsored Projects Office helped hammer out the cooperative research and development agreement (CRADA), which is cosponsored by DOE's Laboratory Technology Research program.

Watt Stopper is a major U.S. manufacturer of lighting control systems. Researchers are expecting to complete the first prototype for testing by next spring.

On Monday, ATMI, Inc. announced a partnership with Berkeley Lab, securing rights to Berkeley's Feustel air dam technology, which is applied to semiconductor manufacturing. The agreement was signed at a Lab-sponsored workshop on energy-efficient clean rooms. ATMI plans to introduce the air dam technology into semiconductor processes. When first applied to energy efficient fume hoods, the Feustel technology reduced air volumes by up to 75 percent.

"Our objective is to reduce process tool exhaust and cut annual operating costs," said Karl Olander, ATMI's executive vice president. "ATMI's research and development agenda aims to integrate the air dam technology into existing state-of-the-art equipment, optimize design with fluid dynamic models, and build and test full scale working prototypes."

Dale Sartor of the Energy Technologies Division said, "We are very excited about this partnership with ATMI. It will bring the Feustel technology to the microelectronics industry."

The air dam design was first applied to an energy-efficient fume hood by Helmut Feustel of EETD. Initial work was supported by the Department of Energy's Office of Building Technologies and the California Institute for Energy Efficiency.

The containment concept introduces displacement airflow at the process opening, creating an air dam between the operator and the hood contents. The air dam approach differs from an air curtain in that the airflow is low velocity, supplied from top and bottom, and is non-turbulent.

The concept is simple, protects the operator, and reduces the quantity of make-up air required in the clean room.
-- Bruce Davies

Photo: ATMI representative Mark Holst shakes hands with Dale Sartor, head of EETD's Applications Team. Also shown are Technology Transfer's Seth Rosen (far left) and Bruce Davies, who helped form the partnership.

On Monday the Lab will unveil a new web search engine for finding online information at the Lab. Ultraseek, accessible from either http://search.lbl.gov will allow labwide searching, as well as the ability to search NERSC, ESnet, or the Joint Genome Institute websites individually. In the near future, this tool will allow users to selectively search many other individual websites and servers here.

Until now the Lab has relied on commercial search engines with databases that include millions of web files from around the world and do not carry comprehensive, up-to-date listings of what is online at the Lab.

Ultraseek will search exclusively through a Lab database of files that is updated constantly. The latest information should be available more quickly since it does not have to travel between the Lab and a commercial remote website used by millions.

The Berkeley Lab Web Publishers Group first identified the need for new search tools last year. NERSC webmaster Jed Donnelley, a member of the group, assessed several alternative search products. Following that, the Strategic Servers Team led by Damon Hougland secured funding and made an additional assessment of available search products. All parties agreed that Ultraseek was the best on the market.

Says Zach Radding, project leader of the Web Infrastructure Upgrade Project, "The new web search engine will provide a simple interface to the vast amount of information offered at the Lab."

Adds Public Information Department web editor Jeffery Kahn, "There's a great advantage in the advanced features of the new search engine -- specifying whether you are searching by a phrase or multiple keywords and limiting your search by dates. Ultraseek represents a significant enhancement to communication at the Lab."

A customizable website will debut on Monday, featuring a selection of Lab links and information that employees can use to create their own personalized intranet site.

"My LBNL" (http://my.lbl.gov) is a collaboration between the Strategic Server Team and the Public Information Department. Zach Radding, project leader for the Web Infrastructure Upgrade Project, developed and implemented it. PID's Jeffery Kahn, who heads the Berkeley Lab Web Publishers Group, helped provide a selection of content.

Employees can fully customize the content and layout of their site by selecting from a checklist of links and existing online information. These personal settings are automatically saved. Employees can log in from outside the Laboratory and be able to see their personalized site.

To customize My LBNL, employees log onto http://my.lbl.gov using their Lab login name and password. Content selections currently include Lab and Internet search engines, Lab phone book, encyclopedia and dictionary, administrative databases, computing links, weather, floor plans, maps, organization charts, and community and educational links. Also available are publications such as Currents, various groups and departments, the calendar of events, cafeteria menu, the Library, and online forms, policies and manuals.

Said Radding, "The web is quickly becoming a major tool that can increase our productivity at the Lab. Our goal was to provide a unified interface to simplify web access."

In terms of content, the "My LBNL" site is a work in progress. Representatives of a number of Laboratory departments have participated and their departments now own and maintain the sites that are included.

The preliminary choice of content was based on feedback from website owners throughout the Lab and an analysis of current website usage here. Kahn said he hopes to receive further feedback from employees on what to include in the future.

By Paul Preuss
"The things that have to happen in the next ten years for the Engineering Division to maintain its core competencies in the face of budget and funding changes, even while key personnel reach retirement age, represent a real challenge," says Jim Triplett, who assumed his duties as head of the division on April 19. But, he says, "that's why I'm here. I'm looking for a challenge."
Previously Triplett worked for Raychem Corporation, earning several patents in telecommunications. For a decade he was chief technical manager of Raychem's wholly owned spinoff, Raynet Corporation, which he co-founded to develop fiber-to-home broadband networks for companies in Europe and the U.S. Returning to Raychem, he became Director of Corporate Product Design and instituted educational programs to teach Raychem employees the most up-to-date engineering technologies, such as stereo lithography.
In announcing Triplett's appointment, Klaus Berkner, the Lab's deputy director for operations, said, "I have been impressed with Jim's demonstrated ability to assemble, motivate, and lead multidisciplinary engineering teams and his penchant for seeking out and incorporating modern design and fabrication methods."
Triplett's interest in engineering began when he was majoring in mathematics at San Jose State University, while putting himself through school as a machinist; he got additional experience with NASA in experimental materials fabrication. In 1967, he served as a Huey crewchief with the 119th Assault Helicopter Company in Vietnam.
Early in his career Triplett joined the ALZA Corporation, where he enjoyed working with medical doctors and scientists in a team approach to manufacturing drug delivery systems. "Diverse teams of people with different kinds of expertise working toward a common goal -- it's an excellent way to solve problems," he says, "and one of the features of Berkeley Lab that makes this an exciting place to be."
Among the challenges Triplett faces is "finding the best way to be supportive of the whole Lab in the modern era. Engineering is expensive, and sometimes it's easier to support big projects. Yet we also need to be able to deliver unique engineering solutions for the biological and environmental sciences and other sciences that may work on a smaller scale. What's the best way to give valuable service while maintaining our historical reputation for world-class engineering?"
Triplett is confident he's got a fair grasp of the big picture at the Lab. "I understand what has to be done, and it'll be tough," he said after just two days on the job, adding, "It will be a while before I find out who's doing what in all these little rooms."
Photo: Jim Triplett, new head of the Lab's Engineering Division. Photo by Roy Kaltschmidt

The Lab's Office of Work Force Diversity has developed an annual Multicultural Resource Guide which includes a calendar that identifies a number of landmarks and celebrations associated with various cultures, nationalities and ethnicities. The calendar can be accessed on the web at http://www.lbl.gov/Workplace/WFDO/MRG.

"This is part of our effort to communicate across cultures in a way that fosters understanding and respect," says Harry Reed, head of the Office of Work Force Diversity. "Berkeley Lab is dedicated to seeking, valuing and integrating diversity into its research culture. Many of our staff are already involved in the community. This is a formal way to utilize our resources and institutional activities in a way that resonates with people here."

The guide, Reed says, seeks to familiarize the Lab community with the customs, beliefs and contributions of people from diverse cultures and traditions. The calendar recognizes some of the main cultural celebrations by marking them and organizing related activities. These include:
February: Black History Month
March: International Women's History Month
May: Asian Pacific American Heritage History Month
September: National Hispanic Heritage Month
October: Lesbian, Gay and Bisexual Month
November: National American Indian Heritage Month
Kathie Hardy and Linda Smith, co-chairs of the Diversity Committee, are especially impressed with the Resource Guide.

"The guide is especially informative about holidays and celebrations that are special to many people at the Laboratory," Hardy said. Added Smith, "It can help us all learn more about what we each hold significant throughout the year."

Reed adds that developing cultural activities also enhances the Lab's educational outreach efforts. "Berkeley Lab has a long history of getting kids involved with science and math activities."

Activities recognizing the cultural landmarks listed above will be organized throughout the year. The Office of Work Force Diversity will invite students and faculty of local schools to participate. Says Reed, "This provides another approach for reaching out and bringing that community to the Lab."

Suggestions and assistance are being sought from Lab employees and organizations. To contact the Work Force Diversity Office call X4130 or look up its website at http://www.lbl.gov/Workplace/WFDO/.

American Red Cross and Berkeley Lab are partnering again for an onsite blood drive to be held on Thursday, May 6, from 7 a.m. to 2 p.m. in the Bldg. 70A conference room. You can play a vital role in helping hospitals in the Alameda and Contra Costa Counties maintain an adequate supply of blood by participating in this effort.

Donors must be at least 17 years old, in good health, and weigh at least 110 pounds.

For more information, call Helene Carpenter at X4009.

Berkeley Lab's Postdoctoral Society will hold a workshop on teaching skills ("The Transition from Postdoc to New Faculty Member") on Tuesday, May 4, from 4:30 to 7:30 p.m. in ASUC's Tan Oak Room on campus. To register send e-mail to [email protected]

The Facilities Department is providing the Lab with rush courier service with pick-up and delivery both on- and off-site. Transportation can deliver up to 2,000 pounds anywhere in the Bay Area or in central or northern California. Onsite materials will be delivered within one hour. For offsite service, a driver is available during normal business hours for same-day pick up and delivery. To request a pick up, call Peggy Patterson at X5404.

Courier service (two-hour, four-hour, same day, and rush service) is also available from IDS Courier, which operates 24 hours a day and provides pick-up and delivery anywhere in the Bay Area and in portions of northern and central California. For information call Linda Wright at 548-3263.

The Oakland Operations Office of the Department of Energy is sponsoring a play entitled "I Never Saw Another Butterfly: Remembering the Children of the Holocaust," a free production of the Moraga Playhouse.

The play will take place next Wednesday, April 28, from 10 to 11:15 a.m. at the Federal Building in Oakland (Roybal Auditorium). All employees are invited to attend.

The Lab's Telephone Service Center is piloting a wireless program which integrates the Laboratory's existing phone system with digital cellular phone service.

Microcellular antennas and base stations have been installed throughout the Bldg. 50 complex and in Bldg. 51. Participants in the pilot program located in one of these buildings can avail themselves of all the features and functions available through the Lab's phone system by using their cellular phones. Users can make and receive internal and outgoing calls without paying cellular phone charges. When the user's desk phone rings, the cellular phone will ring as well.

At all other locations the wireless phone functions as a standard cell phone. Cellular One users can still reach Lab extensions but will be charged Cellular One usage rates. Future deployment of the program to other Laboratory buildings is under review.

To participate in the program, users must own a Nokia 6160 or 6162 digital cellular phone and have Cellular One service. To enroll, send e-mail to [email protected] For more information look up http://www-cnr.lbl.gov/ics/wireless.html, or call X7997.

A canine member of the Berkeley East Bay Humane Society gives a high-five (or is that a high-four?) to a Lab employee. The Humane Society Booth was part of Berkeley Lab's annual Eco Fair, held on April 13. The annual Earth Month event featured everything from bike tune-ups to recycling and earthquake preparedness information.

Visitors can learn all about butterflies during a special live demonstration at the Lawrence Hall of Science on Sunday, May 16, from 12:30 to 2:30 p.m. The event is part of LHS's "World of Insects" exhibit, which runs through June 6 and features a wide range of family exhibits and activities.

The Hall of Science is also organizing a Fourth of July bay cruise, the proceeds of which will benefit LHS educational programs. To make reservations for the cruise call 642-5134.

For other information about the Hall of Science, call 642-5132 or look up its website at http://www.lhs.berkeley.edu.

Retirement Celebration
Ken Lines' friends and colleagues invite everyone to join them in celebrating Lines' more than 32 years of service to the Lab on Friday, May 14. The luncheon in his honor will be held at 11:30 a.m. at the Mandarin Garden, 2025 Shattuck Avenue. The cost is $15 per person and must be received by May 11.
Please confirm attendance by May 7 and send checks, payable to Teresa Rossi, to Myong Choi or Joysee Smith, MS 936B-210.


The Berkeley Lab Calendar is published biweekly here on the World Wide Web and in Currents by the Public Information Department. Employees can list a meeting, class, or event in the Calendar by using this submission form. The deadline for submissions is 5 p.m. on Monday in the week that Currents is published.

In addition to the events listed below, Berkeley Lab's Washington, D.C. Projects office is hosting a Science and Technology Seminars series.

Scientific Conferences

April 23 - May 7, 1999

General Interest

Play: Children of the Holocaust
Moraga Playhouse production
10-11:15, Oakland Federal Bldg.
(Sponsored by DOE's Oakland office) Earth Month Activity
Sustainable Activities
8:30-4:30 a.m., Bldg. 66-316
Earth Month Activities
Sustainable Activities
8:30-11:30 a.m., Bldg. 66-316

Walking Tour of Strawberry Creek
11:45 a.m.-4:30 p.m. Postdoctoral Society Workshop
Transition to New Faculty Member
4:30-7:30, Tan Oak Rm., ASUC, UCB Blood Drive
7 a.m.-2 p.m., Bldg. 70A conf. rm.

Shoemobile
7:30-3:30, Bldg. 54 parking lot

Tripmobile
11:30 a.m.-12:40 p.m., Bldg. 65 parking lot (shuttle bus interchange)

Items for the calendars may be sent via e-mail to [email protected] lbl.gov, faxed to X6641 or mailed to Bldg. 65B. The deadline for the May 7 issue is 5 p.m. Monday, May 3.

Physics Department Colloquium, UC Berkeley
"Quantum Well States in Magnetic Heterostructures" will be presented by Zi Qiang Qiu of UC Berkeley.
4:30 p.m., 1 LeConte Hall Life Sciences Division
"Tyrosine Kinases as Targets in Cancer Therapy" will be presented by Fatih Uckun of Wayne Hughes Institute, St. Paul, Minnesota
4 p.m., Bldg. 66-316 Fluid Mechanics Seminar, UC Berkeley
"Cardiovascular Fluid Mechanics: Applications in Disease Research and Surgical Planning" will be presented by Charles A. Taylor of Stanford University.
4 p.m., Etcheverry Hall, Room 3110, UC Campus

Washington DC Projects Office Science and Technology Seminars
"Frontiers in Soft X-ray Science and Technologies at the Advanced Light Source" will be presented by D. S. Chemla of the ALS.
9 a.m., Berkeley Lab
Washington, D.C. Office, 1250 Maryland Avenue, S.W.

Center for Beam Physics
"Matching of the Dispersion Function in Space-charge Dominated Beams" will be presented by Marco Venturini of the University of Maryland.
10:30., Bldg. 71B conf. rm. Information and Computing Sciences Division
"An Agent-Based System for High Performance Distributed Computing" will be presented by Dan Marinescu of Purdue University.
10:30 a.m., Bldg. 70A-3377

Earth Sciences Division
"Communicating with Chaotic Light" will be presented by Henry Abarbanel of UC San Diego.
11 a.m., Bldg. 90-2063

Physics Department Colloquium, UCB
"Telling Matter From Anti-Matter" will be presented by Bruce Winstein of the University of Chicago.
4:30 p.m., 1 LeConte Hall
Tea at 4 p.m., 375 LeConte Life Sciences Division
"From Pathway Databases to an Ontology of Biological Function" will be presented by Peter Karp of Pangea Systems.
4 p.m., Bldg. 66-316

Center for Environmental Biotechnology
"Spatial Distribution of Bacteria in Multispecies Biofilms" will be presented by Eric Gilbert of UC Berkeley.
Noon, Bldg. 50-5132

Center for Beam Physics
"Low-Energy Supersymmetry: Prospects and Challenges" will be presented by Howie Haber of UC Santa Cruz.
10:30 a.m., Bldg. 71 conference room

Earth Sciences Division
"Iceland Geothermal Reservoir Engineering Studies in Iceland" will be presented by Grimur Bjornsson of Orkustofnun, Iceland.
11 a.m., Bldg. 90-2063

Astronaut Scott "Doc" Horowitz will give a talk today at 7 p.m. on the UC Berkeley campus (60 Evans Hall) about how to become an astronaut and related topics. Horowitz is currently in training for the delivery flight for the next major component of the International Space Station, scheduled for a December launch.

For more information contact Lawrence Kuznetz at 527-8733 or look up http://mars2012.berkeley.edu .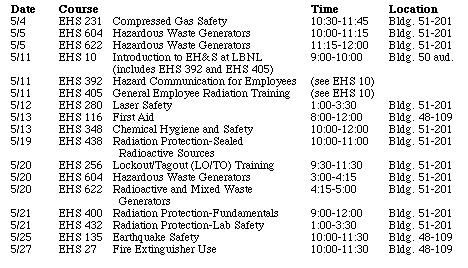 Times and locations are subject to change. Check the EH&S Training website (http://www-ehs.lbl.gov/schedule/) for updates. To enroll e-mail Susan Aberg at [email protected] or enroll online at http://www-ehs.lbl.gov/training/registration/.
Pre-registration is required for all courses except EHS 10 (Introduction to EH&S).

`73 VOLKSWAGEN camper bus, pop top, sleeps 4, fridge, sink, stove, needs battery, $900, Lorenza, 841-5885 (pm)

`79 HONDA MOTORCYCLE, CM200T, looks and runs well, $600/b.o., Sherry, X6972

`85 HONDA CRX sport, fuel injection, mag wheels, ac, stereo, pampered, mint cond, paint and body perfect, 80K mi, $4,500/ b.o., Bruce, X5489, 704-0559

`85 TOYOTA truck, long bed diesel mechanic's special, locking Brahma camper shell, one bad cylinder, otherwise good cond, new rear bumper, brakes, $700/b.o., Sherry, X6972

`86 TOYOTA 4 Runner, 5 spd, 130K mi, red, exc mech cond, one owner, ac, am/fm/CD, factory alum magus, well maintained, $5,800/b.o., Travis, 558-0670

`89 FORD Tempo GS, 4 dr, auto, ac, cruise control, 69K mi, $2,800/b.o., Victor, 643-3118 (day), 665-5676 (eve)

`93 MAZDA Miata, red, 56K mi, 5 spd, like new, det face stereo/headrest spkrs, rollbar, custom rims/tires 215/55/15 rear, 205/55/15 front, dash cover/sill plates, $9,200/b.o., X2053, Aaron, (707) 428-3051

`95 NISSAN Pathfinder XE-V6, navy blue, 6 cyl 3.0 L engine, 5 spd transm, Kenwood CD player, am/fm w/ detachable face, 8 speakers, ac, pwr brakes, pwr steering, rear window defroster, intermittent rear window wiper, tachometer, tilt steering, snow chains incl (never used), 50K mi, $14,400, Paul, X5816, (415) 474-4262

`95 FORD Escort LX Wagon, roof rack, red, 40K mi, at, ac, am/fm stereo, $6,850, Tennessee, 623-1344

`96 BMW Z3, stunning blue convertible, black top, immaculate tan leather interior, custom wheels, am/fm/cass, still under warranty, take over low payments, Claudia, (415) 499-6962

MOTORCYCLE, Honda, CX-500, 500cc, shaft drive, water cooled, plexi fairing, backrest/ luggage rack, good commute bike, $600/b.o., Bob (925) 376-2211

SAILBOAT, `93 SUNFISH, w/ trailer and some accessories, exc cond, white and aqua, has never sailed in salt water, $1,800/b.o., John, 531-1739

BERKELEY, furn rm in lg 2 bdrm flat for short term rental, kitchen privileges, shared bath, sm garden, nr Cedar and Martin Luther King Jr. Way, close to shuttle and shopping, coin-op laundry, share flat w/ one PhD candidate and one rubber-band hunting cat, $500/mo, avail immediately, Forrest, X5887

BERKELEY, share elegant 11 rm, 4-bdrm Elmwood house w/ two other professionals, $1,200/mo (negotiable), deposit, shared expenses, master bedroom w/ fireplace & huge closet and second for study or child, some family-style dinners, piano, yellow Labrador, laundry/sauna, hardwood flrs, exc neighborhood, Tony, 841-4480

WEST BERKELEY (Browning and Bancroft), light and airy, 1 rm top flr apt in duplex, avail immediately, 560 sq ft, must be seen to appreciate, Japanese-style tile bathtub, w/w carpeting, separate kitchen and dining area, stove and refrig, deck, shared back yard, 20 minute walk to Lab shuttle, $800/mo, incl water, garbage, and natural gas (hot water heater), Andrea, X6727, 644-1667 (nights before 9 pm)

EL CERRITO, studio for graduate student or visitor, quiet, nice residential area, 4 mi from Cal, rm size 19x11, bed, sofa, bookshelf, desk, TV, private entry, indoor laundry, free off-street parking, kitchen w/ new refrigerator, microwave, toaster oven, coffee maker, cooking appliances, dinning area, walking distance to BART, 1 blk from bus station, 1.2 miles to freeway: I80, 580, 8 mi to Bay Bridge, very close to shopping center, no smoking, no pets, rent $480, deposit $600, lease for 1 yr or 6 mo, avail mid- May, Ming, 524-3780

NO OAKLAND, Rockridge area, charming, bright 2 bdrm, 1 bath flat in older duplex on Oakgrove, huge kitchen, fireplace, lg forml dining rm, built-ins, hardwoods, serene yard, basement w/ storage and laundry, off-street parking, 2 blks to BART, Lab shuttle, buses, shopping, mannered pet considered, lease avail June 1, $2,100, incl water and garbage, other flat owner-occupied, Barbara, X6898, X4589, 652-7044

NO OAKLAND, Rockridge area, 1 bdrm sublet, June 1-July 29, close to BART and Lab shuttle (half mile), private bath and kitchen, view of Oakland hills, fully furn, laundry on premises, some road noise, $700/mo, incl util, Chris, X2782

PINOLE, 1 bdrm, 1 bath for rent in home w/ working female, free-loading cats and small dog, non-smoker/drinker, full kitchen and laundry privileges, $600/mo incl CAT and util except phone, possible carpool to Lab, avail May 15, Sue, X6661, 758-4164

Miscellaneous

BEDROOM SET, dark stained pine, queen headboard, 6 drawer dresser w/ mirror, 5 drawer chest of drawers, cheap, John, (925) 709-0866, 1-888-741-5407 (pager)

BIKE, `81 Honda 110, trail bike, exc cond, low mi, $1,075; `64 Honda 90 trail bike, not running, mostly complete, $125; `69 Honda 50 mini trail bike, runs good, orig paint, good cond, $550; antique wood parlor stove, great size for any rm, $225, Steve, X7855, (925) 682-6008

CAMERA, new Canon Elph outfit APS pocket camera w/ features like 2 x zoom, date, caption, 3 print formats, $210/b.o., (value $260+tax), Ulag, X4307, 524-1389

HELMUT BIKE, woman's Giro, size medium, $25, Barbara, X6898, X4589, 652-7044

MOP SET, heavy-duty refillable string mop w/ extra-heavy duty yellow squeeze bucket, exc cond, $25 for set, Sherry, X6972

SKATES, rollerblade inline, women's 7-1/2, w/ knee pads and wrist protectors, $60; 2 backpacks, nylon w/ alum frame, $20 each; camping tent w/ rain fly for 2 persons, $39; Tarpauline, 12' x 15', $12; hiking boots, leather upper, women's 7-1/2, $15; rain poncho, orange, men's size, $4.50, Andreas, X5453, 845-4672

TABLE, solid oak and glass, coffee table, needs some polish, $45/b.o., Sajid, X5184,

TV 19'', 6 mos old, $140 negotiable; 2 mtn bicycles, 1 yr old, good cond, $70 ea, negotiable, Frederic, X4209, 548 47120

BIRD SIT my 3 pet birds (Gray, Pionus, Amazon) in your home, for 5 to 10 days starting April 18, during home renovation, will pay, provide food and cages and possibly reciprocate, Barbara, X6898, X4589, 652-7044

HOUSING, visiting German prof needs 2 or 3 bdrm furn apt or house for June, July, August, Michael, X7838, [email protected] lbl.gov, 654-0928

MACINTOSH Duo Dock for 2300C, Jacob, X4606

MUSIC STAND, Peter, X4157, 525-3290

`86-'89 TOYOTA, 4 Runner, 5 spd, good cond, Ted, X4886, 339-0598

TAHOE KEYS at South Lake Tahoe, house, 3 bdrm, 2-1/2 bth, fenced yard, quiet area, close to many attractions, great views of water and mtns, $150/night, 2 night min, call for details, Bob (925) 376-2211
Lost and Found
FOUND: eyeglasses in blue Eddie Bauer case, found inside vehicle parked at Bldg 51, Molly, X6765

ADAPTERS, two telephone, French to US phone jack, and German to US phone jack, purchased 4 yrs ago, Jon, X5974

Due to the large volume of ads received each week, ads are accepted only from LBNL employees, retirees, and on-site DOE personnel. No other ads will be accepted. We encourage past contributors to the Flea Market to use other local services, such as LBNL's online housing listing (call X6198 for information), and the UC Housing Office.

Please note also:
The deadline for ads is 5 p.m. Friday for the following week's issue.
Ads must be submitted in writing, via e-mail ([email protected]), fax (X6641), or delivery/mail to Bldg. 65B. No ads will be taken over the phone.
No ads will be accepted without your name, affiliation, Lab extension, and home telephone number. You may ask that only one number appear in the ad.
Only items of your own personal property may be offered for sale.
Ads for material for resale in connection with a business will not be accepted.
No ads for services will be taken.
Ads will run one week only unless resubmitted in writing. Ads will be repeated only as space permits, and at the discretion of Currents. If an item does not sell in a reasonable time period, we retain the right to terminate the ad.

Currents/The View and the Communications Department Staff
Published once a month by the Communications Department for the employees and retirees of Berkeley Lab.

Reid Edwards, Public Affairs Department head
Ron Kolb, Communications Department head

EDITOR
Pamela Patterson, 486-4045, [email protected]
Associate editor
Lyn Hunter, 486-4698, [email protected]

STAFF WRITERS
Dan Krotz, 486-4019
Paul Preuss, 486-6249
Lynn Yarris, 486-5375

CONTRIBUTING WRITERS
Ucilia Wang, 495-2402
Allan Chen, 486-4210
David Gilbert, (925) 296-5643

DESIGN
Caitlin Youngquist, 486-4020
Creative Services Office

Berkeley Lab
Communications Department
MS 65, One Cyclotron Road, Berkeley CA 94720
(510) 486-5771
Fax: (510) 486-6641

Berkeley Lab is managed by the University of California for the U.S. Department of Energy.

Flea Market is now online at www.lbl.gov/fleamarket