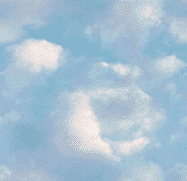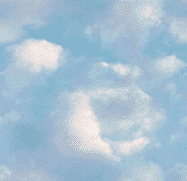 EXPERIMENT #9:
IT'S IN THE CLOUDS
---
Introduction
Would you like to observe the effects of nuclear radiation? The cloud chamber is excellent for studying the rate of alpha decay and the range of an alpha particle. Alcohol vapors are held up highly pressurized by dry ice. When a harmless radioactive alpha source is inserted in the chamber, the tracks of the alpha particles can be observed.
A cloud chamber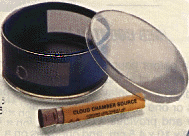 Objective
To create condensation trails which are evidence of the passage of alpha particles.
Materials
chamber with cover
radiation source
two blotting paper viewers
strong light source (300 W to 500 W)
dry ice
denatured ethyl alcohol
Procedure
Soak the blotting paper with alcohol.
Place the blotting paper in the chamber and cover.
Place the chamber on dry ice.
Insert the radioactive source through the hole in the side of the chamber.
Focus the strong light through the chamber.
Observe vapor trails against the black bottom of the chamber.
Replace the radioactive source in test tube when experiment is complete.
Data
Draw and label your observations
Questions
Why are alpha particles easy to view with the chamber?
Why is dry ice needed?
Why is alcohol needed?
---
This document was produced by the Nuclear Science Division of the Lawrence Berkeley National Laboratory.