Nearby Short-Term Accommodations
Berkeley Lab Guest House - The Berkeley Lab guest house is conveniently located on the Lawrence Berkeley National Laboratory campus and features 57 tastefully appointed guest rooms, many with spectacular views of the San Francisco bay, skyline, and City of Berkeley. The guest house is only a few minutes away from the University of California Berkeley Campus and the dynamic Berkeley community itself. It is available to visiting researchers and those conducting business with the University.


The Faculty Club *
U.C. Campus
Berkeley, CA 94720
(510) 540-5678

Women's Faculty Club *
U.C. Campus
Berkeley, CA 94720
(510) 845-5084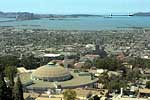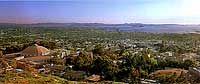 * Within easy walking distance of Lab Offsite Shuttle Bus service
Housing Information
The Rentals and Roommates section of the Classified want ads.
The UC Berkeley Department of Housing and Dining website has extensive information about renting both short- and long-term in the Berkeley area. In addition, this site lists the locations and rates of local hotels and motels, several of which give discounts to UC Berkeley and Berkeley Lab staff and guests.
The International House in Berkeley is an independent, non-profit organization with close ties to the University of California at Berkeley that can provide housing for scientists and students visiting at Berkeley Lab.