EXPANDING OUTREACH EFFORT BRINGS DAUGHTERS TO WORK AT LBL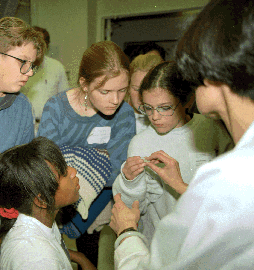 ---
LBL Research Review August 1994
---
IN APRIL THE LABORATORY JOINED other employers throughout the United States in sponsoring Take our Daughters to Work Day.
The event was sponsored by LBL's Center for Science and Engineering Education (CSEE), a group dedicated to developing innovative educational programs for students and teachers from kindergarten through graduate school. More than 200 young women and men participated in this event, the first CSEE educational activity designed for children of LBL employees.
LBL's young guests spent a day on the Hill, participating in a full range of activities. Some shadowed their parents at work, and on occasion became unofficial contributing members of the LBL workforce. Others participated in tours of the Fire Department, the Advanced Light Source, the Center for Electron Microscopy, the Machine Shop, and the Public Information Department.
LBL volunteers made presentations on tomographic imaging, research on transgenic mice, the Hands-on Universe program, the geology of the Hill, and careers in journalism and public relations. A major factor in the success of the day was the generosity of dozens of LBL volunteers who worked together to make the day a success.
Take our Daughters to Work Day was one of several new activities initiated by an expanding outreach effort coordinated by Marva Wilkins. More than 150 volunteers have volunteered in local schools and more than 30 high school students from local schools have summer internships at LBL.
Return to LBL Research Review Table of Contents