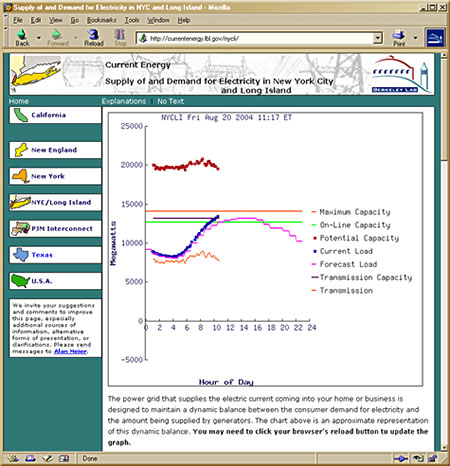 Want to know if the region you live in is running out of electricity?
If you live in California, Texas, New England, New York State, or the central Atlantic states (known as the PJM Interconnect: Pennsylvania, New Jersey, Maryland, Delaware, Virginia and West Virginia, including Washington, D.C.), you can find out by connecting to currentenergy.lbl.gov, at the bottom of this page. The website updates the supply-and-demand balance of the electrical grid in real time, showing the current load — how much electrical power generation is being transmitted over the grid; the potential capacity — how much potential generation is available; and the forecast load — how much power is expected to be used that day, updated minute by minute.
Berkeley Lab scientists have created this website using information publicly available from the independent system operators of these areas. Click on the USA link and you can watch all five independent system operators at once. A page on Ontario, Canada is in the works, and the researchers are also working on an international page to display the state of grids elsewhere in the world.
The website got its start during the California electricity crisis of 2000-2001, when researchers in Berkeley Lab's Environmental Energy Technologies Division put up what is now the California page. Over time they expanded the site, under the name currentenergy.lbl.gov, to encompass the electrical grids of other heavily populated areas of the United States.
All the data is publicly available from independent system operators, organizations chartered by the Federal Energy Regulatory Commission, which operate the regional electrical grids of the United States. A number of these independent system operators now offer similar information about the health of their parts of the grid on their own home pages.
In addition to providing the public with information about the health of the grid in one place, currentenergy.lbl.gov is a useful research tool for scientists studying the behavior of the grid. The pages on the site are prepared and maintained by Berkeley Lab's Chris Bolduc, Katie Coughlin, Brian Hill, Alan Meier and Robert Van Buskirk.
Additional information