| | |
| --- | --- |
| | |
| | |
| | |
| As their new headquarters, the New York Times Company will soon build a 52-story glass tower near Times Square. | |
| | |
Soon the venerable New York Times will have a new home in the heart of Manhattan, its first new headquarters office building since the current one was completed in 1913. The transparent glass tower, 52 stories high, will overlook the Times Square Redevelopment area on Eighth Avenue between Fortieth and Forty-first Streets.
Early in 2003, a group of visitors from the New York Times Company and its design and engineering contractors paid a visit to Berkeley Lab's Environmental Energy Technologies Division (EETD) to talk about making buildings energy-efficient, comfortable, and productive places to work. They spent a day learning about the Lab's research in commercial-buildings energy efficiency, glazing, daylighting, lighting, and thermal comfort from EETD's Stephen Selkowitz, Mary Ann Piette, Francis Rubinstein, Eleanor Lee, and others. As a result of that visit, the New York Times Company and Berkeley Lab's EETD are beginning a cooperative research project to test new technologies to increase the energy-efficiency of the new building and to improve the indoor environment for the comfort of its occupants.
As a major building owner, the Times found it difficult to specify with confidence a cost-effective, fully integrated glazing (window) and lighting control system. Berkeley Lab's Building Technologies staff has been researching these topics for several years with Department of Energy and California Energy Commission support. The new Times building is an opportunity to extend and apply Berkeley Lab's prior research, making available more efficient and cost-effective systems not only to the Times Company but to other owners and design teams.
The research focuses on integrated technologies to reduce electric lighting energy use through daylighting, while controlling glare and cooling loads in this highly glazed building. Researchers are testing alternative hardware and control solutions in a newly constructed, 4,500 square foot mockup of a portion of the building.
The research program will not only quantify performance alternatives, but will provide the New York Times Company with critical performance information so that it can publish a procurement specification for the technology solutions for the entire building. The project is being funded by the New York Times Company and the New York State Energy Research and Development Authority, with costs shared by the U.S. Department of Energy and the California Energy Commission.
Pushing the daylighting envelope
"We've known since the 1970s that daylighting can reduce lighting energy use," says Building Technologies Department Head Stephen Selkowitz. "But the mere use of large glass areas is not in itself a guarantee that energy savings or comfort will be achieved, because there are so many trade-offs involved."
Selkowitz notes that "it's been difficult to make as much progress in the use of daylighting as we have in other areas of lighting and glazing technology for a variety of reasons. For one, daylighting requires a high level of system integration. Designers have to design the building from the start to incorporate daylight into office spaces, there has to be a flexible and responsive control strategy to lower or turn off electric lights when daylight is available, and visual and thermal comfort must be maintained at all times."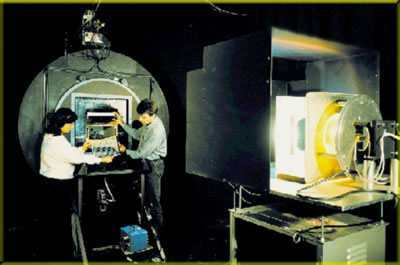 Researchers in Berkeley Lab's Environmental Energy Technologies Division have long studied daylighting as a means to more efficient interior lighting.
Adds Selkowitz, "The cost of components for successful daylighting can be high, like dimmable electronic ballasts" — which control fluorescent lights — "and the systems with their sensors and controls require careful calibration after they are installed, something that is not done very often in buildings today."
Berkeley Lab research suggests that proper daylighting can reduce perimeter-zone lighting energy by as much as 60 to 70 percent of the annual electric lighting energy with additional reductions in electric demand. Overall building energy use can be reduced by 10 to 30 percent compared to a similar nondaylit building, depending on such factors as the fraction of total building area that can be effectively daylit. Additional savings come from reducing building air conditioning and heating loads through the selection of efficient glazings and automatic shading.
"The project will contribute to Berkeley Lab's longer term energy efficiency research goals in several ways," says Selkowitz. "Simulation and field testing will provide a measured database of performance quantifying the benefits of an optimized solution for this building's design. The project will include a calibration and commissioning task, which will help lower costs and improve the operation of the installed systems."
Selkowitz also points to the involvement of numerous manufacturers in the field test program, which will "directly involve the manufacturers with the design integration and calibration strategies. And finally, the very large procurement of an integrated daylighting system based on open, performance-based specifications should help move the market towards greater availability and lower costs for these energy-saving building systems."
The building as a contribution to civic life
When the New York Times Company decided to erect a new building, creating a comfortable working environment for its employees was one of its highest priorities, along with energy-efficiency. The building was designed to have transparency, both to bring in the daylight, and to serve as a reminder of the mission of the newspaper: providing information "transparency" about the civic life of the nation and the city. To help create a connection to the community, the building will have an auditorium at the ground floor for civic and cultural events. The newsroom will occupy floors two through seven.

| | |
| --- | --- |
| | |
| | |
| | |
| Low-emissivity glass screened by ceramic tubes will reduce the building's cooling loads. | |
| | |
An unusual feature of the building, one more common in Europe than in U.S., will be its fully glazed curtain wall. Thin horizontal ceramic tubes placed on a steel framework one and a half feet in front of the glass will screen the double glazed, spectrally selective, low-emissivity, full-height glass wall around the building, thus reducing the building's cooling loads. (Low-emissivity glass is an energy-efficient material that helps reduce heating and cooling use.) The ceramic tubes provide an aesthetic bonus, taking on the changing color of the sky during the course of the day as light diffuses through them from different angles. Above the top of the building, the screen of tubes becomes less dense, and its lace-like appearance will permit a view of roof garden foliage.
The building will unite most of the 2,500 Manhattan-based employees of the Times Company, which currently has offices at seven locations in New York City. "This building is designed from the ground up to reinforce the values of the New York Times Company," said Michael Golden, vice chairman of the Times Company, when the plan was announced late in 2002. "The open plan and ease of communication, both vertically and horizontally, will enhance collaboration. Our new physical environment will improve the way we work, which is the highest calling of architecture."
The building was designed by architect Renzo Piano, a winner of the prestigious Pritzker Prize in 1998, in collaboration with Fox & Fowle Architects. Construction will start later in 2004, and its expected completion date is mid-2006.
Piano is well-known for his design of the Centre Georges Pompidou in Paris, Osaka's Kansai International Airport, and Berlin's Potsdamer Platz, among many others. Fox & Fowle received a National Honor Award for Design from the American Institute of Architects in 2000 for their design of the Condé Nast Building at 4 Times Square, which emphasizes state-of-the-art energy efficiency and other environmentally responsible features.