Lloyd Smith was an accelerator theorist who made major contributions to the design of many of the nation's and the world's great accelerators from the 1940s to the 1970s. He died on May 1, 2000 at his home in Berkeley.

Born in Chicago in 1922, Smith received his B.A. from the University of Illinois and his Ph.D. from Ohio State University. While working at the Illinois cyclotron, Smith' eyes were damaged as a consequence of checking the accelerator operation by sighting along the beam. In 1949 he became the first subject of successful surgery for neutron-induced cataracts, a procedure later used to help victims of the atomic bombing of Japan.

After receiving his Ph.D., Smith spent a year at the University of Chicago's Institute for Nuclear Studies, then joined what was then the Radiation Laboratory to work on the design of the Bevatron. In the early 1950s, when loyalty oaths were required of University staff during the McCarthy era, Smith's wife, a math instructor on the faculty at UC Berkeley, was unwilling to sign. In support of her decision, he left to teach for two years at the Carnegie Institute of Technology, where he helped design a 450-MeV synchrocyclotron.

In 1952 he returned to the Rad Lab, which became his home base -- with frequent leaves to work on accelerators at Brookhaven, CERN and Fermilab -- until his retirement in 1994.

"Dad was the hired gun of accelerator theory," says his son, physicist David Smith. "The years of those leaves of absence coincide with the years the machines that made those labs famous were built, by golly!"

Smith was a leading theorist for virtually all the accelerator projects undertaken at Berkeley Lab during the 1950s, 60s, and 70s, including the 88-Inch Cyclotron and the HILAC. He worked on the Positron Electron Project at SLAC, on machines at Livermore and Fermilab, and on major European accelerators, including HERA. He made major contributions to the theory of proton linacs and spiral-ridged cyclotrons.

He was an early theorist of "magnetic bottles," including mirror machines, to confine plasmas in controlled fusion reactors. From 1976 until his retirement, Smith was the head of the Heavy-Ion Fusion theory group at Berkeley Lab, where he contributed fundamentally to studies of beam stability.

His study of the nonlinear effects of undulators on beam dynamics in storage rings (1986) is the most complete and rigorous work on the subject to date, still a widely-used reference in undulator and light-source design.

A man with an incisive wit, Smith was as retiring as he was brilliant. He is survived by four children and seven grandchildren.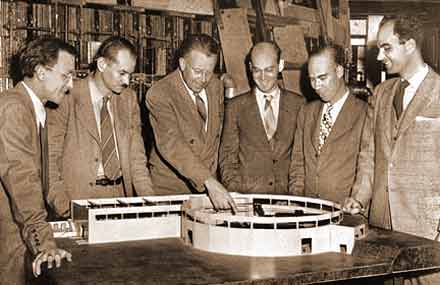 LLOYD SMITH (FAR LEFT) EXAMINES A MODEL OF THE BEVATRON ALONG WITH ED MCMILLAN, ERNEST LAWRENCE, ED LOFGREN, AND BILL BROBECK IN THIS EARLY 1950S PICTURE.