On August 31, a sleek new prototype of the high-performance fume hood invented and developed at Berkeley Lab by Helmut Feustel, Dale Sartor, Geoffrey Bell, and other researchers in the Environmental Energy Technologies Division was unveiled at the University of California at San Francisco, where it has undergone months of successful testing in the laboratory of histologist Margaret Mayes.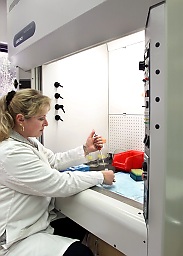 MARGARET MAYES AT THE RECENTLY UNVEILED PROTOTYPE HIGH-PERFORMANCE FUME HOOD TESTED IN HER HISTOLOGY LAB AT UCSF.
While few people think of laboratory fume hoods as great wasters of energy — when they think of them at all — in fact many of these appliances, necessary to suck chemical fumes or dangerous organisms away from researchers, run 24 hours a day and consume as much energy as an entire house. There are 85,000 fume hoods operating in California, and law requires that they pull in 100 cubic feet of air per minute.
Berkeley Lab's revolutionary "push-pull" design erects an invisible barrier of moving air between the researcher and the interior workspace, requiring movement of only a third as much air, with a concomitant savings in energy.
That's why the August 31 event attracted enthusiastic supporters of the concept from near and far. Among those attending were officials from the companies who have licensed the new technology, as well as John Talbott, deputy director of research and standards in DOE's Office of Energy Efficiency, Terry Surles of the California Energy Commission, and John Livingston of PG&E, plus numerous representatives of UCSF and Berkeley Lab.
All agree that the new hood looks and works great, but all also agree that the big push must now begin: to convince the California legislature to modify a safety specification, 100 cubic feet of air per minute, that is based on an old-fashioned way of doing things. Said Livingston of PG&E, "this is a whole new way to get at the essence of energy wastage."
Additional information: