BERKELEY, CA — Five students and their coach from The Harker School of San Jose are headed for Washington D.C. to compete in the Department of Energy's National Science Bowl competition next month as a result of their regional championship won at Lawrence Berkeley National Laboratory on Feb. 28.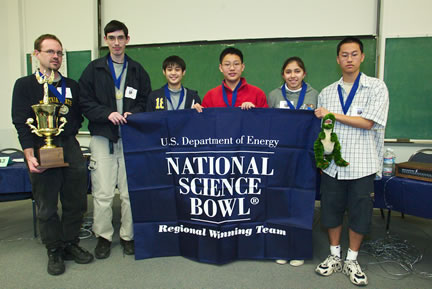 Left to right: Robbie Korin (coach), Lev Pisarsky, Jasper Shau, Yi Sun, Anjali Vaidya, Mason Liang.
Harker defeated 16 other Bay Area high schools in the day-long competition, marking the first time the team will be going to the nationals. To get there, they had to defeat a former national titleholder, Albany High School, in the championship round.
"These students are fearless," Harker coach Robbie Korin said. "They're not afraid to be wrong. And that's the key – it's a very bright, confident group who are willing to push the buzzer. Some kids are book-smart, but they hesitate to hit the buzzer."
The fast-paced College Bowl-style series of matches featured questions in a variety of scientific fields. Albany finished second, and the third place trophy was captured by Homestead High from Cupertino.
Members of the winning Harker team include Lev Pisarsky of Sunnyvale, Jasper Shau of Campbell, Yi Sun of San Jose, Anjali Vaidya of Fremont, and the captain, Mason Liang of Cupertino. The same team was eliminated in the first round during last year's regionals. Their future looks bright, since only Vaidya is a senior.
"Another year of classes really helped," Korin said. "Harker prepares them knowledge-wise, and so they just had to learn to be quick on the buzzer." He added that their training included weekly practice sessions at school and participation in the popular "Quiz Kids" Peninsula-based TV game show.
This is only the sixth year that The Harker School, in existence since 1893, has run a full high school program. It now has about 550 secondary school students.
The regional competition at Berkeley Lab was sponsored by the Laboratory, the Berkeley Site Office of the Department of Energy, and Sandia National Laboratory-California.
At the national competition April 29-May 3, 66 teams from throughout the country will compete for the title.
The National Science Bowl has been in existence since 1991 when, as a national initiative, the Department of Energy developed it to encourage high school students from across the nation to excel in math and science and to pursue careers in those fields. It provides the students, and teachers who have prepared them, a forum to receive national recognition for their talent and hard work. The Department of Energy is committed to math and science education to help provide a technically trained and diverse workforce for the nation.
The competition consists of a round robin followed by a double-elimination final. Questions are submitted by scientists at all of Energy's facilities as well as from other federal agencies and university consortia. The questions are multiple choice and short answer in the categories of chemistry, biology, physics, mathematics, astronomy, and general, earth, and computer science.