BERKELEY, CA —A grant totaling almost $8 million has been awarded to Joe Gray, Director of the Life Sciences Division of the Department of Energy's Lawrence Berkeley National Laboratory, in the form of an Innovator Award from the Department of Defense Breast Cancer Research Program (BCRP). Through BCRP, DOD is the second largest funding agency for breast cancer research in the world.
| | |
| --- | --- |
| | |
| | |
| Joe W. Gray is Director of the Life Sciences Division at Berkeley Lab and co-leader of the Breast Oncology Program at UC San Francisco. (Photo Roy Kaltschmidt) | |
| | |
Gray leads a multi-institutional team with collaborators from the Breast Oncology Program at the University of California at San Francisco, the University of California at Berkeley, other members of Berkeley Lab's Life Sciences Division, and Lawrence Livermore National Laboratory. The goal of their project, as originally conceived by Gray and Laura Esserman, co-leaders of UC San Francisco's Breast Oncology Program, is to greatly improve breast cancer screening and reduce mortality from breast cancer.
All cancer screening programs seek to reduce mortality by detecting and treating cancer as early as possible, and by identifying and completely removing precancerous lesions surgically before they develop into tumors. Screening programs have helped dramatically reduce incidence and mortality from colon cancer and cervical cancer. But for breast cancer, screening based on mammograms has been less successful.
"Current mammographic screening strategies do not seem to be detecting the lesions that are precursors to the most invasive breast cancers," Gray says. "Genomic studies by my colleagues and I have identified two subtypes of breast cancers that are far more likely to be lethal, and which can be identified by their characteristic gene products. Yet standard mammography techniques apparently are not finding the precursors of these subtypes before they become malignant."
Needed: new ways of imaging
Two things are necessary to improve this situation, Gray says. The first is better anatomical imaging. Most mammography is currently based on film images taken with x-rays, which can detect tiny calcium concentrations in the breast associated with areas of high tissue density. But microcalcifications may not signal the lesions most likely to become invasive and lethal.
Other imaging techniques such as magnetic resonance imaging (MRI) and positron emission tomography (PET) promise increased sensitivity for detection of early disease and for lesions whose increased metabolic activity is characteristic of cancer precursors. However, both MRI and PET require further development to target metastasis-prone lesions.
| | |
| --- | --- |
| | |
| | |
| | One method of improving anatomical imaging that targets the most lethal cancer subtypes involves decorating the capsids of viruses with antibodies to characteristic protein products of the target cells (left), and replacing the contents of the virus with agents that increase image contrast in MRI and PET (right). |
| | |
A second need is the ability to accurately map the full extent of a precancerous lesion or tumor once it has been identified, so the surgeon can be confident of removing all cancerous cells. Although some metastasis-prone lesions can be identified by their shapes or protein characteristics, no distinguishing physical characteristics have been found for other lethal types. What's required is improved imaging of the tissue in which the lesion or tumor occurs, based on its peculiar pattern of gene expression.
"Our goals in this project are to improve both these processes — anatomical imaging that can identify the precursors of the most lethal breast cancer subtypes, and sensitive histopathologic detection to precisely map the potentially lethal lesions at the cellular level," says Gray. "We plan to develop MRI, PET, mass spectrometry imaging, and other techniques that can detect specific gene-expression signatures — the tell-tale protein products of these subtypes — on the basis of individual cells."
Someday, the screening process that Gray and his colleagues envision will identify individuals at high risk for breast cancer using high-throughput analytical methods such as blood tests and measurements of breast volumetric density. Individuals identified in this way will then be assessed using new imaging technologies, which will pinpoint any lethal precursor lesions by their molecular characteristics. To map these lesions with precision to insure successful surgery, tissue sections will be imaged using mass spectrometry to find cells that express the genes specifically associated with the most lethal cancer types.
Getting down to specifics, cell by cell
For cell-specific anatomical imaging, Gray and collaborators Matthew Francis of UC Berkeley and Berkeley Lab, Jim O'Neil and Scott Taylor of Berkeley Lab, and James Marks of UC San Francisco will investigate PET and MRI using agents carried in viral capsids. Capsids are the shells of viruses whose RNA genomes have been removed; the capsids are used to carry reagents that increase image contrast. The outside of the shells will be decorated with antibodies specifically targeting the protein gene products characteristic of the lethal cancer subtypes.
In addition, the researchers will consider quantum dots, nanocrystals that have been modified to bind to specific molecules and fluoresce when illuminated by a laser, or to increase the strength of MRI signals when combined with marker atoms. Laura Esserman, Karla Kerlikowske, and Nola Hylton at UC San Francisco and Damir Sudar at Berkeley Lab will also explore ways to improve conventional MRI and x-ray mammography by developing digital imaging algorithms that can better recognize metastasis-prone lesions.
For sensitive histopathologic detection — the precise mapping of lesions and tumors — Gray will work with Marks and Richard Baehner of UCSF and Frank Chen of Berkeley Lab to develop in situ hybridization and immunohistochemical techniques to identify protein products typical of the genomes of the most lethal cancer subtypes. In collaboration with James Felton at Livermore, they will analyze these molecular signatures by scanning the tissue sample with an ion beam to knock off constituent molecules, which differ by mass; this "secondary ion mass spectrometry" of the tissue section will reveal even single cells that carry the lethal genotypes.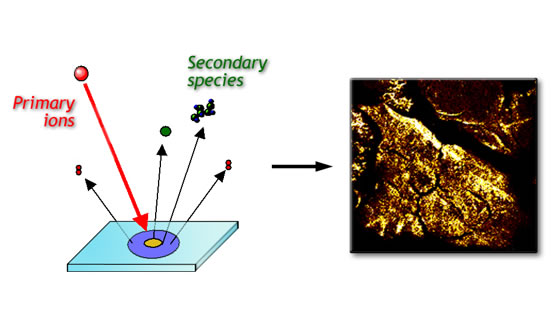 By scanning tissue samples of lesions and tumors with an ion beam that knocks off molecules of proteins typical of the most lethal cancer subtypes (left), then mapping the position of these secondary ions, mass spectrometry can produce images (right) that reveal even single cells carrying the lethal genotypes.
Better screening for the most lethal subtypes of breast cancer will catch more of these cancers before they metastasize, increasing the odds that the lesion or tumor is entirely removed in surgery. Gray and his colleagues are also investigating drug treatments aimed at the newly identified lethal subtypes, in addition to treatments based on nanoparticles carried in lipids, and nucleic acid constructs that could prevent potential cancer cells from becoming immortal. These approaches to treatment will benefit greatly from improved anatomical and histopathological imaging strategies.
Gray notes that this project is based on work carried out over the last decade in the Breast Oncology Program at UC San Francisco under the auspices of the Bay Area Breast Cancer Specialized Program of Research Excellence (SPORE). Notification of Gray's new grant, designated a Fiscal Year 2006 Innovator Award, was first recommended for funding in June of 2007 and recently confirmed with the completion of a contract between the Department of the Army and the University of California/Lawrence Berkeley National Laboratory.
Berkeley Lab is a U.S. Department of Energy national laboratory located in Berkeley, California. It conducts unclassified scientific research and is managed by the University of California. Visit our website at http://www.lbl.gov.
Additional information
More about decoding breast cancer genomes
More about the Bay Area Breast Cancer Translational Research Program, a National Cancer Institute Specialized Program of Research Excellence (SPORE)
"Award Number W81X-WH-07-1-0663. The U.S. Army Medical Research Acquisition Activity, 820 Chandler Street, Fort Detrick, MD 21702-5014 is the awarding and administering acquisition office for this award. The content of this information does not necessarily reflect the position or policy of the Government, and no official endorsement is inferred."