The California electricity crisis has receded from the headlines, but energy costs are still high in the state. So there was anticipation in the audience when Oakland's Mayor Jerry Brown announced the start of the Oakland Energy Partnership at a news conference on January 9, 2003.
Developed with the help of researchers from Lawrence Berkeley National Laboratory, Quantum Consulting, and other experts, the new $6 million partnership has set up six programs to help Oakland businesses and residents become more energy-efficient. The program is funded by the California Public Utilities Commission (CPUC) and implemented by Quantum Consulting for the City of Oakland.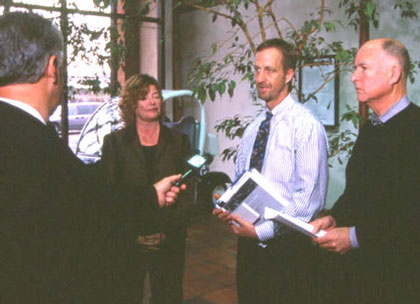 Channel 2 news reporter Tom Vacar talks with Colleen Chadsey of the Metrovations Building, Jim Flanagan of Quantum Consulting, and Oakland Mayor Jerry Brown.
"The partnership will put four million dollars a year in energy cost savings back in the pockets of Oakland businesses and residences," said Brown, "It will strengthen the city's economy by moving it closer to sustainability."
On hand at the news conference to show her support was Public Utilities Commissioner Loretta Lynch, who thanked Mayor Brown for his leadership in working to turn Oakland into a showcase for energy efficiency. "Oakland received the largest single sum of money given to any city in California by the CPUC for energy efficiency programs," she said.
Scientists from Berkeley Lab's Environmental Energy Technologies Division, including Mary Ann Piette, Philip Haves, Stephen Selkowitz, Charlie Williams, and Division Director Mark Levine, provided the city with technical assistance in designing the programs and submitting proposals to the CPUC. California Energy Commissioner and former Berkeley Lab scientist Art Rosenfeld and the Rocky Mountain Institute's Amory Lovins, two world-renowned energy efficiency experts, also provided support and guidance during the development of the partnership.
"We helped develop the programs in the partnership, and we'll be providing technical assistance in the area of commercial building system tune-ups and street lighting," said Mary Ann Piette, deputy leader of Berkeley Lab's Commercial Buildings Group. "This is a great opportunity for us to apply some of the new procedures, tools and technologies we are developing in our research program."
Berkeley Lab has a large commercial buildings R&D program supported by the California Energy Commission's Public Interest Energy Research program and by the U.S. Department of Energy. Piette said, "Field testing the research results enhances the impact of our R&D and provides the city with the latest and most cost effective techniques for energy savings."
Commissioning large buildings . . .

"This building, one of the first to participate in the partnership, shows what energy efficiency can do," said Quantum's program director Jim Flanagan of the Metrovations building, a site near the city's Jack London Square where the press conference was held. "We've performed an energy audit which shows that the building can save $26,000 per year by implementing a series of energy-efficiency measures that will pay for themselves in three years. Just adding a programmable thermostat will save this building about $2,000 per year in heating and cooling costs."
The Large Commercial Building Tune-Up is one of two Oakland Energy Partnership programs in which Berkeley Lab is directly involved. It will adjust building systems for maximum energy efficiency, a measure which can reduce operating costs by up to 15 percent. Its goals are to capture 16.5 gigawatt-hours (GWh, or billion watt-hours) of electric energy savings and to reduce electricity demand by 4.6 megawatts (MW, million watts) by "tuning up" building systems in Oakland office, medical, hotel, educational, and retail buildings — both publicly and privately owned.
Measures that save electricity or natural gas are both eligible for this program. Also called "building commissioning," these tune-ups make sure that all of the systems are operating at their rated efficiencies. Berkeley Lab research has shown that most buildings operate more efficiently after commissioning.
The tune-up program aims to commission 10.5 million square feet of buildings, which would result in a potential energy bill savings of $2.4 million per year. The Lab's role will be to provide the technical assistance necessary to identify the most effective energy-efficiency measures for each building.
"Working with building owners and managers in this program will help us better understand the issues associated with identifying and implementing retro-commissioning and operational improvements in buildings," says Piette. "We'll identify the most important retro-commissioning opportunities: what provides the largest savings at specific sites, the easiest to identify, the most common in all buildings."
Piette adds that "This work will also help us understand how we could apply advanced techniques such as model-based diagnostics and continuous performance monitoring tools, which we are developing at the Lab."
. . . and more energy-saving programs

Another program, the Street Area and Lighting Demonstration, is a collaboration between City of Oakland, private outdoor lighting system operators, and Berkeley Lab researchers to test more efficient municipal street-lighting systems. According to Flanagan, workers will install highly efficient electronic ballasts in 1,400 outdoor lights with 100, 150, or 200 watt lamps.
Yet another Oakland Energy Partnership program is Energy Efficiency Design Assistance, which gives designers, property owners and developers free design expertise and energy audits to improve building efficiency. The Business Services Energy Team will analyze the energy use of businesses and suggest cost-effective energy efficiency improvements. These services, plus 75 percent of total project cost, are covered by CPUC funding.
Two programs that provide small commercial and residential buildings with air conditioning tune-up and duct sealing round out the partnership's activities.
Additional information