A new convention center in Pittsburgh, PA
The City of Pittsburgh has built a new convention center, which will be the first facility of its kind in the United States to receive a "LEED-certified" rating by the U.S. Green Buildings Council. LEED stands for Leadership in Energy and Environmental Design; the Green Building Rating System™ is a voluntary, consensus-based national standard for developing high-performance, sustainable buildings.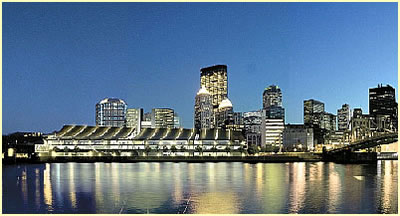 Pittsburgh's new David Lawrence Convention Center is the first of its kind to be certified as a Green Building leader in energy and environmental design.
The completed David Lawrence Convention Center facility opened at the end of April 2003. Its features include natural ventilation, extensive use of day lighting, and other energy-efficiency measures, as well as water-saving technologies.
Berkeley Lab scientist Vladimir Bazjanac responded to a Rebuild America request for assistance with the lighting design of the center. Bazjanac went to Pittsburgh and conducted an analysis at the site using a scale model of the design. Then, because "the building's geometry is so complicated that it was very difficult to model," says Bazjanac, "we used DOE-2 to create a model of energy use in the building."
DOE-2 is building-energy simulation software developed by Berkeley Lab researchers. Using it, Bazjanac created a shading system for the main entry area and the exhibit hall that would reduce cooling load and provide protection from glare in one of the exhibit halls. He passed the results along to the facility's architect, Rafael Vinoly Architects P.C.
Training America in energy-efficient design and retrofitting
There is a real thirst for information about how to lower energy bills through energy-efficient retrofit measures and improved operations. One of Berkeley Lab's most active areas for Rebuild America technical assistance is setting up training programs.
"We provide training seminars for Rebuild America partners all over the United States," said Berkeley Lab's Doug Avery, on a recent rare visit to his office between training and consultation trips. "Rebuild seminars range from a full day to focused half-day sessions and cover energy-efficient lighting, appliances and office equipment, HVAC systems, the building envelope, financing -- the gamut of issues that you are likely to run into during an energy-efficiency retrofit project."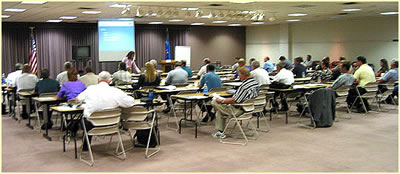 A Rebuild America seminar for commercial building professionals in Reno, Nevada
Avery initiated and developed the Rebuild Business Partners and now manages the program. "Rebuild America has over 150 Business Partners, who have allowed us to tap into their expertise and staff to provide speakers at these seminars," which attract anywhere from 25 to 200 people. Depending on the needs of the Rebuild America partner, the audience can include business owners, local government officials, utility staff, electricians, school officials, facility managers and operators, managers of low-income housing, and the general public.
Avery has worked with utilities such as Southern California Edison and Pacific Gas and Electric, and with the cities of Houston, Texas, Henderson, Nevada, and Boise, Idaho. One seminar, to address problems with aging prisons, was hosted by the Tennessee Department of Corrections.
Last year, Avery organized 14 seminars, and "this year we expect to do between 50 and 70." Of his crowded schedule, Avery says, "The high demand for these seminars is both gratifying and fearsome."
Reviewing energy-efficiency plans and contracts for Rebuild Partners
Facilities ranging from community-owned to commercial have a relatively new tool for making energy-efficiency improvements: the energy-savings performance contract (ESPC), implemented by an energy service company.
"The ESPC is a way of making energy-efficient improvements to a facility and paying for it out of future energy savings," says Berkeley Lab researcher Nance Matson. "It's a way to leverage more energy savings than through a normal procurement process."
An energy service company implements the energy efficiency measures, then takes its payment from the client over the next several years. If the measures provide, say, a 20-percent savings in the energy bill, the client pays a percentage of the money saved until the energy service company's fee is settled.
Matson has developed a model "request for quotes" (RFQ) and "request for proposals" (RFP), which Rebuild's community partners can customize to do their own solicitations for energy service company services. The models provide screening criteria to help a request-issuing community rank the quality of the responses.
The model RFP/RFQ is helping spread the ESPC throughout the U.S. as a tool for getting energy-efficient retrofits done and making it easy for any community to use ESPCs -- a contracting tool that is still unfamiliar to many local governments.
Charles Williams is a Berkeley Lab engineer who works in the Environmental Energy Technologies Division's Applications Team, a group that focuses on demonstrating advanced energy-efficient technology in the field. Williams' Rebuild role is that of reviewer.
"I have reviewed energy efficiency master plans, commenting on the technical merit of their approaches to providing efficiency for municipal facilities," he says. "I've also commented on RFPs for particular types of services for municipalities, and proposals sent to municipalities by energy service companies.... This involves looking at both technical and contract issues: Is it a good financial deal for the municipality? What are the terms of contract? Are there adequate guarantees?"
Recently, Williams has worked with the cities of Henderson, Nevada, and Richmond, California, on RFP solicitations. Another continuing role for Williams and several other Rebuild specialists has been providing technical review to the Energy Office of Berkeley, California, the Lab's host town, on their energy efficiency plans (see sidebar).
Rebuild America's Business Partners include a large number of energy service companies. Berkeley Lab's Charles Goldman and Nicole Hopper develop and maintain a large database of projects completed by these companies -- more than 2,300 project representing $3 billion in investment -- which they can use to track and analyze market and industry trends.
Goldman and Hopper sit on the Accreditation Committee of the National Association of Energy Service Companies, which accredits performance contractors by reviewing project and company information. Their analyses of savings, costs, and economics of performance-based projects help Rebuild America better understand the impact of energy service companies on energy use in the U.S.
Other programs complete the cycle
The assistance rendered by Berkeley Lab to Rebuild America is only one of several DOE energy-efficiency programs that benefit from Lab expertise. Berkeley Lab researchers also work with the Federal Energy Management Program, which helps federal facilities improve their energy efficiency and reduce energy bills, and with DOE's Build America program, which focuses on new construction.
Energy Star, a joint program of DOE and Environmental Protection Agency, has received technical assistance from Berkeley Lab researchers in developing voluntary guidelines and labels for energy-efficient products and buildings. Lab researchers also work with numerous state and local agencies throughout the U.S., including the California Energy Commission and the New York State Energy Research and Development Administration.
This work helps complete the cycle that begins with research and development. It doesn't end until consumers, businesses, and industries benefit from putting energy efficiency into practice.
Additional information