BERKELEY, CA – One of the explosive growth areas in research at the U.S. Department of Energy's Lawrence Berkeley National Laboratory and its neighbor, the University of California, Berkeley, is biology. This is especially true for multidisciplinary efforts in synthetic biology, cell and molecular biology, cancer research, and quantitative biology.
Over the next several years, the world is likely to become very familiar with the address 717 Potter Street in Berkeley, where much of the action in these fields will take place.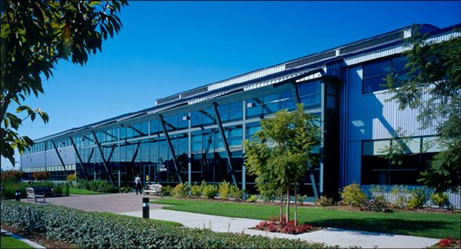 Berkeley Lab and UC Berkeley scientists will occupy lab space in a building renovated for biotech research, previously leased by the Bayer Corporation.
The campus and lab combined forces to find and lease from Wareham Development of San Francisco 72,000 square feet of specialized research and development laboratory space in a building there, one that is perfectly suited to the technical demands of today's biosciences. Previously leased to pharmaceutical giant Bayer Corporation, the building — one of 15 on Wareham's west Berkeley life sciences "campus" — was fully renovated for biotech research in 1997. The space is in excellent condition, with large general laboratories, adjacent cold and warm rooms, viral suites, tissue culture rooms, lab benches and hoods, and other equipment and furniture.
Berkeley Lab scientists, largely from Life Sciences and Physical Biosciences, will occupy most of the second floor. Among the researchers will be Life Sciences Division Director Joe Gray and former director Mina Bissell, Mary Helen Barcellos-Hoff, Life Sciences Deputy Director Damir Sudar, and Paul Yaswen. Joint appointees with UC Berkeley include Carlos Bustamante, Jay Keasling, Adam Arkin, Daniel Fletcher, plus administrative and management staff from Physical Biosciences.
The Lab will also provide a bioinstrumentation group. In all, about 200 scientists and staff are expected to move to Potter Street beginning in April. The initial five-year term of the lease includes options to renew for up to 20 years. The Laboratory's tenure will be depend upon the progress of capital projects on the Hill.
Seeking the off-site lab space was driven by unprecedented growth in biology programs at both institutions and their inability to provide quality research space for those programs, primarily housed in Lab buildings 74, 83 and the Donner Laboratory on campus. Such space limitations have restricted researchers' ability to be competitive for new grants, recruit and retain quality scientists, and conduct work sponsored by both DOE and the National Institutes of Health.
One of the Potter Street selling points was its proximity to other institutions which might engage in collaborative research, such as Bayer, Xoma, Dynavax, UC San Francisco and its Mission Bay campus, Chiron, and other biotech firms.
The vacated on-site space at the Lab will allow consolidation of the Life Sciences Radiation Biology program, return of the biosciences administrative staff to the main site from downtown, and relocation of functions from the Bevatron (Building 51) in anticipation of its demolition.
The Physical Biosciences Division's Synthetic Biology Department will be centered at Potter Street, positioning it for future DOE funding in areas such as environment and renewable energy. The new building will also enable programs in Biological and Environmental Research (BER) such as Genome: GTL science, low-dose radiation, DNA repair, and functional genomics.
UC's Board of Regents approved the lease proposal in November, and the DOE concurred in February. Negotiations between the parties concluded last week. Terms of the lease agreement were not disclosed.
Berkeley Lab is a U.S. Department of Energy national laboratory located in Berkeley, California. It conducts unclassified scientific research and is managed by the University of California. Visit our Website at www.lbl.gov.