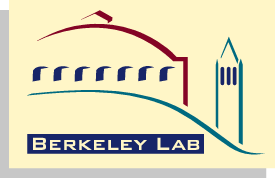 Berkeley Lab Currents
September 4, 1998

By Paul Preuss
You can keep your trouser cuff out of your bicycle chain with duct tape; if you need a money belt, you can use it to strap your money to your tummy. Some people claim they can cure warts with it. Unfortunately, one of the things you can't do with duct tape is seal ducts. At least not for long...
Thus the Lab alerted the media that Max Sherman and Iain Walker of the Environmental Energy Technologies Division (EETD) had thoroughly tested numerous kinds of duct sealants--and found only duct tape wanting.
"We tried as many different kinds of duct sealants as we could get our hands on," says Sherman, who heads EETD's Energy Performance of Buildings Group. "Of all the things we tested, only duct tape failed. It failed reliably and often quite catastrophically."
Newspapers and radio stations across the country picked up the story, and reporters added their own favorite uses for the stuff: "Popular wisdom claims you can use it to patch a canoe, repair a dangling fender or keep an alligator's mouth shut," Glenda Chui wrote in The San Jose Mercury News; "Perfect for a quick patch or a quick laugh," wrote Carrie Peyton in The Sacramento Bee; "Want to patch a garden hose, bundle cables together or keep a rusty tail pipe from dragging?" asked John Russell of The Akron Beacon Journal.
So it went in The New York Times, The Washington Post, The Chicago Sun Times, and over three dozen other major papers, the major wire services, and numerous radio and television stations; some editors wrote editorials. Sherman was interviewed on NPR by "Science Friday" host Ira Flatow, and Walker, who is from Canada, was interviewed on the CBC.
By a strange coincidence, the Eighth First Annual (sic) Ig Nobel Prize Ceremony, to be held at Harvard University on Oct. 8 to honor "achievements that cannot or should not be reproduced," had already announced that "the theme of this year's ceremony is `Duct Tape' . . . that most scientifical substance." A duct tape opera and fashion show are planned. Max Sherman has agreed to address the gathering, which as always will include numerous (actual) Nobel Prize winners.
All this humorous fuss is about serious research with a sobering message for the state of the nation's energy use. In work supported by the California Institute for Energy Efficiency, Sherman and Walker tested a variety of sealing materials--many kinds of duct tape, clear plastic tape, foil-backed tape, mastic, and the injected aerosol sealant developed at Berkeley Lab--for three months, under conditions similar to those encountered in real heating, ventilating and air-conditioning (HVAC) systems.
The researchers devised an accelerated way of mimicking the cycling of a home or office-building HVAC system from night to day and winter to summer. Hot air at over 160 degrees Fahrenheit was forced through standard sample ducts sealed with various products; cold air at 50 degrees alternated every five minutes.
Only one duct-tape product survived three months of the aging test. Eleven failed within days; some fell right off the joint. Clear tapes, foil-backed tapes, mastics, and aerosol sealant, although lacking the strength of duct tape, formed good seals for the duration.
Although the Underwriters Laboratory (UL) has developed ratings for duct tape, these refer not to longevity but to such characteristics as strength and fire resistance. Sherman and Walker hope their tests will stimulate agencies such as the California Energy Commission and the American Society for Testing Materials to adopt longevity standards. Meanwhile they are proposing more rigorous tests and new and improved sealants.
"This is the last area where there's an easy chunk of energy savings to be had," Sherman says, noting that he's seen houses that lose as much as half their total energy efficiency to HVAC leaks. Even the ducts in new houses typically leak almost 30 percent, according to California Energy Commission officials.
Sherman and Walker report their findings in the July/August issue of Home Energy magazine. The online version can be seen at http://www.homeenergy.org/898ductape.textd.html.
Photo: Max Sherman and Iain Walker tested virtually every kind of duct sealant on their accelerated aging rig. Only duct tape failed. Photo by Roy Kaltschmidt XBD9809-02227-02.tif

By Lynn Yarris
C. Bradley Moore, former dean of the UC Berkeley College of Chemistry, and a world authority on energy transfer and chemical reaction dynamics, is the new director of the Chemical Sciences Division. He takes over for Norman Edelstein, who has served as acting CSD director for the past year.
"We are extremely fortunate to have someone of Dr. Moore's scientific accomplishment, vision, and administrative experience leading the Chemical Sciences Division," said Lab Director Charles Shank in announcing Moore's appointment.
"At the same time, the Laboratory has benefited from the thoughtful and energetic leadership of Dr. Norman Edelstein for the past year. I am deeply grateful to him for his dedicated service."
Moore, 58, a native of Boston, has been affiliated with the Lab since 1974. He joined the UC Berkeley faculty in 1963, the year he received his Ph.D. in chemistry from there. His undergraduate degree was from Harvard.
Moore was among the first to apply lasers to the study of physical chemistry, using them to obtain quantum-state resolved measurements of vibrations and rotational energy transfers. His demonstration of the isotopic selectivity in the photochemistry of formaldehyde was the first use of a laser for isotope enrichment.
Most recently, Moore's research has focused on the interplay between energy transfer and chemical reaction processes. Lasers are used to resolve the quantum state dependence of processes so that the fundamental microscopic forces which control them can be deduced.
Internationally renowned in the field of physical chemistry, Moore served as dean of UC Berkeley's College of Chemistry from 1988 to 1994. He was chair of the University's Department of Chemistry from 1982 to 1986.
The plethora of awards and recognitions Moore has received include the E. O. Lawrence Award from the U.S. Department of Energy and election to the National Academy of Sciences, both in 1986.
Photo: C. Bradley Moore (moore.tif)

By Allan Chen
Native American tribal lands are often repositories of coal, oil, uranium and other energy resources fueling the U.S. economy, but they are also home to the most underserved populations in terms of energy services in the United States. Dwellings on some reservations are widely scattered and far removed from local utility power lines. Uninsulated homes waste expensive heating energy, and their owners lack the capital to invest in energy efficient improvements.
"Native Americans living on reservations pay the highest rates for fuel and electricity and have the highest percentage of unelectrified and unweatherized houses," says John Busch of the Environmental Energy Technologies Division (EETD). "They pay a disproportionately high percentage of their incomes on energy services."
Busch is the leader of the Native American Renewable Energy Education Project (NAREEP), an effort to provide technical assistance to tribes interested in developing energy efficiency measures and renewable energy resources to meet tribal needs. The project is housed at Berkeley Lab and staffed by researchers from EETD and the University of California's Energy and Resources Group (ERG). Initially funded by the U.S. Department of Energy, the program now receives support from the DOE, various foundations, and directly from Native American tribes.
Responding to the wide interest among Native Americans to pursue sustainable energy projects, NAREEP researchers at EETD and ERG recently published a handbook on energy efficiency and renewable energy geared to the concerns of Native American communities. Entitled "Native Power," the book covers efficient home heating, powering homes using small-scale renewable energy systems, setting up commercial-scale renewable energy plants, and project financing geared to a tribal audience. The researchers drew on their experiences providing technical assistance to tribal communities and conducting research on relevant energy-related issues.
"One critical need that tribal authorities have identified on many reservations is to upgrade residential housing through weatherization," says Busch. "Many tribes are also interested in developing home and community-scale renewable energy systems to address the needs of widely scattered housing on reservations far removed from utility electrical power lines. Their interest reflects a desire to develop clean, locally controlled energy sources consistent with tribal values of preserving nature."
Researchers at NAREEP are currently providing technical assistance to three tribes--Northern California's Yurok, the Rosebud Sioux of South Dakota, and the Zuni tribe of New Mexico. The tribes are developing renewable energy systems that include solar photovoltaic and micro-hydropower sources and a home weatherization program.
NAREEP's longest-standing tribal relationship is with the Yurok. "In 1996, we began assessing different electrification options for tribal households, including solar PV installations, and micro-hydropower systems," Busch says. "More recently we've been providing assistance in developing a billing program, exploring the issue of their forming a tribal utility to manage the systems, and providing training so that tribe members can take over operations and maintenance. The fact that the tribe is providing financial support to NAREEP is an indication of the value of this work to them."
NAREEP researcher and recent ERG graduate John Elliott began working with instructors at the Sinte Gleska College of the Rosebud Sioux, the Rosebud Sioux Tribal Utility Commission, and the Rosebud Housing Authority in 1996 to identify energy efficiency measures for the tribe's housing stock and to find resources to finance housing retrofits. "As a result of our work," he said, "the tribe has decided to form a tribal weatherization program and is going through the process of applying for funds from the state of South Dakota and the Department of Energy."
Three NAREEP graduate students are currently working with a Zuni-run project to manage tribal natural resources. The students are assisting in creating the Zuni Sustainable Energy Project to develop solar-powered water pumping and lighting systems and to provide electricity to run small machinery that tribal members use in jewelry-making--for them a traditional means of livelihood.
The most recent example of NAREEP's outreach work took place earlier this summer when 15 Navajo teens from the Greyhills Academy High School of Tuba City, AZ, spent an afternoon with NAREEP staff members. The students, who are part of the school's Summer Enrichment for Gifted and Talented Students program, learned about sustainable energy concepts using tribal examples. They also visited the Energy Efficient Lighting Fixtures Laboratory and expressed interest in following up with internships at Berkeley Lab.
The NAREEP program also supports student research on Native American energy issues, has developed an energy curriculum for tribal colleges, runs workshops on energy efficiency and renewables for tribal educators, and assists with a summer camp for Native American teens.
More information on the subject can be found in "Native Power," written by NAREEP's John Busch, John Elliott, Tri-sha Frank, Vivian Gratton, Tom Starrs, and Jim Williams. Also, a 1997 report on "American Indian Tribes and Electric Industry Restructuring: Issues and Opportunities" was developed by David Howarth, John Busch and Tom Starrs. NAREEP publications and related information are available on the web at http://eet.lbl.gov/nareep.
Photo: A high school student at a 1996 NAREEP summer energy camp tests a parabolic solar cooker. (Mirror.tif)

Please note that the next issue of Currents will come out on Sept. 25 instead of Sept. 18. The extra week will allow us to conduct a reader survey and better synchronize the publication dates with the year's holiday schedule. Please make sure to consider this change when submitting items to the calendars and Flea Market.

Nobel Laureate and Berkeley Lab Associate-Director-at-Large Glenn T. Seaborg is recovering at a Boston hospital after suffering a stroke on Aug. 24.

Dr. Seaborg, 86, was attending the national meeting of the American Chemical Society, where he was named one of the "Top 75 Distinguished Contributors to the Chemical Enterprise." He was among the top vote-getters for the prestigious honor, given by Chemical and Engineering News.

His family, who are with him at Boston's Beth Israel Deaconess Hospital, are hopeful that Dr. Seaborg will be returning home soon. They request that cards or other correspondence be sent through his Laboratory office via Doris Demirjian, MS 70A-3307.

Michael O'Neil, formerly the manager of the Employee/Labor Relations unit of the Human Resources Department, was appointed head of HR last week. O'Neil replaces Robert Frane, who resigned last month.

Previous to his position at the Laboratory, O'Neil served as human resources director for the San Francisco Newspaper Agency, the operating arm for The San Francisco Chronicle and Examiner. A lawyer and long-time expert in labor relations, O'Neil held positions at the National Labor Relations Board and the law firm of Corbett and Kane in San Francisco.

A profile of Mike O'Neil can be found in the March 7, 1997 issue of Currents, available online at http:// www.lbl.gov/Publications/Currents/ Archive/Mar-7-1997.html#RTFToC3.

Photo: Congresswoman Barbara Lee (left) was greeted by Werner Meyer-Ilse (to Lee's left) and other staff members at the ALS during her visit to Berkeley Lab last Tuesday. Lee met with Director Charles Shank and toured various Lab facilities. Photo by Roy Kaltschmidt (XBD9808-02136.tif)

Researchers funded by the U.S. Department of Energy won 34 of the 100 awards given this year by R&D Magazine for the most outstanding technology developments with commercial potential. Among the winning efforts were the development of a biopesticide made from cereal grains, and the creation of an ultrahard, nearly frictionless coating for car engines.

Congratulating the researchers, Under Secretary of Energy Ernest Moniz said, "Once again, the scientists and engineers at the Department of Energy laboratories are being recognized by garnering a third of this year's prestigious R&D 100 awards. This says more clearly than any words can express how the DOE labs serve as an important engine of American innovation."

This year's awards bring DOE's cumulative total to 487--the most by far of any single organization and more than twice as many as all other government agencies combined, said DOE spokesperson Jeff Sherwood. The winning technologies were selected from entries by an independent panel of more than 70 experts and the editors of R&D Magazine. The awards will be presented at a ceremony at Chicago's Museum of Science and Industry on Sept. 24.

A recently signed memorandum of understanding designed to increase cooperation in computing research between the Lab and Brazilian universities is expected to bring three Brazilian post-docs to LBNL in the next year.

Lab scientists who would like to participate in the program should submit calls for proposals by Tuesday, Sept. 8. The 1998 calls for proposals will be issued on Sept. 10.

Brazilian scholars interested in the program will submit proposals, and CNPq (the Brazilian equivalent of the National Science Foundation) will select six post-doc candidates and send their proposals to Berkeley Lab. Of these, three post-docs will be selected by Lab scientists.

Areas to be covered in the calls for proposals include collaborative technologies, distributed algorithms, operating systems, security technologies, visualization tools, information retrieval technologies, networking technologies, computational biology, discrete event systems, parallel computing, and high-performance computing.

On Aug. 21 ICSD Director Stu Loken and Jose G. Tundisi, president of CNPq, signed a new memorandum of understanding on the Program of Cooperation in Distributed and Parallel Computing. The new MoU expands the forms of cooperation and specifies a formal process for the program, which started in 1996.

Representatives from both organizations discussed the implementation schedule for the program and agreed on the areas of research for which calls for proposals will be issued. The MoU can be read at: http://www-itg.lbl.gov/~ssachs/collaboration/project.html.

To participate in the program, submit your call for proposals on one of the topics listed above to Sonia Sachs at [email protected]

Washington News

In his first day on the job, Secretary of Energy Bill Richardson told employees he wants to make DOE the "best department in the Cabinet" and the lead agency on a number of key policy issues in which the DOE has previously played a smaller role, including global climate change and U.S. oil industry interests in the Caspian Sea.
"My objective here is to bring a sense of activism to the Department of Energy, restore the department's luster, which is lost," said Richardson.
The Secretary also said he wants to "show how relevant DOE is to the American people," and said that "there is nothing wrong with the Department of Energy that cannot be fixed by what is right with the Department of Energy."
Richardson stressed that he wants to be accessible to employees and intends to hold "town meetings" with his staff.
Among his policy priorities, Richardson listed the cleanup of the department's former weapons complex, electricity deregulation, nuclear nonproliferation, promotion of renewable energy and energy efficiency, and increasing domestic oil and gas production.
Asked about DOE's involvement in efforts to promote U.S. companies' development of oil and gas resources in the Caspian Sea--an area which has previously been led by the State Department--Richardson said, "I want us to be the lead agency there. But we have to prove ourselves, and we need to do more in this area."
He noted that the administration has appointed "a sort of Caspian czar, Richard Morningstar," and said, "We're going to be working very closely with him."
On climate change, the Secretary said he would tackle the issue on several fronts. "What is key here is we need better agreements with developing countries. We need a full scale effort to convince developing countries that engaging in climate change is in their interests. We need a more assertive effort."
The work the department does in developing technologies to reduce greenhouse gases is important, he said, and he will attempt to bring those technologies to developing countries, particularly to China. Finally, he said, he would work on "explaining the importance of climate change to a skeptical Congress and a public that is learning more about this issue."
Richardson, who is currently serving as both energy secretary and U.S. ambassador to the United Nations, said he believes his experience dealing with Iraq, North Korea, India, and Pakistan will be helpful in his new job. He said he plans to "beef up the international departments here at DOE by reorganizing and by bringing people in."
--Lynn Yarris

By Paul Preuss
Germanium, doped with copper and cooled to the temperature of liquid helium, is ordinarily a good insulator. But it becomes an astonishingly good conductor of electricity when squeezed along one axis of its crystalline structure. The surprising discovery was made by Oscar Dubon, Eugene Haller and Wladyslaw Walukiewicz of the Material Sciences Division.
"A little pressure induces a change of over a dozen orders of magnitude--one trillion fold!--in conductivity," says Haller, pointing to a plot that displays the resistivity of a copper-doped germanium sample abruptly dropping as pressure increases.
The increase in conductivity is so rapid and so large that the effect may be useful in designing instruments to detect extremely small changes of temperature or pressure. Even more important, the phenomenon offers condensed-matter researchers a new way to perform detailed studies of the insulator-metal transition in semiconductors.
What makes semiconductors so useful in the electronics industry and elsewhere is that their conductivity can be changed from insulating to conducting behavior by adding minute quantities of certain impurities, a process called "doping." In the well-ordered crystalline structure of an undoped semiconductor, the overlapping orbitals of the electrons form distinct energy bands. The lower-energy valence bands are full of electrons--so full that the electrons cannot move--while the higher-energy conduction bands, where electrons can move, are empty. If there are no extra charge carriers in these bands, the crystal is an insulator.
In a semiconductor like germanium, the bands lie relatively close together on the energy scale, and even a little heat can give valence-band electrons enough energy to leap to the conduction band, which makes the crystal a conductor. The effect can be enhanced or modified by doping. If some of the pure crystal's atoms are replaced by others, such as phosphorus atoms, electrons are added to the conducting band. Doping with boron atoms leaves positively charged "holes" in the valence band, which also allows charge to flow.
At sufficiently high temperatures, doping germanium with copper can contribute holes to germanium's valence band. But at low concentrations, the average separation of copper atoms is much larger than the size of the outermost copper orbitals, and the charge can move only by "hopping" between adjacent copper sites. Since this is an unlikely process, the germanium crystal still acts as an insulator.
"We decided to take germanium that was doped with copper, but was still a good insulator, and apply uniaxial stress," Walukiewicz explains. It was a simple matter to apply over four kilobars of pressure [over 4,000 times atmospheric pressure at sea level] to a one-by-one-by-five millimeter chip of copper-doped germanium by squeezing it in a vise.
What Dubon, Walukiewicz and Haller found was that pressure applied along one direction changed the electron orbitals around the copper atoms, effectively enlarging these orbitals enough so that even at low concentrations they overlapped and permitted conduction.
The overlapping orbitals of the dopant atoms themselves form their own separate band, with properties that depend on charge and electron spin. Solid-state researchers have been intrigued by these doping-induced bands since they were first proposed by theorist John Hubbard almost 40 years ago.
In most semiconductors, however, the higher-energy Hubbard component merges with the crystal's valence band near the insulator-metal transition point, making Hubbard bands exceedingly difficult to study. Uniaxially stressed copper-doped germanium is free of these problems and represents a pristine case of isolated Hubbard bands.
"You can say we have a new, smaller-gap semiconductor within the germanium semiconductor," says Walukiewicz. "The placement of the copper is random, but its electronic structure is a completely delocalized extended state."
Walukiewicz sees opportunities for many areas of research, such as studying random systems "using germanium as a matrix to keep copper in place: random but well defined. Random systems are much more difficult to study than crystals, but also much more common."
Haller agrees that the possibilities are numerous. "We have seen this huge physical effect, an increase in conductivity of many orders of magnitude achieved simply by applying pressure. And it is intrinsically interesting to be able to study the Hubbard band in a new state, clearly separated from the valence band of germanium. We can do that for the first time."
Photo: Eugene Haller and Wladyslaw Walukiewicz found that by compressing copper-doped germanium at low temperature, resistance dropped a trillion-fold, permitting new studies of semiconductor transitions. Photo by Roy Kaltschmidt (XBD9807-01754-01.tif)

Kenneth Warren Ehlers, Berkeley Lab's world-renowned "Ion Sorcerer," died early Monday morning, Aug. 31. He was 76.

Ehlers was born in Dix, Nebraska, in 1922 and joined the Lab in 1950 as a staff physicist. He became a senior physicist in 1978 and was named Staff Senior Scientist, Emeritus, by the University of California Board of Regents in 1986. "He never really retired," says Wulf Kunkel, his colleague for many years.

As a Navy technician's mate during World War II, Ehlers helped Luis Alvarez build and test the first Ground-Controlled Approach radar system for aircraft blind landings. After the war he pursued his interrupted studies at the University of Colorado, and later attended the Massachusetts Institute of Technology and UC Berkeley.

Ehlers joined Ernest Lawrence's laboratory in 1950, "when the place was still called the Rad Lab," Kunkel says. "Ken was one of those engineer-inventor types who understood how things work from trial and error. He had a real knack for physics. He was truly responsible for much of the success of this Lab."

Ehlers worked on many aspects of accelerator design, but he found his metier in 1956 with the design and development of the ion source for the HILAC heavy-ion accelerator. Thereafter most of his work was on ion sources, including the first ion sources for the 88-Inch Cyclotron. Eventually he designed all the sources employed in accelerator systems designed at Berkeley Lab, whether used here or at facilities around the world. He became known as the Ion Sorcerer and, Kunkel says, "we used to joke that he had plasma in his veins."

Some of Ehlers' numerous technical contributions were revolutionary in nature. Says Kunkel, "He invented ion sources for negative hydrogen ions at a time when people didn't think negative hydrogen ions existed." He built such sources for KEK in Japan, the TRIUMPH accelerator at the University of British Columbia, and the LAMPF accelerator at Los Alamos. They have become standard for large proton accelerators such as the SNS.

Ehlers was a founding member of the Lab's Neutral Beam Development Program and Magnetic Fusion Energy Group. Although he once used a ruby laser to produce a plasma by irradiating microscopic falling ice cubes--the forerunner of all inertial-confinement fusion devices--it was Ehlers' giant ion sources for fusion devices, beam injectors producing neutral hydrogen beams of remarkable power, that "basically drove the development of controlled fusion around the world," according to Kunkel. Ehlers contributed to Princeton's ATC and TFTR tokamaks and to Livermore's Mirror Machine, among others. In 1990 the Academy of Sciences of the USSR (where the tokamak was invented) awarded Ehlers a physics medal.

Ehlers' collaborator on volume-production negative-ion sources, Ka-Ngo Leung, remembers Ehlers as having "a very pleasant personality and very high standards. Even his logbooks read more like textbooks. When he wrote, he used a ruler. He was very disciplined, and everything he designed was elegant and thoughtful--and he expected that of others."

Author of hundreds of articles, holder of more than a dozen patents, and member and officer of numerous professional societies, Ehlers found time for community service both at home and abroad. He rebuilt the cyclotron at the University of Chile while teaching physics there on a Ford Foundation program. At home, says Reid Edwards, a close friend of Ehlers' son Gary, he was active in the Boy Scouts and "was a very active member of the neighborhood, a father figure to a lot of the boys."

Ehlers lived in Alamo. His wife, Marian, died recently; he is survived by his son Gary and his family. Memorial services will be held Wednesday, Sept. 9, at Hull's Funeral Home in Walnut Creek, with a reception to follow.

Photo: Ken Ehlers (XBD9609-04732)

By Eli Kintisch
"See, we've chosen three images from the bright part of the sky, recorded by a CCD digital camera, taken 15 minutes apart," explains Billie Proctor, gesturing at the image of the stars on his computer screen. His associate, Anna Neal, expertly selects a bright one with the mouse. "By using this point as a reference," she says, "we can align the images. Everything should be the same between the two, unless something is moving--like an asteroid."
These astronomers don't have their Ph.Ds; they've never even paid rent. Yet the two 18-year-old high schoolers are conducting an asteroid hunt with pictures never seen before from a world-class scientific telescope. As part of the newest aspect of the Hands on Universe (HOU) project, students are now generating real data that scientists can use in asteroid studies. Along with similar developing programs, HOU heralds a new era of education in which lectures are being supplemented by research sessions in which high school students can contribute data and collaborate with far-off scientists.
"Scientists learn science in grad school by doing science," said Carl Pennypacker, the creator of HOU. "And kids like genuine things--we all do."
Since 1993, HOU teachers and scientists have developed curriculum units on astronomy and computer programs that allow students to access pictures taken by huge telescopes. The program has grown to include hundreds of high schools. "We were surprised that students wanted real data," Pennypacker said. "Student and teacher eagerness to do real research was unplumbed."
Only recently, with the work of Pennypacker and teacher/developers Tim Spuck and Hughes Pack, has the computer program been refined so that students can calculate the careful computations of asteroid position and speed, calculations needed to submit asteroid data to the Minor Planet Center (MPC), an organization at Harvard that maintains lists of asteroids.
"When the data is precise enough, we will be able to submit it," reported Pack. "We're not interested in discoveries, but simply adding to the database."
Although MPC receives thousands of asteroid sightings each month, both from professional and volunteer astronomers, scientists at the Center report that HOU's students are filling a needed gap.
"We are lacking coverage in the southern hemisphere, so anything that can extend an arc on fast-moving objects heading into the deep southern skies is to be applauded," said MPC scientist Gareth Williams. "Plus, I would have killed for such a program when I was in school!"
While HOU fosters partnerships made in the heavens, another Berkeley Lab program--QuarkNet--uses the same approach to explore the infinitesimal, using fresh data taken from the world's best particle accelerators.
"The idea is to have kids doing science the way scientists do it," said QuarkNet's Michael Barnett, a senior Lab physicist. The goal of QuarkNet is to establish active participation with physicists at American universitites and laboratories who work in experiments at Fermilab and at the Large Hadron Collider in Geneva, to be completed in 2005. For now, teachers are developing ways to allow students to access event pictures--information-rich snapshots of particle collisions--and other data to collaborate with scientists and other students over the net.
All over the world, partnerships between high-schoolers and senior researchers are taking off. HOU has preliminary plans for placing a telescope on the Japanese module of the International Space Station devoted to student-scientist research. Pennypacker reports that future HOU collaborations may involve remotely operable microscopes at the Lab's National Center for Electron Microscopy and at Arizona State University. Another proposed project at the University of Hawaii would allow students remote access to underwater cameras and robotic submersibles.
Scientists say that as educational sensibilities shift, grant money for these projects is becoming easier to procure. "There's a different attitude these days which supports funding for these efforts," said Barnett.
Rich Lohman, Anna Neal and Billie Proctor's science teacher at Albany High, says that the asteroid search has his students more excited about science than ever before. "It's one of the most effective new teaching tools I've seen."
Pennypacker couldn't be happier. "It's a win-win situation."
Photo: Former Energy Secretary Federico Peña joined students and teachers at Albany High School for an interactive Hands on Universe demonstration earlier this year. (HOU.tif)

Netscape Calendar, which will replace Meeting Maker as the Lab's calendaring application, will be deployed this fall as part of the continuing computer infrastructure upgrade effort known as the Mercury Project.

The transition to the new Net-scape Calendar system, led by the Computer Infrastructure Technology Group, will be very similar to the last Meeting Maker upgrade. All Meeting Maker entries scheduled after Nov. 15 will have to be rescheduled in Netscape Calendar as new entries. The new system will go online for resource administrators on Oct. 1. Resource and group information will be entered into Netscape Calendar during the first two weeks of October.

The new calendar service will be rolled out for all Lab employees on Oct. 14. Anyone who wishes to have a Netscape Calendar account and is not currently on Meeting Maker can request one after that date.

All Meeting Maker clients will move their scheduling information over to the new system by Nov. 16, at which point Netscape Calendar will become the authoritative source for all Lab schedules, and Meeting Maker servers will be shut down.

Future issues of Currents will feature additional information regarding training options, including AIMS classes, brown-bag sessions, web-based training, websites, and handouts. For questions contact Curtis McDonald at [email protected]

According to an article in the Aug. 27 edition of "TechWeb, the technology news site," the first version of a new electronic game being offered as a free download (a sequel to Wing Commander) contained a very destructive computer virus. Although there have been no reports of the virus infecting Lab computers, Mark Rosenberg of the Computing Infrastructure Technology Group said this is a reminder that viruses can come from almost any source and spread quickly. The virus has been spreading through other means, too, and has affected thousands of computers.

"Called one of the most damaging viruses in years by some researchers, the W95.CIH virus activates on the 26th of the month, wiping out some computers' flash memory," the article reported. "Once resident in a computer's memory, the virus will quickly spread to any executable file that is opened, copied, or accessed in any other way." For more information, visit the TechWeb site at http://www.techweb.com/wire/story/TWB19980827S0011. To learn more about virus protection and computer security at the Lab, visit: http://www.lbl.gov/ ICSD/Security/.

--Jon Bashor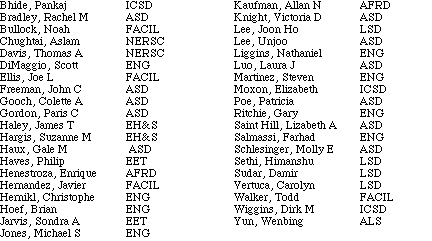 By Ron Kolb
Berkeley Lab's effort to establish a mid-canyon fire break east of the city of Berkeley has moved into the second of its three phases. Vegetation specialists have begun selecting eucalyptus trees to be culled in order to thin dense stands in the northeast section of the Laboratory. No stands are to be completely removed under this project.
This phase of the project will connect the Laboratory's recently completed fuel break with the UC and East Bay Regional Parks District fuel breaks, which run from the intersection of Grizzly Peak Blvd. and Centennial Drive to the parking terraces below the UC Space Sciences Laboratory.
In thinning the dense eucalyptus stands along its northeast boundary, the Laboratory will further demonstrate its commitment to the Hills Emergency Forum, which was formed by hill-area cities and agencies after the 1991 Oakland Hills fire in order to enhance wildland fire protection for all structures west of this area, including those in the city of Berkeley.
To reduce fire risks, over the past three years the Laboratory has engaged in a systematic vegetation management and fuel break development program designed to provide firefighters with specific locations to safely fight wildland fire while limiting its spread from embers. The current phase will focus on eight small-to-moderate scale eucalyptus stands located just west of Centennial Drive, in the area of the Laboratory's Grizzly Gate--about a half-mile above the UC Botanical Garden.
A team that includes an arborist, a landscape architect, and a wildland fire expert began this week to develop a plan which particularly targets weak, failing and failure-prone trees, and which will also improve overall grove vitality and resistance to the eucalyptus long-horned borer.
The team will paint marks on the trees to identify those which are particularly healthy or otherwise important to work to retain, as well as those which are weak and/or present particular fire risks. The markings will be reviewed by the Laboratory site planner and advisors as a final thinning plan is developed. Tree thinning is expected to begin in late summer 1999.
There will be opportunities for discussion with interested individuals during this process.
Questions about the program may be directed to Rich McClure, site planner, at X4486.

Do you have an interesting story or anecdote to tell?
Did you or one of your colleagues accomplish something that you think others would like to hear about?
Are you working on some interesting research?
Do you have a picture you would like published in Currents?
If so, please send your suggestions to [email protected] lbl.gov. We cannot publish every item submitted, but we will consider all your suggestions.

Photo: Steve Sugar Photo by Roy Kaltschmidt (XBD9808-02202-01)
Lab firefighter Steve Sugar demonstrates cardiopulmonary resuscitation (CPR) technique during a recent training session at Berkeley Lab. Onsite CPR classes are now being taught by Lab firefighters and have been expanded to include emphasis on hands-on technique and practice. The seven firefighters who will serve as CPR instructors are certified by the American Heart Association and have collectively taught dozens of CPR classes in neighboring communities during the past few years.
The class content will continue to focus on adult heartsaver skills. Participants who complete the 3.5-hour training class will receive an American Heart Association card and be registered with the Northern California AHA Affiliate.
As part of the EH&S Safety Awareness Month, five Adult Heartsaver classes will be offered on consecutive Wednesdays during the month of September from 8:30 a.m. to noon, with the exception of the Sept. 30 class, to be held from 1 to 4:30 p.m. Classes will be held at the Firehouse (Bldg. 48, Room 109). EH&S hopes the program will train 100 Lab employees during the course of this month.
To pre-register for CPR and First Aid classes call X7366. Please dress comfortably for class.

Nonimmigrant J1 exchange visitors whose current document expires between Sept. 1 and Oct. 30 must prepare an extension application if they have remaining entitlements for benefit in their 36-months J1 status.

The application form may be downloaded off the web (http://www.lbl.gov/Workplace/HumanResources/) and completed, printed and faxed with extension PAF or PGIF to IRSO at X6477. Further immigration news updates and information on services may be found on the same website. Questions may be addressed by e-mail to [email protected] lbl.gov.

The Mail Room personnel have noticed that mailings in excess of 200 identical pieces have often been sent as first class mail. If the material being sent is not time sensitive, the Mail Room strongly urges employees to use bulk mail, considering that rates are an average of 60 percent lower than those for first class. Bulk mail delivery usually takes between five and nine days, compared to one to three days for first class.

For example, a recent first class mailing of 7303 pieces cost the Laboratory $4016. Had it been sent by bulk mail, the cost would have been $1446, for a savings of $2570.

To use bulk mail, a bulk mail symbol and number must be printed in the upper right hand corner of the document or envelope. For more information contact the Mail Room at X2209 or X5353 before printing your document.

Orientation sessions for new employees have been scheduled through the end of the year for Sept. 8, Oct. 13, Nov. 10, and Dec. 8. The September session will be held in the Bldg. 50 auditorium. The schedule for all sessions is:
| | |
| --- | --- |
| 9:00 | EH&S 10: Safety Training |
| 10:00 | New Employee Orientation |
| 11:00 | Bus tour of the Hill and downtown Berkeley Lab facilities |
| 11:45 | Free lunch in the cafeteria |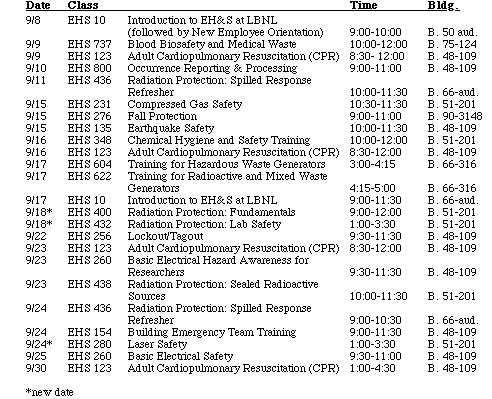 _______________________
Preregistration is required for all courses except Introduction to Environment, Health & Safety. To pre-register, send name, employee ID number, extension, course title, EH&S course code, and date of course to EH&S: via the web (http://www-ehs.lbl.gov/training/registration/), e-mail ([email protected]), mail (EH&S Training, 90-0026, room 16C), fax (X4805) or phone (X7366).

The annual Berkeley Lab Runaround will be held this year on Friday, Oct. 16. About 900 participants walk or run the 3 km course each year, with spectators joining in the big festivity. All employees are encouraged to participate.

A map with the Runaround route will be published in an upcoming issue of Currents. For more information, contact Steve Derenzo at X4097 or by e-mail at [email protected] lbl.gov

Peabody's Coffee will continue to operate the coffee stand in the Dining Center during the construction period for the new Employee's Convenience Center.

The stand will be moved to the lobby area of Bldg. 54. The new center will open Sept. 21.

Due to the fact that the FY98 inventory is not finished, the new web-based property system, which will replace the FOCUS application, will not go into effect until Oct. 5. For further information call Galvin Robillard at X4184.


The Berkeley Lab Calendar is published biweekly here on the World Wide Web and in Currents by the Public Information Department. Employees can list a meeting, class, or event in the Calendar by using this submission form. The deadline for submissions is 5 p.m. on Monday in the week that Currents is published.

In addition to the events listed below, Berkeley Lab's Washington, D.C. Projects office is hosting a Science and Technology Seminars series.

Scientific Conferences

September 4-25 1998
Labor Day Holiday Music Club
Noon, lower cafeteria

CPR Training
8:30 a.m. - noon, Bldg. 48-109

African American Employees Association
General membership meeting, Noon, Bldg. 90-1099

Shoemobile
7:30 a.m. - 3:30 p.m., Bldg. 54 parking lot

CPR Training
8:30 a.m. - noon, Bldg. 48-109 CPR Training
8:30 a.m. - noon, Bldg. 48-109

Items for the calendars may be sent via e-mail to [email protected] lbl.gov, faxed to X6641 or mailed to Bldg. 65B. The deadline for the Sept. 25 issue is 5 p.m. Monday, Sept. 21.

Environmental Energy Technologies Division
"Preliminary Results from a Bottom-up Analysis to Determine Residential Energy Consumption in the Emerging Economies of the World" will be presented by Sajud Hakim and Isaac Turiel of EETD.
Noon, Bldg. 90-3148

Nuclear Science Division
"New Tests of the Equivalence Principle" will be presented by Erie Adelgerger of the University of Washington.
10:30 a.m., Bldg. 50 auditorium

Center for Beam Physics

"Emittance Measurements from an Emittance-Compensated Photocathode RF Gun Using Temporally Shaped Laser Pulses" will be presented by John Schmerge of SLAC/SSRL.

10:30 am, Bldg. 71 Conference Room

"Aspects of Future Large Hadron Colliders" will be presented by Eberhard Keil of CERN.

2 p.m., Bldg. 71 Conference Room

Earth Sciences Division

"Simulating Human Oral Bioavailability of Hydrocarbons" will be presented by Hoi-Ying Holman and Regine Goth-Goldstein of Earth Sciences.

Noon, Bldg. 50A-5132

Environmental Energy Technologies Division

"Longevity Testing of Duct Sealants" will be presented by Iain Walker of EETD.

Noon, Bldg. 90-3148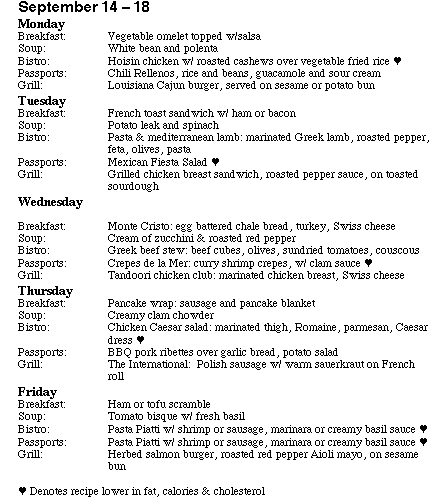 `78 DATSUN Nissan 280Z, 2+2, great car, recent work incl rear brake overhaul and new fuel injectors, runs great (fast), 112K mi, custom wheels w/ Pirelli tires, registered to 6/99, $1,900, Osman, X2092, 410-8054

'79 TOYOTA Celica, 156K mi, 5 spd, ac, sun roof, exc tires, new clutch, recent tune-up, well maintained, all records, very reliable, registered until 10/98, $1000, Raul, X5707

`85 TOYOTA Cressida Luxury Wagon, exc cond, runs well, clean, pwr everything, white w/ burgundy interior, $3,500/negotiable, Sonia X5944, 594-8964

`86 FORD Bronco, silver/navy blue, 138K mi, 4x4, 2 dr, straight, 6 cyl, auto, CD, new transmission and carburetor, runs great, top comes off easily, $5,000 firm, Eloy/ Kirsten, X2474, 522-9522

`86 PLYMOUTH Voyager LE Wagon, 127K mi, good cond, $3,000/b.o., Paulo, 339-3566

'86 MITSUBISHI Tredial, 140K mi, runs great, moving back to Europe, $750, Reinhard, X7838.

`87 DODGE Colt E, 91K mi, 4 dr, at, ps, ac, am/fm/cass + 4 speakers, complete service records, registered to 7/99, $1,500, Ron, X4410, 276-8079

'89 NISSAN Sentra, sedan, 128K mi, manual trans, ac, am/fm/cass, exc cond, $1,900 (negotiable), Jerome, X5265

`90 PLYMOUTH Voyager Minivan, exc cond, V6, at/ac, am/fm, tilt cruise, 115K mi, $3,500, Bryan, (925) 937-8778

'90 PLYMOUTH Voyager LE Minivan, 3l V6 engine, 98K mi, at, ac, am/fm/cass, pwr steering, cruise control, pwr windows, new front tires, brake system pads, calipers, rotors, main cylinder, new, exc cond, $5200/b.o., Olaf, X6676

`91 NISSAN Stanza GXE, 5 spd, fully loaded, pwr side mirrors, pwr windows, moon roof, cruise control, ac, am/fm/cassette, top of the line model, exc cond, orig owner, 68K mi, maintenance records avail, $8,000, Chissie or Bill, 841-2105.

'91 TOYOTA Previa, 116K mi, one-owner, at, ac, ski rack, exc cond, $9,500/b.o., Ben, X7725

`93 JEEP Grand Cherokee Ltd, white w/ gray leather, 4 wheel, all-wheel drive, tow pkg, tint, premium sound, new tires, all options, 95K mi, immaculate cond, $13,250/b.o., Wayne, X7685, (925) 837-2409

`93 FORD Escort Wagon LX, ex cond, 77K mi, $5,950, Clemens, X7249

`95 MAZDA 626 DX sedan 4D, green, under warranty, 4 cyl, 2.0 liter, 5 spd, frt wheel drive, 44K mi, ac, pwr steering, dual airbags, am/fm stereo, cassette, tilt wheel, $9,670 (Blue Book value: $10,670), Minxue, 642-1440, 845-9578

`95 FORD Explorer, Eddie Bauer, CD player, leather, 83K mi, control-trac, 4 wd, runs great, exc cond, inside and out, $16,500/b.o., Chami X2080, (925) 827-9453

`96 TOYOTA RAV4, SUV, 4X2 wd, ac, am/fm single CD player w/ remote control, new tires, in good cond, lots of custom pkg on vehicle, must see, $19,700/b.o., Phyllis, X7368

BERKELEY, bdrm and study space, nr trans (1/2 blk to BART and AC Transit), nr Ashby/Shattuck, walk or bike to campus/lab, minimum cooking, personal phone, share bth, prefer tacit agreement/term or academic year, first, last and $50 deposit, Amy/Thelma, 843-6023, am/pm

BERKELEY HILLS, lovely 1 bdrm, 1 bth, in-law apt, new kitchen and bthrm, fully furn, private patio, nr shopping and transportation, util incl, nonsmoker only, $995, Helga, 524-8308

PIEDMONT, bright, 2 bdrm, 1 bth, laundry rm, storage, no smoking, 15 min from LBNL/UCB, $1,500, Lydia, X4952

EL CERRITO, new/modern 3+ bdrm, 2 bth, lg house, dinning room, lg den, family rm, living rm, frpl, carpet, 2-car garage, nice yard, partial view of the bay, $1850/mo, first and last + security deposit, I pay for gardener, avail 10/1, Hashem, X4287, 299-0560

486 COMPUTER, 66 MHZ, 500M hard drive, CD, sound card and speakers, keyboard and mouse, no monitor, exc starter or for student, $350, Bob, 827-0230

CD CHANGER, Harman/Kardon FL 8400, 5 disk carousel, w/ remote, $150, Tom, X5904

CEMENT mixer, electric or gas powered, extension ladder, heavy duty, reaches 25 ft peak, Charlie, X5648, (925) 283-6111

CHENILLE THROW, hand-woven, $20; hair dryer, ConAir, good cond, $5; Citrus hand juicer, glass, $5, Melissa, 665-5572

FIBES 4 pc maple drum set, new cond, 20" kick w/ 13" and 15" toms+hardware & snare, $1,400/b.o.; like new Tama 4 pc set, burgundy, w/ chrome share, 22" bass drum, 12" and 16" Toms, $850/b.o.; new Ludwig 5 pc, maple shells w/ mahogany finish, $1,700; Zilden and Sabien cymbals, Don, X7972

LADY KENMORE washer/ whirlpool dryer, heavy duty, lg capacity, almond color, nice cond, $250, Phil, X5096, 236-9778

MAC IIsi COMPUTER, 9 MB RAM, 40 MB internal hard disk, 100 MB external hard disk drive, Apple color high resolution 13" RGB monitor, Apple extended keyboard II, Day Star 50 MHz Universal power cache, lots of software, $250, Ron, X4410, 276-8079

MACINTOSH Performa 636CD, 20MB RAM, 250MB HD, 14" monitor, external zip drive, Global Village Teleport Platinum 33.6kps, modem, word processing, Internet & drawing software along w/ Apple Personal Laserwriter incl, $600, Henry, 547-0697

MARINE WORLD, 2 children's tickets, general admission, good until 11/1/98, $13 ea, Marie, X7618

MOUNTAIN BIKE, `95 Mongoose Rockadile, 17.5" frame size, polished silver color, barely used, great cond, set of road tires, $400/b.o., Rebecca, X4329, 547-7586

MOVING SALE, entertainment ctr, brown, $120; desk, small, brown, $40; 2 small folding tables, $12 ea; 3 bulb standard lamp (1.5 years old), $15; telephone + ans machine, $25; 19'' TV, RCA, $50;15'' computer monitor, Proton, 1 yr old, $110; air bed, queen size, new, $20, Olaf, X6676

MOVING SALE, VCR, Mitsubishi, $120; 21" TV w/ VCR, Pansonic, $100; rice cooker & warmer, $60; piano, Clavinova, Yamaha, 88 keys, $1900; CD player, Optimus System 741, $80; oak dining room table, 117x76x75.5cm, $60; oak dining room table, 75x76x75.5cm, $40; fax/telephone, Brother, $100; bed, queen size w/ mattress x2, $120; portable lamp,178cm, $20; desk, wood, 175x75x76cm, $150, all are 2 yrs old, Wataru Nunomura, X7587, 525-7353

NEC 15" Monitor for PC and MAC, MultiSync XE15, on-screen menu, 1 yr, $140/b.o., Gunther, X5600

OKIDATA OL400 laser printer, newly refurbished drum, new toner cartridge, $100; free computer desk, light wood, you put together, has all parts, pick up in Alameda, Karen, X5525, 522-9246

PCS PHONE, Ericsson CF-388, 6.1 oz, stores 99 numbers, travel charger, car adapter, leather case, still in shrink wrap, $110, John, X4473

REFRIGERATOR-FREEZER, frost-proof, side by side, Frigidare, 19.3 cu ft, avocado color, $295, Yong-Yop, 524-4199

S.F. OPERA, Sat. balcony pair, 2nd row ctr, Turandot 10/3, Manon 10/17, Don Carlo 10/31, $100/pair. Paul X5508, 526-3519

SADDLE BAGS, heavy duty, w/ heavy duty zipper to detach bags, all leather, looks great, $75, Greg, X4855, (925) 829-9191

SHORTWAVE RADIO, 5 bands plus am/fm, battery operated, Sony, like-new, $35, Sherry, X6972, 799-8414

SOFA, 8 ft long, $175; tuffed chair, $50; lamp, $25, Bill, X7735, (925) 932-8252

SOFA, small, brown tweed, 60" long, 36" deep, very good, $80, Carol, X5060

SONY STEREO, fm-am receiver/ amplifier, 4 channel/40w/channel, $80; Goldstar microwave, rarely used, less than 1 year, 700W, 0.7 cu ft, rotor, $68, ($94 new), Min-xue, 642-1440, 845-9578

TICKETS (2), Berkeley Symphony Orchestra, for 9/10 and 10/30, Zellerbach, $17/ticket, Ed, 526-1260

TREK Carbon OCLV Series 5200, 52cm frame, 700cx23 matrix wheels, Shimano 600 components throughout, less than 400 mi, Blackburn minipump, Avocet 15 computer, never crashed, nr new cond, all papers, purchased from Sausalito Cyclery in `96, size 42 (Eu) Shimano shoes and trainer thrown in, $2,000 new, asking $1,500/b.o., David, X7074, 528-1935 eve, Tues-Fri

WASHER/DRYER, Maytag, stack laundry unit, electric, 2 yrs old, little used, $600/bo.; GE washer/dryer, apt size, stack laundry unit, electric, 2 yrs old, little used, $400/b.o., Karen, X7767, 845-2589

HOUSE/CONDO, furn 2+ bdrm, in nice area nr LBNL for visiting scientist and wife, 11/1-4/30/99, Bill, X5910

HOUSE/CONDO/APT, 2 bdrm for LBNL family of 4 waiting out a remodel, from 9/8 to 11/20, prefer Albany, El Cerrito, Kensington, Berkeley or San Pablo area, Russ X7925, Irene, 527-0717

HOUSING for visiting senior scholar w/ wife, house/apt in good area, furn, mid-January through March, Mahiko, X4479, 642-1060

FELLOW SINGERS needed to perform Bernstein's Chichester Psalms and other works w/ Bella Musica chorus, informal auditions required, rehearsals start 9/22, Miguel Furman, X6443, 525- 5393

INFANT/BABY CLOTHES for baby due end of November, probably a girl, borrow baby cradle and baby swing, Judith X7072, 799-0818 eve

PUSH LAWNMOWER, reasonably good quality, Philip, X5096, 236-9778

RUSSIAN visiting scholar or spouse to teach Russian language in the eve, Kim, 558-9465

TAHOE KEYS at South Lake Tahoe, 3 bdrm 2-1/2 bth House, on the water, fenced yard, quiet area, close to many attractions, great views of water and mountains, $150/night, 2 night min, Bob 925-376-2211 AUSTRALIAN SHEPHERD mix dogs, blk and white, bro and sis, 4 yrs old, all shots and spayed, indoor/outdoor, well behaved, great w/ kids, moved and yard now too small, need lots of room to roam, Shelley, X6123, (925) 648-5034

FIREWOOD, mostly pine, take as much as you need, cut late July, call for appt, Massimo, X7695

LOST, jade link bracelet somewhere between Bldgs. 70A and 90, on 8/21; if found, please return to Antoinette, trailer 90P, X5218

The next issue of Currents will be published on Sept. 25 --three weeks from today. The deadline for that issue is 5 p.m. Friday, Sept. 18. Ads will not be accepted after that date.

Flea Market items may be e-mailed to [email protected] gov, faxed to X6641, or mailed or hand-delivered to Bldg. 65B.

Due to the large volume of ads received each week, ads are accepted only from LBNL employees, retirees, and on-site DOE personnel. No other ads will be accepted. We encourage past contributors to the Flea Market to use other local services, such as LBNL's online housing listing (call X6198 for information), and the UC Housing Office.

sPlease note also:
The deadline for ads is 5 p.m. Friday for the following week's issue.
Ads must be submitted in writing, via e-mail ([email protected]), fax (X6641), or delivery/mail to Bldg. 65B. No ads will be taken over the phone.
No ads will be accepted without your name, affiliation, Lab extension, and home telephone number. You may ask that only one number appear in the ad.
Only items of your own personal property may be offered for sale.
Ads for material for resale in connection with a business will not be accepted.
No ads for services will be taken.
Ads will run one week only unless resubmitted in writing. Ads will be repeated only as space permits, and at the discretion of Currents. If an item does not sell in a reasonable time period, we retain the right to terminate the ad.

Currents/The View and the Communications Department Staff
Published once a month by the Communications Department for the employees and retirees of Berkeley Lab.

Reid Edwards, Public Affairs Department head
Ron Kolb, Communications Department head

EDITOR
Pamela Patterson, 486-4045, [email protected]
Associate editor
Lyn Hunter, 486-4698, [email protected]

STAFF WRITERS
Dan Krotz, 486-4019
Paul Preuss, 486-6249
Lynn Yarris, 486-5375

CONTRIBUTING WRITERS
Ucilia Wang, 495-2402
Allan Chen, 486-4210
David Gilbert, (925) 296-5643

DESIGN
Caitlin Youngquist, 486-4020
Creative Services Office

Berkeley Lab
Communications Department
MS 65, One Cyclotron Road, Berkeley CA 94720
(510) 486-5771
Fax: (510) 486-6641

Berkeley Lab is managed by the University of California for the U.S. Department of Energy.

Flea Market is now online at www.lbl.gov/fleamarket