To the Berkeley Lab Community: From Director Shank
Bo Bodvarsson Named New Earth Sciences Division Director

---
To the Berkeley Lab Community:
The devastation and sorrow that our country has endured over the past 10 days cannot be adequately conveyed in words. For all of us, this has been a profoundly troubling time, with vivid images we will never forget. My deepest sympathy and concern are with those who have lost friends and loved ones.
Like several other Laboratory employees, I was not able to get home right away, which made these astounding events even more real to us and to our families. I empathize with those who experienced disruptions in the line of service to the Laboratory. I also wish to thank the members of our emergency and security staff who have assured that Laboratory facilities have been safe and secure throughout the crisis.
The past week has demonstrated our Nation's unity, its caring and humane character, and its resolve to emerge from this tragedy stronger than before. — Charles V. Shank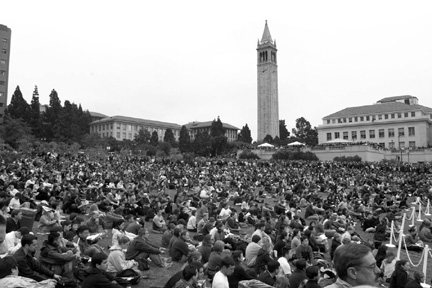 More than 12,000 members of the UC community gathered on Memorial Glade on the UC Berkeley campus Monday, Sept. 17 to mourn the dead and missing in the terrorist attacks in New York and Washington, D.C. Chancellor Robert M. Berdahl told the crowd, "In the uncertain days to come, as our nation faces difficult decisions, let those of us who hold the candle of learning in our hands hold firm in the vigil for freedom and reasoned discourse."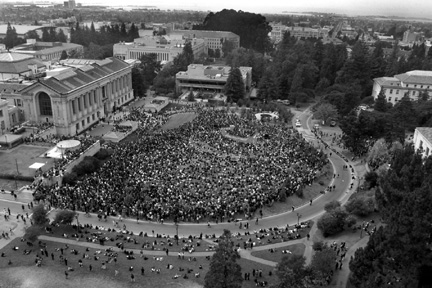 "Today we gather not as staff, students, faculty or friends. Today we gather as one community, one family, one people to mourn our countrymen, women and children who lost their lives so tragically…to pray that we emerge from this horror with courage and resolve. Courage to secure a lasting peace for future generations; resolve to face-off evil and administer justice, wisely and mercifully," said UC Staff Ombudsperson Anita Madrid. Photo by Roy Kaltschmidt

Bo Bodvarsson Named New
Earth Sciences Division Director
By Lynn Yarris
Gudmundur Bodvarsson, known to most of us on the Hill as "Bo," has been named the new director of the Earth Sciences Division (ESD) by Berkeley Lab Director Chuck Shank.
"I welcome his Bodvarsson's) creativity and insights as the new leader of the Earth Sciences Division," said Shank in announcing the appointment.
In accepting the position of ESD director, Bodvarsson succeeds Sally Benson, who was appointed as a deputy laboratory director last spring. Said Benson, "I look forward to many new opportunities ahead for ESD and feel confident with Bo leading the charge."
Bodvarsson is the first native of Iceland to hold a division director appointment at this laboratory or, in all likelihood, any other national lab. Born and raised in Ljosafoss, Iceland, a town of about 100 people, he came to this country in 1972 to attend Catawba College in Salisbury, North Carolina, where he earned his bachelor's degree in physics and mathematics in 1974 – graduating first in his class. He earned a Master's degree in civil engineering at North Carolina State University in 1976 and his Ph.D. in hydrogeology in 1981 from U.C. Berkeley.
Bodvarsson joined the ESD staff in 1980 while he was still a graduate research assistant at Cal. Prior to that, he'd worked as a research engineer at the Icelandic Building Research Institute. As a staff scientist in ESD, Bodvarsson's managerial career began in 1993 when he started the Nuclear Waste Program. Over the next eight years, he built this program up from an initial budget of $3 million to a budget in excess of $13 million this fiscal year, with a staff of more than 40 individuals. As a scientist, Bodvarsson made his mark by leading the development of a 3-D scale model of Yucca Mountain in Nevada, the proposed site of a permanent underground repository for high-level radioactive waste. This model, which characterized hydrogeologic conditions inside the mountain under a wide range of different scenarios, successfully demonstrated that the site was, technically, a good choice.
Bodvarsson and his research group also helped develop a hydrological model of Yucca Mountain that works on a much finer scale than the original site model. This hydrological model accurately calculates seepage into waste emplacement tunnels (called "drifts") under various hydrogeologic conditions.
"Bo is an outstanding leader of the Yucca Mountain Project," said Benson. "His passion, drive and scientific leadership have made his team of hydrologists, geochemists and geophysicists star performers. This has got to be one of the most challenging earth sciences problems to work on in the world, and no one does it better than Bo and the team he leads."
Although Bodvarsson says he intends to select a new head for the Nuclear Waste program to oversee the day-to-day operations, he plans to remain "deeply involved" with the program, especially with the Yucca Mountain models. He also plans to continue his research efforts.
"I want to ensure that we maintain the momentum and the exciting work we have there," he says.
As for his new position, Bodvarsson has no immediate plans to change its organization. "I want to take it slowly and learn about all aspects of the division, before any restructuring takes place."

NTLF's 19-Year Contribution to
Health Research to Conclude in December
Berkeley Lab and the National Center for Research Resources (NCRR), a component of the National Institutes of Health (NIH), have announced that the NIH-sponsored National Tritium Labeling Facility (NTLF) will end operations in December after more than 19 years of service to medical and chemical science research.
Berkeley Lab Director Charles V. Shank and NCRR Director of the Division of Biomedical Technology Michael T. Marron made the joint announcement September 14.
"In its almost two decades at the Laboratory, the NTLF and its outstanding staff have served the nation well," said Shank. "It was an important tool for biological and medical research and provided immense value in our understanding of chemical processes in disease development and suppression."
Marron agreed, noting that the NIH will focus its investments on alternative techniques for detection and imaging at the cellular and molecular levels. "What we learned from the NTLF was invaluable in developing the new techniques, as well as in advancing our knowledge of the mechanisms through which diseases are treated," he said.
Marron said the reasons for withdrawing NTLF funding were its limited success in attracting NIH-supported investigators, its limited number of scholarly papers published in high-impact research journals, and its difficulties in recruiting and hiring a Ph.D Health Physicist.
He and Shank both acknowledged that the facility has enjoyed a good safety record and has operated well within all applicable public health regulations, despite safety concerns expressed by some community members.
Over the next six months, the facility's apparatus will be dismantled for appropriate waste disposal, and the tritium – a radioactive form of hydrogen which formed the basis for the molecule labeling process – will be removed. The building will be decontaminated and eventually converted to another use.
Shank praised the employees of the NTLF for their long and productive service. "Dr. (Phil) Williams (the facility manager) and Dr. (Manouchehr) Saljoughian have been on the staff for more than 16 years, Mr. (Hiromi) Morimoto for 18 years, and Dr. (Chit) Than for eight years. They are to be congratulated for the distinguished contributions they have made to their profession and to our understanding of biological processes."
The NTLF was established as an NIH national resource center in 1982. The facility's role has been to conduct research in tritium labeling methods and help biomedical researchers study biological processes that can have an impact in curing disease.
NTLF collaborations with biomedical researchers from universities and pharmaceutical companies have led to the development of a number of radiotracers that are now staple tools of medical science. From norepinephrine, a neurotransmitter which modulates many functions, including blood pressure; to cyclosporine, an immunosuppressant used to protect transplanted tissues from rejection by the recipient's immune system; to interleukin, a protein used to enhance the function of the immune systems of AIDS patients, compounds tagged with tritium at the NTLF have broadened the scope of medical research at the cellular and molecular levels.
The NTLF has been the subject of numerous safety reviews and risk assessments over the past several years and has been currently undergoing a series of environmental sampling efforts for a community-based task force. The Lab had recently announced the addition of new air monitoring stations and the redesign of the NTLF's circulation and exhaust system.
In light of the NIH decision, the Laboratory will develop a schedule for the completion of the task force's efforts, according to David McGraw, Berkeley Lab Director of Environment, Health and Safety. He said the new air monitoring stations will continue as environmental measurement tools while NTLF operations wind down.
"We greatly appreciate all the time and effort invested by our community in this issue," McGraw said. "The members of the Environmental Sampling Project Task Force have worked diligently and tirelessly to advise us on our efforts to ensure a safe and healthy environment. And we hope our numerous interactions with Berkeley City officials on this issue will provide a foundation for productive conversations about laboratory programs in the coming years."

Washington Report
Website provides info on federal response to September 11
FirstGov.gov, the only official portal to 47 million pages of federal, state and local government information, services and on-line transactions, has provided a special website with links to a raft of resources concerning the response of the Federal government to the horrific events of September 11. Information such as finding the names of identified victims, learning about benefits to families, leads and clues to the perpetrators, warnings about scams and frauds for charitable donations, the latest travel advisories, and much more is but a couple clicks away when you go to www.firstgov. gov/featured/usgresponse.html.
FirstGov.gov was launched a year ago as a public-private partnership led by the General Services Administration. The mission is to "connect the world to all U.S. government and information services" through a powerful search engine that can browse every word of every government document in less than a second. The Website features a topical index, on-line transactions, and links to all levels of government. There are also options for contacting various government agencies even if users do not know the official name of the agencies they need to reach.
Transportation Secretary looks into new air travel security
U.S. Secretary of Transportation (DOT) Norman Mineta has announced the creation of two Rapid Response Teams to deliver detailed recommendations for improving security within the national aviation system. Augmenting the work of senior DOT and FAA experts, six national leaders in aviation and security protection will participate in this comprehensive review, and will deliver to Secretary Mineta its recommendations no later than October 1, 2001. One Rapid Response Team will focus on increasing security at the nation's airports, the other on aircraft security, focusing on cockpit access.
"Last week, we successfully restored operations within our national air system," said Secretary Mineta. "Our efforts must now turn to developing long-term, sustainable security improvements within our airports and the aircrafts themselves as we continue to provide all Americans the highest possible levels of safety."
Participating in the Rapid Response Team on airport security will be: Herb Kelleher, chairman of the board of directors of Southwest Airlines; Raymond Kelly, former commissioner of the U.S. Customs Service and veteran law enforcement officer; and Charles M. (Chip) Barclay, president of the American Association of Airport Executives (AAAE). Participating in the Rapid Response Team on aircraft security will be: Robert W. Baker, vice chairman of American Airlines; Robert A. Davis, former vice president of engineering and technology for The Boeing Company; and Capt. Duane Woerth, president of the Air Line Pilots Association (ALPA). — Lynn Yarris

Travel Advisory
On September 14, the U.S. Department of State issued a worldwide caution advising American citizens to be aware of the potential risks and to take these into consideration when making travel plans. Furthermore, DOE has determined that a reassessment of all previously approved official foreign travel is required. DOE is reviewing all foreign trips scheduled through the end of September for re-authorization.
Those on official Lab business who needed to return home by alternate means of transportation (rail, car, bus) due to the events of September 11, will be reimbursed for those costs as well as lodging and meals enroute.
To ensure that all Lab employees have access to current information regarding the status of flight operations and travel conditions, the Travel Office is posting all advisories on the Travel web page at http://www.lbl.gov/Workplace/CFO-Travel/. You may also contact Maritz at 800-818-9719 or [email protected] ifyou have questions about your pending travel arrangements.

DOE's Cybersecurity Group Issues Warning
The Department of Energy's Computer Incident Advisory Capability (CIAC) has issued warnings regarding cybersecurity in the wake of recent tragedies.
Old computer viruses are reappearing disguised as files relating to our current national tragedy. Users are cautioned to avoid double clicking on email attachments, even those that appear to be offering help to victims of Tuesday's attacks. Files with names like WTC.TXT.VBS or REDCROSS.DOC.VBS are not text documents but are Visual Basic Scripts that could do anything to your computer. Unless you are expecting to receive a specific program from someone you know, do not open the attachments to e-mails.
Correction: In the September 7 Currents, the lower photo on page 3 should have been identified as the Conductivity, Temperature, and Depth Rosette. The upper photo shows one of the 12 Multiple Unit Large Volume Filtration units.

DOE Facilities Placed on High Security Status
At the order of Energy Secretary Spencer Abraham, all DOE facilities were placed on "high security status" in the wake of the September 11 terrorist attacks. All shipments of nuclear materials were halted, nuclear operations around the country were ceased, and all nuclear material was secured.
"In the coming days we will continue to monitor the status of our security at DOE facilities, as well as to monitor the status of the nation's energy security," Abraham said. "We will consider releasing the hold on transportation of nuclear materials, but until we make an announcement to that effect, the shipment of nuclear materials remains halted."
In response to reports of price-gouging at some gasoline stations across the nation, the Secretary said:
"At my direction, the Energy Information Administration has investigated and reports there has been no supply disruption to justify such prices. I would encourage consumers who encounter such unjustified prices to seek other stations and bring it to our attention via the Department of Energy Hotline at (800) 244-3301."

Ways You Can Help
The Federal Emergency Management Agency (FEMA) encourages those interested in helping victims of the terrorist events to give cash donations. The American Red Cross can accept cash donations through 1-800-HELP NOW, and the Salvation Army can accept financial contributions through 1-800-SAL ARMY. Medical personnel who wish to donate their services should contact their local American Red Cross office.
In the Emergency Response Report issued by Health and Human Services (HHS) on September 18, it was noted that blood supplies are currently adequate in the
affected areas and elsewhere in the nation. HHS' new daily blood monitoring system, which began operating last month, shows that reporting hospitals have a fully sufficient 5 to 6-day supply. However, the supply needs to be replenished continually, Secretary Tommy Thompson noted.
"When this disaster is behind us, the need for blood will still be here, and we need to do a better job in maintaining steady, reliable donation," he said, emphasizing the long-term need for blood donation.
"The need for blood is an ongoing, ever-present reality," he said. "Tens of thousands of people have responded during the current emergency, and I have the strongest hope that this spirit will now translate into a long-term commitment for millions of Americans to become regular blood donors throughout the year." Please note that healthy individuals can generally donate blood as often as every eight weeks.
The Lab's next onsite blood drive will be November 14-15. Look to Currents for more information closer to the date.

Deadline Approaching for BioStar Funding
The clock is ticking on an important opportunity to leverage funding for developing partnerships between UC investigators—including those from Berkeley Lab — and their counterparts in the biotechnology industry. The University of California Biotechnology Strategic Targets for Alliances in Research Project (BioSTAR) is now soliciting proposals for basic to proof-of-concept biotech research.
Among the objectives of BioSTAR is to provide research matching grants to bolster the economic development of the biotech industry in the state of California through public-private partnerships. Applications are encouraged for new projects in a broad spectrum of areas related to biotechnology. A Notice of Intent briefly describing the proposed project should be submitted on-line (https://iucrp-era.berkeley.edu/biostar_proposal/home.asp) no later than Thursday, September 27, 2001. Proposals, with binding letters from
private sponsors as matching resources from the industry partners is required — are due Tuesday, October 9, 2001. Funding for successful proposals will commence in January 2002. If you are considering a collaboration with a partner in the biotech industry, but this particular timeline is too short, don't despair. Additional submission deadlines are already set for January and April 2002.
Together with private sponsor contributions, BioSTAR launches between 40 and 45 new research partnership totaling approximately $12 million every year. Individual grants average $250,000 for two to three year periods, and range from about $25,000 to $1.3 million.
Established in July 1996 as the brainchild of UC President Atkinson, BioSTAR was the first of six industry sector matching grant programs in the $60 million University of California Industry-University Cooperative Research Program (IUCRP). The others now include Life Sciences Informatics (LSI), Digital Media Innovation (DIMI), Microelectronics Innovation (MICRO), Semiconductor Manufacturing (SMART), and Communications Research (CoRe).
For more information on BioSTAR, visit: http://www-biotech.berkeley.edu/New_Biotech_Site/biostar/BioSTAR_Home.htm
Contact Jeff Weiner, head of Berkeley Lab's Sponsored Projects Office for mor information on the Lab's requirements for proposal submission ([email protected] lbl.gov or extension 7143) or David Gilbert in Life Sciences Division ([email protected] or extension 6096).

Two-way Lawrence Road Promises Traffic Relief
Driving around Berkeley Lab is about to get easier with the introduction of two-way traffic on Lawrence Road between the cafeteria and Building 72. The change will significantly improve the Laboratory's east-west road linkage, eliminating the circuitous one-way roads that currently connect the East Canyon area with the rest of the Lab.
According to Rich McClure of Facilities Planning, by early October visitors and employees "will no longer have to climb the hill to Building 76 and then thread their way past Building 77 to get to the East Canyon, and bicyclists will have a relatively flat route instead of climbing Mt Everest."
"This should cut driving time, save gas, and generally improve employee movement to and from East Canyon and Strawberry Gate," says Deputy Director for Operations Sally Benson. "We will lose some roadside parking, always a sensitive issue, but this will be offset by adding parking in other locations."
Although some people will lose their customary parking spaces, there will actually be more spaces available in the general area due to parking readjustments and additions. The loss of parking for 14 cars near the Big "C" lot will be offset by 11 new spaces in the immediate area, as well as 14 new spaces in the Building 51 lot that can be used by Building 50 staff who currently park in the Cafeteria lot. In addition, 15 additional spaces have been reestablished adjacent to Building 17.
Pedestrians should note that the pedestrian route between the Big C lot and Building 72 will be different. The new route will be painted for visibility. In addition to improving traffic flow, the project will improve safety by reducing traffic on Glaser Road in the Building 77 and 77A shop and assembly area—a busy work and pedestrian area—and improving access to the Building 31 service yard.
Striping work on the road will take place before the end of the fiscal year. The actual "opening day" will be announced later in Headlines online. Until then, exercise extra caution when driving or walking through the project area along Lawrence Road. Please note that, for the present, bus routes will not change.
Questions about the project may be directed to Steve Blair (x5927; [email protected]), the project engineer for Lawrence Road.

Eric Seaborg to Visit Lab for Book Signing
The life of Berkeley Lab Nobel Laureate Glenn Seaborg, who died in 1999, was synonymous with the beginning of the nuclear age. Now, in his own words, a posthumously published autobiography sheds fascinating light on the excitement of scientific discovery and its impact on society.
Seaborg's son Eric, who helped complete and coauthored the memoir, will visit the Laboratory on October 4 to talk about and read from the book and sign copies that will be offered for sale. His appearance is at noon in the Building 50 auditorium.
Adventures in the Atomic Age: From Watts to Washington (published by Farrar, Strauss & Giroux of New York) chronicles Dr. Seaborg's rise through the scientific ranks, including his more than six decades as a researcher at Berkeley Lab. His rich history includes an impressive record as educator, statesman, and advisor to presidents.
Son Eric is an award-winning free-lance writer in Virginia whose work has appeared in publications like Sierra, Backpacker, National Parks, American Hiker, the Washington Post and the Cleveland Plain Dealer. His book credits include the how-to guide Hiking and Backpacking and American Discoveries, Scouting the First Coast-to-Coast Recreational Trail. He wrote both with wife and colleague Ellen Dudley.
Of Adventures in the Atomic Age, the Library Journal wrote, "'Page-Turner' is a term not usually applied to a science memoir, but this compelling portrait of a major scientist is an exception…Glenn Seaborg's life and career are as interesting as they are distinguished."
When he began the book prior to his death, Glenn Seaborg said, "My schedule remains frenetic, and my research still calls, but I've felt a growing urge to take the time to share the lessons
of my experience. Writing an autobiography affords an opportunity to contribute in a new way. As we approach the 21st century, the problems of arms control, education, and energy loom larger than ever, but so is our tendency to sidestep them. The insights gained from a lifetime's work with these issues could spur discussion and the search for long-term solutions."
He and his son established a collaboration that involved taped interviews, collected memories and references to Seaborg's extensive journals. The product of their labor was published this month.
Eric Seaborg's reading and talk on Oct. 4 will be followed by a question-and-answer period and a book signing. There will also be a showing of the tribute video on Dr. Seaborg that was presented at his memorial service at UC Berkeley in March of 1999. — Ron Kolb

Berkeley Lab Hosts Ninth Ion Source Conference
By Paul Preuss
In a Labor Day speech to some 250 guests from around the world, William Barletta, director of Berkeley Lab's Accelerator and Fusion Research Division (AFRD), launched the Ninth International Conference on Ion Sources — ICIS '01 for short — at the Oakland Marriott City Center Hotel. Barletta highlighted the historic role Berkeley Lab has played in the development of ion sources, beginning with Ernest Lawrence's earliest accelerators.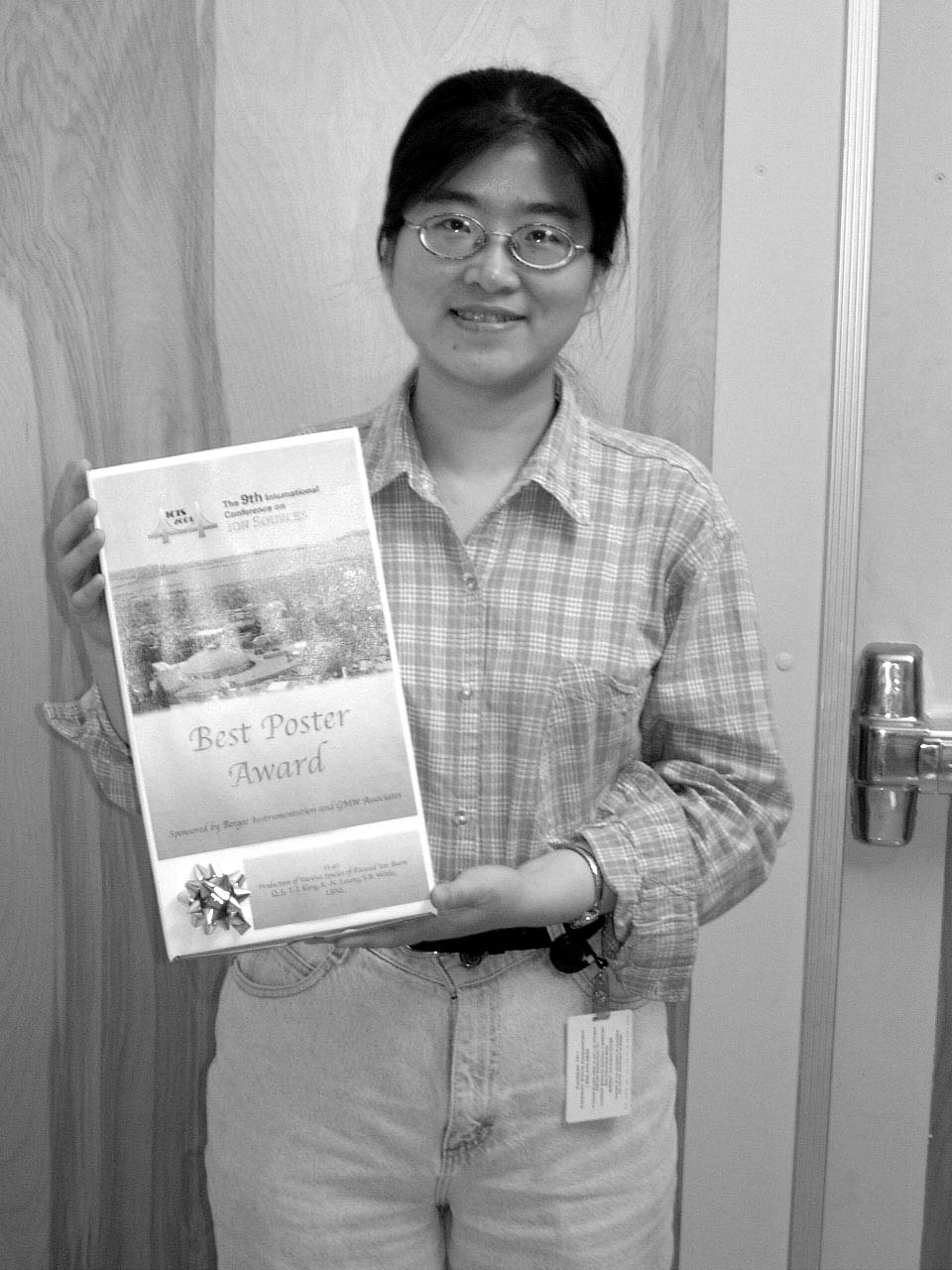 Lab postdoc Qing Ji displays her best-poster prize: a box containing two bottles of fine wine, a French Chardonnay and a California Cabernet, provided courtesy of France's Julien Bergoz and GMW Associates. Photo courtesy of Jose Alonso
Ion sources have since become ubiquitous tools of industry, medicine, and scientific research, delivering charged particles at selected intensities and energies in every species from plain protons to massive atoms like uranium and ionized molecules.
"We had sessions on every kind of ion-beam technology, from microbeams to the most intense beams in the world," said AFRD's Ka-Ngo Leung, the conference chair.
Of the scores of uses for ion beams, one literally out-of-this-world technology furnished a social high point for the conference. When the committee proposed the gleaming new Chabot Space and Science Center in the Oakland Hills as a good site for a Thursday night reception, astrophysicist Glen Dahlbacka of Berkeley Lab's Technical Transfer Department, a longtime member of Chabot's board, suggested leading off with a session of talks on ion-drive space propulsion.
Pier Oddone, Berkeley Lab's deputy director, chaired the session and introduced the first speaker, Carlo Rubbia, the former director-general of CERN, who shared the 1984 Nobel Prize for his role in the discovery of weak-force bosons. Oddone joked that he was surprised Rubbia had brought only 55 slides for his half-hour talk, fewer than the standard "Rubbia," a unit Oddone claimed was equal to two slides per minute.
AFRD's Jose Alonso, scientific program coordinator for ICIS '01, says that although Rubbia is best known for his work in particle physics, his interests cannot be pigeonholed; currently he is devoting his attention to solar energy. Rubbia's presentation at Chabot described a nuclear rocket based on fission fragments from thin hollow fuel rods immersed in liguid lithium. When asked how this rocket was to be turned on and off, Rubbia responded shortly: "Control rods! I showed the slide!" Indeed he had; it had flashed past at Rubbia speed.
Rubbia was followed by less visionary but equally fascinating talks, one on NASA's proven Deep Space 1 Ion Engine, another on the revolutionary VASIMR "shiftable transmission" ion engine now being developed at NASA's Johnson Space Center near Houston (see Scientific American, November, 2000).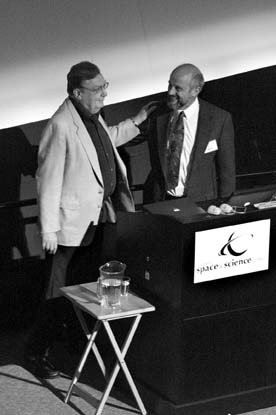 Pier Oddone introduces Carlo Rubbia at a special session on ion-drive space propulsion held at the Chabot Space and Science Center. Photo by Robert Couto
Food and drink followed the presentations, in the Chabot's spacious halls. Today's elegant science museum is a far cry from the downtown Oakland facility that in the 1880s used its 8-inch refracting telescope to determine sidereal time, then signalled it to sailing ships in San Francisco Bay to set their chronometers.
That the world has widened and science has progressed was nowhere more evident than the guest list of ICIS '01, almost two-thirds of whom were from abroad. Among the notable attendees were Gennady Dimov of the Budker Institute in Novosibirsk, Russia, credited as "the father of negative ion sources" that today supply the world's highest intensity accelerators — a paternity, however, that Dimov himself assigns to Berkeley Lab's Luis Alvarez — as well as Ian Gardner, accelerator division head of the United Kingdom's ISIS neutron source, John Poate of Axcelis Technologies, the world's leading manufacturer of ion-implantation and other technologies, and many others.
Berkeley Lab has played a major role in the success of the series of ion-source conferences, and with the ninth biennial conference became the first institution to host two meetings of the international gathering. AFRD's Ian Brown, former leader of the Plasma Applications Group, was instrumental in organizing the first of the present series at Berkeley over 15 years ago and has long served on the international advisory committee. Germany, Italy, Canada, Japan, and China are a few of the countries that have hosted the conferences; the next, in 2003, will be held at Dubna in Russia.
Members of Berkeley Lab who contributed to this year's effort include Leung, Alonso, AFRD's Rick Gough, and Pier Oddone, who arranged for support of young foreign scientists who otherwise would have been unable to attend, and many other scientists, and also dedicated staff work by conference coordinator Renee Goetz and others.
One indication of their success: more than 130 people stayed after the conference ended to attend the Berkeley Lab tour coordinated by Henry Rutkowski. Indeed, most attendees at ICIS '01 found good reasons to attend the entire conference — an opportunity for trading knowledge of past experiences and ideas for future progress in a historic and still burgeoning technology.
Proceedings of ICIS '01, with details of some 200 presentations, will be published in a future issue of Review of Scientific Instruments.

EH&S Monitoring Programs Get High Marks
A Department of Energy compliance inspection of Berkeley Lab's environmental monitoring and survey activities has concluded that the laboratory's program is effective in detecting and monitoring contaminants, and that the radiological risks and impacts from operations are low.
The inspectors cited six positive attributes of the programs and no major concerns requiring correction – an unusual outcome in reviews such as this, according to Lab Radiation Control Manager Gary Zeman. "This is a record of which our Environment, Health and Safety staff can be justifiably proud,"he said.
The final report states that Laboratory staffs with environmental responsibilities are "well qualified and experienced and demonstrate an environmentally conscious approach toward their work activities." The report noted that in some instances, Lab personnel took measures that were more conservative than required, providing an extra level of protection. The environmental restoration groundwater monitoring program, compliance with clean air standards, and liquid effluent controls were specifically mentioned as being well implemented and effective. DOE's operational awareness program was called "comprehensive and well-managed." And the Radiological Work Authorization program was highlighted as well implemented and an effective control for use of radioactive materials within each laboratory.
Vic Crawford, the DOE inspector who led the seven-person team, said the groundwater and air emissions programs were especially impressive.
"There is a highly qualified technical staff in these areas," he said. "Other facilities didn't have the depth of organization that Berkeley had. We didn't have to educate people about the requirements. Berkeley will probably be used quite often in 'lessons learned' as examples of strong programs."
The report cited six "opportunities for improvement," where the inspectors found that "additional enhancement could contribute to continuous improvement and program excellence." These included the areas of analysis of contaminant transport pathways, isotopic samples, and facility-level data and hazards, as well as environmental assessments and dissemination of lessons learned.
Ron Pauer, Group Leader for Environmental Services, called the DOE study "a thorough and professional inspection. It was good to have such knowledgeable experts reviewing the group's programs and giving suggestions for further improving them."
From July 9 through 19, the team reviewed the Lab's environmental monitoring program, with special focus on air and water quality programs which monitor radiological emissions and discharges from Berkeley Lab, and the implementation of the National Emission Standards for Hazardous Air Pollutants, which regulate airborne emission of radionuclides from DOE facilities.
"Operations at LBNL are such that the risk of significant liquid and air discharges is very low," the report states. "Administrative controls…and engineered controls…further reduce the potential for significant emissions or dose impacts. Past and present environmental surveillance results demonstrate that concentrations of radionuclides are at or near background levels in environmental media beyond the site boundaries, verifying the very low impact of site operations on the environment."
For the full text of the report, please see the DOE website at http://tis.eh.doe.gov:80/oversight/reports/inspections/index.html

Zooming in on Ribosomes:
Resolution Improves to 5.5 Angstroms
By Annette Greiner
Using ribosomes crystallized from Thermus thermophilus bacteria, a team from the University of California at Santa Cruz has determined the structure of the ribosome at 5.5-angstrom resolution. The structure was obtained with messenger RNA (mRNA) and transfer RNA (tRNA) bound to the ribosome. The team, led by professor of molecular biology Harry Noller, worked at the Advanced Light Source's Macromolecular Crystallography Facility headed by Thomas Earnest. At this facility the same group previously solved the ribosome's structure to 7.8 angstroms.
The new view, which yields structural evidence that the two main parts of the ribosome move relative to each other during protein synthesis, also offers insight into how the ribosome interacts with tRNA. This vital structural information can be used to test models of the ribosome's machinations, key to the question of how the genetic code is read to make proteins.
When the code for a specific protein is carried out of the cell nucleus on a string of messenger RNA, the ribosome moves along the length of the mRNA string, translating the code into a growing chain of amino acids that, when complete, forms the protein. The amino acids arrive via transfer RNA; each tRNA carries a specific amino acid that is added to the chain if it matches a specific codon (a given sequence of three bases) on the mRNA.
Ribosomes themselves consist of ribosomal RNA (rRNA) and proteins. Their ability to function depends more on their RNA than on their proteins, but until now scientists did not know why. The new high-resolution structure shows the answer: sites where RNA interacts with RNA tend to be near functional centers, in the ribosome's central region. Sites of protein-protein and RNA-protein interactions tend not to be.

Probing High-Temperature
Superconductivity on the Nanoscale
By Paul Preuss
A group led by Séamus Davis, a member of the Lab's Materials Sciences Division, has developed an extraordinary probe for examining superconductivity on the nanoscale, by using a special scanning tunneling microscope (STM) to examine individual nickel atoms implanted in a high-temperature superconductor.
"One of the perplexing things about superconductivity is that magnetic impurities destroy superconductivity in conventional low-temperature superconductors — whereas high-Tc superconductors may actually depend on some kind of magnetic mechanism," says Davis, also a professor of physics at UC Berkeley. He and his colleagues set out to investigate this puzzle in a superconductor known as BSCCO (pronounced "bisko," for bismuth strontium calcium copper oxide).
Superconductivity is the flow of charged particles through a material without resistance, which only happens below the superconducting transition temperature (Tc) — in conventional superconductors, only a few degrees above absolute zero — when electrons form so-called Cooper pairs. The pairs form because vibrations of the material's crystal lattice, known as phonons, help create regions of positive charge between the two electrons. These "holes" overcome the mutual repulsion of the electrons' negative charges.
But when Cooper pairs are broken, another type of particle can exist in a superconductor. Called a "quasiparticle," it is constructed from electrons paired with holes.


(Top) The microscope reveals a cross-shaped distribution of negative charges – electrons – around a single atom of nickel in the copper-oxygen layer of BSCCO.
(Below) Positive charges – holes – are distributed in an x-shaped pattern around the same atom of nickel.
The electronic states of Cooper pairs and their associated quasiparticles are markedly different in high-Tc superconductors from those in conventional ones: the two electrons revolve around each other much faster and farther apart. Because these wider orbits are analogous to the higher-energy d orbitals of electrons around an atom, high-Tc superconductors are often called d-wave superconductors.
Magnetism enters the picture, Davis explains, because "in Cooper pairs one electron's spin" — its quantized angular momentum — "points 'up' and the other's points 'down,' which gives rise to oppositely oriented magnetic moments."
When an external magnetic field is applied to nonsuperconducting systems, electrons of similar energy are separated by their spins. This splitting doesn't effect superconductors, however, because magnetic fields cannot penetrate the surface region of superconductors.
Conventional superconductivity can be destroyed if the material is riddled with magnetic impurities that split apart Cooper pairs locally. Strangely, says Davis, high-Tc superconductivity is hardly affected by magnetic impurities like nickel atoms; it's nonmagnetic impurities like zinc that disrupt it.
Davis and his colleagues set out to test the idea that in a high-Tc superconductor, a magnetic atom like nickel captures the electron parts of the quasiparticles associated with Cooper pairs, leaving the hole parts to continue orbiting rapidly in the d-wave configuration.
All the highest-Tc superconductors found so far are copper oxide ceramics having the crystal structure of the mineral perovskite, with planes of copper and oxygen atoms (where superconductivity is thought to occur) interlayered with planes of other atoms. Members of Davis's group worked with his collaborator Shin-ichi Uchida of Tokyo University, substituting several nickel atoms for every thousand copper atoms in the copper oxide planes of the perovskite BSCCO.
With the scanning tunneling microscope in Davis's laboratory, the group identified individual nickel atoms in a small area of the plane. They used the STM to construct images of regions of positive and negative bias in the immediate vicinity of each nickel atom. Positive bias on the sample revealed a cross-shaped distribution of negative charges — electrons — while negative bias revealed the x-shaped distribution of positive charges — holes.
The researchers also discovered two peaks in energy near each nickel atom, corresponding to the opposing up and down spins of the quasiparticle pairs.
"This shows that a nickel atom retains its overall magnetic moment in the superconducting state and doesn't disturb that state," Davis says. "In fact, it helps maintain the particular magnetic properties of the cuprate perovskite system."
Coupled with the observation that similar doping with zinc impurities destroys superconductivity in these systems — each zinc atom destroying superconductivity within a radius of 1.5 nanometers, possibly because zinc atoms form nonmagnetic voids — this is good evidence that high-Tc superconductivity depends on uninterrupted magnetic pathways to aid the flow of charge.
For the first time, Davis says, researchers have a technique for testing their theories of the microscopic organization of high-Tc superconductors on an atom by atom basis. The newly developed ability to measure the quantum spin states of individual atoms opens even larger vistas of possibility, including a potential mechanism for getting information into and out of the would-be superfast quantum computers of the future.
"Interplay of magnetism and high-Tc superconductivity at individual Ni impurity atoms in Bi2Sr2CaCu2O8+?," by E.W. Hudson, K.M. Lang, V. Madhavan, S.H. Pan, H. Eisaki, S. Uchida, and J.C. Davis, appeared in the 21 June 2001 issue of Nature and is available online at http://ist-socrates.berkeley.edu/~davisgrp/stm/ papers/nickel/index.htm. More on this phenomenon will appear in a future edition of Berkeley Lab's online Science Beat.

High-Performance Fume Hood Debuts at UCSF
By Paul Preuss
On August 31, a sleek new prototype of the high-performance fume hood invented and developed at Berkeley Lab by Helmut Feustel, Dale Sartor, Geoffrey Bell, and other researchers in the Environmental Energy Technologies Division was unveiled at the University of California at San Francisco, where it has undergone months of successful testing in the laboratory of histologist Margaret Mayes.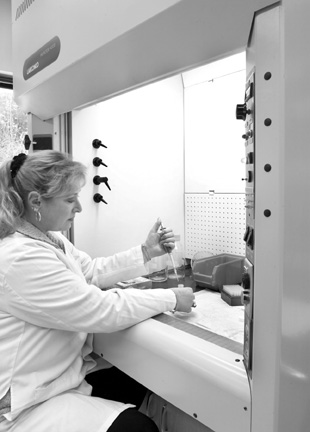 Margaret Mayes at the recently unveiled prototype high-performance fume hood, tested in her histology lab at UCSF. Photo by Roy Kaltschmidt
While few people think of laboratory fume hoods as great wasters of energy — when they think of them at all — in fact many of these appliances, necessary to suck chemical fumes or dangerous organisms away from researchers, run 24 hours a day and consume as much energy as an entire house. There are 85,000 fume hoods operating in California, and law requires that they pull in 100 cubic feet of air per minute.
Berkeley Lab's revolutionary "push-pull" design erects an invisible barrier of moving air between the researcher and the interior workspace, requiring movement of only a third as much air, with a concomitant savings in energy.
That's why the August 31 event attracted enthusiastic supporters of the concept from near and far. Among those attending were officials from the companies who have licensed the new technology, as well as John Talbott, deputy director of research and standards in DOE's Office of Energy Efficiency, Terry Surles of the California Energy Commission, and John Livingston of PG&E, plus numerous representatives of UCSF and Berkeley Lab.
All agree that the new hood looks and works great, but all also agree that the big push must now begin: to convince the California legislature to modify a safety specification, 100 cubic feet of air per minute, that is based on an old-fashioned way of doing things. Said Livingston of PG&E, "this is a whole new way to get at the essence of energy wastage."
For more information, plus a movie of the push-pull principal in action, visit http://www.lbl.gov/Science-Articles/Archive/fume-hood-elec-movie.html

Bulletin Board
2001 America Recycles Day Federal Poster Contest
The Office of the Federal Environmental Executive (OFEE) and the White House Task Force on Recycling has announced their annual America Recycles Day Federal Poster Contest. Open to K-12 students from the immediate family of government employees or government contractors, entries must be about the theme: "America Recycles Day: A great time to Renew Our Commitment to Recycling." There will be one grand prize winner plus twelve individual winners. These winning posters will then be featured in the "America Recycles Day 2002 Calendar." Posters must be postmarked by October 15, 2001. There is no registration fee for entering the contest, and you may enter as many posters as you want. For a full list of rules and more information, please contact Shelley Worsham at [email protected]
Pollution Prevention Week
The events of EH&S Pollution Prevention Week will conclude with the seminar "Preserving Strawberry Creek" given by Karl Hans at noon, Bldg 50 Auditorium on Monday, September 24, followed by Beach Clean Up at the Shorebird Nature Center on September 25. Clean-up will take place from noon to 1 p.m, at the Berkeley Shorebird Marina. The bus will pick up volunteers at Bldg. 65 at 11:30 a.m. Gloves and trash bags will be provided. To sign up or get more information, contact Shelley Worsham at ext. 6123.
Softball Results
Fully Loaded over Ballpark Estimates 20-7
Camshafts over Rated X 10-0 (forfeit)
The final 2001 LBNL Softball Season standings after the playoffs are:
1 Fully Loaded
2 Ballpark Estimates
3 Camshafts
4 Rated X
Fall Yoga Classes at LBNL
The LBNL Yoga Club is open to all LBNL staff interested in exploring yoga. Beginners and new members are welcome to come for any class. Classes are on Wednesdays and Fridays from noon to 1:20 p.m. in Bldg 70A Rm 3377. Fees are $10 per class on a drop-in basis or $8 per class for a series of four or more. Wear loose-fitting clothing and no shoes or socks. All props and materials are provided in class. For more information contact Sonia Mueller, (treasurer) [email protected] x5944 or Rick Diamond (secretary) [email protected] x4459
Surplus Chemicals Available for Free
Berkeley Lab's Surplus Chemical Exchange Program offers unused chemicals to Lab employees for use in DOE-funded research projects. Upon request, technicians from the Hazardous Waste Handling Facility will deliver the materials free of charge within one or two working days. All chemical containers are sealed and have never been opened.
For a complete list of chemicals, visit the Lab's Waste Minimization website at http://www.lbl.gov/ehs/wastemin/.
Final Golf Tournament Results Tilden Tournament 9/8/01
| | | |
| --- | --- | --- |
| Flight 1 | Flight 2 | Flight 3 |
| 1. Nick Palaio 62 | 1. Robert Duarte 62 | 1. Tom Hardy 57 |
| 2. Greg Rodriguez 67 | 2. Denny Parra 68 | 2. Ed Miller 60 |
| 3. Andy Gibbs 68 | 3. Anthony De Latorre 68 | 3. Steve Hanrahan 66 |
| 4. Martin Kitchener 70 | 4. Michael Ruvolo 69 | 4. Dave Plate 68 |
| 5. Nobuo Kobayashi 70 | 5. Fritz Stern 69 | 5. Don Webber 69 |
Year-end Golf Results
Andy Gibbs with 35 pts.
Most improved players of the Year
Men - Michael Cahalen
Women - Mallory Haggert
Top points in each Flight Group:
| | | |
| --- | --- | --- |
| Flight 1 | Flight 2 | Flight 3 |
| 1. Mark Campagna 31 pts. | 1. Nick Palaio 29 pts. | 1. Ed Miller 31 pts. |
| 2. Pat Aki 26 pts. | 2. Robert Ferrero 23 pts. | 2. Martin Boswell 21 pts. |
| 3.Henry Rodriguez 20 pts. | 3. Robert Duarte 19 pts. | 3. Dave Plate 19 pts. |
Pledge not to drive alone and win a trip to Paris!
You could be on your way to the City of Light when you take a commute alternative to work other than driving alone. Join tens of thousands of commuters who will be taking part in California Rideshare Week, October 1-5. You could be the Grand Prize winner of a trip for two to beautiful Paris, France. Just pledge to carpool, vanpool, take transit, ride a bike, walk or telecommute by October 5, 2001. Fill out an entry form at http://www.paris.rides.org and submit by October 12, 2001.
Representatives from RIDES will be here on Tuesday, October 2 from 11:30 – 1:30 p.m. in the cafeteria lobby. They will have informational tables set up with entry forms available. Information can also be found by calling RIDES at (800) 755-POOL or visiting their web site at http://www.rides.org.

Calendar
General Interest
SEPTEMBER 24, Monday
POLLUTION PREVENTION WEEK
Preserving Strawberry Creek
12 p.m., Bldg. 50 auditorium
SEPTEMBER 25, Tuesday
BEACH CLEAN UP
12 p.m. to 1 p.m.
Shorebird Nature Center
Bus pick-up at 11:30 a.m., bldg. 65
SEPTEMBER 26, Wednesday
EH&S WASTE MANAGEMENT
2001 Pollution Preventers Awards
11 a.m.

SHOREBIRD NATURE CENTER
Bldg. 66 auditorium
OCTOBER 1, Monday
CALIFORNIA RIDESHARE WEEK BEGINS
TRIPMOBILE
11:30 a.m. – 12:40 p.m., cafeteria parking lot
OCTOBER 2, Tuesday
RIDES REPRESENTATIVES
11:30 a.m. – 1:30 p.m., cafeteria
OCTOBER 4, Thursday
SHOEMOBILE
7:30 a.m. – 3:30 p.m., cafeteria parking lot
OCTOBER 5, Friday
TEN YEARS AFTER THE 1991 EAST BAY HILLS FIRE
Rich McClure
12:00. Bldg. 50 auditorium
Send us your announcements
Announcements for the General Calendar and Bulletin Board page may be sent to [email protected] Seminar & Lectures items may be mailed to currents_ [email protected] You may also fax items to X6641 or mail them to Bldg. 65B. The deadline for the Sept. 21 issue is 5 p.m. Monday, Sept. 17.
Seminars & Lectures
SEPTEMBER 24, Monday
DEPARTMENT OF PHYSICS COLLOQUIUM
Emergent Orders
Speaker: Dung-Hai Lee, UC Berkeley
4:30 p.m., 1 Le Conte Hall
SEPTEMBER 27, Tuesday
PHYSICS DIVISON RESEARCH PROGRESS MEETING
The Future for Particle Physicists (According to 1500 of Them)
Speaker: Robin Erbacher, FNAL
4:00 p.m., Bldg. 50A-5132
OCTOBER 1, Monday
DEPARTMENT OF PHYSICS COLLOQUIUM
Physics at the Breakfast Table
Speaker: Sidney Nagel, University of Chicago
4:30 p.m., 1 Le Conte Hall
OCTOBER 2, Tuesday
LIFE SCIENCES DIVISION SEMINAR
How Gonadal Hormones Influence Brain Function
Speaker: Anat Biegon, Center for Functional Imaging
4:00 p.m., Bldg 84, Rm 318
EH&S DIVISION SEMINAR
Neutron Dosimetry Redux: A reassessment of Bevatron
Environmental Radiation Measurements 1954-1962
Speaker: Ralph Thomas, University of California
12:15 p.m., Bldg. 62, Rm 203
OCTOBER 3, Wednesday
NUCLEAR SCIENCE DIVISION COLLOQUIUM
Technical, Social and Political Issues Regarding the Management of California's Low Level Racioactive Waste as a Metaphor for Other Issues in the Nuclear Industry
Speaker: William Kastenberg, UC Berkeley
10:00 a.m., 50 Auditorium

Berkeley Community Media
As part of the Lab's community outreach efforts, the Public Information Department (PID) is sponsoring the broadcast of previous installments in the Summer Lecture Series on Berkeley Community Media Channel 25.
"Since these lectures were initially designed for a lay audience, they are a perfect resource for educating our community about the great science being conducted here at the Lab," says PID managing editor Pam Patterson.
The following lectures will air at 6 p.m. Wednesdays, 9 p.m. Thursdays and 8 a.m. Fridays.
| | |
| --- | --- |
| Week of 9/24 | "Some Magnetic Moments: Images from Within" given by Alex Pines on 7/28/98. |
| Week of 10/1 | "Diet, Genes and Heart Disease: One Size Doesn't Fit All" given by Ronald Krauss on 8/4/98. |
| Week of 10/8 | "Imaging the Cellular Universe: Comets, Particles and Transport Phenomena" given by Carolyn Larabell on 7/7/99. |
| Week of 10/15 | "The Fruit Fly: The Human Genome Rosetta Stone?" given by Gerry Rubin on 7/14/99. |
| Week of 10/22 | "The Asymmetric B Factory: Reflecting the World in the CP Mirror" given by Pier Oddone on 7/21/99. |
| Week of 10/29 | "Supernovae and the Expanding Universe" given by Gerson Goldhaber on 7/28/99. |
| Week of 11/5 | "Drilling Through a Volcano to Uncover Secrets of the Deep Earth" given by Don DePaolo on 8/4/99. |

Flea Market
Autos / Supplies
'97 MUSTANG, 71.5K mi, laser red, 6 cyl, a/t, alarm system, ac, cruise, all pwr, keyless door/trunk entry, alloy wheels, rear spoiler, am/fm/cass, new brakes, $9,400/bo, Steve, X7705, (707) 746-5339
'97 FORD ESCORT LX, 50K mi, perfect cond, stereo, pwr win/locks, rear defroster + lots more, $6,900/bo, Sandra, X5453
'96 SATURN, SW2 Wagon, 5 spd, 49K mi, exc cond & maintenance, clean, fully loaded, leather, 6 stack CD w /premium sound, ABS, fog lights, trailer hitch, pwr win, remote keyless entry, alloy wheels, 4 new tires,1 owner, $8,500, Jane, X4400, 527-9985
'90 NISSAN SENTRA, 2dr, 100K mi, wht, 4 spd, 1.6L, 4 cyl, am/fm/cass, new rear tires, gas saver, good running cond, minor damage on body, $1,500/bo, Kenny, X7393
'89 BMW CLASSIC 635csi, near showroom cond, automatic + all options, new tires, exc mech cond, $12,300, Bob X4060, (415) 397 2882
'88 VOLVO 740 Turbo Wagon, 167K mi, 1 owner, all maint records avail, good cond, extra seats, $3,300, Klaus, X2232, (925) 254-0539
8' cabover camper, 2 side jacks, $500; 7' cabover camper, 4 corner jacks, $500; 6' fiberglass camper shell, $100; 2-horse circle J trailer, gold/tan, ramp, $1,400, Charlotte, 232-4506
JEEP SEATS, new Steel Horse OEM replacement for CJ & Wrangler, $100 pair; used CJ-7 (86) OEM, 1 broken other OK, $25 for the good one or the pair for free, all black vinyl, Ted, X5256
Motorcycles
'93 SUZUKI KATANA 600, runs good, 20K mi, great commuter bike, $2,800, Tim, 387-8918
Housing
ALBANY sublet avail Oct - Dec, pvt bdrm, share ba, kitchen, liv area w/ 2 others, 2 blocks from Solano Ave shops & restaurants, 10 min bus ride to Berkeley, Gretchen, X2451, 558-9536;
BERKELEY, B&B, close to shuttle, 1 garden cottage rm & 1 lge room avail 10/1, 1 person per rm, $950/mo or $225/wk, 2 wks min, Hellen, 527-3252, Rachel, X6262
BERKELEY, College/Ashby area, 1 bdrm tastefully furn: linen, dishes, hi-fi, VCR, microwave; sunny, safe, walk to UC, split level, Hill view from terrace, garage, $ 975/mo, for 1 mature, neat & nonsmoking visiting researcher, avail mid/late Sept (flex) for 1 yr, [email protected]
BERKELEY, furn rm avail 9/18 in comfortable 6 bdrm 2 ba 'House of Scholars', 1425 Ward St. at Sacramento, incl house phone, DSL access, w/d, common liv rm & kitchen, house computer, bike storage, off-street parking, housecleaning, 3 mo min stay, $720/mo + 15% util , Anushka, 486-8153, [email protected] calalum.org
BERKELEY, rm avail from now until May/June '02, (flex), Channing btwn College & Piedmont, female only, approx 12x11 w/ pvt ba, lots of closet space, shared kitchen, no liv rm or common area other than shared hallway leading to kitchen, $516/mo + 1/2 PG&E, $516 dep, coin-op laundry, Judy, X4744, [email protected]
CENTRAL BERKELEY nice furn rooms $300/wk or $930/mo, kitchen, laundry, TV, DSL avail, walk to shuttle & shops, Jin or Paul, 845-5959, [email protected] juno.com, Paul X7363
HAYWARD, 2 bdrm 1 ba house on Mission Blvd, walk to BART, newly remodeled (carpet, vinyl, paint, and cupboards), first/last/dep, $1,500/mo, Shelley, X6123
NORTH BERKELEY, 1 bdrm in 3-bdrm shared house on lovely street in Hills, terrific panoramic views, front& back yards, lge fireplace, close to bus lines, bdrm set apart w/ views to 3 sides, avail now, $950/mo, Steve, X2430, 526-7712
NORTH BERKELEY, Thousand Oaks area, 2 blocks from shops, charming, artistically remodeled
3 bdrm 2 ba home, very light & quiet, formal dining rm, skylights, hardwood floors, gas stove, fridge, w/d, dishwasher, lge deck, lush landscaping, gardener incl, garbage paid, available 10/1, lease, cat considered, $2,595/mo, Thea, (760) 944-1762, [email protected]
ORINDA/BERKELEY HILLS, 1 bdrm apt, 10-15 min from Lab, garage, fireplace, deck, quiet woody view, 6' built in desk, connections for small w&d, $1,100, avail about 10/7, James, [email protected]
RICHMOND MARINA BAY, Lab reseracher seeks female, non-smoker, quiet & responsible, to share 2 bdrm apt starting 11/1, Young, X4417, [email protected]
Housing Wanted
LBNL SCIENTIST, wife & newborn seek a 1+ or 2 bdrm apt for long term rental in the Oakland/Berkeley/Albany area, Tom, X5319, twkirchstetter @lbl.gov
POSTDOC looking for rm in house/apt in So Berkeley or No Oakland w/in walking distance to BART, pref w/ other postdoc or grad student, Have 1 cat & a car (parking?), currently in Riverside, Herb, (909) 779-1147, [email protected]
VISITING PHD STUDENT seeks furn rm, apt or shared housing from 10/1 - 12/20, near public transportation, non-smoker, quiet, Jan, +42-0605-568723, [email protected]
VISITING RESEARCHER & son seek 2 bdrm house or apt from Oct - Nov, Jane, X6036, [email protected]
VISITING RESEARCHER, single male, very quiet & responsible, looking for a quiet studio or 1 bdrm apt w/ kitchen w/in a few miles of Lab, willing to work for portion of rent, Jim, X6048, 649-8038
Misc Items For Sale
BELL BIKE HELMET, $8; solid wood desk chair, $25; stainless silver, $10; wht place settings, $20; 2 burner stainless hot plate, $15, Susan, X5437
BICYCLES for kids, 16''-wheels, $30/ea; Kettler scooters, lge tires, brakes, good for kids up to 5 yrs, $25/ea, all in good cond, Peter, X7653
BIKE RAKE for car, great cond, $15, Shelley, X6123
CHIHUAHUAS, 2 males born 7/3/, long-haired, black, brwn w/ white, $200/ea, Charlotte, 232-4506
FUTONS, ikea shelving & end tables, Sandra, X5453
KAYAK, single, 9', stable, w/ skirt, cost $375, asking $250; pool or SPA Mitra ma 100 water cleaner w/ 2 cartages, $50; small student desk, $25; matching 4-draw dresser, $35, James, (925) 831-9958
PET KENNEL, med size, barely used, $10; orange crate cass boxes, $1/ea; ceramic money banks, $2; ceramic dolls, $ 5; vintage collectibles (misc teapots & dishware), $2-$5, Melissa, 665-5572 message
SF OPERA, 2nd row center balcony pair, Rigoletto 9/29, Tosca 11/3, and some other Saturday eves, $120/pair, Paul, 526-3519
YOUTH BED, double deck, twin upper, standard lower, sturdy steel frame, red, w/ mattresses, exc cond, disassembles easily, $50/bo; youth roll-top desk, nice finish, many drawers & cubby-holes, w/ chair, $30/bo, Steve or Suzanna, X7702 or X7508, 655-6616 eves
Free
APPLE IIsi w/ lge keyboard, HP DeskWriter printer, original box, all peripherals, John or Priscilla, (925) 376 4132
DICTIONARY STAND, Ruth, 526-2007
Wanted
RECORDER PLAYERS to play for fun during lunchtime once a week, intermediate level, Carol, X5234
FULL-LENGTH MIRROR, 37"x78", suitable as a sliding door, perfect cond, Ruth, 526-2007
Vacation
KIHEI, MAUI, 1 bdrm condo, across the street from Kam 2 beach (best beach on Maui), fully equipped, view the ocean & Haleakela, $400/wk, Fred or Shar 981-2073 days, 523-4150 eves
SOUTH LAKE TAHOE, spacious chalet in Tyrol area, close to Heavenly, fully furn, peek of the lake from the front porch, sleeps 8+, sunny deck, pool & spa in club house, close to casinos & other attractions, $150/day + $75 one-time cleaning fee, Angela, X7712, Pat/Maria, 724-9450
TAHOE KEYS at S. Lake Tahoe, 3 bdrm house, 2-1/2 bth, fenced yard, quiet, sunny, close to attractions, prvt dock, great view, $175/night, 2 night min, Bob, (925) 376-2211

Flea Market Policy
Ads are accepted only from LBNL employees, retirees, and onsite DOE personnel. Only items of your own personal property may be offered for sale.
Submissions must include name, affiliation, extension, and home phone. Ads must be submitted in writing via e-mail ([email protected]), fax (X6641), or delivered/ mailed to Bldg. 65B. Ads run one week only unless resubmitted, and are repeated only as space permits.
The deadline for the Sept. 21 issue Thursday, Sept. 13.