JGI to Sequence the Fugu Fish Genome

Microbial Month at Genome Institute
---
Potential Boon for Gene Hunters
By Lynn Yarris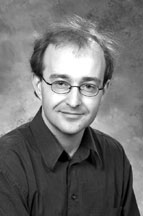 Trevor Hawkins deputy director of the JGI and head Labs Genomics Division said project will be single largest genome sequencing effort.
Scientists searching the human genome data for genes and the DNA sequences that control their activity will soon have a valuable new resource courtesy of the Japanese delicacy known as Fugu (Fugu rubripes), the puffer fish. An international consortium, led by researchers at the Joint Genome Institute (JGI), has announced a collaborative agreement to sequence the Fugu genome.
Although the Fugu genome contains essentially the same genes and regulatory sequences as the human genome, it carries those genes and regulatory sequences in approximately 400 million bases, as compared to the 3 billion bases that make up human DNA. With far less so-called "junk DNA" to sort through, finding genes and controlling sequences in the Fugu genome should be a much easier task. The information can then be used to help identify these same elements in the human genome.
"This genetic information from a distantly related vertebrate will help us read the book of human life with new understanding and knowledge, " said Energy Secretary Bill Richardson. "Given the major contributions already made to the human genome project by the Energy Department's Joint Genome Institute and their tremendous capability to decode DNA, this new effort is a logical and exciting next step in the project."
Said Trevor Hawkins, deputy director of the JGI and head of Berkeley Lab's new Genomics Division, "This project will represent our single largest genome sequencing project to date and be the centerpiece of our new Genome Portal."
The JGI is one of the largest publicly funded genome sequencing centers in the world, and is itself a consortium initially formed by Berkeley Lab, Lawrence Livermore and Los Alamos National Laboratories. Joining the JGI in this collaborative effort to sequence the Fugu genome are the Institute for Molecular and Cell Biology (IMCB) which is in Singapore and is led by Chris Tan; the MRC UK HGMP Resource Centre, located in Cambridge and whose role in the sequencing of the Fugu genome will be led by Greg Elgar; The Molecular Sciences Institute, located in Berkeley and led by Sydney Brenner, who is also a "visiting investigator" at the IMCB; and the Institute for Systems Biology, located in Seattle and led by Lee Hood.
Evolution has conserved many of the DNA sequences used in genes to code for proteins or in the elements that regulate gene expression. This makes comparisons of genome sequences between species an effective and efficient means of finding new genes. Currently, the favorite genome models for gene hunters include those of the mouse, fruit fly, yeast, and nematode. Fugu is a wildly popular food in Japan, even though it can be lethally poisonous if prepared improperly. The genome of this fish — with its eight-fold compactness compared to the human genome — should make it a very cost-effective model.
Explains Berkeley Lab's Daniel Rokhsar, who serves as JGI's associate director for computational genomics, "Within each taxonomic grouping, there can be wide variations in genome size that are not necessarily related to the complexity of the organism. These variations appear to be due to differing amounts of "junk" or "selfish" DNA, often dominated by the remains of ancient viral-like genomic infections that left hundreds of thousands of repetitive elements littered throughout the genome. The Fugu genome seems to have avoided these events and sequencing it will therefore allow us to obtain a complete vertebrate genome extremely rapidly."
Under the terms of the consortium's agreement, the JGI will be responsible for both the production of draft sequences as well the computational aspects of the project. The Fugu genome will be sequenced following the same "shotgun strategy" used so successfully by JGI researchers to complete the draft sequences of human chromosomes 5, 16 and 19. To speed the process even faster for the Fugu genome, researchers will use customized software now being developed at the JGI under the direction of Rokhsar. JGI scientists anticipate having more than 95 percent of the Fugu genome sequence available in an accessible database by March 2001.
The other members of the consortium will be responsible for the finishing phase of the project as well as for contributing to the computational analysis of the genomic data. The long-term goal of this consortium is to generate complete sequence coverage of the Fugu genome and assemble it into a finished form for comparative genomic analysis.
Nobel laureate James Watson, co-discoverer of DNA's double helix structure, has endorsed this project. "The Fugu fish sequence, in combination with the draft mouse genome, to be available in early 2001, will greatly add to the comparative sequence studies that are now required to isolate coding and non-coding conserved elements within the human genome."
Said Sydney Brenner, whose pioneering studies of Fugu biology with Greg Elgar and his colleagues in Singapore helped show that the organization of Fugu genes parallels that of human genes, "I am delighted that DOE has decided to sequence Fugu. The data will greatly enhance the identification of gene promoter regions and lead to a much better understanding of the human genome.

By Paul Preuss
On Monday, Oct. 2, the Department of Energy's Joint Genome Institute (JGI) launched its first "Microbial Month, " aimed at turning out high-quality draft sequences of numerous bacterial genomes during the month just ended. Early results show remarkable success.
Announcing the plan in September, Trevor Hawkins, deputy director of JGI and director of Berkeley Lab's new Genomics Division, said that "decoding the bugs should be a snap." A typical microbial genome is less than 10 million bases long, far less than the 3 billion bases of the human genome recently completed.
The organisms were chosen for a variety of reasons, says Dan Rokhsar, JGI's associate director of computational genomics and a member of Berkeley Lab's Physical Biosciences Division. "Some are traditional favorites of the DOE, such as Sphingomonas, which is important in bioremediation. Others have a high profile because of health or economic reasons."
During Microbial Month JGI sequenced two strains of Xylella fastidiosa, for example, which is transmitted by sharpshooters and other insects and infects many important plants, including grapevines, citrus and almond trees, and the oleander bushes which are used as freeway median strips throughout California.
Paul Predki, JGI's associate director for production genomics and a member of Berkeley Lab's Life Sciences Division, explains that the microbes were continuously sequenced, one after the other. "After we received DNA from the researchers who specialize in the organisms, we shotgunned it, " breaking it into multiple small fragments that were fed to robotic sequencers working around the clock.
"As sequence assemblies emerge, we BLAST 'em, " Predki says, a process less violent than it sounds; BLAST stands for "basic local alignment search tool, " a set of programs maintained by the National Center for Biotechnology Information at the National Institutes of Health. BLAST establishes relationships among stretches of DNA or whole genomes. "Within 24 hours of assembling the sequence, we make the information available to the community."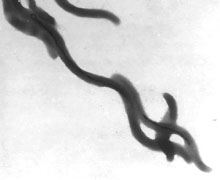 Magnetospirillum magnetotacticum — a bug with genes some researchers think may have evolved on Mars — is one of 15 bacteria whose genomes were sequenced during the Joint Genome Institute's first Microbial Month.
"It's almost a microbe each working day, " says Rokhsar, "but although the sequences will be about eight deep" — the number of overlaps among the shotgunned pieces of DNA — "these won't be finished genomes. There will still be a some gaps."
"Our capacity to produce draft genomes based on shotgunning far exceeds our capacity to produce completely finished sequences, but draft sequences are still exceedingly useful, " Predki says. "As a first step we're sending the information to Oak Ridge National Laboratory, where they have an 'annotation pipeline' that searches for genes and other features."
"The Human Genome Project made people rethink their attitude toward sequencing, " adds Rokhsar. "It became apparent that trying to perfect a finished genome may not be the best strategy. It takes a lot of work to close what may be insignificant gaps, and you have to ask how much additional value you get."
The 15 draft bacterial genome sequences are being made openly available as soon as they are assembled, and posted on the "Genome Portal, " the new website under development by Rokhsar and JGI bioinformatics team leader Tom Slezak of Lawrence Livermore Lab .
To get maximum benefit from the entire set of genomes, JGI plans to convene the principal biological researchers soon, at a meeting to be hosted by NERSC at Berkeley Lab. "Each organism has a champion, an expert in the biology of that organism, " Rokhsar says. "By comparing the genomes of many different organisms at once, we can achieve unique perspectives."
Already Microbial Months are scheduled for March and August, 2001; the organisms to be sequenced are yet to be picked. Predki believes that researchers will be so excited by the results of the first Microbial Month they will nominate their own favorite bugs. "We're planning on working with the community."
Meanwhile, Rokhsar hopes the Genome Portal will have become a web "home" for all the sequenced organisms. "Some users want raw sequence, some may want a list of genes, some want to locate genes that might be responsible for certain traits. Some want to ask open-ended questions that might span many genomes. We want to provide whatever the user wants."
More than set of lists, however, Rokhsar intends the site to be a place where researchers can find a range of tools, including communications, to further their investigations. "We're going to make the Genome Portal state-of-the-art."
With Microbial Month, JGI is inaugurating a new way to channel the data that now flows from the open floodgates of genetic sequencing into immediate and practical ends. Through its Genome Portal, JGI will put DOE's emphasis on freedom of information — as well as on speed — at the service of biological researchers everywhere.

* * *

The Joint Genome Institute is a consortium of the DOE's Lawrence Berkeley, Lawrence Livermore, and Los Alamos National Laboratories. It may be reached on the web at http://jgi.doe. gov/.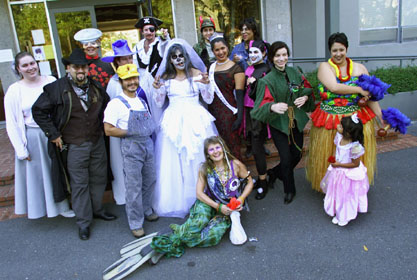 Berkeley Lab did not let Halloween go by without a fun-filled pageantry of revelers in colorful garb. Boo!

By Lisa Gonsalez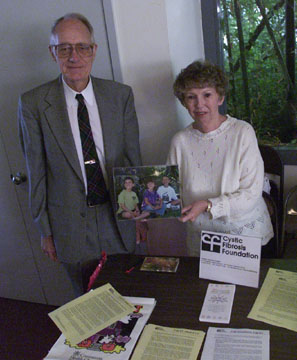 Karl and Muriel Hardy
To a casual observer, the picture of Carl and Muriel Hardy's three grandchildren shows three happy and healthy children. What the picture doesn't show is the struggle they endure every day as their lungs and pancreas get clogged by thick sticky mucus, making breathing difficult and blocking the transport of enzymes that break down and digest food.
The Hardy grandchildren have cystic fibrosis, a genetic disease affecting approximately 30, 000 people in the United States. It is the most common cause of chronic lung disease in children and young adults, and the most common fatal hereditary disorder affecting Caucasians in the nation.
"When our first grandchild was born 11 years ago, the life expectancy for someone with cystic fibrosis was only 23 years, " says Mr. Hardy, a representative of the Cystic Fibrosis Foundation during last month's SHARES Charity Fair, held at Berkeley Lab. "Today over half of those with the disease live to be 31." His voice is filled with enthusiasm as he speaks of their hope and determination to work towards a cure for the disease.
"The children were diagnosed by one of the facilities supported by the Cystic Fibrosis Foundation, and over the years we have seen the progress made through the charitable contributions from our community."
As the SHARES campaign approaches the halfway mark, donations are running behind last year's effort at this point. Employees who have not yet participated still have plenty of time to review their various donation options, described both in their campaign packet and on the Internet at http://www.lbl.gov/shares/. The website also provides links to the participating non-profit agencies.
Employees who have a favorite charity that is not included under these umbrella organizations can still donate through the Donor Choice Plan option on the donor form, as long as the agency is designated as a tax-exempt IRS 501(c)(3). Anyone who has not received donor forms may contact their ASD coordinator and request a packet of materials that includes information on participating organizations as well as tickets for the weekly prize drawings.
The official campaign is scheduled to conclude on Wednesday, Nov. 22.
The Cystic Fibrosis Foundation is a member of Community Health Charities, a donor federation that supports nonprofit agencies dedicated to building healthier communities, and is one of the Lab's four umbrella donor organizations which also includes the United Way of the Bay Area, Earth Share of California, and Bay Area Black United Fund.
Many employees are already familiar with the United Way of the Bay Area, which serves Northern California counties through such organizations as Loaves and Fishes of Contra Costa, the East Bay AIDS Center, and Christmas in April. Earth Share of California is a coalition of top environmental and conservation groups, including the American River Conservancy that works to protect the river's watershed through land conservation and education outreach, and the Audubon Society of Marin that promotes the preservation of habitats for birds and other wildlife.
The Bay Area Black United Fund (BABUF) serves African Americans and other people of color by supporting agencies that build self-reliance and self-sufficiency, thereby empowering people to improve their socio-economic status. BABUF's partners include Berkeley Youth Alternatives, which focuses on crisis intervention services and educational assistance to at-risk youth in the city of Berkeley; the Asian Women's Shelter, which provides safety, food, shelter, advocacy, and other culturally appropriate and language accessible resources to battered Asian women and their children; and Family Builders By Adoption, which educates the community about the needs of children waiting for adoption, acts as an advocate for waiting children, and secures permanent families for children through adoption.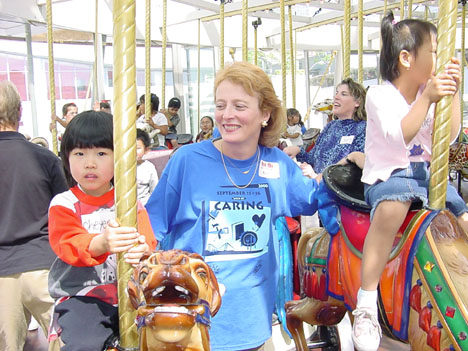 Children enjoy a carousel ride after volunteers prepared information packets on each of them to be used should a child disappear. This effort was a small part of the annual Week of Caring, sponsored by the United Way, one of the SHARES umbrella organizations.
Providing another charitable option of the campaign are the many Bay Area charitable agencies chosen by the Lab for their special compatibility with Berkeley Lab's missions in science and education. One of them is the Contemporary Physics Education Project (CPEP), a non-profit organization of teachers, educators, and physicists from around the world, including several from Berkeley Lab. CPEP brings together teachers and physicists to develop classroom materials and organize workshops devoted to promoting the teaching of physics in high schools.
"All the work done for CPEP is performed on a voluntary basis, " says Andria Erzberger, who leads teaching workshops and works with Lab scientists in developing curriculum materials, such as wall charts. CPEP materials, which incorporate major research findings of recent years, present the current understanding of the fundamental nature of matter and energy. During the last 10 years CPEP has distributed more than 200, 000 copies of its charts and other products.
Erzberger says that the next project CPEP would like to undertake is a teaching module on the history of the universe, starting out with a wall chart and moving on to tutorials and activities on the web. "With volunteers and monetary support, we could create another valuable resource for teaching physics in the classroom."
SHARES Prize Incentives
Drawings for prizes for donors are held every Friday during the SHARES campaign, with the next one scheduled for Nov. 3.
"The drawings are a fun way to reward the generosity of our donors, " says campaign coordinator Ron Kolb. "But the real reward is the realization that these gifts help agencies and individuals less fortunate than ourselves, or support scientific and educational causes on behalf of Berkeley Lab in the community."
Kolb notes that there are still some great prizes left for the next three drawings, such as a $50 gift certificate for Webvan and a night's stay at the newly remodeled Radisson Hotel on the Berkeley Marina.
All donations are tax-deductible. One-time gifts by check will be applied to year 2000 tax returns, while the payroll deduction option will take effect on Jan. 1 and will apply in tax year 2001.

Lab Funding Safe for Another Year
Readers of the budget story in the last issue of Currents (Oct. 20) who might have been concerned about President Clinton's veto of an early version of the Energy and Water Development bill (one of the two spending bills that fund DOE) can relax. The President has signed a new version of the bill which included $18.3 billion for DOE. The budget process for the department for FY2001 is now complete and, as was reported earlier, the overall picture for DOE and Berkeley Lab looks good.
Science Figures Large in New DOE Strategic Plan
Energy Secretary Bill Richardson has released the final version of the new Strategic Plan for the U.S. Department of Energy, following several months of public review of a draft. Laying out a set of goals and objectives for the next six years, the plan calls for DOE to "lead in the physical sciences and advance the biological, environmental and computational sciences, " and to provide "premier scientific instruments" for the nation's research enterprise.
Listed as the major objectives for the science component of the plan were: breakthroughs in the physical sciences that will help provide "clean, affordable, and abundant" sources of energy; advances in biological and environmental sciences that will help "protect our living planet from the adverse impacts of energy supply and use" and support environmental cleanup efforts; explorations of matter and energy as "elementary building blocks from atoms to life;" and development of "extraordinary tools" that will "ensure the success" of DOE's science mission.
The Strategic Plan can be viewed in its entirety at http://www.cfo.doe.gov/ stratmgt/plan/doesplan.htm.
DOE Offers Reforms to Keep UC Manager of Weapons Labs
Secretary Richardson has announced a series of reforms that, if implemented by the University of California, could lead to a three-year extension of the school's management and operating contract to run the weapons labs at Livermore and Los Alamos. The M&O contract with UC, which was renewed in 1997, is scheduled to expire in Sept. 30, 2002.
The reforms announced by Richardson called on UC to establish a new position of vice president for laboratory management who would have "authority to establish operational and management standards, including security measures, for the weapons labs;" hire subcontractors with expertise in security, facility operations, and project and construction management; and create a Laboratory Senior Management Council that would report directly to the UC president.
In response to Richardson's proposal, UC President Richard Atkinson said, "The decision to proceed [with the extension] is a vote of confidence in a relationship that has brought great benefits to our nation for more than half a century. — Lynn Yarris

By Ron Kolb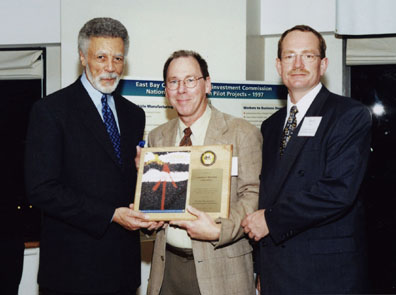 Rob Johnson (center), Berkeley Lab's director of New Intiatives and alternate commissioner on the Conversion and Reinvestment Commission, received the recognition plaque on behalf of the Laboratory. He is flanked by former Congressman Ron Dellums (left) and Commission Chair David Wilson.
Seven years ago Alameda County was shaken by the closure of military installations that included the Alameda Naval Air Station and three other facilities. But since then a renaissance has occurred, in which new industries have sprouted and economies have stabilized.
Berkeley Lab played a major role in this rebirth, and for those contributions it was honored, along with political leaders and other organizations in the region, at an Oct. 24 ceremony sponsored by the East Bay Conversion and Reinvestment Commission.
"We have gone through a major redevelopment effort, " said Commission Chair David Wilson, "with 120 new businesses, over 85 new leases, and over 2, 000 jobs created. This includes high-tech computing, manufacturing, port services, and environmental remediation. Base conversion in the East Bay is among the most productive and advanced in the country."
The effort actually began in 1993, when the base closures were first announced and then-Congressman Ron Dellums created the commission. Berkeley Lab was asked to participate in the pilot project that would determine community needs following economic dislocation from military downsizing. Lab Director Charles Shank chose Earth Sciences Division Director Sally Benson to serve as commissioner.
Recalling her participation at dozens of meetings, Benson noted the commission's charge to create opportunities for small businesses in the area of environmental technologies, to provide office and lab space for new companies, and to offer assistance in development of business plans. Laboratory technologies were among those made available for development.
Benson also served in an advisory capacity on the environmental rehabilitation of the bases. Among her achievements was "drafting a set of principles for the cleanup that environmental groups were happy about." She also coordinated a scientific forum on exciting research and technologies, attended by several hundred people.
But perhaps Berkeley Lab's most lasting legacy will be the Alameda Center for Environmental Technology (ACET), achieved through the efforts of Benson, Rob Johnson, the Lab's New Initiatives director, and researcher Chin-Fu Tsang. Berkeley Lab's team shaped the design of this business incubator, which today boasts 16 thriving high-tech companies after just two and a half years of existence.
"We've had good working relationships with LBNL, " said Sam Doctors, chief operating officer at ACET. "We also have a great opportunity to transfer technologies of the federal laboratories into the environmental biotechnology business community here." For example, he noted, just this year ACET connected Berkeley Lab's low-nitrogen oxide burner technology with the Maxon company, a major burner supplier. Licensing negotiations are underway.
Wilson also cited Berkeley Lab's help in mounting the nation's largest conference on small business procurement in 1999, attended by more than 500 people. The next one is scheduled for Feb. 21-22, 2001.
"Our primary mission now is for economic development, providing technical assistance to small businesses who are locating or going to locate here, as well as financing for their projects, " Wilson said.

By Lisa Gonzales
About 50 people attended a Berkeley Lab-sponsored public scoping meeting for the Environmental Impact Report (EIR) on the proposed 2002 Long-Range Development Plan (LRDP) on Oct. 26.
The meeting provided an opportunity for the Lab to inform the community of the environmental areas to be analyzed, as well as to hear the questions and concerns the community would like to have addressed in the EIR.
"The LRDP is now only in outline form, " said Laura Chen, chief planner for Facilities at Berkeley Lab, as she addressed community members, Lab employees, and public officials in attendance. "All your comments made here will be considered in the process."
While Chen provided a detailed presentation on the LRDP/EIR process, including a development timeline and areas of study, Lab Deputy Director Pier Oddone gave an overview of the Lab's mission and how that connects to future plans.
"We are a group of people working together to improve society through science, " Oddone told the audience. He explained how the LRDP attempts to project the future needs of society decades ahead, even though changes to the plan are inevitable. "That is the nature of science and discovery, " he said.
Oddone spoke not only to the environmental impacts, but also about the beneficial results of the Lab's research for people and the country. Initiatives he mentioned include the mapping of the drosophila (fruit fly) genome and the SNAP satellite.
Some attendees expressed concerns about and opposition to the Lab's proposed expansion, mostly based on the impact of this expansion on the physical environment. Others voiced general opposition to the Lab and a general distrust of science and technology. Their comments focused on their fears about weapons, carcinogens, and genetic engineering.
Although the meeting was intended as a forum for questioning, with answers to be addressed later in the EIR, Oddone spoke informally after the meeting to a group of people who had voiced concerns beyond the scope of the EIR. He talked about how science can improve people's lives, from x-rays and other medical diagnoses to the possibility of microbes that can break down toxic waste, and addressed some participants' fundamental distrust of science and scientists.
"Science provides a way of agreeing upon facts, " Oddone said.
The next step for the Lab, Chen said, is to begin the formal process of writing the LRDP and preparing analyses for the EIR, which is expected to take 12 to 18 months. Another public meeting will be held after the draft EIR and LRDP are available.
Attendees from the Lab also included Klaus Berkner, Robin Wendt, Rich McClure and Jeff Philliber, as well as several staff members from Facilities and EH&S.

Mina J. Bissell, the associate laboratory director for Biosciences, will be conferred the title of "Doctor Honoris Causa" by the Universite Pierre & Marie Curie in Paris, France. The honorary doctorate is extended in recognition of Bissell's contributions in establishing the central role that extracellular matrix and microenvironment play in differentiation, programmed cell death, and cancer.
"I am thrilled that Mina Bissell has received this well-deserved recognition, " said Lab Director Charles Shank upon hearing the news.
Bissell's many honors include election to the Institute of Medicine of the National Academy of Sciences, the G. H. A. Clowes Memorial Award from the American Association for Cancer Research, the Mellon Award of the University of Pittsburgh, and the Department of Energy's E.O. Lawrence Award. She is also a past president of the American Society of Cell Biology.
The title will be bestowed at a ceremony in Paris on Jan. 24, 2001.

Berkeley Lab will be fertilizing 65 research "seeds" this fiscal year to grow new ideas and scientific directions as part of the annual Laboratory Directed Research and Development (LDRD) program. The projects were selected from among more than 130 proposals requesting $23 million, and will be funded with about $9.6 million for both operating expenses and capital equipment.
In making the announcement on the winning projects for FY 2001, Laboratory Director Charles Shank said, "These projects, and the many worthy endeavors that we were not able to fund, reflect the creativity and innovation of our scientific staff. They represent research at the forefront of their disciplines, and they promise to lay the foundation for future advances in science and technology that are in the national interest."
And he added, "I congratulate all the men and women who submitted proposals for their imagination and the quality of their work. These projects will make major contributions to our scientific productivity."
The proposals were evaluated in a review process that used the scientific judgment and priorities of the division reviews and the Director's review committees.
| | | |
| --- | --- | --- |
| Lead, P.I. | Title | Award ($K) |
| Akbari, Berdahl | Development of Cool Colored Shingles | 100 |
| Bailey | High Precision Arithmetic with Applications in Mathematics and Physics | 110 |
| Barcellos-Hoff, | Quantitative Spatial and Temporal Interaction of Multicellular Interactions | 260 |
| Barenblatt | Nonlinear Mathematical Models of Phenomena Related to Petroleum Mining and Geological Engineering | 100 |
| Belkacem | Laser-assisted Photoabsorption of X-rays by Atoms and Feasibility of a Femtosecond X-ray Atomic Switch | 100 |
| Bell et al. | Science Based Sub | 300 |
| Benson, Myer | Geologic Sequestration of CO2 Grid Scale Modeling in Fluid Turbulence | 190 |
| Bertozzi | Synthesis and Characterization of a New Class of Biomimetic Tough Materials Based on the Concept of Artificial Bone | 90 |
| Bethel | Interactive Electron Microscopy Enhanced With Virtual Reality | 130 |
| Biegon | PET Ligands for the NMDA Receptor Channel | 50 |
| Biggin | High Sensitivity In Vivo Crosslinking Method | 100 |
| Bishop | Computer Tools and Methods for Demonstrating a Robotic Ocean Carbon Observing System | 80 |
| Brenner | SCOR: A Structural/Functional Class of RNA | 100 |
| Brown, Blakely | Large Patterned Networks of Living Neurons | 125 |
| Canning, Louie | Computational Methods for Electronic Structure Codes in Materials Science: Ground State and Excited State Properties | 175 |
| Chandler | Development and Application of the General Theory of Hydrophobicity to Interpret Stability, and Dynamics of Biological Assemblies | 100 |
| Chemla | Condensation of Indirect Excitons in Coupled Quantum Well Nanostructures | 120 |
| Chen | Transgenic Mouse Models for DNA Repair and Aging | 200 |
| Cohen et al. | Atmospheric Chemistry: Changes at the Interface Between Urban and Regional Scales | 242 |
| Colella et al. | Advanced Simulation of Complex Beam Systems | 300 |
| Corlett et al. | Feasibility Study of a Dedicated Permanent Magnet Synchrotron Light Source for Ultra-Fast X-Ray Science | 300 |
| Crommie | Nanoscale Transport in Ultra-thin Films | 160 |
| Davis | Atomically Resolved Spin-Polarized Imaging With Superconducting STM Tips | 65 |
| Dubón | Surfactant-mediated Epitaxy of IV-IV Compounds: Expanding the Limits of Alloy, Composition and Nanostructure Synthesis With Pb Overlayers | 110 |
| Earnest | Molecular Recognition and Protein/Protein Interactions in Signal Transduction | 200 |
| Eisen | Experimental and Computational Genomic Analysis of Response of Yeast to Changes, in their External Environment | 300 |
| Fadley | Holographic Imaging with X-rays: Fluorescence and Fourier Transform Holography | 90 |
| Fisk et al. | Indoor Bioaerosol Detection and Quantification by Polymerase Chain Reaction (PCR) | 100 |
| Fréchet et al. | A Molecular Foundry-Complex Nanosystems for Designed Structure and Function | 350 |
| Fung | Carbon Water Climate Interactions | 90 |
| Glaeser et al. | Teraflop Challenges in Single-Particle Electron Crystallography | 250 |
| Gould, Chattopadhyay | Development of a Neutral Molecule Synchrotron Storage Ring | 100 |
| Groves | Cooperative Effects Determining Fidelity in Cellular Recognition | 150 |
| Hasan et al. | Filling-in a "Big Gap": Novel Momentum-resolved Inelastic Emission Soft X-ray, Spectrometer for the Study of Strongly Correlated Quantum Systems | 140 |
| Hazen | Oldenburg, Aerobic Bioremediation of Landfills | 250 |
| Head-Gordon | Novel Synchrotron Experiments to Determine Hydration Forces for Molten Globules, and Model Proteins for Extremophiles | 100 |
| Hinchliffe | Modeling of High Energy Physics Detectors | 90 |
| Isacoff | Transgenic Optical Sensors for Live Imaging of Neural Activity | 100 |
| Jensen | Atomic Scale Modeling of Materials Chemistry | 100 |
| Larabell | Tracking Proteins in Light and Soft X-ray Microscopy | 100 |
| Lee | Design of Digital Signal Processing Electronics for High Resolution Radiation Detectors | 140 |
| Lee | POLARBEAR: An Experiment to Measure Polarization Anisotropy in the Cosmic Microwave Background | 100 |
| Leemans et al. | Attosecond Electron Bunches for Coherent Ionization and Excitation of Atoms | 100 |
| Leung et al. | Compact D-D Neutron Generator for Moderator Design and Biological Research | 210 |
| Levi | Perlmutter, Foundations for a SuperNova/Acceleration Probe (SNAP) | 600 |
| Li et al. | Suitability of Alternative Architectures for Scientific Computing in the NERSC-5 Time Frame | 150 |
| Lucas | Hunt, Diesel Particle Detection and Control | 80 |
| Martin | Investigation of Coherent Far IR Synchrotron Radiation at the Advanced Light Source | 120 |
| McCurdy, Rescigno | Electron Collision Processes Above the Ionization Threshold | 220 |
| Miller | Second-order Methods for Solid-Fluid Shock Coupling With Application to Martian Meteorites | 90 |
| Neumark | Photoionization Experiments on Atoms and Molecules Adsorbed Onto Helium Droplets | 100 |
| Nitsche | Study of Radionuclide-Bacterial Interaction Mechanisms | 150 |
| Nitsche | First Chemical Study of Element 108, Hassium | 150 |
| Otoo | Adaptive File Replication and Coordinated Transfer for Data Intensive Grid Applications | 120 |
| Padmore | High Pressure Research at the ALS | 150 |
| Parvin | Feature Based Knowledge Discovery | 110 |
| Salmeron | High Pressure Photoelectron Spectroscopy for Catalysis, Semiconductor Processing, and, Environmental- and Bio-Chemistry | 95 |
| Saphir | BLD: Software for Scalable Linux Clusters | 260 |
| Shen | Laser Spectroscopy on New Materials: Theory and Experiment | 40 |
| Simon et al. | Linear Algebra & Statistical Algorithms for Text Classification in Large Databases | 110 |
| Smoot | Large Astrophysical Data Sets | 80 |
| Torn | Isotopic Analysis of Carbon Cycling and and Sequestration in a California Grassland, Under Global Change Conditions | 70 |
| Weiss | Single Molecule Protein Dynamics | 100 |
| Yang | Infinite [Mo3Se3] Chains as Molecular Conductors and Their Assemblies | 90 |
| Zolotorev | Source of the Far Infrared Radiation Based on a Material with an Optically Switched Permittivity | 25 |

Scientist Obtain Intriguing Results Using Platinum "Nanocluster" Arrays
By Paul Preuss
Catalysis, in which "helper" components speed up chemical reactions without themselves being consumed, is almost as important to industry as to life itself.
In many catalytic processes a stream of reactants at high temperature is passed over tiny particles of metal on an oxide support surface. In this way platinum, for example, increases the octane rating of gasoline — one of a host of important applications.
"As long ago as the 1920s, industry began depositing metal particles on a support surface by precipitating salts from solution, " says Gabor Somorjai of Berkeley Lab's Materials Sciences Division (MSD). "The trouble is that these particles vary in size, and their spacing is random."
Somorjai, a professor of chemistry at UC Berkeley, has devoted much attention to creating catalysts that are stable at high temperatures and 100 percent selective. Recently, Somorjai and his group have obtained intriguing results using platinum "nanocluster" arrays.
To meet the challenge of controlling the size and placement of platinum particles only billionths of a meter across, they had the help of Eric Anderson, head of MSD's new Nano-writer facility at the Center for X-Ray Optics, in employing electron-beam lithography, a fabrication technique borrowed from microelectronics.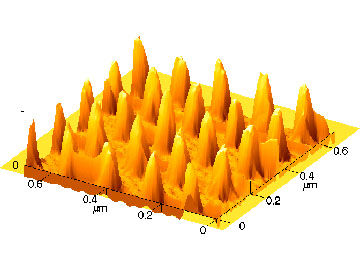 A precise array of platinum nanoclusters produced using MSD's Nanowriter facility.
"We coat the oxidized silicon crystal with a thin film of polymer, then use an electron beam to burn a pattern of holes through the polymer to the substrate, " Somorjai explains. "A platinum film is evaporated onto the polymer and fills in the holes; when the polymer is removed, we are left with platinum clusters of uniform size and spacing."
The result is a half-square-centimeter wafer of silicon oxide covered with a billion particles of platinum, each about 15 nanometers high and spaced 100 nanometers apart.
Initially, each metal cluster consists of several crystal domains, which — with enough load — can be broken off by the tip of an atomic force microscope. After heating, the crystal domains grow together into single crystals of platinum and are no longer easily broken.
Catalysis tests with two important industrial chemicals which can be converted into one another, cyclohexane and benzene, were run in a special reaction chamber designed by Somorjai. In both reactions, the nanoparticle array was much more efficient and selective than foils of pure platinum or wafers of pure silicon. But there was an added surprise.
"Between each test we cleaned the catalyst, shaving off any organic 'dirt' by bombarding the wafer with a beam of ionized neon, " Somorjai says. "The beam planed down the platinum clusters until eventually the surface area was only 40 percent of what it had been."
Nevertheless, the nanoarray catalyst remained 20 to 30 times more active than the platinum foil. "It wasn't just the metal that promoted catalysis. The interface between the metal and the oxide was much more important that anyone had previously thought."
Armed with the knowledge that the metal-oxide interface is crucial to catalysis, and having demonstrated high efficiency and selectivity with single reactions, Somorjai is poised "to move the whole field of catalysis into the high-tech mode."
For more about nanocatalytic arrays, see http://www.lbl.gov/Science-Articles/Archive/platinum-nanocluster.html.

A special memorial honoring the late Berkeley Lab scientist Cornelius A. Tobias will be held on Nov. 19 at 2:30 p.m. in the Heinz Room of the UC Berkeley Men's Faculty Club. Tobias' family is organizing this event as a way to celebrate his life and achievements
Tobias was a founding member of the Donner Laboratory and a renowned pioneer in studying the biological effects of cosmic rays and other ionizing radiation.
Affectionately known to his colleagues as "Toby, " he was 81 when he died of cancer on May 2.

Toy, Food and Coat Drive
Starting Thursday, Nov 16, Berkeley Lab will participate in the annual drive to collect toys, food and now coats to be donated to local charities. Donation areas will be conveniently located in the lobbies of the cafeteria, Bldg. 90, Bldg. 937, and Bldg. 62. The campaign will run through Dec. 19.
General guidelines:
Food donations: non perishable items (canned and dry goods)

Toys: new and gently used items for all ages (books, games, stuffed animals, etc.)

Coats: adult and children (all sizes), gently used
For more information contact Shelley Worsham at X6123.
YMCA Open House
The Downtown Berkeley YMCA is opening its doors to Berkeley Lab employees for an Open House from Nov. 3 to Nov. 17. An employee badge is all that is need to enjoy YMCA facilities and classes for free. These include the swimming pool, weight training equipment, and classes ranging from aerobics and kickboxing to spinning and yoga. Lockers are also available (bring a lock).
"We would like to establish a long-term relationship with the Berkeley Lab, " says Fran Gallati, the executive director of the Downtown Berkeley YMCA.
The facility is open Monday through Friday from 5 a.m. to 10 p.m. and weekends from 7 a.m. to 7:30 p.m. For more information call 848-9622 and ask for Kurran, Juneau, or Tierney.
New Procurement Supplies Contract
Procurement has set up a new Business to Business (B2B) system contract with industrial supplier WW Grainger Inc. to provide a significant portion of the Lab's maintenance, repair and operating (MRO) supplies, such as hand tools, lamps, and replacement parts. In addition to phone and fax orders, Laboratory users will now have the flexibility of ordering Grainger items online via the vendor's website, thereby eliminating the need for a Procurement Card or purchase order. Lab users will also enjoy special government pricing on most Grainger catalog items.
Two information sessions have been scheduled for Nov. 7 at 10:30 a.m. and 1 p.m. in Perseverance Hall. Procurement and Grainger representatives will demonstrate the new ordering process and answer questions. For more information contact David Chen at X4506. Information on this and other B2B system contracts is also available on the Procurement website at http://procurement.lbl.gov.
Racing for the Cure
A ray of hope shone down San Francisco's Golden Gate Park on an otherwise foggy morning on Sunday, Oct. 15 when a contingent of Berkeley Lab participants joined some 20, 000 others in running and walking the course of the Komen Race for the Cure, benefiting breast cancer research. Pictured above are Lab employee Sonia Mueller (right), a breast cancer survivor, her husband, Steve Fowler, and Sonia's mother, Jo Mueller.
This annual event has become the largest series of 5K runs and fitness walks in the world, being held in 107 U.S. cities and two foreign countries this year, with over one million people expected to participate. Proceeds from the Race for the Cure help fund breast cancer research as well as breast health initiatives at local levels.
Fall Blood Drive: Give the Gift of Life
The next onsite blood drive, part of an ongoing partnership between Berkeley Lab and the American Red Cross Blood Services, is scheduled for Wednesday, Nov. 15, from 7 a.m. to 1 p.m. and Thursday, Nov. 16, from 8 a.m. to 1 p.m. Both sessions will be held in Bldg. 70A-3377.
Donors are encouraged to schedule appointments by signing up online at the BeADonor website (www.beadonor.com) in order to help organizers plan the event. (Use company/group code "LBL" on the web form.)
To be eligible, donors must be in good health, at least 17 years old, weigh at least 110 pounds, and not have donated blood in the last 56 days. Detailed donor eligibility requirements can be found on the BeADonor website.
For additional information about the blood drive or if you cannot sign up online, contact Charlotte Bochra at X4268. Donors will receive a BeADonor lanyard.
Runaround XXII Results by Age Group
Women

1. 14:32.9 Therese Enright <30
2. 14:43.2 Hanna Friedman <30
3. 14:51.8 Sophie Van Scherpenzeel <30

1. 13:49.2 Julie Osborn 30-39
2. 14:23.4 Hauyee Chang 30-39
3. 14:37.4 Claudia Wiese 30-39

1. 15:28.8 Kathryn Striebel 40-49
2. 17:47.3 Hoi-Ying Holman 40-49
3. 18:51.5 Eva McNeil 40-49

1. 17:36.5 Dun Rose Sun 50-59
2. 18:07.2 Wladyslawa Swider 50-59
3. 18:59.4 Regine Goth Goldstein 50-59

1. 30:28.8 Sue Bowen 60-69
2. 31:07.4 Janis Dairiki 60-69
3. 35:23.1 Lynne Ingalls 60-69

Men

1. 10:39.6 Rob Armitage <30
2. 11:10.2 Shawn Rasmussen <30
3. 12:15.6 Dmitriy Bukin <30

1. 10:33.1 Brett Singer 30-39
2. 10:55.4 Greg Klein 30-39
3. 11:29.2 Mike Casey 30-39

1. 12:08.1 Patrick Dobson 40-49
2. 13:33.5 Reid Edwards 40-49
3. 13:37.4 Peter Seidl 40-49

1. 12:19.7 Robert Clear 50-59
2. 14:07.6 Wladyslaw Walukiewicz 50-59
3. 14:32.2 William Tschudi 50-59

1. 13:00.6 Jeremy Lys 60-69
2. 13:57.4 Luciano Moretto 60-69
3. 15:12.7 Oliver Morse 60-69

1. 20:11.4 Rich Leres >6
Annual Craft Fair
The annual Berkeley Lab Craft Fair will be held on Thursday, Nov. 16 from 4 to 7 p.m. in the cafeteria. As in previous seasons, a variety of hand-made items will be sold, including baked goods, jewelry, cards, prints, clothing, CDs, candles, ornaments, and more. A free drawings of items donated by crafters will also be held. Join in and get a head start on the holiday fun.
New Dance Series
A new four-week series of dance lessons, featuring intermediate salsa, will start on Monday, Nov. 6 from 12 to 1 p.m. Classes are held on the lower level (south end) of Bldg. 64 and are taught by professional dance instructor Charlene Van Ness. No previous dance experience is required. Free practice sessions are held every Wednesday at noon at the same location.
The cost is $20 for the four-week session or $6 per lesson on a drop-in basis. Participants are urged to arrive 10 minutes early for the first session to register. For further information contact Joy Kono at [email protected] or Sharon Fujimura at [email protected] lbl.gov.
Schedule Change For Tripmobile
The Tripmobile, a commute store on wheels selling bus and BART tickets, continues its monthly rounds at Berkeley Lab but on a changed schedule — the first Monday instead of the first Thursday of each moth. Run by the Berkeley Trip store, the Tripmobile camps in the cafeteria parking lot from 11:30 a.m. to 12:40 p.m. The next visit is scheduled for Nov. 6.
Discounted Tickets for Christmas Revels
The Employees' Art Council (EAC) has reserved a block of tickets for the 15th season of the Christmas Revels at the Scottish Rite Theater in Oakland. A unique form of musical theater, the Revels celebrates the holiday season by building on universal themes and traditions from various cultures. Ken Woolfe of the Lab's Engineering Department performs in the event for the fifth year in a row.
The theme this year is Renaissance Italy. Bay Area favorites Geoff Hoyle and Rene Collins will perform alongside more than 80 local singers, dancers, actors and children. Audience members will be invited to join hands for a "Lord of the Dance" recessional through the aisles.
Discounted tickets are available for the 5 p.m. performance on Saturday, Dec. 16, and are $20 for adults and $13 for children under 12 and seniors.. To purchase tickets contact Mary Clary at X4940, [email protected] The deadline for reservations and payment is Friday, Nov. 10.

General Interest
MON., NOV. 6
TRIPMOBILE
11:30 - 12:40, cafeteria parking lot
NEW DANCE SERIES STARTS
12 p.m., Bldg. 64 lower level
ELECTION DAY
Don't forget to vote!
INFORMATION SESSIONS FOR SYSTEM CONTRACT FOR MRO SUPPLIES
10:30 a.m. and 1 p.m. Perseverence Hall (Bldg. 54)
TUES., NOV. 14
NEW EMPLOYEE ORIENTATION
8:30 a.m, Bldg. 50 auditorium
WED., NOV. 15
FALL BLOOD DRIVE (DAY 1)
7 a.m. – 1 p.m., Bldg. 70A-3377
THURS., NOV. 16
SHOEMOBILE
7:30 - 3:30, cafeteria parking lot
FALL BLOOD DRIVE (DAY 2)
8 a.m. – 1 p.m., Bldg. 70A-3377
FRI., NOV. 17
CRAFT FAIR
4 – 7 p.m., cafeteria
Send us your announcements
Announcements for the General Calendar and Bulletin Board page may be sent to [email protected] Seminar & Lectures items may be mailed to currents_ [email protected] You may also fax items to X6641 or mail them to Bldg. 65B. The deadline for the Nov. 3 issue is 5 p.m. Monday, Oct. 30.
Seminars & Lectures
FRI., NOV. 3
CENTER FOR BEAM PHYSICS SEMINAR
Recreating the Early Universe in the Laboratory
Speaker: Jay Marx, Nuclear Science Division
10:30 a.m., Bldg. 71 conference room
MON., NOV. 6
PHYSICS DEPARTMENT COLLOQUI
ACosmological Structure Formation and the Sunyaev-Zel'dovich Effect(s)
Speaker: Martin J. White, Harvard University
4:30 p.m., 1 LeConte Hall
SURFACE SCIENCE AND CATALYSIS SCIENCE SEMINAR
Photoemission and XANES Studies of DeSOx and DeNox Reactions on Oxides
Speaker: Jose Rodriguez, Brookhaven National Laboratory
1:30 p.m., Bldg. 66, room 317 auditorium
TUES., NOV. 7
BIOSCIENCES DISTINGUISHED LECTURE SERIES
Hormonal Control of Aging in C. Elegans
Speaker: Cynthia Kenyon, UC San Francisco
4:00 p.m., Bldg. 66 auditorium
THURS., NOV. 9
PHYSICS DIVISON RESEARCH PROGRESS MEETING
Missing Energy Plus Jets CDF Data: Can We Dig it?
Speaker: Maria Spiropoulu, University of Washington
4 p.m., Bldg. 50A-5132
WED., NOV. 15
PHYSICS DEPARTMENT COLLOQUIA — SEGRE LECTURE
Neutrinos in Particle Physics, Astrophysics and Cosmology
Speaker: Lincoln Wolfenstein, Carnegie Mellon University
5:45 p.m., Pimentel Hall
THURS., NOV. 16
LIFE SCIENCES DIVISION SEMINAR
Modern Mutagenesis Technologies in Mice and Phenotype-Based Identification of Genes Affecting Germ Cell Development
Speaker: John C. Schimenti, The Jackson Laboratory
2 p.m., Bldg. 84-318; Refreshments precede seminar.
FRI., NOV. 17
CBP PHYSICS SEMINAR
Plasma Focusing of High Energy Density Electron & Positron Beams
Speaker: Johnny Ng, SLAC
10:30 a.m., Bldg. 71 conference room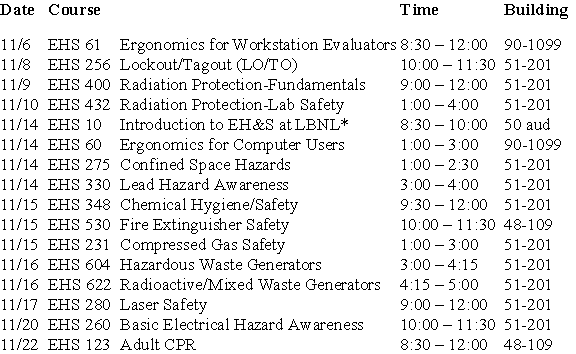 * Includes EHS 392/405, followed by the orientation. Please arrive at 8:15 for sign-in.
For more information or to enroll, contact Susan Aberg at [email protected] or enroll via the web at http://www-ehs.lbl.gov/ehstraining/registration/. Preregistration is required for all courses except EHS 10 (Introduction to EH&S). Times and locations are subject to change. For a full, updated schedule of EH&S training sessions see http://www-ehs.lbl.gov/schedule/.

Due to administrative confusion regarding which UC benefits are accessible to Lab employees, an article on "Additional Benefits" published in the Oct. 20 issue of Currents incorrectly stated that Lab employees are entitled to an online computer account through UC Berkeley. In fact they are not, but other options may be available to employees here at the Lab. For information about remote access services through LBLnet, please refer to http://www-lblnet.lbl.gov/lblnet/ras/default.html.
We apologize for the confusion and any inconvenience this error may have caused.

Autos / Supplies
'99 FORD WINDSTAR SE, fully loaded, very clean, garaged, regular servicing, forest green, 25K mi, $22, 000, Mike, X6832, (925) 625-1342
'95 GEO PRIZM, 1.6 l, claret color, 147K hwy mi, clean, from leaving post-doc, $3, 500, Jan, X6676
'95 BUICK REGAL GS, black w/ tan leather int, 3.8 lt V6 eng, full pwr pkge, moonrf, ac, sport suspension, new tires, 124K mi all-highway, exc cond, factory maint sched, $10, 500/bo, Regina, (925) 735-6526
'91 NISSAN SENTRA, 93K mi, 2 dr, 5 spd man, ac, stereo/cass, cruise, pwr steer, reliable, runs very well, $3, 200/bo, Werner, X2901, 525-1090
'91 DODGE GRAND CARAVAN, white, blue inter, exc cond, pwr win/locks, cruise, at (new), ac, am/fm/cass, seats 7, all records, 119K mi, $4, 200, X5650, (925) 947-1111
'89 TOYOTA COROLLA all-track 4 whl dr, 4 dr, 5 spd man, 103K mi, 1 owner, pwr str, am/fm/cass, $2, 200, Steve, X5396, 559-8669
'88 AUDI 80 QUATTRO, 137K mi, f-t 4-wheel drive, grey, ac, sunrf, $3, 000, Damir, X5346, 547-7896
'87 HONDA CIVIC, 169K mi, runs very well, at, ac, new CD player, $2, 200/bo, Jim or Barb, 482-2354
'86 HONDA ACCORD DX , at, ac, very good running cond, 143K mi, $1, 800/bo, Xiangyun Song, X7363, (925) 377-5028
'86 PORSCHE 944, green metallic, good cond, 120K mi, $4, 500/ bo, Ron, X7241, (925) 631-0594
'77 CHEVROLET CHEYENNE 3/4 ton pickup, 4 wheel drive, at, class 4 trailer hitch, bacpac fiberglass camper shell, ac, 86K mi, $3, 995, Jack, X6750, 471-4921
SEAT COVERS for car, 2 for front bucket seats, blue & gray woven tweed upholstery, barely used, $12/bo; Melissa, 665-5572, lv msg
Motorcycles
'87 HONDA HAWK 250cc, very good cond, 8.5K mi, red, great for around town, $1, 600/bo, Fred, X4352
'81 KAW Motorcycle, 750 LTD, runs, $550, Matt, X6227, 881-0905
Housing
EAST OAKLAND, Fruitvale distr, 2 bdrm/1 bth house, avail Nov 7-15, liv rm, kitchen w/ stove & fridge, storage rm, freshly repainted, wood floors, closets, $1, 100/mo + util, $1, 100 sec dep, 3 blocks from hwy 580, 2 mi from BART, close to shopping, Philippe, [email protected], X7587, 536-4198
EL CERRITO, 3 bdrm/2 bth house, hardwd floor, new kitchen w/ dishwasher & refrig, new baths, big yard, close to BART & shop cntr, no pets/smoking, $2, 000/mo + deposit, Tennessee, 524-9138
NORTH BERKELEY, furn studio, lower level of duplex, on #8 busline, carpet, full kitchen incl dishes, linens, priv phone line, separate entr, partial view, no smoking, 2 mo min, avail 11/5, $800/mo + util, parking $50/mo, $700 dep, Rochelle, (415) 435-7539, lv msg
NORTH OAKLAND condo in duplex, 3 bdrm, 2 w/ loft beds, 1-1/2 ba, indoor hot tub, furn, fireplace, 2 cats, no smoking, green yard, walk to shopping, BART, bus, or Lab shuttle, avail 1/30-5/20, $2, 216/mo incl hot tub, util & 1 local phone line, $2, 116/mo w/ out tub, $4, 000 sec dep, Jim, 654-1900
Housing Wanted
VISITING RESEARCHER from France seeks shared living quarters or studio within biking dist of LBNL, up to $500, single, non-smoker, arriv in Dec for 16 mos, Olivier Renon, [email protected], Kathy, [email protected]
VISITING SCHOLAR looking for studio/1 bdrm apt, Paula, (925) 296-5605, (925) 209-9806
Misc Items for Sale
BRICKS, quality starburst pattern, 400+, 20¢ ea, Matt, X6227, 881-0905
CHAIRS (4) for dining table, wood, danish style, $100, Queen bed, posture pedic, new $760, asking $350, Jan, X6676
FLANDRIA 18 spd road bike, mint green, hodge podge components have been replaced as needed, $100/bo; specialized road bike, Sirrus model, red, 14 spd, shimano components, $200/bo, Randy, X7026, (925) 228-7427
FUTON & FRAME, double, wood, $75, Francesca, X7193
SHADES (4), victorian style, like new, antique white, 2 shades 35 1/16" W, 2 shades 27 9/16" W, $180 (half price) for all 4, Jean, X5678
NETWORK ADAPTER CARD, 3Com model# 3C509B TPO, 10BaseT ethernet card, $7/bo; Kingston model#KNE40T, 10BaseT Ethernet card, $10/bo, Frank, X7495, (925) 377-1018
PANORAMA PRINT, 30 inch color, of Pacific Bell Park during the night game of Sept. 7, Giants vs San Diego, avail at Craft Fair on Nov. 16 along with panoramas of Golden Gate Bridge and SF skyline at sunset, $65 each, sold unmounted, Roy, X5731
SF OPERA, Der Rosenkavalier, 11/17, balc circ, 2nd row, $170/ pr, Diana, X6444
WASHER & DRYER, stackable, 220 volts, used only 8 mos, white, $550, Stephanie, 872-6462
WASHER & ELECTRIC DRYER, Kenmore 6 yrs old, almond, washer: heavy duty 80 series, "ultra fabric care"; dryer: heavy duty "ultra fabric care, soft heat", very good cond, $225 for both, you p/u in Petaluma, Marty, X7663
WATERBED, hardsided, supersingle, drawers underneath frame, everything included, $125, Jay, X5656, 547-6676
ZEISS stereo microscope w/ camera attachment, was $3, 600 new; Mettler electronic scale, 0.0001 to 160 grams, was $3, 000 new, both in good cond, make offer, Steve, X6598, (925) 689-7213
Wanted
DIGITAL CAMERA, Tony, X6881
HOUSE SITTER for 11/10 – 11/20 in Orinda, feed dog, pick up newspapers & mail, 20 mins from LBNL, no pub trans, must be able to drive, possible loan of car, Mike or Sue, (925) 254-0609
Vacation
SOUTH LAKE TAHOE, spacious chalet in Tyrol area, close to Heavenly, fully furn, peek of the lake from front porch, sleeps 8+, sunny deck, pool & spa in club house, close to casinos/attractions, Angela, X7712, Pat/Maria, 724-9450
Free
486 COMP STUFF, older, AT case, mother board, misc hard drives, memory, overdrive processors, more, Steve, X5537
HEALTHY GOLDFISH (4) w/ 10-gal tank, complete w/ filter, aerator, dechlorinating drops, great easy-care pets for a child, Ashok, X4651
TWIN SIZE BEDS (2), mattr & box, very clean, one is 2 yrs old, other 10 yrs old, $20 for delivery, Chris, 6901
Ads are accepted only from LBNL employees, retirees, and onsite DOE personnel. Only items of your own personal property may be offered for sale.
Submissions must include name, affiliation, extension, and home phone number. Ads must be submitted in writing via e-mail ([email protected]), fax (X6641), or delivered/mailed to Bldg. 65B.
Ads run one week only unless resubmitted, and are repeated only as space permits. They may not be retracted once submitted for publication.
The deadline for the Nov. 17 issue Thursday, Nov. 9.