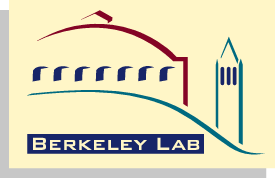 Berkeley Lab Currents
May 1, 1998

By Paul Preuss
At 10 a.m. Pacific Daylight Time this past Tuesday nearly 300 PBS stations--including KQED-TV Channel 9 in San Francisco--carried "Live From the Poles," an hour-long special aimed at classrooms which featured interactions between students and scientists in both the Arctic and the Antarctic.
Portions of the show focused on the Antarctic Muon and Neutrino Detector Array collaboration (AMANDA) led by Buford Price of Berkeley Lab's Nuclear Science Division. One of the principal ways researchers at the Lab communicate with their colleagues who are spending the long Antarctic winter at the NSF's Amundsen-Scott South Pole Station is via the Internet, on the first live video and audio link to the Pole using Multicast Backbone technology--"MBone" for short.
By showtime, the MBone link between Berkeley Lab and the Pole had been operational for almost a month. The "Live From the Poles" TV special, however, used the link to allow AMANDA researchers Steffen Richter, Robert Schwarz, and Eduardo Andres to answer questions about their scientific work from middle-school students in Booneville, Miss.
AMANDA is a neutrino observatory that uses strings of photomultiplier tubes lowered thousands of meters down into boreholes in the polar ice. The photomultipliers detect radiation produced by muons that are occasionally created when ice or rock is struck by a high-energy neutrino coming up from below and passing right through the Earth.
Hardware for the South Pole link, including miniature cameras, sound pick-up gear and circuit boards, was delivered to the Amundsen-Scott Station by AMANDA's Douglas Lowder earlier this year. Deb Agarwal of the Lab's Information and Computing Science Division worked with Maria C. Perillo Isaac of the Nuclear Science Division to put the link into operation.
Agarwal has earlier helped configure and install MBone connections for other Department of Energy projects, including remote control of Beamline 7.0 at the Advanced Light Source. Instead of sending massive amounts of data to individual routers, MBone routes real-time communications over the net by distributing and replicating the multicast data stream only as needed, thus making efficient distribution of data packets without congesting any single router.
Isaac is interested in the educational potential of the new medium and has been working to help set up MBone links in her spare time. In MBone Isaac sees "a great resource for kids who want real-time access to remote scientific locations." She hopes that eventually schools everywhere will be able to interact--as some have been privileged to do already--with astronomers at mountaintop observatories, biologists in the rainforest, geologists on the slopes of live volcanoes, oceanographers under the sea, and astronauts aboard the space station.
Carl Pennypacker, the astrophysicist who founded the Hands On Universe educational project, calls Agarwal and Isaac "the first two women to the Pole...via MBone computer connection." Pennypacker says that although MBone is still somewhat experimental, he hopes the South Pole link will be "a prototype for the schools."
Today's onscreen images are small and are usually transmitted at a slow rate, resembling a slide show more than a movie; as yet few schools are equipped to receive the multicasts, although Pennypacker is confident the situation will change.
Nevertheless, MBone connections are unmistakably live. Soon after the first link was established early in April, Buford Price and other AMANDA researchers gathered around a computer screen in Bldg. 50 to exchange greetings with their anti-podean colleagues. Among Maria Isaac's first words were a complaint about California's El Niño-induced weather:
"Too much rain," she said. To which the comment from the South Pole was, "We don't have that problem here."
The MBone videoconferencing tools were developed by Van Jacobson and Steve McCanne of the Lab's Information and Computing Science Division; the system's other principal creators were Steve Deering, then of Xerox Corp.'s Palo Alto Research Center, and Steve Casner of the University of Southern California.
With the South Pole connection as a "proof of concept," in Pennypacker's phrase, he hopes the incentive for schools to acquire the new technology will make live science on the MBone only a matter of time.
"We were delighted to cooperate with the MBone team," said Geoffrey Haines-Stiles, who produced "Live to the Poles" for NASA's Passport to Knowledge project, "to show that new technologies can literally take students to the end of the world...or anywhere else their scientific curiosity might lead."
To learn more about Live-to-Antarctica connections over the web, look up http://quest.arc.nasa.gov/antarctica2/index.html or http://passport.ivv.nasa.gov. For information about Mbone, look up http://www. mbone.com.
Photos:The Amundsen-Scott South Pole Station, home to AMANDA reasearchers and other scientists.
Photos: MBone photos.

By Allan Chen
Eleven national laboratories, including Berkeley Lab, contributed to a major study on greenhouse gas emissions, the results of which were recently made public by the Depart-ment of Energy. The study concludes that a national investment in a 30-year technology research and development program could significantly reduce the nation's greenhouse gas emissions without harming its economy.
Formally titled "Technology Opportunities to Reduce Greenhouse Gas Emissions," the 11-lab study identified 47 technology pathways, consisting of groups of technologies with the potential to eliminate the emissions of hundreds of millions of tons of greenhouse gases a year. The technology pathways identified included those that are "near-term," such as electric hybrid vehicles, high-efficiency lighting, super-insulating windows, and passive solar heating and cooling of buildings; and those that need further development, such as fuel cells for transportation, microturbines, biomass fuels, and hydrogen-fueled energy systems.
"Technologies already being developed by industry and by national laboratories are key to meeting President Clinton's challenge to reduce greenhouse gases while contributing to economic growth," said Secretary of Energy Federico Peña in releasing the study results.
"This report lays out what we need to do to bring our nation's best scientific and engineering talent to bear on solving this problem. With the support of American consumers and businesses, we can have a major impact on the kind of world we leave for future generations."
The 11-lab study stressed the importance of pursuing a number of technologies at each stage to provide producers and consumers of energy with choices and flexibility. The 47 technologies identified in the study encompass almost all sectors of the economy, including buildings, industry, transportation and agriculture. The section on buildings was prepared by a group led by Don Grether and Mark Levine of the Environmental Energy Technologies Division. Joining them from EETD were Rick Diamond and Jeff Harris.
This is the third major study on mitigating global climate change in which Levine and other Berkeley Lab scientists have contributed expertise. The building section identified three major areas in which energy-efficient technologies could contribute: more efficient building equipment and appliances; technology for the building envelope, such as energy-efficient windows; and intelligent building systems.
"In the intelligent building systems concept," says Levine, "data from the design of the building and sensed data within the building are used to automatically configure the building controls. Intelligent systems will use a continuous flow of data to operate buildings as efficiently as possible, and keep occupants comfortable and safe."
The conclusions reached in the 11-lab study were similar to those reached in a five-lab study released late last year by DOE, called "Scenarios of U.S. Carbon Reductions: Potential Impacts of Energy Technologies by 2010 and Beyond." Levine was co-leader of that study, which was commissioned to determine to what extent existing technologies, if adopted to their full potential, could reduce carbon emissions by 2010.
That report also examined undeveloped technologies that have the ability to reduce emissions further. Levine also contributed to a report on the same subject issued by the President's Committee of Advisors on Science and Technology.
The United States is the focal point for mitigating global climate change because our nation is responsible for nearly a quarter of the world's carbon dioxide and other greenhouse gas emissions. About 90 percent of those emissions arise from energy use. Particularly bad is the burning of fossil fuels, which is estimated to account for about 85 percent of the carbon dioxide released into the atmosphere.
All three reports on which Levine participated called for increased investment in energy research and development if the nation's energy consumption levels in 2010 are to be close to 1997 levels, and if greenhouse gas emissions in 2010 are to be reduced to 1990 levels.
"Simulations of growth in energy consumption have suggested that this reduction is possible," Levine says. "Energy-efficient technologies already exist in the marketplace and they perform well technically and economically. The challenge, especially for end-use technologies, will be to find ways to have these technologies accepted by the market."
According to Levine, an analysis of all three reports leads him to conclude that the public policy focus should not be on the alleged high costs to the economy of reducing CO2 emissions.
"There need not be high costs if we choose the target properly," he says. "[Public focus] should be on the acceptability of different policies and, I would add, the willingness to make greater R&D investments."
The study, "Technology Opportunities to Reduce U.S. Green-house Gas Emissions," can be found on the web at: http://www.ornl.gov/climate_change/. The files are in PDF format and can be read with Acrobat Reader.
Photos: Wind turbines are becoming an increasingly popular means of generating electricity, with applications ranging from utility-scale power plants to home use. Wind energy generates pollution-free electricity at costs that are often competitive with those of conventional power plants.

A proposed Berkeley City Council resolution which would have asked the University of California and Berkeley Lab to "cease and desist" all work on a new accelerator project did not gain Council approval Tuesday night following a debate over its legal implications.
The resolution would have cited the Laboratory for violating the Nuclear Free Berkeley Act, a city ordinance which, among other things, bans work on nuclear weapons within the city limits. Critics have argued that the electron accelerator that the Laboratory is contributing to the Dual Axis Radiographic Hydro-dynamic Test Facility (DARHT) in Los Alamos is in conflict with the ordinance. The Laboratory has said that designing and constructing an accelerator is not nuclear weapons work.
In a letter to the City Council on Monday, Laboratory Director Charles Shank asserted that work on this unclassified accelerator project, similar to those that have gone on here for decades, "is not work for nuclear weapons. We believe this work is covered by exclusions defined in the Act, including `unclassified research' and `other applications not related to the development of nuclear weapons.'"
Shank noted that the Act itself is unconstitutionally vague (citing `testing' and `maintenance' of weapons as violation criteria) and is unconstitutional and invalid given its conflict with the authority of the federal government and the preemptive protections of the Hazardous Materials Transportation Act and the Atomic Energy Act.
On the advice of the City Attorney, the Council voted to return the resolution to city staff for reassessment of the language in terms of the legal issues involved, and to return with a recommendation on a new proposal by May 12. They also agreed to meet in closed session to discuss potential legal impacts of various options and to seek advice from others on the issue. They reiterated their intent to write to the Laboratory and ask it to suspend work on DARHT.
Much of Tuesday's discussion centered on a 1990 case in U. S. District Court, in which the government won a judgment against the City of Oakland and invalidated nearly all of its Nuclear Free Zone Act. That decision pointed to the law's conflict with the rights and authority of the federal government. Berkeley's law is quite similar to the former Oakland act.
As Berkeley Lab has stated on previous occasions, the design and development of a second-axis linear induction accelerator for DARHT will apply internationally-recognized Berkeley lab technology to a scientifically challenging project. The experience of those working on the project should prove invaluable to the Laboratory's future investigations into areas such as inertial confinement fusion as an alternate energy source.
Shank also pointed out in his letter to the City Council that "projects like DARHT will provide this nation's leaders with the technical assurances necessary to enable implementation of the Comprehensive Test Ban Treaty." And he added, "I commit to seeking appropriate communication mechanisms for continuing constructive dialogue between the City of Berkeley and Berkeley Lab."
DARHT will consist a pair of giant X-ray machines, strong enough to see through metals, that will take "flash pictures" fast enough to see what is going on step-by-step during a non-nuclear mock-up experiment of an explosion. It will be part of the Department of Energy's stockpile stewardship program, which will assure the reliability of weapons without actually testing them.

Photo:
Youngsters have a blast while firefighter Gary Dunbar shows them the ins and outs of his craft. See Page 5. (2XBD9804-01065)


Photo:PG&E showed off some of its clean air vehicles, which run on natural gas, during the Eco Fair held at the Lab on April 14.
Transportation was the theme of this year's event, which included everything from demonstrations of clean air cars to bike tune-ups, information about recycling, energy-efficient lamps, and home composting programs. The next issue of Currents will feature other highlights and information about the event. Photo by Roy Kaltschmidt (XBD9804-00977)

Two Berkeley Lab scientists, one a legend and the other a legend-in-the-making, have been linked through one of the most prestigious forms of recognition bestowed by a university. UC Berkeley has announced the establishment of an "endowed chair" in honor of Nobel Laureate and former UCB chancellor Glenn Seaborg and named Alex Pines, a UCB professor of chemistry with a joint appointment in the Materials Sciences Division, as its first holder.
Endowed chairs are highly prized because they provide a source of income to advance the scholarly activities of the professors appointed to hold them. An anonymous donor provided what UCB described as a "generous endowment" in tribute to Seaborg and UCB's College of Chemistry. The University in turn created the Glenn T. Seaborg Chair in Physical Chemistry to recognize the man credited with the discovery of 10 new elements, and whose pioneering work on the transuranium elements won him the 1951 Nobel Prize and the 1991 National Medal of Science.
Pines is an internationally recognized leader in the field of nuclear magnetic resonance spectroscopy and magnetic resonance imaging (NMR/MRI). Like Seaborg, he is also an acclaimed teacher. While a student at MIT, Pines helped open the door to the modern era of solid-state NMR spectroscopy. Since coming to Berkeley in 1972, his innovations have broadly expanded the applications of NMR/MRI technology. Among his many awards are the Wolf Prize in Chemistry, the U.S. Department of Energy's E.O. Lawrence Award, and the American Chemical Society's Baekeland Award in Pure Chemistry.
"I am very pleased that Alex Pines, eminent scientist and my long-time friend and colleague, will be the first holder of the Seaborg Chair," said Seaborg. "I am delighted that this chair in my name has been created to honor individuals who have distinguished themselves in teaching and research." --Lynn Yarris

Underscoring his commitment to making dramatic improvements in environment, safety and health in the workplace, Secretary Federico Peña unveiled a "Zero Tolerance" policy to be adopted by the DOE with regard to potentially serious accidents.
"It has been and will remain our policy that the safety of our workers, respect for the environment and the public health are paramount in all that we do," Peña said in a memorandum to DOE employees.
The initiative commits the department to "outstanding safety performance" and expands its implementation of integrated safety management from 10 priority sites to all its facilities; provides assurance for free expression of safety concerns; calls for personal Secretarial review for serious accidents that may result in life threatening injuries or major environmental contamination; launches a Safety Leadership Forum in which senior DOE managers would examine potentially vulnerable department sites; and implements reforms whereby DOE contractors' entire performance will be affected by its safety performance.
The full text of the policy can be found at http://tis-hq.eh.doe.gov.

Dean Eastman, director of Argonne National Laboratory since 1996, has announced he will resign this summer to return to teaching. Eastman said he wants to find "a new balance between my professional and personal interests, and to get back to those things that have held special rewards for me."
Eastman plans to teach physics at the University of Chicago, which manages ANL for the DOE. Prior to joining ANL, Eastman had worked at IBM for 33 years. While director at ANL, he presided over the construction of the Advance Photon Source. ANL's Board of Governors has already started a search process to find Eastman's successor.

The Sudbury Neutrino Observatory officially opened with a two-day ceremony on April 28 and 29. On hand to launch the $75 million project, of which Berkeley Lab was a key player, was Cambridge physicist Stephen Hawking. The renowned scientist and author was taken on a personal tour of SNO, which is buried two kilometers underground.
But science enthusiasts from around the world could see the same sights from their personal computers. A live webcast using the MBone multicast system developed here at the Lab whisked virtual visitors down a mine shaft, through airlocks and decontamination chambers, and into the cavern that houses the observatory--a geodesic dome containing 10,000 photomultipliers that sits inside a 12-meter-tall acrylic vat which will soon be filled with heavy water.
Those who missed the opening ceremonies may still take a virtual tour of the observatory off the web by visiting SNO's website at http://sciencenorth. on.ca/sno/.


Senator Dale Bumpers of Arkansas, the ranking Democrat on the Senate Energy Committee, has sent a letter cosigned by four of his colleagues to President Clinton urging him to nominate DOE Deputy Secretary Elizabeth Moler as DOE's next secretary.

"Too often in the past, presidents have appointed people with little or no knowledge of energy issues to head the Department of Energy. We do not believe you have that luxury," the senators said. Co-signers included Jeff Bingaman of New Mexico, Daniel Akaka of Hawaii, Mary Landrieu of Louisiana and Tim Johnson of South Dakota.

Meanwhile, Lois Capps, a House Democrat from California, is urging Clinton to nominate Chang-Lin Tien, the former chancellor of UC Berkeley, to head DOE. In a letter, Capps praised Tien as "one of our nation's preeminent experts in energy," one of its "leading educators," and "the first Asian American to head a major research university."

The Clinton administration remained silent last week regarding a replacement for Energy Secretary Federico Peña, who recently announced his intention to resign effective June 30.

Martha Krebs, director of DOE's Office of Energy, is cautiously optimistic that the Department will receive full funding next year for the proposed Spallation Neutron Source to be built at Oak Ridge National Laboratory. Commitments made to the Army Corp of Engineers for water projects in FY99 that would total approximately $1.3 billion have apparently harmed DOE's prospects for receiving the entire $157 million funding requested for the SNS.

In response to reports of an agreement between the responsible House and Senate budget chairs that would give DOE full funding for the SNS, Krebs said: "There's a difference between saying that there's an agreement and whether we actually see the full amount of money. The real critical issue is that we need to hear from Congress whether they think this is the right time to fund the project."

Krebs has said that if DOE does not receive the full $157 million for SNS in FY99, it would have to add the shortfall to its FY2000 request of approximately $200 million, if the facility is to open on schedule in 2005.--Lynn Yarris

Published twice a month by the Public Information Department for the employees and retirees of Ernest Orlando Lawrence Berkeley National Laboratory. Ron Kolb, PID department head.
EDITOR: Monica Friedlander, X2248 (495-2248 from outside), msfriedlander@lbl.gov
STAFF WRITERS: Paul Preuss, X6249; Lynn Yarris, X5375
CONTRIBUTING WRITERS: Jon Bashor, X5849; Allan Chen, X4210
FLEA MARKET / CALENDAR: Jacqueline Noble, X5771, fleamarket@ lbl.gov / currents_calendar@lbl.gov
Public Information Department, Berkeley Lab, MS 65A, One Cyclotron Road, Berkeley CA 94720.
Tel: 510/486-5771; Fax: 510/486-6641
Berkeley Lab is managed by the University of California for the U.S. Department of Energy.


By Monica Friedlander
Berkeley Lab has taken a high-tech step in an attempt to put the breaks on the speeding problem on the Hill. Last week a mobile traffic monitoring unit was added to the Hill scenery to complement the often-ignored speed limit signs. The unit is being stationed at various locations, telling motorists how fast they are driving.
So far, violators have nothing to fear from the bright message board with a radar read-back unit. The idea is to promote speed limit compliance by increasing drivers' awareness--and just possibly, to give people a subtle reminder that violations do not go unnoticed.
"Everyone is part of the problem and part of the solution," says Don Van Acker, the engineer responsible for traffic safety for the Environment, Health and Safety (EH&S) Division. "This unit will give us a way of educating people about how fast they're driving. People often just coast along without looking at the speedometer. This is a tool for teaching traffic safety."
Similar monitors have been used on roads and highways nationwide, with very positive results. Van Acker hopes that the monitor will slow traffic at the Lab without the need to enforce the speed limit by issuing traffic citations. Should motorists not get the subtle hint, however, the next step will be "compliance management" from the UC Police Department. In other words: slow down or watch out for those tickets sometime down the road.
"If we can bring the speed down, we don't have to go that route," Van Acker said, reassuringly.
In particular, Van Acker noted the hazards that make speeding on the Hill a particularly dangerous proposition. In addition to the steep slopes, tight turns, pedestrians, and bikers, Hill traffic includes everything from fork lifts and cranes to crossing deer. "Add all this to the traffic mix and it becomes mandatory to slow down."
The solar-powered monitoring unit is being placed at locations that have a history of high speed, accidents or changing traffic patterns. The project is a collaboration between EH&S, Burns Security and the Facility Department.
"This is an investment in keeping us ahead of the problem," Van Acker concluded.
Photo:Speed monitor. Photo by Roy Kaltschmidt (XBD9804-01068)

Do you have an interesting story or anecdote to tell? Did you or one of your colleagues accomplish something that you think others would like to hear about? Are you working on some interesting research? Do you have a picture you would like published in Currents? If so, please send your suggestions to msfriedlander@ lbl.gov. We cannot publish every item submitted, but we will consider all your suggestions.

By Antonia Reaves
Last June, President Clinton announced the "Million Solar Roofs Initiative," calling for one million solar systems to be placed on the roofs of homes, schools, businesses, and commercial enterprises by the year 2010. This initiative is designed to increase the use of renewable energy in place of fossil fuels in order to slow down greenhouse gas emissions and stimulate the economy through creation of new high-tech jobs.
Underscoring his commitment to this goal, Clinton called for 2000 solar systems to be placed on the roofs of federal buildings. These solar systems will be either photovoltaic (PV), solar hot water, or solar space heating systems.
Berkeley Lab already has a solar hot water heating system on the roof of Bldg. 90. But recently, funding has become available to study other options for installing solar systems here at the Laboratory. Doug Lockhart, chief energy engineer, is spearheading this effort.
"We are soliciting ideas from everyone here at the Laboratory," says Lockhart. "Just putting solar systems on our buildings would not be cost effective." Since PV systems cost about $.20 per kilowatt-hour of electricity, the most cost-effective applications are usually in remote locations where power is not easily available.
"Any equipment one-quarter mile from a power connection can be powered more cheaply using a small PV assembly with a battery than extending electrical power from an existing source," states energy engineer Steve Greenberg. "While it is possible to use a generator, power from a PV assembly is clean, quiet and requires minimal maintenance."
Solar power also has a lot to offer in terms of mobility, as Dennis Baum discovered. A designer at the Advanced Light Source, Baum has developed a unique application of solar power. Since last July, he and a partner have been broadcasting from what may be the first and only solar-powered radio station, SPURT --Solar Powered Urban Radio Transmissions. The station's transmitter is powered by a 12-volt deep cycle Marine battery which stores energy during the day from a 5-watt solar panel.
"We could run for 40 hours straight," says Baum. SPURT broadcasted continuously while at the Headwaters Rally the weekend of Sept. 14-15. By placing the radio transmitter on wheels they were able to go right to where people were gathered.
This mobility and independence from the utility grid is what attracted Dennis to using a solar panel to power his radio transmitter. "If we ever experience a serious power outage from an earthquake or other disaster cutting off our area from fuel supplies for a few days, our radio station would most likely be the only one able to transmit," he said.
Anyone in the south Berkeley area can tune in to 102.5 FM on Thursday night from 7 to 10 p.m. to listen to the broadcast. The program typically consists of half-an-hour of news and social commentary, live and recorded music, and short stories.
For more information about SPURT, e-mail Baum at spurt_radio@geocities.com or look up the station's web page at http://www.spurt.home.ml.org. Suggestion for solar applications at the Laboratory may be directed to Antonia Reaves at X7228, or by e-ail to AReaves@ lbl. gov.
Photo:Dennis Baum and his partner prepare to broadcast on 102.5 FM, the first and only solar-powered radio station. (XBD9804-00849)

By Jacqueline Noble
At the Fire Department a group of talkative youngsters learned about fire safety and participated in a contest to see how quickly they could get dressed in firefighters' gear. On the other side of the Hill, children goggled in safety glasses gathered around the lathe in the glass shop and blew their own vases and Christmas ornaments. Yet others experimented with liquid nitrogen, learned about medical imaging, or viewed comets.
These were just some of the many workshops that children ages 9 to 15 enjoyed during this year's Take Your Daughters and Sons to Work Day, held at the Lab last Thursday.
Firefighter Wayne Nordby explain-ed how quickly firefighters must respond to an alarm. The children were timed in putting on the gear. The winner: Sean Rondeau, grandson of Don Rondeau of Engineering, who accomplished the feat in 18 seconds.
At the lathe, children stared at the blue flame that quickly turned yellow when glass was introduced to it. Twins Heath and Jacob Attia, whose mother Diana works in AFRD, wanted to know why the flame changed color.
Other workshops explored virtual reality techniques, the fundamentals of nuclear science, underground water flow, the use of transgenic mice to fight disease, and the use of high-resolution microscopes. Tony Hansen of the Engineering Division addressed the opening ceremony. For the closing, the young people were invited to visit booths related to Earth Month.
Event coordinator Marva Wilkins estimated that 250 youngsters participated in this year's event.
"The day was so energetic," said Wilkins. "Having the young children come to the Laboratory helps us all look at our work with a fresh perspective. It also makes the scientific community see their work through the eyes of a younger person."
Photos:A liquid nitrogen experiment captivates the attention of a group of children in one of the hands-on workshops. (XBD9804-01063 and XBD9804-01062)
Avila Reed, daughter of Harry Reed of the Work Force Diversity Office, only needs a mask, a hose over her shoulder, and a tank of air and she'll be ready to fight any fire. Photos by Roy Kaltschmidt

This issue debuts a new column, to be published periodically in Currents, featuring issues related to the World Wide Web. Today's topic: Search Engines. See Page 5.

Finding the best search engine on the net has long been an issue of popular speculation. Now it is finally a matter of science. Two computer scientists researched the issue recently and published their results in the April 3 issue of Science.
Steve Lawrence and Lee Giles of NEC Research Institute in Princeton, New Jersey, tested six of the most popular search engines and found that HotBot and AltaVista covered the most ground. They also discovered that no search engine actually searches the entire web. According to their findings, the number of actual web pages online is two-to-three times larger than that indexed and searched by any individual search engine. They conclude that the best way to search the web may be through search services that combine the results of several different engines.
Their key findings include:
No search engine covers the entire web but some include as much as 10 times more files than others.

Individual search engines cover from 3 to 34 percent of the indexable web.

An estimated lower bound on the size of the indexable web is 320 million pages.

Search engines may be limited by network bandwidth, disk storage, computational power, or a combination of these items.

To cast the widest search of the net, use a meta search engine such as MetaCrawler (http://www.metacrawler.com) that combines the results of multiple search engines.
Lawrence and Giles submitted 575 queries to each search engine and compared the results. The researchers estimated that HotBot covered just over one-third of the indexable web--defined as all the web pages accessible to search engines. Since HotBot advertised in December that it covered 110 million web pages, they concluded that the indexable web now consists of 320 million pages.

One caveat: The quality of a search consists of much more than just the number of files being searched. Researchers, for instance, were not able to measure precision, the ability of the search engine to define and find exactly what the user is seeking.

Berkeley Lab's main website features a search page at http://search.lbl.gov that allows the user to select from the search engines listed above.--Jefferey Kahn

By Jon Bashor
Starting today employees can sign up for the Lab's new, server-based e-mail system. Because of the effort involved in opening the new accounts, only 30 to 50 requests will be handled each workday on a first-come, first-serve basis.
To make the transition from systems such as QuickMail, cc:Mail or Eudora, employees will have to contact the Computing Infrastructure Support (CIS) Department to have a new account created. Assistance with transferring existing messages and installation of new Netscape clients will be provided by CIS on a time and material basis.
To sign up for a new account and find out how to download the software, visit the Mercury website at http://www.lbl.gov/mercury/ and click on "e-mail." Instructions on migrating saved messages from the old system to the new one are provided on the same website. Employees will also need to download the Lab-configured version of Netscape Communicator Pro 4.0.
The e-mail change is part of an overall effort known as the Mercury Project, which will provide a new computing infrastructure to support a variety of applications. The enhanced infrastructure will also support a new scheduling system, replacing the outdated MeetingMaker, and will eventually support digital signature and certification capabilities, paving the way for electronic transactions.
The new system is based on IMAP4, which stands for Internet Message Access Protocol. This is a method of accessing electronic mail from a central computer, and allows mail to be read from a desktop computer at home, a workstation at the office, or a notebook computer while traveling, without the need to transfer messages or files back and forth between computers. The new system is more reliable than other systems currently used around the Laboratory, as well as compliant with current Internet standards.
As a result, employees who make the move to the new Netscape Communicator system will have fewer problems sending documents attached to e-mail messages, since the new system works across all computer platforms, including PC, Macintosh and UNIX. It also runs faster on more reliable, powerful computer servers.
The Lab is offering 12 four-hour classes on using the new e-mail system during the months of May and June. Additionally, on each Thursday in May, CIS will hold a brown-bag lunch mini-workshop in the Bldg. 50 auditorium. The presentations will overview the new e-mail system and offer navigation tips and shortcuts. Each attendee will be given a Quick Reference card to help familiarize them with the new system.
For more information on training or the Mercury Project, visit the website at http://www.lbl.gov/mercury/messenging.htm.

The full text and photographs of Currents are also published on the World Wide Web. You can find a link to Currents on the Lab's home page (http:// www.lbl.gov) under the heading "Publications." The site allows users to do searches of past articles. To set up your computer to access the web, call the Mac and PC Support Group at X6858.


The third in a series of free workshops on effective communication and career development, co-organized by the LBNL Postdoctoral Society and the UCB Graduate Division, will be held on Thursday, May 21, from 4 to 7:30 p.m. in the Bldg. 66 auditorium. The workshop is open to all Lab employees. To register send e-mail to pswork1 @lbl.gov by May 10. Refer to "Grant Writing" in your message and include your name, extension, mailstop, and e-mail. You can also register online at http://white.lbl.gov/~postdoc/. Infor-mation will be available after May 4. Confirmation of registration will be sent by May 15.

May 19 is "Bike to Work Day" and everyone is encouraged to sign up to participate in this annual event. Forms are available in the cafeteria lobby. Participants in the event, which is sponsored by RIDES, will bike either to work or to public transit on May 19. Prizes will be awarded. For more information contact Marylynn Wilkinson at X8605.

The 1998 LBNL softball season will start on Wednesday, June 3, and continue for the next 10 weeks. The league consists of 8 to 12 Lab teams that play each other. All games are played on Wednesday nights at Kleeberger Field.
An organizational meeting for the upcoming season will be held on Tuesday, May 5, at noon in the lower cafeteria. All new and existing teams wishing to participate should send a representative. For more information or to join a team, call Steve Blair X5927.

New items on sale at the Employee Buying Service include torchiere lamps developed by EET's Lighting Group ($92 each, delivery expected in 14 days) and discounted tickets for Marine World ($18.50 adult/$14.50 child).

Through an arrangement with UC Berkeley, Berkely Lab is providing a one-and-a-half hour class in "Ergonomics for Computer Users." The next class is scheduled for Thursday, May 7 at 10:30 a.m. The cost is $25 per person and must be paid at the door. The class is taught at the Tang Center on campus, 2222 Bancroft, first floor.

Photo:Lab employees stopped by the Tilden Nature Center booth and made friends with some very warm and fuzzy participants in last month's Eco Fair. Photo by Roy Kaltschmidt (XBD9804-00978)

The University has set up a special enrollment period for employees to add newly eligible family members to their existing plans. The window for enrolling new dependents opens on Monday, May 4, and closes at 5 p.m. on Friday, May 22. Information packets have been mailed to all eligible employees at their home address. The new categories of eligible family members include grandchildren, same-sex domestic partners, and adult dependent relatives. Certain restrictions and limitations apply, as explained in the information brochure. Questions may be addressed to the Benefits Office, X6403, or by e-mail to LBL Benefits@lbl.gov.

A blood transfusion takes place every three seconds in the United States. In the Bay Area, the American Red Cross needs 450 donations each day to meet local transfusion needs. And 60 percent of the patients who need a transfusion will die without one.
Berkeley Lab and the Blood Bank of Alameda-Contra Costa Counties (ACCC) have partnered for over 40 years to save lives. At each of the four annual blood drives, an average of 80 Lab employees rolled up their sleeves and donated blood.
The next blood drive at the Lab will be held on Wednesday, May 13, from 7 a.m. to 1 p.m. in Bldg. 70A. Donors are encouraged to make an appointment by calling X4009.
Over the past 40 years, advances in medical science and technology have led to significant changes in blood banking. For example, before separation technology became available patients used to receive whole blood. Today, for every pint of blood collected up to three different patients may be treated because of the ability to separate blood into its different components. This procedure allows physicians to transfuse only the portion of blood necessary to treat the patient's individual condition. Red blood cells, for example, are used to control anemia; platelets are used to help patients who underwent chemotherapy; and plasma is used for burn victims.
Recently, the Blood Bank of ACCC has joined forces with the American Red Cross, which has a long history of meeting the blood transfusion needs of the nation's patients. This consolidation assures patients of continued access to the latest blood transfusion therapy available at the lowest possible cost.
Blood cannot be manufactured and there is no substitute for human blood. Without the generosity of blood donors, the latest technology and the best doctors do not have the means to save lives. Liver and heart transplants would not be possible. Just one such surgery can use anywhere from 50 to 100 pints of blood.
Berkeley Lab's blood donors are valuable partners in the effort to save lives, and in the process, in the ongoing advances in medical science.
Information provided by Carmel Jones of the Blood Bank of Alameda-Contra Costa Counties.

UC Benefits is doing a review of the medical plans offered to employees and annuitants and expects to send the California medical plan contracts out for bid for the year 2000. To obtain feedback, they recently conducted focus groups at campuses, laboratories and other offsite locations. To allow more people to participate, UC Benefits has created a brief online questionnaire (available through the end of August) about UC's California medical plans at http://www.ucop.edu/bencom/. Everyone enrolled in a California medical plan is encouraged to participate. Responses will be anonymous.

A presentation on "LabVIEW and the Internet: Networking Aspects of LabVIEW Applications" will be held on Wednesday, May 20, at 2 p.m. in the Bldg. 50 auditorium. Participants will learn how to turn LabVIEW programs into sophisticated client/server applications that take advantage of the latest advances in computer networking.

"Falling Through a Hole in the Air: the Incredible Journey of Stephen Hawking," with music by Berkeley Lab astrophysicist Carl Pennypacker and lyrics by science writer Judith Goldhaber, will play at the Diego Rivera Theater at the City College of San Francisco on May 8, 9, 10, 15, and 16. For information, call (415) 239-3100.

The Employees' Activities Associ-ation is accepting orders for tickets to the Oakland A's vs. the Arizona Diamondbacks game, scheduled for Saturday, June 6, at the Oakland Coli-seum. Tickets are $6.50. Send a check payable to "UC Regents" to Jacqueline Noble, Bldg. 65B, or place your order on Thursdays, noon to 1 p.m., in the cafeteria foyer. The deadline for ordering tickets is May 15. For more information call Jacqueline Noble at X4762.


A retirement luncheon for Donald J. Rondeau will be held on Wednes-day, May 20, at 11:30 a.m. at the Holiday Inn, Emeryville. The $25 fee includes lunch and gift. Reservations must be made by May 13. For more information or reservations, contact Barbara Davis at X7840.


Currents/The View and the Communications Department Staff
Published once a month by the Communications Department for the employees and retirees of Berkeley Lab.

Reid Edwards, Public Affairs Department head
Ron Kolb, Communications Department head

EDITOR
Pamela Patterson, 486-4045, pjpatterson@lbl.gov
Associate editor
Lyn Hunter, 486-4698, lhunter@lbl.gov

STAFF WRITERS
Dan Krotz, 486-4019
Paul Preuss, 486-6249
Lynn Yarris, 486-5375

CONTRIBUTING WRITERS
Ucilia Wang, 495-2402
Allan Chen, 486-4210
David Gilbert, (925) 296-5643

DESIGN
Caitlin Youngquist, 486-4020
Creative Services Office

Berkeley Lab
Communications Department
MS 65, One Cyclotron Road, Berkeley CA 94720
(510) 486-5771
Fax: (510) 486-6641

Berkeley Lab is managed by the University of California for the U.S. Department of Energy.

Flea Market is now online at www.lbl.gov/fleamarket



MAY 1998
SOFTBALL LEAGUE
Organizational meeting, noon, lower cafeteria
ERGONOMICS CLASS
Ergonomics for Computer Users10:30 a.m., Tang Center, UCB campus Cost: $25.
BLOOD DRIVE
7 a.m.-1 p.m., Bldg. 70A.
Call X4009 for appointment.
MUSIC CLUB
Organizational meeting, noon, lower cafeteria
AFRICAN AMERICAN EMPLOYEES ASSOCIATION
General meeting, noon, Bldg. 90-1099
SHOEMOBILE
7:30 a.m.-4:30 p.m., Bldg. 54 parking lot
LBNL POSTDOCTORAL SOCIETY
Workshop on Grant Writing,
4-7:30 p.m., Bldg. 66 auditorium
Items for the calendars may be sent via e-mail to currents_calendar@ lbl.gov, faxed to X6641 or mailed to Bldg. 65B. The deadline for the May15 issue is 5 p.m. Monday, May 11.

UCB PHYSICS DEPARTMENT
"Cosmic Magnetic Fields" will be presented by Steven Cowley of UCLA.
4:30 p.m., 1 Le Conte Hall
Tea at 4 p.m. in 375 Le Conte
ALS/CXRO SEMINAR
"Real-Time Chemical Dynamics and Phase Transformations Using Time-Resolved and Spatially Resolved Diffraction" will be presented by Joe Wong of Livermore.
3:30 p.m., Bldg. 2-100B
LIFE SCIENCES DIVISION
"Vaccines Based on Protective Cell Surface Proteins of Group B Streptococcus" will be presented by Claudia Gravekamp of Brigham & Women's Hospital of Boston.
4 p.m., Bldg. 84-138. Refreshments precede seminar.
UCB CHEMISTRY DEPARTMENT
"NMR Studies of Electroca-talytic Systems" will be presented by Benjamin Rush of EETD and UC Berkeley.
4:10 p.m., Pitzer Auditorium, Latimer Hall
BIOSCIENCES DISTINGUISHED LECTURE SERIES
"How Mutant Mice Can Come Unstuck" will be presented by Richard O. Hynes of the Massachusetts Institute of Technology.
4 p.m., Bldg. 66-316. Wine and cheese following lecture
PHYSICS DIVISION
"Deuterium Measurements at High Redshift and the Cosmological Baryon Density" will be presented by Scott Burles of the University of Chicago
4 p.m., Bldg. 50A-5132. Refreshments at 3:40 p.m.
CENTER FOR BEAM PHYSICS & ION BEAM TECHNOLOGY
"Developments at the ANU Superconducting Post-Accelerator and Longer Lasting Stripper Foils" and "The New High-Current Injector for the Heavy Ion Synchrotron at GSI" will be presented by Bernhard Wolf of ANU, Australia, and GSI, Germany.
10:30 a.m., Bldg. 71 conference room
MATERIALS SCIENCES DIVISION SEMINAR
"Micropatterning and Manipulation of Lipid Bilayer Membranes" will be presented by Jay T. Groves of Stanford.
11 a.m., Bldg. 66-316
UCB PHYSICS DEPARTMENT COLLOQUIUM
"There Was Dynamite in the Will of Alfred Nobel" will be presented by Gosta Ekspong of Stockholm University of Sweden.
4:30 p.m., 1 Le Conte Hall
Tea at 4 p.m. in 375 Le Conte
ALS/CXRO SEMINAR
"Integrating Theory, Computation and Experiment at the ALS" will be presented by Michel Van Hove of Materials Sciences
3:30 p.m., Bldg. 2-100B
LIFE SCIENCES DIVISION
"Molecular Pathology of Hereditary Spherocytosis" will be presented by Sam Lux of Children's Hospital of Boston.
4 p.m., Bldg. 66-316 Refreshments precede seminar.
CENTER FOR ENVIRONMENTAL BIOTECHNOLOGY
"Metal-breathing Microbes and How to Study Them" will be presented by Ken Nealson of the University of Wisconsin.
Noon, 338 Koshland, UCB campus.
NUCLEAR SCIENCE DIVISION
"The Future of Computing: A High Energy/Nuclear Physics Viewpoint" will be presented by Richard Mount of SAC
11 a.m., Bldg. 50 auditorium
ENVIRONMENTAL ENERGY TECHNOLOGIES DIVISION
"What's New in the City of Berkeley's Energy Office" will be presented by Neal DeSnoo of the City of Berkeley.
Noon, Bldg. 90-3148
EARTH SCIENCES DIVISION SEMINAR
"Thermochemical Modeling of the Drift-Scale Heater Test at Yucca Mountain" will be presented by Ardyth Simmons of Earth Sciences.
11 a.m., Bldg. 90-2063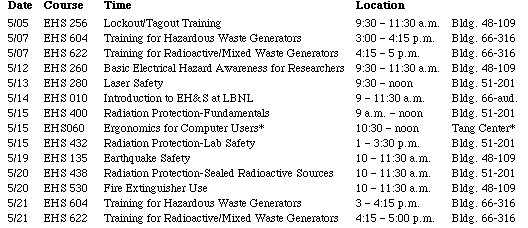 Preregistration is required for all courses except EHS 010 (Introduction to EH&S). To preregister, send name, employee ID number, extension, course title, EH&S course code, and date of course by regular mail to EH&S Training, 90-0026, Room 16C, or by e-mail to EHS-Train@lbl.gov; fax: X4805; phone: X7366. You may register online at http://www-ehs.lbl.gov/training/registration/.
*Note: There is a $25 fee per person for this course (EHS060), payable at classtime to UC Regents. The course is held at Health Matters, Tang Center, 2222 Bancroft, first floor Education Center.

`82 SEARAY cruiser, 22.5 ft, SRV225, 260 Merc outdrive, sleeps 4, head, galley, 310 hrs, delta canvas, vhf, depth sounder, trim tabs, very good cond, include tandem axle trailer, $9500/b.o., Bob, 376-2211
`85 HONDA Civic S Hatchback, ac, am/fm/cass, 5 spd, body ok, interior good, mechs great, new tires, starter, alt, battery and brakes, runs strong, 166K mi, well maintained 1.5L eng, $2000 firm, Craig 547-0697
`85 GMC, pickup, white, w/shell, 92K miles, good cond, manual shift, cassette player w/speakers, $2,000/b.o., Riba, 595-1978
`86 SUBARU GL-10, pw/ol/ps/ob, at, cc, luggage rack, 120K mi, fwd, sunroof, must sell by 5/5, $1300/b.o., Luis, X6032, 558-9140
`93 SUNFISH Sailboat w/trailer, some accessories, exc cond, white & aqua, never sailed in salt water, $1800/b.o., John, 531-1739 (eve)
BERKELEY, APT, 1 bdrm, fully furn, in duplex, sunny, pleasant neighborhood nr Alta Bates Hospital, for up to one year only, avail early June, $700/mo, Lara, 7276
BERKELEY, APT, northside, 1 bdrm, 4 blks from campus & LBNL shuttle, incl local phone & cleaning once a week, avail 5/1-15 & 6/16-8/9, pets accepted, $250/week, Viki, 549-1876
BERKELEY, APT, northside, Studio, 4 blks from campus & LBNL shuttle, incl local phone & cleaning once a week, avail 7/1-8/9, pets accepted, $250/week, Viki, 549-1876
BERKELEY, APT, furn, 2 lg bdrm, 2 bth, sublet for summer, across the street from I-House on Piedmont, balc w/view, laundry, $1500/mo or $750 for 1 rm/b.o., Alexa, 841-8355
BERKELEY HILLS, studio apt, edge of Tilden Park, views, decks, parking, semi-furn, ww carpet, modern kitchen, dishwasher, large bthrm, very quiet neighborhood, private entrance, alarm, nr #65-67 busses, no smokers, no pets, one person only, electricity & other utilities incl, $750/mo, Evan, X6784, 525-7655
BERKELEY HILLS, 1 bdrm in-law apt, beautiful & spacious, fully furn, recently remodeled, marble bthrm, private patio, non smoker, util, $895, Helga, 524-8308
BERKELEY HILLS, 1 bdrm in fully furn 4 bdrm house, TV, VCR, washer/dryer, 2.5 bth, deck overlooking Tilden Park, garage, safe/quiet neighborhood, 1 blk from bus, no pets, no smokers, 1 yr lease, female preferred, $470/mo, Andrew, 524-9225
BERKELEY HILLS, 1 bdrm in 3 bdrm shared house, lg rm w/private bthrm, share lg house, hardwood floors, fireplace, kitchen, dining rm, washer/dryer, lg backyard, easy parking, near top of Spruce, share w/campus post doc & writer, ideal for visiting scientist, post doc, $550/mo, $550 deposit + last month rent, avail, 6/1, Chris, X5515
EL CERRITO, furn studio in house avail for scholars/visitors, kitchen & dining area, full bth, nr public transportation, nr shopping center & a mile from I-80 & I-580, new refrigerator, stove, all cooking equipment, TV in rm, off-street parking (no fee), tennis courts, swimming pool & theater are located end of block, no smokers, no pets, deposit fee $600, $480/mo, Keller, 524-3780
RICHMOND annex, studio, 2 lg rms, garden setting, new carpet & paint, 5 mi from LBNL, avail immediately, $375/mo, Wes, 215-1646
CLIPPER/SHREDDER, Sears, 8 h.p. Tecumseh engine, good cond, $500/b.o., Charlie, X4658, 283-6111
DESK, wood, $25; 2 night tables, $10; lamp, $5, Luis, X6032, 558-9140
DUSTMOP, sells for $29 new at Williams Sonoma, 24" width, never used, $10; portable dishwasher, GE, extremely dependable, $50, Arrow heavy duty staple gun, like new, $6, Sherry, 799-8414
FUTON, queen, ok shape, green, $25, Erik, X6435
GUITAR Guild, Model D-25ch, cherry color, SN75161721229, b.o., David, X7326
LATHE WOOD benchtop, 27" CToC,7" swing, 54" log, b/o; stainless steel drum 55 gal w/lid, b.o., oakwood barrel, $10, Paul, X4177
MICROWAVE, rangetop, $200; 1 pair of car speakers, $30; Desk, $25, 2-line remote answer system, $10, Ching, 841-2140
OIL PAINTINGS, originals, 14x17, framed, great gifts for Mother's Day, $120-$160, Maria, X4035.
POWER PC 6100/60, 24 MB ram, 256K Cache, 140 MB & 830 MB internal hard drives, floppy; 15" Apple Trinitron monitor, 14.4K mo-dem, keyboard, mouse, manuals, selected software including Micro-soft Office & Quicken, $550/b.o., Barbara, 642-3990, 652-6696
SOFA & LOVE SEAT, Victorian style, carved details on solid oak frame, very comfortable, $1100; coffee table, solid oak, carved details, $200; entertainment center w/hutches, 5 pc solid oak, lots of storage space, hide-away TV & VCR, $1900; entryway hat/coat/umbrella rack, solid oak, mirrored, brass hooks, antiquish look, 7'hx2'w, $250; country style rug, flat-braided, 3 colors, $60; mountain bike, Trek 850, 14.5" frame, $250; various plants & other home goods, Susana, 548-9315
STOVE, Classic `50's O'Keefe & Merritt, 35" chronic top w/stainless steel griddle, $650, Viki, 549-1876 (eve)
SURFBOARD, Trampoline, stroller, power scythe, roller blades for kids, b.o., Mor, X6878, 528-3408
WOOD PLANER, 12" Craftsman (Sears) heavy cast iron, 3 blade surface planer, Model 11223490, 1 hp motor, 220 single phase, extra blades, needs some work, $200, Conway, 527-7898
TAHOE KEYS at South Lake Tahoe, 3 bdrm, 2.5 bth house, on the water, fenced yard, quiet area, close to many attractions, great views of water & mountains, $125-$150/night (2 night min), Bob, 376-2211
HOUSING, Berkeley area, for visiting scientist, wife and 14-yr-old, furn, 1 bdrm apt close to LBNL or BART, from late July to mid September, dates flexible, Anibal de Almeida, e-mail: adealmeida@ isr.uc.pt
HOUSING, 3 bdrm house in El Cerrito, Albany or Kensington for 2 yrs, avail July or August, `98 for visiting scientist and family from France, already here, Thiebaut, X7030
HOUSING, Kensington area, unfurn 3 or 4 bdrm, 1 yr lease, Pam, X6593
HOUSING, LBNL research associate seeks 1 bdrm, studio, or in-law apt within 5 mi of Lab, Dave, X4024, (415) 821-4429
KIDS' software, nonviolent games & educational programs to run on a 386 w/floppy drives (no CD), Doug, X6367
LAB-VIEW for either MAC or PC, one or two copies. If you no longer need these devices, we could use them in our labs. Mel Klein, X4331
SPANISH foreign language tapes for beginner, Steve, X7855
STUDIO/COTTAGE/IN-LAW to rent, begin 6/1, up to $600/mo, safe location, exc local refs, Rebecca, X4329, 530-5196
STATION WAGON, older Japanese model, 4-door, std transmission, Viki, 549-1876 (eve)
APT, studio or 1 bdrm, or someone willing to share housing w/clean, courteous roommate; would like to move in 6/1, Ed, X6594

A

ds are accepted only from LBNL employees, retirees, and on-site DOE personnel. Only items of your own personal property may be offered for sale.

Submissions must include name, affiliation, extension, and home telephone number.

Ads must be submitted in writing--via e-mail (fleamarket@lbl.gov), fax (X6641), or delivered/ mailed to Bldg. 65B. No ads will be taken by phone.

Ads will run one week only unless resubmitted in writing. They will be repeated only as space permits.

The deadline for the May 15 issue is Friday, May 9.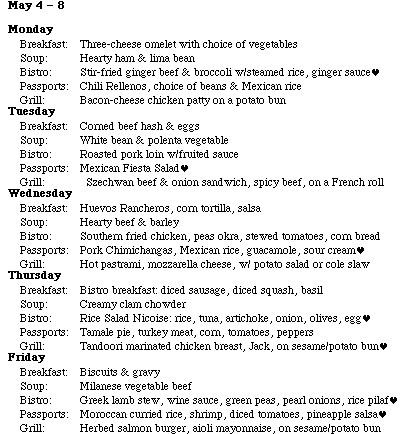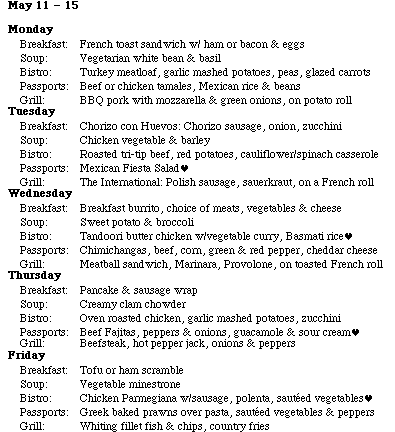 Currents/The View and the Communications Department Staff
Published once a month by the Communications Department for the employees and retirees of Berkeley Lab.

Reid Edwards, Public Affairs Department head
Ron Kolb, Communications Department head

EDITOR
Pamela Patterson, 486-4045, pjpatterson@lbl.gov
Associate editor
Lyn Hunter, 486-4698, lhunter@lbl.gov

STAFF WRITERS
Dan Krotz, 486-4019
Paul Preuss, 486-6249
Lynn Yarris, 486-5375

CONTRIBUTING WRITERS
Ucilia Wang, 495-2402
Allan Chen, 486-4210
David Gilbert, (925) 296-5643

DESIGN
Caitlin Youngquist, 486-4020
Creative Services Office

Berkeley Lab
Communications Department
MS 65, One Cyclotron Road, Berkeley CA 94720
(510) 486-5771
Fax: (510) 486-6641

Berkeley Lab is managed by the University of California for the U.S. Department of Energy.

Flea Market is now online at www.lbl.gov/fleamarket