America's Most Powerful Unclassified Supercomputer Deployed at NERSC

Andy Sessler as Busy as Ever in his 75th Year
Joe Gray Returns as Life Sciences Head
Awards & Honors
Lab Managers Invite Employees to Informal Dialogues
Guy Bear Named Facilities Deputy
Hotel Installs Lighting System Based on Berkeley Lab Research
A Message from Director Shank
Hallway Gallery in Building 50A
Mapping the Spread of Cancer in 3-D, One Cell at a Time
Director's Pledge to Legislators: World-class Business, Science
Alternative Gene Splicing: Switching on the Works
Science Glossary
Taking Aim at Accident Prevention
Employee Orientation Now Offered Twice Monthly
NERSC's David Quarrie to Manage ATLAS Project
In Memoriam
Flea Market
Flea Market Policy
Windows Testing Facility Going Up
Oakland A's Tickets
Berkeley Lab Currents
---
America's Most Powerful Unclassified
Supercomputer Deployed at NERSC
By Jon Bashor
The National Energy Research Scientific Computing (NERSC) Center at Berkeley Lab put its 10 teraflops (10 trillion calculations per second) IBM supercomputer into service, providing researchers across the country with the most powerful computer for unclassified research in the United States.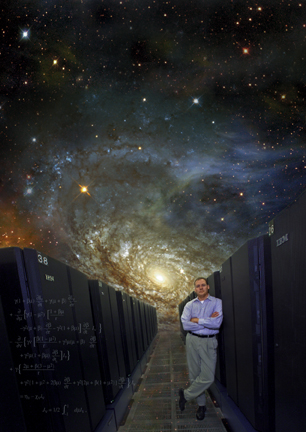 Lab astrophysicist Peter Nugent will be one of the most intensive users of the NERSC Center's expanded IBM supercomputer. Nugent was recently awarded 1.5 million hours of computing time for his project "Spectrum Synthesis of Supernovae."
The IBM supercomputer," which comprises 6,656 processors, entered production a month ahead of schedule, meaning that the system will provide up to 4 million more processor hours of computing time in the current fiscal year.
NERSC serves more than 2,000 researchers at national laboratories and universities across the country. It is funded by the U.S. Department of Energy's Office of Science.
In November, the NERSC Center announced that its next supercomputer to be deployed would be a doubling of its existing IBM, which then had 3,328 processors. By taking this cost-effective approach, NERSC was able to more quickly meet the demands of its national user community and do it with a computer architecture they were already using.
"Our partnership with IBM continues to pay significant dividends for our users, who are taking advantage of the increase in computing power to analyze and simulate scientific problems of greater complexity and size," said NERSC Center Division Director Horst Simon. "With increasing demand for computing time from research groups in DOE's SciDAC program (Scientific Discovery through Advanced Computing), being able to provide a much larger yet robust system is critical. This is a very cost-effective way to accelerate scientific discovery throughout DOE Office of Science research programs."
Before putting the expanded IBM into production on March 3, NERSC thoroughly tested it by running both scientific codes and benchmarking applications. The system was available more than 98 percent of the time during testing, and a NERSC Center team ran benchmarks that ran at 72 percent of peak speed, much higher than that achieved on similar parallel systems.
"IBM designs systems that are equally as at home running corporate databases as they are solving complex scientific problems," said Surjit Chana, IBM eServer pSeries vice president. "With the IBM supercomputing power, NERSC will have the scalability, speed, and performance to continue making strides in solving the most challenging problems."
The new system will include 7.8 terabytes of aggregate memory and a Global Parallel File System with 44 terabytes of storage. The system will be supported by NERSC's High Performance Storage System (HPSS), which provides 8.8 petabytes of archival data storage capacity.
Some 2,100 scientists use NERSC's supercomputers to research problems in combustion, climate modeling, fusion energy, materials science, physics, chemistry and computational biology. Established in 1974, the Center has long been a leader in providing systems, services and expertise to advance computational science.

Andy Sessler as Busy as Ever in his 75th Year
By Lynn Yarris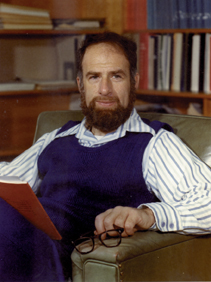 Sessler as Lab director in 1973.
If Andy Sessler has slowed down much in his 75th year, it is not readily apparent. The award-winning theoretical physicist, acclaimed humanitarian, and former director of Berkeley Lab (1973-1980) who founded both the Earth Sciences and what is now the Environmental Energy Technologies Division, maintains a schedule that would tire most grad students. This posed a problem for colleagues who wanted to honor him with a symposium.
"They wanted to hold it in honor of my retirement but I haven't retired," Sessler said in an interview for Currents, "so they decided to hold it in honor of my 75th birthday." But Sessler's schedule is so busy that the symposium was held last Saturday, March 15, even though he won't actually turn 75 until December.
"All my life I've worked hard and I've played hard," Sessler said. As proof of the latter, he's made it to the ski slopes 12 times this winter and is planning to take one of his grandsons back to Lake Tahoe for another go later this month. As proof of the former, consider what he currently has on his plate.
After his ski trip, Sessler will be off to Japan and then to Russia where he will deliver scientific talks on particle beam cooling, quantum interference, and stochastic phenomena in particle accelerators.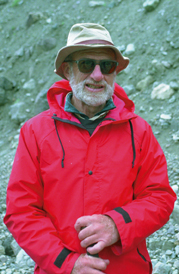 "I always loved the outdoors, and preserving the environment was a big concern," Sessler said. He is shown here hiking in Alaska in 1995.
"Keith Symon and I were among the first to report on stochastic phenomena, or chaos, in particle accelerators, based upon work we did back in 1955 and 1956," Sessler said, laughing, which is something he does a lot. "But we didn't think much of the effect at the time because it wasn't good for particle physics. Now, of course, chaos has become a very large field of research."
In recent years Sessler has traveled extensively to deliver presentations in various capacities that reflect his active participation in a broad expanse of diverse organizations. For example, for the American Physics Society (APS), of which he is a past president (1998), he now chairs its Forum on Physics and Society, which addresses issues in physics that relate to society as a whole and publishes a quarterly newsletter that serves as a public outreach organ. He is also a member of the National Academy of Sciences Board of Radiation Effects Research, which, among other projects, tracks the long-term effects of radiation on Japanese citizens who were exposed at Hiroshima and Nagasaki, and on American soldiers exposed during the testing of nuclear weapons in the 1950s. Another activity of the Board is to oversee a study aimed at determining the most effective means of using potassium iodide as an antiradiation drug in the event of a terrorist attack on a nuclear power plant.
Getting involved in issues beyond the traditional scope of his scientific field has long been one of Sessler's trademarks. During the Cold War-era, he was a co-founder of the human rights group "Scientists for Sakharov, Orlav, and Sharansky" (SOS), for which he received the first APS Nicholson Medal for Humanitarian Service in 1994. Currently, he's spearheading a proposal through the APS for a study on the detection, disarming and removal of landmines.
"The U.S. General Accounting Office estimates that there are approximately 127 million landmines in 55 countries and these landmines cause about 20,000 casualties each year," Sessler said. "At the present rate of removal it would take 1,000 years to remove all the mines, and for every one removed, 10 new ones are placed. New technologies are clearly needed. We're proposing a study on humanitarian demining that would help funding agencies, especially those having little technical capability, to better decide which technologies to support for research, design and development."
Finding answers to questions outside the traditional scope of his own scientific field is another Sessler trademark. When he succeeded Edwin McMillan as director of Berkeley Lab in 1973 the Laboratory was already multidisciplinary, but its priorities were clearly on high energy physics.
"I felt the future of the Laboratory was in other directions as well as high energy physics," Sessler said. "I'd always loved the outdoors, and preserving the environment was a big concern, so I met with other physicists at the Lab and we established the Lab's first Environmental Office. We had to work to get approval from the Atomic Energy Commission (DOE's predecessor) before we could create new scientific divisions."
That ESD and EETD will soon be celebrating their 30th anniversaries is testimony to the success of Sessler's efforts, but along the way he had to steer the Laboratory through a cultural change in which its diverse scientific activities would be treated with equal importance. To accomplish this, he involved the senior scientific staff in the decision-making process to a much greater degree than at any time before. As Sessler once said, "We moved from the benevolent dictatorships of Lawrence and McMillan to a more democratic form of management."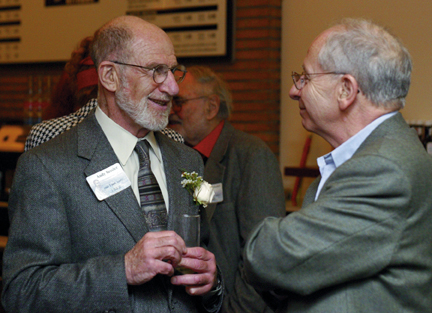 Andy Sessler (left) chats with Moishe Pripstein of the Physics Division at the March 15 symposium held in Sessler's honor.
But you don't bring about cultural change at a prestigious scientific institute such as this with diplomatic skills alone. You also need the research chops that command respect from your peers. Sessler was a cum laude graduate of Harvard who earned his Ph.D. in theoretical physics from Columbia University. After a professorship at Ohio State University, he joined the staff at Berkeley Lab in 1961 to work on plasma and accelerator physics. His accomplishments, which include more than 300 scientific papers, have earned him a plethora of awards and recognitions, including the E.O. Lawrence Award (1970) and the Robert R. Wilson Prize (1997).
For all of his outside activities, Sessler continues to be an active presence at Berkeley Lab — he holds the titles of Distinguished Scientist Emeritus and Director Emeritus — and in initiatives involving Berkeley Lab. Until this past year, he was the spokesperson for the Neutrino Factory and Muon Collider Collaboration, a project for constructing a muon storage ring that can produce intense directed beams of neutrinos for research. In 2002 he served on the Berkeley Lab Committee on the Formal Investigation of Alleged Scientific Misconduct. Currently he is a member of the Neutrino Working Group for Berkeley Lab's three physical sciences divisions.
In his "spare" time, Sessler is writing a book. "I'm working with Ted Wilson from CERN. It's going to be a coffee table book on the history of particle accelerators," he said.
Andrew Sessler has been a vital part of the history of Berkeley Lab for more than four decades. This past Saturday, scientists from across the nation gathered here to celebrate his many scientific achievements and humanitarian contributions. Organizers of the event were no doubt relieved he could slow down long enough to enjoy it.

Joe Gray Returns as Life Sciences Head
By Ron Kolb
To call Joe W. Gray the "new" division director for Life Sciences is not quite accurate. For the distinguished cancer researcher from the University of California's San Francisco campus, it's more of a return, a homecoming. From 1992 to 1998, he held a joint appointment at Berkeley Lab as faculty senior scientist and director of the Resource for Molecular Cytogenetics.
"I'm excited to be here," he told his Life Sciences colleagues at an all-hands meeting last week. "I've long admired the incredible technical excellence and the focused intellectual diversity (here) … to bring people together from a variety of disciplines to focus on national and international issues."
Gray's contributions as professor of Laboratory Medicine and Radiation Oncology at UCSF have achieved wide distinction. As Lab Director Charles Shank explained in making Gray's appointment, he "has been a leader in the development and application of advanced flow cytometry and sorting techniques. This interest and expertise resulted in the development of aspects of fluorescence in situ hybridization and comparative genomic hybridization that allow entire tumor genomes to be scanned for changes in relative DNA sequence copy number and structure. Dr. Gray has used these genomic analysis techniques to study how tumors evolve and how gene ensembles cooperate in that evolution."
But, as Gray noted, UCSF doesn't have the advanced technical capabilities or the multidisciplinary environment to take, say, an identified disease gene and develop therapeutic reagents to evaluate it. Berkeley Lab's capabilities could advance such medical challenges.
That's one reason why an enhanced UCSF-Laboratory partnership is at the top of Gray's agenda. "We could create an incredibly vibrant interaction between biology, technology, and the clinic," he said.
Added Shank, "We are on the threshold of an expanded collaboration with UC San Francisco and a strengthened collaboration with UC Berkeley. I fully expect Joe to continue and enhance the great work of the division."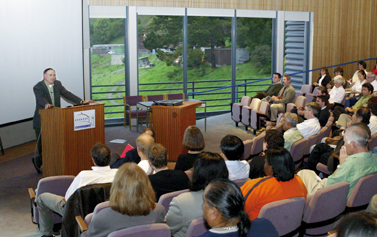 Joe Gray addresses Life Sciences employees in the Building 66 auditorium following the announcement of his appointment as division director.
Gray was explicit in his praise for those leaders in Life Sciences, including former Division Director Mina Bissell and Interim Director Priscilla Cooper who came before him. He said Berkeley Lab "is the ideal place to pursue large-scale science, built on the underpinning of individual scientific excellence that's been built here over the years."
He inherits a program that did $52 million of business in FY2002, a program that has 217 scientists and post-docs, 58 students, 275 staff members and 230 guests. It is a program, he said, poised to lead the next generation of bioscience research.
"The face of biology is changing," he said, "and the Lab will have a central role in its future. We have the tools to examine things on a large scale." As an example, he talked about cancer research that he has been doing "one gene at a time." Here, he will be able to examine entire cancer genomes and study their common genotypes, utilizing bioscientists, engineers, computer scientists, and colleagues from other disciplines.
"That's a personal perspective," Gray told his colleagues. "My higher priority is to continue to develop the programs you've already begun."
Gray received a professional engineer's degree from the Colorado School of Mines in 1968 and a Ph.D in nuclear physics from Kansas State University in 1972. That year, he joined the Biomedical Sciences Division of Lawrence Livermore National Laboratory, remaining until 1991. He then moved to UCSF to head the Division of Molecular Cytometry in the Department of Laboratory Medicine. During his joint appointment at Berkeley Lab, he also served as interim director of the UCSF Cancer Center from 1995 to 1997.

AWARDS & HONORS
Saul Perlmutter named California Scientist of the Year
The Los Angeles-based California Science Center has named Saul Perlmutter of the Physics Division California Scientist of the Year for 2003. Perlmutter, a leader of the international Supernova Cosmology Project based here, is honored for his work demonstrating that the universe is expanding at an accelerating rate. He will receive $5,000 and will be honored at a May 8 reception and banquet at the Science Center.
Three Lab Physicists Among '02 APS Fellows
Peggy McMahan-Norris and Xin-Nian Wang, both of the Nuclear Scienc Division, and Alan Jackson of the Accelerator and Fusion Research Division have been elected Fellows of the American Physical Society. Only one half of one percent of the APS membership is selected for fellowship in the society each year. This year, 192 new Fellows were thus honored.
McMahan-Norris was recognized "for her creative leadership and initiative in bringing nuclear science to students, teachers, and the public," Wang for "his contributions to the understanding of perturbative hard QCD processes in nuclear collisions at very high energies, especially the roles of gluon shadowing, multiple interactions and jet quenching," and Jackson for his "pioneering work in the development and construction of 3rd generation synchrotron radiation sources."
Physicist Earns APS Top Dissertation Prize
Karsten Heeger, a Chamberlain Fellow in the Physics Division, has been named winner of the 2003 Dissertation in Nuclear Physics Award by the American Physical Society. He was cited "for his role in the generation and analysis of the data from the Sudbury Neutrino Observatory, and the resulting resolution of the solar neutrino problem."

Lab Managers Invite Employees to Informal Dialogues
The first in a series of "brown bag" dialogues between employees and top Laboratory managers will take place next Tuesday, March 25, from 11:30 a.m. to 1:30 p.m. in Perseverance Hall.
Berkeley Lab Director Charles Shank, Deputy Director for Operations Sally Benson, and Deputy Director for Research Pier Oddone are scheduled to talk briefly about challenges and opportunities, and then they will answer questions.
Topics likely to be discussed are changes in the P-card purchasing system, the Laboratory's strategic scientific initiatives, and budget prospects for the coming year.
The interactive forum has been arranged in part to respond to the interest employees have expressed in learning more about the Lab and its priorities from leadership.
Interested employees are invited to bring their lunch to the informal gathering.
Future discussion programs will be scheduled.

Guy Bear Named Facilities Deputy
Facilities Director George Reyes has announced the appointment of Guy Bear as the division's deputy director. Bear has served as interim deputy director since last September, supporting the transition of Facilities from departmental to divisional status and managing the Projects group. His new duties will focus on budget, human resources and other administrative and divisionwide issues.
Bear brings four years of Lab management experience to the job, including assignments as associate director of Operations in the Deputy Director's office, and interim manager of Human Resources.
Before coming to Berkeley Lab in 1999, Bear had a long career as a project manager for Westinghouse. He holds BS degrees in aerospace engineering and naval architecture and a master's degree in marine engineering from the University of Michigan.

Hotel Installs Lighting System
Based on Berkeley Lab Research
Lab researchers are studying the energy savings of a new energy-efficient lighting control system to be installed at a DoubleTree Hotel in Sacramento under an agreement just signed by Berkeley Lab, the Sacramento Municipal Utility District (SMUD), DoubleTree Hotels, and product developer The Watt Stopper, Inc.
The technology demonstration contract calls for the relighting of the 400-room Sacramento facility with a new control system for bathroom lighting. The system, based on research performed by Berkeley Lab scientists, aims to improve hotel room energy efficiency.
Several years ago, lighting resear-chers at Berkeley Lab conducted a study to find ways of improving energy efficiency in the hospitality industry. The study showed that bathroom lights are activated for an average of eight hours a day. A standard solution would call for occupancy sensors, which automatically turn the lights out when guests leave the room, but hotel managers were reluctant to use a device that might irritate occupants.
The solution: install occupancy sensors with long set times and still get very significant energy savings. The sensor, which replaces the standard wall switch in guest bathrooms, is set to turn off the light after one hour. An energy-efficient light-emitting diode night light provides illumination, eliminating the need to leave bathroom lights on throughout the night.
Under the agreement, DoubleTree Hotel will install this technology in its Sacramento hotel, and Michael Siminovitch and Erik Page of Berkeley Lab's Lighting Research Group will analyze the results.

A Message from Director Shank
As our nation prepares for war, Berkeley Lab must be prepared for all contingencies. I want to assure our community that we are taking appropriate measures to protect our staff and our resources. This includes heightened security at the entrance gates, conditions that may tighten in the coming days, and extra patrols on site. We ask everyone for patience as more thorough vehicle checks are implemented, and we encourage the use of public transportation when possible.
The Laboratory will remain open for business and shuttle buses will circulate under normal schedules. For guidance on domestic and international air travel during this period, the latest status and actions can be found at travel.lbl.gov.
We will keep you informed as we go through this difficult period. Security condition and site access updates will be posted on the Lab's emergency status phone line (1-800-445-5830), printed on the back of all employee badges.
Our collective thoughts are with our service men and women, and with their families. I know that we all hope for their safe return and for a swift end to the conflict.

Hallway Gallery in Building 50A
The fourth floor hallway in Building 50A is playing host to a collection of prominent science journal covers featuring research of Berkeley Lab scientists. Journals include Science, Nature, Cell and other notable magazines, most of them published in the last few years. Everyone is encouraged to visit the exhibit and suggest past or upcoming covers that might be added to the collection. Photos by Roy Kaltschmidt

Mapping the Spread of Cancer
in 3-D, One Cell at a Time
By Dan Krotz
Hoping to track cancer as it spreads cell by cell through the body, Berkeley Lab researchers have developed a way to shape high-resolution microscopy images into three-dimensional renditions of tissue such as mammary ducts.
The result is a microscopic look at the molecular and genetic underpinnings of cancer on a glandular scale. The system, which couples a computer-assisted microscope to powerful visualization programs, stacks two-dimensional microscopy images into a lifelike structure packed with genes, hormone receptors, and proteins. It could ultimately portray how cancer spreads from a few anomalous cells to millions of cancerous cells radiating throughout a gland. It could also map the cellular degeneration of diseases such as Alzhei-mer's and Parkinson's as they ravage surrounding tissue.
"In the future, we could analyze any three-dimensional tissue sample for its genetic and cellular activity," says Carlos Ortiz de Solorzano, a staff scientist in Berkeley Lab's Life Sciences Division who helped develop the technique. "We'll more easily relate morphology with molecular events."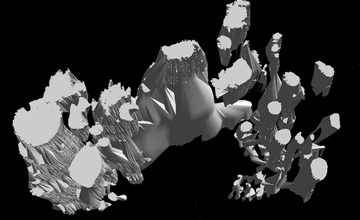 Tumor masses are portrayed as gray volumes in this three-dimensional surface rendering of a breast biopsy with ductal carcinoma in situ. The image can be rotated and magnified.
In conventional microscopy, tissue is sectioned into ultra-thin segments, and stained with a chemical marker that highlights a genetic phenomenon indicative of a specific pathology. To image a type of breast cancer called ductal carcinoma in situ, for example, breast tissue is stained with a marker that only adheres to the amplified form of a gene called Her2 — an indication of cancer.
Researchers then search for this chemical marker under a microscope, which allows them to see which cells in each two-dimensional section are potentially cancerous. But if they want a broader picture, such as the extent to which cancerous cells have wormed throughout the tissue, they must mentally stack several microscopy images together. Complicating matters, tissue samples are often stained with a palette of chemical markers to accentuate different cells. Mentally keeping track of each color in a series of microscopy images is difficult. Now, a computer does it for them.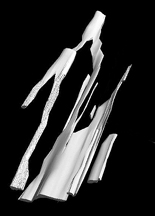 Gray volumes represent normal ducts in this partial 3-D surface rendering of a mouse mammary gland. A single duct and its branches can be traced throughout the gland, and areas targeted for high-resolution analysis can be selected from the image.
"We've streamlined the acquisition, reconstruction and analysis of large tissue samples," says Ortiz de Solorzano. "It's far better than mentally reconstructing images, which is nearly impossible."
There are other ways to map the three-dimensional spread of disease, such as the medical imaging technologies magnetic resonance imaging and positron emission tomography. Although highly accurate, and the only way to noninvasively image disease in patients, these techniques only capture blood flow and metabolic changes that indicate disease. Changes to individual cells go unnoticed. Another method, called confocal laser scanning microscopy, can track the genetic activity of individual cells, but only in relatively thin tissue samples. Berkeley Lab's system encompasses cellular resolution, three-dimensional reconstruction, and multicolor display of thick tissue in a single, computer-automated process.
So far, Ortiz de Solorzano's team has used the technique to map the distribution of amplified Her2 genes in a tissue biopsy of ductal carcinoma in situ, which invades mammary ducts. They're searching for cells with pronounced Her2 genes that somehow sprout far from the tumor in otherwise healthy tissue. Finding these isolated, abnormal cells, and determining the pattern by which they spread, could offer the earliest indication that a tumor may be invasive.
"The question is: is the tumor emitting some kind of field effect and influencing cells far way, or has a cell broken off from the main tumor?" Ortiz de Solorzano asks.
To answer this question, researchers must cast a wide net. The carcinoma must be microscopically imaged, as well as the surrounding tissue in all directions. The trick is to capture a breast tumor and these lone, abnormal cells in the same image, which could offer a window into their poorly understood relationship. Unfortunately, conventional microscopy only images a two-dimensional slice of tissue, and only the luckiest slice harbors both carcinoma and abnormal cell.
"If cells have broken from the main tumor and invaded the ducts, there's a good chance you won't capture them," Ortiz de Solorzano says. "You're ignoring the tissue's 3-D structure."
But if a series of images are digitally stacked into a gland-size shape, the carcinoma and its widely scattered orbit of abnormal cells takes shape. In this manner, a computer, not a brain, does the heavy work and makes sense of cancer's heterogeneous sprawl of cells.
Ortiz de Solorzano's team is also using their technique to model the activation of estrogen and progesterone hormone receptors throughout the development of a mammary gland. They're examining chemically labeled mouse tissue samples at several week intervals, and asking key questions: Do progesterone-positive cells usually appear next to estrogen-positive cells? Do they appear first in large ducts, or small ducts? They hope to learn how these receptors, which are critical to normal breast tissue function, are distributed throughout tissue. And they're interested in how these receptors express differently in cancerous tissue. With conventional microscopy, such an inquiry requires taking flat sections and extrapolating how they appear in three dimensions — possible, but very time consuming.
"With our technique, however, we can more quickly look at receptor development in entire glands," says Ortiz de Solorzano. "And cancer is fundamentally a cellular and tissue disease, so it must be examined in three dimensions. The more quickly we can do this, the faster we'll understand it."
Their technique is described in the paper "A system for combined three-dimensional morphological and molecular analysis of thick tissue specimens," which appeared in the December 15, 2002 issue of Microscopy Research and Technique. Computer scientists Enrique García Rodriguez and Arthur Jones and graduate student Rodrigo Fernández-González contributed to the research.

Director's Pledge to Legislators:
World-class Business, Science
This testimony was presented by Director Charles Shank on March 11 in Sacramento, before the Select Committee on Oversight of the Department of Energy Laboratories Operated by the University of California. Shank was invited, along with the directors of Lawrence Livermore and Los Alamos national laboratories, to comment on issues related to fiscal management in light of alleged problems at Los Alamos, and on the value of the labs to UC.
Madam Chair and members of the Committee, my name is Charles Shank and I have been the Director of the Lawrence Berkeley National Laboratory since September 1989. It is my pleasure to be here today to talk with you about the operations of our Laboratory, and how we serve the State of California and the Nation. We are an Office of Science laboratory funded by the Department of Energy.
Berkeley Lab was founded in 1931 on the University of California, Berkeley campus, and moved to its current site above the campus in 1940. Today we employ roughly 4,000 people, including over 250 faculty members from UC Berkeley and most other UC campuses. This total also includes over 500 students who are pursuing their graduate degrees as part of Berkeley Lab research programs. Our budget is just under $500 million per year, and supports a wide range of research from basic physics to nanoscience to human genetics to energy-efficiency research. We perform no classified research at Berkeley Lab, which helps us in integrating our research efforts with many of those on various UC campuses. In fact, UC faculty members jointly author almost half of the papers published in scientific journals by Berkeley Lab researchers.
Our past research efforts have resulted in major technological advances for our Nation. In the area of energy efficiency, our work in advanced windows and lighting has resulted in products that save consumers hundreds of millions of dollars every year in avoided energy costs. The human genome project, a fundamental advance in the future of human health, was conceived by the Department of Energy and started at Berkeley Lab and the other two UC laboratories.
More recently, we have been asked to contribute to our Nation's homeland security effort. While Berkeley is not a nuclear weapons laboratory, we have developed many scientific and technical capabilities that may have applications in this critically important area. For example, as a product of our fusion energy research in the 1980s, we made the discovery that neutron beams could be produced from hydrogen isotopes striking a metal target. From this discovery we have developed very compact ion sources that can be used to produce neutron beams 1,000 times more powerful than conventional neutron tubes. Working with Lawrence Livermore National Laboratory, we are now endeavoring to apply these neutron beams to screen cargo containers for conventional weapons and weapons of mass destruction.
Before I talk about our business practices, I want to say that Berkeley Lab has been, and will continue to be, committed to performing world-class research with an efficiency driven by world-class business practices. When I was appointed by former President David Gardner and the Regents, I was given this assignment: provide leadership for outstanding science and execute the work in a manner consistent with the highest level of expectations from the University and the Department of Energy.
I am keenly aware of my responsibility as an Officer of the University to operate Berkeley Lab competently, at the highest ethical standard. The President and the Regents hold me accountable for our operations. In turn, I work to encourage the creativity that produces forefront discoveries in an atmosphere that demands integrity. It is my strong belief that leadership in this area fosters the culture of what is expected of employees.
To talk specifically about the Laboratory's business practices, none of the reviews and audits by the General Accounting Office, the DOE's Inspector General, or others have found evidence of systemic fraud of the type alleged at Los Alamos. This statement is supported by the annual Lab evaluations which have met expectations for the DOE's highest level of performance, that of "outstanding." Nonetheless, we have taken concrete steps to further enhance the viability of our purchase card program. We have dramatically reduced the number of cards and increased the training and accountability.
Because of the Laboratory's record of accomplishment, late in 2001 we were asked by the DOE Under Secretary to lead a study of best business practices. We benchmarked our laboratory against comparable institutions, seeking the most efficient, cost-effective practices. The resulting report and "best practices" template for operations has been embraced by the DOE Office of Science for future contracts with its national laboratories.
Let me conclude by reiterating my commitment, indeed my passion, for operating Berkeley Lab in a manner that meets the high expectations you have for us. Thank you for the opportunity to be here today. I would be happy to answer questions.

Alternative Gene Splicing: Switching on the Works
How a single gene makes different forms
of a protein as they are needed
By Paul Preuss
John Conboy of Berkeley Lab's Life Sciences Division and his colleagues recently found the mechanism that switches on and off a part of the gene for protein 4.1R.
Protein 4.1R is essential to the strength and flexibility of red blood cells, because it binds together other proteins in cell membranes. The switch that controls its binding ability shows how critical alternative gene splicing can be for cell development.
Developmental strategy
The precursors of red blood cells begin as stem cells in the bone marrow and pass through several distinct stages on their way to maturity.
Early on they are packed with ribosomes, molecular machines that manufacture proteins including oxygen-carrying hemoglobin, which will eventually take up almost all the space inside the cell. Shortly before leaving the bone marrow they eject their nuclei, and soon afterward their ribosome networks dissolve. What's left are the supple, disk-shaped red cells that constitute half the volume of the blood.
What makes the membranes of mature red cells tough and flexible are "skeletal" proteins like actin and spectrin. Protein 4.1R is the clasp that links them together.
But actin-spectrin linkages would interfere with cell development, so early differentiating cells produce an altered form of 4.1R that can't bind spectrin and actin.
A switch in time
To form the messenger RNA (mRNA) that specifies the order of amino acids in a finished protein, noncoding introns have to be discarded from the gene's DNA sequence and its coding exons spliced together.
While many genes are hard-wired to express a single mRNA product, many others can generate multiple mRNAs. These alternative splicings occur when one or more exons are spliced in or clipped out of the messenger RNA.
"When a tissue is differentiating, many changes in gene activity are occurring," Conboy says. "Many researchers have focused on which genes are being turned on and off, but alternative splicing in individual genes may be just as important."
Conboy has studied the gene for protein 4.1R since his days as a postdoctoral fellow at the University of California at San Francisco. With some 240,000 base pairs, the 4.1R gene is much larger than the average human gene, and several of its two dozen exons are subject to alternative splicing.
Recently Conboy and his colleagues zeroed in on the exon labeled 16. Exon 16 is suppressed while the red cell is developing but must be switched on in the mature cell. "The result of a failure to make this switch is an unstable red cell membrane."
The importance of CE16
Much of exon 16 consists of a sequence well conserved by evolution. Approximately 40 nucleotides long and designated CE16, it has a special function: it is a splicing silencer that, when activated, prevents exon 16 from being recognized by the spliceosome — what Conboy calls the "big protein machine" inside the cell nucleus that edits and assembles messenger RNA.
When CE16 is turned on, the mRNA does not include information from exon 16. Instead it specifies a form of the protein that cannot bind spectrin and actin.
When CE16 is turned off, exon 16 is recognized and spliced into mRNA. The resulting protein has a functioning binding domain, essential in mature red blood cells.
Minigenes and mutations pinpoint a protein
Instead of working with the entire large 4.1R gene, Conboy and his colleagues constructed an artificial "minigene" with only three exons, including exon 16. They manipulated its nucleotide sequences and observed the results in cells grown in vitro.
In some mutations, the researchers replaced the entire CE16 silencer region with a neutral sequence. With the original sequence missing, exon 16 was expressed efficiently, confirming that CE16 is needed to prevent the splicing of the exon into mRNA.
Other mutations of just four or five nucleotides identified what turns the silencer on and off: a spliceosome protein, hnRNP A1, which binds directly to the CE16 silencer and prevents splicing of exon 16 into the mRNA.
Levels of hnRNP A1 are high during the early stages of red blood cell differentiation, but as the cells mature, levels decrease dramatically. The effect is to inactivate the CE16 silencer and allow exon 16 splicing.
In turn this allows synthesis of 4.1R proteins with functional spectrin-actin binding domains — just when they are needed to produce cells with tough, flexible membranes.
The results make it clear that a single gene's exons play multiple roles in biology.
"The most obvious role for DNA sequences in the past was that they specify the amino-acid sequences in the proteins they encode," Conboy says. "Now we know that nucleotide sequences also play an important role in regulating the decision to splice the exons in which they reside."
Conboy's colleagues on this work were Victor Hou, now at Children's Hospital Oakland; Mark Koury of the Department of Medicine, Vanderbilt University; Adrian Krainer of Cold Spring Harbor; Akila Mayeda of the University of Miami School of Medicine; Michael Wu of UC Berkeley; Chris Turck of UC San Francisco; and Robert Lersch, Sherry Gee, Julie Ponthier, and Annie J. Lo of the splicing research team at Berkeley Lab.
More information about alternative splicing of the 4.1R gene is available at http://www.lbl.gov/Science-Articles/Archive/LSD-single-gene.html.

Science Glossary
Nucleotides and bases: small molecules from which DNA and RNA are constructed, consisting of a backbone sugar, a phosphate group, and one of four bases. In DNA the bases are adenine, thymine, guanine, and cytosine. RNA has a different backbone sugar and substitutes uracil for thymine.
Base pair: paired bases form "stair-steps" between the backbones of the DNA double helix. A gene's size is often given as so many base pairs (or, more likely, thousands of base pairs).
Gene: a sequence of DNA bases specifying one or more forms of a protein. Only the exons encode the protein's amino acids ; introns used to be called junk DNA but have been found to incorporate essential regulatory components.
RNA: ribonucleic acid. Its many forms include messenger RNA (mRNA), which carries genetic information outside the nucleus to the ribosomes, also made of RNA, which construct proteins from amino acids brought by another kind of RNA, transfer RNA.
Stem cell: an undifferentiated cell from which different kinds of cells develop. Stem cells in the bone marrow give rise to red cells, white cells that defend against disease, platelets that aid blood clotting, and others.

Taking Aim at Accident Prevention
Accident photo program aims to prevent
and track work related injuries
By Ron Kolb
If a picture is worth a thousand words, then a thousand pictures are worth one word to Peter Lichty: Safety.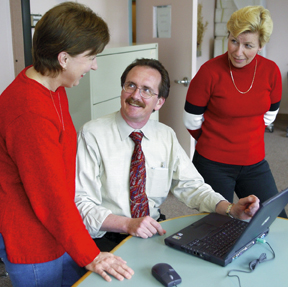 Health and safety manager Peter Lichty shows accident scene pictures to Health Services nurses Cathy Wentworth (left) and Wendy Corr. Photos by Robert Couto
Lichty, health and safety manager, and his staff have over the past two years built up a file of over 1,000 photos showing how accidents occurred. Generally, the Lab's occupational health nurses are at the site of the mishap within 24 hours, and like crime scene investigators, they are gathering evidence on the hows and the whys.
But their interest isn't just archival. Their photos are graphic examples of the conditions that lead to accidents, excellent teaching tools for both employees and supervisors.
"It provides the Lab with an educational resource," Lichty said. "In order to properly investigate accidents, supervisors and investigators need an accurate image of what went wrong. Our occupational health nurses obtain this image by working with the injured employee to go out on the worksite and photograph the accident scene."
He said the image is then sent electronically to the supervisor, the division safety coordinator, and the EH&S division liaison to facilitate a good accident investigation, as well as to encourage a prevention discussion within the department. "Lessons learned" are clearer with an accurate visual record of the incident.
"Sometimes a formal accident investigation takes days to weeks to get under way," Lichty said. "The photos provide the most accurate information about what happened, since accident conditions can change rapidly after the fact."
The use of digital cameras for rapid investigation of occupational injury has been featured in several health and safety conferences and workshops. Most recently, it was recognized with an award by the American Association of Occupational Health Nurses.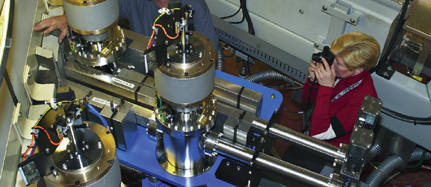 Wendy Corr of Health Services photographs the scene of a recent accident at the Advanced Light Source.
Nurse Wendy Corr has been involved with the program since its inception in 2000. She says the photos are a unique way to remind people that injuries can result merely from simple things that are taken for granted each day — such as an uneven surface or and unseen step.
"Accidents are things that can be prevented," Corr said, "like putting your hand where it shouldn't be, or turning away from what you're doing and slipping. With this program, we help the supervisor and the safety people to prevent this (accident) from happening again."
"The accident photo program jumpstarts the whole process of accident investigation," said Don Van Acker, Occupational Safety Group leader. "The health professional, safety professional and supervisor are immediately on the same picture that not only shows what happened but speeds up the field response and the sharing of lessons learned. I have never seen a better program for improving the response to an accident investigation and the partnership of the professionals responsible for improving work conditions by reducing the risk of a similar incident."
And he added, "The real benefit, of course, goes to the employee who gets immediate service."
The photos are also a way to track trends in injuries, and to institute the appropriate training. Among the most frequent accidents have been hand injuries, and in response, focused instruction has been provided on the use and availability of gloves.
Starting next week, the safety photos will become a regular feature of "Today at Berkeley Lab," the Lab's daily e-mail newsletter. It is hoped that a broader dissemination of the most frequently captured accident images will raise awareness and lower incidence over the coming months.
"Lessons learned" are clearer with an accurate visual record of the incident.

Employee Orientation Now Offered Twice Monthly
The orientation program for new employees to Berkeley Lab, held monthly until now, will be offered every other Tuesday beginning on March 25. The programs begin at 8 a.m. in the Building 50 auditorium with a welcome from one of the Lab's top administrators, a review of human resources and Lab benefits, introduction to health and safety requirements, a personalized bus tour of facilities, and a complimentary lunch. For more information, contact Robert Pettit of Human Resources at X6065.

Bulletin Board
NERSC's David Quarrie to Manage ATLAS Project
By Jon Bashor
David Quarrie, head of NERSC's High Energy and Nuclear Physics Computing Group, has accepted a two-year appointment as software project leader within the reorganized computing organization for the ATLAS experiment in Geneva, Switzerland. The ATLAS particle detector, scheduled to begin generating massive amounts of data in 2007, is part of the Large Hadron Collider under construction at CERN, the European Organization for Nuclear Research, the world's largest particle physics center.
For the past three years, Quarrie has served as chief software architect for ATLAS, with responsibility for developing the core software. In his new position, he will be responsible for producing the computing technical design report — a detailed description of the software infrastructure needed to collect, transfer, store, and analyze ATLAS data.
"This report will let us know exactly how we're doing leading up to turning on the experiment," Quarrie said. "It will be a major milestone to taking the first data."
ATLAS is a collaboration involving about 1,800 researchers from 150 institutions in 34 countries. The project recently reorganized its computing structure and strengthened the authority of the software leader relative to those of the chief architect. As software project leader, Quarrie will become a member of the computing oversight board and will sit on the overall experiment board, the main governing body of the project.
The five-story high, 7,000-ton ATLAS detector is designed primarily to understand the origin of particle masses. It is expected to find the Higgs boson (or family of bosons), if it exists, and to fully explore many other new possibilities, including the predicted massive "sparticles" of supersymmetry theory.
The technical challenges, Quarrie said, come from the large, complex nature of the collaborative experiments. ATLAS is the next generation data-intensive computing project in high-energy physics, similar to the experiments at Brookhaven, Fermilab and SLAC, but on a larger scale. While the STAR (Solenoidal Tracker at RHIC) will generate about 250 terabytes of data annually, ATLAS will yield up to 1.5 petabytes per year for 10 years.
For the next few months, Quarrie will spend three weeks each month at CERN. His wife Avril, who works in General Sciences, will join him in July, and they will take up full-time residency in the region.
CERN is not strange territory for Quarrie, who for the past two years has spent about a third of his time at the facility and also earned his Ph.D. on an experiment there in 1974.
Trained as a physicist, Quarrie has been involved in high-energy physics computing since 1970 and has worked at Berkeley Lab since 1993. While at LBNL, he has served as the software project engineer for BaBar at SLAC. Members of his group hold similar jobs with the IceCube and SNAP projects.
"I think it's a feather in our cap for the Lab to be recognized for its depth and proven record in this area," Quarrie said. "It's clearly one of our institutional strengths."

In Memoriam
Patrick A. Gamman
Patrick A. Gamman of the Engineering Division passed away on Feb. 19, 2003. A memorial service was held on Feb. 24 at St. Mary Magdalen Church in Berkeley. Gamman was a scientific engineering associate in the Vacuum Coating Laboratory. He is survived by his wife Sharon and daughter Victoria.
Former Employee Cynthia Fike
Former Engineering Division employee Cynthia Fike of Alameda died last Tuesday in a car crash in Oakland. She was 40.
The wife of Tony Atases, a mechanical technician in the Engineering Division, left the Lab in 2000 to be a full-time mom. She is survived by her husband and three children. Funeral services will be held in Oakland at St. Mary's Cemetery this Friday at 2 p.m.
Alameda Little League officials have organized a trust fund for their children. Checks may be sent to Bank of Alameda, Atases Education Fund, attn: Melinda Viascan, 2130 Otis Drive, Alameda 94501. Donations and cards may be sent to Rita McLean, MS 46A-1123, X7506.

Flea Market
AUTOS & SUPPLIES
'91 VW JETTA, 92K mi, sunrf, runs very well, new tires/ brakes, CD player/ radio, $2,500, Greg, 527-4757or Margie, 525-8682
'88 BRONCO II, 117K mi, 4 wd, AC, new brakes, exc mech/body cond, $1,895/ bo, Dale, X2791, 465 1298
'66 VOLVO 122s sedan, $2,300/bo, June, 704-8664
HOUSING
BERKELEY, nr Milvia & Parker, sunny rm w/ window seats & flower box, 3 bdrm house to share w/ prof female, avail 3/25, move-in date neg, hardwd flrs, back yard, compost, bike shed, w/d, nr shuttle, pub trans $705/mo + util, offstr parking, female pref, Elisa or Laurie, 665-9091
BERKELEY, resid community of UC scientists, Lab personnel & grad students, Hearst Commons, 1146-60 Hearst nr University & San Pablo, nr pub trans/bike path, reserved parking, studio townhouses w/ decks, hrdwd flrs, skylights, dw, ac, intercom, sec, wired for cable/ satellite, avail 6/03-7/03, or 2004, $895/mo, can be partially furn for vis scientists, Joshua, 644-9741, [email protected]
CENTRAL BERKELEY, nice furn rms, kitchen, laundry, TV, DSL, hardwd flrs, linens, dishes, contin breakfst, walk to pub trans/ shops, $950/mo incl utils, $350/wk, Jin or Paul, 845-5959, [email protected], Paul X7363
BERKELEY HILLS, rm in priv home, fully furn, incl towels/linens, TV/VCR, kitchen privil, nr campus, Lab, panoramic bay/hills view, oriental garden $485/ mo incl util, 1st/last+$250 dep, male only, no smokers, Carolyn/Tilo, 549-0648, Tilo, X6069
NORTH BERKELEY HILLS, 10 min walk to Lab, furn rm, own bth + use of kitchen in shared house, fast internet + wireless incl computer, avail 4/1-9/30 to Lab visiting scientist, [email protected]
BERKELEY, furn bdrm in flat overlooking garden, great location Elmwood/ Claremont, nr Lab, close to cafes/restaurants, shuttle, $550/mo incl util, avail 4/1-5/31 Ros, 548-4202, mailto:[email protected]
EL CERRITO, furn 3 bdrm/ 2 bth, avail 7/03-8/03, 9/03 optional, 20 min to Berkeley by car, nr pub trans, $1,500/mo, $500 sec dep, Art, 237-4654, mailto:[email protected]
MILL VALLEY, small 1 bdrm inlaw apart, avail 4/15/03, cul-de-sac, view, $925/mo, Wendy,(415) 388-6230
PLEASANT HILL, sunny 3 bdrm/2 bth home, lovely backyrd, nr schools/park/ hiking trails, quiet neighbrhd, AC, AEK, hardwd flrs, gardener, water, $1995/ mo, 1st & dep, Steve, X6228, mailto:[email protected] lbl.gov (925) 631-0668
HOUSING WANTED
UNFURNISHED STUDIO or 1 bdrm apt or inlaw unit, walk in closet, w/d, 400+sq ft, 10 mi or less from Lab, quiet single female employee/UC student $800, Julia, [email protected] lbl.gov
VISITING SCHOLAR w/ wife & kid seeks 1 bdrm apt in Berkeley/Albany/El Cerrito, non-smoking, start 3/21 for 1 year or longer, Alex, X2257, mailto:[email protected]
MISC FOR SALE
BASEBALL, Oakland A's vs Anaheim Angels 4/ 5, 1:05 pm, great field level tickets, $12, limited seats, A's calendar giveaway to first 20,000 fans, Lisa X5521 or purchase tickets @ cafeteria lobby on Wednesdays 12 -12:30 pm
FURNITURE, bdrm set w/ 5 drawer chest, 4 drawer dresser & detached mirror, night stand, bed frame w/ steel support, all solid wood, good cond, $500, Don (415) 333-6603
GLASS TOP KITCHEN TABLE, blk metal frame w/ 6 chairs, good cond, $75/ bo; yellow refrig/ freezer w/ ice maker, $50/ bo, Canon color inkjet printer, new b/w & color cartridges, exc cond $25; Packard Bell desktop computer w/ monitor, 16 MB/200 mhz/2.1 GB hard drive, $60; color comp monitor, 15", exc cond $30; oak rolltop desk, w/ compartments, 2-file drawers, sides fold back, exc cond, $600/bo, Deborah X5372, 317-7423
HEALTHRIDER ELLIPTICAL, model e330, barely used, $200/bo, Tammy, X6429, (925) 606-7024
SF BALLET, orch pair, row C ctr, full-length Jewels, a ballet in three parts, 04/13, 2 pm, $123/pr Craig, 409-0600
SF BALLET, orch pair, row C ctr, Mixed Repertory, Julia Adam world premiere, Alexei Ratmansky world premiere, & Stanton Welch world premiere, 05/11, 2 pm, $123/pr, Craig, 409-0600
SF OPERA TICKETS for La Cenerentola, 6/13, 8:00 pm, dress cir row D, $200/ pair, Janet, X5973
SF SYMPHONY TICKETS, 2 pairs, 4/5 & 4/26, 8:00 pm 2nd tier, $58/pair, Janet, X5973
WANTED
HOUSE SITTING OPPORTUNITY: reliable couple to care for your house & pets while their house is being remodeled, 5/03-2/04, time window neg, Heino, X5615, 653-3122
VACATION
SOUTH LAKE TAHOE, chalet in Tyrol area, furn, sleeps 8, sunny deck, $150/day + $75 cleaning fee, Angela, X7712, Pat or Maria, 724-9450

Flea Market Policy
Ads are accepted only from LBNL employees, retirees, and onsite DOE personnel. Only items of your own personal property may be offered for sale.
Submissions must include name, affiliation, extension, and home phone. Ads must be submitted in writing via e-mail (mailto:[email protected] lbl.gov), fax (X6641), or mailed/ delivered to Building 65.
Ads run one issue only unless resubmitted, and are repeated only as space permits. They may not be retracted once submitted.
The deadline for the April 4 issue is Thursday, March 27.

Windows Testing Facility Going Up
On the bluff next to the Building 71 trailers is the construction site for a small building, soon to be a windows testing facility for the Environmental Energy Technologogies Division. Photos by Roy Kaltschmidt

Oakland A's Tickets
The Employees Activities Association is sponsoring the Oakland A's vs. World Series champion Anaheim Angels game on Saturday, April 5 at 1:05 p.m. A limited number of field level tickets are available for $12 each. A's calendars will be given away to the first 20,000 fans. For more information contact Lisa Cordova at X5521. You may purchase tickets in the cafeteria lobby on Wednesdays from 12 to 12:30 p.m.

Berkeley Lab Currents
Published twice a month by the Communications Department for the employees and retirees of Ernest Orlando Lawrence Berkeley National Laboratory. Ron Kolb, Communications Department head.
EDITOR: Monica Friedlander, (510) 495-2248, mailto:[email protected]
STAFF WRITERS: Lisa Gonzales, 486-4698; Dan Krotz, 486-4109, Paul Preuss, 486-6249; Lynn Yarris, 486-5375
CONTRIBUTING WRITERS: Jon Bashor, X5849; Allan Chen, X4210
FLEA MARKET / CALENDAR: 486-5771
[email protected] /[email protected]

Lawrence Berkeley National Laboratory,
Communications Department, MS 65
One Cyclotron Road, Berkeley CA 94720
Tel: (510) 486-5771 Fax: (510) 486-6641
Berkeley Lab is managed by the University of California for the U.S. Department of Energy.