Campus, Lab Lectures to Honor Lab Founder E.O. Lawrence

Lab to Consolidate Public Outreach Efforts
---
Campus, Lab Lectures to Honor
Lab Founder E.O. Lawrence
The life and scientific legacy of the late Nobelist and Berkeley Lab founder Ernest Orlando Law-rence, who would have been 100 years old on August 8, will be remembered with two special events on campus and on the Hill.
On Monday, July 30, Berkeley Lab will sponsor the Lawrence Centenary Lecture, which will feature Lawrence Krauss, the popular author of The Physics of Star Trek and other acclaimed books on astrophysics and cosmology. The lecture, entitled "An Atom from Berkeley: A Cosmic Mystery Story," will start at 8 p.m. in the Zellerbach Auditorium on campus. It will be free and open to the public.
The event is being presented in conjunction with the International Nuclear Physics Conference, being held at UC Berkeley the week of July 30 – Aug. 3 (see sidebar, Page 5).
The lecture by Krauss will be preceded by a brief tribute to Berkeley Lab's founder by Lee Schroeder, director of the Lab's Nuclear Science Division and organizing chair of the conference. Lawrence memorabilia will be on display in the Zellerbach Auditorium during the event.
Krauss will sign copies of his latest book before and after the lecture. Earlier that day he will also address a Laboratory audience at noon in the Building 50 auditorium.
Memorabilia related to Lab founder Ernest Lawrence, including his desk, will be on display in Zellerbach Auditorium for the Centenary event on Monday, July 30.
Summer Lecture Series
On Wednesday, August 8 — on what would have been Lawrence's 100th birthday — a special edition of the Summer Lecture Series will be held at noon in the Building 50 auditorium. Mary Prud'homme, one of Lawrence's four daughters, will speak following a showing of the Heritage biographical film on her father made in conjunction with the Lab's 50th anniversary. This engaging 22-minute documentary includes interviews with Lawrence himself, as well as Luis Alvarez and others, to give viewers an appreciation for the greatness of a man historian Herbert Childs described as an "American genius."
Lawrence was Berkeley's first Nobel Prize winner in 1939 for the invention of the cyclotron particle accelerator, which led to the discovery of artificial elements and opened the door to modern experimental physics. He started what was then the Radiation Laboratory on the Berkeley campus in 1931, and served as its first director until his death in 1958 at the age of 57.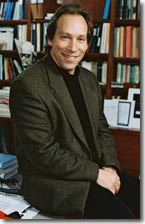 Famed author Lawrence Krauss will speak on campus and at Berkeley Lab.
Krauss brings broad perspective on science
Krauss is the Ambrose Swasey Professor of Physics, an astronomy professor, and chair of the Physics Department at Case Western Reserve University in Ohio. He has staked a significant claim as heir to the mantle of premier science popularizer worn with such distinction by the late Carl Sagan.
"I believe that science is in part a vital cultural activity, which should be shared far more broadly than it is, especially in our modern technological society," Krauss says.
He recently received the American Institute of Physics' Andrew W. Germant Award, which recognizes individuals who successfully link physics to the arts and the humanities.
Krauss' lecture is drawn from his latest book, ATOM: An Odyssey from the Big Bang to Life on Earth and Beyond. In it he explains the past and the future of our universe by recounting the birth and death of a single atom of oxygen.
"We are all star children," Krauss says. "Every atom in our bodies was likely, at least once and probably many times, to have been inside the fiery inferno of an exploding star. Moreover, while our nature compels us to think of our own experience as the defining feature of existence, it is not. All the while, the fundamental protagonists in the drama of life are the very atoms that make up our bodies. They may experience what we all desire: a chance at immortality."
As a theoretical physicist, Krauss' range of research interests spans the interface between elementary particle physics and cosmology. His studies include the early universe, the nature of dark matter, general relativity, and neutrino astrophysics. He has also investigated questions ranging from the nature of exploding stars to issues of the origin of all mass in the universe.
Krauss is currently working with U.S. television production companies for upcoming programs based on both his Star Trek and Atom books.

Lab to Consolidate Public Outreach Efforts
By Ron Kolb
A more integrated, collaborative public outreach program to develop strong community partnerships for Berkeley Lab is the anticipated outcome of a reorganization announced by Director Charles Shank.
The functions within public information, government and community relations, and science education will now be collectively known as Public Affairs, and recruitment for a director to oversee these programs has begun. The changes come after a year-long evaluation under David McGraw, division director for Environment, Health and Safety, who took on additional public affairs oversight responsibilities at Director Shank's request.
"Under David's leadership, we have more clearly defined the roles, responsibilities and objectives of the various offices whose main tasks involve interaction with the community," Shank said. "We believe that this new alignment will encourage a more unified and consistent communication effort across the Laboratory. It reflects our commitment to broaden our strategic partnerships with community stakeholders."
Shank said that in recent years the Laboratory has become more visible with constituents, both in nearby neighborhoods and on regional and national scales. This increased attention has led to a reassessment of Laboratory programs to ensure that both internal and external relationships are sufficiently strong to support the Laboratory's missions and strategic priorities, he said.
"Success means the effective utilization of resources and activities throughout the Laboratory to achieve the greatest positive impact in scientific program support," the Director said. "Failure can mean apathetic or antagonistic audiences whose attitudes toward programs or funding can significantly influence their prospects."
At the same time, he added, a well-executed public affairs program will enhance community understanding and appreciation of the Laboratory and what it does.
McGraw noted, "We at Berkeley Lab are accountable to the taxpayers who fund our work. With this accountability comes a community responsibility and respect for citizen concerns, regional priorities, and environmental protection. Essential to success in fulfilling this public commitment are mutually beneficial relationships and trust among our public stakeholders."
The director of Public Affairs, for which a national search is under way, will report to Director Shank and will be a member of the senior management team. Within Public Affairs will be three primary units: Communications, headed by Ron Kolb; Government and Community Relations, under Reid Edwards; and the Center for Science and Engineering Education, headed by Rollie Otto.
Also as part of the reorganization, Michael Chartock, formerly head for Planning and Communications, was named director of strategic planning, reporting to Director Shank.
McGraw said the general direction of outreach programs will be shaped by a Public Affairs Council which, in addition to the principal members of the public affairs units, will feature representatives from divisions and departments. This structure, he said, promises to bring more consistency and coordination to the delivery of institutional messages.
Elements of the past year's program assessment included an external peer review last December and discussions among the laboratory's senior leadership at the directors' retreats of 2000 and 2001.
"Through information, communication and education, Berkeley Lab has been building awareness of its research efforts and providing services and support for our neighboring communities," McGraw said. "Our programs have worked well, and now we have to take full advantage of even more opportunities that await us. If Berkeley Lab is seen as a valuable — and valued — member of the community, our scientific programs will be beneficiaries through the leveraging of good will to advance our research initiatives."
He added that several new initiatives will be launched over the next few months to improve internal and external communications with constituents, such as a"Friends of Science" membership organization, which will facilitate the exchange of information on research and the Laboratory; a new community newsletter for neighbors and interested stakeholders; and a Public Affairs handbook designed to help divisions and programs maximize their effectiveness in public outreach.

Nuclear Physics Conference
Berkeley Lab is in charge of organizing the nuclear physics world's most important meeting, which takes place only once every three years and will be here next week for the first time since 1980.
More than 600 scientists, university researchers, scholars and students from America and abroad will converge at UC Berkeley for the International Union of Pure and Applied Physics (IUPAP) International Nuclear Physics Conference, running the week of July 30-Aug. 3
The Lab's Nuclear Science Division and its director, Lee Schroeder, have assembled the program, which will focus on the latest experimental and theoretical results in the field.
Subjects to be discussed at the conference will cover all areas of nuclear physics research, with special emphasis on new directions, new opportunities and the applications of nuclear science to society. Invited talks, oral presentations, and poster sessions will cover electromagnetic and hadronic physics, nuclear matter at high energy densities, nuclear structure and dynamics, nuclear astrophysics (origin of the elements and evolution of stars), neutrino physics, applications, instrumentation, and new facilities.
Registration, beginning at 2:30 p.m. on Sunday, and all plenary sessions will be in Zellerbach Hall on campus. The conference begins on Monday at 8:30 a.m. with remarks scheduled by Yves Petroff, president designate of IUPAP and a member of the Advanced Light Source research team, Berkeley Mayor Shirley Dean, and UC Berkeley Executive Vice Chancellor Paul R. Gray. Two dozen scientific talks will be given over the subsequent five mornings and Friday afternoon.
Among the scheduled speakers are Berkeley Lab scientists Alan Poon, who will discuss results from the Sudbury Neutrino Observatory on Friday morning, Aug. 3, and Tom Budinger, who will address medical imaging with radioisotopes on Friday afternoon. Information on the full conference schedule can be found on the web at http://www.lbl.gov/~inpc2001/.
Conference participation is through registration fee only. But on Monday night, July 30, the public is invited to the free lecture honoring Ernest Orlando Lawrence on the occasion of the Berkeley Lab founder's centenary (see main article).
The 1998 IUPAP conference was held in Paris.

Results of Element 118 Experiment Retracted
By Ron Kolb
The team of Berkeley Lab scientists that announced two years ago the observation of what appeared to be element 118 — heaviest undiscovered transuranic element at the time — has retracted its original paper after several confirmation experiments failed to reproduce the results.
A technical committee of experts from the Laboratory's physics, supercomputing, and nuclear science divisions is reviewing the data and methodology from that 1999 result. Subsequent re-analyses of the original data with different software codes have been unsuccessful in observing atomic decay patterns, or chains, which would confirm the existence of element 118.
In a brief statement submitted to Physical Review Letters, the same publication in which the original results were announced, the research team stated: "In 1999, we reported the synthesis of element 118 in the [lead-krypton] reaction based upon the observation of three decay chains, each consisting of an implanted heavy atom and six sequential high-energy alpha decays, correlated in time and position. Prompted by the absence of similar decay chains in subsequent experiments, we (along with independent experts) re-analyzed the primary data files from our 1999 experiments. Based on these re-analyses, we conclude that the three reported chains are not in the 1999 data. We retract our published claim for the synthesis of element 118."
"Science is self-correcting," Berkeley Lab Director Charles Shank said. "If you get the facts wrong, your experiment is not reproducible. In this case, not only did subsequent experiments fail to reproduce the data, but also a much more thorough analysis of the 1999 data failed to confirm the events. There are many lessons here, and the lab will extract all the value it can from this event."
The original experiment and two confirmation runs were performed at the Laboratory's 88-Inch Cyclotron, utilizing a newly installed device called the Berkeley Gas-Filled Separator (BGS). In the experiment, targets of lead were bombarded with an intense beam of high-energy krypton ions. The detected sequence of decay events for elements 118 and 116, if observed, would be consistent with theories that have suggested an "island of stability" for superheavy nuclei.
In addition to the confirmation tests at Berkeley, scientists at the GSI laboratory in Germany and the RIKEN lab in Japan were unable to duplicate the original reported results.
Shank said that, in retracting the paper, the experimenters are taking responsibility to clear the record. "The path forward is to learn from the mistakes and to strengthen the resolve to find the answers that nature still hides from us," he added.

A Better Way to Peer Inside Cells
By Paul Preuss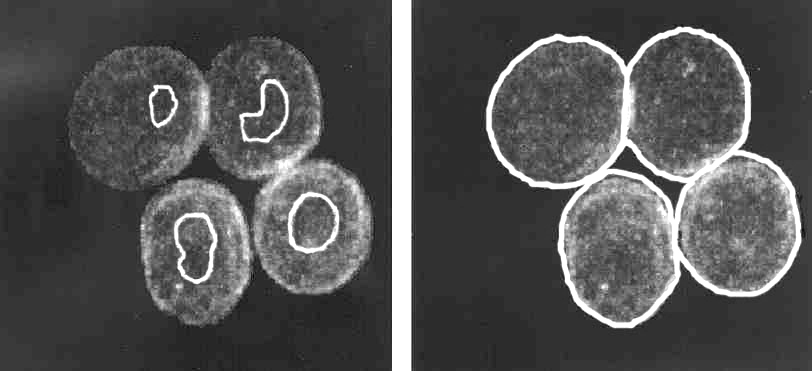 The computer program plants a "seed" in the nuclear areas of a cell and then grows the border to find the nuclear envelope.
To learn how tissues develop and maintain their organization — and especially what goes wrong when cancer strikes — it is essential to study individual cells and their nuclei within tissues. The problem has always been that in real tissues and in many cell cultures grown in the laboratory, cells are often tightly clustered; their boundaries and the borders of their nuclei are hard to distinguish.
Now Carlos Ortiz de Solorzano of the Life Sciences Division and Ravi Malladi of Computing Sciences, with their colleagues Sophie Lelièvre and Stephen Lockett, have joined forces to apply new biological and computational methods to mark and detect, under the microscope, the boundaries of closely packed cells and nuclei crowded together. Their methods work not only with the envelopes of nuclei but with the membranes of tightly clustered cells as well.
To label nuclei, the researchers first chose a set of stains that specifically bind to the protein lining of the inner and outer layers of the nuclear membrane, called lamina. Next they developed programs that could find and outline the stained lamina in the microscopic images after they were stored in the computer.
"Typically, researchers use fluorescent stains that bind to the DNA inside the nucleus, not to the nuclear envelope," says Ortiz de Solorzano. "But when nuclei are clumped together" — typical in tumor tissue — "there's no contrasting background area between them, and there's no easy way to distinguish one from the next."
Seen through the microscope, even stained nuclear membranes may present a mixed bag of dim and cluttered outlines; and while the human eye can pick through these one by one, the new program automatically identifies each nucleus and marks it with a tiny internal graphical "seed," which grows until its periphery corresponds to the outline of the lamina.
"Planting just one seed in each nucleus is important, " says Ortiz de Solorzano. "If no seed is planted, the algorithm will be unable to find the boundaries. But if more than one seed is planted, they will mistakenly divide the nucleus into more than one object."
Malladi explains that the process begins by automatically choosing seed points to lie inside the nuclei. This is done by computing a crude estimate of the gradient magnitude and direction — a measure of change in the intensity of the image's pixels — in the entire image and translating the gradient points along the "inward" direction. As a result, the gradient points corresponding to the nuclei boundaries reinforce each other in a small region inside nuclei.
These ensembles of reinforced gradient points define the initial seed points. "The gradients won't clump exactly in the center," Malladi says, "but that doesn't matter as long as they are inside the nucleus."
Next the program moves the periphery of each seed, called the "front," outward until it conforms to the shape defined by the stained lamina. The movement proceeds in stages that are highly sensitive to changes in pixel intensity; the front moves outward freely where changes are minor, but slows almost to a stop when pixel intensity changes markedly, alerting the program to a boundary.
Having marked the inner membrane surface, the front is now allowed to move beyond it, coming to a halt only when it encounters other boundaries expanding from other nuclei. Then the front backtracks, seeking maximum intensity values that clearly identify the stained outer lamina.
The algorithm works in similar ways to unambiguously outline whole cells using, for example, fluorescently labeled integrins — proteins specific to cell membranes.
In both cases "the program makes use of edge-finding algorithms earlier developed for medical imaging," Malladi explains. "We have also developed features that enable the program to find boundaries accurately in very noisy images and to 'see' the right shape even where there are discontinuities." These robust algorithms produce few errors unless the original images are so bad that they are not worth using to begin with.
Computer scientist Malladi is excited about widening the frontiers of software that can abstract visual information from a variety of disparate image sources, ranging from medical images of bones and organs to problems in combustion and fluid mechanics to the underground structures of oil reservoirs.
Ortiz de Solorzano, whose focus is biological image analysis, welcomes the nuclei and cell detection techniques as a new means of "quantifying information to understand biological processes."
The new techniques are described in the March 2001 issue of the Jour-nal of Microscopy. In addition to Ortiz de Solorzano and Malladi, the article is authored by Lelièvre and Lockett, formerly in the Life Sciences Division, both of whom have recently accepted positions outside Berkeley Lab.

Washington Report
More Money for DOE
Congress has passed a conference report on a FY 2001 supplemental bill that provides an extra $300 million for several DOE programs this year. By a 375-50 vote, Friday the House approved the report, which includes $159.6 million for DOE environmental management activities and $140 million for the National Nuclear Security administration. The Senate also passed the report by unanimous consent.
Under the conference agreement, DOE's environmental management program would receive $100 million for defense and environmental restoration and waste management activities; $30 million for uranium facilities maintenance and remediation; $21 million for defense facilities closure projects; $27.6 million for defense environmental management privatization; and $5 million for other defense activities. Non-defense environmental management would receive $11.9 million.
Worth It? You Bet! Says NAS About DOE Energy Research
DOE R&D on energy efficiency and fossil-fuel technologies has yielded sizable economic, environmental and national security benefits that outweigh the federal investment, concludes a report just released by a committee of the National Academy of Sciences' National Research Council. The NAS panel looked back over two decades and examined 17 energy efficiency R&D programs and 22 fossil energy programs. While the panel was not always able to determine what proportion of benefits was attributable to DOE funding, it did link the government's $13-billion investment with more than $40 billion in economic returns. Three energy efficiency programs brought the bulk of the benefit, the report said: compressors for refrigerators and freezers, electronic ballasts, and low-emission window glass.
Other programs fell somewhat short of expectations because they lacked the economic incentives needed for adoption in the private sector. These included fuel cells and magnetohydrodynamic power production.
The committee also found that the DOE did not always use consistent methodology to calculate benefits of its R&D programs and tended to overstate economic benefits from deployment of technologies. It stressed that large public benefits cannot always be easily reduced to dollar terms.
For instance, it pointed to environmental gains from two fossil energy technologies — atmospheric fluidized bed combustion and nitrogen oxide emissions controls — that cut NOx emissions by more than 26 million tons and sulfur dioxide by 2 million tons.
The report, "Energy Research at DOE: Was It Worth It?," is available at http://www.nap.edu. — Lynn Yarris

Lab to Launch Breast Cancer Forum
Mina Bissell, director of the Life Sciences Division (left), has announced the launching of the Berkeley Lab Breast Cancer Research Awareness Forum, an opportunity for Lab employees to learn about the latest advances in breast cancer research being conducted here. On Aug. 23 Bissell will moderate the first in a series of six panel discussions at noon in the Bldg. 66 auditorium. Author and researcher Susan M. Love, M.D. (right) will be joined by breast cancer expert Satyabrata Nandi of UC Berkeley in a discussion of the role of hormones in breast cancer prevention and treatment. Future sessions will survey the Lab's breast cancer research activities, the process and protocols for clinical trials, alternative therapies, epidemiology, radiation therapy, and other emerging breast cancer surgery and treatment options.
See the next issue of Currents for more information about the Forum.

Seeing Code Red: the Need for Cyber-Vigilance
On Thursday, July 19, a third to a half a million Internet servers around the world were infected by the fastest-spreading computer worm in history. Dubbed Code Red, the intent was to bring down the White House web site, http://www.whitehouse.gov, by clogging it with an overload of incoming messages, a classic "denial of service" attack.
Wherever the worm found a Windows 2000 or Windows NT-based server, it attempted to load itself into the machine's memory. From there it continued scanning for random addresses. An e-mail assault on the White House site was programmed to launch Thursday at midnight; system administrators had changed the White House's IP address by then, but unfortunately Code Red had already infected so many servers that it constituted a denial-of-service attack on the entire Internet.
Berkeley Lab was heavily besieged. The Lab's intrusion-detection system detected worm probes from 296,000 different remote machines, of which 20,000 found targets and attempted infections. Fortunately the Lab's cybersecurity team, led by Jim Rothfuss, had alerted Lab personnel to vulnerabilities. Only 18 Lab web servers were infected, and these were taken offline quickly as they began attacking other sites.
Code Red only affected Windows web servers and was removed by rebooting. "Had this been more malicious, we could have had significant loss of data on 18 computers," says Rothfuss, adding that if the virus had attacked Windows machines in general "we could have had significantly more computers infected."
Vern Paxson, who developed the Lab's intrusion detector, BRO (for "Big Brother"), says that while the normal rate of hostile scans of the Lab is about 40 a day, at the height of the Code Red attack — 10 a.m. Thursday — 1,600 newly infected hosts were scanning the Lab every minute.
Luckily, says Rothfuss, "Code Red's designers "seem to have taken great pains to ensure that it would not cause permanent damage," even installing a built-in expiration date of July 28. The source code has been released publicly, however, and a derivative version may quickly emerge.
Sandy Merola, the Lab's chief information officer and director of the Information Technologies and Services Division, says the Code Red attack illustrates the virtues of "a very competent cybersecurity staff" as well as "an approach that fosters agility, not just compliance."
Adapted from Computing News. For more about the Code Red attack see http://www.lbl.gov/ITSD/CIS/compnews/2001/July/03.html.

Los Alamos Electronic Preprints Moving to Cornell University
Paul Ginsparg, father of the Los Alamos Electronic Preprint Archive (xxx.lanl.gov, recently renamed arXiv.org), has accepted a tenured position at Cornell University in Ithaca, New York. His wildly popular electronic preprint archive, which celebrates its 10th anniversary next month, will move with him. There he hopes to expand the archive to include papers from disciplines other than physics.
Before Ginsparg's archives, physicists, frustrated with the slow publication pace of scientific journals, used to spend hundreds of dollars a year mailing out copies of not-yet-published papers, called preprints. The arrival of e-mail helped but was limited in its earliest days by the small storage capacity of most desktop computers.
Ginsparg changed all that when he developed an automated preprint archiving and distribution system that he launched on an LANL server in August 1991. This year the archive expects to receive 35,000 papers across various fields in physics, math, and computer science.
LANL has been a proud host of the archive's server, but the annual cost of running it has grown to about $300,000. Even with funding support from LANL, the DOE and the National Science Foundation, money was a continual problem.
"The archive has wanted to expand to a much bigger natural size," says Ginsparg, "and too much time was spent trying to keep it from growing."
Cornell University, which recently founded the Faculty of Computing and Information (FCI), an interdisciplinary program in scientific communication, wanted Ginsparg and his archive as a nucleus around which to build. The archive will be maintained as a "special collection" in the FCI's digital library. The library staff will use university funds to take over the day-to-day administration of the archive, freeing up Ginsparg to apply the rest of an existing NSF grant to explore new directions for the archive. He is most eager to expand the electronic preprint server model into other scientific fields, particularly biology. — Lynn Yarris

A Tiny Bit of Light with Bright Possibilities
By Lynn Yarris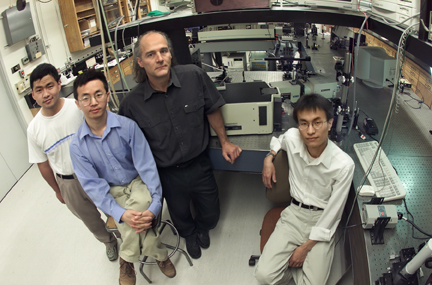 Members of the team that successfully tested the nanowire nanolaser include (left to right) Haoquan Yun, Samuel Mao, Richard Russo, and Peidong Yang. Photo by Roy Kaltschmidt
One of the smallest lasers ever made — far too small to be seen even with the aid of the most powerful optical microscope — has been successfully tested by a team of Berkeley Lab researchers. This device, which emits flashes of ultraviolet light, is called a "nanowire nanolaser" and it measures just under 100 nanometers in diameter, or about one ten-millionth of an inch.
The nanowire nanolasers are pure crystals of zinc oxide that grow vertically in aligned arrays like the bristles on a brush. These crystal wire "bristles" range from 2 to 10 microns in length, depending upon how long the growth process was allowed to proceed. By comparison, the tiniest solid-state lasers in use today are fashioned from thin films of either gallium arsenide or gallium nitride and generally run several microns thick, or about one hundred-thousandths of an inch. (A typical human hair is about 100 microns thick.)
"The ability to produce high-density arrays of light-emitting nanowires would open up lots of possible applications that today's gallium arsenide devices can't do," says Peidong Yang, a chemist with the Materials Sciences Division (MSD) and a professor with UC Berkeley's Chemistry Department, who was the lead scientist on this project.
Collaborating with Yang from Berkeley Lab were MSD's Henning Feick and Eicke Weber, and Samuel Mao and Rick Russo of the Energy and Environmental Technologies Division (EETD). Joining them were Michael Huang, Haoquan Yan, Yiying Wu, and Hannes Kind, all with the UC Berkeley Chemistry Department. A paper reporting this work appeared in the June 8 issue of Science.
To produce these nanowires, the research team used a standard crystal-growing technique called epitaxy in which one crystalline material is grown over the surface of another. In this case, sapphire crystals, coated in patterns with a thin film of gold, were plunged into a hot gas of zinc oxide. The gold film served as a catalyst, and within 10 minutes, millions of zinc oxide nanowires formed over the patterns on the sapphire.
Stated the authors in their Science paper, "This capability of patterned nanowire growth allows us fabricate nanoscale light emitters on a substrate in a controllable fashion."
To produce light, the researchers used a process called "optical pumping." Working at room temperatures, the zinc oxide nanowires were flashed with light from a visible light laser. This light excited the zinc oxide molecules, causing them to emit photons. Cross-sections of the wires show them to be hexagonal and capped on the end. This cap is perfectly flat, as is the interface between the wire and the sapphire substrate. These two perfectly flat surfaces act like mirrors and cause the photons emitted by the excited zinc oxide molecules to bounce back and forth between them. This reflected light causes the zinc oxide molecules to emit even more photons until the light becomes sufficiently amplified to pass out of the nanowire's end cap in a burst of ultraviolet light.
Whether the process proves to be a scientific curiosity or a first step towards the development of a significant new technology may hinge on whether the Berkeley Lab researchers can find a way to extract light from their nano-wires via electrical pumping. This would entail the use of electrodes attached to both ends of the nanowires, stimulating photon emissions inside the wires with electrons. Electrical pumping is required for the nanowires to be integrated into an electronic circuit. If it can be done, it could open up a broad range of potential applications, including photonics, the use of light for superfast data processing and transmission, and the so-called "lab on a chip," a microchip equipped with nano-sized light sources and sensors to perform instant and detailed analyses for chemistry, biology and medical studies.
"With something this small, people will think of new applications for it," says EETD's Russo.

Stephen Holland Wins Award for Silicon Detectors
By Paul Preuss
Stephen E. Holland of the Engineering Division has been named winner of the annual Merit Award from the Nuclear and Plasma Sciences Society (NPSS) of the Institute of Electronics and Electrical Engineers for his "pioneering work in the development of high-performance silicon detectors for medical imaging, astronomy, and high-energy physics."
The award, to be presented at an upcoming Nuclear Science Symposium, comes with a plaque, a certificate and a $2,000 check.
"We in the Engineering Division are very proud of Steve's achievement and this international recognition," says Bill Edwards, deputy director of Engineering. "People from many of Berkeley Lab's divisions, from Engineering to Life Sciences to Physics, were Steve's champions in the nomination process."
Much of Holland's work has been performed in the Microsystems Lab, which is supported by the Physics Division and staffed by the Engineering Division's Semiconductor Detector Group.
Among the new technologies in optical, x-ray, and gamma-ray instrumentation noted in Holland's citation is a novel charge-coupled device (CCD) — the "fully-depleted, back-illuminated CCD," which was granted a patent earlier this month.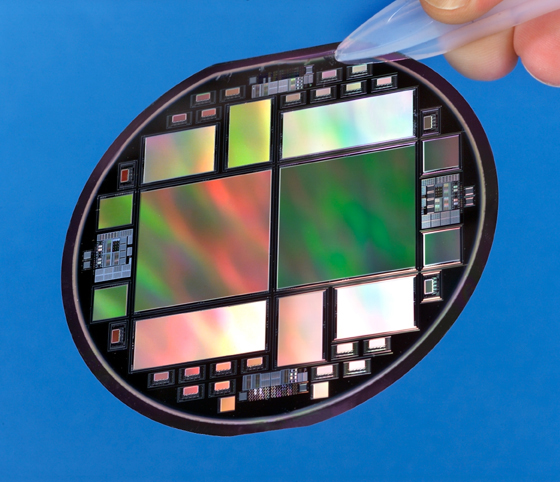 An early fabrication run produced this 2048-by-2048-pixel version of the fully-depleted, back-illuminated Berkeley Lab CCD.
A direct descendant of particle detectors designed at Berkeley Lab for the world's most powerful accelerators, the new CCD is extraordinarily sensitive to infrared and near-infrared light and to x-rays whose energies are important in both astrophysics and medicine. As the principal component of the Gigacam imager in the proposed SNAP satellite, the new CCD is poised to search for some of the most distant and energetic events in the universe.
Existing astronomical CCDs, which must be thinned to gossamer width, are fragile, extremely expensive, and insensitive to long-wavelength light. The Berkeley Lab CCD uses thick silicon wafers with a transparent layer on the back that acts as an electrode. Voltage between the back window and the front electronics "fully depletes" the silicon (clears out charge) so that photon-created charge carriers travel readily from back to front even through the sturdy chip, whose thickness captures long-wavelength photons much more efficiently.
The patent just granted broadly covers the back-illuminated, fully-depleted chip design; some aspects, like the back-window electrode, have already been patented for application to medical imaging.
For details on the Berkeley Lab chip, visit http://ccd.lbl.gov/. For more about the Gigacam, see http://snap.lbl.gov/.
An early fabrication run produced this 2048-by-2048-pixel version of the fully-depleted, back-illuminated Berkeley Lab CCD.

Summer Lecture Series Continues
In his Summer Lecture talk on July 18, Gerry McDermott of the Physical Biosciences Division used a disco ball to demonstrate how defracted x-rays can be used to reconstruct a picture of a protein. He also gave a glimpse into the promising future of macromolecular crystallography due to robotic innovations that increase the creation of protein crystals by orders of magnitude.
On July 25, Paul Alivisatos of the Materials Science Division discussed the biological applications of nanocrystals. He explained the potential of binding DNA to inorganic nanocrystals, the spontaneous assembly of ribbons of nanorods and "beautiful nanocrystals" into arrows, teardrops, and tetrapods, and the smallest transistor ever made.
August 1 Lecture
The next installment in the series continues with a presentation by Bo Bodvarsson of Earth Sciences, who will discuss the Yucca Mountain Project, the nuclear waste geological repository project. Bodvarsson will address the problem of disposing of nuclear waste and possible solutions, focusing on activities at the Yucca Mountain site in Nevada and a discussion of the future of the project.
August 8 Lawrence Special
On Aug. 8 the series will depart from its regular format and take the audience on a journey though the life of Lab founder Ernest Orlando Lawrence, who would have been 100 years old the day of the lecture. (See article above.)
The one-hour lectures are held at noon in the Bldg. 50 auditorium and are geared to a general audience.

Power Outage Poster
The flier you found in this issue of Currents is intended to help employees prepare for a possible power blackout due either to outages related to the current energy situation or as a result of any other emergency. Its development is part of a Lab-wide plan to be activated should the need arise.
"Berkeley Lab is putting together a comprehensive energy emergency plan that will cover notification, communication, elevators, and security, among others," says Valerie Quigley, program manager for the Emergency Preparedness Program. "Being prepared for a power outage helps us prepare for other kinds of emergencies, too."
As of today, Berkeley Lab continues to retain its status as an "essential-use" customer, which means it is not subject to rotating power outages — aka rolling blackouts.
Everyone is encouraged to keep the poster handy, just in case.

Bulletin Board
City Honors Young Women in Lab Program
Alexis Harris (left) and Portia Davis (right) are two of the young people honored with Berkeley Chamber of Commerce Scholarships on July 12 at the Chamber's annual dinner. These students, soon to be freshmen at Laney College, are Berkeley High graduates now working on the Hill thanks to a nonprofit school-to-career program organized by Berkeley Biotechnology Education, Inc. (BBEI). They are shown here with Cheryl Franklin-Golden, BBEI's executive director.
Harris is working this summer in the Life Sciences Division under the supervision of Mary Helen Barcellos-Hoff and Shraddha Ravani. Davis is spending the summer in the Genomics Division, at the Joint Genome Institute's Production Genomics Facility in Walnut Creek, under the supervision of Susan Lucas and Kristen Kadner.
The Chamber's scholarship is for $500. Photo by David Gilbert
Undergraduate Poster Session
Summer undergraduate researchers will present their work during the annual Laboratory Poster Session from 3 to 5 p.m. on Tuesday, Aug. 7 in the cafeteria. Approximately 65 students working in 11 divisions at Berkeley Lab are expected to participate.
The Center for Science and Engineering Education is sponsored this annual event, as it has for the past 14 years. All Laboratory employees are invited. Refreshments will be served.
Long Term Care Plan Extended
The CalPERS Long-Term Care Program has announced that the application deadline for enrollment into the program has been extended to Aug. 31. The programs offers employees various option for obtaining long-term care coverage in the event of a severe accident or long-term illness.
For more information or to request an application kit, call (800) 338-2244, visit the CalPERS website at www.calpers.ca.gov/longermcare, or call the Lab's Benefits Office at X6403.
Runaround T-Shirt Design Contest
The Employees Activities Association is soliciting volunteers to submit designs for this year's Runaround T-Shirt. The deadline for submission is Friday, Aug. 10. Artwork may only be submitted by e-mail as graphic digital files and addressed to Loida at [email protected] The selection will be made on Aug. 14.
LBNL Softball Club
Standings After Week 7
1. Fully Loaded, 8-0
2. Rated X, 7-1
3. Ballpark Estimates, 6-1
4. SUDZ, 6-2
5. Pedal Pushers, 5-3
6. Camshafts, 4-3
7. Animals, 3-4
8. Drosoftballa, 3-4
9. Cupcakes, 3-5
10. Las Chupacabras, 2-6
10. One Time Password, 2-6
12. Silver & Black, 1-7
13. Hard Drives, 0-7
Currents Takes Brief Summer Hiatus:
Aug. 10 Is Last Issue Before Labor Day
Once a year the Currents staff takes a short break to regroup, plan for the next fiscal year, and consider better ways to serve our readers. As a result, the paper will take a hiatus, skipping what would otherwise be the last issue in August.
Please consider this scheduling adjustment in case you would like to advertise an event, place an ad in the Flea Market, or contribute material for publication.
The next issue of Currents will come out on schedule on Friday, Aug. 10. Following the hiatus, we will resume publication on Sept. 7.
Further questions about the Currents schedule or submission deadlines may be directed to Lisa Gonzales at X4698.
We regret any inconvenience this may cause.
ALS Users' Meeting Invites Submissions for
Abstracts and T-Shirt Design
The ALS Users' Meeting Program Committee invites ALS users, including students and postdocs, to submit abstracts for oral or poster presentations for its annual Users' Meeting, to be held at Berkeley Lab on Oct. 15-17, 2001.
Abstracts can be submitted online at http://www-als.lbl.gov/als/usermtg/abstracts.html. Sept. 10 is the deadline for oral presentations and for the student poster competition. More information, including key deadlines, guidelines and forms, can be found on this site.
Aug. 1 Deadline for T-Shirt Contest
The event committee has also announced the return of its popular T-shirt design contest, with a submission deadline of Aug. 1. The winning design will be featured on the official meeting T-shirts.
The contest is open to anyone with an imagination. Designs should be no larger than 8.5 x 11 inches, and the words "Advanced Light Source" or "ALS" must appear in the design.
Send your designs by August 1 to Elizabeth Moxon at MS 4-230 or by fax to 495-2111.
Crafters Invited to 2001 Craft Fair
Lab artists and crafters are invited to participate in Berkeley Lab's annual Craft Fair, to be held this year on Nov. 14 in the Lab cafeteria. Vendor participation is free, except for the request to donate a product for the free door prize drawings.
No commercial products are allowed and all items must be hand-made (e.g., baked goods, ornaments, paintings, drawings, jewelry, pottery, photography, wood items, knitted or stitched pieces, etc.).
To be eligible to participate, crafters must be Lab employees or retirees or be sponsored by an LBNL employee. Tables and chairs will be supplied to each vendor.
To sign up contact Shelley Worsham at X6123 or [email protected]
Annual Close Meeting
The Financial Services Department will hold its Annual Close Meeting from 9:30 to 11 a.m. on Thursday, Aug. 16 in the Building 66 auditorium. Information on key dates and year-end processes will be distributed at the meeting.
Currents Online
The full text and photographs of each edition of Currents are published online at http://www.lbl.gov/Publications/Currents/. The site allows users to do searches of past articles going back to 1994.

Calendar
General Interest
JULY 30, Monday
SPECIAL LECTURE BY AUTHOR LAWRENCE KRAUSS
Noon, Bldg. 50 auditorium
Lawrence Centenary Lecture
8 p.m., Zellerbach Auditorium, UC Berkeley campus
LAWRENCE CENTENARY LECTURE
8 p.m., Zellerbach Auditorium
UC Berkeley campus
August
AUGUST 1, Wednesday
SUMMER LECTURE SERIES
12–1 p.m., Bldg. 50 auditorium
AUGUST 2, Thursday
SHOEMOBILE
7:30 a.m.–3:30 p.m., cafeteria parking lot
AUGUST 6, Monday
TRIPMOBILE
12–1 p.m., cafeteria parking lot
AUGUST 7, Tuesday
STUDENT POSTER SESSION
3–5 p.m., cafeteria
AUGUST 1, Wednesday
SUMMER LECTURE SERIES
HONORS ERNEST LAWRENCE
12–1 p.m., Bldg. 50 auditorium
Seminars & Lectures
AUGUST 3, Friday
CENTER FOR BEAM PHYSICS SEMINAR SERIES
Use of Low-Power Radar-Like Sensors for Real-Time Internal Organ Measurements
Speaker: John Holzrichter, Lawrence Livermore National Laboratory
10:30 a.m., Bldg 71, Albert Ghiorso Conference Room
Refreshments at 10:20 a.m.
Special Lectures
Lawrence M. Krauss of Case Western Reserve University in Ohio, author of the national best-seller The Physics of Star Trek, will present a noon lecture on Monday in the Building 50 auditorium. The lecture is sponsored by the Public Information Department in honor of the centenary of Ernest Orlando Lawrence, founder and namesake of this Laboratory. (See story on Page 1.)
The talk is drawn from Krauss's latest book, ATOM: An Odyssey from the Big Bang to Life on Earth and Beyond. In this book he explains the past and the future of our universe by recounting the birth and death of a single atom of oxygen. For his lecture Krauss will trace the biography of an oxygen atom that will be in a glass of water sitting on the stage.
Lawrence Centenary Events
The life and legacy of Berkeley Lab founder Ernest Orlando Lawrence will be remembered with two special events in honor of what would have been Lawrence's 100th birthday on Aug. 8.
On Monday, July 30, Berkeley Lab will sponsor the Lawrence Centenary Lecture, featuring Lawrence Krauss, the popular author of The Physics of Star Trek. The lecture, entitled "An Atom from Berkeley: A Cosmic Mystery Story," will start at 8 p.m. in the Zellerbach Auditorium on campus. The event is free and open to the public.
On Wednesday, Aug. 8 at noon, a special installment of the Summer Lecture Series will feature Mary Prud'homme, one of Lawrence's daughters, who will speak following a showing of the Heritage biographical film about Lawrence.

EH&S Classes — August 2001
| | | | | |
| --- | --- | --- | --- | --- |
| Date | Course | | Time | Building |
| 8/1 | EHS 116 | First Aid | 8:30 – 12:00 | 48-109 |
| 8/6 | EHS 278 | Ladder Safety | 2:00 – 3:00 | 51-201 |
| 8/8 | EHS 123 | Adult CPR | 8:30 – 12:00 | 48-109 |
| 8/8 | EHS 210 | Hoist | 10:30 – 12:00 | 51-201 |
| 8/9 | EHS 256 | Lockout/Tagout (LO/TO) | 1:30 – 3:00 | 51-201 |
| 8/13 | EHS 275 | Confined Space | 9:00 – 11:00 | 51-201 |
| 8/13 | EHS 274 | Confined Space Retraining | 11:00 – 12:00 | 51-201 |
| 8/13 | EHS 330 | Lead Hazard Awareness | 1:30 – 2:30 | 51-201 |
| 8/14 | EHS 10 | Introduction to EH&S at LBNL | 8:30 – 10:15 | 50-aud |
| 8/14 | EHS 60 | Ergonomics for Computer Users | 10:30 – 11:30 | 51-201 |
| 8/15 | EHS 276 | Fall Protection | 8:30 – 11:30 | 90-1099 |
| 8/15 | EHS 530 | Fire Extinguisher | 10:00 – 11:30 | 48-109 |
| 8/15 | EHS 280 | Laser Safety | 1:00 – 4:00 | 51-201 |
| 8/16 | EHS 400 | Radiation Protection- Fundamentals | 8:30 – 11:30 | 51-201 |
| 8/17 | EHS 432 | Radiation Protection- Lab Safety | 8:30 – 11:30 | 51-201 |
| 8/21 | EHS 154 | Building Emergency Team | 9:00 – 11:00 | 48-109 |
| 8/21 | EHS 283 | Ultra Violet User Safety | 1:30 – 2:30 | 51-201 |
| 8/22 | EHS 210 | Hoist | 9:00 – 10:30 | 51-201 |
| 8/23 | EHS 260 | Basic Electrical Hazard Awareness | 10:00 – 11:30 | 51-201 |
| 8/28 | EHS 135 | Earthquake Safety | 9:00 – 10:00 | 48-109 |
| 8/28 | EHS 735/ 738/739 | Biosafety/Bloodborne Pathogen | 1:30 – 2:30 | 48-109 |
| 8/28 | EHS 730 | Medical Biohazardous Waste | 2:30 – 3:30 | 48-109 |
| 8/29 | EHS 604 | Hazardous Waste Generators | 9:30 – 11:00 | 51-201 |
| 8/29 | EHS 622 | Radioactive/Mixed Waste Generators | 11:00 – 12:00 | 51-201 |
| 8/30 | EHS 61 | Ergonomics for Workstation Evaluator | 1:30 – 4:00 | 51-201 |
* Includes EHS 392/405, followed by the orientation. Please arrive at 8:15 for sign-in.
For more information or to enroll, contact Valerie Espinoza at [email protected] or enroll via the web at http://www-ehs.lbl.gov/ehstraining/registration/. Preregistration is required for all courses except EHS 10 (Introduction to EH&S). Times and locations are subject to change. For a full, updated schedule of EH&S training sessions see http://www-ehs.lbl.gov/schedule/.

AIM Computer Classes: July — Sept.
AIM, a Walnut Creek-based computer software training firm, provides onsite PC computer courses to Lab employees.
| | | |
| --- | --- | --- |
| Date | Course | Price |
| 7/30 | HTML Programming Level I | $225 |
| 8/21 | Excel 97 Intermediate | $150 |
| 8/22 | HTML Programming Level II | $225 |
| 8/23 | PowerPoint 97 Intermediate/Advanced | $150 |
| 8/28 | Dreamweaver 3.0 Intermdiate/Advanced | $300 |
| 9/10 | UNIX Fundamentals | $300 |
| 9/11 | Excel 97 Advanced | $150 |
| 9/12 | FileMaker Pro 5.5 Intermediate | $150 |
| 9/17 | FileMaker Pro 5.5 Advanced | $150 |
Classes are held in Bldg. 51L from 9 a.m. to 4 p.m. Class descriptions and registration procedure are available at http://www.lbl.gov/Workplace/EDT/computers/PC_Classes. html.
All in-house courses are taught on PCs with Windows 98®. The 97 series programs are used by the newest version of Microsoft Office for Windows 98®. Series 6.x programs for the Mac are nearly identical to the Windows 98® versions. For users of a Mac 6.x series or an older Mac or PC version, the material covered in these courses will be applicable.
For more information contact Heather Pinto at [email protected]

Flea Market
Autos / Supplies
'93 DODGE SHADOW ES convertible, 3.0 L V6, 5 spd, ac, cruise, pwr lock/win, lo mileage eng, new clutch, timing belt, tires & brakes, no eng or mech prob, perfect cond & int, minor paint prob on hood, all records avail, going to Europe & must sell, $3,900/bo, Frederic, X7544
'88 FORD ESCORT, hatchback, 2 dr, 153K mi, manual trans, runs well, recent smog cert, am/fm/ cass, $1,200, Christophe, X4473, 558-9749
'84 HONDA CIVIC WAGON, tan, 180K mi, automatic, am/fm/cass, recently replaced muffler, water pump, & brake shoes/cyl, incl snow chains, $1,200/bo, David, X7083, 658-3902
'69 VW BEETLE, eng & auto trans in exc cond, body pan rust, 93K mi, proceeds go to elem school benefit, $800/bo, Guy, X4703, Kathy, 482-1777
'67 VOLVO 122S WAGON, 250K mi, good cond, newly rebuilt eng, Ruth-Mary, X7844
Housing
BERKELEY HILLS home, 2+ bdrm 2+ bth, avail mid-late Aug through Fall term, lge yard & patio, view of SF & bridges, fully furn,w/d, liv rm, dining rm, music rm w/ piano, kitchen nook, $2,000/mo incl water & garbage, $1,500 sec dep, no smokers/pets, Andrew, (925) 279-3418 day, 655-4364 eve, [email protected] com
BERKELEY, College/Ashby area, 1 bdrm, furn, linen, dishes, hi-fi, VCR, microwave, sunny, safe, walk to UC, split level, hill view from terrace, garage, avail mid/ late Sept (flexible) for 1 yr, pref visiting researcher (mature, neat, nonsmoker), $975/mo, [email protected] att.net
BERKELEY, nice B&B near Walnut & Eunice, close to shuttle, $300/wk or $875/mo, Lorri, X7493
EL CERRITO on Colusa Ave, lge master bdrm suite w/ priv bth & extra rm (office, kid's rm, or walk-incloset) in shared house, near bus & BART, ideal for visiting scholar w/ small family, lge Tudor-style home, deck, bay views, full house privil, $1,200/ mo+$1,000 dep, mo-to-mo, first/ last/dep, share PG&E & bi-weekly cleaning, Sonia, X7358, (925) 798-2098 eve/wknd
NORTH BERKELEY, 1 unfurn bdrm in 3-bdrm apt, lge rm w/ priv bth, liv rm & kitchen fully furn, pleasant neighborhd, 2 blks from shopping, friendly female pref to share apt w/ 2 UCB females, avail for sublet 8/29-1/10, $659/mo, Jennifer, [email protected] uclink4.berkeley.edu
NORTH BERKELEY, B&B, close to shuttle, 1 garden cottage rm & 1 lge rm avail 7/15, 1 person per room, $850/mo or $300/wk, 2 weeks min, Hellen, 527-3252, Rachel, X6262
RICHMOND HEIGHTS, spacious partially furn studio in 2-story house, newly renovated w/ marble entry & bth, tile kitchen, approx 25-min drive to Lab, short walk to bus, BART & freeway access nearby, view of Mt Tam & bridges, priv entry, $1,000/mo, incl util, first/last/sec dep, no pets/ smoking, Keith, X4368, 236-1363
ROCKRIDGE, sublet, Nov to Aug (some flexibility), furn, 1 bdrm apt in lower half of house, opens to patio & lge garden, 5 min walk to shuttle & BART, newly remodeled kitchen, lots of closets, nice neighbrhd, walk to restaurants & shops, $915/mo, Pat, X7182, 658-7020
SAN FRANCISCO sublet, Aug – Oct, lge & sunny furn rm, shared bth, liv rms, kitchen, breakfast nook, parrot, deck & large garden w/ ponds, inner Sunset location, lots of restaurants, cafes & shops, good public trans connections, $1,000/mo Alice, (415) 664-8113, [email protected]
SOUTH BERKELEY, 1 bdrm, fully furn apt in 7 unit architectural bldg, 15 min walk to campus, quiet, near bus, shopping and park, $850/mo incl util, Guy, X4703, Kathy, 482-1777, 326-7836
Housing Wanted
LBNL SCIENTIST, wife & newborn seek long term rental of 1+ bdrm in Berkeley or Albany begin 8/15, Tom, X5319, [email protected]
VISITING PHD STUDENT seeks room for July - Sept or Dec, rent neg, Enrico, [email protected]
VISITING POSTDOC from Germany, spouse & child seek furn apt by week/mo starting 10/01, eventual perm housing for 2 yr apt, Jörg & Anja, [email protected] web.de
VISITING PROFESSOR, wife & 2 young children seek furn 2 bdrm apt for 4 months beg 11/01, Jan Meijer, [email protected]
VISITING SCHOLAR from Belgium seeks large studio or 1 bdrm apt, arriving UCB 8/14, 1 yr stay, [email protected]
VISITING SCHOLAR from Univ of Oxford seeks 1 bdrm apt or shared housing, 1 yr start approx 8/28, $500/mo max, [email protected]
VISITING SCHOLAR seeks studio/1 bdrm in Berkeley Hills or Kensington, Paola, 528-4985
Misc Items for Sale
16" BOY'S BICYCLE, purple & blk frame, calliper & pedal brakes, good cond, $25, training wheels incl, Agustin, 528-8504
AMANA REFRIGERATOR, 12 yrs old, runs great, approx 16 to 18 CF, needed gasket replacem incl, $300, Mike, X7061, 527-7898 eve
COUCH/DAY BED, pine frame back/arms, brown Marimekko print cushions, $50; desk, oak, antique, 3'x6-1/2', lge work space, file drawer + 4 drawers & pencil drawer, $250, Beth, 841-9216
CRIB, Bellini, natural wood color, $350, Bill, X7735, (925) 932-8252 eve
CRIB, ChildCraft, solid wood, light colored oak, matching headboard for single bed, $135/bo; stair stepper, barely used, $40/bo; Peg Perego high chair, up & down adjust & wheels, $40/bo; all in exc cond, Norm, X6724, 533-8765 anytime
DIRECTOR'S CHAIRS, 2, hardwood w/ natural canvas seats & back, light color, good cond, $10/ ea, Kathy, X4931
FOLDING SCOOTER new in box, never used, silver w/ clear/ smoke wheels, carry bag incl, $30, Kymba, X8671, 526-9565
GARAGE STORAGE, 10x20, secure, no smoking premises, El Cerrito near San Pablo & Central, no vehicles or workshop, avail 9/1, $175/mo, Nance, X7328, Joan, 526-9048
iMAC COMPUTER 350 MHz G3, Blueberry, 64 MB RAM, 6GB Ultra ATA Hard Disk, great condition, orig box, software, Internet-ready, orig CDs/manuals, $615/bo, Monica, X2248, 601-5757
LUGGAGE, 26" wheeled upright, blk, bought new, used once, $25, Loretta, X5200, 530-7112
REFRIGERATOR 21 cu ft w/ top freezer, approx 6 yrs old, like new, $200, Ron, X6476, (925) 432-4044
ROLL TOP DESK & matching chair, solid oak, lockable & false bottom drawer, must sell ASAP, $400/ob, Randy, X7026, (925) 228-7427
TREADMILL, electric, Cadence 2300, adj incline, calorie & pulse monitors, $130/bo, Dick, (925) 284-5236
TV, 27" Toshiba, PIP, stereo w/ remote, $50; oak TV stand w/ glass doors, $75, Richard, X4593
Vacation
KIHEI, MAUI, 1 bdrm condo, across street from Kam 2 beach, fully equipped, view the ocean/ Haleakela, $400/wk, Fred or Shar 981-2073 days, 523-4150 eves
PARIS, FRANCE, near Eiffel Tower, furn elegant sunny 2 bdrm apt, avail all year by week/month, Denyse, 848-1830
Pets
KITTEN, approx 13-week-old female, beautiful, green-eyed orange tabby, very sweet & loving, we have been her foster parents for 8 weeks, had first set of shots, is spayed, $75 adoption fee, Roby, X2241, Bob, X5576, (925) 831-1237
Free
DESK, 32x42, 3 drawers, Ron, X6476, (925) 432-4044
EL TORO SAILBOAT, teak, hull needs rebuilding, Guy, X4703, Kathy, 482-1777

Flea Market Policy
Ads are accepted only from LBNL employees, retirees, and onsite DOE personnel. Only items of your own personal property may be offered for sale.
Submissions must include name, affiliation, extension, and home phone number. Ads must be submitted in writing via e-mail ([email protected]), fax (X6641), or delivered/mailed to Bldg. 65B.
Ads run one week only unless resubmitted, and are repeated only as space permits. They may not be retracted once submitted for publication.
The deadline for the Aug. 10 issue Thursday, Aug. 2.