New Fire Department Partnership Optimizes Lab, County Resources

Two Berkeley Lab Technologies Win R&D 100 Awards
A Blast from the Past
Washington Report
Winning Robotics Team Coached by Lab Physicist
For the Record
Berkeley Lab Currents
Lab Showcases First Real-Life, 10-Gigabit-a-Second Demo
Summer Lecture Series
Bill Kramer on Cover of Computer Magazine
UC Retirement Center Now Open to Lab Employees
New Tuition Reimbursement Program this Fall
Lab and County Fire Fighters Honor One of Their Own
EnergyPlus Saves Federal Building $9 Million in Energy Costs
Tips to Stay Safe This High-Risk Fire Season
Bulletin Board
Calendar
EH&S Classes — July 2002
CompUSA Classes: July – September
Flea Market
Flea Market Policy
---
New Fire Department Partnership
Optimizes Lab, County Resources
By Ron Kolb
As the fire season in northern California reaches its critical stage, Berkeley Lab and Alameda County have taken a major step in expanding regional fire protection and boosting the Lab and the City of Berkeley's emergency capabilities.
The County's Board of Supervisors on Tuesday approved a two-year contract to manage Berkeley Lab's Fire Department, effective Aug. 1. The agreement maintains staffing and services at their current level at the Laboratory while ensuring selected neighborhood coverage in the city as defined in an automatic aid agreement in 1994.
At the same time, Berkeley Lab will join a network of resources that includes 224 professional fire and emergency personnel spread across 16 stations, 21 engine companies, and 461 square miles in Alameda County.
"This is one of those arrangements in which everyone benefits," said Sally Benson, Berkeley Lab's deputy director for operations. "The Laboratory strengthens its capabilities through new associations, the City of Berkeley gains a larger emergency infrastructure, and the county broadens its capacity at the western end. The citizens of city and county will be the beneficiaries."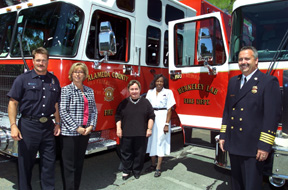 Celebrating the Lab's new fire services partnership with Alameda County are (from left) Jim Deatherage, shift captain at the Lab fire station; Lab Deputy Director Sally Benson; Berkeley Mayor Shirley Dean; Hattie Carwell, lead physical scientist for DOE's Berkeley Site Office; and Sheldon Gilbert, deputy chief for the Alameda County Fire Department. Photo by Roy Kaltschmidt
Mayor Shirley Dean of Berkeley echoed those sentiments. "As the fire season builds dramatically, it is comforting to see this kind of cooperation between our various fire-fighting entities," she said. "In partnership with the City of Berkeley Fire Department, the county and the Laboratory can now assure our hillside neighborhoods the maximal response time and experience to ensure our safety and security."
Mayor Dean was among the first to recommend Laboratory-community emergency service agreements years ago, and was instrumental in developing the automatic aid agreement currently in place. Under that memorandum of understanding, Laboratory fire personnel will answer calls from those areas in the city of Berkeley to which they can provide the fastest response. This presumes that the engine company is not previously occupied with a Lab emergency.
Berkeley Lab currently employs 12 full-time and three part-time firefighters. Any of them who choose to remain with the unit will become Alameda County employees under the agreement.
Benson said the consolidation follows a trend that's been evident for years throughout California — gaining economies of scale through multi-agency response agreements that multiply the resources that can be brought to bear on incidents.
"Managing services like these is not one of the Lab's core competencies," she said. "So we would rather rely on professional firefighting management capabilities to give us a more integrated emergency services competency."
Among those additional resources that the county brings to Berkeley Lab are coordination of emergency training and exercises, large-scale exercises, emergency medical services, fire prevention services, administrative services, and specialized equipment, such as a fully staffed hazardous materials team, air support, search-and-rescue equipment, and a heavy rescue vehicle.
The changeover will be transparent to employees, Benson added.
Alameda County Fire Chief William McCammon welcomed the addition of Berkeley Lab's station and personnel to his department. "We have an exceptional team here, and bringing aboard the expertise and resources of Berkeley Lab will only make us stronger. Strategically, it gives the people of Alameda County a geographically broader, more integrated web of services."
The Alameda County Fire Department has been in business since 1993 and today is responsible for providing emergency fire and medical response as well as fire prevention services to all residents of the unincorporated areas of the county, plus the cities of Dublin and San Leandro.
Among its recent acquisitions has been almost $300,000 worth of emergency response equipment for use in the event of incidents involving weapons of mass destruction. Also, in partnership with Lawrence Livermore National Laboratory, the department implemented a new Fire and Medical Communications Dispatch Center at the lab.
Berkeley Lab brings to the county a comprehensive menu of fire and emergency services, including paramedic and hazardous materials (hazmat) response. In 2001, Laboratory fire fighters responded to 681 calls, 74 percent of them in and around the City of Berkeley.

Two Berkeley Lab Technologies Win R&D 100 Awards
Two significant technologies developed at Berkeley Lab have been named winners of the 2002 R&D100 Awards. Every year since 1963, R&D Magazine has showcased the 100 best ideas in industrial and technical innovation through the annual awards program known informally as "the Oscars of Invention." The two Lab technologies thus honored are Computing Sciences' RAGE, a remote-controlled robot providing two-way interaction via the global Access Grid, and the High-throughput Nanovolume Crystallization Robot, developed by members of the Engineering Division.
RAGE Robot
The RAGE robot was conceived of, designed and built by staff members from the Lab's NERSC Center, Computational Research, and Information Technologies and Services divisions. The team includes John Shalf, Zach Radding, Deb Agarwal, Keith Jackson, Marcia Perry, Martin Stoufer, Joshua Boverhof, Dan Gunter, and Clayton Bagwell, with help from Eve Edelson (of the Environmental Energy Technologies Division). Also providing critical support was Engineering's Richard Kuiper, who allowed the team to use his machine shop on the sixth floor of Building 50B.
A roaming telepresence robot, RAGE is intended to enhance two-way interactive audio and video communication between groups connected by the Internet. It was specifically designed and built to provide mobile, remote connectivity to the Access Grid (AG), an international ensemble of multimedia display, presentation and interactive videoconferencing sites. AG is designed to support distributed meetings, collaborative work sessions, seminars, lectures, tutorials and training on a global scale. RAGE takes the AG beyond the walls of specially built facilities, thus making the AG more accessible and useful.
RAGE is a working demonstration of a number of ideas developed as part of the U.S. Department of Energy's efforts to develop collaborative tools to help scientists at sites around the country work together on experiments, research and computational science by providing access to unique scientific facilities.
Such collaborations require real-time interactive communication, remote control of instruments, and seamless access from remote, dispersed sites. RAGE incorporates work done at Berkeley Lab in this field and demonstrates how these tools can be easily adapted to new projects.
RAGE debuted last November at the SC 2001 conference (formerly known as Supercomputing), where the robot roamed the floor of the exhibition hall, attracting widespread attention. While at the conference, RAGE linked various events and exhibits to researchers who used Access Grid facilities in Asia, Europe and North America to participate in the conference. — John Bashor
Crystallization Robot
The High-throughput Nanovolume Crystallization Robot, the other R&D 100 Award winner developed at Berkeley Lab, automates and vastly accelerates protein crystallization, enabling protein structure determination at a historically unprecedented rate for the purpose of drug discovery.
The Crystallization Robot was developed by Berkeley Lab Engineering Division members Joseph Jaklevic, Derek Yegian, Jian Jin, William Kolbe, Earl Cornell, and Robert Nordmeyer. In addition, Ray Stevens of the Scripps Research Institute, Peter Schultz of the Genomics Institute of the Novartis Research Foundation, Bernard Santarsiero of the University of Illinois at Chicago, and Syrrx, Inc also collaborated on the project.
The robot is helping to expedite an important process called x-ray crystallography, in which researchers use synchrotrons such as the Advanced Light Source to study the structure of proteins produced by thousands of newly sequenced genes. However, one of the bottlenecks in this process has been growing protein crystals suitable for study. The traditional process, often conducted by hand, is slow and prone to error, typically producing only 30 trial solutions per hour. Moreover, it is not known whether a particular solution yields a crystal until days or weeks later.
But with the Crystal Robot, once a protein has been chosen, 480 different variations of growth solution can be used simultaneously, each in its own tiny reservoir in a plastic cassette. And crystal growth can be verified within a period of a few hours to a few days. Specifically, a camera checks the cassettes twice a day to detect the growth of tiny crystals in transparent reservoirs. Solutions that don't produce good results are rejected. And when crystals appear, the reservoirs can be returned for a second cycle under conditions tuned for optimum growth. — Dan Krotz

A Blast from the Past
By Monica Friedlander
When it comes to new cars, retro is in this year, with 1940s and 50s classic styling making a strong comeback. But if you had a sense of déja vu on June 21 while strolling through the cafeteria parking lot, it had nothing to do with 2002 models being rolled out. This was the real thing — a showing of some of the best classic cars around, all owned by Berkeley Lab employees.
"You never know what people have in their garages," laughs Kevin Bradley of the Engineering Division, the person responsible for making the 26-car nostalgia show possible. A classic car and hot rods enthusiast, Bradley took the time to organize the event — from the initial advertising and contacting of people to setting up the band and posting flyers.
"I had been thinking about doing this for about two or three years," he said. "I found there's a lot of interest for classic cars around the Hill, and I got a good response. It was nice for people with similar interests to get together."
The event was sponsored by the Employees Activities Association.
Bradley, who owns four beautiful oldies himself — including the 1970 Dodge Challenger and 1971 Plymouth GTX that were on display at the show — is amused by the new retro trend.
"It's fascinating to see what manufacturers can come up with in terms of the classic look and how they market it to the general public," he says. "But I prefer the real oldies. I'm more of a hands-on guy."
Cars at the show included everything from a 1923 Bucket T Roadster to a 1972 Oldsmobile Cutlass. His favorite: A brown, rusty 1930 Ford Model A pickup truck (upper left) by the name of Louise, assembled from parts by mechanical engineer Will Thur back in the 1970s. "It looks like something straight out of an old TV series," Bradley says. "Will Thur and his car fit the bill perfectly."
The show, the barbecue, and the band blasting 1950s hits made for a wonderfully nostalgic stroll down memory lane. But it was the license plate for the flashy Geo Blue 1937 Chevy Humpback Sedan that said it best: O TB 37. Photo by Monica Friedlander

Washington Report
Senate Approves Yucca Mountain Waste Site
After more than 20 years of study and debate, on July 9 the U.S. Senate by a vote of 60 to 39  approved a motion to support the Bush Administration's recommendation that Yucca Mountain be considered for development as America's first nuclear waste repository. The strong show of support drew an enthusiastic welcome from Secretary of Energy Spencer Abraham.
"The Senate has rightfully chosen to allow the process of developing a nuclear waste repository at Yucca Mountain to proceed to the next step, recognizing that the independent experts at the Nuclear Regulatory Commission (NRC) deserve the right to review the 24 years of scientific study of Yucca Mountain and to consider the site for a license," said Abraham. "Moving forward in the process also helps ensure that the clean energy generated by nuclear power will remain an important part of America's energy mix."
This past February, President Bush directed that the Yucca Mountain project proceed, stating that scientific research, such as the studies conducted by Berkeley Lab's Earth Sciences Division, had shown up to 77,000 tons of radioactive waste could be stored there safely for tens of thousands of years. However, a 1982 law allowed the governor of Nevada to veto the President's action, subject to a final decision by Congress. The House voted in favor of the Yucca site in May, 306 to 117.
Nevada's senators vigorously argued that transporting waste shipments across some 43 states is too big a risk. Secretary Abraham successfully led the opposition to this argument and was pleased with the outcome.
"Congress has recognized that the government has safely transported nuclear waste for more than 30 years and, in doing so, has rejected the transportation scare tactics employed by those opposed to Yucca Mountain," he said.
NRC Says U.S. Energy Vulnerable and Needs More Science
The National Research Council has called on the U.S. government and private industry to work together to provide technologies that will reduce the vulnerability of energy systems and other critical infrastructure to terrorist attacks. In a recent report, the NRC states that electricity, natural gas, petroleum and nuclear energy systems are all susceptible to attacks because of their dispersed and often isolated locations and their increasing reliance on computer systems to coordinate activities. The report also charges that deregulation of energy markets and accompanying declines in R&D investments by utility companies have made it more difficult for the energy industry to develop and deploy protective technologies.
"The challenge is to identify the threats, to identify responses to those threats, and to organize properly the nation's immense science and engineering capabilities to meet both short- and long-term needs," the report said. — Lynn Yarris

Winning Robotics Team Coached by Lab Physicist
Photo:  BrookhavenRobot.tiff
Jim Thomas of the Nuclear Science Division (third from the right, standing), working at Brookhaven National Laboratory on Long Island, NY, coached the Port Jefferson High School Robotics Team to a win in the regional competition of the US FIRST (For Inspiration and Recognition of Science and Technology) Robotics Competition. US FIRST matches professionals and young people to solve engineering design problems. The program reaches more than 20,000 students in 17 regional competitions, including Oakland's Castlemont High School Robotics Team, assisted by our own Engineering Division (see Currents, May 31, 2002).
Port Jefferson competed against 40 high schools, playing a modified form of basketball in which soccer balls are placed into baskets that must then be moved into scoring position — all this with 130 lb. robots they built themselves.
Said Thomas at the end of the third day, "Our pit crew moves as fast as the guys at the Indy 500." — Lisa Gonzales

For the Record
In the June 29 issue of Currents, the caption on a photo from Director Shank's State of the Lab address referenced questions he received about his scientific vision. The questioner in the photo, Yoshy Minamihara, notes that his inquiry pertained to issues of diversity at the Laboratory.

Berkeley Lab Currents
Published twice a month by the Communications Department for the employees and retirees of Ernest Orlando Lawrence Berkeley National Laboratory. Ron Kolb, Communications Department head.
EDITOR: Monica Friedlander, (510) 495-2248, [email protected]
STAFF WRITERS: Lisa Gonzales, 486-4698; Dan Krotz, 486-4109, Paul Preuss, 486-6249; Lynn Yarris, 486-5375
CONTRIBUTING WRITERS: Jon Bashor, X5849; Allan Chen, X4210
FLEA MARKET / CALENDAR: 486-5771
[email protected]/[email protected]
Lawrence Berkeley National Laboratory,
Communications Department, MS 65A0101
One Cyclotron Road, Berkeley CA 94720
Tel: (510) 486-5771 Fax: (510) 486-6641
Berkeley Lab is managed by the University of California for the U.S. Department of Energy.

Lab Showcases First Real-Life,
10-Gigabit-a-Second Demo
By Jon Bashor with Paul Preuss
When it comes to moving huge amounts of scientific data quickly across networks, Berkeley Lab is the reigning champ, winning top honors in the High-Performance Bandwidth Challenge at the premier high-performance computing and networking conference for two years running. After triumphs at SC2000 and SC2001, the Berkeley Lab team will be seeking its third straight win at this year's SC2002 competition.
The Lab team is joining with the same vendors who helped them win at SC2001, when they moved data across the network at a sustained rate of 3.3 gigabits per second in a live demonstration of computational steering and visualization — and with new partners as well. Companies include Force10 Networks for switches, SysKonnect for network interfaces, FineTec Computers for clusters, Quartet Network Storage for online storage, and Ixia for line rate monitors.
On Tuesday, July 2, the participants, led by Berkeley Lab's Mike Bennett, John Christman, John Shalf, and George "Chip" Smith, demonstrated a system running a true scientific application on one 11-processor cluster, with results sent across a 10-gigabit Ethernet connection to another cluster, where the data were rendered for visualization by Berkeley Lab's Visapult system.
Bennett says the July 2 demonstration was planned to demonstrate that existing applications can already take advantage of the increased bandwidth. As vast (and fast) as it seems, 10 gigabits per second is the new standard for Ethernet, the most widely installed local area network technology. Adopted by IEEE on June 18, "10-gig E" will be the simplest, fastest, and most cost-effective backbone network technology ever.
To put the 10-gigabit Ethernet in perspective, Bennett suggests, try this thought experiment: you want to download The Matrix, a movie whose raw digital version is a hefty 236 gigabits. On an average desktop machine it would take 66 hours, almost three days, to transfer over a DSL line. A much quicker Fast Ethernet connection would still take almost 39 minutes. But, says Bennett, "with 10-gigabit Ethernet, transferring the entire movie file takes 23.6 seconds."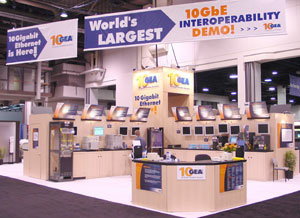 10-gigabit Ethernet Alliance showcases the world's largest 10 GbE interoperability network at the SC conference.
Scientific applications are more demanding. The demonstration simulated a binary black hole merger, using the Cactus code created primarily for astrophysical simulations at the Albert Einstein Institute in Germany, in concert with the Visapult application developed by Wes Bethel of Berkeley Lab's Visualization Group.
Shalf notes that codes like Cactus can easily consume an entire supercomputer; the Cactus team's first-ever simulations of the in-spiraling of two black holes ran for 1 million CPU-hours (114 CPU-years) at NERSC, the U.S. Department of Energy's National Energy Research Scientific Computing Center.
"When you make these big heroic runs, you don't want to find out after a week that one parameter was wrong and the simulation fell apart after a few days," says Shalf. "With 10-gig E you can get an accurate look at how the code is running."
Accurate monitoring on a desktop workstation, along with the ability to modify the visualization without accessing the original data, is made possible by Visapult's remote visualization capability, which is decoupled from the cycle time of the simulation code itself.
During the actual July 2 demonstration and its 12 hours of trial runs the system transferred nearly 60 terabytes of real data and posted a peak performance line rate of 10.6 gigabits per second. Bennett says, "We proved that 10-gig E is a reality, not just a bunch of back-of-the-envelope calculations."
As far as Bennett knows, he says, this is the first real-world demonstration of 10-gig E capability. "What we are demonstrating is that it does work in the real world," he says. "You can take one vendor's equipment and plug it into a cluster connected to a network and get that 10-gig level of performance."
Capacity to meet the new standard will likely be concentrated in the research and university communities until costs come down, but other applications should follow quickly — in health, where motion-picture-quality streaming video could augment surgery and education; in wide-bandwidth commercial web applications; in the finance industry; and even in the movie business: some of those in attendance at the demonstration were from Pixar Animation Studios, and Chip Smith notes that "their computer animations are a good candidate to benefit from higher-bandwidth connections."
Shalf recalls a previous SC conference where the latest network technology was greeted skeptically. "We were asked, 'How are you going to deal with this infinite bandwidth?'"
That was 1995. Today, says Shalf, "our excitement over the possibilities this new technology unlocks is tempered by the fact that we remain such a long distance away from anything approximating 'infinite bandwidth.'"
For more about IEEE's 10-gigabit per second Ethernet standard, see http://www.10gea.org/

Summer Lecture Series
Dark Energy and the Universe
"We live in a universe that's accelerating, and two-thirds of it is something called dark energy," NERSC astrophysicist Peter Nugent told the crowded Building 50 auditorium on July 2, in the second of the Summer Lecture Series sponsored by the Lab's Communications Department.
Nugent joined the Supernova Cosmology Project in 1997, shortly before supernova studies revolutionized cosmology. The new cosmology's most puzzling feature is dark energy, which resembles Einstein's cosmological constant — or maybe not. "The reason we call dark energy 'dark' is that we know almost nothing about it," he said.
Nugent's talk ranged from supernovae being collected by the Nearby Supernova Project to which he belongs — merely tens of millions of light years away — to supernova 1997ff, which he helped identify as the most ancient, most distant one yet found, more than 11 billion light years from Earth.
Beginning as white dwarfs sucking mass from binary companions, Type Ia supernovae detonate in titanic thermonuclear explosions of remarkably uniform brightness. Comparing their apparent brightness (thus distance) with their home galaxy's redshift reveals how spacetime has stretched since they went off.
As distance estimators Type Ia's are accurate to seven percent – far more accurate than other "standard candles"– "yet they are not so much 'standard candles' as 'standardized candles,'" Nugent noted. By gathering more supernovae spectra from near and far and modeling their differences with NERSC's supercomputers, he hopes to narrow the remaining uncertainties. Eventually this will help narrow the choice of theories about dark energy. — Paul Preuss
Lithography Takes Center Stage
Nanotechnology may be the wave of the future, but who makes the tools that make the nanomachines? On July 9 Keith Jackson of the Center for X-Ray Optics (CXRO) explained to a crowd of almost 200 how lithography is used to construct tiny objects, from computer chips to nanomachines.
"You have to have tools that will allow you to make the nanostructures," he said, describing the processes he and his colleagues use to make devices with features only a few tens of nanometers wide — smaller than the wavelength of visible light.
Scientists at CXRO conduct research in the cutting-edge fields of x-ray lithography (LIGA), projection lithography and electron-beam lithography. Berkeley Lab is responsible for some of the smallest lines ever printed using projection lithography, and is home to the Nanowriter, an electron-beam lithography system that is one of the most advanced instruments of its type in the world.
The technology of the future will need tiny devices for ever-faster and more compact computer chips, as well as for nanomachines.
With such success under their belt as a 150-nanometer-wide heat exchanger for a high-powered diode laser and ultra-thin lenses for the optics in imaging x-ray microscopes, Jackson and his colleagues are forging the future of nanotechnology today at Berkeley Lab. — Pam Reynolds
Upcoming Lectures
Featured next Tuesday, July 16, as part of the Summer Lecture Series will be Hakeem M. Oluseyi of the Physics Division, a member of the SNAP (Supernova Acceleration Probe) team. He will speak about "CCD Detectors for High Redshift Supernova Studies."
On Wednesday, July 24, Ashok Gadgil of the Environmental Energy Technologies Division will speak  about "Protecting Building Occupants from Chemical and Biological Agents: Current Research at Berkeley Lab."

Bill Kramer on Cover of Computer Magazine
While Bill Kramer's official position at the Lab is head of NERSC's High Performance Computing Department and the center's high-performance computers, he's also been dabbling in high-performance networks for the past couple of years. At the SC2000 conference in Dallas, Kramer was conference vice chair for Information Architecture, responsible for building and deploying SCinet, the huge network (OC-192) created each year for the conference. At SC01, he was in charge of the High-Performance Bandwidth Challenge competition and a member of the network monitoring team.
Now Kramer has translated that experience into a cover story for the June issue of the IEEE's Computer magazine focusing on "The New Net." In his eight-page article, he describes SCinet as a testbed for high-performance networking applications and explains how such network capability can advance scientific research.

UC Retirement Center Now Open
to Lab Employees
Berkeley Lab has established a new relationship with the UC Berkeley Retirement Center which will give LBNL retirees, as Center affiliates, access to the programs, discounts, and services offered by the facility. Funds to support the addition of LBNL retirees were provided by the Lab for a one-year pilot program.
"Berkeley Lab retirees are a living extension of the Laboratory, and we truly value their past service and contributions," said Richard Takahashi, benefits manager at Berkeley Lab.
Services and programs to which Lab retirees are now entitled include:
20/20 Vision Plan


subscription to The CenterPiece, the Retirement Center newsletter


discounts on night/weekend and summer parking coupons


access to the Scholar's Workstation, the campus computer retail store


e-mail and Internet access for $13 per month (plus $10 setup fee)


free campus library card


long-term care insurance counseling
The Center's policies are overseen by a policy board that now includes a Lab retiree, Bob Birge. Center Director Shelley Glazer, along with her staff, run the facility, located on campus at 2 Boalt Hall # 7200.
For more information call 642-5461 or look up the Center website at http://thecenter.berkeley.edu/.

New Tuition Reimbursement Program this Fall
A new tuition reimbursement program adopted by Berkeley Lab will make its benefits more accessible to career employees.
"It was very important to Director Shank that we develop a strategy to make continuing education more broadly available to our staff," said Human Resource manager Cynthia Coolahan. This was also a strong recommendation of the Workforce Diversity Committee. Human Resources, working with Harry Reed, head of the Workforce Diversity Office, examined programs at comparable institutions in order to make a recommendation that would most effectively support the Director's goal.
Tuition reimbursement will follow a two-tier system similar to that of the Los Alamos and Livermore labs. Tier 1 is available to employees pursuing either a degree or professional certification. From now on, the Lab will pay the full amount of tuition, instead of only two-thirds. Furthermore, this money can be advanced so that employees don't have to pay it up front.
"This is really a significant change that will broaden the affordability of participation, especially to non-exempt personnel," said Coolahan. Employees may pursue a field related to their current position or one that they can reasonably aspire to attain at the Lab. The process entails the submission of a developmental plan. For someone who intends to change career paths, their department head must authorize the proposed plan. A review can be requested if the plan is denied.
The Tier 2 program is for those who wish to take a course at an academic institution but are not interested in pursuing a degree or certification. The course must still be career-oriented. For Tier 2 participants, two-thirds of tuition is covered.
The  tuition reimbursement program becomes effective as of the Fall 2002 semester, and current participants may apply it retroactively to the Spring 2002 semester. The program is available to all career employees and is paid for through payroll. Participants will receive six paid hours off per week, with no reimbursement for travel or books.

Lab and County Fire Fighters
Honor One of Their Own
Lab firefighters attended the funeral of Sekou Turner, a rookie firefighter from Alameda County. On May 22 Turner had just assisted with CPR on a medical call and was loading a patient into an ambulance when he suddenly collapsed. He was taken to San Ramon Regional Medical Center, where he was pronounced dead. The cause of death has not yet been determined.
Turner finished the fire department's 14-week training on Oct. 8 — one of 22 recruits who were the first to enter the profession in the aftermath of Sept. 11. The deaths of 343 firefighters at the World Trade Center in his final weeks of training, Turner had said, only added to his pride in becoming a fireman himself.
"It just made me more proud to know that regardless of where you work, firefighters are willing to lay down the ultimate sacrifice," he said at his graduation. He will be missed.

EnergyPlus Saves Federal Building
$9 Million in Energy Costs
By Robin Johnston
EnergyPlus software — a building energy simulation program distributed by Berkeley Lab — has been integral to the design of a new federal office building to be built in San Francisco. EnergyPlus contributed to nearly $9 million in energy costs savings projected over 20 years, according to Tim Christ, project manager for the building's lead design firm, Morphosis. The modeling tool was also used to simplify the building's facade, saving taxpayers an additional $1.5 million in construction costs. Groundbreaking for the building is scheduled for July 15.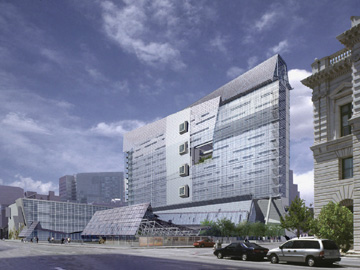 Computer rendering of the new federal building to be built in San Francisco. The building was designed with the aid of the EnergyPlus software distributed and partly developed by Berkeley Lab.
The simulation program allows designers to calculate the impacts of different heating, cooling, and ventilating systems, as well as that of various types of lighting systems and windows.
EnergyPlus was developed as a collaborative effort between Berkeley Lab's Simulation Research Group, led by Fred Winkelmann of the Environmental Energy Technologies Division, the University of Illinois at Urbana-Champaign, and the U.S. Army Construction Engineering Research Laboratory, with assistance from other research organizations. The DOE Office of Building Technologies funded the project.
"We are the first people to use EnergyPlus to model natural ventilation flows for a major building," notes Philip Haves of the Commercial Buildings Systems Group at Berkeley Lab.
The new San Francisco building will use natural ventilation to provide cooling without the use of fans or refrigeration. Most of the year the building will be cooled by natural airflow through the windows. In hot weather, interior heat is absorbed during the day by exposed heavy weight ceiling slabs; the stored heat then dissipates at night when the air is cooler. Cooling and ventilation were maximized by orienting the building and its windows to take advantage of natural wind conditions.
Erin McConahey of Arup, the engineering consultants on the project, says, "Basically, other energy simulation programs can't deal with the natural ventilation issues. The combination of air flow and energy modeling in a single package not only allowed us to predict energy performance, but also to calculate surface temperatures, track air change rates, and predict thermal comfort. The Berkeley Lab modeling tool provided crucial corroboration of our design work."
Implementation of natural ventilation required a complete rethinking of interior office space design. "Instead of having cellular offices around the outside of the building and open plan office space in the interior, free air flow required open plan office space on the exterior and cellular offices and other enclosed spaces along the spine. These enclosed spaces have lowered false ceilings with space above to allow air driven by wind pressure to flow from one side of the building to the other," explains Haves. Although this stands traditional hierarchical office structure on its head, the concept was ultimately accepted by the General Services Administration, the federal client for the project.
In 2000, when the San Francisco federal building project was in its infancy, architects with Morphosis were interested in using only natural ventilation for the top 13 floors. Security concerns mandated that the lower floors be completely sealed. They were hesitant to move forward with the idea, however, without some validation through modeling to assure them that the building could meet comfort standards without air conditioning. An EnergyPlus modeling analysis conducted by Haves convinced the design team and its clients that natural ventilation would keep the building comfortable during San Francisco's brief but significant episodes of hot weather.
"When we first started, we weren't sure which modeling program would enable us to gain a full understanding of how the building systems would all come together," says Christ. "The EnergyPlus model gave us a more accurate picture and led to a considerable increase in efficiency and direct savings in construction costs. We would not have been able to get there without Phil's input."
Although Berkeley Lab's contribution to the design of the building has been completed, Haves is still working on the project, helping the designers with strategies to optimize indoor comfort by opening and closing windows at different times of the day.
One problem designers still need to address is how to reconcile these automated strategies aimed at overall building comfort with the desire to allow individuals to open and close windows near them. The use of operable windows and day-lit interiors was found to contribute to the productivity, health, and workplace satisfaction of building occupants, according to studies conducted by Gail Brager, a professor at UC Berkeley.
Since Berkeley Lab first released the EnergyPlus software in April 2001, the program has been licensed by 8,000 end users, 50 collaborative developers, and five commercial distributors. Seth Rosen of Berkeley Lab's Technology Transfer Department explains, "Our software licensing strategy for EnergyPlus was designed to create a community of contributing developers whose skill and expertise could complement the core EnergyPlus development team. It's gratifying to see this strategy succeed."
Robin Johnston is a science writer with the Technology Transfer Department.

Tips to Stay Safe This High-Risk Fire Season
With fire season upon us once again, the Lab's Fire Department and Fire Protection and Emergency Preparedness Programs would like to remind everyone that the fire fuel load is especially high this year due to the wet weather and long cool spring. Berkeley Lab is especially attentive to managing the onsite vegetation so flames and heat from a potential wildland fire would not seriously damage our buildings. (For more on the Lab's Vegetation Management Program see the Jan. 12, 2001 and Sept. 7, 2001 issues of Currents.) Nevertheless, as the vegetation dries out, the fire risk becomes especially high, and your cooperation is needed to stay safe this summer. Please keep the following safety measures in mind:
Pay attention to the signs posted at the gates alerting people about general fire conditions. Remain watchful, especially on red flag days (low humidity, high temperatures, winds from the East).



Remember that smoking is strictly prohibited in areas with dry grass/vegetation.


Park vehicles on paved or shielded surfaces only. (Roughly 25 percent of California's wildfires start along roadsides, most often from vehicles' hot catalytic converters touching roadside grass or from discarded cigarettes.)



Prior to starting any work that can create flames, sparks or heat sufficient to start a fire (welding, torch cutting, burning, metal grinding, brazing, copper sweating, heat gun use, etc.) make sure to obtain a "Hot-Work" permit from the Fire Department. The permit requires that a fire watch be present during the work and a minimum of 30 minutes after completion of the work (additional time will be assigned when warranted).



Know the location of a phone closest to your work site. If you see or smell smoke, report it immediately by calling X7911 (or 486-6015 from a cell phone).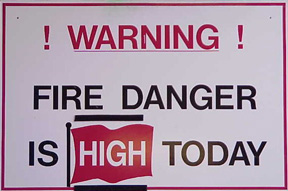 Signs such as this one are posted at Lab gates to warn employees of current fire conditions.
Should it ever become necessary to evacuate buildings because of a fast moving wildfire, follow these steps:
Listen for public address system. Information and instructions will be broadcast and repeated over the building manager radio system.


Pay attention to instructions regarding the type of evacuation being requested — vehicular and/or pedestrian (on foot).


Follow directions!
More information, including a 10-minute streaming video about the Lab's fire evacuation plan, can be found at https://www.lbl.gov/ ehs/ep/fire.shtml.
Information about making your home fire safe is available at http://www.fire.ca.gov/Education/pdf/Checklistrevised.pdf.
For other questions call Valerie Quigley, emergency preparedness program manager, at X7032 or Rob Campbell, fire protection engineer, at X6370.

Bulletin Board
Eleanor Davisson, Lawrence Assistant, Dead at 96
Eleanor Davisson, a former secretary to Lab founder Ernest Lawrence, died on June 14 in Monterey. She was 96.
Davisson was born in Stockton in 1907 and earned an associate of arts degree from UC Berkeley. She started her career on the Hill during the war years, and served as personal secretary to directors Lawrence and Edwin McMillan. She retired from the Lab in 1968.
An avid photographer, Davidson moved with her husband to Pacific Grove after her retirement. They were charter members of the Berkeley Camera Club, and many of Davisson's photographs are in the archives of Pacific Grove's Natural History Museum.
Davisson is survived by her sister Miriam Charrier. She was preceded in death by her husband, Richard.
Cremation and burial took place at Chapel of the Chimes in Oakland. Memorial contributions may be made to the staff at Monterey Pines Nursing Facility.
Tickets for Day at Great America 
Berkeley Lab's Employees Activities Association is sponsoring a family day and picnic at Paramount's Great America on Aug. 10, 10 a.m. to 9 p.m. The cost is $28, which includes parking, entrance and food (all-you-can-eat barbecued chicken, chili beans, pasta salad, soda, and ice cream). The picnic area will be open from 11 a.m. to 3 p.m., with meal service from 12 to1 p.m. For an additional $4 you may purchase "bottomless sodas" for outside the picnic area.
You may purchase tickets every Wednesday from 12 to 1 p.m. at the cafeteria entrance, or order them by mail by sending a check (payable to UC Regents) to Lisa Cordova, MS46-125. Tickets will be available July 10. For more information contact Lisa at X5521.
Yoga Club
Berkeley Lab's Yoga Club invites employees to join a new class on "Gentle and Flowing Yoga" on Thursdays at 11:45 a.m. in Building 70A-3377.  Beginners are welcome. Wear comfortable clothes to class. Mats and props are provided. Suggested donation is $5-$12. In addition, the Yoga Club offers classes on Wednesdays and Fridays at noon. For more information contact Maya at X2908.
Network Security Talk Postponed to July 22
The date of Michele Crabb-Guel's brown bag talk on "Mistakes People Commonly Make In Network Security" has been pushed back one week to Monday, July 22 due to a scheduling conflict. Crabb-Guel is a well-known Unix security expert and a co-founder of SANS. She works at Cisco Systems in San Jose. The talk will be held at noon in the Building 50 auditorium.
Spring Blood Drive a Success
Thanks to your generous donations, the Spring Blood Drive held at Berkeley Lab in May resulted in the collection of 82 units of blood from our volunteer donors — nearly a 20 percent increase from the previous event held here.
Donating a unit of blood usually takes less than an hour, from registration to post-donation refreshments. And it can help save a life.
The American Red Cross Blood Services, Berkeley Lab, and the community who will benefit from the donation appreciate the generosity of Lab employees. A special thanks also goes out to those who offered gifts for the prize drawing, including the EH&S Division, along with Blockbuster Video, Caffino Coffee, Cody's Books, and Wilma's Catfish Kitchen,
The next onsite blood drive will be held on Aug. 6-7. Please mark your calendars. For additional information contact Charlotte Bochra at X4268.
Beach Cleanup and Visit to Shorebird Nature Center
On Tuesday, July 16, the Green Team at Berkeley Lab is sponsoring a beach cleanup and visit to the foundation of what will be the Straw Bale Building/Shorebird Nature Center on the Berkeley Marina. The event will be held from 11:40 to 1:30. Participants will meet at the Building 65 bus stop and leave on the 11:40 bus to the Marina. Bring sun protection (hat, sunglasses, sun screen) and work shoes. Drinks and gloves will be provided.
The Nature Center is a City of Berkeley-owned portable building to be used for environmental education. Berkeley Lab and the U.S. Department of Energy were among the funding organizations, which also included the West Berkeley Foundation, the Strong Foundation, the California Integrated Waste Management Board, and the Alameda County Waste Management and Recycling Board.
Environmental features include straw bale exterior walls, passive solar design, building integrated photovoltaics, hot water solar panels for radiant heating system, interior walls made from compressed straw panels, and recycled and sustainable harvested wood framing.
The building is scheduled to be framed up this month and the bales should be installed on a weekend soon thereafter. The project is expected be completed by November.
For more information see http://www.ci.berkeley.ca.us/marina/marinaexp/newbldg.html.

Calendar
General Interest
JULY 16, Tuesday
SUMMER LECTURE SERIES
Hakeem Oluseyi on "CCD Detectors for High Red-shift Supernova Studies," noon, Bldg. 50 auditorium
Beach Cleanup & Visit to Straw Bale Building
11:40 – 1:30 p.m., meet at Bldg. 65 bus stop
JULY 17, Thursday
SHOEMOBILE
7:30 a.m. – 3:30 p.m., cafeteria parking lot
JULY 22, Monday
CYBERSECURITY PRESENTATION
12 – 1 p.m., Bldg. 50 auditorium
JULY 24, Wednesday
SUMMER LECTURE SERIES
Ashok Gadgil on "Protecting Building Occupants from Chemical and Biological Agents,"
Noon, Bldg. 50 auditorium
JULY 26, Friday
NETWORK SECURITY COURSE
9 a.m – 5 p.m., Bldg. 54 Perseverance Hall
Seminars, Lectures, Conferences
JULY 12, Friday
CENTER FOR BEAM PHYSICS SEMINAR SERIES
Measuring and Understanding the Momentum Aperture in Particle Accelerators
Speaker: Christoph Steier, Physics Division
10:30 a.m., Albert Ghiorso conference room, Bldg. 74-264
Refreshments served at 10:20 a.m.
JULY 26, Friday
EARTH SCIENCES DIVISION'S "PAUL WITHERSPOON DISTINGUISHED SEMINAR SERIES"
Investigations on Fracture Flow in Rocks from the Parallel Plate Model to Undergound Research Laboratories
Speaker: Paul A. Witherspoon, Earth Sciences Division
11 a.m., Bldg. 50 auditorium
NCEM's Second NTEAM Workshop
Materials Research in an Aberration-Free Environment
July 18-19
The National Center for Electron Microscopy is sponsoring a two-day national workshop on July 18-19 focusing on the new materials science that could be explored by electron imaging and analysis methods should current limitations imposed by electron optical lens aberrations be overcome. Participants will include Pat Dehmer, Uli Dahmen and Daniel Chemla. For more information see http://ncem.lbl.gov/nteam.htm
Network Security Course
July 26
A daylong course on network security will be offered at the Lab on July 26. The course will overview network security and cover issues in networking protocols, firewalls and screening routers, web security, email security, and network encryption. There's no fee for the class, but space is limited and enrollment available on a first come, first served basis.
The course will be held from 9 a.m. to 5 p.m. in Perseverance Hall and will be taught by Jim Mellander and Gene Schultz of the Lab's Computer Protection Program. To enroll, use the training option of the employee self-service website at http://hris.lbl.gov/.

EH&S Classes — July 2002
Date

Course

Time

Location

7/16

EHS 20

ES&H for Supervisors

9:30 – 11:30

Bldg. 51-201

7/16

EHS 135

Earthquake /Wildland Fire Safety

11:00 – 12:00

Bldg. 48-109

7/16

EHS 260

Basic Electric Hazard Awareness

1:30 – 3:00

Bldg. 51-201

7/17

EHS 231

Compressed Gas

9:30 – 12:00

Bldg. 51-201

7/17

EHS 530

Fire Extinguisher

10:00 – 11:30

Bldg. 48-109

7/17

EHS 280

Laser Safety

1:00 – 4:00

Bldg. 51-201

7/17

EHS 530

Fire Extinguisher

1:00 – 2:30

Bldg. 48-109

7/18

EHS 60

Ergonomics for Computer Users

1:00 – 2:30

Bldg. 51-201

7/23

EHS 348

Chemical Hygiene Safety

9:00 – 12:00

Bldg. 51-201

7/23

EHS 231

Compressed Gas Safety

1:00 – 3:30

Bldg. 51-201

7/24

EHS 10

Introduction to ES&H at LBNL

1:00 – 3:00

Bldg. 51-201

7/25

EHS 400

Radiation Protection-Fundamentals

9:00 – 12:00

Bldg. 51-201

7/25

EHS 135

Earthquake/Wildland Fire Safety

1:30 – 2:30

Bldg. 48-109

7/26

EHS 432

Radiation Protection-Lab Safety

8:00 – 12:30

Bldg. 51-201

7/30

EHS 735/
738/739

Biosafety/Bloodborne Pathogen

1:30 – 2:45

Bldg. 51-201

7/30

EHS 730

Medical/Biohazard Waste

2:45 – 3:30

Bldg. 51-201

7/31

EHS 604

Hazardous Waste Generator

9:30 – 11:00

Bldg. 51-201

7/31

EHS 622

Radioactive & Mixed Waste

11:00 – 12:00

Bldg. 51-201
To enroll, contact Valarie Espinoza at [email protected] or enroll via the web at https://hris.lbl.gov/self_service/training/. Preregistration is required for all courses except EHS 10. For a full, updated schedule, see http://www-ia1.lbl.gov/schedule/.

CompUSA Classes: July – September
CompUSA provides onsite PC computer courses to Lab employees. All courses are $145 and are held in Building 51L from 9 a.m. to 4 p.m.
| | |
| --- | --- |
| Date | Course |
| 7/29 | Excel 2000 Fundamentals |
| 7/30-7/31 | Project 2000 Fundamentals (2-day class) |
| 8/1 | Access 2000 Fundamentals |
| 8/5 | Powerpoint 2000 Fundamentals |
| 8/6 | Presentation Skills using Powerpoint |
| 8/19 | Dreamweaver 4.0 Introduction |
| 8/20 | Visio 2000 Introduction |
| 9/10 | Excel 2000 Intermediate |
| 9/17 | Powerpoint 2000 Intermediate |
Class descriptions and registration procedure are available online at the Employee Self Service website, https://hris.lbl.gov/. For more information, to request a class, or to provide feedback about the program, contact Heather Pinto at [email protected].

Flea Market
Autos & Supplies
'97 JEEP WRANGLER, runs great, am/fm/cass, dual airbags, dk blue, 5 spd, 4 cyl, $7,300/bo, Vill, (650)245-5277
'97 FORD ESCORT LX/SP, 70K mi, clean title, dual air bags, smogged, manual, am/fm/cass, perf cond in/out, $5,200, Kaspar, X6605, 704-8303
'93 SUBARU LOYALE WAGON, 5 spd, 4dr, 119 K mi, awd, am/fm/ cass, ac, all pwr, silver/grey, perf body, clean int, runs great, well maint, new clutch & tires, just smogged, $3,500/ bo, Johanne, X4368, Yann & Johanne, 649-7603
'89 TOYOTA COROLLA, gold, 4 dr, 5 spd, 4 cyl, 82K mi, am/fm/ cass, ac, good cond, $2,000, Jim, X6480, 654-1900
'89 SAAB 900S 16V, 4 dr, 114K mi, at, pwr win/lock, cruise, sunrf, alloy wheels, am/fm/cass, good cond, $2,200/bo, Ralf, X7590
'86 FORD TEMPO 88K mi, 4 dr, 4 cyl, pwr steer, am/fm stereo, runs well, fair cond, $699/bo, Serena, X2925, 704-9086
'84 VOLVO Turbo, white, 5 spd, 187K mi, smogged, runs but needs a little work, $1,200/bo, Jim, X6647
'84 BMW 318i, silver, 2 dr, 5 spd, sunrf, new eng, needs shocks, well maint, reliable, great starter car, $1500/bo, Ginny, X7413, 834-6584
'83 MERCEDES, 300D turbo diesel, gold, 219K mi, good cond, $3,600/bo, Dennis, X4055, 528-4694
TRUCK SHELL, fits 8' bed, white, only used twice, $500/bo, Sally, X2405, 644-3856
HOUSING
BERKELEY studio apt downstairs in home, avail now, short walk to Lab/pub trans, priv ent, garden, gas range, refrig, all utils, cable internet, $800/mo + occasional pet/garden-sitting, first + last + $400 sec dep, refs & credit rep, John, [email protected], X5307, 841-7875
BERKELEY, sunny bdrm w/ priv deck in Elmwood, shared kitchen & bth w/ prof woman & mellow cat, furn avail, util & cable internet incl, nice atmosphere, female tennant pref, $525/mo; Jane, 845-0467
BERKELEY, Hearst Commons, resid community of UC, Lab & grad students, 1146-60 Hearst nr University & San Pablo, close to pub trans & bike path, reserved parking, studio townhouses w/ decks, $950-$995, hardwd flrs, skylights, dw, disposals, ac, intercom, sec, 666-1150 for showings, [email protected] for pictures 
CENTRAL BERKELEY, nice furn rms, kitchen, laundry, TV, DSL, hardwd flrs, linens, dishes, contin breakfast, walk to shuttle, campus, shops, $950/mo incl utils, $350/wk, Jin or Paul, 845-5959, jin.young @juno.com, Paul, X7363
KENSINGTON, furn room avail 7/1 - mid Aug, flex, $400/mo, kitchen, laundry & garden, Ruth, 526-2007
NO BERKELEY HILLS, 10 min walk to Lab, furn room, priv bth & kitchen in shared house, DSL, avail 7/15-9/30 to visiting scientist, [email protected]
NO BERKELEY, charming, furn. 1 bdrm apt w/ hardwd flrs & bay win, 2 min walk to campus & shuttle, avail 7/1–8/31, $1,450/ mo; Stefan, X5205, 666-8330
NO BERKELEY, 2 bdrm partly furn apt, near park, sunny w/ priv patio, 3 blocks to BART, avail 8/1-11/30, ideal for visiting prof, $1,650/mo, Sreela, X4391, 898-3212
SAN FRANCISCO, Castro, nice room in great 3 bdrm house, shared w/ 2 females, deck, big kitchen, liv rm w/ fp, 2 min walk to Muni, $900/mo + $500 dep, avail 8/1, female only, Daniela, X5077, [email protected] 
SAN LEANDRO, big, 3 bdrm for 2 people, priv bth, off-str parking, storage, w&d, dw, fp, patio, plants, walk to shops & rec, close to freeways/ BART, safe neighbrhd, 1 person needed to share, avail 7/13, $850/mo+1/2 util, first/last, Shelley, X6123, Holden, 614-8535
WALNUT CREEK , Alvarado Ave, lge 1 bdrm apt on ground flr of 4plex, patio, carport, pool, avail after 7/3, $850/mo, Bob, (925) 376-2211, [email protected]
Housing Wanted
VISITING PhD student from Israel seeks 1 bdrm apt or room 7/28-10/10, pref close to campus, [email protected] or, 972-2-6781422
Misc for Sale
MOVING BOXES & paper for sale, used once, Dennis, X4055, 528-4694
10" TABLE SAW, floor standing model w/ retractable whls, good cond, 3/4 hp motor, $100/ bo, Chuck, X4461, 521-6368.
1927 Ladies Home Journal, $5/bo, Ken x7739, 482-3331
BACKYARD swing set for young children, classic A-frame w/ 2 swings, slide, see-saw, 'conversation seat', 15-1/2 x 5-1/2 x 6' tall, been in the sun but otherwise in good cond, in Martinez, Marc, (925) 932-5208
GAS DRYER- Kenmore lge cap, 1 yr old, light use only, $180, Steve, 548-9925 after 4 pm 
LOVESEAT, very clean & in good cond, $150, Rose, X5124
SIMMONS maxipedic twin long mattress & box, dorm size, exc cond, $69, in Albany, Philip, X7307, 558-8856
TORO gas trimmer, 16", 31 cc big eng, 2 cyc, straight shaft, used 3 weekends, $90, Nobu, X4585
Wanted
HOUSE SITTER/BABYSITTER to help w/ driving, errands or housework on weekdays, free exchange of Italian lessons for English conversation, Enrico, X7516, 548.5800
Pets
ADORABLE SHE-CAT needs new loving family, blk w/ green eyes, extremely affectionate, great apt cat, loves lying in grass, neutered & vaccinated, used to dry food, gets along well w/ other cats, family moving back to Europe in dog-surrounded environment, Marilyne, X4928, 849-8583
PUPPIES & MAMA, rescue dogs need loving homes, cocker spaniel / corgi mix, pups 6 wks, mama dog 1 yr old, will be small 30 lbs or less, cute, adoption fee, Maxine, X6177, (530) 533-4394
Vacation
TAHOE KEYS house at South Lake Tahoe, 3 bdrm 2-1/2 ba, fenced yrd, quiet sunny location, close to attractions, priv dock, views of water/mtns, $195/ night (2 night min), Bob, (925) 376-2211, [email protected] value.net
Flea Market Policy
Ads are accepted only from LBNL employees, retirees, and onsite DOE personnel. Only items of your own personal property may be offered for sale.
Submissions must include name, affiliation, extension, and home phone number. Ads must be submitted in writing via e-mail ([email protected]), fax (X6641), or delivered/mailed to Bldg. 65B.
Ads run one week only unless resubmitted, and are repeated only as space permits. They may not be retracted once submitted for publication.
The deadline for the July 26, 2002  issue is Thursday, July 18.