January 28, 2000
By Lynn Yarris
This past week it was announced that San Francisco 49er all-pro defensive lineman Bryant Young will undergo surgery to replace a titanium rod in his right leg. Young fractured his fibula and tibia during a game in 1998, and the 15-inch rod was inserted into the tibia to facilitate healing. The rod has been rubbing against the back of Young's knee, causing pain and irritation that persisted throughout the 1999 season.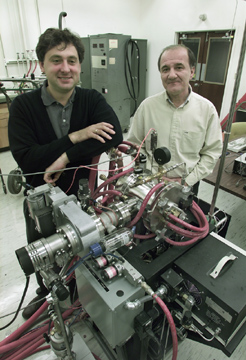 Materials scientist Antoni Tomsia and physicist Eduardo Saiz have developed a bio- active silicate glass that coats metal implants and binds with both metal and bone for long term success.

Surgeries such as the one Young is facing might become a thing of the past thanks to a biologically active glass being developed by researchers with Berkeley Lab's Materials Sciences Division (MSD). This bioactive glass enables titanium and other metal implants to bond with bone -- an unprecedented feat that could ease the pain of patients like Young, and significantly extend the lifetime of artificial hips, knees and other medical reconstructive devices.

More than $2 billion are spent yearly in this country on hip and knee implants, plates and pins for broken bones, dental implants, and other reconstructions. An estimated 11 million people in the United States have at least one such medical implant, and the number is growing as the population receiving implants increases.

Most implants today are made from either titanium-based alloys or alloys made from a mix of cobalt and chromium. Both possess excellent mechanical properties, but neither is able to bond with bone. As a result these metals rub against the bones into which they've been implanted, creating wear and tear that shortens implant lifetimes. According to the National Center for Health Statistics, hip implants generally fail after 15 years, and one out of every five hip-replacement surgeries is performed to replace a failed implant.

"What has been needed is a coating that adheres to the metal surface of the implant and also promotes the formation of hydroxyapatite (the inorganic component of bone)," says MSD materials scientist Antoni Tomsia.

Working with physicist Eduardo Saiz, Tomsia has developed a silicate glass that is bioactive, and a simple "enameling procedure" whereby metal implants can be coated with micron-sized (20-200 microns thick) layers of this glass. These glass layers can be fine-tuned at the metal-glass and glass-bone interfaces so that the coating binds with both metal and bone.

"It is impossible to design a single coating that will serve all purposes, so what we have done is to create a set of two to three graded layers of coating," says Tomsia. "The glass is cheap to make and the enameling is inexpensive."

In the enameling process used by Tomsia and Saiz, precursor powders are painted on the metal surface, and the implant is then annealed at temperatures of 800 to 900 degrees Celsius. Titanium and cobalt-chromium remain solid at these temperatures, but the glass becomes liquid. The liquid glass will uniformly coat the surface of even the most intricately shaped implant, a marked advantage over plasma coatings that must be sprayed onto a surface.

There have been previous tests of ceramic coatings on metal implant surfaces, but the rates at which the ceramics and metals expanded under the heat of processing differed so much that large stresses were introduced. These thermal stresses led to cracks in the ceramics at the metal interface which weakened the adhesion between the two surfaces. Furthermore, chemical reactions between the ceramic and the metal, particularly titanium, weakened the implant.

"We can adjust our coatings so that the thermal coefficient of the glass matches that of the metal alloy," says Tomsia. "This eliminates the introduction of thermal stresses during processing."

Tests with titanium and cobalt-chromium showed that the inner surface of the bioactive glass coating of Tomsia and Saiz adheres to the metal without degradation. Upon exposure to simulated body fluid during in vitro testing, a layer of hydroxyapatite will form on the coating's outer surface.

"Implants that are more durable and longer lasting will promote faster healing rates and should be accessible to a wider range of patients," says Tomsia. Over the next year, he and Saiz will be extending their studies to in vivo testing on animal models.

MSD has maintained a long-term program through the U.S. Department of Energy for the study of ceramic/metal interfaces. This specific research was funded by the National Institute for Dental and Craniofacial Research of the National Institutes of Health.

By Monica Friedlander
Names "National Ombudsman"
Vowing to end racial discrimination at the Department of Energy, Secretary Bill Richardson announced eight immediate actions to prevent the use of racial profiling at DOE facilities. The announcement followed the release of a report of the Task Force Against Racial Profiling which he established last June following the uproar over alleged Chinese espionage at U.S. labs.
"The Department will neither commit nor tolerate racial profiling," Richardson said. "I formed this task force because I was concerned that Asian Pacific Americans at our labs were feeling their patriotism and loyalty questioned."
The actions announced last week include the appointment of Jeremy Wu to serve in a newly created position of "national ombudsman" and director of the Office of the Ombudsman for the DOE to review concerns from employees regarding diversity issues.
Wu previously served as deputy director of the Office of Civil Rights at the U.S. Department of Agriculture. He is president of the Asian American Government Executives Network and executive vice president of the DC chapter of the Organization of Chinese Americans.
"This Ombudsman position is unique, and the person who occupies it will speak with my authority," Richardson said when he made the announcement. "When this guy knocks on your door, it's as if I'm knocking, so you better open up."
Other actions taken by the Department include:
Appointing Daphne Kwok from the Organization of Chinese Americans to serve on the Secretary of Energy Advisory Board;
Implementing an agency-wide equal employment and diversity "stand-down" to explain the Task Force's findings, provide data on minority hiring, and review the Department's diversity practices;
Expanding outreach at leading universities to help recruit and retain highly qualified staff at DOE labs;
Changing equal employment procedures to ensure concerns are addressed promptly and effectively (this includes the establishment of local ombudsman functions at all DOE sites);
Conducting outreach to DOE contractors to reiterate the Department's policy against racial profiling;
Strengthening contract provisions with DOE contractors to better track diversity management activities;
Appointing an implementation team to review and make recommendations about implementing the remaining task force recommendations and report to Richardson on the implementation of the actions above.
The task force noted that the recent state of heightened security has created an atmosphere of anxiety among both foreign nationals and U.S. citizens, which in turn hurt the Department's ability to recruit and retain qualified employees. The report also stated that some employees believed that counterintelligence efforts were targeting employees of Chinese ethnicity.
The final report of the Task Force Against Racial Profiling is available on the DOE's website at http://www.doe.gov/news/docs/rprofilerpt.pdf.

By Paul Preuss
Keeping a transmission electron microscope aimed and focused over the Internet used to be considered impossible. Even on a good day the net encounters delays, while in just a fraction of a second a foil-thin sample, magnified to atomic scale and heated by an electron beam, can buckle and jump, requiring constant dial-fiddling by the operator.
On the other hand, astronomical telescopes have long been equipped to track any patch of sky automatically, and there's no problem keeping a telescope focused if the atmosphere is stable. Even if weather puts a telescope in one place out of business, another can do the job -- as long as it can be reached. There's the rub: what's needed to make remote astronomy practical is a common language for communicating with all the robotic telescopes scattered around the world, each with its own operating system.
To solve these very different kinds of problems, Berkeley Lab researchers have led in creating systems that can talk to different kinds of instruments and link different remote users interactively, allowing them to do experiments and make observations online.
DeepView: remote microscopy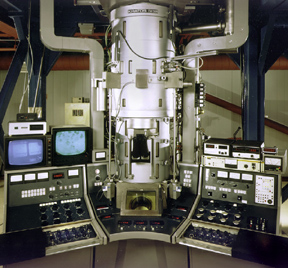 The first demonstration of remote, in situ electron microscopy in 1995 made use of NCEM's High Voltage Electron Microscope (HVEM), which is still equipped for remote operation.

Berkeley Lab researchers first demonstrated remote, in situ electron microscopy in August 1995, when at a meeting of the Microscopy Society of America in Kansas City they were able to operate a high-voltage microscope 1,500 miles away at the Lab's National Center for Electron Microscopy (NCEM).

The secret was an artificially intelligent, automated microscope controller that could make quick-as-a-wink interventions to track and focus features of interest to the remote user.

But, says Bahram Parvin of the Information and Computing Sciences Division (ICSD), who with Mike O'Keefe of NCEM led that first successful effort, "what we were able to do then was to allow a single user to control the instrumentation from a remote location." Last November at SC99 (the high-performance computing conference in Portland, Oregon) Parvin, O'Keefe and ICSD's John Taylor demonstrated a new level of sophistication in remote microscopy -- the beginnings of a "microscopy channel" called DeepView.

DeepView can link numerous remote participants with half a dozen microscopes of widely differing characteristics -- not only transmission electron microscopes, but scanning electron microscopes and optical microscopes as well, even several at once. And soon it will augment these physical machines with microscopy's most sophisticated computational tools. Along with image control, DeepView provides tools for trading information among different experimenters at different locations, including video-conferencing and shared whiteboards.

Unique programs for examining atomic-scale structures, originally developed by O'Keefe to achieve very high resolution with medium-voltage microscopes, will soon plug into DeepView just as if they were physical instruments.

For example, while a microscope's nominal resolution is limited to image components that are all in phase, much additional information resides in components that are phase-scrambled.

"We can use focal-series reconstruction software to combine information from many images," O'Keefe says. "Then a single image with resolution approaching the information limit can be achieved, with all the transferred information in phase."

NCEM's One-Angstrom Microscope project, which already provides 1.7-angstrom resolution to DeepView users, can achieve 0.89-angstrom resolution using image-processing software. "Soon, we'll be able to control this reconstruction software through DeepView," says O'Keefe. "Then we'll be able to offer the microscopy community sub-angstom resolution at their personal terminals."

Image simulation software is also widely used to model anticipated atomic structures before they have been confirmed. DeepView will allow remote experimenters to compare constantly updated simulated images with real observations and to discuss real versus theoretical structures and behavior, all without leaving their desks.

Robotic Telescope Markup Language

The observing power of even small telescopes was boosted dramatically when inexpensive, highly efficient CCDs (charge-coupled devices) made photographic plates obsolete. Since the 1970s, dozens of small to mid-size telescopes that were previously underused (many because they were located in light-polluted urban environments) have been automated.

Meanwhile, hardware and information technology has become cheaper and more reliable. Today the remote-astronomy challenge is less a matter of technical fixes than of cooperation.

Berkeley Lab's 30-inch telescope for supernova research at Leuschner Observatory is a paradigm. The Lab's researchers designed and built its control system and wrote observatory-scheduling, data-acquisition, image-analysis, and database-management software that made the telescope a robot. It can create a night's target list based on requests from several sources while accommodating any scheduled interactive sessions, then run the observing sequence and close down at the end of the night -- all without human intervention.

Like Berkeley Lab's 30-inch, however, virtually every telescope accessible this way has its own unique programs and observing language.

"What's needed is a high-level language that will allow observers to describe what they want to do in an uncomplicated way, and that can then talk to any telescope that can accomplish the task," said Carl Pennypacker last December, introducing a workshop aimed at meeting this need. Pennypacker, who is with UC Berkeley's Space Sciences Laboratory and Lawrence Hall of Science, is a longtime guest in the Lab's Physics Division.

Under the auspices of the Hands-On Universe educational astronomy program, telescope manufacturers, observatory operators, astronomers, teachers, and Internet experts convened to discuss robotic telescope markup language, or RTML. Programmer John Aymon described preliminary work: using simple tags specifying TARGET, TIMERANGE and other variables, a remote observer would use RTML to ask for a list of images from a specific telescope or from any suitable telescope.

The interface will be a simple web page, containing information such as sky conditions at various telescope sites. Central servers will distribute requests and return files specifying where the images were taken and explaining errors, if any. Over time, a substantial database of observations will be collected, accessible by RTML.

One result of the December meeting was general agreement among the participating manufacturers and observatory operators that their telescopes could readily be made responsive to RTML commands. Many details need to be worked out, such as building security systems to prevent unauthorized hackers from seizing control of telescopes. But there was enough enthusiasm to set a target date of March 2000 for the first demonstration of an RTML request to be sent over the net and processed by remote automated telescopes.

Educating tomorrow's scientists

Perhaps the most eager potential users of remote-controlled microscopes and telescopes are teachers and students -- as Hands-On Universe teacher Vivian Hoette of Chicago put it, "Kids want images -- with their names on them!" Hoette stressed that "quick turnaround between asking the telescope to make an observation and getting the result" is crucial.

"Students must learn real science, using up-to-date technology and methods for obtaining knowledge from the data," said Joe Stewart of the National Science Foundation, who emphasized the need for resources to improve on typical textbooks. "These kids are going to be inundated with information. This is the time to teach them to master tomorrow's tools."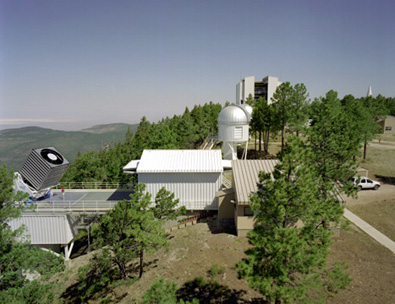 Apache Point Observatory in New Mexico is one of many sites around the world with automated telescopes capable of operation over the Internet.
Web links:
Internet slide show on DeepView: http://cbcg.lbl.gov/OiB99/slides/BParvin/tsld001.htm
Online microscopy at NCEM: http://ncem.lbl.gov/frames/on-line.htm
Hands-On Universe: http://hou.lbl.gov/
Links to automated telescopes around the world: http://gamma.bu.edu/atn/auto_tel.html

President Clinton and Energy Secretary Bill Richardson have announced a plan under which DOE would receive a $150 million increase in information technology programs for FY 2001. The President also announ-ced a multi-agency initiative in nanotechnology that includes a $38 million increase for DOE programs in that area.

The information technology plan, unveiled during a presidential speech at the California Institute of Technology, would provide DOE $667 million in FY-01, compared to $517 million this year. Overall, the Clinton administration would spend $2.2 billion on information technology among various agencies, a $560 million jump from this year.

A fact sheet released by the White House notes that DOE has made major strides in information technology R&D, including the creation of a computer chip that can encrypt 6.7 billion bits of information per second. If Congress approves the FY-01 money, DOE would accelerate its research on protection of computer network data. Under Clinton's nanotechnology initiative, DOE would receive $96 million in FY-01, a $38 million boost from FY 2000 levels. The overall plan calls for spending $497 million on nanotechnology R&D, an 84 percent increase over the current budget. The National Science Foundation and the Defense Department would receive the bulk of this money.

A DOE report has concluded that the agriculture and forestry industries could help reduce greenhouse gas emissions over the next 10 years by producing and utilizing more bio-based products, fuels and power. Bioenergy from agricultural, forest and aquatic resources can be used to make a large number of commercial products, including fuels, electricity, chemicals, adhesives, lubricants and building materials.

"The findings of this report will help support the President's efforts to build a larger bioenergy industry in this country," said Secretary of Energy Bill Richardson.

Entitled, "Emission and Reduction of Greenhouse Gases from Agriculture and Food Manufacturing," this is the first comprehensive analysis of U.S. agricultural activities and their impact on greenhouse gas emissions. It finds that agricultural and forestry industries currently produce one tenth of all greenhouse gases emitted in the United States, with the greatest impact coming from methane and nitrous oxide, rather than carbon dioxide.

The report provides strong support for "accelerating the development of a national bio-based products industry."

--Lynn Yaris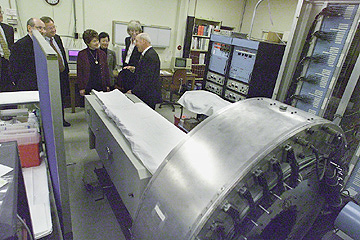 Two members of the UC Board of Regents, Velma Montoya and Judith Hopkinson, accompanied by Alumni Regent-designate Irene Miura and faculty representative Lawrence Coleman, visited Berkeley Lab on Jan. 18 for discussions about reearch in areas such as breast cancer and energy efficiency. The regents also toured of the Center for Medical Imaging (above), the ALS and NERSC. Photo by Roy Kaltschmidt

This fall the University of California enrolled an all-time record of 35,100 new undergraduate students, a figure expected to be topped next year, given the record number of applicants (86,000).
UC's enrollment is estimated to rise by approximately 40 percent by the year 2010, given a surge in the state's college-age population, dubbed Tidal Wave II. This is already the fifth consecutive year of record numbers of new students. To accommodate this growth, UC is considering expanded summer instruction, additional off-campus opportunities, and increasing the use of technology, among others.

Robert R. Wilson
1914-2000
Robert Rathbun Wilson, the founding director of Fermilab who built the laboratory housing the world's highest-energy particle accelerator, died on Jan. 16 in Ithaca, New York, from complications from a stroke he suffered last year. Wilson was 85.
A young leader on the Manhattan Project during World War II, Wilson obtained his degree from UC Berkeley and worked under Ernest Lawrence at what was then the Rad Lab. Later he became a professor of physics at Cornell University, and for the next 20 years he worked at building increasingly larger particle accelerators there. In 1967 he was called to build and head the National Accelerator Laboratory (now Fermilab), where he served as director until 1978.
Energy Secretary Bill Richardson said Wilson had "an unerring sense of what is important to the science of high-energy physics and its importance to the nation."
A pioneering physicist, Wilson was also a powerful and eloquent spokes-man for science. When asked in a Congressional hearing in 1969 about the value of high-energy physics research in the support of national defense, Wilson replied:
"It has nothing to do directly with defending our country, except to make it worth defending."
Fermilab accelerators have produced two of the major discoveries in particle physics: the bottom quark in 1977 and the top quark in 1995. Wilson incorporated his concept of "cascaded" accelerators, moving accelerated particles from one machine to another at increasing energies.
Wilson was also an artist, sculptor and writer who put his personal stamp on every aspect of Fermilab, including the architechture and painting of the laboratory's buildings.
--Monica Friedlander

With Berkeley Lab's Max Sherman and Iain Walker of the Environmental Energies Technology Division having shown that duct tape does not seal ducts, the Department of Energy, along with the Department of Housing and Urban Development and the Partnership for Advancing Technology in Housing are collaborating on a field test of several technologies that might.
"As much as 30 percent of a home's heating and cooling energy is lost through leaky ductwork, costing consumers nationwide about $5 billion a year," said Energy Secretary Bill Richardson. "This project is a prime example of how the federal government can help American consumers save money and energy."
HUD is providing $200,000 for the project. DOE will make advanced duct sealing technology available through its Weatherization Assistance Program. One of the technologies to be used is an aerosol spray sealant developed under the leadership of EETD's Mark Modera, which is capable of sealing cracks one-quarter of an inch or more in diameter without the need to open a wall or floor to access the leaky duct.

Published twice a month by the Public Information Department for the employees and retirees of Ernest Orlando Lawrence Berkeley National Laboratory. Ron Kolb, PID department head.

EDITOR: Monica Friedlander, (510) 495-2248, [email protected]

STAFF WRITERS: Paul Preuss, 486-6249; Lynn Yarris, 486-5375

CONTRIBUTING WRITERS: Jon Bashor, X5849; Allan Chen, X4210, Jeffery Kahn, X4019

FLEA MARKET / CALENDAR: 486-5771
[email protected] / [email protected]

Public Information Department, Berkeley Lab, MS 65A
One Cyclotron Road, Berkeley CA 94720
Tel: 510/486-5771 Fax: 510/486-6641

Berkeley Lab is managed by the University of California for the U.S. Department of Energy.

By Jon Bashor
When Dennis Hall joined Berkeley Lab in 1959, he wrote computer code for bubble chamber experiments in the Bevatron, Bldg. 51. Forty years later, as he prepares to retire as the head of the Technical and Electronic Information Department, he is back in an office in Bldg. 51 looking out on the now mothballed facility.
"When I came up here, this place was a going concern," he said of the Bevatron. "Now it's almost a ghost town."
In the late 1950s the Lab meant physics. Hall was hired as a research associate because the job classification for computer programmer had not been invented yet. Hall earned his degree in mathematics at UC Berkeley and "just walked up the hill and asked for a job."
His first program, which he still keeps on his bookshelf, was a translation from IBM's ASCII to Remington-Rand's ASCII. Although Hall liked working at the Lab, he never thought he'd be here 40 years. When he looked around for other career options, a headhunter told him he needed to learn less exotic computing languages to grow professionally. He learned FORTRAN, and in 1972 took a sabbatical at Rutherford Lab, the English counterpart of Berkeley Lab.
Returning from England, Hall joined a group charged by the Energy Research and Development Administration (a predecessor of the Department of Energy) with assessing the potential of the emerging computer network ARPANET for aiding scientific research. The committee concluded that a national computer network would be useful and would someday allow such activities as remotely logging into computers and using network communications for electronic mail, scientific collaboration and even teleconferencing. ERDA began funding the Lab's new Computer Science and Applied Mathematics Department.
Also in the 1970s, Hall was chosen to lead the Advanced Systems Group, which started the Lab's first network infrastructure, introduced distributed printing, and helped move the Laboratory from large mainframes to distributed workstations. The group also initiated the Lab's first desktop computer support effort.
Hall and two of his colleagues, Deborah Scherrer and Joseph Sventek, founded the Software Tools Project, which would help transform computer operating systems into much friendlier devices. The technique, which they dubbed a "Virtual Operating System," survives in the heart of modern web browsers. In 1996 Hall, Scherrer and Sventek were recognized with Lifetime Achievement Awards by the USENIX association.
Hall later worked on a Lab project to build magnetic field measurement software for the Superconducting SuperCollider. When the SSC was canceled in 1991, he began working on a series of databases which still support a number of key programs at the Lab. These include the chemical inventory database, monitoring of radiological conditions at the Lab, and environmental protection.
In 1997 Hall became head of the Technical and Electronic Information Department, where he has implemented new systems for tracking jobs and costs.
Hall considers it his greatest challenge to define the work by role, not by individual, so that the department can work more as a unified system.
Although the transition is not complete, he says, "I think I've built a strong framework for my successor, Jane Tierney." (See sidebar below.)
Hall will begin phasing out of his Lab duties this month and retire effective March 31.

Jane E. Tierney, an expert in software development, graphic design and video production, has been hired as the new head of the Technical and Electronic Information Department to succeed Dennis Hall, who will retire in March.

"This is a unique opportunity for me and TEID to forge a new beginning," Tierney said. "I'm looking forward to serving our many clients and improving TEID's products and services in all media."

Tierney has previously worked at various Bay Area TV stations, including KQED and KPIX, as well as at public television stations on the East Coast. She has earned numerous awards for her work in broadcast and design.

After three weeks on the job, Tierney has gathered a lot of information about her new place of work and the Lab in general, and is now looking ahead to new challenges.

"One of my goals is to improve TEID's services to our clients, both in terms of convenience and value," she said. "I also want to provide leadership as we raise the overall quality of our work."

She said she would also like to see TEID become more proactive in assessing the communication needs of the Lab and in integrating various efforts so they fit together on a more global scale.

"This position affords me an opportunity to weave together the various disciplines in which I've worked into one job," Tierney says. "And there aren't many places where I can do that. I've worked in writing and editing, design, the web, video, photography and multimedia -- and managed people in each of those areas. In addition, I'm very much interested in the work that takes place at the Lab and in how we can enhance our efforts to communicate this message to the outside world."

Tierney has also worked as a volunteer for education and literacy programs in Berkeley, San Francisco and Contra Costa County.

Do you have an interesting story or anecdote to tell? Did you or one of your colleagues accomplish something that you think others would like to hear about? Are you working on some interesting research? Do you have a picture you would like published in Currents?
If so, please send your suggestions to [email protected] We cannot publish every item submitted, but we will consider all your suggestions.

Brown Bag on Feb. 15
Lab employees who use Telnet to fill out their electronic timecards in LETS will need to switch to a new application - SSH - by April 15.
The switch is part of the Lab's effort to increase cybersecurity. Unlike Telnet, SSH (for Secure Shell) encrypts network data, making it more difficult for hackers to gain access to it. The Lab has purchased a sitewide license for F-Secure SSH, a commercial version of the application. Effective April 15, access to the ux10 server will be allowed only to employees who use SSH, and Telnet will be turned off.
Employees will need to install SSH and learn how to use it.
To help users get up to speed on the new system, the Computing Infrastructure Support Department is holding a brown-bag session on SSH at noon on Tuesday, Feb. 15 in the Bldg. 50 auditorium. All employees are invited to attend.
Information on SSH is available on the Lab's Computer Protection Program's website at http://www.lbl.gov/ICSD/Security/tools-resources/software/ssh.htm. The Lab's computer support Help Desk (X4357) can also provide assistance.
Because Telnet does not encrypt information before sending it over the network, Lab employees may be exposing their passwords to outside hackers who can sniff network traffic looking for potential vulnerabilities to exploit. Obtaining an employee password offers one possible tool for cyber-breaking and entering.
In addition to the encryption during the login session, SSH can also provide much stronger "authentication," so it is more difficult for a hacker to gain access to the account. Telnet does not offer this protection.
Installation on a PC or Macintosh is simple, and many UNIX workstations are already running it.
In conjunction with the switch from Telnet to SSH, a single UNIX login is being implemented for each of the two ux10-based applications, LETS and Purchasing. The change should make it easier for employees to use the two applications.
Beginning on Feb. 15, ux10 users will no longer need to use a personal UNIX account to access either the LETS or Purchasing applications. To use LETS, users will type in "lets" as both user name and password. For Purchasing, the user name and password will be "purch."
The application login (LETS or Purchasing) will not change, with employees using their current user name and password.
The application menu which used to appear when logging into ux10 will disappear, as will the menu asking users what type of computer they are using, thereby eliminating two menu layers. Additionally, new employees will no longer need to get ux10 UNIX accounts assigned to use the applications.
Following a two-month transition period, access to the ux10 applications via personal ux10 UNIX accounts will no longer be possible. Existing ux10 UNIX accounts that employees have been assigned solely for LETS or Purchasing will be retired once the new system is up and running.
For assistance call the computer Help Desk at X4357.

Berkeley Lab garnered a lion's share of awards in the 1999 Touchstone Northern California Technical Communication competition. Congratulations to all.
TECHNICAL PUBLICATIONS
Distinguished:
Nuclear Wall Chart: Howard Matis, Flavio Robles, Jr., Cheryl Ventimiglia
Excellence:
Initiatives for Proliferation Prevention: Glen Dahlbacka, Dan Hawkes, Cheryl Ventimiglia
NERSC 1998 Annual Report: John Hules, Roy Kaltschmidt, Faye Jobes
Strategic Plan: Martha Krebs, Robert Vallario, Mike Chartock, Paul Preuss, Karin Levy, Marilee Bailey, Alice Ramirez, Kate Henke
Merit:
Breakthrough Engineering Brochure: Engineering Division writing/editorial services, Nan Wishner, Marilee Bailey
Currents: Monica Friedlander, Paul Preuss, Lynn Yarris
NERSC: Unlocking the Secrets of Nature (4/C block poster) and
NERSC: Unlocking the Secrets of Nature (white background poster) Jon Bashor, Flavio Robles, Jr.
The Standard Model of Fundamental Particles and Interactions poster: Michael Barnett, Flavio Robles, Jr., Marilee Bailey, Alice Ramirez
Achievement:
ALS Activity Report: Annette Greiner, Lori Tamura, Arthur Robinson
Expanding the Frontiers of Physics poster: Ron Kolb, Doug Vaughan, Marilee Bailey
Research Review: Pamela Patterson, Paul Preuss, Lynn Yarris, Niza Hanany, Flavio Robles, Jr.
Seven Decades of Physics: Joe Chew, TEID Photo Services, Marilee Bailey
Smart Business Brochure: Bruce Davies, TEID Creative Services
Excellence:
Advanced Light Source website:
Annette Greiner, Liz Moxon, Greg Vierra
Merit:
Berkeley Lab Computing News: Jon Bashor, Erik Richman, Cheryl Ventimiglia
Computing Infrastructure Support Help Desk: Susan James, Cheryl Ventimiglia, George Porter
Achievement:
MicroWorlds: Liz Moxon, Gloria Lawler, Annette Greiner

By Allan Chen

Ralph McLaughlin, a retiree whose career at Berkeley Lab spanned 45 years, died on Jan. 14 at the age of 72. A native of Sacramento, he lived in Kensington with his wife of 46 years, Patricia.

McLaughlin was a graduate student when he joined Berkeley Lab in 1952. After earning his masters in chemistry he joined the Nuclear Chemistry (now Nuclear Sciences) Division in 1954, where he worked until 1973, when he moved to the Energy and Environment (now Environmental Energy Technologies) Division as soon as it became a formal entity.

During his tenure in Nuclear Chemistry McLaughlin was involved with emissions spectroscopy and atomic absorption work. One of his major contributions was the observation of the spectra of astatine. Many of McLaughlin's publications during those years, often co-authored with John Conway and Norm Edelstein, were concerned with the spectra of transuranium elements.

It was during that period that McLaughlin met his future wife, Patricia Maguire, whom he married in 1953.

"Ralph was one of the original staff members of the Energy and Environment Division, which was formed in 1973," says Jack Hollander, the first director of the E&E Division. "But he had expressed an interest in environmental research several years earlier than that."

McLaughlin contributed to the Survey of Instrumentation for Environmental Monitoring -- the very first project in what would become the E&E Division -- working on air monitoring instrumentation. He also worked with the late Ted Hadeishi to develop an advanced method for measuring trace levels of mercury in biological matter.

Other projects involved Zeeman atomic absorption analysis, development of techniques for measuring nitrogen oxides, and the use of concentrated solar energy for the detoxifaction of hazardous waste.

In 1988, when McLaughlin was about to retire, Art Rosenfeld, head of the Division's Center for Building Science, invited him to work part-time for the Center. Says colleague Jeff Harris, "Ralph was always gracious and patient, tackling whatever was asked of him and more. I always felt a sense of real human warmth when I ran into him for even the quickest hello, and will miss him for that."

McLaughlin volunteered with the Lawrence Hall of Science and often led groups up the steep hill behind Bldg. 90. "A number of us made this trek a few times and got to enjoy the LHS during our lunch hours," remembers JoAnne Lambert of EETD. She also recalls Ralph's love of nature. "He took a walk around the Lab most days during his lunch time, and kept a bag of peanuts at his desk to share with wildlife around here. Blue jays were the main customers."

McLauglin is survived by his wife Patricia, daughter Kathryn, sons Patrick and Andrew, brother Charles and three grandchildren. A memorial will be held on Jan. 29 at 2:00 p.m. at the Arlington Community Church in Kensington.

Memorial gift may be sent to the Lawrence Hall of Science (Development Department, University of California, Berkeley, CA 94720) or to the El Cerrito Democratic Club (P.O. Box 192, El Cerrito, CA 94530.)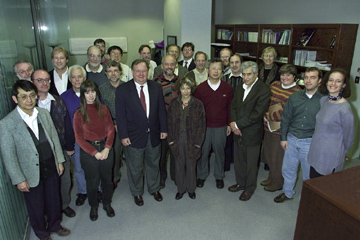 Director Charles Shank (third from the left, front row) handed out royalty checks to Berkeley Lab inventors during a ceremony held in Shank's office.

The checks are awarded for inventions developed by Lab researchers and licensed through the Technology Transfer Department. Photo by Roy Kaltschmidt
Need a gift for Valentine's Day, Mother's Day, Easter or graduation? See's Candies may have a perfect solution. Its Retail Quantity Order Shop, located in the Westgate Center in San Leandro, offers Berkeley Lab employees and retirees discounted gift certificates redeemable at any See's Candies store.
The certificates cost $8.50 for one pound, which retails for $11.50, or $17 for two pounds, good for the $23 retail box. This offer is only available at the See's Candies store in San Leandro.
The gift certificates may also be ordered by mail, fax or by calling (800) 930-7337. To place an order you will need to mail or fax your order along with a copy of your Lab ID badge and credit card information. The address is See's Candy, P.O. Box 93025, Long Beach, CA 90809-3025.
The Laboratory Travel Office announced that effective Feb. 1, Berkeley Lab is joining the state of California's Discount Airfare Program, which offers low airfares to more than 140 pairs of cities for travel within and outside the state. Discounts range from 6 to 63 percent off average fares now paid by Lab travelers.
The tickets must be issued through Maritz Travel and travelers need to use United or Southwest Airlines to qualify.
According to the Travel Office, employees will realize both substantial savings and increased ease of travel.
The program requires no advance purchase. Reservations may be made at any time, but tickets do not need to be issued until plans are certain. Seats are not limited to a special inventory and tickets are fully refundable.
The following rules apply to the Laboratory's participation in the program:
After Feb. 1, Lab travelers are expected to use a Cal State fare unless an alternate airline offers a lower fare.

Maritz Travel must issue tickets.

Tickets must be charged on the Lab's airline central billing account. Travelers may not charge tickets to individual credit cards.

Discounted fares are valid only between specific city pairs included in the program.

Fares can only be used for official Laboratory travel.
For more information contact Andre Bell at X6760 or send e-mail to Travel [email protected].
EH&S Training has scheduled six sessions of MoveSMART training (EHS 62) for Feb. 28, Feb. 29 and March 1. This three-hour program is designed to help employees develop better skills for the safe handling of materials, boosting balance, lifting correctly, and safe use of hands and knees. The training is recommended for anyone who routinely pushes, pulls, repetitively grips, or wants to prevent soft tissue injuries at work or play.
All sessions will be taught by certified personal trainer Paul Vance and include morning and afternoon sessions. Registration is required and enrollment is limited.
To preenroll contact EH&S Training at X7366.
"How to Back Up Your Computer with Retrospect!" will be the topic of the next meeting of the LBNL Mac Users Group, to be held on Wednesday, Feb. 9 from 12:00 to 1:00 p.m. in Bldg. 90-3148. Jay Matheson of Dantz Development Corporation will demonstrate Retrospectreg., a backup software for both Macintosh and Windows computers. (The program is cross-platform.) The demonstration will include an overview of the software and information on various hardware options. The presenter will be available to answer questions at the end of the meeting.
The Contra Costa County Unified School District is recruiting judges for its annual science fair for secondary school students, to be held on Thursday, Feb. 17 from 12:00 to 5:00 p.m. at the Contra Costa College. Winners of the competition will compete in the San Francisco Bay Area Science Fair in March.
Volunteers are needed to judge entries in biological science, physical science, math and computer, and behavioral science. A light lunch will be served before the judging begins.
The deadline to sign up as a judge is Feb. 3. For more information contact Frank Healy at 307-5307.
Berkeley Lab is continuing its transition to the Proximity ID card access system with the conversion of two main gates to the new system.
Effective March 1, the old card keys will not be operational any longer at the Strawberry and Grizzly Gates. The only access available after hours will be with the Proximity ID card, first established at Berkeley Lab in 1997. (See Currents, Jan. 23, 1998, online at http://www.lbl.gov/Publications/Currents/Archive/Jan-23-1998.html.)
Employees who have not yet obtained a new card may do so by visiting the Site Access Office on the lower level of Bldg. 65. Please mail your old card key to the Site Access Office, Mail Stop 65.
All pedestrian gates will receive mechanical keys. To obtain a key contact Don Bell.
Related questions may be directe to Sue Bowen at [email protected] .
The Green Team is sponsoring an eight-week study group, which will meet for brown-bag lunches beginning Feb. 1 from 12:00 to 1:00 in Bldg. 90-4133. Topics will be based on materials provided by the Northern California Earth Institute. For further information send e-mail to [email protected] .
The full text and color photographs of Currents are published online at http://www.lbl.gov/Publications/Currents/. The site also allows users to do searches of past articles going back to 1994.

February 2000
GENERAL INTEREST
Green Team Study Group
12:00 - 1:00, Bldg. 90-4133

Shoemobile
7:30 - 3:30, cafeteria parking lot

Tripmobile
11:30-12:40, cafeteria parking lot

Mac Users Group Meeting
"Back Up Your Computer with Respect"
12:00 - 1:00, Bldg. 90-3148 SSH: Transition from Telnet
Brownbag informational meeting
12:00 p.m., Bldg. 50 auditorium MoveSMART Training
EH&S 62 Class, Call X7366 MoveSMART Training
EH&S 62 Class, Call X7366

Items for the calendars may be e-mailed to [email protected] lbl.gov, faxed to X6641, or mailed to Bldg. 65B. The deadline for the Feb 11. issue is 5 p.m. Monday, Feb. 7.

UCB/LBNL New Biology Partnership Seminar
"Recognizing the Right Partner: Chromosome Interactions During Meiosis" will be presented by Abby Dernberg of the Stanford University School of Medicine.
2:00 p.m., Bldg. 66 auditorium
Refreshments precede the seminar. Life Sciences Division Seminar
"Stem Cells and Mammary Carcinogenesis" will be presented by Gilbert H. Smith of the National Cancer Institute.
4:00 p.m., Bldg. 84-318
Refreshments precede the seminar. Environmental Energy Technologies Division
"Interactions Between Risk and Policy" will be presented by Dick Wilson of Harvard University.
Noon, Bldg. 90-3148 Center for Environmental Biotechnology
"Estuarine Plant Responses to Contaminated Sediments" will be presented by Julia and Thomas Lytle of the University of Southern Mississippi, Institute of Marine Sciences.
Noon, Bldg. 50A-5132

Life Sciences Division Seminar
"Following Replication One Molecule at a Time" will be presented by Carlos J. Bustamante of U.C. Berkeley
4:00 p.m., Bldg. 66 auditorium
Refreshments precede the seminar.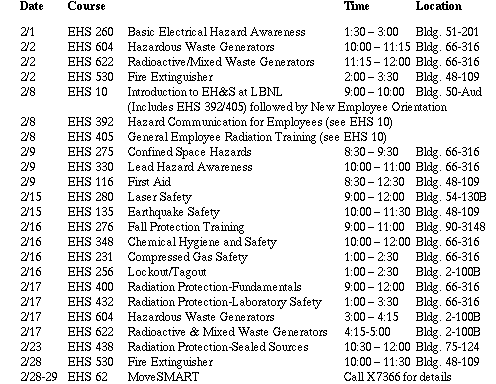 For more information or to enroll, contact Susan Aberg at [email protected] or enroll via the web at http://www-ehs.lbl.gov/ehstraining/registration/. Preregistration is required for all courses except EHS 10 (Introduction to EH&S). Times and locations are subject to change. For a full, updated schedule of EH&S training sessions see http://www-ehs.lbl.gov/schedule/.

AIM, a Walnut Creek-based computer software training firm, provides onsite PC computer courses to Lab employees.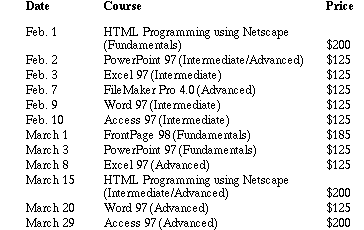 Classes are held in Bldg. 51L from 9:00 a.m. to 4:00 p.m.
For more information on AIM training or registration procedure, look up the class website at http://www.lbl.govWorkplace/EDT/computers/PC_Classes.html or contact Heather Pinto at X4181.

`94 FORD Taurus, $5,900, 56K, 4 dr sedan, alarm, ac, abs, cruise, Peter, X5983, Patricia, (925) 687-1827

`92 TOYOTA Paseo, 5 spd, 2 dr, teal, am/fm/cass, ps, 73K, exc cond, too small for orig owner, trouble-free, $5,500, Marc, X5076

`92 HUNDAI Excel, 2 dr, burgundy, 70K, stick, very gd cond, $2,600, leaving country, Paolo, 486-4739

`88 TOYOTA Corolla FX, 146K, white, 2 dr, at, ac, am/fm/cass, new shocks, water pump, battery, exc cond, $1,500/bo, Wei-Tai, X2234

`87 PLYMOUTH Grand Voyager LE mini-van, 7 psgr, 119K, V6, auto, ac, pwr steer/windows/ locks/door/seat, tilt wheel, cruise, roof rack, am/fm/cass, orig owner, no accidents, all maint records, gd cond, $3,350, Ron, 486-4410

`85 HONDA Accord, hatchback, 5 sp, orig owner, all records, 118K, $2,500, Korkut, X4492, 549-0492.

`79 MERCEDES 450 SEL sedan, gray, clean, garaged, waxed, maintained, 190 hp V8, reduced to $3,500/bo, Dick, (925) 284-5236

'68 CHEVY Nova, straight-6 engine, at, runs, exc body cond, all original, $1,800/bo, Tim, (925) 687-0405

BERKELEY, quiet, lge, furn room for rent in lovely brown-shingle house (Julia Morgan, 1909) north of University Ave, limited kitchen privil, walk to Lab shuttle, campus, parks, BART, downtown, ideal for visiting scholar, non-smoking, $450/mo, avail 2/1, Rob, 843-5987

BERKELEY, lge 1 bdrm apt, furn, pleasant, quiet, close to Lab and transp, avail to UC/LBNL visitors by week/month, Geoffrey, 848-1830

LAFAYETTE, 2 bdrm/2 bath apt, pool/patio, spacious, clean recently renov, quiet, walk to city center, shops, schools, BART, 20 min to Lab even at rush hour, good place for family, $1,250 rent incl water/garbage, avail 1/20, (925) 962-1625

MONTCLAIR HILLS, 4/13 - 8/17, 4 bdrm/4 bath, pool, lge garden, no pets, view, Peter Vollhardt, 642-0286 (office), 655-5822

PINOLE, 1 bdrm/1 bth in house, w/ working female, cats/small dog, non-smoker/drinker, full kitchen/laundry privil, avail 8/1, $600/ mo incl util/cable, poss carpool to Lab, Sue, X6661, 758-4164

FRENCH guest scientist seeks housing from 2/15 for 1 or 2 yrs for self & spouse, pref furn, 1 or 2 bdrms, Laurent, [email protected] univ-lr.fr

SHORT TERM, 2/12 - 4/8, visiting grad student, pref furn, walking dist to campus/Lab shuttle, Patrick, X5597 or X7516

VISITING SCHOLAR seeks furn efficiency or 1 bdrm apt in quiet area, reasonable walking distance to Lab shuttle, 2/26 - 5/13, Wieslaw Kozek, (787)-759-8257

ASHFORD Traditional spinning wheel, single drive, natural laquer finish, comes w/ Lazy Kate/3 bobbins, solid, dependable wheel, great cond, $350/bo, 524-1953 (aft 6 pm)

BOOKCASES, chests of drawers, tables, chairs, low cost, Frank, X4636, (925) 253-1735

ELECTRIC BLANKET, queen sz, dual-control (Sunbeam's "Blanket with a Brain"), purchased in 1999, barely used, cream color, $50, Kathy X4931

FURNITURE, white laminated, bookcase w/ lower doors (72"x 32"), student desk w/ 1 drawer, 5 drawer dresser, TV/HI-Fi cabinet (60"x22"x14"), gd cond, b/o, sold as set, Robert, 525-4318 (eve)

FUTON, full-size w/ frame, $40/ bo, Christopher, X6914

GLASS table + 4 blue velour chairs, $40; hamster habitrail & accessories, $15; Aprica double stroller, $125; Century infant car seat, $15; Peter or Patricia, (925) 687-1827

HEPA AIR FILTER, 2 sp, almost new, $50; 3-man dome tent, Ozark Trail, gd cond, $25, Erik, X6435

HEWLETT-PACKARD PCs, Omnibook 300 & 430 (1 each), both missing PC-Card BIOS and HD cards, 300 has cracked LCD, sold as is, no warranty, both for $25; Anton, X2908

MAC COMPUTER, Performa 6214, 32M RAM, 800M HD, CD-ROM, monitor, incl 28.8 GV ext modem and Stylewriter 2400 jet printer, $700/bo; fax machine, Panasonic KX-F1000, plain paper, call lists, $125/bo, Robin, X6012, (925) 838-6956

MICROWAVE CART, white/beige; wedding dress, sz 12 + 2 head pieces, flower girl dress sz 7 + head piece, b&w bridesmaid dress/gloves; 4 party handbags; 6-ft fish tank, triangular, w/ light & clock; maroon leather brief case; day bed with trundle (brass knobs); kitchen farm table w/ 4 white chairs; child bike carrier; 5-cu-ft freezer; girl's 18 speed bike; end table, oval w/ attached lamp/basket; little coyote battery operated car (call for info); 4-man tent; ceiling fan + 3 glass lamps, LaTonya, X5531, 367-4320

MOUNTAIN BIKE, specialized Rockhopper FS, lge frame, 5 yrs old, very gd cond (new $400) $135/bo, Jim X6647

MOUNTAIN BIKE, women's, Trek 800, Shimano Altus C20, racing green, very gd cond (new $600), $250, Jan, X6676

MYST GAME for Macintosh, on CD-ROM, never opened, $12, Jon, X5974

REDECORATING sale, living rm furniture, hand-made Chinese area rug, 8'x11.5', beige with soft pastel colors, sofa/loveseat, mauve & blue, mauve chair/ottoman, coffee/end tables w/ glass, like new, $2,000/bo, will sell separately, Sara or Harvard, 526-5347

REFRACTOR TELESCOPE: 525 power, FL 700mm, obj dia 60mm, finderscope (5x24), barlow lens (3X), erecting eyepiece (1.5X), Yoke Mount, two eye pieces (SR4, H12.5), barely used, $65; JBL surround sound Dolby Pro logic speaker system (ESC300 model), 200 watts system, 5 satellite speakers/sub woofer w/ syst controller, remote contr, special control settings for Dolby surround, 2 source inputs, $280, Srinivas, 495-2947, 665-5772 (eve)

SANYO STEREO UNIT, 1 component, 10 yrs old, gd cond, turn-table, tuner, speakers, one of the tape decks not working, $15/bo, 665-5572

SKI LIFT TICKETS, valid Sun-Fri, blackout 1/16-17, 2/20-21, $40/each, Simon, 642-6389

SKI RACK, Barrecrafters, Sierra SX-11, exc cond, holds up to 4 pairs of skis, built-in locks, easy to install, fits compact or medium sized car, $90, Sanjeev, X4663

SOFA, beige, very gd cond, $95, 2 chairs w/ wood arms $30 each, 1 chair w/ metal arm, $25, (925) 631-0510

PARADISE VILLAGE Resort, time share at Puerto Vallarta, Mexico, 1 week, studio, float time, exch for other worldwide resorts, paid over $14,000, will sell for $8,800/ bo, membership connected with Interval Intl, dues paid to 2002, David, 649-1665

PARIS, near Eiffel Tower, elegant, furn, 2 bdrm apart, avail per week/month from $75 per night, pictures avail, Geoffrey, Denyse Chew, 848-1830

SQUAW VALLEY, President's Week, across from ski lifts, kitchen, sleeps 4 adults in 2 rms, 2 units, 2/20 - 2/27, part week ok, Paul, X4005, 548-5676
Wanted
BABYSITTER, after-school, for 5-yr-old boy, 3-5 pm, up to 4 days/week, El Cerrito, must have own car and pick up in Kensington, be fun, reliable, good conversationalist, Jon, X5849, 527-0285
CARPOOLERS, new lab employee wants to pick up 2 or more people from San Francisco to LBNL, drive from 19th Ave down Geary St to the Fifth St onramp, hours: 8:30-5:30, M-F, Nathaniel, X4735
STAND for electronic musical keyboard, adjustable height pref, Ashok, X4651, 237-8806
SINGERS for small, friendly, madrigal/motet group, meets in Albany on Sun eves, all levels, some sight-reading skill helpful, Carol, X5234
SWIM COACHES for Albany Blue Dolphins Swim Team, Tennessee, X5013
Free
CATS, 2, adorable/loving, approx 2-1/2 yrs old, indoors only, Charlene, X7026

UPRIGHT PIANO needs a home, you move, Michelle, (925) 462-2010

WASHER/DRYER, Maytag, washer works well, dryer needs heating element replacement, Robert, X5438, 525-4318

LOST: scarf, long green plaid pattern w/ fringed ends, lost in cafeteria 1/6, Jim, X5958

Note: For other lost and found items call X4855.

Ads are accepted only from LBNL employees, retirees, and onsite DOE personnel. Only items of your own personal property may be offered for sale. Submissions must include name, affiliation, extension, and home phone number.

Ads must be submitted in writing -- via e-mail ([email protected]), fax (X6641), or delivered/ mailed to Bldg. 65B. No ads are taken over the phone.

Ads will run one week only unless resubmitted and will be repeated only as space permits.

Note: The deadline for the Feb. 11 issue is Thursday, Feb. 3.