New UC Contracts for Livermore, Los Alamos

Young Inventors Grab the Spotlight
---
New UC Contracts for Livermore, Los Alamos
By Ron Kolb
The University of California, the National Nuclear Security Administration (NNSA) and the U.S. Department of Energy have signed new management and operations contracts for the Livermore and Los Alamos national labs. The agreements, announced at the UC Board of Regents meeting last week, expand the contracts' requirements and extend them to Sept. 30, 2005.
Berkeley Lab's current five-year contract, due to expire on Sept. 30, 2002, was not part of the agreement and will be negotiated separately in the future.
New contractual provisions for management improvement include creation of a new UC senior management position of Vice President for Lab Management, reporting to the University President, and a requirement for UC to obtain outside expertise in security and project management, both key issues in the negotiations.
The partner agencies agreed that the defense labs will be strengthened by the modifications. UC Senior Vice President Jud King said, "UC has committed to a vigorous contract, a new slate of performance standards, and increased accountability."
And outgoing DOE Secretary Bill Richardson added, "This is a significant move forward for the department, the defense labs, and for national security. The work that these labs perform is vital to the nation and, with the provisions of these new contracts, the labs will receive the support and management assistance they need to succeed."
The agreement assures that the historic University management of the labs, in effect since 1943, will continue.
The modified contracts preserve the performance-based management approach pioneered by the University nearly 10 years ago and an academic atmosphere at the laboratories. They continue the philosophy of no financial gain or loss for the University in its management.
A key element of the contract is an appendix that outlines important milestones and objectives for the accomplishment of operational process improvements. The University must meet these milestones and objectives in order to be eligible to earn performance fees. Earned performance fees not required to cover costs of managing the laboratories are returned to the labs to support research.
The contracts allow DOE to reduce the fee for serious incidents in the areas of security and safety, and as part of increased requirements for contractor accountability, also allow the Secretary of Energy to direct the removal of an employee from work assigned under the contract if such an action is consistent with state law and regulations.
Such action must be preceded by a 60-day notice to the university, a recommendation for the university to act based on due process, and must comply with state law.

Young Inventors Grab the Spotlight
By Paul Preuss
Michael Torrey operates his Miniature Hydroelectric Power Plant with advice from Ken Chow of the Engineering Division (left) and Owens Corning engineer Hong Dao, while the Owens Corning Pink Panther looks on.
Given California's faltering electricity supplies and skyrocketing prices, it's no surprise that a gang of print and TV news reporters descended on Bldg. 66 on Friday, Jan. 12, for an expert demonstration of how to save energy. And since the experts were school kids, the ideas were guaranteed fresh.
Fourth-grader Kate Flor-Stagnato from Scotch Plains, NJ; fifth-graders Jonathan Ioviero from Medina, NY, and Michael Torrey from Fremont, CA; and Annie Austin, a sixth-grader from Philadelphia, exhibited devices named the Beeping Air Conditioner, the Light Searcher, the Miniature Hydroelectric Power Plant, and the Plugger - ideas that started as kids' sketches and were brought to life through long hours of volunteer effort by the Lab's Engineering Division.
The students were the winners of an inventors' contest sponsored by the Department of Energy's EnergySmart Schools program and supported by Owens Corning, manufacturer of insulation and other building products. In addition to shop talk and demonstrations, the Friday afternoon session featured presentations by Lab Director Charles Shank, Berkeley Mayor Shirley Dean and Fremont Mayor Gus Morrison, along with officials from DOE and Owens Corning.
After Director Shank introduced the children as "the next generation, who will solve our energy problems," Mayor Dean presented plaques honoring each child and read a proclamation naming January 12 EnergySmart Schools Inventors Day in Berkeley. Graciously thanking those who made the event possible, Dean made a point of emphasizing "the treasure of Lawrence Berkeley Lab, a wonderful facility to have in our city."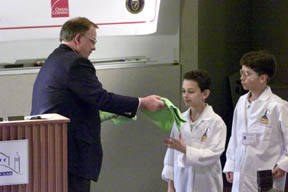 Director Shank hands Jonathan Ioivero and Michael Torrey "official" Berkeley Lab T-shirts in recognition of their ingenuity.
The event's high point was meeting the inventors and hearing them explain their gadgets, set up in the Bldg. 66 conference room. The inventions themselves had been built in kit form by members of the Engineering Division, who worked on their own time, even during the year-end holidays. Engineering's Assistant Director Bill Edwards emphasized that, even though the urge to make improvements was sometimes strong, staying true to the inventors' original intentions was a guiding principle.
Three of the four winning devices were designed to help save energy directly, by warning of lights or appliances left on or windows left open when an air conditioner is running. Annie Austin's Plugger sounds a beeper when power consumption in a wall circuit exceeds a preset level. Tony Hansen led the Engineering team that gathered the necessary parts - a wattmeter, power strip, a couple of energy-consuming appliances such as a hair dryer and coffee-maker - and built the handsome display. Rick Diamond of the Environmental Energy Technology Division acted as Annie's scientific mentor.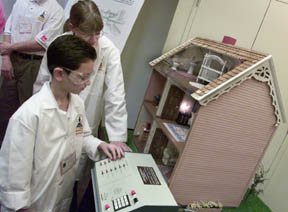 Jonathan Ioviero and Owen Corning engineer Sheri Whisler with the Light Searcher display.
Jonathan Ioviero intends the control panel of his Light Searcher to be mounted by the front door so that anyone leaving the house can check to see if lights have been left on: his initial sketch has switches labeled "keep it on button" and "turn it off button." Engineering's Rob Duarte led the team that wired a beautiful doll's house with working light fixtures and controls operated from a panel in front. Jonathan's mentor was Owens Corning engineer Sheri Whisler.
Kate Flor-Stagnato's Beeping Air Conditioner beeps if nearby windows, equipped with sensors, are left open while the air conditioner is running. Kate's mentor was Michael Siminovitch from EETD, who praised her "elegant idea" and had special appreciation for the engineers, led by Bill Edwards and Tony Vranicar, "who carried the heavy water" and "beautifully transformed a child's simple sketch" into a persuasive demonstration.
The most unusual invention was conceived by Michael Torrey of Forest Park Elementary School in nearby Fremont. By mounting miniature water wheels and generators in household faucets, his Miniature Hydroelectric Power Plant aims to recover some of the energy already spent pumping water uphill. Michael was supported by Owens Corning engineer Hong Dao, and Ken Chow and a large crew of other Berkeley Lab volunteers turned Michael's well-thought-out invention into physical reality, using a Pelton wheel, a generator, and a display panel that could be switched to power a fan, light up a bulb, or charge a battery.
Chow and Dao helped Michael assemble his demonstration, and it was clear from their discussion that Michael had a good grasp of the science. He found the Pelton wheel fascinating in itself: a device with curved buckets, it was invented in 1881 by California engineer L.A. Pelton and is extremely efficient for a low-tech machine, able to tolerate "load abuses" - wide swings in water pressure - "without causing disasters such as blowing up or breaking its shafting."
Michael's teacher John Ford, who encouraged him to enter the Energy-Smart Schools competition after seeing an article in Time for Kids magazine, says that a visitor was so impressed by his design that he is installing a Pelton wheel in the stream on his property in the Sierra foothills.
Michael's dad says that he got the idea for the device because "he has spent a lot of time with his mother's relatives in Mexico, where water pressure is variable." Not one to take high pressure for granted, Michael says, "I figured why not use water power to charge batteries that can be used around the house, so we can save other types of energy."
Ken Chow says that before it could make a major dent in energy conservation, the device would have to be miniaturized, incorporated in plumbing units, and installed in lots of homes and offices. "Water use is intermittent, so savings in one home would average only a few watts a day - enough to keep a couple of night-lights burning." Even modest savings could add up, but meanwhile, says Chow, "it's a good lesson to learn that recovering energy is a lot harder than not using it in the first place."
By late Friday afternoon, the young inventors had been going strong since their arrival in the Bay Area the day before, with a full schedule of lab tours, chalk talks, and official dinners that would keep them busy late into the evening. Kate Flor-Stagnato missed the presentations because of a tummy ache, and her older sister had to stand in for her. As for Annie Austin, "I'm dead," said the sixth grader, who resembles a miniature Bette Midler, although she admitted that all the attention had recharged her personal batteries.
But their sacrifices were not in vain, and the press and TV reporters got what they came for. Stories about what the San Francisco Chronicle dubbed the "Children of Invention" ran in dozens of newspapers and television stations, locally and across the nation.
Whether or not the individual gadgets are put into use, the motives behind them may well inspire what Owens Corning chairman Glen Hiner called "the top environmental issue of the new millennium." If so, as Fremont Mayor Gus Morrison said, paraphrasing the Bible, it will be because "a little child has led them."
* * *
For more information, including original sketches and photos, visit http://eetd.lbl.gov/inventors/. For more about EnergySmart Schools and the Inventors Contest, visit http://www.eren.doe.gov/energysmartschools.

A Better Way to Test Auto Bodies
By Lynn Yarris
Engineering Division's Deb Hopkins wanted to build a car with a body made of light-weight composite materials and a quality-performance internal combustion engine that would get about 80 miles to a gallon of gas. She didn't get the money for that, but she did get the funding to investigate the nondestructive evaluation (NDE) techniques that will be needed if such vehicles are to ever become a commercial reality.
"Lightweight composite materials must be adhesively bonded, which means the tear-down safety inspections of spot-welded steel structures can't be used on them," says Hopkins, now in her fourth year on this research, which is funded under the Partnership for a New Generation of Vehicles, a collaboration between the federal government and the U.S. Council for Automotive Research.
Even for conventional welding, the tear-down method of testing, in which the structural components of a vehicle are literally torn down to assess the integrity of their welds, could stand improvement, Hopkins says. In a typical U.S. automobile manufacturing plant today, production components are pulled off the assembly line at regular intervals for a tear-down inspection. Not only is this a time-consuming and costly procedure, it is also only a statistical sampling and not an inspection of every component that is manufactured.
"Online nondestructive evaluation techniques offer the promise of testing one hundred percent of all production components in real time with the ability to spot problems immediately," Hopkins says. "It is also the only way to ensure the integrity of adhesive-bonded joints in lightweight composites."
In addition to monitoring product quality, online NDE can also be used to monitor the production process and identify areas in which the process can be improved.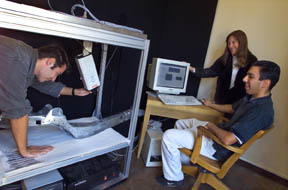 Deb Hopkins of the Engineering Division is devising a noninvasive technique for evaluating the integrity of structural components of vehicles. She is shown here with her two assistants, Mehdi Malek-Ahmadi (right) and Frederic Reverdy, inside the steel frame-rail used in the experiments.
Says Hopkins, "With online NDE, the automobile industry should be able to improve production efficiency and reduce waste."
For use in an automobile manufacturing plant, NDE techniques have to be able to reliably operate under hot, dusty, and noisy conditions. Diagnostics must also be performed quickly and accurately. Hopkins and her colleagues in Engineering Division (ED) have been working to develop NDE sensors and data-processing and modeling tools. To date they have experimented with a wide range of NDE methods including acoustics and infrared thermography.
The acoustic NDE techniques being examined entail exciting a component with a transducer which converts electrical pulses into mechanical stress waves, then analyzing the elastic waves - body, surface or standing - that are generated. With body and surface waves, test results are derived from wave attenuation, frequency content and velocity. With standing waves, resonance is analyzed to measure frequency response, mode shapes and damping characteristics.
"It is well established that these waves are sensitive to the presence of flaws, voids, cracks, heterogeneities, or some other change in material properties," says Hopkins. "For example, a crack will reflect some of the wave energy, slow and attenuate the wave, and change the resonance properties of the component being tested."
Hopkins and her group have been using a steel frame-rail as a model for associating their measurements with specific characteristics of spotwelds. The success of any NDE technique in the automobile industry depends upon its ability to quickly and accurately distinguish between critical defects that affect the structural integrity of a component and defects in low-stress areas that would not significantly affect the component's stiffness or strength.
"Cycle times in the auto industry typically run about 15 to 20 seconds, and the data acquisition and analysis of an online real-time NDE must be fast enough to render a go/no-go decision within this timeframe," says Hopkins. "That's the major challenge for the use of NDE techniques in automobile manufacturing."
With acoustic-based NDE techniques, the tradeoff is between speed and resolution, according to Hopkins.
"If you have the time and access to the components, you can make highly detailed measurements with acoustic techniques," she says. "The faster we can learn to acquire and interpret data the better our measurements will be."
Infrared (IR) thermography offers speed and high resolution plus the advantage of full-field imaging. Measurements for this NDE technique are derived from changes in thermal resistance that arise in the flow of heat through the components. These changes can be detected by IR cameras that are sensitive to surface temperature differences of less than 0.1 degrees Celsius.
"IR thermography can be used to characterize defects in welds and voids in materials such as gaps in adhesive layers or air bubbles," says Hopkins. "These defects and voids have a much higher thermal resistance than the surrounding material."
To utilize IR thermography, a heat flow must first be established through the components to be tested. This is done by heating one side of the component while the opposite side is cooled. The resolution obtained through IR thermography depends upon the thickness and thermal conductivity of the material being tested, but Hopkins says the technique is applicable to a wide range of lightweight composites.
The use of more lightweight metals (aluminum and magnesium) and composite materials in place of steel in the components of automobile bodies could reduce overall vehicle weight by 40 percent or more, and make the dream of 80 miles-per-gallon an industry standard.
Says Hopkins, "We've proven that acoustic and IR thermography NDE techniques work well in a laboratory setting. The next step is to show that they can be made to work equally well in a factory setting."
Working with Hopkins on this project are ED's Daniel Turler and Murat Karaca, plus Seiji Nakagawa and Kurt Nihei of Berkeley Lab's Earth Sciences Division.

DOE Transition News
Abraham Confirmed, Urged To Act Fast on Energy
Last week the U.S. Senate confirmed the nomination of Spencer Abraham for Secretary of the Department of Energy. At his confirmation hearing, members of the Senate Energy Committee called upon the new Energy Secretary to act quickly on the California energy crisis, as well as on other pressing energy issues. In response, Abraham promised a "balanced" approach to energy policy, although he made it clear that the Bush administration plans to promote production more than the Clinton administration did.
"Certainly, recent developments in California's electricity markets and the Northeast's heating oil supply evidence the importance of the department's responsibility to develop a national energy policy," Abraham told the committee.
"President Bush and I are deeply committed to developing an energy policy that includes increasing domestic production of energy in an environmentally responsible manner, increasing our use of renewable energy, decreasing our reliance on imported oil, and developing new technologies that conserve fossil fuels and reduce energy-related pollution."
Abraham declined to elaborate on steps the Bush administration might take on California's power problems, although this week he did issue a two-week extension of emergency orders requiring certain energy producers to provide natural gas and electricity supplies to California utility companies.
Abraham also told the Senate Committee he no longer believes DOE should be eliminated. Circumstances have changed since he cosponsored three bills to kill the DOE during his six years as a Republican senator from Michigan, he said. Among them: "The changing energy situation and enactment of the National Nuclear Security Administration Act last year, which restructured the department to improve agency management, have significantly altered the equation."
Calling DOE's missions "vital to our national interests," Abraham also expressed strong support for DOE's science and technology programs.
"The national laboratories are national treasures," he said. "My commitment is to continue to work with the Senate to be an advocate for increased spending for science and technology."
Richardson Offers Advice to His Successor
Former Energy Secretary Bill Richardson says his successor will need close ties to the White House to make him effective as the United States' top energy official.
"He has to establish with the White House that energy policy is made at the Energy Department," Richardson said in an interview with Inside Energy. "The energy secretary has to have influence with the president and the flexibility that I've had. Otherwise, he will be eaten up in the interagency process and in the Congress."
When asked what he considered to be his own legacy at DOE, Richardson responded: "We made this department important. We dramatically raised the visibility of this department … and that's good because it will help our recruitment, it will help our programs."

Lab Inventors Receive Royalty Checks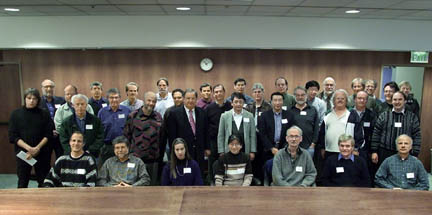 Director Charles Shank (fifth from left, center row) handed out royalty checks to Berkeley Lab inventors during a ceremony held in Shank's office. Deputy Director Pier Oddone (to Shank's right) was also there to congratulate the winners. The checks are awarded yearly for inventions developed by Lab researchers and licensed through the Technology Transfer Department.

This year's recipients (some of whom were not on hand for the photo shoot) were, in alphabetical order: Paul Alivisatos, Pat Blanche, Thomas Brennan, Ian Brown, Fred Buhl, Ted Chang, Lut DeJonghe, Ken Downing, Chas Ehrlich, Ender Erdem, Ashok Gadgil, Jim Galvin, Rick Gough, Frank Hale, Nomi Harris, Steve Holland, Joe Huang, Qing Ji, Jian Jin, Bill Kolbe, Ka-Ngo Leung, Terry Ligocki, Bob Macgill, Mark Modera, Bob Nordmeyer, Joe Orr, Ken Revzan, Miquel Salmeron, Michael Siminovitch, Don Uber, Steve Visco, Shimon Weiss, Russell Wells, Fred Winkelmann, and Derek Yegian.

Director Shank congratulated the inventors and shared some good news about the royality income. "I am pleased to note there has been more than an eight-fold increase in the royalties distributed to inventors in the last four years alone," Shank said.

Rubin, Celniker Win AAAS Prize
Among the ensemble of sequen-ced genomes chosen as Science magazine's "Breakthrough of the Year" (see Currents, Jan. 12) was that of the fruit fly Drosophila melanogaster. The lead authors who reported the ground-breaking success will be awarded the Newcomb Cleveland Prize at next month's meeting of the American Association for the Advancement of Science (AAAS).
Gerald Rubin, UC Berkeley genetics professor and head of the Berkeley Drosophila Genome Project (BDGP), and Susan Celniker, codirector with Rubin of the Drosophila Genome Sequencing Laboratory in the Lab's Life Sciences Division, will share the $5,000 prize with J. Craig Venter and Mark Adams of Celera Genomics.
The four were the lead authors among hundreds of signatories of a group of papers appearing in Science last March 24. They will receive commemorative medals at a Feb. 17 ceremony during the AAAS annual meeting in San Francisco.
The Newcomb Cleveland Prize, the oldest AAAS prize, was established in 1923 to recognize an outstanding paper published in Science, which is published by the AAAS.
More information about Berkeley Lab's contribution can be found in the Fall 2000 issue of Research Highlights (on the main Lab website under Research Highlights, click on "The Whole Fly").- Paul Preuss

UC Regents Approve Age Factor Improvement in Retirement Plan
UC faculty and staff will see increased retirement benefits in the future as a result of the "age factors" improvements in the University of California Retirement Plan (UCRP), passed by the UC Board of Regents on Jan. 18 . The action, effective Jan. 1, was part of an effort to reward employees and enhance recruitment.
The new age factors - a figure used to calculate the salary percentage upon retirement - will start at 1.1 percent at age 50, increasing in increments of .14 percentage points per year to 2.5 (up from 2.41) percent at age 60, and constant thereafter. This represents an increase in benefits ranging from 1 to 20 percent, depending on the retirement age.
The age factor multiplied by the employee's years of service results in the percentage of monthly income to be provided at retirement.
By increasing the age factors, and hence the retirement benefits with age, the plan promotes retention of current faculty and staff.
The California Public Employees' Retirement System adjusted its age factors last year. The UCRP proposal was adopted by the Regents after extensive consultation and a comprehensive asset/liability study.
Also on Jan. 18 the Regents approved a one-time cost-of-living adjustment for UC retirees and their survivors who retired before July 1, 1985. The action is effective Jan. 1.
For more information on these and other changes passed by the Regents, see http://www.ucop.edu/bencom/. To estimate benefits, see the UCRP Benefit Estimator at http://www.ucop.edu/bencom/rs/ucrpcalc/estimator.html.- Monica Friedlander

Berkeley Lab Currents
Published twice a month by the Public Information Department for the employees and retirees of Ernest Orlando Lawrence Berkeley National Laboratory. Ron Kolb, PID department head.
EDITOR: Monica Friedlander, (510) 495-2248, msfriedlander@lbl.gov
STAFF WRITERS: Lisa Gonzales, 486-4698; Paul Preuss, 486-6249; Lynn Yarris, 486-5375
CONTRIBUTING WRITERS: Jon Bashor, X5849, Allan Chen, X4210, Jeffery Kahn, X4019
FLEA MARKET / CALENDAR: 486-5771
fleamarket@lbl.gov/currents_calendar@lbl.gov
Public Information Department, Berkeley Lab, MS 65A
One Cyclotron Road, Berkeley CA 94720
Tel: 510/486-5771 Fax: 510/486-6641
Berkeley Lab is managed by the University of California for the U.S. Department of Energy.

Berkeley Lab's New APS Fellows
Four Berkeley Lab physicists were among the 194 APS Fellows elected by the American Physical Society in 2000. The honor is bestowed by the APS on only one half of one percent of the total membership each year.
Berkeley Lab's honorees are:
Kevin Lesko, Nuclear Physics
For outstanding experimental contributions to the study of neutrino properties - searches for neutrino oscillations -- and their application to the solar neutrino problem.
Saul Perlmutter, Astrophysics
For pioneering contributions to cosmology, including development of new search techniques that led to discovery of numerous distant supernovae and strong evidence for the accelerated expansion of the universe.
Hans-Georg Ritter, Nuclear Physics
For his leading role in the discovery of the collective flow of nuclear matter.
Michael Zisman, Physics of Beams
For his key role in storage ring designs of synchrotron radiation sources and electron-positron factories, authoring the ZAP design code and in the design, construction and commissioning of the PEP-II/LER.
The fellowship program recognizes APS members who made advances in knowledge through original research, publication, or other significant contributions in the application of physics to science and technology.
This year, 194 physicist were added to the fellowship rolls.

Chattopadhyay to be Associate Director at Jefferson Lab
By Lynn Yarris
After a nearly 25-year association with Berkeley Lab, Swapan Chattopadhyay, a physicist with the Accelerator and Fusion Research Division (AFRD) who heads the Center for Beam Physics, is departing. On March 19 he will assume his new responsibilities as Associate Director of the Thomas Jefferson National Accelerator Facility (Jefferson Lab) in Newport News, Virginia.
"It is particularly difficult for me to leave Berkeley after all these years," Chattopadhyay said. "In all my travels and global associations with universities and institutions worldwide, I have yet to find the likes of my Berkeley colleagues in matching their intellectual and technical capacities and their innovative and creative spirit. I will miss being immersed in this truly outstanding flow of intellectual traffic."
Chattopadhyay came to UC Berkeley in 1974 as a physics graduate student. Upon receiving his Ph.D. in physics in 1982, he spent two years at CERN as a scientific attaché. He then returned to Berkeley Lab and has been a fixture here ever since, serving as a major contributor to numerous national and international projects such as the Advanced Light Source, the B Factory, and the Super Proton-Antiproton Synchrotron collider at CERN. In 1987 he became the leader of AFRD's Exploratory Studies Group and used this position to establish the Center for Beam Physics (CBP) in December 1991.
The CBP is a multidisciplinary research group of about 50 scientists and engineers whose mission is to study the production, manipulation, storage and control of particle and light beams and plasmas. Under his leadership, CBP researchers have been at the forefront of such technological breakthroughs as femtosecond x-ray generation and laser plasma beam acceleration.
At Jefferson Lab Chattopadhyay will oversee research and development as well as operations of the main continuous electron beam accelerator facility (CEBAF), plus the lab's free electron laser facility, light sources program, applied superconductivity and superconducting radio-frequency R&D center, and its cryogenics and engineering programs. He will also hold an appointment as the Governor's Distinguished CEBAF Professor of SURA (Southeastern Universities Research Association).
"Jefferson Lab, in keeping with its tradition of bold conceptual and technological steps, is poised on the verge of great developments and I am honored by the confidence placed in me with this appointment," Chattopadhyay said. "I have been charged with pushing the scientific frontiers based on their technology even further. In my new capacity, I look forward to continuing collaboration with Berkeley Lab in further enhancing the cutting edge of science and technology."

Jim Harris Left His Mark on Science and Community
By Lisa Gonzales
When James Harris first began looking for a job after graduating with a B.S. in chemistry, he was met with shock and incredulity. It was 1955, and many employers found it hard to believe that an African-American was applying for a job as a chemist.
"I was even given a job test simple enough for elementary school kids - basic addition and subtraction," Harris said in a 1973 interview with Ebony magazine. "I told the secretary I didn't need a job that badly." He did get a job at Tracerlab in Richmond before coming to what was then the Lawrence Radiation Lab in 1960. Here, he became a member of the team that discovered elements 104 and 105.
Harris, the first African-American scientist to participate in major programs to identify new elements, died last Dec. 12 of a sudden illness. He was 68.
Born in Waco, Texas in 1932, Harris moved to the Bay Area in his teens and returned to Texas to earn his degree in chemistry from Huston-Tillotson College, where he also met his future wife, Helen. They were married in 1957, shortly before he came to the Lab, and had five children.
As a member of the Nuclear Chemistry Division, he worked in the Heavy Isotopes Production Group, where he prepared the targets used in the discovery of elements 104 and 105.
"This was a very difficult process," says Al Ghiorso, one of the primary researchers involved in the search for heavy elements, explaining the challenge of minimizing the lead and other impurities in the target. This required Harris to make painstaking efforts, repeatedly processing the material. At the time of the discovery of 104, Ghiorso called Harris' target "the best ever made for heavy element research."
In addition to his professional accomplishments, James Harris was deeply committed to the struggle to increase the number of African-American scientists and engineers, and led the effort here at the Lab through recruitment and visits with universities across the nation. This work resulted in awards from the Urban League, the National Organization for the Professional Advancement of Black Chemists and Chemical Engineers, the City of Richmond, Alpha Phi Alpha Fraternity, Black Dignity Science Institute, and the National Organization for Equal Opportunity in Education.
He was included in the "Black Pioneers" exhibit at the Oakland Museum, and was inducted into the Black College Hall of Fame in Atlanta.
"James did a lot of extracurricular things for young scientists and students, beginning at the elementary school level," says nuclear scientist Darleane Hoffman, a good friend and colleague. "From the first time I met him in the early '60s to the last time on the day he passed away, he was upbeat, cheerful, and a pleasure to be around."
Harris used to visit elementary and high schools all over the area in his attempts to get young people from underrepresented communities interested in the pursuit of science.
Tammy Campbell of the Technical and Electronic Information Department was one of Harris' neighbors, and a good friend. She recalls Harris having his own trading card from a campaign created by Educational Science Books. The company took the idea of baseball cards and instead made trading cards for scientists, an item that proved to be a great icebreaker for Harris with the children he visited. His commitment led him to be a member of the Big Brothers of America, the Parent-Teachers Association, and the Far West High School Policy Board.
Harris retired from the Lab in 1988. Although his community work continued, most of his time was devoted to family, travel and golf. Harris, along with his wife, often joined friends all over the United States, the Caribbean, and the Pacific Islands for friendly rounds of golf.
Even with all of his accomplishments, Harris is most remembered by his colleagues for his personal qualities.
"You don't run into people like him very often," says Ghiorso. "He was jolly and personable, and a real person who didn't let success go to his head. He was just a beautiful guy to be around."
Says Campbell, "He always looked out for you. He lived a well-balanced life with a wonderful family."
In addition to his wife, Helen, Harris is survived by his five children: Cedric, Keith, Hilda, Kimberly, and James II; his sister, Doris Blue of Chico; two grandsons, Sudan Williams and Rodney Wilson; and four nieces and a nephew.
A memorial service for Harris will be held today at the Richmond Auditorium in Richmond at 5:30 p.m.

Memorial Service Today
A memorial service for James Harris, who passed away on Dec. 12, 2000, will be held today, January 26, at 5:30 p.m. in the Richmond Auditorium in Richmond, Calilfornia.

Upgrades of Tritium Facility to Save Energy, Remove Hillside Stack
By Ron Kolb
Berkeley Lab will complete improvements in ventilation and exhaust systems at the National Tritium Labeling Facility (NTLF) this year, leading to reduced energy consumption and improved worker safety.
The new efficiencies, combined with a 10-fold decrease in tritium emissions achieved over the past 10 years, will render the present high-capacity exhaust system - including a 28-foot-high emissions stack - unnecessary. The stack will be removed as part of the renovation work and a new, smaller stack will be installed on the roof of the building that houses the NTLF.
Electricity saved as a result of the modifications is expected to equal the power required by about eight standard houses. Significant natural gas savings are also anticipated.
Berkeley Lab officials made the announcement at the Jan. 17 meeting of the Environmental Sampling Project Task Force, a committee of diverse community representatives who are advising the Laboratory on a proposed tritium sampling plan. Some task force and community members have recommended that the Laboratory remove the stack from the hillside adjacent to the NTLF.
"This action will update and improve air circulation systems, making an already safe facility even safer and more energy-efficient," David McGraw, Director of the Environmental Health and Safety Division, told the task force. "As a result, the larger exhaust stack will be unnecessary, and its removal will allow us to also be responsive to citizen interests."
Air will be vented in the future through a smaller stack on the roof of the NTLF, which is about 130 feet further away from the closest off-site receptor than the existing stack.
McGraw told community members that, even though tritium emissions are already minute and far below maximum levels permitted for public safety, preliminary air dispersion modeling indicates a probable reduction in radiation doses to the maximally exposed individual resulting from the changes. And he assured them, "These improvements will not result in any increase in emissions or in facility activity."
Laboratory and independent assessments over the last five years have showed that the annual public dose from tritium emissions at the NTLF is less than one percent of the public health standard for air established by the Environmental Protection Agency (EPA) for facilities of its type.
The facility renovations, which include upgrades to air circulation and supply systems, temperature and pressure controls, refrigeration and fume hoods, are due for completion by Oct. 1.
The task force, meeting for the eighth time, continued its work on a draft environmental sampling plan, whose data will be forwarded to the EPA for a reevaluation of the Lab's priority status for clean-up. Sampling could begin in certain media as soon as next month. Laboratory officials believe that the data, once collected, will verify prior independent health assessments that have concluded the tritium emissions pose no danger to public or environmental health and safety. EPA officials have stated it is unlikely that Berkeley Lab will be added to the agency's National Priority List.

CSEE Open House
The Center for Science and Engineering Education is hosting an Open House on Feb. 5 from 3 to 5 p.m. in Perseverance Hall. All Berkeley Lab staff are invited to attend. On display will be posters describing the new and ongoing education outreach activities at the Lab. Project coordinators for these programs will answer questions and discuss opportunities to become involved.
Lab Director Charles Shank will be there starting at 4 p.m. to thank employees who have assisted with the program. And David McGraw will discuss the importance of outreach efforts to the Lab's Community Relations and Public Affairs Initiative.
Refreshments will be served.

Bulletin Board

Lab's Travel Office Staff Plays Santa
By Monica Friedlander
Like millions of other families, grandma Helen and three of her grandchildren - wide-eyed Chey-enne, 3, Helen, 11, and Daniel, 16 - ripped open their presents last Christmas and jumped with joy at the surprises they found inside. But unlike most other families, this ritual was an unexpected blessing for this homeless family, who spent the holidays at the home of a Native American Health Care volunteer in Oakland. As for Santa's delivery, it was made possible only through the efforts and generosity of a very special group of people at Berkeley Lab.
Last November, the Lab's Latino and Native American Association (LANA) put out fliers for a toy and clothes drive. Carol Johnson, the Lab's Travel Office manager, saw the fliers and contacted Claudia Quezada, LANA's chair, offering to help - but with a more personal gesture than most. LANA's co-chair, Bob Torres, knew of an extended Native American family in need of help, and Johnson and her entire 10-person office staff offered not just to contribute, but to "adopt" the family.
"What touched me the most is that people who are not LANA members wanted to be involved," Quezada says. "With this adopt-a-family program LANA accomplished a very important goal: to get people involved in helping the community of Latinos and Native Americans in the Bay Area. It was rewarding for the entire group and it touched the entire department."
All 10 women in the Travel Office took time every day during luches, coffee breaks and after hours to go shopping and wrap gifts for this family - enough to shower each family member with three gifts.
Quezada did a lot of the legwork herself, everything from printing fliers to helping load the truck that delivered the gifts.
"Grandma was crying when she saw her grandchildren receive what she couldn't give them" said Torres, who drove the truck and delivered the presents.
Torres also picked up toys and clothes for other toy drives here at the Lab during the months of November and December. "He had two months to play Santa Claus with his truck," laughed Quezada.
All donations make a difference in someone's life. But for this one very greatful family, "Santa" says, the efforts of the Travel Dempartment staff were especially meaningful.
"This was no simple act of giving gifts," wrote Torres in a thank you note to the Travel Office staff. "It was a reminder to them that they are not alone and forgotten."

Karats Sale
"Karats" will return to Berkeley Lab for a pre-Valentine sale on Thursday, Feb. 1.
A variety of gold jewelery will be on display in the cafeteria lobby from 7:30 a.m. to 3 p.m.

T. Rex on Trial at Hall of Science
Dinosaur demonstrations and special events
Feb. 3 - May 28, 2001
Where was T. rex at the time of the crime? A new Lawrence Hall of Science exhibit will shed light on an age-old mystery. Was T. rex a vicious predator or just an innocent scavenger? Visitors will be the judges in this interactive exhibit of life-size skeletons, rare fossils, robotic dinosaurs, and activity stations. Visitors will be able to experiment with the same scientific tools as dinosaur hunters.
The exhibit is cosponsored by the UC Museum of Paleontology and was created by the Museum of the Rockies Inc., holder of one of the world's leading collections of meat-eating dinosaur fossils.
Special events:
Friday, Feb. 2, 6:30 p.m.
Exhibit preview and debate
A lively debate between two eminent paleontologists, Jack Horner of the Museum of the Rockies at Montana State University and Kevin Padian of the Museum of Paleontology at UC Berkeley will follow the preview. Advance registration is recommended. Admission is $17 ($10 for members of the LHS, the Museum of Paleontology and UC students).
Saturday, Feb. 3, 9 a.m.
Special Morning Preview for members
Saturday, Feb. 3, 11 a.m.
T. Rex: Guilty or Innocent of Murder: A Talk by Jack Horner, professor and curator of the Museum of the Rockies at Montana State University
Demonstrations will be held Monday through Friday at 10:30 a.m., 11:30 a.m., and 12:30 p.m., and Saturdays, Sundays and holidays at noon, 1 p.m., 2 p.m. and 3 p.m.

Golf Club
Results from the tournament played last month at the Oakhurst Country Club:
First Flight
1. Mark Campagna, 72
2. Tipasa Samatua, 76
3. John Christman, 77
4. Martin Kitchener, 78
5. Marshall Hilburn, 78
Second Flight
1. Henry Rodriguez, 70
2. Pat Aki, 71
3. Andy Gibbs, 73
4. Bob Ngim, 78
5. Paul Waybark, 79
Third Flight
1. Keith Groves, 70
2. Bob Ferrero, 72
3. Ed Miller, 72
4. Ted Lauritzen, 77
5. Don Prestella, 80

Central Biosciences Administration Moves to Downtown Berkeley
The Central Biosciences Administration will move to downtown Berkeley, 2000 Center Street, between Feb. 1 and Feb. 5. A map of the new location is available at http://www.lbl.gov/biosciadmin. Anyone anticipating any business with the staff is encouraged to contact them before the move or after Feb. 5.
The offsite shuttle bus stops at the corner of Milvia and Center Streets, directly across the street from Bldg. 941. Visitor parking arrangements will be announced soon.

Keep Your Vehicle Info Up to Date
The Site Access Office would like to remind everyone that an online, self-service application is available for employees to add or delete vehicles and otherwise keep all relevant information current.
You can access the website at http://www.lbl.gov/Workplace/site-access/parking/.
If you do not have either an IMAP4 or Calendar account, contact the Help Desk or X4357 to obtain a password that will allow you to use the application.

New EH&S Safety Courses
EHS 210: Hoist Operator Training, for personnel who operate a hoist with a maximum load capacity of one ton. The course will be offered weekly through next month.
EHS 277: Ladder Safety, for personnel who use ladders on an incidental or routine basis within the scope of their work assignments.
EHS 278: Confined Space Entry Permit Writer Training, for supervisors or their designees; provides information on skills required to authorize and complete Procedural Confined Space Permits.
EHS 279: Scaffold Safety, for those who use scaffolds on an incidental or routine basis within the scope of their work assignments.
EHS 740 Human Subjects Research, now online (http://www-ia1.lbl.gov/ehs/hsrt/): provides information on requirements for conducting research using human subjects.
For information contact Susan Aberg at aberg@lbl.gov.

Calendar
General Interest
JANUARY 26, Friday
CALIFORNIA'S ENERGY CRISIS
EETD special seminar, noon, Bldg. 50 auditorium
JANUARY 30, Tuesday
BLOOD DRIVE
7 a.m. - 1 p.m., Bldg. 70A-3377
JANUARY 31, Wednesday
BLOOD DRIVE
8 a.m. - 1 p.m., Bldg. 70A-3377
FEBRUARY 1, Thursday
KARATS JEWELERY SALE
7:30 a.m. - 3 p.m., cafeteria
SHOEMOBILE
7:30 a.m. - 3:30 p.m., cafeteria parking lot
FEBRUARY 5, Monday
TRIPMOBILE
11:30 a.m. to 12:40 p.m., cafeteria parking lot CSEE Open House
3 - 5 p.m., Perseverance Hall
Send us your announcements
Announcements for the General Calendar and Bulletin Board page may be sent to MSFriedlander@ lbl.gov. Seminar & Lectures items may be mailed to currents_calendar@lbl.gov. You may also fax items to X6641 or mail them to Bldg. 65B. The deadline for the Feb. 9 issue is 5 p.m. Monday, Feb. 5.
Seminars & Lectures
MONDAY, January 29
PHYSICS DEPARTMENT COLLOQUIUM
Kondo Physics with a Single Electron Transistor
Speaker: Marc A. Kastner, Massachusetts Institute of Technology
4:30 p.m., 1 LeConte Hall
TUESDAY, January 30
LIFE SCIENCES DIVISION SEMINAR
From Society to Genes with the Honey Bee
Speaker: Gene E. Robinson, University of Illinois
4 p.m., Bldg. 84, Room 318
ENVIRONMENTAL ENERGY TECHNOLOGIES DIVISION
Geothermal Power: Meeting the Challenge of Electric Price Stabilization in the West
Speakers: Jon Wellinghoff, attorney, Beckley Singleton, Las Vegas; and Steve Munson, Vulcan Power Corporation
Noon, Bldg. 90, Room 3148
THURSDAY, February 1
PHYSICS DIVISON RESEARCH PROGRESS MEETING
Applications of the Genome Project
Speaker: Eddy Rubin, Physics Division
4 p.m., Bldg. 50A, Room 5132
SURFACE SCIENCE AND CATALYSIS SCIENCE SEMINARS
Wetting Transitions and Sticky Superfluids
Speaker: Peter Taborek, UC Irvine
1:30 p.m., Bldg 66 auditorium
FRIDAY, February 2
CENTER FOR BEAM PHYSICS SEMINAR
Progress on All-Optical Particle Acceleration
Speaker: Wim Leemans, Physics Division
10:30 a.m., Bldg 71-264 conference room
Refreshments at 10:20 a.m.
SPECIAL PHYSICS DIVISON RESEARCH PROGRESS MEETING
A Study of New B -> J/y K*0 X Decays
Speaker: Stephen Bailey, Harvard
2 p.m., Bldg. 50A, Room 5132
THURSDAY, February 8
PHYSICS DIVISON RESEARCH PROGRESS MEETING
Detecting Cosmic Shear
Speaker: David Wittman, Bell Laboratories
4 p.m., Bldg. 50B, Room 5132
SURFACE SCIENCE AND CATALYSIS SCIENCE SEMINARS
Advanced Catalyst Systems for the Removal of Sulfur from Diesel and Heavy Oils
Speaker: Christopher Marshall, Argonne National Laboratory
1:30 p.m., Bldg 66 auditorium

EH&S Classes - Fabruary 2000
| | | | | |
| --- | --- | --- | --- | --- |
| Date | Course | | Time | Building |
| 2/1 | EHS 275 | Fall Protection Training | 9:00 - 11:00 | 90-1099 |
| 2/2 | EHS 277 | Confined Space Permit Writer | 1:00 - 2:00 | 75-124 |
| 2/6 | EHS 275 | Confined Space Hazards | 9:00 - 11:00 | 51-201 |
| 2/6 | EHS 330 | Lead Hazard Awareness | 11:00 - 12:00 | 51-201 |
| 2/7 | EHS 116 | First Aid | 8:30 - 12:30 | 48-109 |
| 2/13 | EHS 10 | Introduction to EH&S at LBNL* | 8:30 - 10:15 | 50 aud |
| 2/14 | EHS 123 | Adult CPR | 8:30 - 12:00 | 48-109 |
| 2/15 | EHS 135 | Earthquake Safety | 10:00 - 11:30 | 48-109 |
| 2/16 | EHS 400 | Radiation Protection-Fundamentals | 9:00 - 12:00 | 51-201 |
| 2/20 | EHS 348 | Chemical Hygiene/Safety | 9:30 - 12:00 | 51-201 |
| 2/20 | EHS 231 | Compressed Gas Safety | 1:00 - 3:00 | 51-201 |
| 2/21 | EHS 530 | Fire Extinguisher | 10:00 - 11:30 | 48-109 |
| 2/22 | EHS 260 | Basic Electrical Hazard Awareness | 10:00 - 11:30 | 51-201 |
| 2/23 | EHS 604 | Hazardous Waste Generators | 9:30 - 11:00 | 51-201 |
| 2/23 | EHS 622 | Radioactive/Mixed Waste Generators | 11:00 - 12:00 | 51-201 |
| 2/26 | EHS 256 | Lockout/Tagout (LO/TO) | 1:00 - 2:30 | 51-201 |
| 2/27 | EHS 432 | Radiation Protection-Lab Safety | 9:00 - 12:00 | 51-201 |
| 2/28 | EHS 280 | Laser Safety | 1:00 - 4:00 | 51-201 |
* Includes EHS 392/405, followed by the orientation. Please arrive at 8:15 for sign-in.
For more information or to enroll, contact Susan Aberg at Saberg@lbl.gov or enroll via the web at http://www-ehs.lbl.gov/ehstraining/registration/. Preregistration is required for all courses except EHS 10 (Introduction to EH&S). Times and locations are subject to change. For a full, updated schedule of EH&S training sessions see http://www-ehs.lbl.gov/schedule/.

Labs Get High Marks in Annual Report to Regents
William Friend, chair of the UC President's Council on the National Laboratories, praised the labs in his annual report to the UC Board of Regents last week.
In particular, he noted in remarks prepared for the UC Regents, "Berkeley Lab is producing outstanding science and demonstrating even greater future promise. The Advanced Light Source (ALS) continues to deliver exceptional capability and performance to an increasing number of users.
An emphasis on crystallography, with seven additional beamlines in this area under construction, is allowing high resolution imaging of very complex protein structures, including the ribosome, the organelle vital to protein synthesis."
Friend continued, "The Lab's current interests in nanotechnology are expected to grow and promise real technological breakthroughs. Computing is also a core competency of the Berkeley Lab, and, by March, the new computing facility in Oakland will be the most powerful unclassified computing facility in the world.
"As a final example, and building on truly breakthrough work on the accelerating expansion of the universe that I mentioned last year, the Lab is working on a proposal to build a supernova probe satellite. This is all truly exciting science."
He also singled out the "remarkable joint effort by the three labs" in sequencing portions of the human genome and completing the task "ahead of schedule and with a significantly higher level of accuracy than most of the other academic genome centers."

Flea Market
Autos / Suplies
'99 FORD CONTOUR SE Sedan 4 dr, metallic red, auto trans, 18K mi, gd cond, clean, dual air bags, abs, cruise, pwr steer/win/lock, stereo/cass, $11,200, Yoshi, X4213, 965-9179
'97 GEO PRISM, white, < 52K mi, dual air bags, 30 mpg hwy, 4-dr, great shape, well cared for, low maint, nice ride, roomy, big trunk, very reliable & practical, $8,500, Jim, X6048, 649-8038
'95 BUICK REGAL GS, black w/ tan leather int, 3.8 L V6 engine, all pwr, moonrf, ac, sport suspension, new tires. 124K all-hwy mi, exc cond, fact maint schedule, $7,500/bo, (925) 735 6526
'94 GEO METRO, hatch, black, 87K mi, $1,300, Frithjof, X2845, 845-8318
'91 HONDA ACCORD LX, beige, at/ac, 130K mi, clean, well-maint, $5,500, MS, (925) 631-0510, (925) 980-4115 cell
'88 HONDA CIVIC LX 4 dr se-dan, 5 spd, 99K mi, good cond, $2,500, Bill, X7224, 848-3636
'87 OLDS CIERA, exc cond; new fr brakes, battery & trans; 162K mi, $2,200/bo, Valerie, X5369
'83 NISSAN TRUCK, 5 sp, 132K mi, orig owner, smog certified, blue w/ decals, minor mechan issues, $900/bo, Derek, X5739, 482-1420
'80 VW RABBIT, 4-dr, 4-sp man, runs well, 130K mi, orig owner, passes smog test, $1,800/bo, Dave, 836-3771 pm/msg
SEAT COVERS for car, 2 for front bucket seats, blue/gray woven tweed upholstery, $7/bo, Melissa, 665-5572, lv msg
Housing
BERKELEY 2 bdrm house, 15 min walk west of downtown, furn, share yard/laundry, $2,000/ mo, non-smokers, Chris, X7028, 589-5202 cell, C_Marnay@lbl.gov
BERKELEY HILLS, cozy 2-bdrm furn home w/ garden, avail 2/15-6/30, $2,300/mo incl water, garbage, gardener, Barbara 525-8436, babstim@slip.net
EL CERRITO, lge furn rm for a male grad student/visiting scholar, full use of lge kitchen, shared bth, priv phone line, fast internet access, cable TV, street parking, short walking distance to BART, bus, shopping, w/d, 4 mi from Lab, no smok/ pets/live-ins, $600/ mo, $650 dep, addl fee for cable, net access & IP, Keller, 524-3780
NORTH BERKELEY HILLS, furn studio w/ separate entr, carpeted, lower floor of duplex, laundry, partial view, on #8 busline, dishes, linens, b/w TV, priv phone line, avail 2/1, no smoking/pets, $850/mo w/ off-street parking, $800/mo w/out parking, Rachelle, (415) 435-7539, lv msg
ROCKRIDGE, fully furn master suite w/ private bth, walk to BART, avail immediately through end of June, $695/mo, Helen, 655-2534
ROCKRIDGE, room in house, very nice neighborhood, 10 min walk to Rockridge BART and LBNL shuttle, priv bath, wonderful bay view, avail starting Jan 15, $730/mo, Helene, 655-2534.
Housing Wanted
VISITING GRAD STUDENT from Italy, male, seeking room close to campus, pref near Piedmont Ave, less than $700, Alessio, 845-1579, alessio_misuri@libero.it
VISITING MALE RESEARCHER from Sweden seeks room in Berkeley, $500-600 w/ kitchen & laundry priv, non-smoker, 2/5 - 7/6, Peter, starzec@geo.chalmers. se, +4631283218
VISITING RESEARCHER from Germany seeks shared living quarters or studio w/ in biking or walking dist from LBNL, up to $800/mo, single, non-smoker, arrive 2/1 for 4 mos, Matthias, arenz@thch.uni-bonn.de
Misc Items for Sale
CD STAND, holds 40 CDs, never used, still in box, black plastic, $8, Melissa, 665-5572, lv msg
COLOR TV, $30; 17" comp monitor, $95; futon sofa, $120; micro-wave, $10, kitchen table+4 chairs, $30; sm refrig, $20; folding mattresses, $30/ea, 2-pers tents, $15/ ea, 2 big air mattresses w/ pump, $20/all; wood desk chair, round wood liv rm table, Jens, X6174
Dell XPS D300 PENTIUM P2 @ 300 Mhz, 128 mb dram, & 6.2 gb hard disk running windows 98, CD ROM, internal zip, internal tape drive, floppy, 56k modem, 10/100 smc ethernet card for cable modem; sound card, altec speakers & 19" Trinitron monitor incl, $650, (925)202-4841
MONGOOSE KID'S BIKE for child 4-7 years old, used, in good cond, Fred, X4892
NIKE TENNIS SHOES, size 10, barely used, bo, Steve, X6941
ROUND TABLE, 42" diameter, extendable to oval shape, easy to clean, pedestal style, w/ marblized formica top & 4 chairs, $75/bo, you haul it away, Ravi, X6020
TICKETS TO PACO DE LUCIA, 8 pm 4/14, Zellerbach, 2 orch seats, $27/ea for alumni, addl $3 at door for non-alumni, Dale, X5988, 547-2356
Wanted
GRAPHON 200-300 series terminals w/ 4014 emulation for LBNL experimenter, Jerry, X5407
STUDY PARTNER or group to practice ASL, will work to your schedule, Chip, X7882, (925) 682-2349, pckozy@lbl.gov
Free
POTS & PANS in assorted sizes, used, some w/lids, yours for the taking at the Firehouse, Bldg. 48, X7685, see any firefighter for information.
WOOD FUTON FRAME, queen, one armrest missing, free, Steve, X6941
Lost & Found
BLACK UMBRELLA found near the entrance to Bldg. 50A on Jan. 10, Avril, X4098