SORMA West Home
On the campus of the University of California, Berkeley
Thank you for your contributions to SORMA West 2008. We hope that you found it rewarding and enjoyable, and that you will consider future conferences in the SORMA series (East or West) as a venue for your results. Meanwhile, please consult the "Manuscripts" link in the lefthand menu for information about writing and submitting your Proceedings paper.
Update your memory stick by downloading the latest version of everything as of May 30 (the information on the sticks dates back to May 14)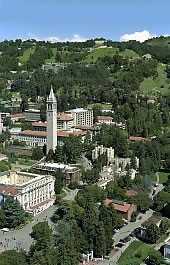 We invite you to Berkeley for the first West Coast meeting of the Symposium on Radiation Measurements and Applications, June 2-5, 2008. SORMA East will continue to be held every four years in its traditional home at the University of Michigan.
With radiation detectors increasing in number, variety, and societal importance, we will alternate it with SORMA West so that the forum will be available every two years. Topic areas that we sought for SORMA West 2008 were much the same as those of recent Michigan programs, and were meant to encompass the full breadth of ionizing radiation measurement applications and technologies, with both oral and poster presentations. The Topics link at the left will bring up the list of suggestions (and now you can click the Technical Program link to see the resulting abstracts). Other ideas along these lines were welcomed. Authors who present at SORMA are encouraged to follow up their presentation with a contribution to the Proceedings, which will appear as a special issue of a refereed journal.
Contact Information
Conference email: [email protected]
To receive occasional e-mail updates about SORMA West 2008, send us a message at [email protected].
Lawrence Berkeley National Laboratory
Conference Services,
MS 937R0600
1 Cyclotron Road
Berkeley, CA 94720 USA