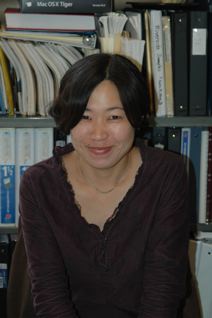 Junko Yano, Ph.D.
Staff Scientist, Physical Biosciences Division
Joint Center for Artificial Photosynthesis (JCAP)
Office: Bldg. 66, Rm 325
Phone: 510-486-4366
Email: JYano [at] lbl [dot] gov
Publications
Awards
More...

Education:
M.Sc., Graduate School of Biosphere Sciences, Hiroshima Univ., Japan.
Ph.D. Sc. (Physical Chemistry), Graduate School of Science, Osaka Univ., Japan.

Experience:
Research Associate, Hiroshima Univ., Faculty of Applied Biological Science.
Golda Meir Research Fellow, The Hebrew University of Jerusalem, Israel.
Postdoctoral Fellow, LBNL, Physical Biosciences Division, Berkeley, CA.
Current: Staff Scientist at Physical Bioscience Division, LBNL.

Junko Yano began working in the research group in 2001 as a Postdoctoral Fellow in the Physical Biosciences Division at LBNL, advancing on to become a Staff Research Associate in 2003, and was promoted as a Staff Scientist in 2006. Her research interests include the following topics: (i) structure and function of active metal sites in metalloproteins, (ii) application of synchrotron x-ray absorption and diffraction methods for the analysis of molecular structures, crystal structures, and electronic structures of organic and inorganic compounds, (iii) structure and function relationship using vibrational spectroscopy and EPR spectroscopy in organic and organometallic materials, and (iv) self-assembling process of organic and inorganic compounds at template surfaces.
Yano was awarded the "Robin Hill Award" by the International Society for Photosynthesis Research. The award is given once every three years to a scientist under 40 years of age for "outstanding investigations into the physical aspects of photosynthesis." The award was presented at the 14th International Congress on Photosynthesis held in Glasgow, U.K. in July 2007. The prize included a monetary award and an invited talk. The news was highlighted in LBNL Today, SSRL News, and SLAC Today, among several other sites.