CHEMICAL STORAGE

This section provides requirements and recommendations for storing hazardous materials. Refer to the section entitled Definition of Hazardous Chemicals to determine if a chemical, material, product or mixture is hazardous. Refer to PUB 3000, Chapter 20 for hazardous waste storage requirements.
Hazardous Material Storage Requirements
The criteria listed in this section are requirements that must be followed by LBNL staff.
General Requirements, Storage Cabinets and Shelves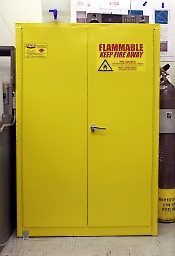 Refrigerators Used for Hazardous Material Storage
Squeeze Bottles, and Wash Bottles
Secondary Containment for Liquids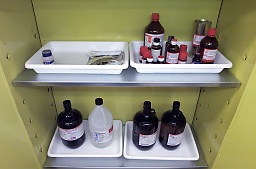 Hazardous Material Storage Recommendations
The information, guidelines, chemical incompatibility matrices and tables presented below are recommended good practices. These are optional guidelines.
General Recommendations
Chemical Incompatibility Matrices and Tables
Chemical incompatibility data are presented in Tables 1 and 2 below. These are recommended guidelines that may be used in combination with container labels, MSDSs , user knowledge for storing and segregating chemicals. An EH&S Industrial Hygienist may also be consulted.
Table 1: Incompatibilities by Hazard Class


| | | | | | | | | | |
| --- | --- | --- | --- | --- | --- | --- | --- | --- | --- |
| | Acids, inorganic | Acids, oxidizing | Acids, organic | Alkalis (bases) | Oxidizers | Poisons, inorganic | Poisons, organic | Water- reactives | Organic solvents |
| Acids, inorganic | | | X | X | | X | X | X | X |
| Acids, oxidizing | | | X | X | | X | X | X | X |
| Acids, organic | X | X | | X | X | X | X | X | |
| Alkalis (bases) | X | X | X | | | | X | X | X |
| Oxidizers | | | X | | | | X | X | X |
| Poisons, inorganic | X | X | X | | | | X | X | X |
| Poisons, organic | X | X | X | X | X | X | | | |
| Water- reactives | X | X | X | X | X | X | | | |
| Organic solvents | X | X | | X | X | X | | | |



Table 2: Chemical Incompatibility Table


| | |
| --- | --- |
| CHEMICAL | KEEP OUT OF CONTACT WITH |
| Acetic acid | Chromic acid, nitric acid, perchloric acid, peroxides, permanganates and other oxidizers |
| Acetone | Concentrated nitric and sulfuric acid mixtures, and strong bases |
| Acetylene | Chlorine, bromine, copper, fluorine, silver, mercury |
| Alkali metals | Water, carbon tetrachloride or other chlorinated hydrocarbons, carbon dioxide, halogens |
| Ammonia, anhydrous | Mercury, chlorine, calcium hypochlorite, iodine, bromine, hydrofluoric acid |
| Ammonium nitrate | Acids, metal powders, flammable liquids, chlorates, nitrites, sulfur, finely divided organic or combustible materials |
| Aniline | Nitric acid, hydrogen peroxide |
| Arsenic materials | Any reducing agent |
| Azides | Acids |
| Bromine | Same as chlorine |
| Calcium oxide | Water |
| Carbon (activated) | Calcium hypochlorite, all oxidizing agents |
| Carbon tetrachloride | Sodium |
| Chlorates | Ammonium salts, acids, metal powders, sulfur, finely divided organic or combustible materials |
| Chromic acid and chromium trioxide | Acetic acid, naphthalene, camphor, glycerol, glycerin, turpentine, alcohol, flammable liquids in general |
| Chlorine | Ammonia, acetylene, butadiene, butane, methane, propane (or other petroleum gases), hydrogen, sodium carbide, turpentine, benzene, finely divided metals |
| Chlorine dioxide | Ammonia, methane, phosphine, hydrogen sulfide |
| Copper | Acetylene, hydrogen peroxide |
| Cumene hydroperoxide | Acids, organic or inorganic |
| Cyanides | Acids |
| Flammable liquids | Ammonium nitrate, chromic acid, hydrogen peroxide, nitric acid, sodium peroxide, halogens |
| Hydrocarbons | Fluorine, chlorine, bromine, chromic acid, sodium peroxide |
| Hydrocyanic acid | Acids |
| Hydrofluoric acid | Ammonia, aqueous or anhydrous, bases and silica |
| Hydrogen peroxide | Copper, chromium, iron, most metals or their salts, alcohols, acetone, organic materials, aniline, nitromethane, flammable liquids |
| Hydrogen sulfide | Fuming nitric acid, other acids, oxidizing gases, acetylene, ammonia (aqueous or anhydrous), hydrogen |
| Hypochlorites | Acids, activated carbon |
| Iodine | Acetylene, ammonia (aqueous or anhydrous), hydrogen |
| Mercury | Acetylene, fulminic acid, ammonia |
| Nitrates | Sulfuric acid |
| Nitric acid (concentrated) | Acetic acid, aniline, chromic acid, hydrocyanic acid, hydrogen sulfide, flammable liquids, flammable gases, copper, brass, any heavy metals |
| Nitrites | Acids |
| Nitroparaffins | Inorganic bases, amines |
| Oxalic acid | Silver, mercury |
| Oxygen | Oils, grease, hydrogen; flammable liquids, solids, or gases |
| Perchloric acid | Acetic anhydride, bismuth and its alloys, alcohol, paper, wood, grease, and oils |
| Peroxides, organic | Acids (organic or mineral), avoid friction, store cold |
| Phosphorus (white) | Air, oxygen, alkalis, reducing agents |
| Potassium | Carbon tetrachloride, carbon dioxide, water |
| Potassium chlorate and perchlorate | Sulfuric and other acids, alkali metals, magnesium and calcium. |
| Potassium permanganate | Glycerin, ethylene glycol, benzaldehyde, sulfuric acid |
| Selenides | Reducing agents |
| Silver | Acetylene, oxalic acid, tartaric acid, ammonium compounds, fulminic acid |
| Sodium | Carbon tetrachloride, carbon dioxide, water |
| Sodium nitrite | Ammonium nitrate and other ammonium salts |
| Sodium peroxide | Ethyl or methyl alcohol, glacial acetic acid, acetic anhydride, benzaldehyde, carbon disulfide, glycerin, ethylene glycol, ethyl acetate, methyl acetate, furfural |
| Sulfides | Acids |
| Sulfuric Acid | Potassium chlorate, potassium perchlorate, potassium permanganate (or compounds with similar light metals, such as sodium, lithium, etc.) |
| Tellurides | Reducing agents |
(From Manufacturing Chemists' Association, Guide for Safety in the Chemical Laboratory, pp. 215–217, Van Nostrand )