ROLES AND RESPONSIBILITIES
The duties, roles, and responsibilities of LBNL personnel are delineated below:
Division Directors
Division Directors shall ensure that:
Supervisors, Managers, and Work Leads
Supervisors, managers, and Work Leads are part of the safety line management chain from each worker to the Laboratory Director. Supervisors and Managers are part of the formal management chain, and they have the responsibility for adhering to all EH&S policies and safe work practices. Work leads (who may be non-management) derive authority from formal laboratory managers and/or supervisors to ensure that day-to-day work, operations, and activities in their assigned area(s) and activities are conducted safely and within established work authorizations. Supervisors, managers and work leads are collectively referred to as "safety line managment."
Supervisors, Managers and Work Leads are required to: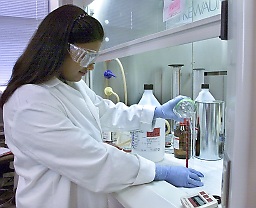 Area Safety Leaders
An Area Safety Leader is the individual assigned by the Division controlling the Technical Area to coordinate safety issues within the Area. The Area Safety Leader will coordinate with Supervisors, Managers and Work Leads to assure that the hazards associated with their operations are reflected in the entrance placard.
Employees, Workers, Subcontractors, and Casual and Participating Guests
For purposes of safety, LBNL does not distinguish between career employees, subcontractors, and guests/visitors. All personnel are required to:
All personnel have the right to:
Environment, Health, and Safety Division
The Environment, Health, and Safety (EH&S) Division is responsible for providing support and guidance for the development and implementation of this CHSP.
The EH&S Division will:
The EH&S Chemical Hygiene and Safety Program Manager (Larry McLouth, ext. 5286) will:
EH&S Industrial Hygienists will:
EH&S Health Services will:
Provide consultation to women of child-bearing age with respect to reproductive toxins.
The Fire Department shall:
EH&S Waste Management Group will:

EH&S Occupational Safety Group will:
Safety Review Committee
The Safety Review Committee reports to and advises the Laboratory Director of Operations on matters of environment, safety and health. In this capacity, it acts as a resource to the EH&S Division Director for reviewing and recommending methods and/or policies for addressing special safety issues.
Procurement Department
The Procurement Department will:
Facilities Division
The Facilities Division will:
Transportation Services
Transportation Services will: