EMERGENCY PROCEDURES AND EQUIPMENT
Spill Response Procedures
In the event of a chemical spill, follow the S.W.I.M.S. procedure:
Stop and think. Stop working. Stop the spill. Assess the situation:
How big is the spill?
Are there any injuries associated with the spill?
Has it made contact with your skin or personal clothing?
Can it be safely cleaned? NOTE: Follow the Spill Cleanup Requirements listed below to make this determination.
Warn others.
Call ext. 7911 or 9-911 if there is a medical emergency or danger to life, health or the environment.
Alert people nearby.
Isolate the area.
Restrict access to those involved in the spill cleanup.
Determine the extent of the spill.
Keep doors closed.
Monitor yourself carefully and completely.
Check yourself for any chemical contamination or signs/symptoms of exposure (e.g., wet clothing, skin or respiratory irritation).
For medical emergencies, follow directions under "Personal Injury."
Stay in or near the area until help arrives.
Minimize your movements. Avoid spreading contamination to other areas.
Have a person who is knowledgeable about the incident be available to talk to or assist Emergency Personnel.
Notify your Work Lead.
Chemical Spill Cleanup Requirements: You can clean up a chemical spill if ALL of the following requirements are met:
You are NOT a high school student or a guest participating in an internship program.
There is no potential for release to the environment. NOTE: Care must be taken to avoid spreading or tracking chemical contamination to other areas.
There are no personal injuries resulting from the spill.
You know what the chemical hazards are.
The cleanup procedures are known and you have the proper spill cleanup materials.
You have the proper PPE to protect yourself during the cleanup.
Two people can clean the spill up thoroughly within an hour.
The spill does NOT involve elemental mercury. Special cleanup and monitoring procedures are required for mercury spills. Moreover, mercury contamination is easily tracked to other areas.
If ALL of the above requirements are not met, or if you have any DOUBTS about your ability to safely and effectively clean up the spill, then:
Leave the immediate area,
Close the door,
Stay close by and control access. Post the entrance with a warning such as "Spill—Do Not Enter" and
Call (or have someone call) ext. 6999 for assistance.
Other Chemical Spill Cleanup Considerations:
Review these guidelines periodically—you must be familiar with them and know what to do before a spill occurs.
Understand the hazards of the chemicals you use. Consult the Material Safety Data Sheets (use the A-Z Index on LBNL's home page).
Keep spill cleanup kits in your work area. There are different types for acids, bases and solvents. These are commercially available through VWR Scientific the Laboratory has a contract with this vendor). It is important to note that absorbents and other materials used for spill cleanup need to be "inert" to the spilled material. For this reason, combustible materials such as sawdust and paper towels are generally inappropriate substitutes for the materials contained in spill kits.
Wear the proper PPE to protect yourself. The minimum includes a lab coat (or coveralls), chemical goggles, and chemically resistant gloves rated for the chemical(s) of concern. Consult the Personal Protective Equipment Section for selecting and using eye/face protection and gloves.
For mixed (i.e., radiological and chemical) spills, follow the S.W.I.M.S. guidelines: Stop your work and the spill; Warn others (contact the assigned Radiological Control Technician or call the Urgent Radiation Safety Assistance at ext. 7277); Isolate the spill; Monitor yourself and the area (if appropriate); and Stay in the general area until help arrives.

Ensure waste materials are properly contained and labeled and are placed in an approved Satellite Accumulation Area.
Take Chemical Hygiene and Safety Training—EHS 348 for people who work in laboratories or EHS 345 for Facilities personnel.
Additional guidelines for the different types spill and unplanned events may be found in the Laboratory's Emergency Response Guide flipchart. A copy of the Emergency Response Guide flipchart must be posted in each Laboratory area.
Personal Injury from or Exposure to Chemicals
LBNL personnel are required to know the hazards and controls of chemicals in their work area. This includes emergency First Aid procedures for inhalation, skin/eye contact, ingestion, and injection. Material Safety Data Sheets should be consulted for this information. The Specific Controls and Procedures Section has additional measures for agents such as acids, bases and reactive metals.
In general, adhere to the following procedures for accidental exposures:
Inhalation: If the material or its reaction/combustion products are inhaled, remove the person from the area and transport to Health Services (Building 26). For serious exposures, call 7-911. Lay the individual down and keep him or her warm and rested until medical care can be provided.
Skin or eye contact: Flush the affected area for at least 15 minutes (see exceptions for phenol and hydrofluoric acid). Then immediately report to Health Services (Building 26, ext. 6266). Call 7-911 if the injury is serious or life-threatening.
Ingestion: Call 7-911. If spontaneous vomiting appears imminent or occurs, help the person keep a clear airway. If victims are unconscious or cannot sit up, turn them on their side to help avoid possible aspiration of vomitus. Never give liquid to a person showing signs of sleepiness or who may become unconscious.
Injection: This can occur from lacerations and punctures when handling sharps that are contaminated with chemicals. First stop the bleeding. Minor cuts and scrapes usually stop bleeding on their own. If they don't, apply gentle pressure with a clean cloth or bandage. Rinse out the wound with clear water. Soap can irritate the wound. Report to Health Services (Building 26, ext. 6266). Call 7-911 if the injury is serious or life-threatening.

It is important for personnel to identify the chemical involved in order to provide treatment. Provide the Material Safety Data Sheets or the chemical name to emergency response personnel and health care professionals.
Emergency First Aid for Phenol Exposure
Phenol and phenol/chloroform mixtures are common in Life Sciences research, and phenol is used in a number of Materials Sciences Division laboratories. Phenol is a combustible, highly corrosive chemical with a sweet, acrid odor. Phenol is well absorbed by all routes of exposure (inhalation, ingestion, skin contact). Exposure by any route can cause systemic toxic effects as well as local corrosive effects. Eye contact will cause severe irritation, inflammation, and potentially irreversible loss of vision.
Many phenol poisonings occur due to skin contact. While phenol is highly corrosive to tissue, pain perception may be depressed due to the chemical's anesthetic properties, especially in concentrations of a few percent or less. Phenol is very rapidly absorbed through intact skin.
First Aid
Dial 7-911 for assistance.
People helping with the decontamination should wear lab coats, aprons, and chemical goggles. Glove selection is important.
For phenol only, use Ansell Barrier, unsupported neoprene, supported polyvinyl alcohol (PVA), polyvinyl chloride (PVC), natural rubber or ChemPro gloves.
For phenol/chloroform mixtures, use either Barrier or supported polyvinyl alcohol (PVA) gloves.
Remove contaminated clothing rapidly. Begin decontamination immediately, to minimize absorption.
Irrigate or wipe exposed areas immediately and repeatedly with low-molecular-weight polyethylene glycol (PEG 300 or PEG 400), which can be diluted (with water) to 50% for easier application. Continue with treatment until the Fire Department arrives. Keep a supply of these reagents on hand for this purpose.
Irrigation with water is not recommended, as water will merely dilute the phenol and expand the area of exposure.
If a large area of the individual's body is covered with phenol (too big to readily wipe with PEG), it is best to go under the emergency shower and await the arrival of the Fire Department. PEG can be applied to the most heavily contaminated section of skin.
Flush exposed or irritated eyes with copious amounts of water or saline for at least 15 minutes.
Emergency Eyewashes and Safety Showers
Plumbed emergency eyewashes and safety showers must be provided in areas where a splash hazard to corrosives, eye irritants, or chemicals that are toxic via skin and/or eye contact exist. They must be installed in the immediate work area at a location that can be reached by a blinded employee in an uncomplicated and unimpeded path within 10 seconds (approximately 50 feet). Specific locations

shall
be approved by EH&S prior to installation.

Exceptions to the criteria and procedures listed below may be granted by the EH&S Deputy Director (7002) on a case-by-case basis.
Plumbed emergency eyewashes and safety showers must be provided in areas where the following chemical types and quantities are either stored or used:
Concentrated (greater than or equal to 1%) acids or bases (including acetic acid and ammonium hydroxide)—any amount
Sensitizers—any amount
Skin absorbers—any amount
Formaldehyde solutions in concentrations greater than or equal to 0.1%—any amount
Carcinogens or reproductive toxins in concentrations greater than or equal to 0.1%—any amount
Dilute acids and/or bases (less than 1%)—2 liters
Eye Irritants—any amount
Organic solvents—4 liters.
Moreover, emergency eyewashes and safety showers are required in areas where an EH&S Industrial Hygienist determines that emergency eyewash and safety shower are required because the operations, chemicals, or potential exposures pose a risk to eyes and/or body.
At least one plumbed emergency eyewash and co-located safety shower should be installed in any new or remodeled location meeting any of the following conditions:
Classified as "Hood" or "Hood and Gas" in the LBNL Space Database maintained by Facilities Department
Having a general purpose or specialized chemical fume hood (including but not limited to lab bench, lab radioactive, walk-in, and acid digestion hoods)
Used as an area to charge wet-acid storage batteries (e.g., forklifts).
When an eyewash is required,

either
a combination eyewash safety shower unit

or an individual sink mounted
unit and overhead shower will be installed. Handheld drench hoses are permitted as a supplement, but are not to be supplied in place of plumbed emergency eyewashes and safety showers. Self-contained, pressurized portable eye wash/safety shower units are permissible only for remote locations where the installation of a plumbed unit is not feasible. These

shall
be maintained in accordance with manufacturers' requirements and are the responsibility of the owning Division. The location of each emergency eyewash safety shower will be posted with a highly visible sign.
The selection, installation, and use of emergency eyewashes and safety showers must comply with the most recent LBNL Facilities Installation Standard. Eyewashes and showers

shall
be vertically aligned to allow the eyes and body to be flushed simultaneously. Access to these facilities must remain open and free from obstructions at all times.
Emergency eyewashes and safety showers must be inspected at least quarterly by Facilities personnel. Inspection tags must be filled out to document this activity. Notify the Work Request Center at ext. 6274 if a tag is found that shows a past due date.
Fire Extinguishers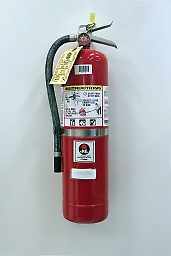 Laboratories and shops using hazardous chemicals must have a fire extinguisher suitable for Class A (combustibles), B (flammable liquids), and C (electrical) hazards. For laboratories with combustible metals, an extinguisher suitable for Class D hazards is also required. Extinguishers must be located following NFPA 10 and should be placed along the exit path, preferably in corridors. The maximum travel distance for the ABC extinguishers varies between 30 and 50 feet, depending on the application. The maximum travel distance for Class D extinguishers is 75 feet.

If additional extinguishers are needed for an area or if special extinguishers are needed for materials such as combustible metals, contact the Laboratory's Fire Marshal for information concerning recommendations and requirements.

Fire extinguishers are to be used only by trained personnel who are confident that they can fight the fire safely. EHS 530 (Fire Extinguisher Safety) is required. If the fire is too large or too dangerous, leave the building and pull the fire alarm on your way out. Once at a safe location, call 7-911 and inform the dispatcher of the fire location (Building and Room number) and what is burning, if known.

Your safety should always be your primary concern. Before deciding to fight a fire, be certain that you:
Alert people in the area and activate the nearest fire alarm.
Are trained on how to use a fire extinguisher (training must be current).
Are confident that you can fight the fire safely.
Know what is burning so that you can select the correct extinguisher.
Know the fire won't block your exit if you can't control it. A good way to ensure this is to keep the exit at your back.
Are confident you won't breathe any of the smoke or combustion products.
Contact the Laboratory's Fire Marshal for a replacement fire extinguisher. Never return a used or damaged fire extinguisher to its wall-mounted bracket.