CONTROL PROCEDURES FOR CHEMICALS WITH EXPLOSIVE PROPERTIES
LBNL staff periodically use chemicals with explosive properties (i.e., explosives)
for activities such as bioremediation studies in which the focus is on the materials' chemical and physical properties as opposed to their explosive properties. LBNL does not conduct activities in which an explosion or fragmentation hazard exists. These include the synthesis, development, processing, blending, pressing, machining, testing and detonation of explosives or assemblies containing explosives.
An explosive is any chemical compound or mechanical mixture that is designed to undergo a very rapid chemical change with the evolution of large volumes of highly heated gases and will deflagrate or detonate when subjected to heat, impact, friction, shock, or other suitable initiation stimuli. Low explosives (see Figure 1) are materials that deflagrate: they burn more rapidly than materials undergoing normal combustion processes. High explosives detonate. Detonation is a process of combustion in which a shock wave is propagated at supersonic speeds. High explosives are divided into two classes: primary and secondary explosives.
A primary explosive is extremely sensitive to impact, friction, heat, or electrostatic sources. Lead azide, lead styphnate and mercury fulminate are examples of primary explosives. Primary explosives are often used in detonators or to trigger larger charges of less sensitive secondary explosives. Primary explosives are prohibited at LBNL.
Secondary explosives (also known as insensitive high explosives) are relatively insensitive to shock, friction, and heat. They may burn when exposed to heat or flame in small, unconfined quantities but normally require initiation from a primary explosive to detonate. Dynamite, trinitrotoluene (TNT), Cyclotrimethylenetrinitramine (RDX), Pentaerythritol tetranitrate (PETN), 1,3,5,7-tetranitro-1,3,5,7-tetrazocane (HMX) are common secondary explosives.
At LBNL most explosives are used in dilute solutions. For explosives in solution concentrations ≤ 25% w/w, the main hazards are those associated with the solvent and the chemical as opposed to explosive properties of the material. However, if the solvent evaporates, or if the explosive crystallizes or precipitates, then the primary hazard is associated with the explosive.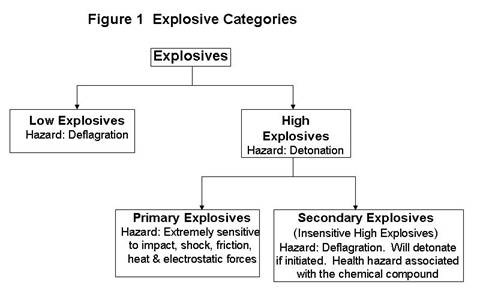 Control Measures
Training and Information
Substitution and Chemical Inventory Management
Ventilation
Work Practices
Personal Protective Equipment (PPE):
Skin and eye contact shall be prevented. The following PPE should be worn when handling these materials. Additional information may be found in the Personal Protective Equipment Section:
Storage

Consult the section entitled Storage Guidelines for hazardous material storage requirements, recommendations and information on chemical incompatibility. Since the type and quantity of explosives permitted at LBNL are restricted, the solvent in which the explosive is either dissolved or dispersed shall be the main consideration with regard to storage. Additional requirements are provided below.
Emergency Procedures