NUCLEAR SCIENCE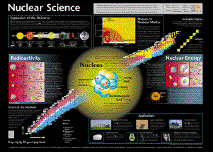 A TEACHER'S GUIDE
TO THE
NUCLEAR SCIENCE WALL CHART
or
You don't have to be a Nuclear Physicist to Understand Nuclear Science.

Teachers can reproduce this document for their classroom use as long as they include the title and copyright statement and they send us a short note describing their experience using the material.

I agree to the above terms.
A printed copy can be obtained from ScienceKit (Catalog # 71960-04). To the CPEP web site for more information.