Vigorous Exercise for Women May Lead to Greater Health Benefits
A new study of women runners challenges the notion that moderate exercise provides the same benefits as extensive vigorous activity. The study found that the more miles a woman runs, the greater the health benefits, including a more heart-healthy cholesterol profile, significant weight reduction, particularly around the waist and hips, and modest improvements in blood pressure.
The study suggests that there are substantial health benefits to more vigorous exercise above and beyond the current guidelines recommended by the U.S. Center for Disease Control and Prevention and the American College of Sports Medicine. These guidelines advocate moderate exercise, such as a brisk two-mile walk every day.
Berkeley Lab life scientist Paul Williams and research assistant Davina Moussa conducted the study, presenting their findings at the 68th Scientific Sessions of the American Heart Association. The research, which involved 1,833 women, was part of a national Runners' Health Study.
Williams and Moussa report that the benefits of running 40 miles per week versus under 10 miles can be dramatic. Women in the 40 mile club reduce their risk of dying from cardiovascular disease by an estimated 45 percent. Overall, their risk of developing heart disease is an estimated 29 percent less.
These estimates are based upon the effects of vigorous exercise on cholesterol. To carry cholesterol and fat in the blood, the body wraps them in protein packages called lipoproteins. The family of lipoproteins consists of low density lipoproteins (LDLs) and high density lipoproteins (HDLs). LDLs contain the greatest amount of cholesterol and may be responsible for depositing it in the artery walls. HDLs, on the other hands, contain greater amounts of proteins and small quantities of cholesterol. Said to be the "good" cholesterol, HDLs are thought to remove cholesterol from the artery walls, carrying it to the liver for reprocessing or removal from the body. Research has shown that those with higher levels of HDL have less heart disease.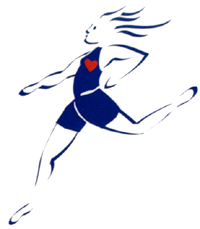 Williams said the Berkeley Lab study found that HDL levels increased with mileage run, up to at least 40 miles per week. They found a 10 milligrams/deciliter difference in HDL levels between those who run 40 miles/week and those who run less than 10 miles/week.
In addition, weight loss from running longer distances translated to smaller waists and hips. The 10-mile group had an average waist size of 28.3 inches and hips of 37.3 inches, while the average waist size in the 40- mile club was 25.8 inches with hips of 34.8 inches.
The study of women runners was limited to those who are nonsmokers, who are not taking medications, and who are not vegetarians. Before comparing the distance run by the women to their cholesterol, blood pressure, and body masses, Williams and Moussa adjusted for a number of factors. These included age, education, and dietary intake (in terms of alcohol, red meat, fish and fruit).
The researchers also examined whether distance running conferred similar benefits on pre and post-menopausal women and on women who are taking post-menopausal estrogen, and found that benefits apply to all three categories.
Said Williams, "With exercise, the greater the investment, the greater the rewards."