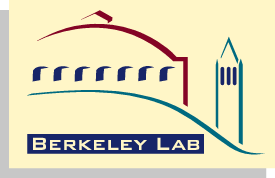 Berkeley Lab Currents
November 22, 1996

By Lynn Yarris
Berkeley Lab scientists have developed the first lighting fixtures to capitalize on the extraordinary brightness and remarkable energy efficiency of the award-winning sulfur lamp. Prototypes of these new fixtures were installed in the lobby of the headquarters of the Sacramento Municipal Utility District (SMUD) and unveiled to the public last week.
"This system will make it practical for sulfur lamps to be integrated into common interior spaces, which should accelerate their market potential," says Michael Siminovitch of the Energy and Environment Division. Siminovitch was one of the principal investigators behind the concept and design of the new fixtures.
The research was carried out under a partnership between Berkeley Lab and Cooper Lighting, a major U.S. manufacturer. Although the new fixtures were designed around the physical dimensions and photometric properties of a specific commercial sulfur lamp, the technology can be applied to other highly bright, energy-efficient electrode-less lamps now under development.
Indoor lighting accounts for about 25 percent of the electrical energy consumed in the United States each year. It has been estimated that this consumption, which costs about $30 billion, could be cut in half if existing lighting systems were to be replaced with advanced energy-efficient alternatives. Two years ago, a new type of lighting technology--called a sulfur lamp--was unveiled and widely touted as the lamp for the 21st century. (It won several awards, including a 1995 Discover magazine award for technological innovation.) Consisting of a golf-ball sized
glass globe filled with argon gas and a tiny amount of non-toxic sulfur, this microwave-powered lamp was four times more energy efficient and 75 times brighter than a conventional 100 watt incandescent bulb. It also outperformed the best fluorescent lamps.
The sulfur lamp was invented by Fusion Lighting Inc., a small company in Rockville, Md., which is now field testing a 1,000-watt version called the Solar 1000. A major impediment to the wide-spread adoption of the sulfur lamp has been the lack of high-efficiency fixture systems for delivering its light to the interiors of commercial spaces. Sulfur lamps on display at the headquarters of the U.S. Department of Energy, which helped fund the development of the prototype, relied on a "light guide" to distribute the illumination.
"Light guides are hollow tubes lined with a reflective material," says Siminovitch. "Light from the source travels along the reflective material and bleeds out to illuminate a space."
Illumination from a light guide can pose problems with glare and low efficiency when used to light interior spaces, Siminovitch says. What has been needed, he says, is an indirect low-glare system that could take advantage not only of the high energy efficiency and brightness of sulfur lamps, but also of their high CRI (Color Rendering Index), which puts them on a par with sunlight for quality of illumination.
Siminovitch and two colleagues in E&E's Lighting Research Group--Carl Gould and Erik Page--have developed a fixture that can be fitted with different reflectors to provide a variety of light distribution patterns. The fixture can also be mounted in various ways--on a free-standing kiosk, or on a wall or ceiling--to provide a high degree of flexibility and suitability across a broad range of interior lighting applications, from shopping malls to interior complexes and offices.
The free-standing kiosks are especially adaptable. "A series of detailed studies have been completed on developing optimized reflectors (for the kiosks) to accommodate different ceiling heights," Siminovitch says. "By varying the distribution geometry and the relative spacing of the kiosks, a large range of illuminance can be easily delivered."
Siminovitch claims that a single kiosk could be used to replace from 10 to as many as 30 conventional ceiling fixtures in an open-space office. In laboratory tests, their light fixtures scored an efficiency rating of 85 to 88 percent, which is as much as 25 percent better than the ratings for light guides, and among the highest ratings ever scored for any white light source/fixture system. Working closely with a manufacturer of light fixtures was a critical asset to this research, Siminovitch says.
"Cooper Lighting brought insights and capabilities to the table as to how this technology could be manufactured," he says. "It is a good example of how a piece of science can become an actual commercial opportunity through an industrial partnership."
Two of the new fixtures, outfitted with the Solar 1000 sulfur lamp, were switched on during an official "lighting ceremony" in the spacious lobby of SMUD headquarters on Nov.14. The fixtures are about eight feet tall and resemble flashlights standing on end with their beams directed skyward. About 20 seconds after the lamps were activated in the ceremony, their spinning sulfur light bulbs reached full speed and filled the lobby with easy-on-the-eyes illumination.
Speaking at the lighting ceremony along with representatives from SMUD, Cooper Lighting, and Fusion Lighting, were Berkeley Lab Director Charles Shank and Martha Krebs, head of DOE's Office of Energy Research. Although funding for this project came from DOE's Office of Energy Efficiency and Renewable Energy, Krebs has been one of the champions for Berkeley Lab's lighting program since her days here as an associate laboratory director.
CAPTION: Martha Krebs, head of DOE's Office of Energy Research, was in Sacramento for the public debut of a sulfur lamp lighting system (in background) designed by Berkeley Lab scientists.

By Reid Edwards
In a world increasingly filled with change, the 1996 elections are being characterized as a "status quo" election by many observers. President Clinton won a relatively easy re-election victory, and the Republicans held onto control of both the House of Representatives (with a smaller majority) and the Senate (with a slightly larger majority). The American public, voting in record low numbers, has apparently endorsed the bipartisan, "checks and balances" approach of the last two years.
Despite the "status quo" nature, there will be significant changes in both the Administration and in Congress that will affect Berkeley Lab. As we go to print, Energy Secretary O'Leary has announced her departure effective Jan. 20, 1997. There are many rumored names for her replacement, from current Administration officials to current and former members of Congress. There will no doubt be other changes in DOE once the new Secretary is confirmed in office.
*   *   *
In the Senate, there will be 16 new freshmen Senators. The major change for the Laboratory is the departure of Sen. J. Bennett Johnston (D-La.), current ranking member of the Senate Appropriations Energy and Water Development Subcommittee. This subcommittee funds most DOE research, except for fossil and energy efficiency. Johnston was also ranking member of the Senate Energy and Natural Resources Committee, which has jurisdiction over legislation affecting the future of the DOE labs, among other areas. Johnston was a big supporter of both DOE's research and the national laboratories.
*   *   *
Johnston's replacement on the Senate Appropriations Subcommittee is likely to be Sen. Harry Reid
(D-Nev.), who is known for his opposition to the Yucca Mountain nuclear waste project. Johnston's replacement as Senate Energy Committee ranking democrat is likely to be Sen. Dale Bumpers (D-Ariz.), who appears to be more interested in the environmental policy aspects of the committee's jurisdiction.
In the House, there will be at least 74 new Members of Congress (there are at least two House races as yet undecided). A major local change was the election of Ellen Tauscher (D) representing the 10th Congressional district (much of Contra Costa and Alameda counties), where many laboratory employees live. Tauscher visited Berkeley Lab during the campaign, and has proclaimed herself " the number one salesperson for the three labs (including LLNL and Sandia)."
The House Science Committee will see a new chairman with the retirement of Rep. Robert Walker (R-Pa.). The most likely candidate is Rep. James Sensenbrenner (R-Wis.), who has been chairman of the Space Subcommittee. The House Appropriations Energy and Water Development Subcommittee, with jurisdiction equivalent to its Senate counterpart, will also see new leadership. As of this deadline, there are a number of possible candidates for the chair, but the ranking member will be Rep. Vic Fazio (D-Ca).
The last two years in Washington have been filled with turbulence and change, but despite all that, the Laboratory has grown with the addition of NERSC/ESnet, growth in the ALS and genome programs, and in a number of different areas. With all of the changes brought about by the election, and the continued push towards a balanced budget, 1997 promises to be another challenging year of change for Berkeley Lab.
Reid Edwards is the Lab's manager for Goverment Relations

By Jeffery Kahn
Researchers here have been named the winners of three of Popular Science magazine's "Best of What's New" awards for 1996.
Each year, the magazine's editors review thousands of new products, technology developments, and scientific achievements. Using a simple yardstick--"each innovation must make a positive difference in our lives"--they select 100 for distinction as the "Best of What's New." Berkeley Lab, along with NASA and Canon Inc., were the only institutions that were triple award winners.
The winners were announced at a Nov. 12 awards event in New York City. They include:
The Earth Sciences Division's George Moridis and Karsten Pruess, who developed a technique for creating an underground barrier that stops the spread of contaminants from hazardous waste sites.
Energy and Environment Division scientist Ashok Gadgil for his development of "UV Waterworks." This inexpensive device uses ultraviolet light to cheaply disinfect water from the viruses and bacteria that, every year, kill millions of people in poor, developing nations.
Energy and Environment Division researcher Mark Modera for a new aerosol-based technology for sealing air leaks in heating, cooling, and ventilation (HVAC) ducts. In typical homes, sealing these leaks can reduce heating and cooling energy costs by 15 to 30 percent.
All of the winners are featured in the December 1996 issue of Popular Science, and on the magazine's website at http://www.popsci.com

Cleaning up the soil

Moridis and Pruess were recognized for their development of a radically new technique for containing underground hazardous waste. The technique involves drilling a series of wells outside the perimeter of a contaminated area. Then a gel is injected that hardens and forms an impermeable barrier around the contaminated site. The technique has been field tested but still is in a developmental stage.

The state of the art in cleaning up sites with contaminated soils has changed little in 30 years--contractors dig the soil out and truck it to a hazardous waste site. That's because contaminants are very difficult to strip from the soil. Once toxins get into the ground, just a few gallons of hazardous fluids can contaminate huge areas.

Unfortunately, the costs and limitations of the soil removal approach have severely handicapped the nation's cleanup efforts. Thousands of contaminated sites have been identified but few have been cleaned up. Over time, groundwater movement can cause the contamination to spread, which can jeopardize water supplies, rivers, residential areas, and human health.

"Up until now," says Moridis, "the country has been fighting a losing battle. We believe the new approach we are developing is a vitally needed supplement to today's standard cleanup method."

Saving lives

Gadgil's UV Waterworks, which was also a recipient of a Discover Magazine Award for Technology Innovation this year, has the potential to save millions of lives.

In developing nations, safe, home-delivered tap water is rare. Each year, waterborne diseases such as cholera, typhoid, and dysentery kill an estimated four million children under the age of 5 and make adults sick enough to lose billions of hours of work productivity and income. The two most common methods of disinfecting water in developing nations--chlorination and boiling--both have drawbacks and limitations. Chlorine disinfection requires a continual supply of chlorine bleach and trained personnel. Boiling is usually done over wood stoves in unvented rooms, which poses health risks of its own and contributes to air pollution and deforestation.

Gadgil, who is from India and has lost several cousins to these diseases, created a purification system that uses an off-the-shelf ultraviolet light to kill bacterial and viral contaminants. Running on a car battery if necessary, one unit can provide water for a village of 1,000 people. Each unit should cost between $250 and $600.

"What we've done," said Gadgil, "is build a device that makes water purification so inexpensive that it's almost impossible not to use it."

Sealing leaks to save energy

Modera was honored by Popular Science for his development of an elegant solution to the ubiquitous problem of how to seal leaky heating, cooling, and ventilation ducts. According to a 1991 study, sealing these leaks could save about one quadrillion BTUs per year in this country. That amounts to an annual energy savings of approximately $7 billion.

Currently, contractors use a variety of techniques to seal leaks in existing HVAC systems. Though sealing leaks can save a lot of energy and money, relatively little of this work is done because of the difficulty involved in locating and reaching the leaks.

Modera's process resolves these obstacles. First, all grilles are temporarily sealed. Then, aerosolized adhesive particles are blown into the duct system, where they flow to the leakage sites and eventually seal them. Compared to conventional methods, aerosol-based sealing plugs more of the leaks, is less time-consuming and costly to homeowners, and provides better working conditions for the contractor.

CAPTION: From left, Mark Modera, George Moridis, Karsten Pruess, and Ashok Gadgil hoid the plaques they received for winning three of Popular Science magazine's 1996 "Best of What's New" Awards. Photo by Roy Kaltschmidt

By Ron Kolb
With the sweep of a pen, leaders of Berkeley Lab and the Department of Energy's Oakland Operations Office officially sanctioned a new era in health and safety compliance at the Lab, one that promises to be a model for similar programs in the DOE network.
On Nov. 13, Lab Director Charles Shank and DOE-Oakland Manager James Turner signed the newly developed set of "Work Smart Standards," following an intensive six-month review and analysis of the work and the associated hazards here, culminating in the identification of the appropriate regulations. The idea was to move from the smorgasbord of regulations that accumulated over the years to a more focused set tailored specifically to the programs at Berkeley Lab.
"This is a great step forward," Turner said at the signing ceremony. "It reflects the excellent partnership that we have, builds on it, and provides a rational, technically-based approach to addressing and ensuring safety at the Lab."
Shank said the new standards are "a blueprint for using our resources effectively, to ensure that every dollar results in a safer, more effective laboratory." He cited the contributions of the laboratory staff and DOE's site office at Berkeley Lab, plus the foresight of DOE Assistant Secretary Tara O'Toole in putting the process in motion.
The interdisciplinary effort featured the work of teams of Laboratory and DOE safety experts and researchers, who inventoried the tasks in every division and program, identified the hazards associated with those tasks, and gathered the relevant national, state and local ordinances and guidelines regulating the work areas. A "core identification group" then filtered out the extraneous, redundant or inapplicable regulations and packaged a final set of standards intrinsic to Berkeley Lab. A confirmation process using internal reviewers, experts from industry, universities, the University of California, and other DOE labs, as well as outside "stakeholders," concluded the first phase of the program.
Phase two--implementation--now begins. It will be part of an integrated safety management system being developed jointly by the Lab and DOE.
The overall process was guided by Ben Feinberg, operations head for the Advanced Light Source, who said original confusion over regulations was a major impetus for his involvement in revision and improvement. He said he was grateful to for the cooperation of the research community in compliance with the standards and, as a result, more effective safety and health at the Lab," Feinberg said.
DOE Site Office Manager Dick Nolan called the new standard set "a real model program for the Department. It's like providing the Lab with a coat that really fits, rather than a one-size-fits-all approach."
The entire final report can be found on the World Wide Web through the Laboratory's Support Services listing (www.lbl.gov/Workplace/NS-Program/). It includes the set of standards, divided by those dictated by laws (necessary standards) and those that are over and above the law (sufficient standards). Charts match standards with the issues they address, and a narrative discusses justification and implementation. The web site has the charter that outlined the process, and it features a table describing the review teams' summaries of issues they confronted and resolved.
Still in process is a supplement to the final report that will address issues in more detail, including more than 80 questions and concerns raised by reviewers, stakeholders and Laboratory employees. Feinberg said the supplement will be available on request.
CAPTION: Berkeley lab Director Charles Shank and DOE-Oakland Office Manager James Turner shake hands after signing the new "Work Smart Standards" agreement for the Lab.


After an exhaustive three-year study, a National Research Council panel has concluded "there is no conclusive and consistent evidence" that ordinary exposure to electromagnetic fields (EMFs) causes cancer, neurobehavioral problems, or reproductive and developmental disorders. In a separate statement, three of the panel's 16 members said the question of whether EMFs threaten health is still open.
Public concerns about the potential health hazards from EMFs began in 1979, when it was reported that children living close to high-voltage power lines in Denver had elevated rates of leukemia. Many studies soon followed, some reporting no health risks, some linking EMFs to a wide range of hazards, including miscarriages and breast cancer. DOE commissioned the NRC investigation 1993, in response to public fears and at the request of Congress. After reviewing more than 500 studies, the panel concluded that at very high doses, EMFs can have detrimental biological effects. However, members found no adverse effects on cells or animals at the low levels of EMFs measured in residences.
Their findings support the contention of a paper by Berkeley Lab physicist Dave Jackson published in a 1992 Proceedings of the Academy of Sciences. After examining historical data on the generation and consumption of electrical power since 1900 and comparing it to corresponding data on cancer death and incidence rates, Jackson said: "There cannot be any significant cause of cancer from the use of electricity in society." Even with the NRC panel's conclusions, few expect this controversy to go away.

CAPTION: Berkeley lab shuttle bus driver Frank Wright helps a cyclist put her bike onto one of the new front racks that have been installed on all the Lab's buses. The racks were funded in part by a grant from the Bay Area Air Quality District, which aims to improve air quality by, among other things, reducing the number of cars on the road. If you use the bike racks, please remember to let the bus driver know you are loading or unloading your bike before proceeding. If you are transferring your bike from one bus to another at the Bldg. 65 stop, be sure to let both drivers know your intentions. Photo by Niza Hanany

By Ron Kolb
Berkeley Lab officials have strongly reasserted the environmental safety of research programs here in response to recent concerns expressed by neighbors before the Berkeley City Council and in the news media.
Environment, Health and Safety Division Director David McGraw said aggressive and continuing programs of emission reduction and monitoring have kept Lab air and water emissions well within federal and state safety guidelines. As a result, he said, there are no health hazards that place either employees or members of the surrounding community at risk.
In particular, some members of the public have focused on the National Tritium Labeling Facility (NTLF) and its development of radioactive tracers for use in studying various diseases, including breast cancer and alzheimer's disease.
McGraw noted that an independent risk assessment has verified that air and water emissions from the facility are far, far below safety measurement standards established by the Environmental Protection Agency (EPA). All but about 1 percent of the tritium used is recycled, and the majority of the remaining tritium is safely packaged and shipped off-site.
The risk assessment studies show that the public dose of radiation to a maximally exposed individual is only about 1 percent of the EPA's annual safety dose limit. Similarly, runoff water measurements averaged only 6 percent of the limits the EPA sets for public drinking water, even though the Lab's runoff never enters the city's drinking water supply.
In addition, McGraw pointed out that in the context of all radiation exposure the general public receives from a variety of sources--the natural environment, medical exams, consumer products, etc.--the facility's tritium emissions account for only about .04 percent of the annual exposure to the hypothetical maximally exposed individual at the Laboratory's fence line.
"It is irresponsible for anyone to suggest that the NTLF or any other part of our laboratory is endangering the lives of our employees or neighbors," McGraw said. "We are an extremely safe, responsible, low-risk research laboratory with an unmatched record for health and safety. We have been open and forthcoming with the community about our programs and how we manage their byproducts."
He referenced the series of mandated and voluntary reports and tests that Berkeley Lab conducts and shares regularly with regulators to ensure full compliance with all laws.
Berkeley Lab employees who would like more information about tritium and the waste management program at the labeling facility should contact EH&S's Ron Pauer at X7614. Fact sheets about the facility and environmental reports are available on request.

O'Leary announces resignation:
Energy Secretary Hazel O'Leary has submitted her resignation to President Clinton, effective Jan. 20, 1997. The first woman to head DOE, Secretary O'Leary has long said she had little interest in serving beyond a first term. An Associated Press report credited her with becoming an "influential member of the Cabinet early in the administration," and "for playing a key role in persuading President Clinton to end testing of nuclear weapons." During her tenure, the Secretary received widespread praise from the media for making public the records of radiation experiments on humans during the Cold War years.
In announcing she was stepping down, O'Leary expressed "gratitude and pride" in the people of the Department of Energy. "Despite bitter partisan attack to the worth and vitality of the agency, my colleagues have worked tirelessly and loyally to deliver on important commitments related to the Department's national security, energy, environmental, science and technology, and economic mission," she said. A number of O'Leary's senior officials are also expected to step down, with some exceptions, including Martha Krebs, director of Energy Research, and Tara O'Toole, assistant secretary for environment, safety, and health.
DOE agrees to $4.8 million settlement in human radiation cases:
Secretary of Energy Hazel O'Leary has announced the final settlement in 12 of 18 human radiation experiment cases that were carried out in secret during the Cold War. Family members of 11 persons injected with plutonium and one woman injected with uranium will share a total of $4.8 million (about $400,000 each) as part of a settlement agreed to by DOE and the Department of Justice.
In addition to providing financial compensation, Secretary O'Leary plans to personally meet with family members of the victims and the one survivor in January. "Our policy of openness, begun during the Clinton Administration, proclaims that we will no longer hide the truth from the American people," she said. "This settlement goes to the very heart of the moral accountability the government owes its citizens. We are grateful to these families for the tough lessons they have taught us about trust, responsibility and accountability between the government and the people." The details of these secret experiments and hundreds of others were released by O'Leary in late 1993, resulting in the investigation, review and recommendations by a special presidential advisory committee.


The Congressional Science Fellowship program enables scientists to spend a year working for a Member of Congress or a congressional committee. The Fellows gain a better understanding of the legislative and policy-
making process, and assist Congress by contributing their technical expertise to the analysis of science-based issues.
The American Institute of Physics and the American Physical Society each sponsor at least one Fellow per year with a physics background. The American Geophysical Union also supports one Fellow annually, and the Optical Society of America sponsors a Fellow jointly with the Materials Research Society. Approximately 25-30 professional societies and organizations participate in the program each year under the auspices of the American Association for the Advancement of Science.
The AIP and APS are now accepting applications for next year's Fellowships. The application deadline for the two programs, which are run cooperatively, is Jan. 15, 1997. To qualify as a candidate, you must have a Ph.D. in physics or a closely related field, U.S. citizenship, and membership in APS or any of the other AIP Member Societies. In exceptional cases, the Ph.D. requirement may be waived for applicants with compensating experience. Application instructions may be found at http://www.aip.org/pubinfo/flwshp.html.

The full text of each edition of Currents is published on the Lab's home page on the World Wide Web. View it at http://www.lbl.gov/ under "Research News and Publications." To set up your computer to access the World Wide Web, call the Mac and PC Support Group at X6858.

By Monica Friedlander
State-of-the-art technologies may soon reduce the familiar overhead projector to a relic of the past, thanks to powerful computer-based digital display devices now available to Lab employees. With the help of TEID's Audio Visual Services department, everyone can take advantage of the latest multimedia software to spruce up presentations with computer graphics, photographs, video and audio clips, and even computer animation.
Several Lab facilities have already been set up for computer presentations. These include the Bldg. 50 auditorium, 50A-5132, 90-3075, 90-3148 and the Bldg. 54 conference center. Bldg. 50A-4133 will also be equipped by the end of the month.
For off-site presentations, AV Services has a portable computer projector capable of projecting up to two computer sources and one video source. AV can also set up a portable Powerbook computer with your software and data and make the arrangements needed to ensure a smooth presentation. Services can include everything from conference room reservation to network connection and testing.
Presentations can be run over the network in any of the conference rooms connected to the Internet. A list of conference rooms and their LBLnet addresses can be found on the Web (http://www-cnr.lbl.gov/lblnet/confip_list.html).
AV Services will hold demonstrations of these display capabilities on Tuesday, Dec. 3 (Bldg. 50A-5132, 10 a.m. to 2 p.m.), and on Thursday, Dec. 12 (Bldg. 54 conference center, 10 a.m. to 2 p.m.).
For more information on setting up a presentation, contact Kevin Murray at X6068. One week's advance notification is required on most presentations. If you use your own computer, a scheduled dry-run with the AV projector is required.
For assistance with original multimedia and presentation design, call TEID at X7876. For information on connecting your computer to the network, call Networking Services at X4559.
CAPTION: Kevin Murray demonstrates some of the AV Services department's new equipment.

Waste Management Successfully Completes Hanford Audit
During the week of Oct. 21, an audit team from Rust Federal Services of Hanford, Inc. (previously Westinghouse Hanford) evaluated the Lab's Waste Management (WM) program as the first step in resuming shipment of radioactive waste to the DOE Hanford facility. This facility, located in eastern Washington state, is the only place Berkeley Lab can sends its radioactive waste for disposal (DOE does not allow the use of commercial facilities).
Shipping rights were suspended pending resolution of problems over shipments made during 1989-1995. Following resolution of those problems, WM made many program improvements to prevent a recurrence. The audit went very well and Hanford representatives were impressed with the quality of the WM program. Shipments of waste should resume in January 1997, representing an important milestone for the Laboratory. Solutions will now be available for all waste types generated here.
Waste Minimization
Packaging materials--All packaging materials (peanuts, bubble wrap, soft foam, block styrofoam, etc.) can be reused. Transportation will pick up surplus peanuts during daily mail delivery and take them to Shipping for reuse. The packaging materials must be contained in a bag or box and placed near the mail collection area. Please address the package with "Shipping B69." This service is offered at no cost. Please call Transportation (X5404) to arrange for the pick up of large amounts.
Junk mail--Do you receive unwanted junk mail? The Mail Room has correspondence cards that you can fill out and send in to remove your name from junk mailing lists. The cards can also be used as a change of address notification. Postage will be paid by Berkeley Lab. Call X5253 to request a card.
Follow-Up
Meeting your needs--As mentioned in the last Waste Watchers column, WM has created a "rapid response technician" available to respond to your needs. He or she is available by paging 425-0824.
Waste pickup times--Also in the last column, WM pledged to meet or improve the time needed to pick up your hazardous or radioactive waste. In August, WM met the goal of waste pick up within seven days 85 percent of the time for hazardous waste, and 81 percent of the time for radioactive and mixed waste. In September, the goal was met 91 percent of the time for hazardous waste and 83 percent of the time for radioactive and mixed waste. These statistics do not include waste that required further characterization or waste from a radioactive materials area (RMA) that could not be certified as containing no added radioactivity. WM will strive to increase these percentages.
Next Up
The next column will center on the Lab's new waste facility, Bldg. 85. An update will be available on DOE's program to return waste management funding to the site managers, and to tell you how the new EH&S home-page will give you comprehensive information on waste management.
Waste Watchers is brought to you monthly by EH&S's Waste Management group.

By Monica Friedlander
The phone is ringing off the hook in the Benefits Office in downtown Berkeley. And Lorna Rodriguez can't even blame the hectic pace on Open Enrollment Month. Phone frenzy simply comes with the territory.
"There is no normal pace," Rodriguez says good-naturedly. "There's always something going on: plan changes which take effect at different times, new initiatives to automate the enrollment process, new databases to be set up. There's never enough time."
After 16 years on the job, Rodriguez has seen the Benefits, Compensations, and Records office go through dozens of changes, most of which involve attempts to automate record keeping and customer support services. This year, for example, Lab employees are making their plan changes by telephone using the University's 24-hour Enrollment Action Line. The new system saves time and reduces paperwork, which is welcome news both for employees and the Benefits office staff.
Nevertheless, technology can only go so far. The fact remains that customers need one-on-one attention--whether face to face, over the phone, or through e-mail. Even the most advanced computers are no substitute for personal service, and Rodriguez likes it that way.
"It make me feel good when I can finish something, particularly when I can resolve someone's problem," she says. "It's very satisfying to have the employees go their merry way and be happy. Unfortunately, that doesn't happen as often as I'd like, because we're always backlogged."
With only three people on hand to field inquiries from an institution of thousands, it is little wonder that calls are not always answered promptly, or that most of us have to work our way through voice mail menus we often wish had never been invented. But, Rodriguez says, that's not for lack of effort on the part of the staff, who also include Janet Amos and Kent Ryden. "Everybody is on the phone at all times," she says.
For the remainder of the Open Enrollment Period, Rodriguez has a few useful pointers:
Most importantly, hurry up! This year, the deadline for enrollment is Nov. 24, rather than end of the month.
The fastest way to make changes is by completing the worksheet that came with your enrollment package before picking up the phone.
You can make as many calls and changes in the plan as you would like to--just as long as you do so before midnight, Nov. 24.
Additional information about the enrollment process, as well as about other issues regarding employee benefits, can now be found on the Human Resources web site at http://www.lbl.gov/Workplace/HumanResources. The site is linked to the University Bencom web page, although a direct link to provider information is in the process of being set up by the HR Department, and is expected to be up and running by the end of the month.

In addition to using the web, Rodriguez says, Lab employees can make life easier both for themselves and for the Benefits staff by using electronic mail whenever possible ([email protected]). If you need to call, dial the main number (X6403), and your call will be directed.

And if all else fails, Rodriguez assures people that their frustrations are not lost on the Benefits staff. "We're listening," she says. "When people complain, their letters are not tossed in a drawer. Every suggestion is taken to heart." Meanwhile, she says hopes that the ongoing efforts to upgrade the information system and develop a streamlined, user-friendly data base will go a long way towards improving service.

"When people will have access to their own information," Rodriguez said, "my life and theirs will be a lot easier. If I can only get through next couple of years until this system is all set up!"

Don't forget that your phone-in plan changes must be made by midnight Sunday, Nov. 24.

CAPTION: Lorna Rodriguez of the Lab`s Benefits Office

By Monica Friedlander
It started with a dream in 1883--when Anthony Chabot funded Oakland's first eight-inch refractor telescope--to bring the universe a little closer to our world and community. Advances in science and technology have given the Chabot Observatory increasingly powerful tools. And when the new Chabot Observatory and Science Center opens its doors three years from now at a new location in the Oakland hills, the dream will continue.
Touted as one of the most advanced science training centers in the world, the $51 million technological wonder will feature everything from powerful telescopes to space flight simulations and cyberclassrooms. Its goal, from its new site on Skyline Blvd., will be to inspire in children a love of science and exploration, to provide teacher training, and to make science and technology accessible to all.
Scientists at Berkeley Lab are already active in many observatory programs, such as the popular Hands on Universe project. As the new Science Center begins to take shape, the Laboratory is expected to increase its involvement.
"The Laboratory has a long tradition of developing science education and activities that connect the Lab with the community," says Glen Dahlbacka of Berkeley Lab's Technology Transfer Department. Dahlbacka serves on the center's board of directors. "The observatory is an ideal outlet for scientists to interact with kids and build collaborations with teachers and fellow scientists."
The groundbreaking for the new center took place on Oct. 18, and its completion is expected to coincide with the 30th anniversary of the first moon landing. The featured speaker at the ceremony was astronaut Buzz Aldrin, the second man to walk on the moon. Aldrin praised the pioneering spirit that led to the Apollo mission and expressed his hope that the Chabot Observatory and Science Center will serve to renew that spirit for future generations.
"We made a commitment and we followed through with it," Aldrin said, recalling the moon mission. "And I look at society today and I see the focusing of attention on immediate gratification. Where are the cathedrals that took 100 years to build? Where are the long-range objectives? That's what made our country great, and that's what this observatory is all about."
When completed, the three-domed structure, constructed along the natural contours of Joaquin Miller Park, will resemble a futuristic space station. Its pride will be the 36-inch reflector telescope, which will be the largest telescope available for public viewing in the world. In addition to its multiple telescopes, the 72,000-square-foot facility will feature:
a virtual science center, which will connect the observatory to classrooms and the rest of the world via the Internet and other online networks
a 250-seat planetarium with a world-class star projector
a "Challenger Center" with space flight simulations
Interactive science exhibits, labs, and multimedia technology centers
a large screen OMNIMAX-type theater.
Berkeley Lab scientists volunteering at the observatory include Carl Pennypacker, who runs Hands on Universe, a physics project that links students to a supernova search program and allows them to download telescope images; Keith Jackson, who runs the Telescope Makers' Workshop; and Eric Norman, who runs the ABCs of Radioactivity. In addition to Dahlbacka, the Lab is represented on the board of directors by ICSD's Steward Loken (and previously, by CSEE's Rollie Otto). CSEE's Eileen Engel serves on Chabot's Technical Advisory Board.

The Chabot Observatory features a variety of evening classes, planetary programs, and telescope viewing. For more information, visit Chabot's web site at http://www.cosc.org


UC CARE Services, the Lab's employee assistance program provider, has been invited to give two noontime brown bag workshops for Lab employees on the topic of stress reduction. Both will be held in the Bldg. 50 auditorium.
The first workshop, "Address Your Stress," is scheduled for noon to 1 p.m. today, Friday, Nov. 22. Two licensed clinical social workers from UC CARE Services will discuss the basics of effective stress management, including recognizing the symptoms of negative stress and burn-out, starting an action plan for self care, and becoming familiar with campus and community resources that can assist you.
The second brown-bag session, "The How-To's of Relaxation," will be held from noon to 1 p.m. on Wednesday, Dec. 4. A sure way to reduce stressful experiences is through the practice of relaxation skills such as deep breathing, visualization, guided imagery, and meditation. This session will help you identify which of these methods can help you in coping with stress and give you an opportunity to practice them.
All employees are invited to attend the workshops, which will also be opportunities to meet counselors from the CARE Services staff. The events are sponsored by the Lab's Employee and Labor Relations Office.

A representative of the Cal State 9 Credit Union will be in the cafeteria lobby from 11:30 a.m. to 1:30 p.m. on Tuesday, Dec. 3 to answer questions and offer special services to Berkeley Lab employees. Special services include auto loans, bonus rate share certificate, free coffee mug with direct deposit, low-rate VISA and computer loans, and no-fee checking. For more information, call 849-2270, ext. 331.

Silicon Graphics Inc. will bring its "magic bus" of displays and demonstrations to Berkeley Lab on Thursday, Dec. 5. Sponsored by Berkeley Lab's Computing Sciences Program, the bus (actually an 18-wheeler) will showcase SGI's high-end technology, its applications in the world today, and the problems it solves. The "virtual solutions exhibit" with its latest visualization equipment will be available for employees to visit in the lower cafeteria parking lot all day.

The Dec. 6 issue of Currents will feature a special, twice-a-year listing of services in the Flea Market.
Qualifying services and businesses include such things as electronics and appliance repair, arts and crafts, cooking/cleaning services, handyman work, etc. Services must be provided directly by the employee submitting the ad, and businesses must be owned and operated by the employee. This offer is for Lab employees only. It does not extend to family members and friends.
You may submit your ad as you would a regular Flea Market ad: e-mail to [email protected]; fax to X6641; mail to Mail Stop 65A; or deliver to Bldg. 65B. Please include name, Lab and/or home phone number, and service. The deadline for submission for the Dec. 6 issue is 5 p.m. Wednesday, Nov. 27.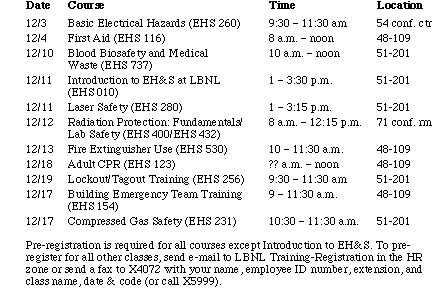 New on-site computer training is now available to all employees. Courses covering beginning, intermediate, and advanced levels of MS Word, EXCEL, and Power Point will be offered starting Dec. 2.
Information Systems and Services has contracted with Advanced Integrated Methods (AIM) of Emeryville to provide the instruction. Each one-day class is 9 a.m. to 4 p.m. in the Bldg. 51L computer training room (near the lower level of the Bevatron.) The cost is $100 per one-day class.
About 140 employees have attended the Windows95 courses given by AIM at the Lab in the past two months. A one-day version of this class is now available, and short courses on cc:Mail and Meeting Maker will soon be available. There will be no charge for these courses.
The current schedule of classes is below. Updated schedules and course descriptions can be found on Employee Development & Training's website (http://www.lbl.gov/Workplace /EDT/on-site.folder/on-site_PCs.html). For more information, contact Christa Brothers (X4238). To register, send an e-mail to [email protected] (or call X5999) with your name, employee ID number and account number.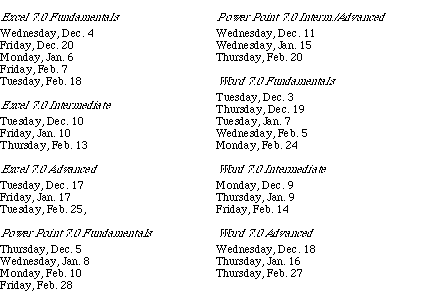 The Oracle Channel has arrived at Berkeley Lab! On a special, one-year contract through Information Systems and Services, the Lab has a unique opportunity to train its systems developers, database administrators and other interested parties in the Oracle technologies.
The Oracle Channel is a nation-wide broadcast of half-day Oracle classes. The classes are viewed on-site through a satellite television hookup, with the ability to ask questions and interact with the instructor. Most classes are geared toward developers and database administrators. They cover various aspects of the Relational Database Management System (RDBMS), SQL coding, the Oracle developer tools and Data Warehousing. There are also a few introductory-level classes. Most classes will be offered several times during the next year.
Oracle's RDBMS is a cornerstone in the Laboratory's information systems strategy. In the last few years, ISS has been implementing new administrative computer systems based on the Oracle RDBMS. EH&S and the Particle Data Group have also made use of this database technology.
For information about class content and schedules, access the World Wide Web at http://www.lbl.gov/Workplace/ EDT/career.folder/DevCareer.html. Class schedules will also be published in Currents. To register for a class, call X5999 or send a fax to X4072 by 5 p.m. Monday prior to the week the class is scheduled.
Classes are held in the Oracle Video Training room (Bldg. 936-12) from 8:45 a.m. to 1 p.m. and are free of charge.
December Oracle Classes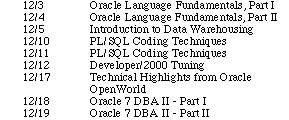 If you or your group have empty tote boxes sitting around from a recent move, they can be recycled with a quick phone call to Ron Woods at X6011. He will pick them up and get them back into circulation so the Lab doesn't have to buy new ones.


The Berkeley Lab Calendar is published biweekly here on the World Wide Web and in Currents by the Public Information Department. Employees can list a meeting, class, or event in the Calendar by using this submission form. The deadline for submissions is 5 p.m. on Monday in the week that Currents is published.

In addition to the events listed below, Berkeley Lab's Washington, D.C. Projects office is hosting a Science and Technology Seminars series.

Scientific Conferences

EH&S CLASS
Basic Electrical Hazards (EHS 260), 9:30-11:30 a.m., Bldg. 54 conf. rm.
THANKSGIVING HOLIDAY
THANKSGIVING HOLIDAY
ORACLE TRAINING CLASS
Oracle Language Fundamentals, Part 1, 8:45 a.m. - 1 p.m., Bldg. 936-12.
COMPUTER TRAINING
Word 7.0 Fundamentals, 9 a.m. - 4 p.m., Bldg. 51L computer training room.
EH&S CLASS
Basic Electrical Hazards (EHS 260), 9:30-11:30 a.m., Bldg. 54 conf. rm.
*UNDERSTANDING WORKERS' COMP
Compensation course for supervisors, timekeepers, personnel administrators, and others involved in the reporting and monitoring of injured or ill employees. 9-11 a.m. in Bldg. 51-201. Offered by the Employee Development & Training Unit. To register, contact Rob Brown at X5999.
AV SERVICES DEMONSTRATION
AV Services staff will demonstrate their new digital display capabilities from 10 a.m. to 2 p.m. in Bldg. 50A-5132.
CAL STATE 9 VISIT
A rep from the Cal State 9 Credit Union will be in the cafeteria lobby from 11:30 a.m. to 1:30 p.m. to answer questions and offer special services to Lab employees.
ORACLE TRAINING CLASS
Oracle Language Fundamentals, Part 2, 8:45 a.m. - 1 p.m., Bldg. 936-12.
EH&S CLASS
First Aid (EHS 116), 8 a.m. - noon, Bldg. 48-109.
COMPUTER TRAINING
Excel 7.0 Fundamentals, 9 a.m. - 4 p.m., Bldg. 51L computer training room.
*STRESS REDUCTION WORKSHOP
UC CARE Services is offering the second of two brown-bag workshops on stress reduction today at noon in the Bldg. 50 auditorium. The subject of this workshop is "The How-To's of Relaxation."
SHOEMOBILE
7:30 a.m. - 4:30 p.m., near Bldg. 79.
*SILICON GRAPHICS VISIT
Silicon Graphics Inc. will bring its "magic bus" of displays and demonstrations to the Lab today. The 18-wheeler will be in the lower cafeteria parking lot all day.
ORACLE TRAINING CLASS
Introduction to Data Warehousing, 8:45 a.m. - 1 p.m., Bldg. 936-12.
COMPUTER TRAINING
Power Point 7.0 Fundamentals, 9 a.m. - 4 p.m., Bldg. 51L computer training room.
TELEPHONE COORDINATOR TRAINING CLASS
A class will be held for all telephone coordinators from 10 to 11:30 a.m. on the Bldg. 50 auditorium
*Items for either calendar may be sent via e-mail to [email protected], faxed to X6641, or mailed to Bldg. 65B. The deadline for the Dec.6 issue is 5 p.m. Monday, Dec. 2.

SURFACE SCIENCE AND CATALYSIS SCIENCE SEMINAR
"STM-Induced Luminescence on III-V Heterostructures and Organic Materials" will be presented by Santos F. Alvarado of IBM Research Division, Zurich, Switzerland, at 1:30 p.m. in the Bldg. 66 auditorium.
LIFE SCIENCES DIVISION SEMINAR
"Werner Syndrome Gene - What's Next" will be presented by Junko Oshima of the University of Washington at 4 p.m. in Bldg. 66-316.
PHYSICS DIVISION RESEARCH PROGRESS MEETING
"Searching for the Quark-Gluon Plasma" will be presented by Jay Marx of NSD at 4 p.m. in Bldg. 50A-5132; refreshments, 3:40 p.m.
THANKSGIVING HOLIDAY
THANKSGIVING HOLIDAY
BUILDING ENERGY SEMINAR
"Calculation of Energy Cost for Ventilation in Residential Buildings with WWW Interface" will be presented by Teresa Forowicz of the Technical University of Warsaw, Poland, at noon in Bldg. 90-3148.
CENTER FOR ENVIRONMENTAL BIOTECHNOLOGY SEMINAR
"Problems with Molecular Diversity in the Eukarya" will be presented by Mitchell Sogin of the Marine Biological Laboratory at 11 a.m. in 434 Barker Hall.
SURFACE SCIENCE AND CATALYSIS SCIENCE SEMINAR
"Molecule-Specific Imaging with Ion Beams and Lasers: From Combinatorial Chemistry to Biological Cells" will be presented by Nicholas Winograd of Pennsylvania State University at 1:30 p.m. in the Bldg. 66 auditorium.
CENTER FOR BEAM PHYSICS SEMINAR
"Wakefield Measurements of X-Band Accelerating Structures in the SLC" will be presented by Mike Seidel of SLAC at 10:30 a.m. in the Bldg. 71 conference room.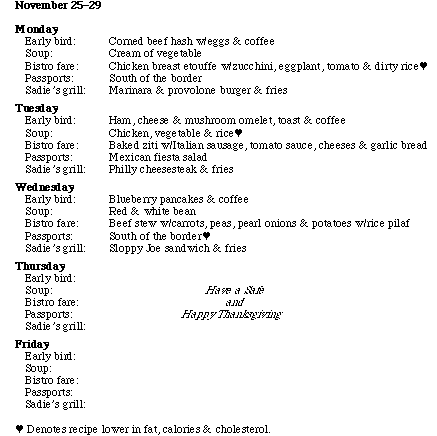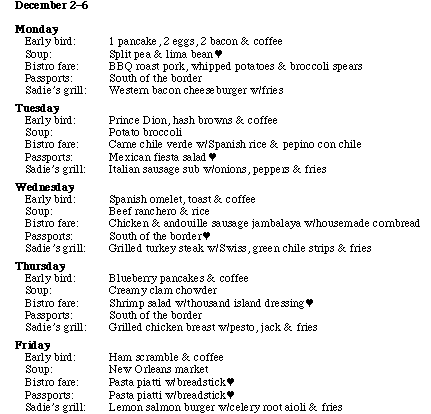 '72 VW Squarebk, 4-spd, EFI, 1 owner, new engine (warranty), starter, brakes, tires, gd body, sell for cost of new parts, $3250/b.o. Dick, X5786, 548-0186

'82 DATSUN 200 SX, 165K mi., 2-dr., new brake system, muffler, windshield, radiator & water pump, $1100/b.o. Ute, X7677, 528-1103

'85 TOYOTA Celica GT, new motor, paint, suspension, carpet, after market rims & tires, exc. audio system, must sell, $5500/b.o. Keith, X6359, (209) 764-2503

'86 CHEVY Sprint, red, runs great, gd. cond., a/t, 41K mi., $2500/b.o. Simone, X5928, (415) 642-7668 (eve.)

'86 FORD T-Bird, p/s, p/b, a/c, a/t, AM/FM radio, 84K mi., gd cond., $2500/b.o. 237-5022

'86 OLDSMOBILE Cutlass Ciera Br, runs great, 92K mi., light blue, all records, new tires/parts, leaving, $2700/b.o. Jan, X4417, 548-7120

'87 VOLVO 242, 4-spd, beige, 125K mi., gd cond., $1500. X7975, 234-6566

'88 OLDSMOBILE Cutlass Sierra, 140K mi., gd cond., new tires, $2500/b.o. Martina, X6254, 595-8168

'89 TOYOTA Tercel EZ, white, Sony AM/FM cass., 118K mi., 1 owner, all records, $2500/b.o. Gail, X4722, 284-4562

'90 VW Corrado, 76K mi., white, 5-spd, exc. cond., anti-lock brakes, elec. sunrf, a/c, well maint., 1 owner, must sell, $8500. 549-0497

'92 HONDA Accord DX, 4-dr, a/c, a/t, AM/FM cass., low mi., great cond., $10,095. X4061, 528-7747

'93 CHEVROLET Camaro, V-6, 15K mi., burgundy, 5-spd, a/c, AM/FM cass., $11,995/b.o. Nancy, X4241, 527-2248

'93 TOYOTA T100 4X4, deluxe long bed w/liner, std cab, 5-spd, CD player, low mi., $13,800/b.o. Margo, X6280, (415) 871-4450

ENGINE, Ford 390, manual C6 transmission, Hollie carburetor, headers, many extras, very low mi. 906-9786

CARPOOL, riders, drivers wanted, Vallejo to LBNL/UCB. Lorenza, X4548

CARPOOL, 2-person, rider/driver wanted, from Tri-Valley area to LBNL, 7:30 a.m.-4 p.m. Monte, X6761

FOOTBALL, Raider's rights (PSLs) (8), 50 yd line, season tickets, $50. 637-1811 EDUCATIONAL SOFTWARE & typing tutorial software for a IBM AT 286 clone, for free, for use in a public grade school. Nancy, X5102

HOUSE/PET-SITTER, approx. Dec. 23 - Jan. 20, sm. garden apt, Grizzly Peak nr Centennial Dr., dog & cat, car provided. Jan, 845-5563

HOUSE-SITTER for 12/23-30 (dates flex.), 1-bdrm apt nr Piedmont Ave., Oakland, 2 cats need feeding & some attention, responsible teens OK. Deborah, X6172, 655-3455

HOUSE-SITTER for house in the Mormon Temple area of Oakland, 12/12-27, must be willing to feed & walk dog in exchange for housing, short drive (~15 min.) to LBNL. Angus, X5970, 530-6126 (eve.)

MAC MONITOR, either an Apple 13", a Performa 14", or an Apple 15" color monitor. Andrea, X6727

PHONOGRAPH in gd cond. Nanyang, X5814

PICKUP TRUCK, prefer import 1980 or later, looks not important, willing to pay up to $1200. Rick, X7943

RELIABLE NIGHT Attendant for Owen Chamberlain, 9:30 p.m.-8:30 a.m., twice mid week, agreeable job for honest, caring person, refs., trans. needed, Rockridge area. 524-4654

TOY STORY PIG (Burger King Kids Meal). Will buy or trade for Buzz Lightyear. Connie, X5678.

CB RADIOS (2), hand-held, 40 ch., Radio Shack model #TRC207, never used, $100. David, 525-4470

CHRISTMAS WREATHS, benefits BSA, 24" wreaths, $18, payment due upon delivery in early Dec. X7853, 526-7388

COMPUTER, 486SX-50, 4 megs, HD, modem, VGA monitor, great for students/new users, $300. Bob, 845-3753

COMPUTER & MONITOR, 486DX2/66, 16 MB RAM, 15" Samsung monitor, 14/4 internal fax modem, Colorado 250MB backup, $1200/offer. Jeff, 625-8752

COUCH, beige, gd shape/comfortable, gd cond., $30; toaster, $4; minispeakers, Memorex for Walkman, $4; drinking glasses 25cents ea.; sunglasses, $2; lg. pillow, goose feathers, $10. Jan, X4417

COWBOY BOOTS, brand new (worn twice), biker-style, brown natural-finish leather, sz. 9 to 10-1/2 (not sure exact size), $145 new, asking $75. Doug, X6626, 237-2233

CRIB, full-sz., mattress & accessories, $150; playpen, $20, other used baby equip., all in exc. cond. X6380

GOLF CLUB, taylor-made Titanium Bubble #3 wood graphite shaft firm-90 flex., exc. cond., 1 mo. old, new $300, asking $200/b.o. Bob, X6182, 803-9803

JEWELRY, cultured pearls, necklace, 16", pearls sz. 8-1/2 mm, $700; earrings w/gold, pierced, $100; bracelet, 7", gold, accented w/twin gold ropes, $350; ring, lavender jade (marquis cut) surrounded by 12 amethyst & 12 diamonds, sz. 6, $300. Linda, 798-6589 (after 4:00 p.m.)

MODEM US Robotics Sportster 288 V.34 modem for Macintosh, $100. Charles, X7329, 376-3728

PC ITEMS, Robotics 14.4 Fax Modem, $20; SVGA 14" color monitor, $50; Logitec B&W hand scanner w/OCR software, $20. Bill, X5632

PERSONAL SAFETY ALARM products & sales materials, Quorum, orig. $1500, 2 yr. old, make offer. 704-8236

PLACE SETTINGS, Lenox, "Blue Brushstrokes," 2 avail., $60 ea.; Sanyo boombox, CD, dual cass., equalizer, detach. spkrs, AM/FM, AC/DC, $100/b.o.; RCA boombox, AM/FM, cass., detach. spkrs, AC/DC, $20; 11-pc. Corning cookware set, $30; toaster, new, $15; Chinese dish set ~20-pieces, (dishes, bowls, spoons), $15; Salad Shooter, $10. Lars, X7292, 2524-8310

PRINTER, PC color inkjet, Canon BJC-610, 720 dpi, 4-color (CMYK), nearly new, $175. Dennis, X4702, 540-1947

SOFA & matching loveseat, floral print on cream background, exc. cond., $450/b.o. 943-6517 (eve.)

SPEAKERS, a pair, Panasonic, $5 ea.; mountain bike tires, $40/pr. Mor, X6878, 528-3408

TV, Magnavox 21" w/built in VCR, 9 mo. old, under warranty, $400 new, asking $275. Peter, X6555, 558-1314

TV, Magnavox, 25" tabletop, mono, 8 mo. old, $200; barbecue, Weber Kettle, 18.5", tools & charcoal lighter, 8 mo. old, $30. Erik, X4718, 526-2007

TWA DISCOUNT COUPON for $50, gd on any TWA published fare of $250 or more, coupon can be used by 1-5 people, travel must be completed by 12/31/96, asking $25. H. Matis, X5031, 540-6718

USED BOOKS (physics & computing, approx. 30 titles), 1/2 price or less. Gerald, X6518, 526-4232

ALBANY, partly furn. 2-bdrm, 2-bth condo, bay view, swimming pool, tennis cts., 24 hr. sec., garage parking, bus/BART to LBNL/UCB 15 min., nr shopping, no pets, non-smoker, lease, avail. 12/1, $980/mo. Rai, 524-7941 (eve.)

NO. BERKELEY, share 2-bdrm house w/1 engineer, washer/dryer, hardwood, yd, $500/mo. incl. utils. Andy, 883-6511

NO. BERKELEY, 3-bdrm, 2-bth house, 12-mo. lease, yd, garage, frpl, nr BART, bus & Solano shops, avail. 12/20. 525-4895

OAKLAND, across Children's Fairyland (Lake Merritt), 2-bdrm apt, bay view window, $870/mo.+sec. dep., incl. gas & parking. Jin, X7531

PARIS, FRANCE, furn., lg. 2-bdrm apt, slps 4, centrally located,avail. Jan. thru Dec. '97, min. 6 mo. Barbara, 649-3022 (after 7 p.m./wkend)

EXCHANGE: family house in Oxford, UK, offered in exchange for similar in Berkeley area, July-Dec., 1 mi. east of city center, convenient to Univ. of Oxford, Oxford Brookes Univ. & hospitals,3-bdrm (1 dbl, 1 twin, 1 single), 1.5 bth, all appliances, garden, car exchange also possible. [email protected]

WANTED: 1 or 2-bdrm apt/house for visiting scientist & spouse, 1 yr., non-smokers. Thomas, X4867

WANTED: East Coast visitors seeking house in SF, Dec. 26-Jan. 7 (negot.), to rent or trade our historic Row House in Wash. DC, 1-1/2blks from capital. Scott, X4132, Nancy, (202) 544-2588

WANTED: inexpensive apt or house-sitting situation for visiting Rabbi for 5 wks starting in early Dec., call w/leads or suggestions. 704-8236

WANTED: visiting scientist & fam. looking for 2-bdrm, 2-bth apt/house to rent in Berkeley/Albany/ El Cerrito area for 6 mo. starting ASAP. Sofia, X5165, [email protected]

WANTED: 2-bdrm apt in Albany. Mor, X6878, 528-3408

WANTED: 2-3 bdrm rental house on/nr Piedmont Ave., Oakland, 3 responsible, non-smoking adults w/exc. refs., no pets, would like to stay in the neighborhood, must move by 12/12. Jill or James, 601-5915, Joanie, 601-9286

WANTED: furn. house/apt for visiting professor from Germany & his wife, Jan. `til June '97 (min. 2-bdrm). 525-8807, 527-8692, [email protected], [email protected]

WANTED: Tahoe rental for 4 days between Christmas & New Year's. Jacob, X4606

RUG, 12'x16'6", gold color, gd cond., no holes, no stains. 527-3869

Flea Market items may be sent via Quickmail, e-mailed to [email protected], faxed to X6641, or mailed to Bldg. 65B. The deadline for the Dec. 6 issue is 5 p.m. Wednesday, 27.

Due to the large volume of ads received each week, ads are accepted only from LBNL employees, retirees, and on-site DOE personnel. No other ads will be accepted. We encourage past contributors to the Flea Market to use other local services, such as LBNL's online housing listing (call X6198 for information), and the UC Housing Office.

Please note also:
The deadline for ads is 5 p.m. Friday for the following week's issue.
Ads must be submitted in writing, via e-mail ([email protected]), fax (X6641), or delivery/mail to Bldg. 65B. No ads will be taken over the phone.
No ads will be accepted without your name, affiliation, Lab extension, and home telephone number. You may ask that only one number appear in the ad.
Only items of your own personal property may be offered for sale.
Ads for material for resale in connection with a business will not be accepted.
No ads for services will be taken.
Ads will run one week only unless resubmitted in writing. Ads will be repeated only as space permits, and at the discretion of Currents. If an item does not sell in a reasonable time period, we retain the right to terminate the ad.

Currents/The View and the Communications Department Staff
Published once a month by the Communications Department for the employees and retirees of Berkeley Lab.

Reid Edwards, Public Affairs Department head
Ron Kolb, Communications Department head

EDITOR
Pamela Patterson, 486-4045, [email protected]
Associate editor
Lyn Hunter, 486-4698, [email protected]

STAFF WRITERS
Dan Krotz, 486-4019
Paul Preuss, 486-6249
Lynn Yarris, 486-5375

CONTRIBUTING WRITERS
Ucilia Wang, 495-2402
Allan Chen, 486-4210
David Gilbert, (925) 296-5643

DESIGN
Caitlin Youngquist, 486-4020
Creative Services Office

Berkeley Lab
Communications Department
MS 65, One Cyclotron Road, Berkeley CA 94720
(510) 486-5771
Fax: (510) 486-6641

Berkeley Lab is managed by the University of California for the U.S. Department of Energy.

Flea Market is now online at www.lbl.gov/fleamarket