LBNL Currents
November 10, 1995


By Jeffery Kahn
Last week, DOE's Office of Energy Research an-nounced that it had selected Berkeley Lab as the site of a new High-Performance Computing Access Center (HPC).
Director Charles Shank quickly underscored the importance of the new center to the future of research at Berkeley Lab. "We have an unprecedented opportunity to integrate science and computing to fully realize the value of high performance computing for the scientific programs of the nation," he said. "This has the potential to transform the way we do science in virtually every part of the Laboratory. It also opens the way to further expand our collaborations with the outstanding Livermore Laboratory computing activity."
On Tuesday, Shank traveled to Livermore Lab to meet with the staff of the National Energy Research Supercomputing Center (NERSC), which will be a major component of the new Center.
"The success of NERSC establishes the foundation for future strength, and will be a vital element of the new program at Berkeley," Shank said in expressing his appreciation to the NERSC staff for their accomplishments. "We will need everyone's help in the transition to meet our responsibilities to the user community and to the DOE." He also announced his intention that Livermore's C. William McCurdy, director of NERSC, be named Berkeley's Associate Laboratory Director for Computing Sciences.
The HPC Center includes NERSC, the Energy Sciences Network (ESnet), and the Center for Computational Science and Engineering. These components, integrated with Berkeley Lab's efforts in computer and computational science and networking, create a unique resource for Berkeley, Livermore, and other national laboratories and academic communities.
The NERSC supercomputers are used by thousands of researchers nationwide. The problems they work on include global change; materials, combustion, and molecular modeling; quantum chromodynamics, particle accelerator design; structural biology; and fusion.
Shank and McCurdy joined with Information and Computing Sciences Division Director Stu Loken and Division Deputy Sandy Merola to plan for a smooth transition of the personnel and facilities to Berkeley. "This will result in a new vision for this center, integrating NERSC, ICSD, and the energy research and academic communities," Loken said. A DOE transition team is being formed that will be chaired by DOE's John Cavallini, director of Mathematics, Information and Computational Sciences in the Office of Energy Research.
ESnet links unique DOE facilities, including the supercomputer facility, to the DOE international community. Berkeley and Livermore staff expertise in computer science will be integral to the HPC Center. Computer scientists will be responsible for the continued evolution of the "architecture" of the center, making sure that the interaction of hardware, software, and the network not only are optimal but are engineered in a way that open doors to the future.
Merola, who heads the ESnet Steering Committee, says that part of the Lab's vision for the HPC Center is to extend the notion of "national collaboratories." DOE has a number of national user facilities--accelerators, telescopes, and microscopes--that are too expensive to replicate. Through what is learned at the Center, the capability of allowing remote use of these other facilities also will be extended.
The final element in the HPC Center will be its computational and mathematical sciences program. With the Lab located midway between the UC Berkeley campus and the Mathematical Sciences Research Institute, it is a natural focus for computational science and computer science. Further enriching the mix are the Bay Area's computing and communication industries.

By Jeffery Kahn
The new High-Performance Computing Access Center that will take shape at this lab over the next several months (see main article) is expected to be completely operational by April.
The HPC Center will be located in the Bldg. 50 complex. About 1,435 square meters (15,470 square feet) will be occupied by computer facilities and 1,415 square meters (15,250 square feet) by office space. Computer facilities will be located on the first and second floors of Bldgs 50A and 50B; offices will be located on the third and fourth floors of Bldg. 50B.
ICSD Deputy Sandy Merola, who heads the Berkeley Lab preparation team, says that a team of 40 people, coordinated by the Facilities Department's Kirk Haley, has begun work on the transition.
"No question but that there are going to be a lot of people in offices who are going to be moved," Merola said. "We will do everything we can to minimize the effect. Undeniably, we'll experience a domino effect here with lots of people affected. However, try to bear in mind that the HPC Center also has a domino effect in terms of its benefits to everyone at the Laboratory."
In terms of jobs, the HPC Center will employ about 100 people beyond the 230 who are now a part of ICSD. One element of the HPC Center is the National Energy Research Supercomputer Center (NERSC), now located at Lawrence Livermore National Laboratory. "NERSC has been a leading center for computational science," says Merola, "and its reputation as a user-oriented facility is well deserved."

Michael Kirk, executive director of the American Intellectual Property Law Association, will be the next speaker in the lecture series Science and Technology in a Changing World, scheduled for 12:15 p.m. on Wednesday, Nov. 15, in Bldg. 50A-5132. Kirk, who is former deputy director of the U.S. Patent and Trademark Office, was the lead U.S. negotiator of the multilateral agreement on intellectual property rights under GATT. He will speak on the implications of this agreement for the licensing and intellectual property management activities of nonprofit, contractor-operated, and other U.S. government research facilities. All employees are invited to attend the talk.

Nuclear Science's Peggy McMahan, research coordinator of the 88-Inch Cyclotron, will be the next speaker in the Women in Science and Engineering seminar series. Her talk, "The 88-Inch Cyclotron and Its Research Programs," will be presented at 12:15 p.m. on Monday, Nov. 13, in Bldg. 70A-3377. Refreshments will be served at noon; all employees are invited to attend.

By way of introducing her topic, McMahan says, "LBNL had its beginning with Ernest O. Lawrence's invention of the Cyclotron. Today, his heritage continues at the 88-Inch Cyclotron, the last remaining nuclear physics accelerator on the Hill. This talk will give an overview of the 88-Inch Cyclotron and its varied research programs in nuclear physics and chemistry. Also covered will be programs in more non-traditional applications of the Cyclotron, in the fields of biology, micro-electronics, and materials."

Women scientists and engineers are needed for the 18th annual Expanding Your Horizons in Science, Mathematics And Engineering Conference to be held Saturday, March 9, 1996.

EYH conferences are designed for girls grades six through 12. Hands-on workshops seek to increase interest in math and science while providing the opportunity to meet with women working in those fields.

A workshop from last year's program, for example, taught about how the heart produces electrical activity. Participants recorded their own electrocardiogram and studied the anatomy of the human heart.

One-hour workshops are presented three times during the day to different age groups: grades 6-8 and grades 9-12. Presenters may specify that their workshop is appropriate for a certain age group only.

The conference is sponsored by San Jose State University and the Math/Science Network

For more information, contact Sally Veregge, Biological Sciences Dept., San Jose State University, San Jose, CA 95192-0100, (408) 924-4880, [email protected]

By Mike Wooldridge
Combinatorial synthesis--a strategy for making and testing many complex metal materials in parallel--has paid quick dividends for its inventors.
Scientists at LBNL's Molecular Design Institute have used combinatorial synthesis to discover new magnetoresistive (MR) compounds, materials whose electrical conductivity changes in a magnetic field. The results come only four months after first describing the technique in the journal Science.
Researchers Xiao-Dong Xiang and Peter Schultz published their newest findings in the Oct. 13 issue of Science.
"The technique is a powerful way to examine a broad base of advanced materials," Xiang said. "Magnetoresistant materials are just the first."
The MR compounds recently discovered are members of a materials class known as perovskite oxides, conductive metal crystals that are made of complex ratios of four to six metal atoms. Their many-atom structure makes them particularly suited for combinatorial study.
Interesting materials in such classes are usually discovered by substituting atoms in an already known compound or changing the ratios of the existing atoms. With a combinatorial strategy, scientists can look at many atom substitutions and ratio adjustments in a single combinatorial library.
Combinatorial synthesis enables materials scientists to create thousands of complex materials in the time it normally takes to create one. The technique lays down the materials in a checkerboard arrangement, as thin squares arranged in a grid.
Different metal ingredients are stenciled onto the grid through cut-out "masks." Because of the different cut-outs used for each ingredient, each square in the grid receives a different combination of metals.
Heat treatment mixes the ingredients and creates a grid of stable compounds--a "combinatorial library." The materials can be scanned for interesting electrical properties with a matching set of contact pins. Xiang and Schultz have shown they can put as many as 10,000 different hi-tech materials into a single square-inch library.
To look for new materials with magnetoresistance, the researchers began with a well-studied class of MR materials based on manganese oxide. They substituted similar elements from the periodic table--iron, vanadium and cobalt--for manganese, and made a separate combinatorial library for each one.
The researchers found success with the cobalt oxide library, which yielded 26 new MR materials. The materials showed resistance changes as high as 72 percent, making the cobalt oxides similar to the so-called "colossal" class of MR materials. Colossal MR materials lose a great deal of their resistance in magnetic fields, some as much as 99.99 percent.
Although the phenomenon is still not well understood, scientists suspect magnetoresistance has to do with a physical characteristic known as spin polarization. Spin polarization affects how electrons can be passed back and forth between neighboring atoms. Atoms with similar spin polarizations are much more likely to transfer electrons between one another than those with different spin polarizations.
It is thought that magnetism aligns the spin polarization in MR materials. This lets electrons jump more freely between atoms, causing resistance in a material to decrease.
In the past, combinatorial approaches have been used successfully by researchers in the life sciences, who have searched for potential drugs by screening vast libraries of protein combinations. Xiang and Schultz are the first to apply the philosophy to solid-state materials.

Effective Jan. 1, 1996, the Laboratory must implement a U.S. Department of Transportation (DOT) rule that mandates random drug and alcohol testing for drivers of certain Lab vehicles. The requirement affects employees who are required to have a commercial drivers license (CDL, class 2), and who drive any Laboratory commercial motor vehicles that have a gross vehicle weight of 26,000 pounds or are designed to transport 16 or more passengers, or transport placarded hazardous materials.

The DOT rule complements other Federal requirements that prohibit drivers from the use, possession, or being under the influence of substances that render drivers incapable of safely operating motor vehicles.

An implementation-planning team made up of representatives from Human Resources, Facilities, and EH&S has to date identified positions in Facilities and EH&S covered by the requirement that include truck drivers, bus drivers, firefighters, and EH&S techs who transport hazardous materials.

In order to ensure compliance and avoid potential fines, the Facilities Department is maintaining a list of Lab employees who are required to have a CDL. Only employees on the CDL list after Jan. 1 will be allowed to drive Lab commercial vehicles.

Training for supervisors is scheduled to begin in early November; employees affected by the requirement will be notified shortly thereafter. For more information, contact Facilities at X7726, or Human Resources at X6748.

The Laboratory has an interim contract with UC Berkeley CARE Services to provide Employee Assistance Program services. The CARE EAP provides free, confidential counseling, consultation, and referral for staff on a wide range of issues, including alcohol and drug problems. CARE Services may be reached at 642-7759.

Director Charles Shank has announced 39 projects that have been selected for support by the Laboratory Directed Research and Development (LDRD) Program in FY 1996.

A total of 118 proposals requesting a total of $17.0 million were submitted in response to the Call for Proposals issued earlier this year (see March 31 Currents). The proposals were evaluated in a review process that relied strongly on the scientific judgment and priorities of the division directors and the Director's Review Committee. For FY 1996, a total of some $5.4 million in operating expenses and capital equipment has been allocated for LDRD.

In making the announcement, Director Shank said: "A significant portion of the LDRD budgeted for FY1996 funds projects that address problems of national interest and have a good potential for building future laboratory programs. In many cases the projects also have strong multi-divisional involvement.

"We were able to support a number of outstanding single-investigator research projects," he said, "although in reduced proportion to previous years. Furthermore, at this stage we have allocated one million dollars less than we did in FY1995 because of the budget uncertainties we face. I appreciate the effort and response of all investigators, especially in the originality and creativity demonstrated in all the proposals."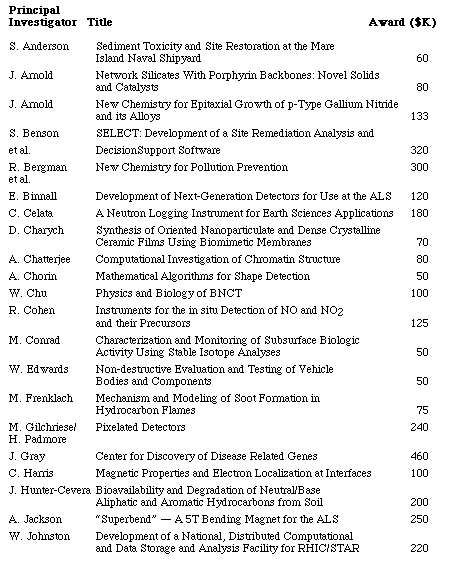 ---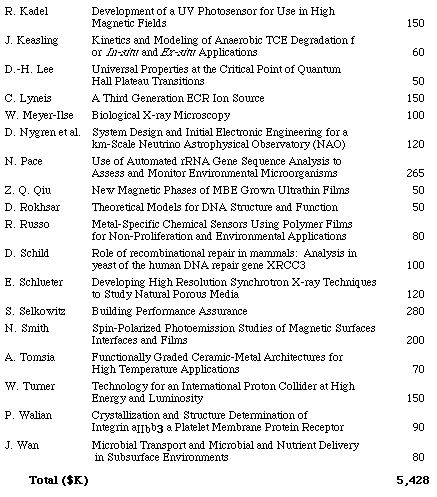 CAPTION: Associate Director-at-Large Glenn Seaborg bid a fond farewell last month to his long-time assistant, Sherrill Whyte. Whyte moves on after 13 years in Seaborg's office. "It's going to be a tough life for me now," said Seaborg, who lamented losing not only an office manager and administrative assistant, but a speechwriter, editor, conference coordinator, archivist, and public/media relations specialist. Whyte has collaborated with Seaborg on 14 books, six in the last year. "I know that whatever I do next, it will be hard to find a job that's as much a part of living history as this one," said Whyte, who is spending a month in Europe before moving on to a new job. Photo by Don Fike

HOUSE AND SENATE COMPROMISE ON ENERGY AND WATER BILL:
A House-Senate conference committee has approved a compromise FY96 spending measure that would spend $2.7 billion on DOE's non-defense research programs. This is $500 million below what was spent last year and $700 million below what DOE requested. Hardest hit in this budget would be solar and renewable energy programs, which would see a 30-percent reduction from FY95 funding. High-energy and nuclear physics would suffer least. The proposed $981 million funding is only $4 million less than FY95 funding and only $36 million below DOE's request. Conferees also agreed to provide $18 million funding for CRADAs and $13 million for science education. Both programs had been eliminated in the House version of the bill.
DOE AND USDA SIGN RESEARCH MOU:
DOE and the U.S. Department of Agriculture have signed a five-year Memorandum of Understanding to combine their scientific and technological expertise in a bid to increase the competitive edge of American farmers. Researchers from the national labs will be encouraged to participate in programs that tackle the complex issue of increasing crop yields while reducing dependence on pesticides and practices that deplete environmental resources. There will also be programs aimed at improving food quality and safety, energy-efficiency, and marketing systems. Researchers here at the Berkeley Lab have already been collaborating with USDA researchers on plant genome projects.
NEW WEB SITE FOR ENERGY TECHNOLOGY DATA EXCHANGE:
ETDE, the international agency that provides a wealth of information on scientific and technological developments in energy research, now has its own home page on the world wide web. The address is: http://www.etde.org.

In answer to your question...
From time to time, the attorneys and patent agents in LBL's Patent Department receive questions from individual researchers, the answers to which may be of interest to others in the Laboratory. If you have questions for the Patent Department, call X7058.
Q: Can the Patent and Trademark Office give others information contained in a patent while it is pending?
A: No. All patent applications are maintained in the strictest secrecy until the patent is issued. After the patent is issued, however, the Patent and Trademark Office file containing the application and all correspondence leading up to issuance of the patent is made available in the Files Information Room for inspection by anyone. Copies of these files may be purchased from the Office.

The Benefits Office will conduct an overview of the benefits plan changes for 1996 at noon on Thursday, Nov. 16, in the Bldg. 50 Auditorium. Benefits personnel will also be on hand to answer questions, collect open enrollment action forms, and schedule appointments. All employees are invited to attend.

Contributed by Nora Ostrofe
Last month's Toastmasters meeting bore a slight resemblance to a firing squad--as one lone blindfolded figure after another stood up to speak to an unseen audience.
Actually, it was a standard Toastmasters' exercise--verbally identifying an unknown object--designed to enable speakers to think on their feet and deliver impromptu eloquence, even without the benefit of sight.
Dick McDonald, clutching a coin purse, said the object he held was "something from the olden days, when coins were valuable." Chuck Taberski correctly identified his object as "a conch shell with foliage sprouting out of it." Carol Taliaferro was baffled by her object, finally concluding that it was a compact comb--only to discover that she was holding an antique card case.
None of the Toastmasters found themselves speechless, and in a few garrulous instances the audience may have wished that the blindfold covered the speaker's mouth.
For those who find themselves groping for words and confidence in far less trying circumstances, Toastmasters offers Laboratory staff, students, and contract workers a friendly, supportive atmosphere in which to engage in a challenging public speaking program. For the date, time, and location of future Toastmasters meetings, please see the Currents calendar.
CAPTION: Toastmaster Phil Roebuck delivers an impromptu speech about the object in his hand as he tries to figure out exactly what it is. Photo by Don Fike

Your opportunity to make changes in the insurance plan coverage continues through the month of November. Transaction forms may be obtained from the Benefits Office ([email protected] or X6403). They must be returned to the Benefits Office (M.S. 938B) by Thursday, Nov. 30. Changes will take effect Jan 1, 1996.

Last week's Currents did not list the employee cost of the UC Care medical plan, which is as follows:
---
Single                     Two-Party                  Family                     
$9.39                      $18.43                     $25.98                     


---
The maximum monthly amounts paid to insurers by UC are the same for all medical plans. Employees pay only the difference between that number and the amount charged by the individual plans, which can vary greatly. The 1996 UC contributions, which reflect a decrease from 1995 amounts, are $130 (single), $267 (two-party), and $362 (family).
Some premiums for the health plans have decreased for 1996 while others have increased, so employees will not necessarily pay more for the same plan. Coverage has also changed among some of the plans, however, so consult your Open Enrollment Announcement for these changes.
Hundreds of employees had an opportunity to ask questions and enroll or make changes in their benefits packages at last Friday's Benefits/Wellness Fair in the cafeteria (right). Among the fair's most popular attractions were PacifiCare's 10-minute back massages in the lower dining room (above).

Calendar items may be sent via e-mail to [email protected], Fax to X6641, or Lab mail to Bldg. 65B. The deadline is 10:30 a.m. Tuesday.
13 m o n d a y
NATIVE AMERICAN HERITAGE MONTH PRESENTATION
A video presentation on the Navajo Code Talkers at noon in the 50 Auditorium.
WOMEN IN SCIENCE AND ENGINEERING SEMINAR
Peggy McMahan of the Nuclear Science Division will present "The 88-Inch Cyclotron and Its Research Programs," at 12:15 p.m. in Bldg. 70A-3377. Refreshments will be served at noon; all employees are invited to attend.
DEPARTMENT OF MECHANICAL ENGINEERING SEMINAR
"Combustion Becoming Smart, An Old Technology with a New Twist" will be presented by Ahmed Ghoniem of MIT at 4 p.m. in 3110 Etcheverry Hall; refreshments, 3:30 p.m.
DEPARTMENT OF NUCLEAR ENGINEERING COLLOQUIUM
"Beam Transport in Deterministic and Stochastic Media" will be presented by Gerald C. Pomraning of UCLA at 4 p.m. in 3106 Etcheverry; refreshments, 3:45 p.m.
PHYSICS DEPARTMENT COLLOQUIUM
"Magnetic Resonance Imaging with Laser-Polarized He3 and Xe129" will be presented by Will Happer of Princeton University at 4:30 p.m. in 1 Le Conte; refreshments, 4 p.m., 375 Le Conte.
14 t u e s d a y
DATABASE TRAINING
SPIN (Physics and Astronomy database) at 11 a.m. in Bldg. 50-134.
FINANCIAL PLANNING SEMINAR
"Estate Planning" will be presented by Jack Eugene Teeters, Esq., at noon in the Bldg. 50 Auditorium.
LIFE SCIENCES DIVISION SEMINAR
"Structure-Function Studies of the Human Interferon-Alpha Receptor" will be presented by Verna Gibbs of UCSF at 4 p.m. in the Bldg. 66 Auditorium.
INTRODUCTION TO CURRENT RESEARCH SEMINAR
"Radiation Hydrodynamics in High Energy Astrophysics and the Interstellar Medium'" will be presented by Richard Klein of UCB at 4:15 p.m. in 643 Campbell Hall, refreshments, 3:45 p.m.
15 w e d n e s d a y
"LABVIEW" USER GROUP MEETING
LabVIEW User Group Meeting from 10:30 - 11:30 a.m. in the Bldg. 50 Auditorium; sign-in and refreshments at 10 a.m. For reservations, send e-mail to [email protected]
TOASTMASTERS' MEETING
12:10-1 p.m., Bldg. 2-300.
SCIENCE AND TECHNOLOGY IN A CHANGING WORLD LECTURE
"The Future for Intellectual Property and Trade" will be presented by Michael Kirk of the American Intellectual Property Law Association at 12:15 p.m. in Bldg. 50A-5132.
SURFACE SCIENCE AND CATALYSIS SCIENCE SPECIAL SEMINAR
"What is Tribochemistry Anyway?
Micro-Raman Studies of Model-Bearing Contacts" will be presented by Dor Ben-Amotz of Purdue University at 1:30 p.m. in Bldg. 66-316.
CENTER FOR ENVIRONMENTAL BIOTECHNOLOGY SEMINAR
"Solubilization of Actinides by Bio-and Biomimetic Chelators and Bacteria" will be presented by James Brainard of LANL at 3 p.m. in Bldg. 50A-5132.
ENERGY AND RESOURCES GROUP COLLOQUIUM
"Good Science, Bad Policy: Congressional Reform of Environmental Risk Assessment" will be presented by William Pease of UCB at 4 p.m. in 2 Le Conte; refreshments, 3:30 p.m. in 310 Barrows Hall.
16 t h u r s d a y
OPEN ENROLLMENT PRESENTATION
Overview of benefits plan changes, noon, Bldg. 50 Auditorium
SURFACE SCIENCE AND CATALYSIS SCIENCE SEMINAR
John Gland of the University of Michigan will speak at 1:30 p.m. in the Bldg. 66 Auditorium; title to be announced.
17 f r i d a y
SCHROFF INFOMOBILE PRODUCT SHOWCASE
This mobile showroom will be at the LBL cafeteria parking lot 9 - 11 a.m. The van will have cabinets - EMI/RFI and NEMA 12, subracks, power supplies and VME, VXI and other backplanes on display. Walk through, ask questions and get catalogs.
CENTER FOR BEAM PHYSICS SEMINAR
"Laser Propagation and Wake Excitation in Plasma Channels" will be presented by Jonathan Wurtele of LBNL & UCB at 10:30 a.m. in the Bldg. 71 Conference Room.
BIOMECHANICAL ENGINEERING SEMINAR
"Bio-robotics" will be presented by Homayoon Kazerooni of UCB at 1 p.m. in 3110 Etcheverry Hall; refreshments.
SURFACE SCIENCE AND CATALYSIS SCIENCE SEMINAR
"Field-Emission Electron Microscopy Characterization of Small Particles" will be presented by Miquel Yacaman of the Universidad Nacional Autonoma de México at 1:30 p.m. in the Bldg. 66 Auditorium.
NATIVE AMERICAN HERITAGE MONTH PRESENTATION
Lecture will be presented at 4 p.m. in Dwinelle Hall on campus; reception will follow.
ALS CENTER FOR X-RAY OPTICS SEMINAR
"New Optical Design Methods and Their Application to High-Resolution EUV and VUV Varied Line Spacing Grating Monochromators at the ALS" will be presented by Masato Koike of LBNL at 4:10 p.m. in Bldg. 2-100B; refreshments, 4 p.m.
20 m o n d a y
CHEMICAL ENGINEERING COLLOQUIUM
"Quiescent and Flow-Induced Structures in Block Copolymers" will be presented by Nitash Balsara of the Polytechnic University at 4 p.m. in the Pitzer Auditorium; refreshments, 3:30 p.m.
DEPARTMENT OF NUCLEAR ENGINEERING COLLOQUIUM
"The Yucca Mountain Repository for High-Level Radioactive Waste: Standards, Radiation Doses, Risks and Fallacies" will be presented by Thomas H. Pigford of UCB at 4 p.m. in 3106 Etcheverry; refreshments, 3:45 p.m.
PHYSICS DEPARTMENT COLLOQUIUM
"Gauge Kinematics for Pedestrians, Spins and Cats" will be presented by Alex Pines of LBNL/UCB at 4:30 p.m. in 1 Le Conte; refreshments, 4 p.m., 375 Le Conte.
21 t u e s d a y
DATABASE TRAINING
METADEX (Metals Abstracts on CD-ROM) at 3 p.m. in Bldg. 62-339.
INTRODUCTION TO CURRENT
RESEARCH SEMINAR
"New Insights for EUV Astronomy'" will be presented by Stu Bowyer of UCB at 4:15 p.m. in 643 Campbell Hall; refreshments, 3:45 p.m.
22 w e d n e s d a y
OPEN CALENDAR
23 t h u r s d a y

THANKSGIVING HOLIDAY
24 f r i d a y

THANKSGIVING HOLIDAY

November is Open Enrollment Month. During this time you can enroll, change, transfer or cancel enrollment in the group insurance plans, including AD&D, Dental, DepCare, Legal, Medical and Optical. For more information send requests to [email protected]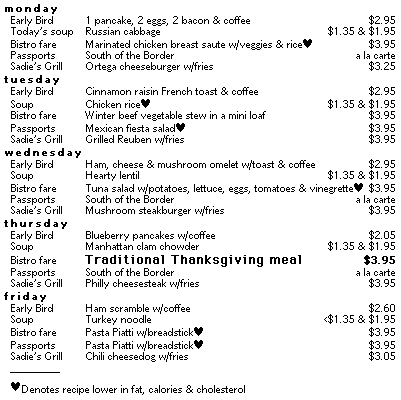 The Green Team has been busy in the past month. Laboratory volunteers helped clean our adopted beach in San Leandro as part of the Coastal Cleanup Day on Sept. 23. The next beach cleanup will be in the spring.

On Oct. 5 a litter cleanup was held at Bldg. 46 with 15 people. On Oct. 18, in preparation for the Open House, Green Team members did a quick cleanup around the stairway by Bldgs 2 and 6, followed by a sprucing up of the cafeteria herb garden with new plantings and a white picket fence.

To participate in a Green Team event, contact Ken Woolfe (X7739; [email protected]) or Catherine Pinkas (X7249; [email protected]).

Canned food drive The African American Employee Association is hosting its annual canned food drive during the month of November. Collection barrels are in the cafeteria lobby; canned goods and dry goods are welcome. The food will be donated to the AIDS Project of the East Bay. Your participation is appreciated.

The Laboratory welcomed the following new employees during the month of October:
Gail Eaton                              Earth Sciences                          
Amy Edney                               Life Sciences                           
Michael Frenklach                       Energy & Environment                    
John Gran                               Engineering                             
Sandra Kim                              Life Sciences                           
Nelson Tordilla                         Life Sciences                           
Michelle Wong                           Life Sciences                           



Flea Market ads may be sent via e-mail to [email protected], Fax to X6641, or Lab mail to Bldg. 65B. The deadline is 5 p.m. Friday.
AUTOS/SUPPLIES
'36 FORD 5-window coupe w/'73 9" Ford rear end, boxed-in frame, stored in garage for 18 yrs., no rust, no motor & trans., $3750. Gary, X7451, 276-4445 (11 a.m.-3 p.m.)
'74 DODGE Monaco, blue, not running. $300/b.o. Debbey, X6430, Stephen, 428-3641, 527-8210
'80 AUDI 5000, sunroof, a/c, new brakes, smog OK, 130K mi., leaving the country, $1100. Guido, X4347, 664-2887
'83 BUICK Century, V-6, 2K on rebuilt engine, p/s, p/b, p/w, a/c, in-out like new, $1800/b.o. 664-2885
'84 HONDA CRX, 5-spd, AM/FM, sunroof, new tires/shocks/seat belts & more, runs exc., w/snow chains & ski rack, 1 owner, $3K. 222-6385 (eve.)
'85 HONDA Accord hatchbk, 96K mi., 5-spd, asking $3100. Peter, X5983, 687-1827
'85 VW Golf, 105K mi., 2-dr, a/c, new brakes, 30-35 mpg, 5-spd, radio/cass., runs great, $2750. Hartmut, 841-3117
'86 TOYOTA Tercel, 5-spd, a/c, AM/FM cass., p/s, 170K mi., looks/runs great, $1800 neg. Rob, X4213, 652-3621
'91 MAZDA 323, 5-spd, 50K mi., 3-dr., radio/cass., like new, great mpg, no a/c, $5K/b.o. Kathy, X4385, 482-9053 (eve.)
'94 MITSUBISHI 3000GT-SL, 9K mi., a/t, like new, dark grn ext., leather int., $26,500/b.o. Nancy, X4497, 215-1009
MOTORCYCLES, '84 Honda XR250R, $995; '82 Yamaha YZ 490, $800. X6598, 689-7213
CAMPER SHELL for full sz. truck, exc. cond., fits short bed, $300. X6598, 432-2383, 689-7213
WHEELS, 4X14" alum. slot mags w/BF Goodrich T/A, $500/b.o. Debbey, X6430, Stephen, 428-3641, 527-8210
WANTED: station wgn, '86 - '88, Ford, Subaru, Chevy, etc. Abraham, X7708, 283-5386
CAR/VANPOOL
CARPOOL, rider/driver commuting from Benicia-Vallejo, 8 a.m.-4:30 p.m. Maria, X4035
VANPOOL, riders wanted from Rohnert Park - stopping at Petaluma & Novato - ending at Berkeley BART, Commuter Checks accepted. Shirley, X4521
WANTED
PERSON to share with driving to NYC, leaving around 11/18 to arrive by Thanksgiving. David, 653-6057
MISCELLANEOUS
BERKELEY CITY CLUB membership, 1/2 share, downtown Berkeley, swim & fitness fac., incl. parking, easy access, $45/mo. dues, initiation fee negot. Marsha, X7438, 654-6364
COLOR TV, 26" Sony, 10 yrs. old, no remote, picture is still gd, best offer. Derek, X6683, 486-0524
COMPUTER, Mac Quadra 650 CPU, 24MB Ram, 230MB HD, $1600. Jane, 845-1504
COMPUTER, Mac SE/30 w/full 2-page monochrome monitor, 8 MB RAM, 40 MB hard drive, 14.4 KBPS FAX-Modem, lots of software, $600/b.o. for it all; microwave oven, $50/b.o.; kitchen table, $30/b.o.; futon, $30/b.o.; exc. futon frame, $80/b.o.; enclosed wood TV unit, $180/b.o.; rattan couch w/pillows, $70/b.o.; rattan table, $25/b.o.; rattan chair, $10/b.o.; bookcase, $30/b.o.; assorted cooking utensils, best offer, all items in exc. cond. David, 653-6057
DAYBED w/trundle, hardly used, paid $370, asking $200. Peter, X5983, 687-1827
ENCYCLOPEDIA BRITANNICA, 1994 edition on CD for PC, new in box, never opened, cost $999, sell for $250. Martin, X4371, 370-6002
FREEZER, Kenmore, 15.9 cu. ft., upright, works great, $90/b.o. John, X5901, 724-2574
GOLF CLUBS, set, Sting brand, used twice, irons are 2 through sand wedge, 3 metal woods, swing weight D-1, stiff shafts, standard grips, $650 new, sell for $450 firm. Kathy, 837-7062
LEVI'S 501 jeans, used, sz. 31, 32 & 33 x 32 , $5 ea. Cheri, 669-0338
MATTRESS, full sz., gd cond., spring, $40. Francisco, 549-3537 (eve.)
MOVING SALE, lg. oak desk, $50; wood coffee table, 4'x4', $40; microwave cart/storage unit, $20; weedwacker, $25. Debbey, X6430, 527-8210
MOVING SALE, futon couch + frame, $100; TV, 20" Goldstar, color/remote, $140; Hoover/Eureka vacuum, $45; foldable mattress, $25; wooden rocking chair, $35; book shelf, $25; 6 plastic garden chairs, $3 ea.; camping mattress + camping box, $10; tea table, $10; bed + frame, $20; Braun mixer, $10; coffee machine, $8; rice cooker, $5; plants. 527-0693
VACUUM, Kirby, w/attachments & carpet cleaner, purchased in June '95, barely used, paid $1650, asking $1400. Lisa, X5314, 906-9786
HOUSING
ALBANY, furn., lg. rm, in 2-bdrm apt, exc. loc., nr shop & trans., $450/mo. X4601, 528-3377
ALBANY, studio for sublet, incl. kitchen, bdrm, lg. closet, bathrm & reserved parking, start from Dec.17 to Jan. 15, $260 incl. utils. 643-5894, 526-8086
BERKELEY, roommate wanted to share & rent a house, must be tolerant of kids. Matthias, X5751, (415) 397-0652
BERKELEY, Euclid/Cedar Ave., 5 blks from UCB, furn. rm in pvt home, kitchen privs., washer/dryer, deck, bay view, nr trans., shops, tennis cts. & Rose Garden, no smoking, no pets, $450/mo. + util. 548-1287
NO. BERKELEY, 2-bdrm, 1-bth house to share, nr BART, avail. 12/18, $ 387/mo. + utils. 849-0728
EL CERRITO, nr Colusa & Fairmont, 2-bdrm, 1-bth house, lg. yd, garage, washer & dryer. 741-8257 (eve.)
EL CERRITO, sunny rm w/patio & yd in quite house, sep. entrance & bth, share kitchen, washer, dryer, direct bus to UC, $385 & utils. Daniel, X5827, 527-8756
KENSINGTON, 3-bdrm home avail during Christmas/New Year holidays. 526-6730
KENSINGTON, 1 lg. bdrm in 2-bdrm house, front yd, nr Tilden Park, $550/mo., 1st & last. Leslie, 525-6086 (eve.)
OAKLAND HILLS, nr Claremont Hotel, new, 1-bdrm in-law apt, balcony, 3-bridge view, hardwd flrs, 1-car garage, use of washer/dryer, for 1 person, non-smoker, no pets, bicycle to Lab, $795/mo. incl. utils. + sec. dep. 841-6285
RICHMOND HILLS, 2-bdrm, hardwd flrs, frpl, panoramic bay view, laundry, garage, lg. yd, $985/mo. Deane, X5063, 525-7798
VACATION
BAHAMAS, Taino Beach Resort, 1-bdrm condo, slps up to 4, every amenity, on beach, pool, tennis, maid service, $500/wk, at lease 60 days adv. notice. 528-1614
NO. LAKE TAHOE, 3-bdrm, 2-1/2 bth home, greenbelt views, shopping, lake, Northshore & casinos within 10 min. Wayne, X7685, 837-2409
SO. LAKE TAHOE, Tahoe Keys, 3-bdrm, 2.5 bth house, W/D, great mountain & water views, quiet area but close to everything. Bob, 376-2211
SO. LAKE TAHOE, 4-bdrm cabin, exc. loc., 2 mi. from Heavenly Valley, AEK, washer/dryer. Bill, X4822, 283-3094
LOST & FOUND
FOUND: hair band/"scrunchie", brn, on steps between bldgs. 6 & 7. Mark, X6554

Currents/The View and the Communications Department Staff
Published once a month by the Communications Department for the employees and retirees of Berkeley Lab.

Reid Edwards, Public Affairs Department head
Ron Kolb, Communications Department head

EDITOR
Pamela Patterson, 486-4045, [email protected]
Associate editor
Lyn Hunter, 486-4698, [email protected]

STAFF WRITERS
Dan Krotz, 486-4019
Paul Preuss, 486-6249
Lynn Yarris, 486-5375

CONTRIBUTING WRITERS
Ucilia Wang, 495-2402
Allan Chen, 486-4210
David Gilbert, (925) 296-5643

DESIGN
Caitlin Youngquist, 486-4020
Creative Services Office

Berkeley Lab
Communications Department
MS 65, One Cyclotron Road, Berkeley CA 94720
(510) 486-5771
Fax: (510) 486-6641

Berkeley Lab is managed by the University of California for the U.S. Department of Energy.

Flea Market is now online at www.lbl.gov/fleamarket