Reyes Named Head of Facilities Division
Mayoral Candidates Square Off
Operations Planners Commit: Make Lab "Best Place"
Microbe Sequencing to Benefit Wine Industry
Washington Report
Saul Perlmutter Receives E.O. Lawrence Award
In Memoriam — Former UC Chancellor Chang-Lin Tien Dies
Berkeley Lab Currents
Dale Perry Named AAAS Fellow
Berkeley Lamp Goes to the Golden Gate
Open Enrollment Underway: Benefits Events Scheduled
Lab Establishes Health Care Facilitator Program
Parking Permits to Be Reissued
Bulletin Board
Calendar
EH&S Classes – November 2002
CompUSA Classes: November 2002
Flea Market
Flea Market Policy
---
Reyes Named Head of Facilities Division
By Ron Kolb
Perhaps the best indication of how George Reyes, Berkeley Lab's new director of the Facilities Division, likes to manage his people can be found at his previous place of employment, the University of California's Davis campus. The grounds crew there was experiencing an inordinate number of accidents and safety violations, and Reyes needed to turn around that trend.
Rather than threaten people to shape up or else, he found an innovative way to get them to shape up, literally. He and his management partners secured a grant to help fund an incentive program, in which employees could earn days off by reducing their injuries through weightlifting and using exercise equipment he purchased for them. He funded a full-time coach to instruct them.
That was in 1997. The pilot program became permanent. And accident statistics dropped precipitously.
"I like to create an environment that encourages creative endeavors like this," said the 53-year-old Reyes, who succeeds Bob Camper in managing the 270-employee, $45 million Facilities Division. "My hallmark is to give people the opportunity to achieve their full potential. I'm an enabler and a facilitator."
He's that and more, according to his boss, Deputy Director for Operations Sally Benson.
"George wants to be a partner with the scientific divisions," she said. "He has a big, broad vision of working closely together on projects through a customer-driven model for facilities. I'm excited that we have been able to attract someone of his capability and enthusiasm."
Reyes is quick to point out that the term is "customer driven," not just "customer service."
"We are not just delivering services," he says. "In my model, the customer defines the levels of service required, and the result is negotiated and agreed to, customized to that particular customer. That's because units have different priorities, whether they be cost, or speed of delivery, or emphasis on ultimate quality. Rather than a one-size-fits-all, put the customer in the driver's seat as architect for what best fits his or her needs."
His plan, he said, is to meet quarterly with each of his scientific customers.
Reyes also calls himself a "professional support person," and his record bears him out. For 23 years, he's been in the facilities management business. He began in 1979 as a buildings and grounds supervisor for the Sacramento Municipal Utility District. In 1985, he went to work for UC Davis as manager of Custodial Services, progressing to manager of Custodial and Grounds and, in 1993, to deputy director of Facilities Services. In 2000, Reyes moved to UC Irvine as assistant vice chancellor for Facilities Management.
Family matters brought him back north to Davis this year, where he continued his long affiliation with the University as executive analyst to the campus's budget-stretched facilities program.
He knows the academic world and the complexities of large organizations. Davis, for example, had 815 employees in facilities, a $50 million operations budget and a $1 billion construction budget.
Still, he says the Berkeley Lab opportunity was attractive for all the new things it could bring to his experience, which he calls one of "continuous growth and development, a constant expansion of my vision." For one thing, the Department of Energy component will offer him new challenges and opportunities.
And what kind of supervisor is he?
"I'm a generalist," he said. "I don't come from the skilled crafts, or utilities, or grounds. I embrace all the disciplines evenly and have an unbiased view of the organization." He said he plans to meet every one of his employees and shake their hands.
Something that Reyes does in his own hiring process probably tells you all you need to know. As he is checking references on a prospect, he gives that candidate a list of several of his direct reports so that his job as a supervisor can be reviewed.
"As I'm evaluating them, they're evaluating me," he said. "And I hope they would find that I'm supportive, creative, and that I give them the opportunity to exercise broad judgment and fully utilize their professional skill."

Mayoral Candidates Square Off
By Dan Krotz
Dean, Bates praise Lab, disagree over traffic issue
The City of Berkeley's close and contentious mayoral race paid a visit to Berkeley Lab on Oct. 17, when incumbent mayor Shirley Dean and former State Assembly member Tom Bates squared off in a debate held at Perseverance Hall.
At issue was everything from schools, taxes and affordable housing to downtown parking and bike lanes. The one-hour debate — one of many that lead to next week's elections — was attended by more than 80 Berkeley Lab employees and moderated by Jane Coulter of the League of Women Voters of Berkeley-Albany-Emeryville. More than 1,000 Lab employees live in Berkeley.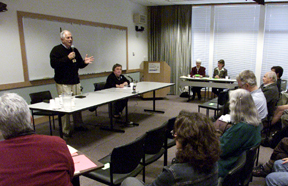 Former Assemblyman Tom Bates and incumbent mayor Shirley Dean, two of the three candidates running for Mayor of Berkeley, debate at Berkeley Lab on Oct. 17. Photos by Robert Couto
The first question cut to the chase: if elected, how will you foster better relations between Berkeley Lab and the city?
"Lawrence Berkeley National Lab is an asset to this community," answered Dean, adding that the ties between Berkeley Lab and the community should grow stronger in the future.
She lauded the Lab's strong presence in local schools, and looked forward to expanding the Lab's involvement in making Berkeley an environmentally friendly city. On this note, Dean said that Berkeley Lab helped the city reach its goal of reducing energy use by 20 percent, which represents the sharpest reduction among cities in North America.
"I want to make Berkeley the solar capital of the world, and we can do that with your help," Dean added. "We also need to work together on renewable resources and pollution prevention. And we need to work together on possibly converting the city's vehicle fleet to clean hydrogen fuel cells."
Bates also proposed strengthening Berkeley Lab and the City of Berkeley's ties through environmental collaboration.
"I want to make Berkeley an environmental leader, and I will call on the Lab's expertise to help with this," Bates said. But he wasn't as optimistic in characterizing the current relationship between Berkeley Lab and the city.
 "Most people think the relationship between the city and Berkeley Lab has gone backwards," he said. "As mayor, I will go to Washington and lobby on your behalf because the Lab is such a vital part of the economy."
Traffic congestion also loomed as a controversial issue. The Caldecott Tunnel, which connects Alameda and Contra Costa counties, suffers from daily traffic jams. Dean offered a unique solution to ease this bottleneck.
"I have made the radical proposal of looking at closing off the Tunnel Road access to Route 24," Dean said. "We can run a computer model to see what would happen if this occurs."
Bates didn't agree. "She wants to cut off one of the routes to get to the Lab; things would get worse," he rebutted.
In closing, Bates said that if elected, he'll mobilize the community to improve schools through after-school and mentor programs, as well as work to improve access to affordable housing, pedestrian pathways and bike lanes, and more parking.
 "I want to take Berkeley to another plane," he said.
Dean also emphasized the need for affordable housing, more downtown parking, and improved transportation options.
 "We need to expand our transportation system so that it seamlessly includes bikes, pedestrians, trains, and buses," she said, adding that the city has come a long way since she took office in 1994.
 "Since I've been mayor, Berkeley has experienced a remarkable turn-around," she said. "We've expanded the library, arts and theaters, and improved the environment. We are not going to go back to how it was in the late 80s and early 90s."

Operations Planners Commit: Make Lab "Best Place"
By Ron Kolb
"Operation Best Practices" is moving to its next phase, with significant action on the home front.
While Berkeley Lab, University of California, and Department of Energy administrators attempt to craft a new management contract for the next five years that puts more of the focus on accomplishments and outcomes rather than on transactional oversight, members of the Laboratory's Operations team are working in the trenches to implement a strategic plan that begins with an assessment of services and then charts a course for the future.
 Both efforts are striving to bring time-tested "best practices" to bear on their work products, and both aim toward the vision of Berkeley Lab as the best place in the world to conduct scientific research and a great place to work.
"We are putting together an Operations roadmap that will ensure the highest support for the critical functions of the Laboratory and its scientific mission," said Deputy Director for Operations Sally Benson. "I am deeply committed to maintaining a positive work environment and to a systematic way of thinking and planning at the Lab. When people feel good about their efforts, about the services they give and receive, and about the directions in which the Lab is headed, the workplace is energized and productive."
Emerging from an intensive two-day off-site in September with Benson and her managers were initiatives in four priority areas. Commitments were made to:
employee and leadership development
enhancement of the Laboratory infrastructure
organizational efficiency and effectiveness, and
effective internal and external communications
These focus points also reflected and responded to the major themes emerging from employee feedback gathered in "listening forums," conducted over two months last summer.
David McGraw, division director for Environment, Health and Safety who heads the efficiency effort, said he and his team are trying to develop a sensible business plan, with core criteria that define appropriate standards of operation.
"We first need to answer our basic questions," he said. "What do our key customers say? What are our core services? How should they be paid for? One of the biggest issues we found in our survey was cost of services — how do you determine what things should cost, and what is a fair cost?
"Our near-term goal is to identify core criteria for a sound and efficient operations business plan. Then, after agreeing on that, to measure the present approach against those criteria and see what, if anything, needs to change." A task force for developing the model business plan has been organized.
He added that developing a single set of metrics for evaluating administrative and operational functions will be important, especially under the new "best practices" management contract with UC.
Sandy Merola of the Information and Technical Services Division is coordinating infrastructure planning. He said he is starting the same place as McGraw — discussions with the primary users.
"How satisfied or unsatisfied are they?" he asks. "Once we know that, then we have to assess how changes in technology, in population, and in programs affect the needs and the delivery techniques. We're looking for the small vectors of concern that add up to larger vectors that will form the basis for a more high-level strategic way of dispersing the resources."
He expressed the need for more resources to support infrastructure enhancement, as well as to prioritize which investments to make first. Merola's group will also look at post-emergency business continuity planning — keeping the operations running in the wake of a disaster or crisis.
Human Resources Director Randy Scott and his team are responsible for employee and leadership development. Scott said training and staff support will "create a continuous learning environment that enables the Lab to fulfill its scientific mission." The efforts include clarifying the core competencies needed now and in the future for employees, supervisors, and leaders. He plans to start by focusing on reviewing the performance appraisal process, employee development, training options and resources, and new employee orientation.
The new PRD (performance review and development) process had its inaugural run this year, and a "Recognition Committee" is being established to develop a more robust employee award and recognition program. More training opportunities are also promised for this fiscal year.
The newest of the priority areas, communication, is headed by Public Affairs head Reid Edwards. He said he and his team are just getting started looking at communications tools and programs within and outside the Operations organization.
"All of the (strategic plan) elements are tied together by strong two-way communications between employees and management," he said. "Effective communications in all directions is also important to respond to the concerns expressed by our employees in our recent listening forums."
Those listening forum conversations, which involved more than 100 randomly selected staff members in eight different divisions, were conducted by Operations external consultant Roberta Streimer. She said she found the employees "candid and constructive" with a "strong commitment to making this a great place to work."
Streimer also noted that "there is a real willingness on management's part to clear up confusion, to do a better job of communicating about misunderstood issues, and to making concrete changes that will benefit employees and maximize Lab functions."
Benson echoed those views. "This isn't just an exercise," she said. "DOE's Office of Science is looking to the labs to sustain their competitiveness and effectiveness. This is the beginning of what I hope will be a continuing focus on best practices and systematic implementation of the core elements of the strategic plan. We will be a leader among labs, not just in the research we do, but in operations as well."
Benson added that she would be reporting further results from the planning process on a regular basis.

Microbe Sequencing to Benefit Wine Industry
All who enjoy the taste of wine stand to benefit from the latest round of genome sequencing at the Joint Genome Institute. JGI researchers have completed the sequencing of Oenococcus oeni, a lactic acid-fermenting bacteria that plays a critical role in deacidifying wine after the alcoholic fermentation has been completed.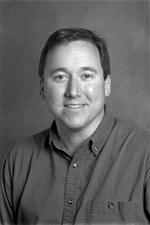 UC Davis professor David Mills, coleader of the Lactic Acid Bacteria Genome Consortium, which worked with the Joint Genome Institute to sequence the genome of Oenococcus oeni under the U.S. Department of Energy's Microbial Genome Program.
Most wine lovers know that yeast is used to ferment the sugar in the grape "must" (the mixture of skins, pulp, seeds and juice) into alcohol. Less familiar is the need in many wines for a secondary fermentation, the conversion of harsh-tasting malic acid into lactic acid, a much softer-tasting acid so-named for its presence in milk. Malolactic fermentation contributes to flavor, aroma and texture. For some wines, it can play a role in spoilage and taint.
The yeast species most commonly used in the primary fermentation of wine, Saccharomyces cerevisiae, does not metabolize malic acid. In many wines, the malolactic fermentation will be carried out spontaneously by lactic acid bacteria, in particular Oenococcus oeni, which is unusually tolerant of the wine's acid and ethanol concentrations. However, this species of bacterium grows slowly, and if the malolactic fermentation process is not timed to start immediately after the alcohol fermentation, its performance can be sluggish.
"Sequencing the genome of Oenococcus oeni will impact the wine industry for many years to come," says David Mills, a viticulture and enology professor at the University of California at Davis. "Moreover, access to the aggregate sequences will completely alter the scientific perspective on lactic acid bacteria."
Mills is coleader, along with Utah State University professor Bart Weimer, of a nationwide, multi-institute scientific collaboration called the Lactic Acid Bacteria Genome Consortium (LABGC). Through the consortium, Mills and Weimer developed a proposal for the Oenococcus oeni genome to be sequenced at JGI under the U.S. Department of Energy's Microbial Genome Program.
"Our goal is to use this sequence to advance genomic study on the lactic acid bacteria and other food fermentation microbes," says Mills. "We want to gain a more comprehensive understanding of the microbes' genetics and physiology, particularly in relation to their role in fermented foods and beverages. We also want to identify and enhance the beneficial roles of these bacteria in food preservation and safety, and in the health of humans and animals."
At its headquarters in Walnut Creek, JGI houses one of the nation's fastest and most powerful genome sequencing operations. JGI researchers completed their sequencing of the Oenococcus oeni genome within a year.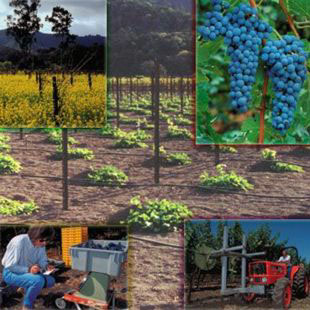 California wine is the state's number one agricultural product in retail value, with an estimated annual economic impact of $33 billion in wages, revenues and economic activity, according to a study commissioned by the Wine Institute and the California Association of Winegrape Growers.
Explains Kristen Kadner, a biologist with Berkeley Lab's Genomics Division who helped coordinate JGI's lactic acid bacteria effort, "Straight sequencing of an individual microbe can be done in a day with our capacity here; however, the process is stretched out and spaced between other types of microbes in order to help prevent contamination. Once the initial sequencing phase is complete, we pass the data through a preliminary quality control analysis before the rest of the genome is taken to full 10x sequencing." (Meaning that each genome is sequenced a total of 10 times to minimize error rate and maximize the quality of the data).
Mills expects JGI's completion of the Oenococcus oeni genome sequence to be comparable to the completion of the genome sequence for yeast in 1996 in terms of beneficial impact. The data should help scientists gain a better understanding of malolactic fermentation and the interactions between lactic acid bacteria and yeast. This in turn should not only boost scientific efforts to improve wine quality, but also benefit dairy fermentations and the burgeoning field of probiotics — improving human health and immunity through the ingesting of certain bacteria.
JGI sequencing data is available to the public with no restrictions. Mills and his UC Davis research group will fill in any gaps in the JGI-generated sequence of the Oenococcus oeni genome with funding from the American Vineyard Foundation and the California Competitive Grants Program for Research in Viticulture and Enology.
"With this genetic roadmap in hand, the ability of scientists to study the genetics, ecology and physiology of lactic acid bacteria in wine and other fermented products will be amplified tremendously," says Mills.

Washington Report
Legislators Leave Town With No Energy Bill
The 107th Congress left town on Oct. 17 to campaign for the Nov. 5 election without passing an energy bill. They are scheduled to return Nov. 12 for a lame-duck session, but it is questionable how much they'll be able to accomplish. They could return for only a day or two to approve more stop-gap funding bills or they could spend a few weeks to address the nearly dozen out-standing appropriations bills. Energy Secretary Spencer Abraham has urged lawmakers not to pare back the pending energy bill, which he said should remain comprehensive legislation amid energy security concerns. The Bush administration, howevr, has not been actively lobbying to get an energy bill passed and the Secretary did not think this situation would change. He also said he was "disappointed but not discouraged" that a bill was not passed before Congress went into recess. Until a bill is passed, Berkeley Lab, like the other national labs, will operate at last year's funding levels.
No One Else Has a Budget Either
DOE is not the only agency without a passed budget bill. None of the other appropriations for the federal government's civilian agencies have been passed either. The record increases proposed for federal R&D are in limbo now and the future is murky.
"It now looks as if the outcome will depend on how the election turns out," says Al Teich, head of the Directorate for Science and Policy Programs of the American Association for the Advancement of Science (AAAS), the world's largest federation of scientists. "If you look at the way the budget has been shaping up, things look pretty good, but it may or may not happen."
Before legislators went home two weeks ago to campaign, the U.S. Senate had proposed a record $117 billion for federal R&D in FY 2003 in the 13 appropriations bills it had drafted. However, it has approved only three of those bills. The House of Representatives, which had drafted 11 and approved five of the 13 appropriations, appeared to be "well on its way to matching the Senate's generosity," according to the analysis out of Teich's AAAS office.
"The good news for federal R&D funding is that both the House and the Senate have proposed substantial increases in the R&D portfolio for agencies such as NSF, NASA, and NIH," says Kei Koizumi, director of the AAAS R&D Budget and Policy Program. "The bad news is that the budget process is so deadlocked that it could be months before final budgets for these agencies are signed into law."
To learn more about the federal R&D budget for FY03, visit AAAS's budget analysis website at http:// www.aaas.org/spp/rd/.

Saul Perlmutter Receives E. O. Lawrence Award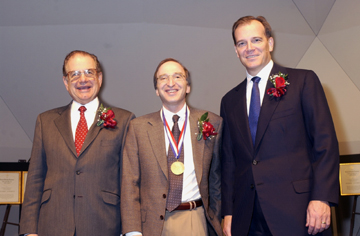 At a ceremony in Washington D.C. on Oct. 28, Saul Perlmutter of the Physics Division, leader of the Supernova Cosmology Project, was honored with the Department of Energy's prestigious E. O. Lawrence Award in the physics category "for his leading contributions to an unexpected discovery" — that the universe is expanding, rather than slowing down. The award includes a gold medal and $25,000.
He is flanked here by Office of Science Director Ray Orbach and DOE Chief of Staff Kyle McSlarrow.

In Memoriam
Former UC Chancellor Chang-Lin Tien Dies
By Lisa Gonzales
Chang-Lin Tien, UC Berkeley's chancellor from 1990 to 1997, died Tuesday of complications from a brain tumor. He was 67 years old.
The first Asian American to head a major research university in the United States, Tien spent nearly his entire professional career at UC Berkeley. He began his career at UC Berkeley as an engineering professor and continued to teach classes after becoming chancellor. He also had an appointment at Berkeley Lab in the Environmental Energy Technologies Division.
Tien is remembered as an outspoken supporter of equal opportunity in higher education, who preserved the campus's preeminence despite a prolonged state budget crisis — something he once said was the most important fight he faced as chancellor.
"Chang-Lin was an exceptional leader during one of UC Berkeley's most challenging periods," said UC Berkeley Chancellor Robert M. Berdahl. "His energy and optimism, his willingness to fight for the principles he cherished, and his loyalty and love for this campus made it stronger and better."
Thermal radiation, thermal insulation and microscale thermal phenomena were among the fields carved out by Tien, the campus's first NEC Distinguished Professor of Engineering. He helped solve problems with the Space Shuttle's insulating tiles and with the nuclear reactor meltdown at Three Mile Island in the late 1970s.
"His major contribution was always helping to understand the phenomena," said Richard O. Buckius, a former student of Tien's and head of the Department of Mechanical and Industrial Engineering at the University of Illinois at Urbana-Champaign, "but he also had an eye on the applications in order to insure the impact of the basic research."
A man of great personal integrity and a fighter for justice and equal opportunity, Tien said his values and ideals were shaped, in part, by the racism and discrimination he encountered in America as a new immigrant in the late 1950s. In a 1996 essay in the New York Times, Tien made his case for the use of affirmative action in university admissions, in direct opposition to the UC Regents' decision in 1995 to abolish its use.
"It would be a tragedy if our nation's colleges and universities slipped backward now, denying access to talented but disadvantaged youth and eroding the diversity that helps to prepare leaders," he wrote.
Tien was elected a fellow of the American Academy of Arts and Sciences, the American Association for the Advancement of Science, the American Institute of Aeronautics and Astronautics, and the American Society of Mechanical Engineers. His many honors include the National Academy of Engineering Founders Award, the Clark Kerr Medal, and the UC Presidential Medal.
Tien is survived by his wife Di-Hwa of Berkeley; son, Norman, a professor of electrical and computer engineering at UC Davis; and daughters Phyllis, a physician at UC San Francisco, and Christine, the deputy city manager of Stockton. Tien also leaves four grandchildren.
Memorial gifts to honor Tien may be made to the Chang-Lin Tien Center for East Asian Studies at http:// www.urel.berkeley.edu/tiencenter.

Berkeley Lab Currents
Published twice a month by the Communications Department for the employees and retirees of Ernest Orlando Lawrence Berkeley National Laboratory. Ron Kolb, Communications Department head.
EDITOR: Monica Friedlander, (510) 495-2248, msfriedlander@lbl.gov
STAFF WRITERS: Lisa Gonzales, 486-4698; Dan Krotz, 486-4109, Paul Preuss, 486-6249; Lynn Yarris, 486-5375
CONTRIBUTING WRITERS: Jon Bashor, X5849; Allan Chen, X4210
FLEA MARKET / CALENDAR: 486-5771
fleamarket@lbl.gov /currents_calendar@lbl.gov
Lawrence Berkeley National Laboratory,
Communications Department, MS 65A
One Cyclotron Road, Berkeley CA 94720
Tel: (510) 486-5771 Fax: (510) 486-6641
Berkeley Lab is managed by the University of California for the U.S. Department of Energy.

Awards & Honors
Dale Perry Named AAAS Fellow
Dale Perry, a chemist with the Earth Sciences Division (ESD), is one of 291 newly elected Fellows of the American Association for the Advancement of Science, the world's largest federation of scientists. He and his fellow inductees will be recognized at the Fellows Forum, to be held on Feb. 15, 2003 during the AAAS Annual Meeting in Denver.
Perry has been on the scientific staff as a chemist at Berkeley Lab since 1979 and was appointed senior scientist with ESD in 1987. He received his Ph.D. in inorganic chemistry from the University of Houston in 1974. Prior to coming to Berkeley Lab he was a Welch Postdoctoral Fellow and a National Science Foundation Postdoctoral Fellow at Rice University, and a Miller Fellow in the Department of Chemistry at UC Berkeley. His research has focused on solid state chemistry and spectroscopy.
Most recently he and his collaborators made headlines with their infrared forensics studies at the Advanced Light Source. Among his many awards and recognitions, Perry won a U. S. Department of Energy Outstanding Mentor Award for the Undergraduate Research Program earlier this year.
Election as a Fellow of the AAAS is a prestigious honor bestowed upon the organization's members by their peers. Perry was recognized for his "fundamental studies in metal ion chemistry and related spectroscopy, and for the dissemination of the results through teaching and mentoring."

Berkeley Lamp Goes to the Golden Gate
By Allan Chen
On a recent foggy afternoon in San Francisco, officials from the National Park Service and the U.S. Department of Energy gathered at Fort Mason's General Headquarters building to celebrate the latest step in the "greening" of the national parks.
From left: Don Mannel, park superintendent for Fort Mason; Mai-Liis Bart-ling, acting regional director for the Golden Gate National Recreation Area; Steve Butterworth, Park Service's regional energy manager; Kathy Pierce, DOE regional director; George Turnbull, regional coordinator of the Park Service's Sustainability Program; and Marcy Beck, program development manager with the Environmental Energy Technologies Division.
The Golden Gate National Recreation Area — which encompasses 75,500 acres and includes landmarks such as Alcatraz Island, Muir Woods and the Presidio — has installed 50 energy efficient Berkeley Lamps in its offices at Fort Mason. The lamp, developed by researchers in the Environmental Energy Technologies Division, reduces lighting energy use in offices by up to 50 percent.
Steve Butterworth, the Park Service's regional energy manager, worked with lighting experts Michael Siminovitch and Erik Page in EETD to ascertain that the lamp would bring substantial energy savings to their facility.
"The project was originally funded as a standard lighting retrofit," said Butterworth. "But by installing the Berkeley Lamp, we were able to avoid the expense and the waste stream of ripping out old fixtures, ballasts and tiles, as well as the indoor air quality problem of the renovation. The cost to purchase the Berkeley lamps was less than the labor would have cost in the original plan."
Said Kathy Pierce, DOE's regional director who, like Butterworth, flew down from Seattle for the occasion: "It's wonderful to see an energy-efficient technology developed at one of the national laboratories put to use by federal agencies. It demonstrates that you can get anything done when you have good partners."
Now, visitors peering through the San Francisco fog at the windows of the Fort's headquarters building can see a new beacon, one that represents energy efficiency and sustainability: the warm yellow glow of Berkeley lamps.

Open Enrollment Underway: Benefits Events Scheduled
Today is the first day of Open Enrollment — more than ever a critical time to consider the wide range of choices of medical plans available to UC and Lab employees.
As noted in the last issue of Currents (Oct. 18, 2002), starting Jan. 1, 2003 UC and Lab employees will face many changes to medical plans, costs, and other benefits options. Among them are new medical plans, monthly premiums for all HMOs, and a new multi-tier system for determining premium rates.
Those who missed the Benefits Vendor Fair held earlier this week have a few more chances to learn about Open Enrollment and health plan options.
UC Berkeley is holding its own Benefit Fair at the International House on Monday, Nov. 18 from 10 am to 3 p.m. Lab employees are invited to attend. In addition, two informational sessions are being offered by the Benefits Department on Thursday, Nov. 7 (10 a.m. – 12 p.m.) and on Wednesday, Nov. 13 (2 – 4 p.m.). Both events will be held in the Building 50 auditorium
Another useful source of information is UC's new HR/Benefits website, "At Your Service" (http://atyourservice.ucop.edu), which includes the latest news on UC plans, a step-by-step guide to Open Enrollment, downloadable publications, frequently asked questions, and links to useful sites.
As always, you may contact the Benefits office at X6403 or benefits@ lbl.gov for further information.
Open Enrollment will end at midnight Saturday, Nov. 30.
Clarification of premium chart
The last issue of Currents featured two pie charts, reproduced here, which illustrate the percentage of the HMO premiums to be paid by UC and employess under the new two-tier system. The first chart refers to employees who earn up to $40,000 a year, and the second one to those who earn over $40,000. The charts were not properly identified in the original illustration. We apologize for this omission.

Lab Establishes Health Care Facilitator Program
A Benefit Vendor Fair, featuring representatives from health plans and the Lab's Benefits Department, was held on Oct. 30 in Perseverance Hall.
Berkeley Lab has joined other UC campuses, medical centers, and laboratories in establishing a Health Care Facilitator (HCF) program to help employees and their dependents reach a resolution when they encounter a problem with health care issues. The HCF program, funded by the UC Office of the President, provides a full time staff position to act as a liaison between employees, the insurance companies, and physician networks. The program also seeks to enhance services to retirees presently serviced by the Office of the President.
Says Benefits Manager Richard Takahashi, "Although we can't do much about the national health care crisis and soaring medical costs, we can do more to provide better delivery of services and to help employees take full advantage of the benefits plans that UC offers."
The position of health care facilitator at Berkeley Lab was assumed by Loida Bartolome-Mingao of the Benefits Department. She will provide individual case management services and confidential one-on-one counseling in resolving health plan issues, particularly cases that are time consuming and difficult to handle.
Bartolome-Mingao offers the following general suggestions for resolving simple problems:
Contact your doctor's office. Your most important relationship is the one you have with your doctor or other health professional.


Contact your medical group. Most medical groups have patient assistance departments that can help you find a doctor, work out billing problems, or obtain referrals for services.


Contact your medical plan. A customer service representative at your health plan can explain the plan's policies and procedures.


Contact the Lab Benefits Office. A benefits office representative will assist you with simple issues, such as enrollment, eligibility, and other data verification.
If you still need assistance, call Bartolome-Mingao at X6997 or contact her by e-mail at lcbartolome-mingao@lbl.gov or hcf@lbl.gov.

Parking Permits to Be Reissued
Next month the Site Access Office will reissue parking permits to all career employees. To make the process as simple as possible, the forms for obtaining the permit and updating vehicle information are available online. Before the permits can be issued, however, all permit holders need to review and update their vehicle information.
Please note: After checking or entering the information, make sure to save it. The deadline for completing this step is Nov. 15.
Employees with access to an IMAP-4 e-mail account can complete the form via the self service website at https://hris.lbl.gov/ self_service/parking/. Employees without computer access will receive assistance Nov. 11 through Nov. 15 in the cafeteria lobby from 12 to 1 p.m. Facilities personnel may contact Melanie Woods at X4998 for assistance.
Permits will be distributed the week of Dec. 9. For more information contact Sue Bowen at ssbowen@lbl.gov.

Bulletin Board
City Council Candidates Vie for Votes at Berkeley Lab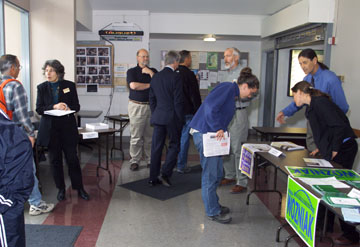 Candidates running in four of the eight districts of the Berkeley City Council met with Lab employees on Thursday, Oct. 24 in the cafeteria lobby. Pictured here are Linda Maio (second from the left), Gordon Wozniak (sixth from the left, standing) and LA Wood (second from the right). Also attending were candidates Bob Migdal, Anne Wagley, and Andy Katz. For more information, see http://www.ci.berkeley.ca.us/elections/candidates/. Photo by Robert Couto
Calendar System to Be Upgraded
The Lab's calendar server will be upgraded on Sunday, Nov. 10, and calendar service will not be available from 8 a.m. to 6 p.m. The upgrade will add features such as faster client transactions, reduced network traffic, faster synchronization to PDAs, and a faster web server.
New clients for Macintosh and Windows systems are now available on the Lab software download page. New clients for Linux, Solaris, Windows PDA, and Personal Digital Assistants, such as the Palm Pilot and Windows Pocket PC, will be available after the Nov. 10 server upgrade. The calendar web pages have been completely rewritten to document the changes and show all functions of the new client.
Mac clients will get a minor upgrade since the entirely new 5.2.x client was rewritten for OSX. There will not be a Palm synchronization client for OSX operating systems until the second quarter of 2003. The current OS 9.x Palm synchronization client is available at http://www.lbl.gov/download.
Windows clients will see substantial improvements, such as user-customized color schemes, the ability to switch between windows while creating a new entry, and color printing.
For more information see the calendar website at http://www.lbl. gov/ITSD/CIS/CITG/calendar/.
Runaround T-Shirts for Sale
T-shirts from this year's Runaround are still available and will be on sale for $5 each. They may be purchased at the cafeteria entrance on Nov. 6 and Nov. 20 from 12 to 12:30 p.m.
New State Department Regulations for
Nonimmigrant Visas at U.S. Consulates
The Lab's International Researchers and Scholars Office (IRSO) would like to draw everyone's attention to new policies established by the U.S. State Department for foreign nationals applying for nonimmigrant visas at U.S. consulates. These new guidelines were drawn in response to the terrorist attacks of Sept. 11, 2001, and include conducting security background checks on visa applicants.
These background checks may take upwards of three months to complete. During this time, the foreign national applying for the visa may be unable to return to the United States. The Department of State has already stated that it cannot expedite these background checks. Consequently, IRSO would like all departments and divisions at the Lab to be aware that employees who are foreign nationals and travel abroad may experience long delays in their visa processing and, consequently, in their return to the U.S.
Berkeley Lab has a large foreign national population and, with the holidays coming, this is likely to be an issue of concern to many.
Currently, foreign nationals must apply for a new visa at a U.S. consulate when they travel abroad if they do not have a valid visa in their passport. IRSO has already seen an increase in the number of background and name checks being initiated at the U.S. consulates, with resulting delays.
For these reasons, IRSO strongly advises against foreign national employees traveling abroad, unless the employee has a valid visa in his/her passport. Should foreign travel be absolutely necessary for either personal or professional reasons, IRSO requests that the individuals or their departments contact IRSO as far in advance as possible.
IRSO can be reached at intl.researchers.scholars@lbl.gov or at X6326.
Flu Shots Offered Late This Year
As in past years, Health Services will offer onsite flu shots to Lab employees this season, but later than in previous years. The two flu clinics are scheduled for Dec. 5 and Dec. 12 from 8 a.m. to noon in Building 26. The pneumococcal vaccine (Pneumovax) will also be offered.
 The cost is $20 for the flu injections and $25 for the Pneumovax (good for six years).
National authorities recommend that vaccination efforts during October focus on persons of high risk for influenza complications, and that vaccination of other groups begin in November and continue through December and later.
The 2002-2003 trivalent flu vaccines contain A/Caledonia-like, A/Moscow-like, and B/Hong Kong-like viruses. More information on the flu is available at http://www.cdc.gov/nip/ flu/ Public.htm.
Blood Drive Nov. 13-14
A two-day blood drive will be held onsite as part of the partnership between Berkeley Lab and the American Red Cross Blood Services program. The event be held on Nov. 13 and Nov. 14 from 8 a.m. to 2 p.m. in Bldg. 70A, Room 3377.
Online registration is highly encouraged to help organizers plan the event. To sign up, visit the BeADonor website (www.beadonor.com) and use company/group code "LBL" on the web form. The site also includes elgibility criteria and other pertinent information.
 Mark your calendars and help save a life by donating blood. For additional information, contact Charlotte Bochra at X4268.

Calendar
General Interest
NOVEMBER 5, Tuesday
ELECTION DAY – VOTE!
NOVEMBER 7, Thursday
OPEN ENROLLMENT BENEFITS SESSION
10:00 a.m. – 12:00 p.m., Bldg. 50 auditorium
SHOEMOBILE
7:30 a.m. – 3:30 p.m., cafeteria parking lot
NOVEMBER 13, Wednesday
BLOOD DRIVE
8:00 a.m. – 2:00 p.m., Bldg. 70A-3377
OPEN ENROLLMENT BENEFITS SESSION
2:00 – 4:00 p.m., Bldg. 50 auditorium
NOVEMBER 14, Thursday
BLOOD DRIVE
8:00 a.m. – 2:00 p.m., Bldg. 70A-3377
Send us your announcements
Announcements for the General Calendar and Bulletin Board page may be sent to MSFriedlander@lbl.gov. Seminar & Lectures items may be mailed to currents_calendar@lbl.gov or by using this form. You may also fax items to X6641 or mail them to Bldg. 65B. The deadline for the Nov. 15 issue is 5 p.m. Monday, Nov. 11.
Seminars & Lectures
NOVEMBER 1, Friday
PAUL A. WITHERSPOON DISTINGUISHED SEMINAR SERIES
The North American Carbon Sink
Speaker: Stephen W. Pacala, Princeton
11:00 a.m., Building 50 auditorium
NOVEMBER 4, Monday
PHYSICS DEPARTMENT COLLOQUIUM
The Next Twenty Years in Particle Physics
Speaker: Hitoshi Murayama, Physics Division
4:30 p.m., 1 LeConte Hall
NOVEMBER 5, Tuesday
LIFE SCIENCES DIVISION SEMINAR
Microenvironmental and Genetic Factors Influencing Radiation Responses in the Hemopoietic System
Speaker: Eric Wright, Ninewells Hospital and Medical School
4 p.m., Building 66 auditorium
NOVEMBER 6, Wednesday
NUCLEAR SCIENCE DIVISION COLLOQUIUM
From Superconductors to Nuclear Matter: Degenerate Atomic
Gases as Analogs of Fundamental Systems
Speaker: John E. Thomas, Duke University
11:00 a.m., Building 50 auditorium
NOVEMBER 7, 2002, Thursday
SURFACE SCIENCE AND CATALYSIS SEMINAR
Enantiospecificity at Chiral Surfaces
Speaker: Andrew J. Gellman, Carnegie Mellon University
1:30 p.m., Building 66 auditorium
PHYSICS DIVISION RESEARCH PROGRESS MEETING
The Prospects for Measuring CKM Angle Alpha at BaBar
Speaker: Vasilii Shelkov, Physics Division
4:00 p.m., Building 50 auditorium
NOVEMBER 12, Tuesday
LIFE SCIENCES DIVISION SEMINAR
Identification and Functional Characterization of Novel Breast Cancer Oncogenes
Speaker: Stephen Ethier, University of Michigan
4 p.m., Building 66 auditorium
NOVEMBER 14, Friday
PHYSICS DIVISION RESEARCH PROGRESS MEETING
Physics with e+e- Linear Colliders in the TeV Range
Speaker: Peter Zerwas, DESY
4:00 p.m., Building 50 auditorium

EH&S Classes – November 2002
| | | | | |
| --- | --- | --- | --- | --- |
| Date | Course | | Time | Location |
| 11/5 | EHS 276 | Fall Protection | 9:0011:00 | Bldg. 51-201 |
| 11/5 | EHS 60 | Ergonomics for Computer Users | 1:00 – 2:30 | Bldg. 51-201 |
| 11/6 | EHS 116 | First Aid Safety | 8:30 – 12:00 | Bldg. 48-109 |
| 11/6 | EHS 278 | Ladder Safety | 9:00 – 10:00 | Bldg. 51-201 |
| 11/6 | EHS 279 | Scaffold Safety | 10:00 – 11:00 | Bldg. 51-201 |
| 11/6 | EHS 154 | Building Emergency Team Training | 1:30-3:30 | Bklg. 48-109 |
| 11/7 | EHS 20 | ES&H for Supervisors | 9:30 – 11:30 | Bldg. 51-201 |
| 11/7 | EHS 260 | Basic Electric Hazard Awareness | 1:30 – 3:00 | Bldg. 51-201 |
| 11/8 | EHS 345 | Chemical Hygiene for Facilities | 10:00 – 12:00 | Bldg. 51-201 |
| 11/12 | EHS 10 | Introduction to ES&H at LBNL | 8:00 – 10:15 | Bldg. 50-Aud |
| 11/12 | EHS 135 | Earthquake/Wildland Fire Safety | 10:30 – 12:00 | Bldg. 48-109 |
| 11/12 | EHS 256 | Lockout/Tagout | 1:30 – 3:00 | Bldg. 51-201 |
| 11/13 | EHS 123 | Adult Cardio-Pulmonary Resuscitation | 8:30 – 12:00 | Bklg. 48-109 |
| 11/13 | EHS 275 | Confined Space Hazards | 8:30 – 11:00 | Bldg. 51-201 |
| 11/13 | EHS 274 | Confined Space-Retraining | 11:00 – 12:00 | Bldg. 51-201 |
| 11/13 | EHS 330 | Lead Hazards Awareness | 1:00 – 2:00 | Bldg. 51-201 |
| 11/14 | EHS 400 | Radiation Protection-Fundamentals | 9:00 – 12:00 | Bldg. 51-201 |
| 11/14 | EHS 280 | Laser Safety | 1:00 – 4:00 | Bldg. 51-201 |
| 11/15 | EHS 432 | Radiation Protection-Lab Safety | 8:00 – 12:30 | Bldg. 51-201 |
| 11/19 | EHS 348 | Chemical Hygiene Safety | 9:00 – 12:00 | Bldg. 51-201 |
| 11/19 | EHS 231 | Compressed Gas Safety | 1:00 – 3:30 | Bldg. 51-201 |
| 11/20 | EHS 604 | Hazardous Waste Generator | 9:30 – 11:00 | Bldg. 51-201 |
| 11/20 | EHS 530 | Fire Extinguisher | 10:00 – 11:30 | Bldg. 48-109 |
| 11/20 | EHS 622 | Radioactive & Mixed Waste | 11:00 – 12:00 | Bldg. 51-201 |
| 11/20 | EHS 10 | Introduction to ES&H at LBNL | 1:00 – 3:00 | Bldg. 51-201 |
| 11/26 | EHS 735/ 738/739 | Biosafety/Bloodborne Pathogen | 1:30 – 2:45 | Bldg. 51-201 |
* Includes EHS 392/405, followed by the orientation. Please arrive at 8:15 for sign-in.
To enroll, contact Valarie Espinoza at VMEspinoza@lbl.gov or enroll via the web at https:// hris.lbl.gov/self_service/training/. Preregistration is required for all courses except EHS 10. For a full, updated schedule, see http://www-ia1.lbl.gov/schedule/.

CompUSA Classes: November 2002
CompUSA provides onsite PC computer courses to Lab employees. All courses are $199 and are held in Building 51L, 9 a.m. to 4 p.m.
| | |
| --- | --- |
| Date | Course |
| 11/4 | PowerPoint 2000 Fundamentals |
| 11/8 | Excel 2000 Fundamentals |
| 11/11 | Dreamweaver 4.0 Introduction |
| 11/18 | Presentation Skills Using PowerPoint |
| 11/22 | Visio 2000 Introduction |
Class descriptions and registration are available online at the Employee Self Service website, https://hris.lbl.gov/. For more information contact Heather Pinto at hmpinto@lbl.gov.

Flea Market
AUTOS & SUPPLIES
'01 TOYOTA Rav 4, 26K mi, at, 4 dr, 4 cyl./2 L, silver, 4 wd, ac, all pwr, tilt wheel, cruise, am/fm/cass/ cd, dual air bags, sunrf, roof rack, assume loan payments, $413/mo, $18,500 balance, Sheri, X4878, 728-1101
'99 HONDA TRX 300EX, red/blk, 5 spd, 2wd, 2x4, exc cond, $3,900/bo John, 531-1739
'93 JEEP GRAND CHEROKEE Ltd, 118K mi, 4 wd, 5.2 L V8, at, leather, all pwr, towing pkg, alloy wheels, recent brakes/tires, green, exc cond, $7,700/ bo, Steve, X6271
'91 FORD ESCORT wagon, 65K mi, red ext/dark gray int, 5 spd, ac, new sound sys, runs great, $2,250/bo, Cheryn, 642-5247, (925) 934-7817
'90 HONDA Civic CRX 1.5 L, 170K mi w/ 80K on eng, looks/runs super, efi, 5spd, ac, $2,400/bo, Rob, X7670, 520-1369, (925) 432-2383
'90 CAMRY LE Wagon, 180K mi, gray/gray, exc cond, ac, all pwr, accessories, all svc recs, b/o, John, (415) 388-6230
'89 TOYOTA COROLLA, blue, at, ac, am/fm/cass, good cond, 178K mi, recent tune-up & detail, $1,500/bo, Sondra, X7369, 594-0309
'87 HONDA ACCORD LX, 180K mi, 5 spd, 4 dr, sunrf, ac, am/fm/cass, pwr drs/ win, good cond, $1,700, Wladek, X5536, 524-0153
'65 MUSTANG 289, mint , less than 1K mi on rebuilt, red/blk pony inter, 4 spd, 300 hp, super trapp exhaust, rallys, $10,500/bo, Mike, X5861, (209) 745-0554
NEW SNOW/MUD TIRES, 4, Bridgestone Dueler A/T, size LT235/75R15, fits SUV/ lt trk, $180, Mark, X7087, 486-8079 eves
MOTORCYCLES
95 YAMAHA Blaster, exc cond, low hrs, always garaged, $2,300/bo, Chris-topher, (925) 930-8056
HOUSING
ALBANY, 1 bdrm apt, par-king, no pets/smoker, nr pub trans/shopping, avail Dec. 1, $995.00/mo incl util, 12 mo lease, John, (415) 309-1288
ALBANY, 937 Kains Ave, carpeted 2 bdrm/1 bth avail now, $1,495/mo + $60 utils, 2 car parking, coin laundry, Yongkoo, X4806, yseol@lbl.gov, Sungbin, 237-7198
BERKELEY HILLS, furn house above Claremont Hotel, 2 bdrm/3 bth, lge office, bay views from master, liv & din rm, kitchen, deck, fp, w&d, cable tv, gardener, alarm, nr pub trans, no smoking/pets, $2,200/mo incl util+$1,000 dep, avail thru Fall '03 neg, Laura, (925) 253-0163, 642-6411
BERKELEY, 2339 McGeen, 1 bdrm apt, partly furn, mo-to-mo, $1,200, Mike/ Cecily, 644-1217
BERKELEY, furn rm w/ priv bth in 4 bdrm house, near campus on Euclid, avail 11/1, no smoking/ overnight visitors, $700/ mo, Giorgio, 548-1287
BERKELEY, lge furn room avail 11/15 in 6 bdrm/2 bth house, info & images at housintscholar.home. mindspring.com, $810/mo incl util, DSL, phone, housecleaning, Anushka, 486-8153, housintscholar@mindspring.com
BERKELEY/OAKLAND border, Shattuck & 57th St, 2 bdrm duplex in lge sunny house, share w/ 1 person, avail 12/1, newly renovated int, lge kitchen, din & liv rms, tile/hardwd flrs, w&d, dw, front porch, yard, garden, parking, nr BART, $750/mo+util, Matt, 847-6152, MADobbs@lbl. gov, Kathy, 595-9585
CENTRAL BERKELEY Delaware/Milvia, rm in 2 bdrm apt nr pub trans & shops, semi or unfurn, lge closet, laundry, tv/vcr/cable, balcony, carpeted, share w/ 24-yr-old gay male, $755/mo, guille78@ mixmail.com
CENTRAL BERKELEY, nice furn rms, kitch, laundry, TV, DSL, hardwd flrs, linens, dishes, brkfast, nr pub trans & shops, $950/ mo incl util, $350/ wk, Jin, 845-5959, jin.young@ juno.com, Paul, X7363
CROCKER HIGHLANDS, 1930s house in exc cond & great location, 3+ bdrm/ 3 bth, den, office, w&d, formal din, brkfst rm, 2 fp, decks, hardwd flrs & carpet, built-ins, historic integrity w/ upgrades, 2 car garage, storage, 2,700 sq ft, $2,900/mo, Dale, X5988, 547-2356
EL CERRITO, avail now, 2 bdrm/1 bth apt, semi formal din area, priv garage, alarm, nr pub trans/shops, storage, maint priv yard, laundry, quiet neighbrhd, $1,295/mo, Andy, 724- 3089
NORTH OAKLAND, rm avail Dec, furn, spacious 2 bdrm, garden, hardwd flrs, nr pub trans, $750/mo, Kathy, 595-9585
N. BERKELEY furn, by wk/ mo/sem, nr UCB & pub trans, elegant, sunny, quiet, 750 sq ft 1 bdrm/1 bth flat in Victorian dup, cable tv, sec fire alrm, priv garden, gated, dble carpet, laundry, gfchew@mindspring.com, Geoff, 848-1830
ROCKRIDGE Claremont, sm house or 1/2 house, avail 1/1/03, Sue, X7564
ROCKRIDGE, furn 2 bdrm/ 1 bth flat in dup, avail 1 mo (2/03), hardwd flrs, basement storage, laundry, cable tv, priv deck, garage, yard, nr pub trans, pets neg, $2,400/mo incl util, refs req, Barbara, X7367, 652-7044
TARA HILLS home avail 11/01, 3 bdrm 1 ba, lge fam rm, garage, w&d, lge yard, $1,600 + sec dep, incl util & gardener, near I-80 & pub trans, SAberg@ lbl.gov
HOUSING WANTED
VISITING SCIENTIST & wife seek furn apt/house, 1 bdrm, liv rm, kitchen, need for 1 mo (4/03), pref close to UC, brus@chem. columbia.edu
MISC FOR SALE
CAMERA Nikon F, incl Nikkor 50mm 1.4, Bushnell 28mm 2.8 & Bushnell 90-230 4.5 zoom lenses, also Vivitar elec flash equip, $250, Steve, X7855
DRYER, Sears Kenmore, 220 v electric, $75; furniture: walnut din rm set w/ china cabinet, table, chairs, walnut bdrm set w/ chest, vanity, mirror, side table & 2 twin bds, small desk, chest of drawers, couch, coffee table, end table, Bob, (925) 376-2211
ENTERTAINMENT CTR, yr old, lt oak, 66x72x24, retracting doors, lge storage drawers, mirrored top shelf, touch on/off light, $700, Larry, X5262
FREEZER, Kenmore 5.5 cu ft, 24x23x35, good cond, $25, Eli, X5975
KING BED w/box, Sealy posturepedic, $250; Sharp fax, $50; comp table, $10, Joern, X2407
KITCHENAID late model washer, $250; Lady Kenmore older gas dryer, $125; oak desk $250; small oak stereo cabinet, $100, Guy, X6090
MATCHING SOFAS (2), 6.5 ft, Drexel Heritage House, off white w/ pettipoint pattern in soft blue & rose, hand tied, great cond, $200/ea, Ron, X6476, (925) 432-4044
RADIAL ARM SAW, Sears Craftsman 10", ca 1975, wired for 110v op, good cond, use in a perm installation, 150 lbs, you pick up in Novato, $100, Wes, X7353, (415) 898-2084
SOLAFLEX GYM, very good cond, bench pad, leg ext attach, many weight straps, dip bar, $450/bo, Fred, X4352, 524-6519
TV CABINET, teak w/ drawers, 72x46, $100; youth bed, 79 x 36, lt birch wd frame, $50, Rod, X5223, 223-4766 msg
TV, VCR, microwave, toaster oven, small bureau, Elisa, X7863, 665-9091
WASHER, Kenmore, 4 spd, 1 yr old, $175, Joe, X7486, (925) 829-2397
WANTED
CLASSROOM aide for fully inclusive 8th grader, 8:30-2:45, El Cerrito. intelligent, caring, dependable, exc English a must, 233-6007
VACATION
SOUTH LAKE TAHOE, spacious chalet in Tyrol area, close to Heavenly, fully furn, peek of lake from front porch, sleeps 8+, sunny deck, pool & spa in club house, close to casinos & attractions, $150/day + $75 cleaning fee, Angela, X7712, Pat/Maria, 724-9450
TAHOE KEYS at S. Lake Tahoe, 3 bdrm 2-1/2 bth house, fenced yard, quiet, sunny, close to attractions, prvt dock, great view, $195/night, 2 night min, Bob, (925)376-2211
Lost & Found
FOUND: CLIP-ON SUNGLASSES, found outside of Bldg 84 more than a week ago, Helen, X5746

Flea Market Policy
Ads are accepted only from LBNL employees, retirees, and onsite DOE personnel. Only items of your own personal property may be offered for sale.
Submissions must include name, affiliation, extension, and home phone number. Ads must be submitted in writing via e-mail (fleamarket@lbl.gov), fax (X6641), or delivered/mailed to Bldg. 65B.
Ads run one issue only unless resubmitted, and are repeated only as space permits. They may not be retracted once submitted for publication.
The deadline for the Nov. 15 issue is Thursday, Nov. 7.