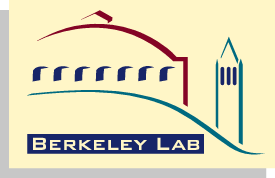 Berkeley Lab Currents
May 31, 1996

By Jeffery Kahn
Closing the gap between heart disease research findings and medical care, the Laboratory has entered into a partnership to make state-of-the-art cardiovascular risk testing available to the public.
Berkeley Lab has signed an agreement with Berkeley HeartLab, a company founded to commercialize research discoveries for the diagnosis and treatment of coronary artery disease. The company will commercialize a panel of blood cholesterol tests that detects the presence of traits associated with an increased risk of atherosclerosis and heart disease.
The diagnostic series was developed by Berkeley Lab's Cholesterol Research Center, headed by Ronald Krauss of the Life Sciences Division.
Cardiovascular disease is the leading cause of death in the United States. Existing cholesterol tests do not identify individuals who will develop heart disease. The new test panel identifies a range of abnormalities, which will allow physicians to better select therapies to halt progression of the disease. These include diet and lifestyle changes, or in some cases, treatment with cholesterol-lowering drugs.
"This next generation of cardiovascular tests will screen for newly discovered risk factors," said Lab Director Charles Shank. "It has the potential to save many, many lives."
Krauss says the new screening panel will not only benefit individuals but will also accelerate research progress.
"In terms of heart care," he said, "this $3.8 million, five-year contract will help us continue our efforts to identify and understand the genetic and metabolic factors that predispose individuals to cardiovascular disease. Our long term goal is to develop a panel of genetic tests that can be administered in childhood to identify risks."
Krauss says researchers here will be able to refine the new assays and develop additional diagnostic tools through access to Berkeley HeartLab test results, family medical histories, and the results of follow-up treatment of participants. Researchers will have the opportunity to further correlate traits identified during testing with the response to diet and other therapies. Over the long term, researchers here will build a database of at-risk families with shared traits, helping to narrow the search for more definitive genetic markers.
Currently, the typical blood lipoprotein analysis (aimed at assessing cardiovascular risk) is confined to total cholesterol, low-density lipoprotein cholesterol (LDL or bad cholesterol), high-density lipoprotein cholesterol (HDL or good cholesterol), and triglycerides. Risk factors identified by this series include elevated LDL levels and HDL values below 35 mg/dl.
The new lipid analyses, which health providers around the country can make available to patients through arrangement with the Berkeley HeartLab, consists of the above series plus these six additional tests:
LDL Particle Size--Individuals have a mix of different sized LDL particles. LDL size patterns and the coronary risk associated with them are influenced by genetic factors. However, that risk can be modified by treatment. The LDL particle size test classifies people as predominantly small LDL (Pattern B) or predominantly large LDL (Pattern A). Pattern B dramatically increases risk and is found in an estimated 40-50 percent of heart disease patients. Individuals with Pattern B can reduce their risks significantly by reducing their dietary intake of fat. Conversely, healthy Pattern A individuals experience little benefit or even adverse effects from low fat diets.
Lp(a): An LDL particle with an abnormal protein attached. Elevated Lp(a) levels increase the risk of heart disease three-fold and are not detected in routine blood work.
HDL Subclassification: HDL particles likewise vary, with this test identifying HDL subclasses and their distribution. This information can help predict whether efforts to raise HDL levels in a particular patient--through weight loss, exercise, and/or estrogen administration--are likely to succeed.
Apolipoprotein A-1: One of several proteins attached to the HDL particle. It may be a better predictor of heart disease risk than HDL levels.
Apolipoprotein E: Exists in normal and abnormal genetic forms. By identifying the form, this test indicates whether an individual is prone to develop excess blood lipids or has inherited an increased risk of heart disease independent of other known factors.
Apolipoprotein B-100: A single protein attached to the LDL particle. This assay provides a more accurate indication of the relative number of LDL particles than does a standard LDL cholesterol blood test.
Because these tests are still considered investigative, physicians who receive the results will be able to consult with Krauss and the researchers at the Lab's Cholesterol Research Center. Physicians will then provide information about the clinical significance of the tests and the most appropriate and effective follow-up program for each patient.

By Ron Kolb
In the next few months, the term "necessary and sufficient" will begin drifting through Berkeley Lab's divisions and programs like a warm spring breeze. The results could be just as refreshing: a 30 percent reduction in the costs and workload of environment, health and safety compliance efforts--with no loss in Lab safety and security.
Ben Feinberg, senior scientist at the Advanced Light Source and process leader for the new program, describes it this way: "What's `necessary' is what the law requires. Then you have to ask, is what's necessary for your program also `sufficient' to protect employees, the environment and the public? The goal is to do what's necessary and sufficient for what we do."
Sounds logical, but to date, Berkeley Lab and its counterparts in the Department of Energy--similar and dissimilar--have been held to the same health and safety compliance standards prescribed by hundreds of rules, regulations and orders accumulated over the years. Despite the significant differences in mission and program, labs like Livermore and Berkeley have been subject to a uniform application of the DOE orders and directives.
"This has led to complaints that the programs are too prescriptive," says EH&S Division Director David McGraw. "The administrative burden of writing implementation plans in response to this uniform application of orders has become quite large. And DOE has agreed. As part of the department's push to re-invent government and reduce the burdens, the `necessary and sufficient' initiative was developed."
Emerging from Assistant Secretary for EH&S Tara O'Toole's office, the initiative began last year with small pilot projects at laboratories and programs within DOE. Berkeley Lab's National Tritium Labeling Facility was used as a small program model, and Fermilab was the site-wide pilot. From those successes, larger "necessary and sufficient" initiatives were commissioned, including Berkeley Lab's current charge as the first multi-program energy research laboratory to apply the system site-wide.
McGraw credits the lab's record of program innovation as the reason for the DOE's invitation to participate. The potential benefits to be realized drove Berkeley Lab to submit a successful proposal in partnership with DOE's Berkeley site office.
"The unique aspect of this process is that DOE and Berkeley Lab will partner together to mutually develop EH&S standards that fit our work," says site office manager Dick Nolan. "Gone are the days of inflexible one-size-fits-all requirements. That increases everyone's understanding of the EH&S standards appropriate to the work, reduces costs, and improves our safety and environmental protection program."
The "necessary and sufficient" concept works as follows: Small teams of program and EH&S representatives, working with division safety coordinators and DOE experts, will identify the work being done and the relevant hazards. Using these hazards, the group will select appropriate safety standards that apply to that work, in areas such as management of hazardous waste, radiation protection, electrical safety, quality assurance (QA) activities, etc.
The applicable standards are forwarded to an executive team of Lab and DOE managers for evaluation, review and resolution of issues. An accepted set of procedures and assessments is then submitted for comment to stakeholders--Lab employees, community officials, regulatory agencies, unions, etc.--and for confirmation to a team of Lab, DOE, University of California and industry representatives. Berkeley Lab Director Charles Shank and DOE-Oakland office manager James Turner will sign the final agreement.
Feinberg, whose job is to oversee all of this activity, says that from a scientist's standpoint, the whole idea has appeal. "It says that the Lab and our programs can choose what standards we ought to be held to, and then be judged on how well we meet those standards. It doesn't come from the top down. That's a rationally appealing way to go, and the best way I know to get buy-in."
Given the narrow time-frame (target for completion is this calendar year), the analysis will be intense for several months, involving more than 100 Laboratory personnel. But McGraw says the outcome--a set of performance and safety standards specially tailored to Berkeley Lab's needs--is worth the up-front investment of effort.
"A lot of what we do now is desk work," he says of EH&S compliance programs. "That takes us away from the field, where the real solutions to our problems are found. `Necesssary and sufficient' takes us back to the classic paradigm--if you're going to apply requirements to your program, base them on the work being done and derive the standards from that."
In addition to the tritium labeling facility and Fermilab, other DOE pilot programs were run last year at Livermore's waste handling facility and in some programs at the Savannah River site. Representatives from those pilots will comprise an advisory team to assist Berkeley Lab as it develops its site-wide program.

CAPTION: The finishing touches are nearly complete on the Lab's new conference center, built as an extension to the cafeteria (Bldg. 54). It includes two conference rooms: one that seats 62 for dining and 102 for conferences, and a smaller one seating 20. The new conference area is equipped with restroom facilities, an A/V room, video screens, a small vestibule, and lots of windows with great views. The gallery between the cafeteria and the addition also adds 12 seats to the main dining area. The UC President's Council meeting will take place in the new center on June 3 and 4, and the Employee Development Fair is scheduled for June 11 and 12.
Photo by Joe Moore

The Employee Development and Training Unit is sponsoring an Employee Development Fair from 11 a.m. to 2 p.m. on Tuesday and Wednesday, June 11-12, in the Lab's new conference center, adjacent to the cafeteria (Bldg. 54).

All Lab employees are invited to attend the event, which was organized at the recommendation of the Lab's Workforce Diversity Committee. The fair will offer information about the following topics:
On- and Off-Site Training
Transfer and Promotion Policy
Tuition Reimbursement
Educational Opportunities
Mentor Program

Bob Aita and Ronnie Barr of AFRD are retiring after combined service to the Lab of more than 75 years. A luncheon is planned in their honor at Hs Lordships Restaurant in Berkeley on Friday, June 21. Tickets will be available through June 18 at $20/person. Contact the following for tickets and more information: Bob Berninzoni (X5576), Larry Brusse (X7703), Bob Miller (X4738), Steve Patterson (X7705), Bob Stevenson (X7724), or Oliver Wiggins (X7719).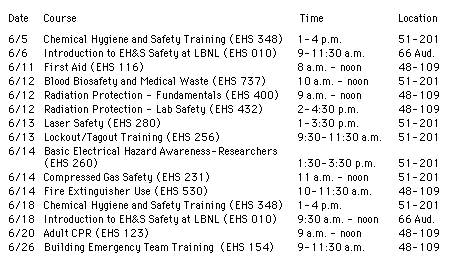 Pre-registration is required for all courses except Introduction to EH&S. To pre-register for all other classes, send e-mail to LBNL Training-Registration in the HR zone or send a fax to X4072 with your name, employee ID number, extension, and class name, date & code (or call X5999).

A report from the National Science Foundation shows that 72 percent of Americans surveyed believe that the benefits of scientific research outweigh the harmful results and should be supported. The study also showed that 64 percent have no understanding of the nature of scientific inquiry and only one in nine feels well-informed about science and technology. This information gap was borne out in the results of a 10-question quiz given to determine what American adults know about basic science. Only 47 percent knew that it takes one year for the Earth to go around the sun, or that humans and dinosaurs did not co-exist. Only 44 percent thought it true that humans descended from apelike ancestors, or that electrons are smaller than atoms. Only 21 percent could identify the term DNA and less than 9 percent could define "molecule." Most people did know that the center of the earth is hot; oxygen comes from plants; continents drift, and light travels faster than sound. Although Americans may not remember much of the science they may have learned in school, with the exception of evolution, they do tend to accept scientific facts when presented with them. The Science and Technology Summit for California, a two-day conference organized by the University of California and held in Sacramento this week, showed strong public support for scientific research. It also showed that science has been strongly supportive of the California public. One-fourth of the federal R&D budget--a total of $14 billion--is channeled into this state each year. If California were a separate nation, it would rank fourth in the world in scientific research funds, trailing only the rest of the United States, Germany, and Japan. A random telephone polling of Californians showed that 81 percent favor federal funding of basic research even if it does not have immediate applications. The buzzword for the summit, which was co-sponsored by a host of state and federal agencies and private companies, was "Knowledge and Information-based Economy." The idea was to cement ties between universities and businesses in the face of shrinking federal dollars for R&D. Science and technology, it was agreed, has generated more jobs, more profits, and more inventions in California than any other state in the union. While surveys consistently show a need to better inform the public about federal R&D activities, the General Accounting Office, at the request of Republicans on the House Science Committee, is conducting an audit of the money spent on public information by key federal science agencies. Included in this audit are DOE and all of its national laboratories, plus NASA, NSF, and the Commerce Department's National Institute of Standards and Technology. Though Republican staff members will not comment publicly, it is believed the House Science Committee plans to hold hearings on the subject in June.

The full text of each edition of Currents is published on the Lab's home page on the World Wide Web. View it at http://www.lbl.gov/ under "Research News and Publications." To set up your computer to access the World Wide Web, call the Mac and PC Support Group at X6858.

Tois Tinay, a retired scanner who worked in the Physics and Nuclear Science divisions, died April 30 from complications of pancreatic cancer. A resident of Moraga, she was 59.

A 32-year employee of Berkeley Lab, Tinay transferred here in 1960 with her husband Bill, after both worked briefly at Lawrence Livermore National Laboratory. She had a bachelor's degree from UC Berkeley and an MBA from the University of San Francisco.

Tinay's first job at Berkeley Lab was working as a scanner in the Physics Division for Luis Alvarez' group. Scanning is searching the films of the collisions of elementary particles and nuclei taken in bubble chambers to find specific particles and interactions, usually from among thousands of lines representing the tracks of particles. At one time, the division had 50 scanners, but they were phased out in the early 1980s, and Tinay was one of last scanners there. After this, she transferred to the Nuclear Sciences Division, where she continued to work until research programs requiring scanners were phased out in 1992.

"She was one of the best scanners ever, one of the best I ever met," said her last supervisor, NSD's Grazyna Odyniec. "She had an absolutely incredible photographic memory. When we ran an experiment at CERN in Geneva about 1987, we took her along. Since there were scanners at high-energy physics labs everywhere, this was very unusual. It was because of the high quality of her work." Although she had no formal university training in physics, she learned a great deal in the course of her job.

"Lois loved traveling, kids and garage sales," said Bill Tinay. "She was a well-educated woman who could talk to an Einstein as well as to a Rosie the Riveter."

In addition to her husband, Tinay is survived by her children John and Alyce, and granddaughter Toni Nicole.


The Berkeley Lab Calendar is published biweekly here on the World Wide Web and in Currents by the Public Information Department. Employees can list a meeting, class, or event in the Calendar by using this submission form. The deadline for submissions is 5 p.m. on Monday in the week that Currents is published.

In addition to the events listed below, Berkeley Lab's Washington, D.C. Projects office is hosting a Science and Technology Seminars series.

Scientific Conferences

EMPLOYEE MUSIC CLUB

Classical Group Rehearsal, 5-7 p.m. in the cafeteria, for info. contact Wesley Steele at X7893.

LIFE SCIENCES DIVISION SEMINAR

"Identification of the Functional Domains of TGF-ß Isoforms" will be presented by Su Wen Qian of the National Cancer Institute at 4 p.m. in Bldg. 66-316.

TOASTMASTERS

Officer's meeting at 12:10 p.m. in Bldg. 2-100

EH&S CLASS

Chemical Hygiene and Safety Training (EHS 348), 1-4 p.m., Bldg. 51-201

EMPLOYEE MUSIC CLUB

Folk Group Rehearsal, 5:30-7:30 p.m. in the cafeteria, for info. contact Larry Bell at X5406.

SHOEMOBILE

7:30 a.m. - 4:30 p.m., near Bldg. 77

EH&S CLASS

Introduction to EH&S Safety at LBNL (EHS 010), 9-11:30 a.m., Bldg. 66 Auditorium

BUILDING ENERGY SEMINAR

"Overview of the Tool Lending Library Program and Misc. Case Studies - Empowering Tool Users: Automating the Data Collection Process" will be presented by Robert Marcial and Charlie Huizenga, of PG&E at noon in Bldg. 90-3148.

ENERGY AND ENVIRONMENT DIVISION SEMINAR

"Puerto Rico as a Site for Studies in Environmental Chemistry" will be presented by Osvaldo Rosario of the University of Puerto Rico at 2 p.m. in Bldg. 2-100B.

PHYSICS DIVISION RESEARCH PROGRESS MEETING

"The Search for the Quark-Gluon Plasma at the Relativistic Heavy Ion Collider (RHIC)" will be presented by Jay Marx of LBNL at 4 p.m. in Bldg. 50B-4205; refreshments, 3:40 p.m.

EMPLOYEE MUSIC CLUB

Rock Group Rehearsal, 5:30-7:30 p.m. in the cafeteria, for info. contact Steve Blair at X5927.

CHEMISTRY AND MATERIALS SCIENCE SEMINAR

"Chemical Orchestration with Boron and Silicon" will be presented by John Soderquist of the University of Puerto Rico at 9 a.m. in Bldg. 66-316.

CHEMICAL SCIENCES SEMINAR

"Energy Disposal as a Probe of Gas Phase Desulfurization Reactions" will be presented by Brad Weiner of the University of Puerto Rico at 1:30 p.m. in Bldg. 66-316.

BODYWORKS

General meeting in the lower cafeteria at noon.

EMPLOYEE MUSIC CLUB

Classical Group Rehearsal, 5-7 p.m. in the cafeteria, for info. contact Wesley Steele at X7893.

EH&S CLASS

First Aid (EHS 116), 8 a.m.-noon, Bldg. 48-109

EMPLOYEE DEVELOPMENT FAIR

11 a.m. - 2 p.m. in the new cafeteria addition, continues on Wednesday.

LIFE SCIENCES DIVISION SEMINAR

"Regulation of Anchorage Dependent Growth and Cell Cycle by the Novel Integrin Linked Kinase (ILK)" will be presented by Shoukat Dedhar of the Sunnybrook Health Science Center/University of Toronto at 4 p.m. in the Bldg. 66 Auditorium.

EH&S CLASSES

Radiation Protection - Fundamentals (EHS 400), 9 a.m.-noon, Bldg. 48-109

Blood Biosafety and Medical Waste (EHS 737), 10 a.m.-noon, Bldg. 51-201

Radiation Protection - Lab Safety (EHS 432), 2-4:30 p.m., Bldg. 48-109

EMPLOYEE DEVELOPMENT FAIR

11 a.m. - 2 p.m. in the new cafeteria addition

EMPLOYEE MUSIC CLUB

General meeting at noon in the lower cafeteria

EMPLOYEE MUSIC CLUB

Folk Group Rehearsal, 5:30-7:30 p.m. in the cafeteria, for info. contact Larry Bell at X5406.

EH&S CLASSES

Lockout/Tagout Training (EHS 256), 9:30-11:30 a.m., Bldg. 51-201

Laser Safety (EHS 280), 1-3:30 p.m., Bldg. 51-201

AFRICAN AMERICAN EMPLOYEES ASSOCIATION

General meeting at noon in Bldg. 90-1099

BUILDING ENERGY SEMINAR

"The Role of the Architect in a Sustainable Society" will be presented by Greg Van Mechelen, architect/board member of Architects/Designers/Planners for Social Responsibility, at noon in Bldg. 90-3148.

CENTER FOR ENVIRONMENTAL BIOTECHNOLOGY SEMINAR

"Full-Scale Application of Bioremediation Technologies" will be presented by Geoffrey Compeau of Woodward Clyde at noon in 338 Koshland.

PHYSICS DIVISION RESEARCH PROGRESS MEETING

"The Super-Kamiokande Project: Overview and Status" will be presented by Chang Kee Jung of SUNY Stony Brook at 4 p.m. in Bldg. 50A-5132; refreshments, 3:40 p.m.

EMPLOYEE MUSIC CLUB

Rock Group Rehearsal, 5:30-7:30 p.m. in the cafeteria, for info. contact Steve Blair at X5927.

EH&S CLASSES

Fire Extinguisher Use (EHS 530), 10-11:30 a.m., Bldg. 48-109

Compressed Gas Safety (EHS 231), 11 a.m.-noon, Bldg. 51-201

Basic Electrical Hazard Awareness-Researchers (EHS 260), 1:30-3:30 p.m., Bldg. 51-201

Netscape has released an upgraded and improved version 2.02 of its Web browser, and it is now available to all employees.

According to Netscape platform product manager Steve Thomas, "Netscape wishes to make it clear that all known security problems with the Navigator Java and JavaScript environment are fixed in Navigator version 2.02." Netscape provides additional information on the Web at http://home.netscape.com/newsref/std/java_security.html

For information on where and how to download a copy of Netscape, refer to the instructions in the May 3 edition of Currents, accessible via the LBL home page. Or see http://www.lbl.gov/Web/Browsers.html on the Web.

The Laboratory's contract with Citicorp Diners Cards for travelers expires as of May 31, 1996. Through a special arrangement with Diners, charges for official travel will continue to be honored for an additional 30 days. Cardholders will continue to receive statements from Diners until all charges and refunds are settled. Lab employees who expect to travel and have not yet applied for a First Bank Visa card should contact their division travel coordinator or the CFO/Travel Office at X6261 to obtain an application.

Flea Market ads may be sent via e-mail to fleamarket@lbl.gov, Fax to X6641, or Lab mail to Bldg. 65B. The deadline is 5 p.m. Friday.

'73 DODGE van, 1/2 ton, a/t, p/s, p/b, reblt eng., white/blue top, $1500/b.o. 559-9212

'81 VOLVO 244DL, 216K mi., very well maintained, reliable, $1500. Mari, X5932

'83 NISSAN Stanza T11, 184K mi., 5-dr, a/t, radio/tape stereo, needs new transmission, $1200. Nadia, X7794

'89 FORD Ranger XLT, low mi., superbly maintained, incl. bed liner & Gemtop, $7800/b.o. X7853, 526-7388

'91 FORD Escort wgn, p/s, a/c, p/b, AM/FM cass. stereo, pwr door locks, 1 owner, exc. cond., 83K mi., 30 mpg hwy, 24 city, $5200. X6731

MOTORCYCLE, '72 BMW R75/5 w/sidecar, Avon fairing, air shocks on-board compressor, luggage rack, adj. back rest, sidecar easily detachable (130 lb..), roller bearing rocker arms (keeps valve adj. longer than stock), 35K mi., $3500 w/sidecar, $2700 w/o sidecar. Janice, X6783

CARPOOL, drivers wanted from Modesto to Berkeley BART or LBNL. Yvonne, X5792

VANPOOL, two riders looking for ride from Modesto to Berkeley BART or LBNL. Yvonne, X5792

KUIJKEN BROTHERS QUARTET, Berkeley Early Music Festival, 8:30 p.m. performance, 6/6, $22. Rich, X5842 AUTOMOBILE, Civic, Tercel, Sentra or Metro, '89-'92, prefer a/c. Hong, X6334, 442-7556 (pager)

CHILD for our caregiver, our child is starting school. Alison, 704-0946

HOUSE FOR HOUSE-SITTING, Berkeley area, week of 8/17-25. Jeff, (202) 484-0883, JPHarris@lbl.gov

OPTICAL PYROMETER, old hot fila-ment type, Robert, X4975 (Mon.- Wed.), 644-1250 (Thurs.-Fri.)

SLIDE PROJECTOR, Kodak Carousel 4600, w/wo carousels, in gd cond. 524-9473

STUDENT, high school or univ., w/driver's license to care for our 2 children (ages 5 & 6), during the summer holiday, flex. hrs. John or Liz, 559-9213

ANSWERING MACHINE, brand new, PhoneMate 3800, never used, $25. Eric, X6836

ARMOIRE, Pulaski reproduction, solid oak, 4' x 6', beautiful cond., $500; color TV, 12", gd cond. cable ready, $75; stereo receiver, Pioneer SX1010, 100 amp., gd cond., $150; speakers, Yamaha, very heavy, exc. cond., $400/pr.; CD player, Sony 491, remote, exc. cond., $75; cooler set, 54 qt. Coleman cooler, 5 qt. cooler, 1/3 gal. jug, 15 oz. ice substitute, never used, pd. $25, $20; bug zapper, 50 watt, $25; motion detector sec. light, never opened, $20; bike, men's 10-spd, Nishiki Royale, exc. cond., $150. 778-7133

BIKE PARTS, MTB, Mag-20 suspension fork, 1-1/4 dia., 15 cm threaded; Tange Evolution fork, 1-1/4 dia., 16 cm threaded; Control Tech aluminum alloy seat post, 1-1/4 dia., best offer. Tim, X5304

CAMERA BODY, Cannon Elan, autofocus, 35mm, under warranty, Canon F1.8 50mm lens, both in exc. cond., $350. 841-6285

COMPUTER, Macintosh Quadra 650 CD, 16 MB RAM, 1 MB VRAM, 500 MB hard drive, 68040/33 processor w/built-in FPU, Ethernet, 24 bit graphics accelerator (gives 2-monitor capability), software, CPU only, $1200/b.o. X5124

DISHWASHER, built-in, Whirlpool, $80. Matt, X6428, 247-0447

GARAGE SALE, 20th annual Jordan Rd./neighborhood, Redwood Rd. off Warren fwy or 35th Ave. off 580, Sat., 6/1, 9 a.m.-4 p.m.

HIGH CHAIR, Pergo, $50; infant car seat, Evenflo, $15; adj. child bucket seat, Renolux, $35; booster/car seat, Gerry, $15; FP table booster seat, $10, all in gd cond. X4920

ORGAN, Wurlitzer, w/cass. recorder, as is, $80/b.o.; 1-minute Grill Express, $80; Calphalon paella pan, $75; Kevin Trudeau's Mega Memory, $40; Farberware Open Hearth broiler/rotisserie, $60; flute, $50. Ellen, X4928

ROAD BIKE, men's 15-spd Miyata, very gd cond., $125/b.o. Janice, X4943

YARD SALE, 50 families, Sat., 6/1, 8 a.m.-4 p.m., El Sobrante, San Pablo Dam Rd, north, left May Rd., right Valley View, left Morningside Dr., furn., cars, clothes, toys, tools. Marva, X5640

ALBANY, partly furn. 2-bdrm, 2-bth condo, bay view, swimming pool, tennis cts., 24 hr. sec., garage parking, 15 min. bus/BART to LBNL/UCB, nr shopping ctr., no pets, non-smoker, lease, $980/mo. Rai, 524-7941 (eve.)

BERKELEY, Delaware/Shattuck, rm for rent in 2-bdrm apt, share w/postdoc visitor, prefer woman, avail. 7/10, $465/mo. Ana, X4249, 486-0786 (eve.)

BERKELEY, rm in 2-bdrm apt, nr Channing & Grant, $305/mo.+util. X5141, 848-8909 (eve.)

BERKELEY, Jefferson at Allston, rm in 3-bdrm, 2-bth townhouse in UC faculty/staff complex, family of 3 looking for quiet, tidy, kid-friendly, non-smoker, avail. 8/1, $385/mo. 525-8559

BERKELEY, furn., modern 2-bdrm, 1-bth apt on ground floor of Victorian home, nr downtown, BART, shopping & LBNL shuttle, off-st. parking, washer/dryer, TV w/cable, long term $1025/mo. or short term (with linens/dishes/paid utils.) $1150/mo. Chris, X5507, 845-3562

BERKELEY, Northside, Rose & Walnut, short term, furn. 1 & 2-bdrm apts, incl. local phone, utils., linen & weekly cleaning, near UCB/LBNL shuttle, $975-$1200/mo. Viki, 549-1876

NO. BERKELEY, nr Solono & The Alameda, upstairs rm w/view in 3-bdrm, 1-bth home, looking for mature, quiet tennant w/no pets to share with 1 or 2 women, avail. June to Sept., $500. Barbara, 528-9221

NO. BERKELEY, rm avail. in 4-bdrm, 2-bth house, hardwd flrs, w/d, yd, sun-porch, lots of living space, non-smoking, academic & professional, $425/mo. + util., last mo. + $200 dep. Michele, Laura or Dan 843-1633 (eve.)

WEST BERKELEY, 2-bdrm house avail. for the mo. of July, garden, frpl, deck, nr trans., 10 min. drive to LBNL, $800 + dep. Ted, X4203, Cloe, 848-4104

EL CERRITO HILLS, 2-bdrm, 1 bth house, ofc. space, dining rm, hardwd flr, 1-car garage, washer/dryer, bay view, yd, $950/mo. X6460, 778-0280

EL CERRITO HILLS, nr Kensington, 3-bdrm, 2-bth home, view, sauna, frpl, hardwd flrs, piano, deck, re- modeled kitchen w/skylights, trees, min. 1 yr. lease, avail. 8/1, $1500/mo. w/gardener. 528-1614

EMERYVILLE, Emerybay, bdrm in 3-bdrm, 2-bth apt, frpl, swimming pool, spas, fitness center, garage, completely gated, shuttle to BART, prefer female/non-smoker, $425/mo. 841-5109

KENSINGTON, lg. furn. house for 1-4 people, all or part of 7/20-8/30, $700-$1200/mo. X7853, 526-7388

KENSINGTON, 1-bdrm in-law, pvt. entrance & bth, share house w/LBNL scientists & lovely dog, no smoking, prefer 1 mature person, avail. 7/1, $750/mo.+1/3 utils. 848-4330

OAKLAND, 1-bdrm apt. nr Children's Fairyland, $550/mo. + elec. Jin, X7531, 530-3760 (eve.)

OAKLAND HILLS, rm w/view in lg. Spanish-style home, share w/4 others & 1 lg. charming dog, nr Rockridge BART & buses, bay view, hdwd flrs, frpl. in LR w/vaulted ceilings, share full bath w/1 person, patios, gardens, no pets/smokers, $425/mo. Jnet X4058, 655-3921

OAKLAND, Rockridge, sublet from 6/10 - 8/20 (all or part), furn. rm in 2-story, 1.5 bth house, rm has carpet & phone hookup, share house w/3 grad students, lg. kitchen, dishwasher, microwave, washer/dryer, TV in furn. LR, lg. DR, lg. backyd, 15 min. bike, 10 min. bus ride from UCB, 3 blks from BART, 1 blk from bus, 4 blks from hwy, ~3 blks from LBNL shuttle, $400/mo. 601-9893

WANTED: 2-3 bdrm apt/house to rent for a visiting scholar from Japan, for 1 yr. from Aug. $1K- 1.5K/mo. X6759

WANTED: 1-bdrm, cottage, apt or share, furn./unfurn., for LBNL employee, 7/1 or earlier. Steven, X6966, 204-9494

WANTED: 1-bdrm apt/house for LBNL visiting scientist, long term, bay view, Berkeley Hills, Kensington, Albany, El Cerrito, No. Berkeley, single, non-smoker, no pets. Alex, X4213, 549-9049, ana4a@virginia.edu

WANTED: apt, cottage or house for LBNL employee, in East Bay, long term, max. rent $800/mo. X5006, 524-2327

WANTED: housing for visiting German scientist (LBNL/ALS), 6/24 - 7/16. Jens, (+49)6221/512-326, Paggel@zooey.mpi-hd.mpg.de

WANTED: house/apt, 2/3 bdrm, 6/15 - 8/31, for visiting German scientist & quiet family (wife & 2 teenage daughters), non-smokers, prefer near UCB or nr public trans. Ernst, (+49)22544452, ekreysa@mpifr-bonn.mpg.de

WANTED: house for visiting French scientist w/3 children, 6/20 thru Aug., animals welcome, could exchange 4-bdrm, 2-bth apt & car (Volvo 740) in cent. Paris. 33 1 43389440 (msg.), hagege@glvt-cnrs.fr

HIGH SIERRAS, 4-bdrm cabin, washer, dryer, deck, frpl, 4 hr. from Berkeley, 1 hr. from Truckee, on hwy 49, hiking, fishing, swimming, canoeing, for people who will take gd care of our home, wk/wkends. Jane, 849-4096 DOG, English Cocker Spaniel, male, breeder/handler has 6 yr. old champion dog to place in loving, calm home, "Pepper" happiest when cuddled next to you. Charlie, X4658, 283-6111 LOST: silver pin, American Indian Rain Dancer, ~2-1/2" tall. Luanne, 261-1712

Currents/The View and the Communications Department Staff
Published once a month by the Communications Department for the employees and retirees of Berkeley Lab.

Reid Edwards, Public Affairs Department head
Ron Kolb, Communications Department head

EDITOR
Pamela Patterson, 486-4045, pjpatterson@lbl.gov
Associate editor
Lyn Hunter, 486-4698, lhunter@lbl.gov

STAFF WRITERS
Dan Krotz, 486-4019
Paul Preuss, 486-6249
Lynn Yarris, 486-5375

CONTRIBUTING WRITERS
Ucilia Wang, 495-2402
Allan Chen, 486-4210
David Gilbert, (925) 296-5643

DESIGN
Caitlin Youngquist, 486-4020
Creative Services Office

Berkeley Lab
Communications Department
MS 65, One Cyclotron Road, Berkeley CA 94720
(510) 486-5771
Fax: (510) 486-6641

Berkeley Lab is managed by the University of California for the U.S. Department of Energy.

Flea Market is now online at www.lbl.gov/fleamarket