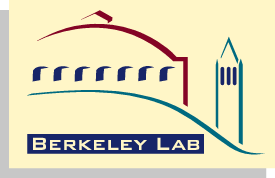 Berkeley Lab Currents
May 3, 1996

The Laboratory's Center for Science and Engineering Education is hosting 16 undergraduate research interns this spring at labs on the Hill and on campus. The Science and Engineering Research Semester (SERS) Program is funded at DOE national labs to provide students with an individual research experience with a mentoring scientist and a wide range of activities associated with the Lab and surrounding areas.

As a culminating activity, the interns will present their research accomplishments in talks scheduled for Friday, May 10, Tuesday, May 14, and Wednesday, May 15, in the Bldg. 50 auditorium. All employees are invited to attend. CSEE expresses its appreciation to everyone who contributed to the success of the program.

Publishing a report or brochure? Need to print high-quality documents in a hurry? TEID Printing Services operates a state-of-the-art, on-line duplicating facility that provides high-quality printing at a reasonable cost in a minimal amount of time. Skilled in-house staff can help you prepare and publish reports, newsletters, manuals, posters, and other materials, on time and with a professional look using the Xerox Docutech publishing system.

The Docutech is a high-powered copy machine that can receive documents over the network or scan originals to produce first-generation, high-quality prints every time. An internal monitoring system keeps quality at its highest. The Docutech can scan hard copy at 23 pages per minute with extremely high resolution (600 dpi). It can store jobs in memory, allowing the document to be edited in a number of ways. The operator can call up individual pages for editing, cut or rearrange items, and rescan or reposition photos.

The Docutech can also combine digitally produced documents with hard-copy images, graphics, and photos. With three paper trays, the machine has the versatility to print and assemble documents with covers and tabs in one simple process. All of this is done at 135 copies per minute (most copiers run 70-100 copies per minute).

The system produces documents in three paper sizes (8-1/2 x 11, 8-1/2 x 14, and 11 x 17), and can bind documents with staples or tape. TEID offers additional bindery services, including spiral or velo binding, folding, shrink-wrap packaging, and labeling.

The service is available at competitive cost, and TEID guarantees the quality of the work. The staff will work within your time constraints to meet tight deadlines.

For more information about what the Docutech can do for you, contact Faye Jobes in TEID at X6787.

CAPTION: Docutech operator Mike Muller with the Xerox publishing system that TEID relies on to produce reports, newsletters, manuals, posters, and other materials with fast turn-around and guaranteed quality. Photo by Joe Moore

By Julie Blickle
The Laboratory's contract with Citicorps Diners is ending. The new contract for corporate travel charge cards is with First Bank Visa. Employees who expect to travel at least once a year on official business are eligible to receive a Visa card. Cardholders are responsible for charges to their individual accounts. Air tickets will continue to be centrally billed to the Laboratory Visa account through Sato Travel.
Program highlights
Acceptability--Visa is the most widely accepted charge card on the market today. It is accepted at more than 11 million merchants worldwide. Travelers will no longer need to carry cash for expenses such as gasoline, reasonably priced restaurants and most parking facilities.
Cash access--Cardholders may obtain cash at more than 375,000 locations worldwide. Most travelers will have access to $1,500 cash during a billing cycle. This is a lower figure than with Diners, but the increased acceptability of Visa has proven the lower amount to be adequate. Travelers with special cash needs will be accommodated.
Rental car Insurance--Visa provides full primary loss/damage coverage for rental cards when the rental is charged to Visa. (The insurance offered at the rental counter must be denied.)
No fee on second bill--The Visa corporate card is different from an individual Visa credit card. Balances are due in full each month; however, as with the Diners card, no additional fees will be charged until the third billing cycle.
How to obtain a card--Employees who travel and have not received an e-mail message about the Visa card should contact their division travel coordinator or the CFO/Travel Office (X6261) to receive an application. Employees should destroy their corporate Diners card once they have received the Visa card.
Presentations--Representatives from First Bank will make a presentation to support staff involved with Travel from 10 to 11:30 a.m. on Thursday, May 9, in the Bldg. 50 auditorium. A second presentation, specifically for travelers, will be held 10-11:30 a.m. Thursday, May 16, in the Bldg. 66 auditorium.

Martha Krebs, head of Energy Research, has asked the Fusion Energy Advisory Committee to advise her on how the non-defense effort in inertial confinement fusion should be changed to reflect DOE's new emphasis on basic fusion science. Krebs is particularly interested in feedback on the heavy-ion "driver" program. This program, which has been spearheaded by the Accelerator and Fusion Research Division here at Berkeley Lab, was rated by DOE as the most promising candidate for the production of inertial fusion energy. However, the goal of the program was to provide a demonstration power plant. Reduced funding and pressure from Congress have forced DOE to refocus its fusion effort on basic science. "Is there enough science in the technology development (of inertial fusion) to justify it in a program that is being revised to become fusion science?" Krebs posed to FEAC. Though shutting down the program could be the result of this exercise, Krebs says that is not her objective. She has asked for FEAC's recommendations by July. As of this writing, the so-called Dome fire that has burned more than 16,600 acres of forest in the mountains around Los Alamos National Laboratory in New Mexico has been contained and no longer poses a threat to the laboratory. The huge forest fire, which was apparently started by a campfire, at one point moved within two miles of LANL and sent smoke over the facilities, but never reached laboratory property. The Keck II, the world's second segmented mirror telescope and identical twin to Keck I, will be dedicated next Wednesday, May 8, at its site atop the dormant Mauna Kea volcano on the island of Hawaii. The Keck twins are the two largest optical telescopes in the world, each with a segmented light-collecting mirror measuring 10 meters in diameter. Operating in unison, they will provide the resolution of a 90-meter telescope. The unique segmented mirror that is the hallmark of the Keck twins was invented here at Berkeley Lab. After a year-long review, a National Science Foundation advisory committee has concluded that NSF has helped create an imbalance between research and teaching on most college campuses by promoting specialized research careers. What is needed, the committee says, is for NSF to "send the message" that what scientists do in the class-room is as important as what they do in the lab. A select network of approximately 100 research-intensive universities receive NSF grants. What this means, the advisory committee said, is that 65 percent of all undergrads in the nation, including some who will become teachers, attend schools that receive no NSF research grants. Consequently, these students are left "homeless" in a world of growing technical complexity. Furthermore, in the schools that do receive NSF money, the rewards have been for good science with little consideration given to good teaching, especially for undergraduate education. To redress this imbalance, the committee is recommending that NSF shift more of its resources into undergraduate programs that focus on teaching.

CAPTION: The Lab played host to two special events last Thursday--Bring Your Daughters to Work Day, and the Black Inventions Museum. Above, CSEE's Marva Wilkins greets an auditorium full of girls--and boys--who took a day off school to experience a day in the life of the Lab. After starting with a morning assembly in which they were greeted by Director Charles Shank and others, they broke into groups to tackle a little hands-on research. After lunch, they made more rounds before ending the day with an ice cream social. The event was coordinated by the Center for Science and Engineering Education. Many employees gave of their time to make the day a success.
Part of the day's curriculum was a visit to the Black Inventions Museum (right), which was set up for the day in Bldg. 2. The Los Angeles-based traveling display, sponsored at the Lab by the Work Force Diversity Office and the African American Employee Association, highlighted numerous African American inventors and their inventions, from early civilizations to the present. Many of the inventions are items in use every day. A big hit? The Super Soaker water gun. Photos by Joe Moore

The LBNL Bowling League will hold its annual banquet on Saturday, May 11. The event is open to all Berkeley Lab employees, spouses and guests. Boarding will begin at 6:30 p.m., with departure from Mariner Square in Alameda at 7 p.m. and return at 11 p.m. The cost is $55 per person, plus no-host bar.

For more information or to reserve a spot on this fun cruise, contact Cynthia Long at X6672, or Ed Masuoka at X5337.

Jose G. Lopez of the Center for Science and Engineering Education, and most recently of the Contracts and Licensing Office, died of complications from AIDS on April 22. He was 39.

Lopez joined the Lab and CSEE in 1993 as a program assistant for the Science Consortium, a partnership involving the Lab, Jackson State University in Mississippi and Anna G. Mendez University in Puerto Rico. Colleague Eileen Kraskouskas said Jose's impact was felt throughout the department.

"He was a wonderful addition to CSEE and to the Science Consortium," Kraskouskas said. "He helped everyone, and was always very generous with his time and his skills." She said his Spanish language skills in particular were an asset in the Lab's interactions with the Puerto Rican school.

In addition to his work at the Lab, Lopez was an artist. Diagnosed with HIV four years ago, he learned to channel emotions about his illness into vibrant art. He has had paintings on exhibit in two locations in Berkeley--at Alta Bates Medical Center, and in "Lifelines," an exhibit at the Nexus Gallery on 8th Street. Both exhibits featured artwork from HIV-positive artists.

Lopez, who talked about his artwork in a recent interview with Currents writer Mike Wooldridge, said he was inspired to start painting after viewing a "Lifelines" exhibit in 1993, a few months after he learned he had HIV.

"Painting has been a good outlet for the emotions I've felt inside about the illness," he said. Early on, the emotions gave rise to many small paintings--abstract bursts of color that represented the anger he felt about HIV. Eventually his paintings became larger--his last was 5 feet by 5 feet--and more peaceful. "I've been able to move away from the anger and focus more on living with the illness," Lopez said. The painting helped to alleviate the pain.

Lopez was a ceramist for 10 years in New Orleans before moving to the Bay Area. He said his past work with pottery influenced his painting style; his experience working with colors and clay translated into some of the styles he used on the canvas. In the last three years he finished more than 50 acrylic paintings.

He said all of his artwork has a relationship to HIV. A recurring symbol is the cross, which Lopez said he used to represent being positive--both in a medical sense and in his attitude toward living with the disease. "But I'm reluctant to place explicit meaning in a lot of the symbols," he said, "because I like to give people a chance to search out their own interpretations."

A number of his paintings were on exhibit for the memorial service, which was held Friday, April 26, at Newman Hall in Berkeley.

Lopez is survived by life partner Brennan Kreller, parents Rodolfo and Alicia Lopez, brothers Juan and Raul, and six nieces and nephews.

Memorial gifts may be sent to the East Bay AIDS Center, the Mexican-American Legal Defense and Educational Fund, or your local SPCA. Please contact Kreller at X6566 for addresses.

CAPTION: Jose Lopez, who died last week, posed last year at an exhibit of his HIV-inspired paintings. Photo by Mike Wooldridge

ICSD's Computing Services, which recently purchased a site license for Netscape, has set up a system for all employees to acquire the software, which provides access to the World Wide Web.

Those PC and Macintosh users who already have a Web browser can upgrade to Netscape 2.01 by downloading it from a server here at the lab (see instructions below). Others who have never accessed the World Wide Web from their computer should run through the following checklist and then download Netscape.

To run Netscape, your Macintosh or PC first must be connected to the Laboratory's internal network, known as LBLnet. If you currently can run AppleShare, NCSA Telnet, or connect to Unix, then you are already wired to LBLnet. Those who are not connected or who are unsure can contact LBLnet Operations at X4559 to have their Macintosh or PC physically connected to LBLnet.

Network software also must be installed on your computer. Again, if you currently can run AppleShare, NCSA Telnet, or connect to Unix, then you already have the network software. Those that don't should contact the Macintosh-PC Support Group via e-mail at [email protected] or X6858.

Once your computer is wired to the net and set up with network software, you can download Netscape.

Macintosh users should use Chooser to connect to the Lab's AppleShare network. Then choose the WKSG Server and connect as a guest. Select the "Public Access" directory and after the Public Access folder appears on your desktop, open it and select the "Web Browser and Tools" folder. From that folder, drag the Netscape 2.01 Installer icon over to your desktop, which will download it onto your computer. Likewise, drag the Helper Applications folder onto your desktop.

When these downloads are complete, drag the Public Access folder into the trash, disconnecting from the WKSG Server. Then, install Netscape onto your computer by double-clicking on the Installer icon. Place the Helper Applications folder inside the Netscape folder on your hard drive.

PC users may acquire a copy of Netscape by using the network to connect to the ICSD_NOV1/SYS server (for help, contact the Macintosh-PC Support Group). Once connected to this server, choose the dosapps directory and then choose the Netscape folder. Inside the Netscape folder, select either the WIN95 or WIN31 folder, choosing the folder that corresponds to the windows operating system on your PC. Then, open the folder and copy the Netscape software onto your computer's C:\temp directory.

This single file actually contains an archive of compressed Netscape files. This "self-extracting archive," which is named either N32e201.exe or N16e201.exe, can be opened from within File Manager by double-clicking on it. After that, the basic installation of Netscape has been completed, but you will still need to set various preferences within the Netscape application once you have booted it.

For help with any stage of downloading and installing Netscape, contact the Macintosh-PC Support Group.


The Berkeley Lab Calendar is published biweekly here on the World Wide Web and in Currents by the Public Information Department. Employees can list a meeting, class, or event in the Calendar by using this submission form. The deadline for submissions is 5 p.m. on Monday in the week that Currents is published.

In addition to the events listed below, Berkeley Lab's Washington, D.C. Projects office is hosting a Science and Technology Seminars series.

Scientific Conferences

EH&S CLASS
Basic Electrical Hazard Awareness-Researchers (EHS 260), 9:30-11:30 a.m., Bldg. 51-201
SPECIAL CENTER FOR BEAM PHYSICS SEMINAR
"Coherent Radiation from Short Bunches in Storage Ring" will be presented by Sam Krinsky of BNL at 2 p.m. in the Bldg. 71 conference room.
THEORETICAL PHYSICS SEMINAR
Joseph Polchinski of ITP, UCSB will speak at 2:30 p.m. in Bldg. 50B-4205, title to be announced.
DEPARTMENT OF NUCLEAR ENGINEERING COLLOQUIUM
"Inertial Fusion Energy: A Clearer View of the Safety and Environmental Perspectives" will be presented by Jeff Latowski of UCB at 3:30 p.m. in 3105 Etcheverry; refreshments, 3:15 p.m.
PHYSICS DEPARTMENT COLLOQUIUM
"Single Molecule Flashlights: A Spectroscopic Yard-stick for DNA" will be presented by Shimon Weiss of LBNL at 4:30 p.m. in 1 Le Conte Hall; refreshments 4 p.m., 375 Le Conte.
LBNL SOFTBALL LEAGUE
Manager's meeting at noon in the lower cafeteria
EH&S CLASSES
First Aid (EHS 116), 8 a.m.-noon, Bldg. 48-109
Lockout/Tagout Training (EHS 256), 9:30-11:30 a.m., Bldg. 51-201
Compressed Gas Safety (EHS 231), 1:30-2:30 p.m., Bldg. 51-201
EMPLOYEE MUSIC CLUB
General meeting at noon
in the lower level cafeteria.
TOASTMASTERS'
Officer's meeting at 12:10 p.m. in Bldg. 2-100
SHOEMOBILE
7:30 a.m. - 4:30 p.m., near Bldg. 77
TRAVEL PRESENTATION
Representatives from First Bank will discuss the Lab's change to Visa cards for travel (see article on page 2) from 10 to 11:30 a.m. in the Bldg. 50 auditorium. This meeting is for support staff involved with Travel.
AFRICAN AMERICAN EMPLOYEES ASSOCIATION
General meeting at noon in Bldg. 90-1099.
SURFACE SCIENCE AND CATALYSIS SEMINAR
"Template-Directed Crystal Growth Using Biomolecular Membranes" will be presented by Deborah Charych of LBNL at 1:30 p.m. in the Bldg. 66 Auditorium.
PHYSICS DIVISION RESEARCH PROGRESS MEETING
"The First Extrasolar Planets" will be presented by Geoff Marcy of UCB/SFSU at 4 p.m. in Bldg. 50A-5132; refreshments, 3:40 p.m.
WELLS FARGO VISIT
Representatives from Wells Fargo Bank will be in the cafeteria lobby from 10 a.m. to 2 p.m. to discuss the bank's services and operation of the ATM with employees.
CENTER FOR BEAM PHYSICS SEMINAR
"Generation of High-Intensity Half-Cycle Electromagnetic Pulses" will be presented by Edward Budiarto of UCB at 10:30 a.m. in the Bldg. 71 conference room.
BODYWORKS
General meeting at noon in the lower cafeteria
STRING THEORY SEMINAR
"Macroscopic and Microscopic Entropy of Black Holes" will be presented by David Lowe of UCSB at 2:10 p.m. in 430 Birge Hall.
LIFE SCIENCES DIVISION SEMINAR
"Apolipoprotein E and Atherosclerosis" will be presented by Linda Curtiss of the Research Institute Scripps Clinic at 4 p.m. in Bldg. 66-316.
EH&S CLASSES
Introduction to EH&S at LBNL (EHS 010), 9-11:30 a.m., Bldg. 51-201
Laser Safety (EHS 280), 1-3:30 p.m., Bldg. 51-201
TRAVEL PRESENTATION
A meeting about the Lab's change to Visa cards for travel (see article on page 2) will be held from 10 to 11:30 a.m. in the Bldg. 66 auditorium. This meeting is specifically for Lab travelers.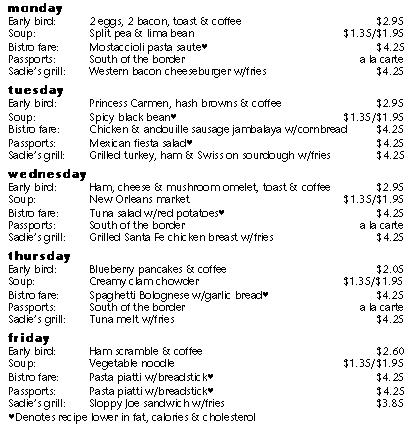 Flea Market ads may be sent via e-mail to [email protected], Fax to X6641, or Lab mail to Bldg. 65B. The deadline is 5 p.m. Friday.

7 PLYMOUTH wgn, 4-dr, a/t, a/c, AM/FM, 73K orig. mi., well maintained, runs great, new battery & tire, $950/b.o. Xiao, X5315, 549-9426 (msg.)

'84 TOYOTA p/u, 5-spd, long bed, new clutch, runs well, $2250. Margo or Deniz, X6280, (415) 871-4450

'85 ISUZU Trooper, 108K mi., 4WD, a/c, p/s, AM/FM cass. stereo, $3300. Bill, X6693, 601-1404

'85 SAAB 900, 4-dr, 106K mi., exc. cond., 5-spd, CD, new tires, $4K. Pat, 874-7877 (day), 568-6386 (eve.)

'86 VOLVO DL, tan, p/s, p/b, a/t, a/c, AM/FM stereo, exc. cond., $3600/b.o. John, X4631

'91 VW Jetta Carat, white, 60K mi., 5-spd, a/c, p/s, p/b, pwr windows & locks, sunrf, cass., $8700. 845-3344

'92 TOYOTA Tercel, blue, 2-dr, 4-spd, AM/FM cass., 40K mi., exc. cond., perfect Toyota maintenance records, $6K. Anabella, X4368, 528-5341

TRAILER HITCH, class 3, for Ford Aerostar, like new, $150. 778-7133

CARPOOL, drivers wanted from Modesto to Berkeley BART or LBNL. Yvonne, X5792

VANPOOL, two riders looking for ride from Modesto to Berkeley BART or LBNL. Yvonne, X5792

VANPOOL, riders wanted from Rohnert Park - stopping at Petaluma and Novato - ending at Berkeley BART, Commuter Checks accepted. Shirley, X4521

BUBBLING BROWN SUGAR, Sat., 5/11, 8 p.m., Black Repertory Theater, Berkeley, $10 ea. Camelia, X6986, X4638, Bea, 568-6023 CHILD'S BICYCLE w/training wheels, sm., suitable for a 4-yr. old boy. Peter, X5796, 525-2135 ARMOIRE, Pulaski reproduction, solid oak, 4' x 6', beautiful cond., $500; color TV, 12", gd cond., $75; stereo receiver, Pioneer SX1010, 100 amp., gd cond., $150; speakers, Yamaha, very heavy, exc. cond., $400/pr.; CD player, Sony 491, remote, exc. cond., $75; portable pet carriers, airline type, 1 med. & 1 lg., $15 & $20. 778-7133

BED, authentic Chinese teak wood, w/marble inlaid, back & side panels, 49"D X 77"W X 21"/52" H, gd cond., $750/b.o. 222-2677

COMFORTER SETS (2), children's, twin sz., very gd cond., light blue w/polka dots & teddy bears, incl. pillow sham, sheets, pillow case, blanket, drapes & throw; Little Mermaid comforter, incl. 3 pillow shams, sheets, pillow case, blanket & drapes, $25 ea. set. Sandra, X4503

FUTON, queen sz., hard wood frame, couch, almost new, $170; sofa, 3-cushions, 3 yrs. old, exc. cond., bought ~$600, sell for $300. Song, 525-4594 (eve.)

JACUZZI, neo angle, health spa w/faucets, best offer. Deniz or Margo, X6280, (415) 871-4450

MOVING SALE, bike, $100; desk, $60; desk lamp, $25; heater, $60. 845-3344

MTB BIKE PARTS, Mag-20 suspension fork, 1-1/4 dia., 15 cm threaded, Tange Evolution fork, 1-1/4 dia. 16 cm threaded; Control Tech Aluminum alloy seat post, 1-1/4 dia., best offer. Tim, X5304

SOFA, approx. 1940s vintage, brownish mixed color fabric, 3 cushions, rounded arms, gd cond., $150/b.o. Steve, X6941, 841-9709

BERKELEY, rm for rent in 2-bdrm apt, nr Channing & Grant, avail. mid-May, $305/mo.+util. 848-8909

BERKELEY, nr Oxford/Cedar, furn. 1 & 2 bdrms apts, summer rentals, $775-$1100/mo. 524-8122

BERKELEY, 3-bdrm, 2-bth upper unit of 6 yr. old duplex, nr downtown, refrig., dishwasher, washer/dryer, Jacuzzi bth, deck, 2 frpls, w-w carpets, 1 yr. lease, avail. 6/1, $1700/mo. David, 525-4470

BERKELEY HILLS, avail. 6/14 - 8/14, furn. & equipped, 5+bdrm, 3-bth home, grand piano, backyd, 2 cats, $1800/mo., $1K dep. Alex, X6097, 642-1220 (msg./day), 525-2095 (eve.)

CANYON, handcrafted artists' home, 1 lg. bdrm, 2nd sleeping area, plus 2 bdrm, 1 bth in adjacent cabin, all appliances, redwood setting nr excellent K-8 pub. sch., 20 min. fr. LBNL, avail. 6 mo. starting 6/1, $1500/mo. 376-3543.

CASTRO VALLEY, 2 bdrms avail. in home, 1 w/pvt. bth, laundry & kitchen privs., short/long term, rent negot. Marek, X5029, 582-5867

EL CERRITO, furn. 3-bdrm, 2-bth house, avail. July & Aug., hot tub, #72 bus to downtown Berkeley, BART 1 mi., $1250/mo. incl. utils, telephone calls extra, use of auto negot. 237-4654

KENSINGTON, glass house w/views, verdant setting, share w/professional woman & exuberant Labrador, pvt. courtyd, entrance, bth & lg. bdrm, workshop space avail., off-st. parking, $500/mo.+1/2 of utils. 528-3575

GENEVA, SWITZERLAND, furn. 6-rm apt avail. for 1 yr. beginning Aug. or Sept., downtown, new bldg., sunny lg. balcony, parking, reasonably priced. [email protected]

WANTED: housing for 2 students from Germany, 8/11-10/27, $800/mo. max. Lucy, 549-9381, [email protected]

WANTED: housing for English profs for July and/or Aug., perhaps trade Manhattan, upper west side, brownstone co-op. Jeff, (212) 424-1221, (212) 874-6717 (FAX)

WANTED: housing from 6/16 thru 8/15, non-smoker, enjoy taking care of plants, cats & other living creatures. Gertraude, (808) 395-0825, [email protected]

WANTED: 1-bdrm apt within walking distance of UCB for distinguished mathematician who will be spending the fall semester at LBNL & UCB, exc. local refs. X5121, X5369

WANTED: house for visiting French scientist w/3 children, 6/20 thru Aug., animals welcome, could exchange 4-bdrm, 2-bth apt & car (Volvo 740) in cent. Paris. 33 1 43389440 (msg.), [email protected]

WANTED: 1-bdrm apt for 1 mo. starting 8/17, sublet or rent, prefer nr UCB. Luanne, X5853

WANTED: house mid-June thru July for visiting French scientists. Fred, X4892

PLATFORM BED, king sz., solid wood frame w/bookcase headboard. Mark, X6781, 524-5234

Currents/The View and the Communications Department Staff
Published once a month by the Communications Department for the employees and retirees of Berkeley Lab.

Reid Edwards, Public Affairs Department head
Ron Kolb, Communications Department head

EDITOR
Pamela Patterson, 486-4045, [email protected]
Associate editor
Lyn Hunter, 486-4698, [email protected]

STAFF WRITERS
Dan Krotz, 486-4019
Paul Preuss, 486-6249
Lynn Yarris, 486-5375

CONTRIBUTING WRITERS
Ucilia Wang, 495-2402
Allan Chen, 486-4210
David Gilbert, (925) 296-5643

DESIGN
Caitlin Youngquist, 486-4020
Creative Services Office

Berkeley Lab
Communications Department
MS 65, One Cyclotron Road, Berkeley CA 94720
(510) 486-5771
Fax: (510) 486-6641

Berkeley Lab is managed by the University of California for the U.S. Department of Energy.

Flea Market is now online at www.lbl.gov/fleamarket