May 19, 2000
---
By Monica Friedlander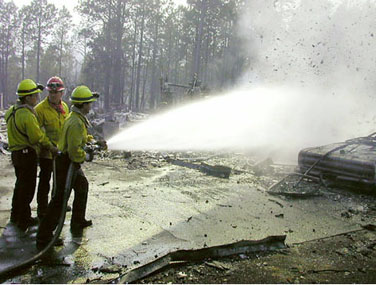 Los Alamos fire fighters continue to battle smoldering fires in a residential area of the city.
The destructive power of raging wildfires is no stranger to Berkeley residents. Back in 1991 the East Bay hills were scorched by a firestorm similar to the one that swept through northern New Mexico last week, devastating the city of Los Alamos, which houses the Los Alamos National Laboratory (LANL). The Cerro Grande fires, the largest in New Mexico history, have gutted 48,000 acres so far, forced 25,000 people to flee the city, temporarily closed the laboratory, and consumed hundreds of homes -- including those of more than 200 lab employees.
Haunting memories of the 1991 disaster in the East Bay only reinforce the natural empathy many Berkeley Lab employees feel toward their counterparts in Los Alamos. As the news of the disaster spread, many employees here wanted to help, and reaction from Lab and UC officials was swift.
"Our hearts go out to our colleagues, their families, and friends who have lost homes in the fire at Los Alamos," said Director Charles Shank last week. "Berkeley Lab is coordinating potential employee requests to offer relief through the University of California Office of the President."
By last weekend the University, which manages LANL for the Department of Energy, had already taken a number of key steps, including the funding of personal loans for fire victims and the establishment of a special fund -- the UC Northern New Mexico Fire Relief Fund -- with seed money from UC of $150,000. Anyone wishing to donate to the fund may direct their contributions to the Los Alamos National Bank, P. O. Box 60, Los Alamos, NM 87544. Checks should be made out to the UC Northern New Mexico Fire Relief Fund, account number 96358501.
The Red Cross has established its own New Mexico Wildland Fire Relief Effort, which may be contacted at (800) 435-7669 or on the web at http://redcross.org/.
Fortunately nobody was injured in the firestorm, and the lab and city of Los Alamos are no longer in danger. The laboratory, however, which lies 70 miles north of Albuquerque and employs 7,000 people, remains closed, with plans in place for a gradual reopening pending building-by-building safety checks. The wildfire is about 50 percent contained, but firefighters continue to battle smoldering fires which are expected to continue for weeks.
According to LANL and UC officials, the laboratory's major work facilities sustained no damage, although the disaster had one big casualty: The complex of historic buildings that housed the Manhattan Project during World War II was consumed by the fire, with only one of its buildings left standing.
Some trailers and portable buildings also burned, but the facilities that house dangerous materials were never in danger, according to lab, UC and DOE spokespeople. On Saturday reporters were taken on an extensive tour of the laboratory to allay fears of health threats from the plutonium facilities. The areas that caused the greatest concern, officials said, were untouched by flames and are buried safely in locked vaults under heavily reinforced concrete.
Measurements from LANL air monitoring stations and from DOE Radiological Assistance Program teams also show no unusual level of radioactivity.
"I want to stress that all our nuclear materials are safe," said Energy Secretary Bill Richardson on May 11 at a news conference at the Los Alamos Municipal Airport. "LANL and Sandia National Lab officials are closely monitoring any radiological leaks, and so far no such leaks have been reported."
Richardson pledged that the federal government will do everything in its power to help people get back on their feet. "This community helped us win the Cold War. We should stand behind it," he said.
More information on the fire and relief efforts can be found on a special web page set up by the UC Office of the President at http://labs.ucop.edu/internet/news/losalamosfire.html. The site includes links to the Albuquerque Journal, 2 television stations, Los Alamos County, and UC Benefits.
UC Northern New Mexico Fire Relief Fund
Contributions may be sent to:
Los Alamos National Bank
P. O. Box 60
Los Alamos, NM 87544
Account # 96358501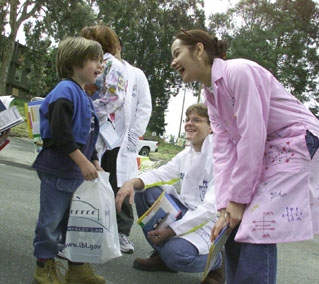 Dayna Martinez, a student from the University of Turabo in Puerto Rico who worked in Earth Sciences, made friends with a young visitor during Berkeley Lab's Open House on Saturday, May 6. Kneeling is Jesse Jur, a student from the University of South Carolina who worked in Nuclear Science. Both of them will return to the Lab this summer. And we hope so will the budding young scientist ... a few years down the road. Turn to Pages 4 and 5 for coverage of Open House 2000. Photo by Roy Kaltschmidt

By Lynn Yarris

Currents pays tribute today to the passing of Cornelius Tobias and Klaus Halbach, two prominent scientific figures in the history of this Laboratory. Said Berkeley Lab Director Charles Shank, "The Laboratory mourns the passing of two of its most distinguished scientific leaders. Klaus Halbach made possible the third generation light source. He was revered for his vast knowledge of accelerators and magnetism. Cornelius Tobias was a pioneer in understanding radiation effects in biology and has broadly contributed to a variety of fields. The unique contributions of both individuals have helped make the Lab what it is today. We will not forget them."

International expert on magnet design and accelerator physics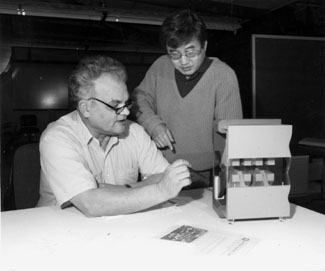 Klaus Halbach shown in 1986 with Kwan-Je Kim discussing a model of an undulator Halback designed.
Klaus Halbach, a Berkeley Lab physicist with the Engineering Division, whose design and development of periodic permanent magnetic structures called "insertion devices" opened the doors for the Advanced Light Source and subsequent third-generation synchrotron radiation facilities, died on May 11 at his home in Berkeley following a long battle with prostate cancer. He was 75.
In 1995, a "Halbach Symposium on Magnet Technology" held at the ALS drew more than 100 participants from around the world. Two of the principal organizers of that symposium were Berkeley Lab's Brian Kincaid and Ross Schlueter.
"Klaus was instrumental in convincing me to leave Bell Labs in 1988 to come here to work on the ALS," said Kincaid. "In addition to having a major influence on accelerator physics worldwide, he was my friend, teacher and mentor for 18 years. I miss him."
Said Schlueter, "He exuded the enthusiasm of a little boy continually making new discoveries, and he relived his excitement each time he was able to bring a colleague to see the beauty and simplicity in his world of the conformally-transformed plane where he habitually thought and worked."
A native of Germany, Halbach received his Ph.D. in physics at the University of Basel in Switzerland and came to the United States in 1957 to work at Stanford University with the great nuclear magnetic resonance pioneer Felix Bloch. Following a short return to Switzerland to start a plasma physics group, he joined the plasma physics group at Berkeley Lab in 1960. His work in this field led him into accelerator design, and he was a major contributor to the Omnitron, a proposed synchrotron that would have accelerated nuclei of all 92 elements from hydrogen to uranium. Although never built, the Omnitron's design laid the groundwork for the Bevalac.
For all his success as an accelerator designer, Halbach is best known for his later work on magnetic systems for particle accelerators. He and Ron Holsin-ger, a Berkeley Lab engineer and later Halbach's son-in-law, created the famous POISSON package of computer codes for magnetic system design, still in use today. Halbach went on to become one of the world's premier designers and developers of permanent magnets for use as insertion devices -- wigglers and undulators -- in synchrotron light sources and free electron lasers.
Unlike electromagnets, Halbach's permanent magnet - steel hybrids required neither expensive electrical power nor space-consuming coils to produce powerful magnetic fields. Consequently, these magnets could be made small enough to fit inside the tight confines of an electron storage ring. Halbach also designed electromagnet dipole, quadrupole and sextupole magnets to bend and focus the ALS storage ring beam.
As a world authority on the design of magnetic systems, Halbach was a consultant to accelerator projects and synchrotron light sources around the world, including the Advanced Photon Source at Argonne and the Stanford Synchrotron Radiation Laboratory. All of the premier radiation sources within these machines depend upon the permanent magnet technology now known as the Halbach Array.
Although he officially retired from Berkeley Lab in 1991, Halbach continued to work on magnet design and trained numerous students in his field. He made contributions to such diverse projects as magnets for a miniature cyclotron that could be used for medical radioisotope production, magnets and low-friction magnetic bearings for an electromechanical battery, and the design of miniature permanent magnet NMR spectrometers for future Mars lander missions. The ALS now gives out an annual award to recognize excellence in instrumentation design and development called the Klaus Halbach Award.
Halbach is survived by his wife of 55 years, Ruth, daughter Terry, and three grandchildren. A memorial service will be held on June 28 at 3 p.m. in the Brazilian Room in Tilden Park.. Contributions may be made to the Kaiser Oakland Hospice Program, 280 West MacArthur Blvd, Oakland CA 94611, 510 596-6390.



A pioneer in space biology
Cornelius Tobias, a founding member of Berkeley Lab's Donner Laboratory and a renowned pioneer in studying the biological effects of cosmic rays and other ionizing radiation, died of cancer on May 2. The man affectionately known to his colleagues as "Toby" was 81.
"Toby was an institution all by himself," said Mina Bissell, head of Berkeley Lab's Life Sciences Division. "He had many faithful followers and students and was a charismatic leader and teacher."
Said long-time colleague Aloke Chatterjee, "Dr. Tobias was a man of great vision and full of ideas. In 10 minutes he could easily come up with 11 ideas and, astonishingly, most of them would work. His contributions in fundamental radiobiology, space radiation biology and cancer therapy with heavy ions have had major impacts throughout the world. He was a great teacher, a great leader and a great humanitarian."
Tobias' career at the Laboratory spanned more than 40 years. He started in 1942 and officially retired in 1987, but continued to be active in research at the Lab for the rest of the decade. In addition to his position with the Laboratory, he was also a professor of medical physics at UC Berkeley. Among the many honors he received during his career was the 1963 E.O. Lawrence Award.
Born in Budapest, Tobias came to UC Berkeley in 1939 as a Hungarian-American Fellowship recipient after earning his B.S. in physics at the Technical University in Budapest. He obtained his Ph.D. in nuclear physics from Cal in 1942 under Lab legends Emilio Segrè and Luis Alvarez, and became one of the first researchers to apply a physical sciences background to the study of biology and medicine. That was the year he teamed with John Lawrence to form Donner Laboratory which, with its proximity to the 60-inch cyclotron as a source of radioactive isotopes, became the birthplace of nuclear medicine. He became a U.S. citizen in 1948.
With his knowledge of nuclear science and isotopes, Tobias was a valuable member of the Donner group that began the use of radioisotope tracers to study biomedical conditions in humans.
The first of these tracers, carbon-11, was used to investigate, among other phenomena, how pilots developed the "bends" at high altitudes. Tobias also provided a mathematical framework for the analysis of tracer turnover in the human body which led to the discovery that inert xenon gas, under sub-atmospheric pressures, can be an effective anesthetic.
Tobias was best-known for his radiobiology studies of high linear energy transfer (LET) radiation, and in the application of high LET radiation to cancer research and therapy. Perhaps his most famous work started as a series of experiments conducted in 1970 at the 184-Inch Cyclotron to explain the mystery behind the peculiar flashes and streaks of light reported by Edwin Aldrin and the other Apollo-11 astronauts after their 1969 moon mission.
Donning a special black hood, Tobias exposed his own eyes to a variety of low-dose beams and saw the same display of lights. A report by he and colleagues John Lyman and Tom Budinger attributed the visual effects to helium ions (alpha-particles) and high-energy neutrons colliding with atoms in the eyes. They subsequently identified the source of the lights witnessed by the astronauts as cosmic rays, a phenomenon that Tobias had predicted nearly 20 years earlier.
Tobias would continue these and other experiments in space biology on the Bevatron which was capable of producing artificial cosmic rays through the acceleration of nitrogen ions to billions of electron volts of energy. He would eventually help develop much of the technology required to conduct biophysical experiments with particle beams, and became a leader in the use of heavy ion beams for the treatment of certain deadly cancers which could not be treated through conventional surgery.
Said another long-time colleague and close friend, Eleanor Blakely, "Professor Tobias' legacy is the large number of individuals worldwide to whom he imparted scientific curiosity for peaceful applications of radiation sciences. He was a man of high integrity, and many will miss him."
Tobias is survived by his son, Martin, his daughter, Eve Lippold, and two grandchildren, Julie Stier and Karen Lippold. His wife of 55 years, Ida, died in 1998. A private service was held for him in Eugene, Oregon on May 6. Those wishing to make a donation in Tobias' name should contact the Alzheimer's Association.
Cornelius Tobias donned a black hood to keep out the light before exposing his eyes to a beam of fast neutrons in a 1970 experiment at the 184 Inch Cyclotron. Helping to position Toby in the beamline are John Lyman (left) and Ralph Thomas.

National Missile Defense Won't Work Says Union of Concerned Scientists Panel
Former Lab Director Andy Sessler chairs panel
The Union of Concerned Scientists (UCS) has released a report that says the proposed National Missile Defense (NMD) system would be defeated by simple responses from states newly armed with missiles. The report also says that the current NMD testing program is incapable of assessing the system's effectiveness against a real attack.
Andy Sessler, former Berkeley Lab director and past president of the American Physical Society, chaired the panel of 11 independent senior physicists and engineers who prepared the report.
"This so-called national missile defense system won't do the job," Sessler said. "The United States should shelve its NMD plans and rethink its options for countering missile threats."
The NMD system is intended to defend the U.S. against attacks by a limited number of ICBMs armed with nuclear, chemical or biological weapons. The Clinton Administration is scheduled to decide on deployment this fall. NMD tests against realistic targets are not planned before the first phase of deployment in 2005, if they are to be conducted at all.
"Since we find that even the full NMD system would be defeated by realistic countermeasures, it makes no sense to begin deployment," says Sessler. "A defense that doesn't work is no defense at all."
Such countermeasures include the use of missile warheads that can be divided into many small, releasable bomblets that would overwhelm the NMD with too many targets, or the hiding of nuclear warheads inside mylar balloons and releasing many empty balloons along with them, again overwhelming the defense with too many targets.
"Although it is appropriate for the United States to continue basic research and development of technologies for defenses against long-range missiles," Sessler says, "the current NMD program should be shelved as unworkable."
The UCS report on NMD is entitled "Countermeasure: A Technical Evaluation of the Operational Effectiveness of the Planned US National Missile Defense System," and it can be viewed, along with an animation that shows how bomblets and balloons could confuse the NMD system, at www.ucsusa.org/arms/.
--Lynn Yarris

By David Gilbert
Three young Berkeley Lab affiliated researchers are among the latest crop of 48 scientists selected through a national competition to be appointed as Howard Hughes Medical Institute (HHMI) investigators. Adam Arkin and Carolyn Bertozzi of the Physical Biosciences Division and Eva Nogales of the Life Sciences Division are among those who will join the ranks of 305 HHMI investigators from across the United States.
Along with Carlos Bustamante, also of Physical Biosciences, they will bring the total number of HHMI investigators conducting research at UC Berkeley to nine. (See the April 7 issue of Currents for more on Bustamante's latest research.)





Adam Arkin

The new appointees will serve as assistant investigators in the rapidly growing field of computational biology, which spans areas such as genomics, cognitive neuroscience, and structural biology.

"I'm very proud to see the efforts of these young investigators rewarded with this coveted appointment," said Mina Bissell, director of the Lab's Life Sciences Division. "I think it speaks well of the Laboratory's efforts to foster, recruit and develop the very best talent in these rapidly emerging fields."





Carolyn Bertozzi

Arkin was initially recruited from Stanford to Berkeley Lab and holds an assistant professorship in bioengineering and chemistry at UC Berkeley. He has pioneered such initiatives as the Molecular Design Institute II and the Center for Integrated Physiome Analysis. His lab works on modeling the genetic and biochemical networks that govern cellular development, with an emphasis on developmental systems.

Bertozzi, an associate professor of chemistry at UC Berkeley, was tapped by Graham Fleming to head the Physical Biosciences Division's Chemical Biology Department, and serves as principal investigator for the Chemical Genomics Initiative. A recently-awarded MacArthur Fellow, Bertozzi has developed methods for tricking cells into expressing non-natural sugars on their surface, which can then be modified chemically to provide a tool for investigating and developing treatments for disease processes such as infection, inflammation and cancer.





Eva Nogales

Nogales came to Berkeley Lab in 1993 as a post-doctoral fellow with Ken Downing of the Life Sciences Division. She and her collaborators elucidated the structure of the critical cytoskeletal protein tubulin and the location of the taxol binding site. In addition to her position at Berkeley Lab, Nogales is a UC Berkeley assistant professor of biochemistry and molecular biology.

Founded by entrepreneur Howard Hughes in 1953, HHMI is the largest private philanthropy in the United States. (Its FY 1998 disbursements related to medical research, science education and other activities totaled $507 million.) Through its grants program, the Institute sponsors the largest private science education program in U.S. history and supports the research of outstanding biomedical scientists abroad as well.

Said HHMI president Thomas R. Cech, "We were looking for researchers who explore big questions and take risks -- people with that special quality that leads to scientific breakthroughs and medical advances. These new investigators are an incredibly talented group who have begun to make their mark on biomedical research."

Thanks to DOE sponsorship, 36 American graduate students, including Aaron Lindenberg, a UC Berkeley student working at the Advanced Light Source, will be going to Lindau, Germany for one week in June to attend the 50th anniversary meeting of Nobel laureates. They will be joining some 600 other grad students from Europe, Africa, Asia and North America to hear lectures and participate in daily discussions with 66 Nobel Prize winners.

Each year since 1951, Nobel Prize winners in chemistry, physics and medicine have met in Lindau to discuss issues of importance in their fields with students from around the world.

"The Department of Energy has supported the research of more Nobel laureates than any other organization, so we feel a special tie to this prestigious meeting," said Energy Secretary Bill Richardson. "Science is an increasingly international effort, so it is essential that our researchers who are just starting their scientific careers have opportunities to meet their counterparts and learn from those whose discoveries have profoundly affected all of our lives."

Grigory Barenblatt, a scientist in the Mathematics Department at Berkeley Lab and a professor of mathematics at UC Berkeley, was elected this week as a Foreign Member of the Royal Society of London, UK's national academy of science. Only six scientists in the world from all scientific disciplines are awarded this distinguished honor each year. The only other Lab scientist elected to the Society was the late Glenn Seaborg.

Barenblatt, also a member of the National Academy of Sciences, is recognized worldwide for his fundamental achievements in the area of fluid and solid mechanics. Last year he was named the first recipient of a new international prize in applied mathematics, the Maxwell Prize, established by the International Congress on Industrial and Applied Mathematics.

Barenblatt and Alexander Chorin's work on the effects of turbulence on solid objects has received much attention in recent years. Their calculations found that the long-standing "Law of the Wall" breaks down under high-speed turbulent conditions, causing theories of aerodynamics to be discarded or revised.

The admission ceremony will be held on July 14 and Barenblatt was invited to also give a seminar.

Berkeley Lab Currents
Published twice a month by the Public Information Department for the employees and retirees of Ernest Orlando Lawrence Berkeley National Laboratory. Ron Kolb, PID department head.

EDITOR: Monica Friedlander, (510) 495-2248, [email protected]
STAFF WRITERS: Paul Preuss, (510) 486-6249; Lynn Yarris, (510) 486-5375
CONTRIBUTING WRITERS: Jon Bashor, X5849; Allan Chen, X4210, Jeffery Kahn, X4019

FLEA MARKET / CALENDAR: 486-5771
[email protected] / [email protected]

Public Information Department, Berkeley Lab, MS 65A
One Cyclotron Road, Berkeley CA 94720
Tel: 510/486-5771 Fax: 510/486-6641


Berkeley Lab is managed by the University of California for the U.S. Department of Energy.

By Pamela Patterson
There were octogenarians and babies in arms, gaggles of schoolchildren and extended families. All in all, more than 4,000 visitors, undeterred by wind and rain, found their way up the Hill to participate in Berkeley Lab's May 6 Open House and Science Festival.
Hardy lab volunteers matched the visitors in force, braving chilly weather, complex logistics, and the occasional power shortage to enlighten visitors with their scientific demonstrations.
More than 100 research projects were showcased around the Hill, reflecting the breadth and depth of science here. This year's themes -- Exploring Particles and Matter, To Your Health, Home and Environment, and Exploring by Computer all proved to be big hits with visitors, with organizers reporting a steady stream of participants.
This year saw schoolchildren of every age turn out in force, thanks in part to dedicated Lab volunteers who visited local science classes in the months before the event, encouraging teachers to use Open House as part of their lesson plan. Upon arrival at the Welcome Tent children were given a "passport" to get stamped as they navigated their way through the exhibits, answering questions about the various demonstrations. By all accounts they liked what they saw.
"My father and I had a blast," wrote one young visitor, reviewing the day's event in a Lab survey. "Very cool!" said another.
Students from Bay Area schools submitted more than 500 colorful science posters, on display in the cafeteria, depicting the four Open House themes. Posters were judged by a group of Lab employees, and winners were awarded blue ribbons. All children were given awards for their contributions.
In the end, it was the lab employees and volunteers who donated their personal time and endless amounts of creative energy that made the day such a rousing success: from the glass blowers who entertained children at the family science tent to the volunteers who painstakingly explained how new elements were discovered at the 88-inch cyclotron. And there were Lab musicians playing throughout the rainy day, electricians making sure the exhibits stayed energized, carpenters and janitors, senior scientists and student assistants, lab technicians and bus drivers -- all making sure the events ran smoothly.
Hundreds of visitors took the time to fill out surveys at the end of their stay, and their comments reflected their enthusiasm for what they had seen.
"This was a great event, fascinating for adult and kid alike," one visitor wrote. "It was great to have the scientists on hand to talk about their labs," said another. And yet another said simply, "Wonderful people. I learned some science!"
That was exactly what Open House was meant to be all about.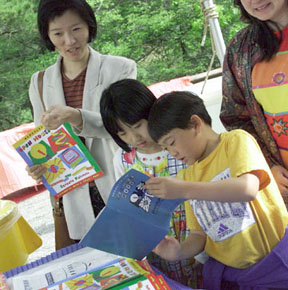 Two young visitors examine their science passports.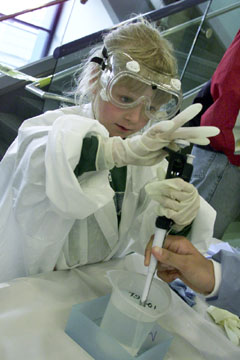 A future life scientist tackles an experiment, hoping to someday actually fill those gloves.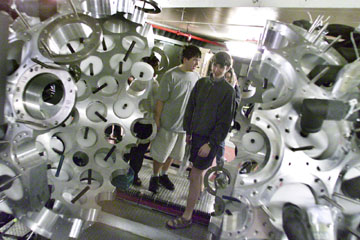 Teenagers walk through the Gammasphere at the 88-Inch Cyclotron.
All Photos by Roy Kaltschmidt
To view almost 600 of Roy Kaltschmidt Open House photos, look up the Photo Clients website at www-library.lbl.gov/teid/tmPhoto/clients/PhotoClients.htm.
For more information call X5731.

Lab Director Charles Shank and Berkely Mayor Shirley Dean honored several of the Bay Area's outstanding math and science teachers during a special award ceremony on the stage near the cafeteria. Dean praised Berkeley Lab for its work with many teachers to help advance science education in the classroom.

Left to right are Director Shank, teachers Robert Shallat, Jeff Sensabaugh, Kate Haber, John Sanders, Sandra Cavalieri, Deputy Manager of the Oakland Operations Office Marty Domigala, teacher Suzanne Evans, and Mayor Dean.

On Wednesday, May 24 the Panoche Water District will be hosting a field day at the UCB/ LBNL Algal-Bacterial Selenium Treatment Plant in the San Joaquin Valley, located approximately two and half hours from Berkeley Lab. About 100 visitors are expected from state and federal agencies, including the CALFED Bay-Delta program, which is funding the research. Everyone is welcome to attend.
Work at the treatment plant started in 1997 when Berkeley Lab was awarded a USBR Challenge Grant to develop a cost-effective means of removing selenium from agricultural drainage water. The project is run in conjunction with the Algae Research Laboratory.
To reach the site take Highway 205 east to Stockton, head south at the turnoff with I-5, then continue south for approximately one hour and take the Nees Avenue turnoff east towards Firebaugh. The Treatment Plant turnoff is approximately half a mile east of the intersection of Nees and Russell Avenues.
Fore more information call Nigel W.T. Quinn at X7056.
A representative from Fidelity Investments will be onsite every few weeks starting on June 2 to discuss retirement savings strategies and other related issues with Lab employees. The one-on-one sessions last about 45 minutes, and employees are encouraged to bring along their latest retirement plan statement and allow sufficient time for the consultation. To schedule an appointment call Fidelity at (800) 642-7131. For information about mutual funds ask Fidelity for a free prospectus when you call.
The 45-minute sessions will be scheduled between 9 a.m. and 4:30 p.m. on the following dates: June 2, June 16, July 14, July 28, Aug. 11, Aug. 25, Sept. 8, Sept. 22, Oct. 6, Oct. 20, Nov. 3, Nov. 17, and Dec. 1. They will be held in the Bldg. 65 conference room.
Fidelity Investments Tax-Exempt Services is a division of Fidelity Investments Institutional Services Company, Inc., in Boston.
A new session of the Weight Watchers at Work program is now underway, with meetings being held Fridays at noon in Bldg. 26, Room 109.
Employees may still join the program. For more information call Charlotte Bochra at X4268.
The Library is interested in learning more about employees' scientific journal preferences. A short survey can be found on the Library website at www-library.lbl.gov/Library/text/ftext/ejour.html.
This week UC Berkeley began a construction project on Centennial Drive by to the Botanical Garden to install utility lines under the road.
Centennial Drive will not be closed, but delays are expected as only one lane will be open on weekdays from 7 a.m. till 3 p.m. For more information contact construction superintendent John Sabados at 643-1523.
Life Sciences Babies
Life Sciences researchers Genevieve Nonet and David Knowles proudly introduce their new baby girl, Leda Anne Nonet Knowles. She was born on May 5 and weighed in at 6 lbs, 11oz.
And on May 13, a seven-pound baby boy, Toufiq Husain Sarker, was born at Alta Bates Hospital in Berkeley to Altaf Hossain Sarker and his wife Amira Jahan. Altaf is a postdoc in the Department of Cell and Molecular Biology.
Congratulations to them all.

General Interest Calendar

Memorial Day Holiday

Shoemobile
7:30 - 3:30, cafeteria parking lot

Tripmobile
11:30 - 12:40, cafeteria parking lot

Fidelity Retirement Sessions
Bldg. 65 conf rm., call (800) 642-7131 for appointment

Items for the calendars may be e-mailed to [email protected] lbl.gov, faxed to X6641, or mailed to Bldg. 65B. The deadline for the June 2 issue is 5 p.m. Monday, May 29.

FRI, MAY 19 Center For Beam Physics Seminar Series
"Ponderomotive Laser Acceleration and Focusing in Vacuum: Application for Attosecond Electron Bunches" will be presented by Gennady Stupakov of SLAC.
10:30 a.m., Bldg. 71 conference room
Refreshments served.

Surface Science and Catalysis Science Seminar
"Forming Functional Electrical Networks in 3D by Self-Assembly" will be presented by David Gracias of Harvard University.
10 a.m., Bldg. 66 auditorium

Center for Environmental Biotechnology
"Merging Chemistry and Biology on the Surfaces of Cells" will be presented by Carolyn Bertozzi of the Physical Biosciences Division.
12 p.m., Bldg. 50A-5132
Refreshments precede seminar

Physics Division Research Progress Meeting
"Neutrino Oscillation Physics at a Neutrino Factory" will be presented by Belen Gavela of Autonoma University, Madrid, Spain.
4 p.m., Bldg. 50A-5132
Refreshments at 3:40 p.m.

Center For Beam Physics Seminar Series
"A Synchrotron Storage Ring for Neutral Polar Molecules" will be presented by Harvey Gould of the Chemical Sciences Division.
10:30 a.m., Bldg. 71 conference room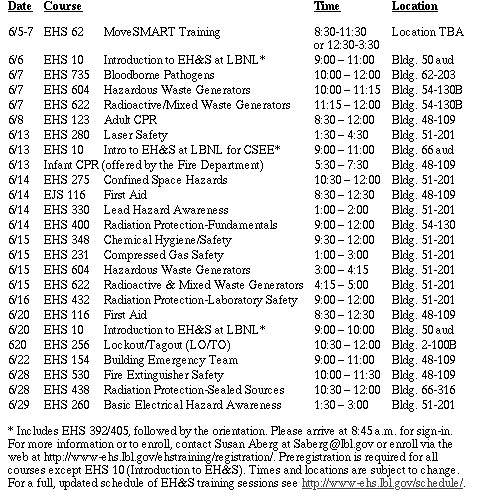 Berkeley Lab's Surplus Chemical Exchange Program offers unused chemicals to Lab employees for use in DOE-funded research projects. Upon request, technicians from the Hazardous Waste Handling Facility deliver the materials free of charge within two days. All chemical containers are sealed and have never been opened.

A complete list of chemicals can be found on the Lab's Waste Minimization website at www-ehs.lbl.gov/wastemin/chemicals.html. Some of the items available right now include:
Ammonium Persulfate (100 gm)
Bacto-Dextros (500 gm)
Bis-Tris (25 gm)
Calcium Hydride (100 gm)
CAPS (100 gm)
Deutered Dimethyl Sulfoxide (5 ml)
Dioctyl Phalate 99% (500 ml)
DL-Serine (100 gm)
EPPS (100 gm)
Ethylene Glycol (1 L)
Ferrocene (100 gm)
N-Acetyl-DL-Methinonine (250 gm)
N-n-Methylene Bis-Acrylamide (25 gm)
PIPES (25 gm)
Potassium Biiodate (50 gm)
Sodium Dichromate Dihydrate (500 gm)
Sodium Dithionite (1 lb)
Sodium Nitrate (1 lb)
Sodium Selenite 98% (10 gm)
Stearic Acid Calcium Salt (25 gm)
Stearic Acid Iron (III) Salt (25 gm)
Stock Phenol (32 oz)
TAPS (100 gm)
TES (100 gm)
Tricine (100 gm)
Tryptic Soy Broth (250 gm)
For more information about the program or to request chemicals, contact Shelley Worsham at X6123, [email protected].

`98 CHEVROLET 4x4 pickup, ext cab w/ Silverado pkg, $24,500, Ron, X6476, (925) 686-3839

`98 JEEP CHEROKEE Classic 4x4, 4.0L V6, 29K mi, at, pwr win/ locks, tilt whl, tinted win, alloy wheels, well maint, no off-road use, very clean, 18,000/bo, Mark, 643-0297

`97 HONDA Accord EX, 18K mi, dk green, leather int, sunroof, CD, pwr windows/door, cruise, man trans, exc cond, $15,000/bo, (415) 753-2899

`90 VOLKSWAGEN Fox, white, 122K, stereo, gd cond, $1,600/bo, Javi, X5446, (510) 526-6438

`89 TOYOTA Camry DX, 4 dr sedan, 108K mi, blue, V6, 24V, ac, pwr steer/win/locks, moonroof, cruise, radio, bike+ski rack, snow chains/new cond, new oil+filter, gd tires, runs great, 2nd owner, all service records, no rust, $3,800/ bo, Anders, X5604.

`87 NISSAN Sentra, at, ac, many new parts w/ less than 30K mi, $2,100, Dave, X4171, (925) 945-6462

`85 VOLVO DL Wagon, blue, 5 spd, 210K mi, am/fm, gd cond, runs well, 2nd owner, needs new exhaust, $1,400/bo, (415) 235-3365, 601-0959

STOCK RIMS & TIRES (4) for 88 BMW 735i, in gd shape, $750, Ricky, X7528

ALBANY, room in 3 bdrm apt, $500/mo, 6/1, non-smok/pets, carpet, fireplace, coin-op washer/free dryer, share bath, Lee, 526-9461

BERKELEY, Arch& Hearst, newly renov studio in beautiful house for 1-2 working persons w/ gd refs, wood flrs, high ceiling w/ decorations, near Lab shuttle, $850/mo, pref person willing to buy queen bed, kitchenware, TV, dining table, TV table & sofa ($450), Anders, X5604

BERKELEY, furn, pleasant, quiet lge 1 bdrm apt, close to UC/Lab & trans, avail to UC/LBNL visitors by week or month, 848-1830

BERKELEY, furn sunny 2 bdrm apt, short summer sublet, near Elmwood, quiet cul de sac, 2 weeks only, 7/15-7/29, 2nd floor, beautiful trees in backyard, off-street parking place, laundry, $300/week, Peter, X5129

BERKELEY, spacious, partly furn room, Dwight Way, close to campus/shuttle, $450/ mo, Hendrik, X6645.

BERKELEY, summer sublet, room in lovely shared 3-bdrm house, 5 blocks so. of campus, friendly atmosphere, close to downtown, walk to BART/grocery, female only, 6/5-8/5, $525/mo, $200 dep, Blake & Elsworth, Anna, 665-8179

BERKELEY HILLS, exquisite, architect-designed home on edge of Tilden Park, sweeping views, gardens, decks, trails, nr lake Anza, 2 bdrms/2 baths, study, dining rm, darkrm, fully furn, security syst, cable, near bus, no smoker/pets, $2,000/mo, Evan, 525-7655, [email protected]

BERKELEY HILLS, near Lab, 10 min walk to shuttle, lge room in 5 bdrm apt, share w/ 4 responsible UCB students, living rm w/ deck & view of bay, $800/mo, Danielle, X1436, Manali, 848-7355

BERKELEY HILLS studio, Campus Dr, 7 min walk to Lab, cute rm, 10'x13' w/ 3/4 bth, entrance through deck, hill view, trees, birds, deer, next to bus #8, kitchenette, hot plate, microwave, fridge, pantry, white carpet, futon avail, $800/mo+25% of house util, $1,600 refundable sec deposit, 1 yr or 14 mo lease, refs req, pianist in bldg, Tennessee, 845-4624

BERKELEY HILLS, summer lease, fully-furn redwood home, 2 bdrm/ 2 baths, incl master suite w/ sitting area & study, 2 blocks from LHS, 1/4 mi to Lab/1 mi to campus, separate dining rm/sun porch, each rm has French doors to deck/ garden, Golden Gate view, avail 6/15-9/1, non-smok, no pets, $1,800/mo incl util, Phila, 848-9156

EL CERRITO, 2 bdrms in beautiful, spacious home w/ bay view, garden, lots of storage space, house has 4 bdrms, guest rm, 2.5 baths, quiet, gd neighborhd, less than 10 min to BART, looking for 1-2 responsible roommates for male / female (30s) household, $350 & $500/mo, Michael or Ruchika, 232-7003

EL CERRITO near BART, share lux 2 bdrm/2 bth condo w/ Lab engineer, month-to-month, pref mature, neat & nonsmoker, $600/mo, Tai, X5015

ELMWOOD, woman sought to share eleg 11 rm house w/ 2 men, 1 woman, nonsmoking, mstr bdrm w/ frplc/huge closet, piano, dog, laundry, sauna, hardwd flrs, $750/mo+ deposit, shared exp, Tony, 841-4480

KENSINGTON, cottage room in 5 bdrm grad/ postdoc household, semi-coop, almost vegetarian, recycling, non-smok, relaxed, friendly, lge sunny kitchen, tree view of bay, wash/dry, dishwashr, garden/ fruit trees, patio, hot tub, rm has own bth, no pets, no TV in common areas, $490+util+cleaning, [email protected]

N. OAKLAND/PIEDMONT AVE, pleasant room w/ small balcony, avail June 1 in sunny 3 bdrm upper flat, older home, furn or unfurn, $425/month, share living rm, dining rm, kitchen, bath, garden w/ Lab researcher, 1 other housemate, 2 cats, laundry, por-table dishwasher, short or long term, Judy, X5154, 654-6994.

ACADEMIC COUPLE on sabbatical from midwestern college seeks yr-long housing, commuting dist to Lab, begin mid-Aug, no pets, non-smokers, local refs, Graham, (616)738-0003, [email protected]

MEDICAL DOCTOR working as a post-doc at LBNL for 3 years seeks studio or 1 bdrm apt in Berkeley/Kensington/El Cerrito/ N. Richmond/Albany area, non-smoker, no pets, quiet, responsible, Lydie, X5550

RESPONSIBLE PHYSICIST from Harvard & wife seek housing in Berkeley area for 15 days, 6/25 - 7/9, anything from 1 bdrm apt to detached house, willing to water plants, care for pets, etc, e-mail [email protected]

SUMMER HOUSING for 3 adults & boy (3 yr) from Argentina, seek 2 bedrm apt or house, arrive July 10 for 2 mo, pref Berkeley/ Albany area nr public/Lab transp, e-mail Anabella, [email protected] bg.fcen.uba.ar or Dinah, X4368

VISITING FEMALE SCHOLAR from Brazil seeks 1 bdrm apt/studio close to campus, May to end of Aug, responsible, quiet, non-smoker, Alyssa, X5958, [email protected]

VISITING SCIENTIST from India avail for housesitting/sublet, July 17-27, quiet, responsible, Alyssa, X5958, [email protected]

VISITING SCIENTIST from Univ of Bologna, Italy, wife & 2 children seek 2-3 bdrm house/ apt, start 7/1 for ~ 2 mo, pref Berkeley/Kensington, Mehry, X4701

DINING SET+4 black enamel chairs & glass table, stone-composite pedestal, $700; white canvas hideabed couch, $300; 2 black leather living rm chairs, $350/pr; glass-top coffee table, $75; tan canvas futon, $150, all like new, Gloria or Kaz, 834-6170

FUTON & FRAME, queen sz, 10-in Nirvana futon bed, top-of-line from Futon Shop, 2 yrs old, exc cond, pine frame, $250/bo (orig $650), Evan, X7349

MOVING SALE, all items used 5 months only, 21" TV, $100; dining table w/ chairs, $120; queen bed, sheets, comforter, pillows, $150; sofa w/o mattress, $20; TV table, $20; plates, silverware, pans, iron, hairdryer, X5604

MOVING SALE: Panasonic TV+ VCR unit, 20'', stereo, 4-head VCR, fm radio, remote, like new, $200/bo; sofa, 3-seater, blue cloth, $145; coffe table, $40; lge desk, $50; computer stand on wheels $50, nightstand, $35; bookshelf, black, $10; beach chair, cordless phone, alarm clock, all in very gd cond, Joakim 540-7419

MOVING SALE, Sat 5/27 and Sun 5/28, 11 - 4, futons $150/ea, kitchen table + 4 chairs, kids beds, var small furn & kitchenware, more, 2670 Tamalpais Ave, El Cerrito, TN Willig, X5550, 215-1678

POOL TABLE, stand size, 6 sticks, gd cond, 1 set of pool balls, $300/ bo, Karen, X5750, 724-8138

SHARP VHS, hi-fi, unopened, $75, Dave, X4506

TABLETOP, off-white marble, natural grain, 48" diam, 1" thick, curved beveled edge, $150; credenza, brown wood/golden hue, 2 smoked glass pieces in top, straight lines, 4 drs at front w/ shelves, 69"x27"x20", $250; tables, 3, nested, dark oak, quality, all 3 for $220, Tina, X6769

TELEVISION, b&w, 14-in, works well, $15; CD digital stereo boom box and am/fm radio, $15, Mohammed, pager 389-7694

WASHING MACHINE, Maytag, heavy duty w/ adj size loads, perf cond, works great, $150/bo; dining rm set, brass/glass tabletop & 4 upholstered brass chairs, $50/ bo, Sandi, X6931, 236-7292

WASHING MACHINE, Maytag,1990, model LA884, works well, major new parts installed, instr books, $150, Paul, X4587, pager 840-3598

DINING TABLE w/ chairs, small to med size for 4 people, Annie, X4207, (415) 713-3494

INKJET color printer for Mac, SCSI port, Andre X6745

USED LEATHER SOFA, gd cond, green or blue, Nomi, X5078

VAN POOL RIDERS, SF (Haight, Noe Valley, Castro) to UCB & Lab, 8 am/5 pm, David, X6013

PARIS, near Eiffel Tower, eleg furn 2 bdrm apt, per week/month from $90/night, pics avail, 848-1830 FOUND: Eye glasses, women's, black, brocade case, found in Bldg. 50 parking lot, X5132

FOUND: Gold bracelet on 2nd floor of Bldg 937, X5460

LAWNMOWER, gas-pwrd, probably works fine, Nomi, X5078

WASHER/DRIER, gas, matching set, white, work great, U-haul, Karen, X5784, 498-8775

Ads are accepted only from LBNL employees, retirees, and onsite DOE personnel. Only items of your own personal property may be offered for sale.

Submissions must include name, affiliation, extension, and home phone number. Ads must be submitted in writing: via e-mail ([email protected]), fax (X6641), or delivered/mailed to Bldg. 65B. Ads run one week only unless resubmitted in writing, and are repeated only as space permits.

Currents reserves the right to edit ads for space and style. Once submitted for publication, ads may not be retracted even if the items are sold.

The deadline for the June 2 issue is Thursday, May 25.