May 5, 2000

By Paul Preuss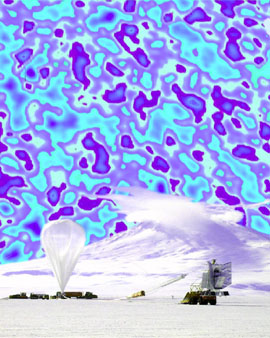 This is what the sky over the BOOMERANG launch near Mt. Erebus in Antarctica might have looked like if the human eye could see structures in the microwave background. Then again, if the human eye could see the CMB, there would have been no need for BOOMERANG.

Wow! Wow! And Wow! These were the technical comments of astrophysicist Michael Turner of the University of Chicago at a press conference on April 26 announcing the most detailed observations yet made of the cosmic microwave background (CMB).

The impressive results came from the international BOOMERANG consortium's Long Duration Ballooning experiment, which for 10 and a half days flew an instrument package around the South Pole. Wafted by the "stratospheric polar vortex," the balloon boomeranged almost back to its starting place early in January 1999, having made a billion measurements of the sky along the way.

Each measurement took the temperature of the CMB, which averages only 2.73 degrees Kelvin above absolute zero. Tiny variations in this average -- one part in a 100,000 warmer or cooler -- reveal the nascent structures of the early universe and shed light on its overall geometry.

Well over a year was spent sifting through the enormous dataset. At NERSC, cosmologist Julian Borrill of the BOOME-RANG team developed a special program called MADCAP (microwave anisotropy dataset computational analysis package), which he ran for hundreds of hours on the 696-node Cray T3E to extract the CMB's angular power spectrum, the plum in the cosmic pudding.

The power spectrum derived at NERSC directly inspired Turner's first wow, "Euclid was right, space is flat," and indirectly his second wow, support for inflation theory. The best explanation for flatness posits that the universe we live in is only a tiny region of the original cosmos, a patch that "inflated" uniformly and rapidly in the first instants after the Big Bang.

When BOOMERANG results are plotted against studies of distant supernovae, such as those by the Supernova Cosmology Project, the evidence converges to indicate that about 35 percent of the universe is made up of matter, both visible and dark, while the remaining 65 percent is made up of the mysterious "dark energy," the cause of the universe's accelerating expansion.

BOOMERANG's fine-grained CMB map and the power spectrum derived from it make these deductions possible. In the 1990s, George Smoot of the Physics Division and UC Berkeley, with his colleagues, mapped the whole sky using the COBE satellite. BOOMERANG looked at only 3 percent of the sky. But COBE's resolution was 10 degrees, just enough to rough out the CMB's largest features; BOOMERANG's resolution is over 40 times as good and extends the power spectrum well past the major peak in the curve that indicates a flat universe.

"We have to reduce the thousands of pixels in the map to a dozen or so numbers, representing different points along the power spectrum curve, and see how they fit to curves characteristic of different models of the universe," says Andrew Jaffe of UC Berkeley, a BOOM-ERANG team member who worked with Borrill on the analysis.

Borrill notes that "the MADCAP program finds the power at each angular scale at each of these points along the curve." He points out that the BOOMERANG data is so noise-free at the angular scales examined that virtually the only uncertainty represented by the remarkably small error bars comes from extrapolating the results to the whole sky.

Measurements by another balloon-borne experiment have also been analyzed at NERSC and will soon allow comparison of BOOMERANG to a section of the northern sky. The MAXIMA project is headed by Paul L. Richards of UC Berkeley and Berkeley Lab's Materials Sciences Division.

When NASA's MAP satellite flies later this year, it will extend BOOMERANG-scale precision to the entire sky. "The dataset from MAP will be an order of magnitude bigger than BOOMERANG's," says Borrill. Even with the awesome power of NERSC's supercomputers, new computational strategies will be needed.

"This is only the beginning" of an exciting new cosmology, said Michael Turner -- his third wow. At very fine resolution, for example, the polarization of the microwave background could provide evidence of primordial gravity waves, another prediction of inflation theory. BOOMERANG and MAXIMA both hope to fly again later this year to see whether it is possible to detect the CMB's polarization.

BOOMERANG's principal investigators are Andrew Lange of Caltech and Paolo deBernardis of the University of Rome. In the United States the project was supported by the National Science Foundation, NASA, and -- through NERSC -- the Department of Energy.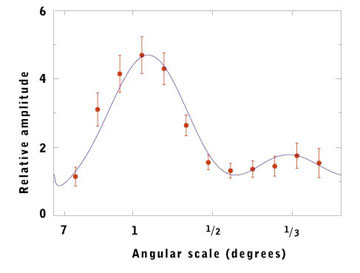 The largest visible structures in BOOMERANG's map are separated by about one degree, producing the strong peak at left in the angular power spectrum extracted at NERSC -- evidence of a flat universe. If the geometry of the universe were curved, the major features of the CMB ould be farther apart or closer together, and the peak would be offset to the left or right.
* * *
For more information see the BOOMERANG websitee at http://www.physics.ucsb.edu/~boomerang/.
Currents ran a story on the BOOM-ERANG test flight in the Dec 3, 1999 issue, available on the web at http:// www.lbl.gov/Publications/Currents/ Archive/Dec-03-1999.html#RTFToC5.
And for more about NERSC's analysis, see http://www.lbl.gov/Science-Articles/Archive/boomerang-flat.html .

By Jon Bashor
Steve Nobles of the Lab's Networking and Telecommunications Department and his wife are already deep into their summer vacation plans: spending a week taking the coastal route from San Francisco to Los Angeles. But theirs is no ordinary jaunt.
Nobles will be one of about 3,000 bicyclists taking part in the California AIDS Ride, which last year raised $11 million to benefit AIDS research and support programs in California. While Nobles will pedal his way along the 573-mile route, his wife will be working as a volunteer to help with the massive logistical support needed.
To make the trip, Nobles is now focusing on two areas -- getting in shape for the grueling ride and raising funds from friends and family members.
"I'm training every weekend, riding about 60 miles a day and getting ready to jump up to 80 miles," says Nobles. "It's a challenge, but it's a lot easier than raising money."
Although this will be his first time making the ride on a bike, Nobles knows what he's getting into. Last year, he and his wife volunteered at the urging of another couple, who were making the ride on a tandem bike. Nobles was officially known as the "Pit Closer," but soon the riders started to call him "The Ride Reaper." It was his responsibility to send riders back to camp on the bus if he felt they couldn't finish the ride on time.
Over the course of that week Nobles talked to many of the participants and learned that each had a different and deeply personal reason for getting involved. In a letter he sent out seeking pledges he wrote:
"I was amazed at how many people have had AIDS affect someone near to them. I'm not just talking about gay men or IV drug users. I'm talking about men, women, and children of all races, colors and lifestyles. Before the ride, I was walking around with my eyes shut, not paying attention to how many people have been claimed by this disease.
"Some of the riders had AIDS themselves. Some riders had friends and family living with AIDS, or friends and family that had been struck down by AIDS. Others felt compelled by the overwhelming statistics of the disease to do something about it. I guess that's where I fit in. Although I know and have known people with AIDS, it hasn't taken someone in my direct family or close circle of friends. But after the ride, I know that it is only a matter of time before it does."
Among the people Nobles met last year was a man whose sister and nephew both died of AIDS. The sister contracted the virus during her pregnancy, when a problem required pre-natal surgery. This happened in the 1980s, before more stringent blood-screening measures were in place. Both the woman and her unborn son became infected through a blood transfusion. She died within a year of giving birth; the boy lived with his uncle for seven years before dying from AIDS-related problems himself.
"The man has ridden in the California AIDS Ride every year since Jason's death," Nobles said. "He makes the ride with an empty child's bike trailer attached to his bike. He told me, `It's the only thing that has kept me going. I loved them both so much.'"
Another woman told Nobles how she contracted HIV from her boyfriend, who was stationed overseas in the military and home on leave. "She seemed like a very strong woman, a little older and wiser now, and totally resolved to survive and beat AIDS," Nobles said. "She also makes the ride every year; it gives her strength to fight."
To make the ride Nobles needs to raise at least $2,500, but, he says, "I'd like to raise more."
And that, he says, is the toughest part of his endeavor. "I can do everything to get my body and bike ready, and get the mindset I need to complete the ride, but the hardest thing that I know to do is to ask people to give up their hard-earned money. This is just one disease out of many that can come into our lives. Granted we may never get it ourselves, but at some point, it will affect someone we know and love."
* * *
To learn more about the AIDS Ride or to lend your support, contact Steve Nobles at [email protected] Pledges can be made on line using a credit card at http://www.weborder.com/cgi-weborder/secure_form/sfaf/carfrm.html . (Nobles' rider number is 2271.) For more information about the California AIDS Ride see http://www.aidsride.org .

We've talked about it, planned for it, volunteered our time and scratched our collective heads to find the best ways to make the Open House an unforgettable experience for all participants. Tomorrow it's going to be up to the thousands of visitors to decide how well Berkeley Lab succeed in achieving its goals.
From 10 a.m. to 4 p.m. the Laboratory will open its doors to the public for a rare glimpse at the work being conducted here in four major general areas: particles and matter, biology and the life sciences, earth and environmental sciences, and computing. In these four theme areas, interactive displays have been developed with a special focus on school children.
Young people will be able to seek answers to questions such as "How does a penny hold clues to the origin of the universe?" and "How can computers help to predict the world's changing climate?"
Attractions will include tours of Lab facilities, a Career Center and Job Fair, presentations at the Science Discovery Theater, and a historic exhibit of artifacts that includes tools used by the Lab's nine Nobel Prize winners, including Ernest Lawrence and Glenn Seaborg.
A presentation honoring several of the Bay Area's outstanding science teachers will take place at 12:15 p.m on the stage near the dining hall.
Special events will include a 2 p.m. screening of "Me & Isaac Newton," a feature-length documentary by award-winning filmmaker Michael Apted. The film features seven scientists, including Berkeley Lab's Ashok Gadgil, who will be answer questions after the screening. (See sidebar for more on the documentary.)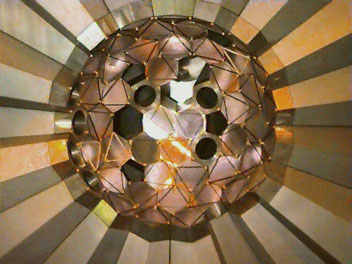 The Gammasphere is returning to the 88-inch Cyclotron where it was born, after a lengthy stay at Argonne National Lab.

And to the delight of both nuclear science and art buffs, the Gammasphere hustles to get ready for Open House as well A sensitive detector of the radiation emitted when atomic nuclei collide, the Gammasphere is returning to the 88-inch Cyclotron where it was born, after a lengthy stay at Argonne National Laboratory in Illinois. Pieces of the compound detector, along with supporting structures and other ancillary components, have been arriving for weeks.

During the past few days a team led by Augusto Macchiavelli of the Nuclear Science Division has been working hard in hopes of readying the Gammasphere for public viewing tomorrow. Visitors to the 88-inch Cyclotron will not only be able to learn something about how nuclear science is done, but will have a chance to appreciate its aesthetics as well. Besides being an exquisite experimental device, Gammasphere is also one of the most beautiful scientific tools ever built. The return of the Gammasphere, which will become operational later this summer, will be the subject of a story in a forthcoming issue of Currents.

In the Life Sciences area, centers for body imaging and fruit fly genomics will be open for tours. Simulated bike rides through Yellowstone National Park will be part of the National Health Study exhibit. Children can become "junior gene sleuths" in a simulated analysis of human DNA.

Other Open House exhibits will be found inside large canvas tents devoted to theme areas as well as in selected buildings that will be accessible by free shuttle buses. A color-coded map and program will be provided to all visitors to guide them their day-long explorations.

Music and food will be available throughout the day at the cafeteria. And free parking and shuttle service will be provided from the main Berkeley BART station and from UC Berkeley campus lots along Hearst Avenue.

So come on over, hop on a shuttle, and let the celebration begin.

Complete information on the program can be found on the Lab's Open House website at http://www.lbl.gov/OpenHouse/. You may also call the Open House hotline at (510) 495-2222 or look up the April 7 special Open House issue of Currents.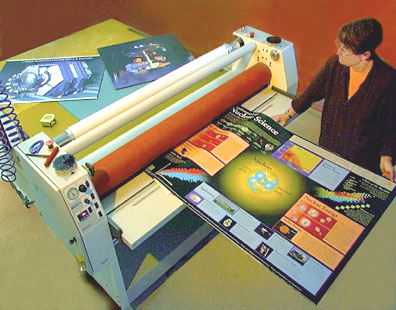 Marilee Bailey of TEID is laminating a poster of the Nuclear Science Wall Chart as part of the last minute preparations for tomorrow's Open House.

Energy Department Open to Small Business Partners
At the first annual DOE Small Business Conference, held in Denver, Secretary of Energy Bill Richardson announced more than 250 contracting opportunities and outlined several new efforts to boost small business partnerships with the Department in the areas of science, environmental quality, energy resources, national security and administrative services.
"We have already provided over $3 billion annually in opportunities for small businesses, but I think we can do better," said Richardson. "This announcement builds on our strong record with the small business community and sends a strong message that the Energy Department wants to do business with small businesses and companies."
Richardson said the direct contract and subcontract opportunities included in DOE's semi-annual forecast of contracting opportunities for FY 2000 and FY 2001 will be worth approximately $2.4 billion over a three to five year period. More than half of these contracts are specifically targeted to small business firms. The Secretary also announced the permanent establishment of a DOE mentor-protégé program that will promote partnerships with minority educational institutions, women-owned businesses, and other small business concerns.
NRC to be restructured
The National Academies of Science (NAS) and Engineering, along with the Institute of Medicine, are reported to be planning a major restructuring of the National Research Council (NRC). In the works are plans to streamline NRC operations, raise additional revenue from state governments and other non-federal sources, and extend its influence beyond matters of national defense and into such areas as improving minority health care.
Created in 1916, the NRC has a full-time staff of about 1,000 persons who produce about 200 reports a year. In recent years, NRC revenues -- $182 million in 1998 -- have remained stagnant, and there have been complaints about the high cost and long wait associated with many NRC studies. In addition, its cumbersome structure -- the council has seven commissions that oversee a plethora of boards, task forces, and working groups -- is seen as being ill-suited to address interdisciplinary problems.
"The layers of approval for individual NRC reports need streamlining," NAS president Bruce Alberts, who also chairs the NRC, said at a press conference. The challenge for a 15-member task force chaired by retired Howard Hughes Medical Institute president Purnell Choppin and retired Honeywell vice president Gerald Dinneen, Alberts said, will be to create a system that is "more efficient while providing equal quality."
--Lynn Yarris

By Ron Kolb

Backing off from an earlier resolution after hearing nearly two hours of testimony, the Alameda County Board of Education on April 25 decided not to urge a moratorium on school visits to the Lawrence Hall of Science due to what the Board had considered potential hazards of tritium nearby.

Responding to the appeals of officials from Berkeley Lab, the Lawrence Hall of Science and University of California, the Board voted 5 to 1 to modify its stand, and -- acknowledging its lack of scientific expertise -- advised members of the community to "independently assess the possibility of risk and make individual decisions" about visits to the Hall of Science.

The Board's original April 7 resolution vowed to send letters to parents of all children in county public schools warning them of the alleged risks associated with the Laboratory's National Tritium Labeling Facility when visiting the Hall, an action that drew broad criticism from educators, scientists and the news media.

In a Hayward all-purpose room before an audience of about 50 on April 25, the Board heard several officials from the Lab, the Hall of Science, and the Environmental Protection Agency, none of whom had been invited to the April 7 meeting. Representatives from all three entities reiterated their view that employees and visitors at the Hall of Science have nothing to fear from the minute amounts of tritium that are occasionally emitted from the NTLF.

EPA representative Shelley Rosenblum, who said he was speaking "as a government official, teacher, soccer coach and father," told the Board it is absolutely safe to visit the Hall and picnic on its grounds. "I have chaperoned my daughter on field trips there," he said. "What I do (as an EPA official) affects my community and my family. Emissions from the NTLF are far below all clean air thresholds. People should have nothing to fear."

Representatives of the Hall of Science made similar pleas for reason, arguing that ill-advised cautionary resolutions can lead to considerable damage to the Hall's reputation as a leader in science education.

"We promote science literacy," said Barbara Ando of the Hall of Science, "and we hope this information will help you. We would never jeopardize the health and safety of children."

Berkeley Lab's David McGraw, the director of the Environmental Health and Safety Division who represented the Lab at the meeting, said he was pleased that the Board modified the earlier resolution but was disappointed that an effort to completely rescind the original action had failed.

"All scientific evidence supports the conclusion that there is no danger to visitors or to workers at the Lawrence Hall of Science from tritium emissions at the Laboratory," he said. "We will continue to work with city and community representatives, in addition to state and federal regulators, to ensure that we remain within all applicable health and safety guidelines and to reassure the public that it should have no lingering concerns about personal health risks at the Hall of Science or elsewhere."

Several spokesmen for the Committee to Minimize Toxic Waste, an environmental group in Berkeley, spoke out against the Laboratory and its methodology used in assessing risk. As a result, the Board in its resolution acknowledged "differences of opinion regarding the possibility of hazards" associated with visits to the Hall of Science.

Alameda County Superintendent of Schools Sheila Jordan, however, differed with her Board. She had urged that the original resolution be rescinded. In a statement released following the action she said, "The real risk is that teachers, students and families will unnecessarily miss out on the great educational experience the Lawrence Hall of Science provides. I believe that information [from the EPA and the Laboratory] is accurate.

"In fact," she added, "my son will be attending a two-week educational camp at the Lawrence Hall of Science this summer."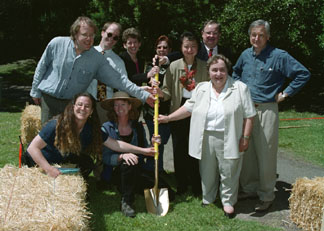 Berkeley Mayor Shirley Dean (right, front), Berkeley Lab Director Charles Shank (behind Dean) and Camille Yuansoohoo, manager of the DOE Oakland Operations Office (to Shank's right) led a number of dignitaries in breaking ground for the new 860-sq. ft. energy-efficient, straw-bale building to be built at the Berkeley Marina's Shorebird Nature Center. The facility will combine innovative environmentally-friendly straw bale construction, recycled materials, and solar energy for classrooms and a visitor center. Left to right in the back row are architect Greg Van Mechelen, Kirk Miller of the City of Palo Alto, Ann Ludwig of the Alameda County Waste Management Authority, Nancy Graham of the West Berkeley Foundation, Yuansoohoo, Shank, and architect Dan Smith. In the front row, left, are Denise Brown and Patty Donald of the Shorebird Nature Center.
Photo by Roy Kaltschmidt

A feature-length documentary by award-winning filmmaker Michael Apted, "Me & Isaac Newton" explores the roots of scientific creativity and inspiration by focusing on the contributions of seven scientists. Among them is Berkeley Lab's Ashok Gadgil, inventor of the award-winning UV Waterworks, an energy-efficient device that provides safe drinking water in developing nations. Following the film Gadgil will be available to answer questions.
"Me & Isaac Newton" has received critical acclaim at the Toronto International Film Festival, the Australian International Documentary Conference, and the International Documentary Film Festival in Amsterdam. Earlier this year it received the Earthwatch Award from the National Geographic Society.
Director Apted's credits include both documentaries and feature films such as "Coal Miner's Daughter," "Gorillas in the Mist," and the latest James Bond movie, "The World Is Not Enough."
This will be the documentary's first public Bay Area showing. More information can be found on the web at http://www.clearblueskyfilms.com.

By Lynn Yarris
Dave Nygren of the Physics Division, who holds the rare Berkeley Laboratory classification of "Distinguished Scientist," and Jean M.J. Fréchet, a chemist with the Materials Sciences Division, are two of the 60 new members elected to the National Academy of Sciences.
Election to NAS is considered one of the highest honors that can be accorded a U.S. scientist or engineer. Nygren, Fréchet, and the other newly elected members bring the total active NAS membership to 1,843.
Said Berkeley Lab Director Charles Shank, "This distinguished recognition for both scientists is well deserved, as they are internationally known for their accomplishments. I am delighted for them."
Nygren is renowned for his development of particle detector systems, especially his invention of the Time Projection Chamber (TPC), a particle detector that remains a mainstay of experiments in high energy physics.
After earning his Ph.D. in physics from the University of Washington in 1967 and serving as a research associate and assistant professor at Columbia University, he came to the Laboratory in 1973. In 1985, he won the prestigious E.O. Lawrence Award from the U.S. Department of Energy for his work on the TPC and other experimental techniques in particle physics. Ten years later he was promoted to the rank of "Distinguished Scientist" by Berkeley Lab Director Charles Shank.
In recent years, Nygren has done pioneering research on pixel detectors for both particle and nuclear physics, has been developing x-ray imaging devices based on silicon detectors and high-speed data acquisition systems, and has headed Physics Division's KM3 group, which is working on the development of a kilometer-scale high-energy neutrino telescope.
Fréchet, also elected to the National Academy of Engineering, is a leading authority on the design and synthesis of large organic and polymer molecules with controlled shape, function and reactivity. He has also been one of the pioneers in combinatorial chemistry, a technique for discovering new materials.
Fréchet received his Ph.D from Syracuse University in 1971 and came to Berkeley Lab in 1997, after having held the Peter J. Debye Chair of Chemistry at Cornell University. He currently holds a joint appointment as a professor of chemistry at UC Berkeley.
The National Academy of Sciences is a private organization of scientists and engineers dedicated to the furtherance of science and its use for the general welfare. Established in 1863 by a Congressional act of incorporation which was signed by Abraham Lincoln, the Acadmey of Sciences acts as an official adviser to the federal government, upon request, in any matter of science or technology.

Berkeley Lab Currents

Published twice a month by the Public Information Department for the employees and retirees of Ernest Orlando Lawrence Berkeley National Laboratory. Ron Kolb, PID department head.

EDITOR: Monica Friedlander, (510) 495-2248, [email protected]
STAFF WRITERS: Paul Preuss, (510) 486-6249; Lynn Yarris, (510) 486-5375
CONTRIBUTING WRITERS: Jon Bashor, X5849; Allan Chen, X4210, Jeffery Kahn, X4019

FLEA MARKET / CALENDAR: 486-5771
[email protected] / [email protected]

Public Information Department, Berkeley Lab, MS 65A
One Cyclotron Road, Berkeley CA 94720
Tel: 510/486-5771 Fax: 510/486-6641


Berkeley Lab is managed by the University of California for the U.S. Department of Energy.

By Monica Friedlander
On April 24, Director Charles V. Shank addressed members of Congress to offer his suggestions in the area of emerging technologies and their benefit to government operations. In his testimony before the House Committee on Government Reform's Subcommittee on Government Management, Information, and Technology, Shank focused on the areas of energy, information technology, health, and the environment, and highlighted Berkeley Lab's contributions to these cutting edge fields.
"Our research and development, strongly rooted in the physical and natural sciences, now offers the prospect of transforming government operations in many ways," he said. "These changes will be made through unprecedented electronic connectivity and processor power, by improved efficiency of all government facilities, and by delivering on the government's mission to protect the health and welfare of U.S. citizens and the environment."
Members of the subcommittee were impressed with what they heard. Rep. Steve Horn (R-Long Beach), chair or the subcommittee, praised the Laboratory, adding that Shank had provided a "marvelous bit of leadership" and that Berkeley Lab had shown "terrific achievements" in the area of energy- efficiency, one of the topics Shank emphasized during his testimony.
"Many of our technologies for improving energy efficiency are delivering major cost savings to both the public and the private sectors of the economy. For example, in the area of building technologies we have developed computer-based energy analysis tools, advanced fluorescent lamps, novel windows, and new appliance standards that are saving the nation more than two billion dollars annually in energy costs," Shanks said.
In the area of computing, Shank discussed the Lab's historic role in developing and improving network technologies, and focused on the National Energy Research Scientific Computing Center (NERSC) and the Energy Sciences Network (ESnet), which serve thousands of government, industry and university scientists.
"Berkeley Lab's research in networking technology provided the advancements that have made the Internet a powerful and useful tool ... Later, we developed the computing protocols that reduced congestion on the Internet and made it more reliable. More recently, Berkeley Lab helped develop the Multicast Backbone protocols that enable videoconferencing among many locations without degrading network performance."
Shank also emphasized the Laboratory's work in imaging and visual information, preserving the integrity of the Internet, and expanding computational power. "Our vision... is to move rapidly toward the next generation of processor technology," he said. "In partnership with Sandia and the Lawrence Livermore National Laboratories we are conducting the Extreme Ultra Violet Lithography research program. This program will develop lithography systems to produce computer chips that feature sizes less than 70 nanometers
"As the powerful processors are commercialized and enter government information systems," Shank quipped, "we may even see a smaller and faster government."
Finally, Shank drew the members' attention to the Laboratory's role in the worldwide effort to decipher the human genome.
"This year, one of the most revolutionary achievements in the history of biology is taking place," Shank said. "We have nearly deciphered the human genome, often termed the `book of life' ...The availability of complete genome sequences is driving a major breakthrough in fundamental biology as scientists compare entire genomes to gain new insights into biochemical, physiological and disease pathways. Last month at DOE's Joint Genome Institute, we completed the draft sequence of three chromosomes that contain an estimated 10-15,000 genes, including those whose defects may lead to genetically linked diseases such as kidney disease, prostate and colorectal cancer, leukemia, hypertension, diabetes, and atherosclerosis."
Shank concluded by expressing his hope and confidence that development of these technologies will make lasting contributions to the government, the country and society in general.
"There is no doubt that quality scientific investments have been paying off for the nation," he said. "The continued benefits will be a more informed government, delivering more effectively managed public resources for the nation."

By Allan Chen
Six major power outages and two serious electrical system disturbances that occured throughout the United States during the summer of 1999 led Secretary of Energy Bill Richardson to appoint a group of experts to study what happened and how it could be prevented in the future. Berkeley Lab scientist Joe Eto was among those appointed to the panel. In March, the Power Outage Study Team (POST) sent their final report and recommendations to the Secretary.
This is the first report to address the issue of electrical system reliability in a changing electrical power industry -- a restructuring that has brought a choice of electrical suppliers to consumers in 24 states, but also necessitates a means to assure continued reliability.
"There is a wide expectation that competitive markets will bring new efficiencies and innovation to the marketplace, which will save customers money and lead to new services," says Eto. "But the mechanisms that protected electric reliability in the past need to be changed with the market's development."
Eto, a scientist in the Environmental Energy Technologies Division, coordinates multi-institutional research projects on the reliability of power systems in restructured markets through the Consortium for Electric Reliability Technology Solutions (CERTS). This Berkeley Lab-led consortium has brought together experts from national laboratories, universities and the electric utility industry. A number of CERTS advisors served on POST with Eto and authored the team's final report. The team examined technical data from outages and other incidents, and held three technical workshops around the country to gather public comments.
The Secretary gave the POST report a positive reception. "While the demand for electricity is soaring along with the use of computers, fax machines and other appliances in our homes, offices and factories, the reliability of our electric grid is at times, faltering, mainly because policy makers haven't kept pace with rapid changes in the electric utility industry ... Today's report can be a blueprint for how we will work together to keep the lights on and air conditioners running in America's cities this summer," the Secretary said in a speech before the National League of Cities.
The POST study makes 12 recommendations about how the federal government can work with the electric utility industry to reduce power outages. They include: that the federal government should promote market-based approaches to ensure reliable electric services; remove barriers to distributed energy resources (small-scale generation sources such as fuel cells, solar panels, small hydro sources, and diesel-powered generators); support reliability standards for bulk power systems; and encourage energy efficiency as a means of enhancing reliability.
Richardson backed Congressional action to address reliability issues. "Federal electricity legislation is an essential component of the effort to help alleviate power outages this summer," Secretary Richardson said. "Congress must move ahead to make changes in the federal statutory framework to provide the certainty that is needed to achieve reliable electric service in competitive wholesale and retail markets."
The final report is available on the web at http://www.policy.energy.gov/electricity/postfinal.pdf.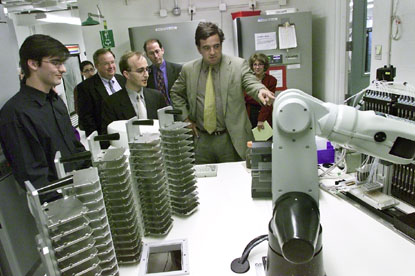 Energy Secretary Bill Richardson points to one of the robots involved in human genome sequencing at the Joint Genome Institute in Walnut Creek, where he stopped on April 28 to celebrate JGI's latest achievement. The consortium, which includes Berkeley, Livermore and Los Alamos labs, recently announced the completed draft sequence of chromosomes 5, 16 and 19 (see Currents, April 21). "You really did something special for our country," Richardson told about 100 staffers in a brief parking-lot ceremony. Joining Richardson on a brief facility tour were (from left) JGI staffer Matt Fourcade, Berkeley Lab Director Charles Shank, associate director of the JGI Trevor Hawkins, DOE science policy advisor David Heyman, and Berkeley Lab Life Sciences Division Director Mina Bissell.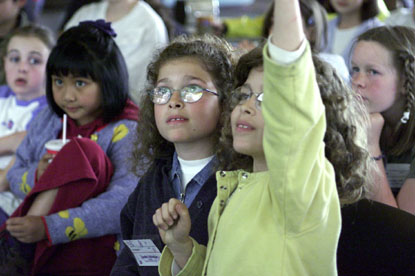 Children of Lab employees enjoyed a day of fun and learning as Berkeley Lab observed the annual Daughters and Sons to Work Day on April 27 for the seventh consecutive year by organizing activities for youngsters aged 9 to 15. These included a "Quakes and Shakes" program in the Bldg. 50 auditorium as well as two other assemblies at 9:30 a.m. and 3 p.m.
Photo by Roy Kaltschmidt
IN MEMORIAM
Ronald L. Ritschard
Ronald L. Ritschard, a staff scientist at Berkeley Lab for 20 years, died suddenly of a heart attack on Thursday, April 13 in Huntsville, Alabama. He was 63 years old.
Born in 1936 in Portland, Oregon, Ritschard received his BS in biology from California State Polytechnic University, Pomona, in 1961 and his Ph.D. in zoology from Oregon State University in 1965. He was a faculty member at Cal Poly San Luis Obispo and a staff scientist at Lawrence Livermore National Laboratory, working on biological research, before coming to Berkeley Lab in 1973.
Here he joined the Biomedical Division and expanded his work to include a variety of energy issues. In 1976 he joined what was then known as the Environmental Science Division, where he served in a variety of leadership roles in the Energy Analysis Program.
"Ron was an outstanding manager, whose management skills were effectively complemented by his ability to learn new areas of work seamlessly," says Mark Levine, director of today's Environmental Energy Technologies Division.
After leaving Berkeley Lab, Ritschard became a vice president of the Tennessee Valley Authority and director of its environmental research laboratory at Muscle Shoals, Alabama. He later moved to a faculty position at the University of Alabama at Huntsville. At the time of his death he was deeply involved in the assessment of environmental impacts of possible climate change in the Southeast.
"Ron was a wonderful colleague and friend, who contributed tremendously to the Lab," says Levine. "He maintained contact with close colleagues at LBNL. His death is a great loss to us and to the large community of scientists and scientific managers who were his colleagues for many years."
Ritschard is survived by his wife, Sofie, and their four children.
Straddled on the Hayward Fault zone, Berkeley Lab relies on nearly 400 employees to respond in the event of a major earthquake. Many of them are assigned, but specialized volunteers are also integral to the Lab's response. Employees interested in learning or who already have skills in the areas of first aid, firefighting, amateur radio (HAM), or command center assistance are needed to work with Berkeley Lab's response teams. For more information contact Mark Turner at X6554, [email protected].
The Facilities Department provides rush courier service with pick-up and delivery both on- and off-site. Transportation can deliver up to 2,000 pounds in the Bay Area or in central or northern California. Onsite materials will be delivered within one hour. For pick-up call X5404.
Courier service (two-hour, four-hour, same day, and rush) is also available from IDS Courier, which operates 24 hours a day and provides pick-up and delivery anywhere in the Bay Area and in parts of northern and central California. For information call 548-3263.
Below are the results from the tournament played at the Reserve at Spanos Park on April 29.
Flight 1
1. Ralph Sallee
2. Matt Hilburn
3. Mark Campagna
4. John Christman
5. Von Enquist
Flight 2
1. Monte Wetzel
2. Andy Gibbs
3. Gilbert Goo
4. Nick Palaio
5. Ron Gervasoni
Flight 3
1. Steve Hanrahan
2. Keith Groves
3. Ted Lauritzen
4. Dave Plate
5. Robert Duarte
Health Services is conducting its annual free skin cancer screening clinic today from 8 a.m. to noon. Dermatologist Elizabeth Ringrose is doing the screening and all Lab employees who believe they may be at risk are encouraged to call Health Services at X6266.
The UC Berkeley Jazz Ensemble will perform at noon on Wednesday, May 10 in front of the cafeteria. The event is being sponsored by the Lab's Employee Activities Association. All are invited to an entertaining lunch hour.
Now that most employees have familiarized themselves with Lab's new voice mail system, the Telephone Services Department is seeking recommendations on ways to help make it as easy and convenient to use as possible.
Replacing the voice mail system has given the Laboratory the opportunity to take advantage of a variety of new features, such as fax messaging, Visual Messenger, automatic message saving, and more.
"We relied heavily on recommendations from the Lab community when we selected our new voice mail system, which includes numerous advancements in voice mail technology," said Cheryl Taubenfeld of Telephone Services.
The switch to Octel Overture 300 was completed last December. Its 15-year-old predecessor, the VMX 5000, was no longer supported by the vendor, nor Y2K compliant.
Comments may be directed to Telephone Services by e-mail ([email protected]) or by calling X7997.
The Lab's Computer Protection Program, which monitors Internet traffic in and out of Berkeley Lab, has noticed a sharp increase in traffic related to Napster, an online service allowing users to share MP3 music files via the web. Jim Rothfuss, the Lab's computer protection program manager, would like to remind employees that using Laboratory networking and computing equipment for unauthorized personal use violates Lab policy and takes up significant amounts of government resources. The practice also involves legal issues regarding infringement of copyright laws. The LBNL policy on incidental personal and inappropriate use of computer resources can be found at http://www.lbl.gov/Workplace/RPM/R9.01.html#RTFToC11.
The full text and photographs of each edition of Currents are published online at http://www.lbl. gov/Publications/Currents/. The site allows users to do searches of past articles going back to 1994.

General Interest Calendar

Skin Cancer Screening Clinic
8 a.m. - 12 p.m., call X6266

Open House
10 a.m. - 4 p.m., Berkeley Lab

UC Berkeley Jazz Ensemble
12 p.m., cafeteria lawn

New Employee Orientation
Starts at 9 a.m., Bldg. 50 auditorium

Items for the calendars may be e-mailed to [email protected], faxed to X6641, or mailed to Bldg. 65B. The deadline for the May 19 issue is 5 p.m. Monday, May 15.

Materials Sciences Division Surface Science and Catalysis Science Seminar
"Atomic Control of Silicon Carbide Surfaces and Nanostructures" will be presented by Patrick Soukassian of Universite de Paris-Sud and Commissariat a l'Energie Atomique-Saclay, Paris, France.
1:30 p.m., Bldg. 66 auditorium

Life Sciences Division Seminar
"Multiple Forms of Mimicry Contribute to Vascular and Oncodevelopmental Metamorphosis in Aggressive Cancers" will be presented by Andrew Maniotis of the University of Iowa.
4 p.m., Bldg. 84-318
Refreshments precede seminar.

Center for Environmental Biotechnology
"Exploring soil microbial communities using 16S rDNA-based methods: issues of scale and resolution" will be presented by Cheryl Kuske of Los Alamos National Lab.
12 p.m., 338 Koshland Hall, UC Berkeley
Refreshments precede seminar.

Biosciences and Graduate Group in Comparative Biochemistry
"Regulating Gene Expression and Monitoring Protein Interactions Critical to Angiogenesis" will be presented by Helen M. Blau of the Stanford University School of Medicine.
4 p.m., Bldg. 66 auditorium
Wine and cheese buffet follows seminar.

Physics Division Research Progress Meeting
"Were Newton and Einstein Right?" will be presented by Blayne Heckel of the University of Washington.
4 p.m., Bldg. 50A-5132
Refreshments at 3:40

Physics Division Research Progress Meeting
"All-Optical Plasma Based Acceleration" will be presented by Wim Leemans of AFRD and UC Berkeley.
4 p.m., Bldg. 50B-5205

The University of California is now conducting a review of Berkeley Lab Director Charles Shank, in accordance with its policy to conduct five-year reviews of all campus chancellors and Department of Energy laboratory directors.
For directors of the UC-managed laboratories, reviews are performed by a special review board appointed by the University president, Richard Atkinson. The Board is chaired by Alan Schriesheim, Director Emeritus of Argonne National Laboratory. Other members are Randy Katz, professor of computer science at UC Berkeley; Tom Page, retired chair and CEO of San Diego Gas and Electric; LuJeu Sham, professor of physics at UC San Diego; and Mel Simon, Anne P. and Benjamin F. Biaggini Professor of Biological Sciences at California Institute of Technology.
The Board will first meet in closed sessions at Berkeley Lab on June 8 and 9 and will hear from employees and others chosen by the Board. Then, on June 22 and 23, the Board will meet off-site and hear from individuals who have requested to comment in person. This meeting will be held off-site in order to maintain the confidentiality of those requesting to speak. Neither that agenda, nor the names of those to be interviewed or of those writing to the Board will be given to anyone other than Board members, who will maintain strict confidentiality. All agendas, letters, and e-mails will be held in strict confidence by one person at the President's Office, who serves as staff to the Board.
In the interest of time and efficiency, the Board encourages employees who wish to comment to do so in writing, but they also may ask to be heard in person. If the individuals requesting to speak before the Board cannot be accommodated in the allotted time, the Board will determine whether to choose a representative number to interview, or whether to split them into groups to enable all requestors to be heard.
Written statements may be sent to the chairman of the Review Board, Alan Schriesheim, c/o University of California, Office of Research, 1111 Franklin Street, 11th Floor, Oakland, CA 94607-5200. E-mails may be sent to the chairman in care of the Board's staff at [email protected] The deadline for submitting written statements is June 20.
Employees who wish to address the Board in person may request to do so by writing to the same address or by calling Elaine Stamman at (510) 987-9408. These requests should be submitted no later than June 12.
After completion of the process, a statement regarding the outcome of the review will be issued by the UC President. The University welcomes your input to this process.

Due to popular demand, six MoveSMART (EHS 62) training sessions have been scheduled during the first week in June:

The MoveSMART program is designed to help participants develop skills for safer and better handling of materials, boosting balance, lifting correctly, and safe use of hands and knees.

Training sessions are three hours long, and preenrollment is required.

To register for classes, look up the EH&S Training website at http://www-ehs.lbl.gov/ehstraining/registration/. Questions concerning the program may be directed to Don Van Acker at X2976.

`97 HONDA Accord EX, 18K, dk green, leather int, sunroof, cd, pwr win/door, cruise, exc cond, $15,000/bo, (415) 753-2899

`96 DODGE VAN CAMPER, 19 ft, Horizon (Dodge RAM 3500), like new, auto, loaded, dual ac, kitch-en, wc, shower, microwave, oven, water heater, 2 queen sz beds, sleeps 4, new batteries, tires/ brakes, $17,500/bo, Jens, X6174

`89 BMW 325i, 107K, 5 spd, loaded, sunroof, exc cond, very clean, new tires & clutch, $6,500, X6941

`87 MERCURY Sable LS, 4 dr, lux sedan, exc cond, 6 cyl, auto ac, pwr steer/win/locks, cruise, am/ fm/cass, beige, 1 owner, $3,500/ neg, Tennessee, 523-4838

`87 VOLVO wagon, silver/green, 175K, 240 DL, 3rd seat in back, 5 sp, gd cond, $4,000, Denise, (925) 831-6181

`83 HONDA Accord, 4 dr, blue, at, ac, ps, pw, stereo, exc cond, 146K hwy mi, $2,500/bo, Mohammed, pager (510) 389-7694 or 839-7204

`68 CHEVY Nova, straight-6 engine, at, runs, exc body cond, all orig, $1,500/bo,Tim, (925) 687-0405

TRUCK CAMPER, Coachmen 7SL, ice box, 2-burner range, porta_potti, tripod jacks, sleeps 3, $2,000/bo, Loren, X7729

ALBANY, 2+ bdrm house, hrdwd flrs, close to Solano shops, banks, restrnts, school, transp, $2,200/ mo, avail immed, no pets, no smok, furn neg, Mary, 525-6527

BERKELEY, furn, pleasant, quiet, lge 1 bdrm apt, close to Lab/ transp, avail to UC/LBNL visitors by week/month, Geoffrey, 848-1830

BERKELEY, quiet, lge, furn room for rent in lovely Berkeley brown-single house north of Univ. Ave, limited kitchen priv, easy walk to Lab shuttle, BART, shopping, downtown, ideal for visiting researcher, non-smoking, $450/mo, Rob, 843-5987.

N. BERKELEY, fully furn studio, drapes, linen, phone line, partial view, carpet, kitchen, laundry, avail 5/10 (6/1 ok), non-sm, $800 + PGE, move-in 1,300, Rachel, 548-0431

N. BERKELEY area, furn room, 15 min walk to Lab shuttle, 1 person, kitchen privileges, TV, bicycle, avail June 1, $40/night or $750/month, Helen, 527-3252

ROCKRIDGE home for sale, beautiful craftsman home, heart of Rockridge, 4 blocks from BART/Lab shuttle, details and online tour at www.5816lawtonave. com, Lon, X5317

SAN FRANCISICO Mission District, Victorian flat, sublet 6/20 - 7/30, sunny 1 bdrm+den, living & dining rms, 1300 sq ft, near BART/bus, no pets, $500/ week + dep, (415) 282-2144, leave msg

SUMMER SUBLET for visiting scholar from India, 6/10 - 7/30, in Berkeley near shuttle or campus, quiet, responsible, non-smoker, Alyssa, X5958, 985-1818

GERMAN PROFESSOR w/ 3 children (ages 7, 9, 13) visiting Lab seeks 2-3 bdrm apt/house, 6/30 - 8/1 (month of July), Berkley or vicinity, Prof. Aichelin, [email protected] subatech.in2p3.fr

SUMMER HOUSING near Lab sought by visiting scientist couple for 3 months, 1 bdrm apt, very responsible, references, [email protected] alum.mit.edu, (6080 238-2571

NEAR BERKELEY, seeking room or studio apt within 10 mi of Lab, long or short term, good-natured vegetarian, regular Lab employee, no pets, non-smoker, Dave, X6409, (415) 665-7511

VISITING EPIDEMIOLOGIST seeks to rent or house-sit 2 - 3 bdrm furn house in Albany/Kensington/Berkeley/Oakland, for about 3 months starting anytime in May, non-smoker, no pets, single occupant, quiet/responsible, X5910 or X6591.

VISITING FEMALE SCIENTIST at National Center for Electron Microscopy seeks room or apt, 6/15 - 7/15, near Lab, Jun Jiao, [email protected], (503)725-4228.

VISITING RESEARCHER & spouse from Sweden need small apt, cottage or studio, 8/1 - 11/2, in Berkeley or near public transit to Lab, Lorri, X7493

CHAISE LOUNGE, multicolor, muted tones, seldom used, stain resist, photo avail, $600/bo, Barbara X4589, 642-7044

DUTAILIER GLIDER rocking chair, denim upholstery, padded arms, $37; nursing stool, $25; Graco baby swing, 2 speeds, $75, Mike, X8647

ENTERTAINMENT CENTER, 3 pc, oak, lighted upper shelves w/ glass doors, tambour doors enclose TV, video storage, glass door for VCR, oak lower doors, like new, $650/bo. Loren, X7729

ESTATE SALE, Sat, 5/13, 11:30 - 4, lovely maple dinette set w/ leaf + 6 chairs, chairs, Weber BBQ, figurines, bedrm set, gardening tools, more, 2018 Coalinga Ave, Richmond, 653-6964, 235-2136

GARAGE STORAGE, 10x20, secure, El Cerrito near San Pablo & Central Ave, no vehicles or workshops, make offer, Nance 524-1259

HEADBOARD, king sz, beautiful walnut, footboard, rails, quality constr, king sz Sealy posturepedic mattress, both less than 1 yr old, orig price ~ $1,300 ea, will sell separately, John, X4255, (925) 681-1581, bef 9 pm

MOVING SALE: Panasonic TV/ VCR combo, like new, $250; sofa, 3-seater, very nice, $175; lge desk $70; computer stand on wheels, $60; dining table w/ chairs, $50; TV stand, $30; full-sz bed, $50; bookcases, lamps, more, Joakim, X2390, 540-7419

NORDIC TRACK PRO cross country exerciser, exc cond, $300; 2" thick block front, Bartley Collection antique replica, solid mahoghany, have color ad of completed chest, unasmb kit, $500, Linda X2862, 704-9076

RCA TV, XL100 remote XS stereo, `95, gd cond, $40/bo; polaroid (talking!) camera, gd cond, $10, Rebecca, X4839, (510) 547-7586

REFRIGERATOR, 17 cu ft, off-white, clean, $100; stove, gas, avacado green, slide-in, very clean, $25; freezer, 12 cu ft, man defrost, $100 (all 3 available in July); ans mach, $10; interplak, $10; travel iron, $8; toner vacuum, $40; men's bicycle, Diamond back hybrid, $200, Ken, X7739, (510), 482-3331

SOFA, 3 seats, 2 yrs old, very clean, exc cond, $150; bed, queen sz (w/o mattress), $40, Yiwen, X2300, 525-4594

STANDARD FREEZER, $500; in-place bicycle, weight machine, need to sell, make offer, Tom, X4689, 409-3619

STORAGE SHED, 8'x12', heavy duty wood framed modular constr, $250/bo; bike trailer, Rhode Gear for 1 - 2 kids or touring, $150/bo; file cabinets, lateral, 36"x18"x65", 3 units, $40/bo each, Jonathan, X4148

WHIRLPOOL DRYER, lge capacity, great cond, has been stored for past 2 yrs, $250/bo, Jeremy, X4518, 923-1336

WHITE WOODEN CRIB, good cond, movable side, adjustable base, comes w/ mattress, $40, Alois, X7475, 849-3806

WOODEN BLINDS, 2", white, Graber, 65-3/4"Wx58-3/8"H (1), 25-1/2"W x58-3/8"H (2), $50 or bo for all, Sara/Harvard, 526-5347

BRITAX CAR SEAT in gd cond, will pay, Winnie, X7393

CARPOOLERS from Vallejo area to LBNL, 7 am to 4 pm, Michelle, X5541.

OLDER INTEL PCs (1985-95) for energy metering; researchers in the End-Use Forecasting Group (EETD) would like to spend a few minutes metering its energy consumption, Judy, X6540

SPANISH SPEAKER, someone proficient in Spanish to help with final stages of translating poem from Spanish to English, Trina, X4645, (510)215-7698

USED LEATHER SOFA, gd condition, green or blue, Nomi, X5078

PARIS, near Eiffel Tower, eleg furn, 2 bdrm apt, avail per week/ month, color pictures avail, (510) 848-1830

SO LAKE TAHOE, spacious chalet in Tyrol area, close to Heavenly, peek of lake, fully furn, sleeps 8+, sunny deck, pool and spa in Club House, close to casinos, $125/night, Angela, X7712 or Pat/Maria, (510)724-9450.

LOST: small brown box w/ gold earrings, necklace w/ pendant of the Parthenon, left in Bldg. 50 women's bathroom on main floor on March 28, Brionna, X7689

LOST: walkman tape recorder in men's room on the third floor in Bldg. 90, about 1:20 pm, Monday, April 24

GUINEA PIG, honey-colored, 5-mo-old, free to loving home, cage/food incl, Janice, X4943

PLATFORM DOUBLE BED, medium-dark wood, 6 drawers under, headboard w/ cubbies, haul it & it's yours, upper Rockridge, Rich, X842.

Ads are accepted only from LBNL employees, retirees, and onsite DOE personnel. Only items of your own personal property may be offered for sale. Submissions must include name, affiliation, extension, and home phone number.

Ads must be submitted in writing only -- via e-mail ([email protected]), fax (X6641), or delivered/ mailed to Bldg. 65B. Ads run one week only unless resubmitted in writing, and are repeated only as space permits.

The deadline for the May 19 issue is Thursday, May 11.