Life Comes and Goes in Unexplained Cycles
Lab's Education Team Helps Prepare Berkeley Fifth Graders for State Test


---
Life Comes and Goes in Unexplained Cycles
Fossil Record Yields Surprising Finding
A detailed and extensive new analysis of the fossil records of marine animals over the past 542 million years has yielded a stunning surprise. Biodiversity appears to rise and fall in mysterious cycles of 62-million-years for which science has no satisfactory explanation. The analysis, performed by researchers at Berkeley Lab and UC Berkeley, has withstood thorough testing, so that confidence in the results is above 99 percent.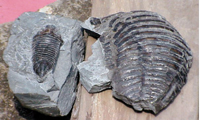 The records of marine fossils, such as this 400-million-year-old trilobite, are the best tools for studying biodiversity through history because they are longer and better preserved than the records for land fossils. Photo courtesy of Lockport-NY
"What we're seeing is a real and very strong signal that the history of life on our planet has been shaped by a 62-million-year cycle, but nothing in present evolutionary theory accounts for it," said Richard Muller, a physicist who holds joint appointments with Berkeley Lab's Physics Division and UC Berkeley's physics department. "While this signal has a huge presence in biodiversity, it can also be seen in both extinctions and originations."
Muller and his graduate student Robert Rohde presented their findings in the March 10, 2005 issue of Nature. In a commentary on this research in the same issue of the journal, UC Berkeley professor of earth and planetary sciences James Kirchner stated, "It is often said that the best discoveries in science are those that raise more questions than they answer, and that is certainly the case here."
Muller and Rohde discovered the 62-million-year fossil diversity cycle after creating a computerized version of an exhaustive database compiled by the late University of Chicago paleontologist Jack Sepkoski. Entitled "Compendium of Fossil Marine Animal Genera," Sepkoski's posthumously published database is the most complete reference available for the study of biodiversity and extinctions. It covers the Phanerozoic eon — the past half billion years during which multicellular organisms left abundant fossil records in rocks; it uses genera, the level above species in taxonomy, because genera classifications are more manageable and less often revised than species classifications; and it includes only marine fossils, because the records reach further into the past and the fossils are better preserved than the records of land fossils.
For their study, Muller and Rohde defined fossil diversity as the number of distinct genera alive at any given time. This yielded a total of 36,380 genera, whose history the Berkeley scientists tracked over time using the International Commission on Stratigraphy's 2004 time scale.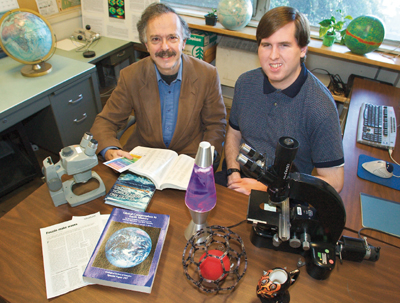 Physicists Richard Muller (left) and Robert Rohde analyzed the fossil records of marine animals from the past 542 million years and found that biodiversity appears to rise and fall in mysterious cycles of 62 million years. Photo by Poy Kaltschmidt, CSO
"Putting the timescale in a chronologic format was critical to our findings, because there were no specific years assigned to the geologic timescale used by Sepkoski," Muller said. "We are the first to reconstruct diversity from the final version of Sepkoski's "Compendium," and the first to use the 2004 geochronology time scale. In a sense, our work has verified the new time scale."
Muller and Rohde have been working on this study for nearly two years, and first discovered the 62-million-year biodiversity cycle in November 2003. They spent the next year trying to either knock it down or explain it. Despite examining 14 possible geophysical and astronomical causes of the cycles, no clear explanation has emerged. Muller and Rohde each has his own favorite guess.
Muller suspects there is an astrophysical driving mechanism behind the 62-million-year periodicity.
"Comets could be perturbed from the Oort cloud by the periodic passage of the solar system through molecular clouds, galactic arms, or some other structure with strong gravitational influence," Muller said. "But there is no evidence even suggesting that such a structure exists."
Rohde prefers a geophysical driver, possibly massive volcanic eruptions triggered by the rise of plumes to the Earth's surface. Plumes are upwellings of hot material from near the Earth's core that some scientists believe have the potential to reoccur on a periodic basis.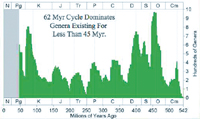 The 62-million-year fossil diversity cycle is most evident in the historical records of genera that survived less than 45 million years. There is at present no explanation for this cycle.
"My hunch, far from proven," Rohde said, "is that every 62 million years the earth is releasing a burst of heat in the form of a plume formation event, and that when those plumes reach the surface they result in a major episode of flood volcanism. Such volcanism certainly has the potential to cause extinctions, but right now there isn't enough geologic evidence to know whether flood basalts or plumes have been recurring at the right frequency."
In examining their results, Muller and Rohde found that the fossil diversity cycle is most evident when only short-lived genera (those that survived less than 45 million years) are considered. They also found that some organisms seem to be immune to the cycle, while others are exceptionally sensitive. For example, corals, sponges, arthropods and trilobites follow the cycle, but fish, squid and snails do not. In general, longer-lived genera that are more diverse and widespread stand a better chance of resisting the 62-million-year cycle.
Muller and Rohde also found a second, less pronounced diversity cycle of 140 million years.
"The 140-million-year cycle is also strong, but we see only four oscillations in our 542-million-year record," Muller said. "This means there is some chance that it could be accidental, rather than driven by some external mechanism."
If it is real, the 140-million-year fossil diversity cycle could be tied to a reported 140-million-year cycle in Ice Ages. Said Rohde, "It is also possible that this 140-million-year fossil diversity cycle is driven by passage through the arms of the Milky Way galaxy."
Muller and Rohde are continuing their examination of the data for both cycles, and their search for explanations. This research was supported, in part, by the Ann and Gordon Getty Foundation, the Folger Foundation, and the Larsen Fund.



Lab's Education Team Helps Prepare Berkeley Fifth Graders for State Test
By Pam Patterson
"Why are you wearing white coats?" CSEE education specialist Dale Koistinen called out to the excited fifth graders crowded around his foaming canister of liquid nitrogen at Malcolm X Elementary School last Wednesday. "Because we're scientists!" they roared back.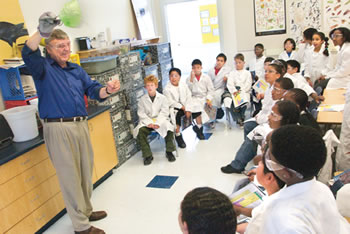 Dale Koistinen of CSEE demonstrates the properties of liquid nitrogen to Malcolm X Elementary children by immersing an air-filled balloon into a tray of liquid nitrogen. Photo by Roy Kaltschmidt, CSO
"That's right," said Koistinen. "If you ask questions and try to find answers about the world around you, you're doing science."
And science was exactly what Koistinen was there to do, with the help of CSEE head Rollie Otto, aide T. J. Wilkinson, and a couple of crates full of scientific gadgets and other cool stuff.
The CSEE team had been called upon by Berkeley Unified School District's Heidi Boley to help prepare the district's fifth graders for the science portion of the upcoming Standardized Testing and Reporting (STAR) tests, administered by the state of California.
The STAR program requires all public schools in the state to test students in grades 2 through 11 on subjects ranging from English and history to mathematics and science. Given each spring, the tests assess students' performance on California's academic content standards, which specify what all the state's children are expected to know and be able to do in each grade or course. The science portion of the test, which is being administered for only the second time to Berkeley Unified's fifth graders, includes basic principles of earth science, biology, chemistry, and physics.
When discussions with the school district began in January, Otto, Koistinen and UC Berkeley engineer George Gagnon, who already had a project in the Berkeley schools, knew they would have to come up with a plan that could be put into action quickly to make this spring's deadline for the tests. The three met with Boley and all 11 Berkeley school principals and introduced them to the fifth grade science standards, sample questions from the STAR test, and a preview of how the hour-long lesson plan would be presented to the children. They proposed using lessons that had already been applied with over 1,000 students in CSEE's successful fifth grade tour program at Berkeley Lab. They would gather together the appropriate supplies and work with the Lab's Creative Services Office to prepare a colorful lesson book.
"They were skeptical until we told them there was absolutely no cost to them," Otto said. "I think it is fair to say they were enthusiastic to wildly enthusiastic at that point, and ready to sign up on the spot. Every principal reached for his or her calendar."
For CSEE it's always a scramble to come up with the funds to produce such innovative school programs, but it's worth the effort, says Otto. "For us, it's a tangible way to be a good neighbor in our community. We have all 11 schools signed up for two dates. STAR testing begins the first of May, so we'll finish up all of the lessons by the end of April."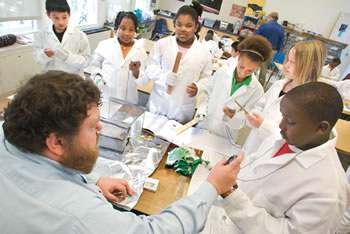 Dressed in lab coats, fifth graders at Malcolm X school gather around CSEE's T. J. Wilkinson for a hands-on science demonstration.
Berkeley science teacher John Poole, who divides his time between Malcolm X and Jefferson elementary schools, spent time preparing his students for the Lab lesson and will follow up afterwards to reinforce the principles they learned. He said Berkeley's classroom teachers, like teachers everywhere, are overloaded with all the materials they are required to teach, so subject-matter experts like him help fill in the gaps. It's always a balancing act to teach to all the state standards and still make time for creative hands-on science, Poole said. "My students do expository writing, flash cards, and drills — a lot of hard work," he said. "But it's the hands-on science that helps to keep them curious and motivated."
For Poole's eager students, the lesson was hands-on science at its best. Decked out in their pint-size lab coats and safety goggles, they pored over their workbooks and periodic tables as Koistinen familiarized them with properties of the elements. They sifted through bags of sample metals to feel the difference in weight and texture, watched a demonstration of the properties of liquid nitrogen, and loudly debated what gases comprise the air they breathe. Then they took their places at four tabletop stations to conduct their own hands-on experiments, guided by the volunteers, in electricity, magnetism and thermal conductivity.
How successful was the inaugural effort? At the exact moment Koistinen was immersing an air-filled balloon into a tray of liquid nitrogen, turning it into a contorted frozen confection, he was interrupted by the school bell signaling class was over.
"Do you have to leave?" he asked the class. "No!" They shouted back, "keep going!"
John Poole shook his head in amazement. "They're usually halfway down the hall by the time the bell rings," he said with a smile.
It was a reminder to everyone of the eternal "wow" of science.
Go here for an interview with Rollie Otto.



Daughters and Sons Have a Blast at Work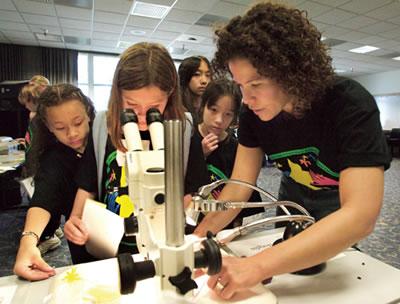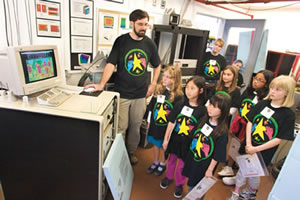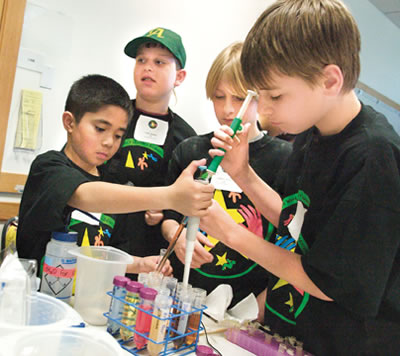 Pictured here are, clockwise from top: earth scientist Dominique Joyner helps students look at leaves, flowers, salt and sugar crystals, bacteria and fungi through the microscope; a group of boys measures the pH of sodas from the cafeteria using different types of pipettors; and Howdy Goudey of Environmental Energy Technologies demonstrates a heat imager to a group of young girls. Photos by Roy Kaltschmidt, CSO
Year after year they come up to the Lab for one day and liven up the Hill with their laughter, cheerful faces, and genuine awe at the wonders of science. The event is Daughters and Sons to Work Day, which brings children and other young guests of Lab employees to Berkeley Lab for a fun-filled day of activities and workshops. The event was held earlier than usual this year, on Thursday, March 10, and included career fairs, workshops such as Virtual Visit to Mars, Liquid Nitrogen, Fire House and Nuclear Science, plus the traditional ice cream social to wrap up the day.



Berkeley Site Office Physicist Shares Her Love of Science Worldwide
By Lyn Hunter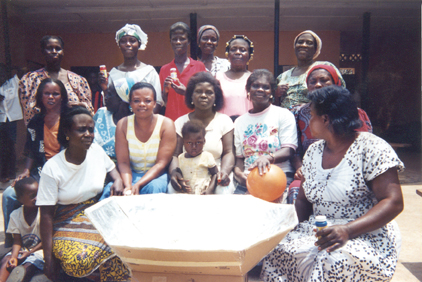 Women in the village of Akwasiho, Ghana, pose in front of a solar cooker that Carwell helped them build.
Health physicist Hattie Carwell of the Department of Energy's Berkeley Site Office has a job with a lot of responsibilities and many challenges. As part of her duties overseeing the Lab's Environment, Health and Safety Division, she works with the EH&S staff to ensure that the research done here is compliant with local, state and federal regulations, as well as to investigate accidents and injuries, develop safety plans, and set metrics for performance.
You might think Carwell is ready to get home and kick up her feet after working on such high-pressure issues each day. Instead, she devotes much her free time volunteering — sharing her knowledge and experience as an African American female scientist to help improve the lives of others.
Carwell is the director of the Museum of African American Technology Science Village, located in Oakland. The museum features exhibits that tout the accomplishments of blacks in the sciences, and acts as a reference library. Also, museum representatives, including Carwell, travel to local schools and events to raise awareness and encourage minority youths to pursue degrees and careers in science and technology.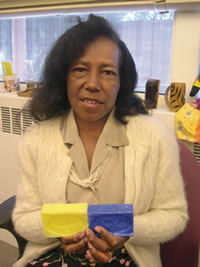 Carwell holds soap made by village women in Akwasiho, Ghana.
Her outreach efforts extend beyond the shores of the United States as well. As president of the Northern California Council of Black Professional Engineers, she and other members make frequent trips to Africa to pursue projects that help the residents of small villages become more self-sufficient.
"The electrical grid hasn't reached Akwasiho, a village in Ghana, so we installed solar panels on the chief's palace to demonstrate how they can generate their own electricity," says Carwell, explaining one of their most recent endeavors. "We also showed them how to make solar cookers, which they use to dry vegetables, which they eat during the lean season."
They also sell the vegetables they've dried, she said, to generate income. The women there were also interested in making and selling soap, so Carwell provided them with instructions. She has two bars of the brightly colored soap sitting on the windowsill of her office in Building 90.
"It's a joy," says Carwell of her work in Africa. "Over the years, we've made a lot of contacts and built a level of trust. Helping villagers there build their capabilities is not only rewarding, but it's fun. We all learn from it."



An Inside Look at Cell Nuclei
By Dan Krotz
Nanotechnology may be in its infancy, but biologists may soon use it to watch the inner workings of a living cell like never before. Berkeley Lab scientists have developed a way to sneak nano-sized probes inside cell nuclei where they can track life's fundamental processes, such as DNA repair, for hours on end.
These two images portray the movement of nano-sized probes. On the left, a false-color overlay of fluorescence from a cell taken at four-minute intervals reveals the dots moving from the green to the red positions. On the right, a large aggregate of immobile dots is indicated by the red arrow, while the circled stars and arrows indicate dots that move.
"Our work represents the first time a biologist can image long-term phenomena within the nuclei of living cells," says Fanqing Chen of the Life Sciences Division, who developed the technique with Daniele Gerion of Lawrence Livermore National Laboratory.
The first enduring look into the secret lives of cell nuclei comes by way of a strong collaboration between biologists and chemists. For the past four years, Chen and Gerion have worked closely with members of the lab of Paul Alivisatos, a chemist in the Materials Sciences Division and an associate lab director who helped pioneer the development of nano-sized crystals of semiconductor materials. Called quantum dots, these specially prepared crystalline semiconductors are composed of a few hundred or thousand atoms that emit different colors of light when illuminated by a laser. They have shown great promise in such wide-ranging applications as solar cells, computer design, and biology. In 1998, for example, Alivisatos developed a way to fashion inorganic nanocrystals composed of cadmium selenide and cadmium sulfide into fluorescent probes suitable for the study of living cells. This technology has been licensed to the Hayward, California-based Quantum Dot Corporation for use in biological assays.
More recently, Chen and Gerion wondered if they could get even closer to the genetic action by transporting quantum dots inside cell nuclei.
"We took the tool Paul developed and applied it to a problem faced by biologists every day — getting inside the nucleus, a desirable target because the cell's genetic information resides there," says Chen.
Because these semiconductor nanocrystal fluorescent probes are stable and nontoxic, they have the ability to remain in a cell's nucleus — without harming the cell or fading out — much longer than conventional fluorescent labels. This could give biologists a ringside seat to nuclear processes that span several hours or days, such as DNA replication, genomic alterations, and cell cycle control. The long-lived probes may also allow researchers to track the effectiveness of disease-fighting drugs that target these processes.
"We could determine whether a drug has arrived where it is supposed to, and if it is having the desired impact," says Chen.
Fanqing Chen (pictured) and Daniele Gerion have harnessed the powers of nanotechnology to image the interior of cell nuclei.
But getting a quantum dot inside a nucleus is not easy. First, Chen and Gerion had to breach the nuclear membrane, which has pores that are only about 20 nanometers wide. To fit the probes through these tiny slits, they used an especially compact cadmium selenide/zinc sulfide quantum dot coated with silica. Next, they stole a trick from a virus's playbook to smuggle this nanocrystal past the highly selective membrane that guards entrance into the nucleus. In nature, a virus called SV40 is coated with a protein that binds to a cell's nuclear trafficking mechanism, a ploy that gives the virus an unhindered ride inside the nucleus. Chen and Gerion obtained a portion of this protein and attached it to the quantum dot. The result is a hybrid quantum dot, part biological molecule and part nano-sized semiconductor, that is small enough to slide through the nuclear membrane's pores and believable enough to slip past the membrane's barriers.
"We knew we could get quantum dots inside a cell, but getting them through the nuclear membrane is very difficult," says Chen. "So we learned from the virus."
So far, Chen and Gerion have been able to introduce and retain quantum dots in the nuclei of living cells for up to a week without harming the cell. In addition, quantum dots fluoresce for days, at a resolution high enough to detect biological events carried out by single molecules. In contrast, conventional labels, such as organic fluorescent dyes and green fluorescent proteins, only fluoresce for a few minutes at a high resolution. These labels are also either toxic to cells or difficult to construct and manipulate.
In the future, they hope to tailor quantum dots to track specific chemical reactions inside nuclei, such as those involved when proteins help repair DNA after irradiation. They have already visualized the dots' journey from the area surrounding the nucleus to inside the nucleus, a feat that opens the door for real-time observations of nuclear trafficking mechanisms. They also hope to target other cellular organelles besides the nucleus, such as mitochondria and Golgi bodies. And because quantum dots emit different colors of light based on their size, they can be used to observe the transfer of material between cells.
"We can have two different quantum dots in two different cells, and watch as the cells exchange their mitochondria," says Chen, adding that their technique paves the way for imaging a host of other long-term biological events. "The toughest part is getting inside the nucleus, and we have already cleared that hurdle."
Chen and Gerion's research was published in the 2004, Vol. 2, No. 10 issue of Nano Letters.



Lab Education Chief Otto: Lab Is Ideal Complement to Schools
By Ron Kolb
Roland J. "Rollie" Otto came to Berkeley Lab as a postdoc in nuclear science and then a chemist in the Energy and Environment Division. But his life changed in 1983 when he was asked to succeed Frank Asaro as chair of something called the "Lab Co-op Committee," an early attempt to work with students on careers in science. Otto was given $15,000 to support six students and to query six teachers about what the Lab could do to help them. His research led to the Department of Energy's highly successful National Teacher Research Associate program of the 1990s.
Three years later he convinced then-Assistant Lab Director Martha Krebs to support a half-time position for education outreach; and by 1988, then-director David Shirley established a Center for Science and Engineering Education (CSEE) at the Lab, with Otto as its director. Still there today, Otto describes the last 17 years as a roller coaster, peaking in 1994 with the awarding of $2.5 million in science education funding, which then dropped dramatically. Today's program is about one-third of the 1994 total. Still, CSEE counts hundreds of teachers and more than 1,000 students from across the nation as alumni.
Otto's portfolio in education includes two years as assistant director of the Lawrence Hall of Science, executive director of the California Science Project, and consultant to the Commission for the Establishment of Academic Content and Performance Standards, whose report served as a blueprint for today's state public school instruction.
The View caught Otto on the run this week between meetings in Washington and teaching classes of fifth graders. He shared with us his views about the state of science education.
Rollie Otto.
Photos by Roy Kaltschmidt, CSO

VIEW: Why is it important for an institution like Berkeley Lab to offer programs that reach out to students?

OTTO: By using the Lab's rich science resources, we can do things that no one else can quite do. We provide role models and mentors, and our involvement in education is very motivating for young people, because they meet the actual scientists at an institution with a great reputation. An important factor in educating the next generation of scientists and engineers is capturing them early in their careers and giving them a glimpse of life in these professions. They can't get that in the schools. The informal education plays a major role in determining their choices for life.

VIEW: In your opinion, what is the current health of science education in California and nationally? And what needs to be done to improve it?

OTTO: In California over the last six or seven years we had the standard-setting process, testing, and school-by-school accountability. With so much emphasis on reading and math, especially in early grade levels, science often takes a back seat. There's not adequate time now for the teaching of science on a weekly basis in elementary school. Nationally we have not made a lot of progress in building the world's largest educational system called for in the 1983 "Nation at Risk" report, nor have we achieved the grand goal of being first in the world in science and math education.

I have a radical view: we need to go back to more local control, and we need to have local funding as the predominant source. The state supports a great fraction of the operating costs of public schools, but unless you have the community engaged in what's being taught, I don't see the problems being solved. Charter schools have started to show progress and could be a politically acceptable alternative to the top-down approach.

VIEW: The summers at Berkeley Lab seem to be energized by the presence of students and teachers. What do they do while they're here?

OTTO: The core of what we do is mentored research experiences. That's the way most scientists have learned the trade, being mentored by a scientist and being totally immersed in the doing of science. It's a different and rich kind of learning experience that can be adjusted to individual participants' needs and interests. Our students range from those who are bright but don't have much formal education in a lab setting, to college students who have had upper division course work and lab experience. It's a real eye-opener for teachers in our programs who have formal science education but haven't practiced science. These experiences encourage inquiry-based instruction and students' understanding of the nature of scientific inquiry.

VIEW: You recently presented several mentor awards to scientists at the lab who have devoted their time to work with students. What are the benefits of mentorships to them?

OTTO: Scientists who volunteer to be mentors enjoy working with students and teachers, who in turn are so appreciative of having contact with these professionals. Undergraduates get a leg up on their careers and graduate school, and they meet world-class scientists who enjoy teaching young people. So our participants' absorbing interest is welcomed. At any one time, we probably have 120 to 150 people who have been or are mentoring students or teachers.

VIEW: You were very close to the late Nobelist Glenn Seaborg. Can you tell us about that relationship and about Dr. Seaborg's passion for teaching science to young people?

OTTO: I had the great privilege of being one of the first nuclear science postdocs under Glenn's direction when he returned from Washington (from his service as director of the Atomic Energy Commission) in 1973. From 1974 to 1978 I was part of the Seaborg nuclear science heavy element group. I could always count on Glenn to give talks to teachers and students and sign periodic tables. He always seemed to have the time. Glenn was always working to make things better for education. When his eyesight began to fail, I drove him to and from work every day, and we would discuss the science standards agendas that I would prepare for him the next day. (Seaborg was chair of the state committee.)

VIEW: Is there reason to be optimistic about sustaining and improving science and math education in the United States?

OTTO: Yes. Each year I read 150 or more applications we get for our High School Student Research Participation Program from students in the Bay Area. These kids have GPA's above 3.75, many have taken advanced placement classes at their schools, and some get perfect scores on the SATs. We can only place 20 to 40 of these students, and it is clear they are hungry for real-world experiences in science. They want hands-on, engaging, relevant science lessons and courses. They want more exposure to careers and professionals. The future will be in good hands with these students leading it.



Book Review: After the Beginning: A Cosmic Journey Through Space and Time, by Norman K. Glendenning
Imperial College Press and World Scientific Publishing Co.,
228 pages hardcover, $58
(paperback, $28)
The best-known popular books about the origin of the universe may be Stephen Hawking's A Brief History of Time — famous largely because it quotes his publisher's advice that every mathematical equation halves readership — and Steven Weinberg's The First Three Minutes, famous (or infamous) for his conclusion that "The more the universe seems comprehensible, the more it also seems pointless."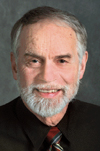 Norman Glendenning
In After the Beginning, Norman Glendenning of Berkeley Lab's Nuclear Sciences Division differs with both these points of view. His enlightening, entertaining, sometimes startling story tells how philosophers, astronomers, and physicists have teased out cosmic history right back to the first 10-to-the-minus-43rd of a second — before which time, he observes, we can't know anything because the laws of physics didn't apply.
For the most part his narrative is equation free, but unlike Hawking, Glendenning provides plenty of equations for those who really want them. In some cases the mathematical arguments in the boxes that follow key chapters actually make After the Beginning easier to understand than A Short History of Time's tortured, opaque prose; in any event, they can be ignored without impeding the narrative flow.
As for Weinberg, Glendenning is more cheerful by nature. To find the universe pointless is not, after all, a logical necessity, and in all that has happened since Weinberg's book was last revised in 1993, Glendenning finds anything but anxiety:
… the men and women among us who in earlier times would have been priests and priestesses — have been able to recognize the very seeds of the galaxies. One of these alone, the Milky Way, harbors billions of suns with billions of planets. From one small planet, the Earth, we look out in wonder …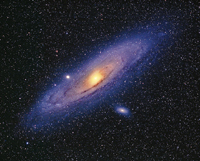 If anything, the universe is less comprehensible than it seemed a decade ago, when the great mystery of dark energy — which accounts for 70 percent of the density of the universe — was as yet unsuspected. New mysteries on the grand scale are balanced by new mysteries on the microscopic scale, of supersymmetry, string theory, and hidden dimensions.
Glendenning revels in the latest discoveries while laying the groundwork to appreciate them, not least with anecdotes of historical figures (e.g., it was Paul Dirac's loneliness and depression, he suggests, that led to Dirac's insights linking quantum mechanics and general relativity). The personal approach benefits greatly from Glendenning's tenure at Berkeley Lab, from his familiarity with machines like the Bevatron, where the antiproton and antineutron were discovered, to his aquaintanceship with leading players in the still unfolding story of the cosmos, such as George Smoot and Saul Perlmutter.
Like all great science books that return to oft-explored territory, After the Beginning: A Cosmic Journey Through Space and Time displays the essential properties of revelation and surprise. The book is a recent selection of the Scientific American Book Club.



In The News
LDRD Call for Proposals
Director Steven Chu has issued the FY 2006 call for proposals for the Laboratory Directed Research and Development (LDRD) program, which provides support for projects in forefront areas of science that can advance Berkeley Lab's R&D competencies and open up new directions and capabilities.
Multi-investigator and multi-divisional initiatives that address problems of scale are especially encouraged. All projects should have a clearly-stated problem (e.g., major scientific challenge, DOE mission, or addressing a national need), coherent objectives, and a well-considered plan for leadership, organization and budget.
The call for proposals has been distributed to division directors and business managers. Principal investigators must submit proposals to division directors by April 15.
After an internal divisional review and evaluation, division directors will forward the proposals to the director's office. They will then present the proposals from their respective divisions to review committees comprised of the director, deputy director, associate laboratory directors, and other division directors. Director Chu will make the final decisions.
The complete call, schedule, guidance, and forms are available for downloading off the Lab home page under the heading "Publications," then LDRD, or directly at http://www.lbl.gov/Publications/LDRD/.
Audit of UC Health and Welfare Plan Enrollees Coming Up
According to UC insurance regulations, in the event that an ineligible person is enrolled in an employee's UC health and welfare plans, that employee as well as all family members will have their coverage canceled for 12 consecutive months. With the UC HR/Benefits about to start its annual random audit today, this is a good time to make sure all enrolled members are eligible for UC coverage.
In May, UC will send notification to those who will be included in this year's audit. Those who do not respond by submitting verification of eligibility will be similarly de-enrolled.
Please note that employees will not have the option to de-enroll an ineligible person identified during the audit process. De-enrolled employees and eligible family members may elect coverage under the Consolidated Omnibus Budget Reconciliation Act (COBRA).
To review your family enrollment information, visit UC's At Your Service website, select "Your Benefits Online," and after signing in, click on "View Your Enrollments" in the "Your Health & Welfare" section. To review the
eligibility rules for family members, see the Group Insurance Eligibility Factsheet.
If you need to de-enroll an ineligible family member, send an enrollment, change, cancellation or Opt Out – UPAY 850 form to the Benefits Office at MS 937-600.
For additional information contact the Benefits Office at X6403.
Registration is Open for Science Exploration Camp
Berkeley Lab's Science Exploration Camp (SEC) will be back this summer, offering children of Lab employees the opportunity to engage in recreational and science-oriented activities during six weekly sessions starting July 11 through August 19. The program is tailored for children entering second to sixth grade. Registration started last Monday and space is limited to about 30 children, so early signups are encouraged. SEC's goal is to provide a hands-on, interactive, and collaborative environment in which children can experience different areas of scientific research. Weekly themes will include "Puzzles and 'Puters," "Seeing Through a Lens," and "Earth, Wind and Fire." "SEC offers the right balance between nurturing kids' interest and curiosity for science and giving them the opportunity to have fun," says Alessandra Ciocio, president of the SEC board of directors and mother of two girls who attended camp last summer. SEC is also seeking employees to join its board of directors. Volunteers are needed in various areas, especially with budgeting work this year. To find out more about the camp, registration, or how you can help, email [email protected], call X6566, or visit http://sciencecamp.lbl.gov/.



Flea Market
AUTOS & SUPPLIES

'00 FORD XL RANGER, forest green, reg cab/short bed, 10K mi, driver/passenger air bags, silencer anti-theft device, 4 cyl/5-sp, manual trans, sunrf, sliding rear window, AM/FM/CD, bed liner, pwr steer, rec's avail, good mechanical & body cond, $8,000/bo, Diana, X2838
'95 ACURA INTEGRA GSR, 3-dr hatchback coupe, 73K mi, 1 owner, all rec's, new tires, exc cond, drk green/gray cloth, 5-spd stick, 170 hp, ABS, air bags, alloys, moonrf, lumbar, ac, tilt, cruise, pwr locks/antenna/mirrors, $7,500, Mark, X7087, 486-8079
'93 DODGE INTREPID sedan, char-gold, 4 dr, auto, runs well, looks sharp, 93K mi, 1 owner, $1,900/bo, Cheryn, 642-5247, (925)934-7817
'92 TOYOTA 4-RUNNER, 5-sp stick, no ac, 4-cyl, 180K mi, runs fine, $4,200, Cecelia, 237-6793

HOUSING

BERKELEY, lge 2 bdrm top flr apt, balcony & nice view, 5 blocks from UCB, 3 blocks from lab bus stop, lease until 8/2/05, can be extended, $1,300 rent incl offstr parking, garbage & water, avail now, David, (650) 387-3626
BERKELEY, furn rms, $350/wk or $850/mo, kitchen, laundry, TV, DSL, walk to lab shuttle, shops, Jin, 845-5959, [email protected]
BERKELEY, bdrm in shared house, 2737 Woolsey St/Elmwood area, off College Ave, $550/mo + bills, Barbara, 654-5069
BERKELEY HILLS, bay view, quiet, eleg & spacious furn suite, 1 bdrm/1 bth, liv rm, kitchenette, DSL, sat TV/VCR, walk to UCB, by wk/mo/ short stay, Pierre, 510/387-4015, [email protected], www.bvsuite.com
EL CERRITO, 1518 Liberty St @ Potrero Ave, 2 bdrms, 1-car garage, front & back yard, new paint, new carpet $1,395/mo, 526-7188, fax 528-0935
MORAGA, condo for sale, 1 bdrm/1 bth, bonus rm, lge liv rm, new carpets, upgraded granite kitch, center, travert, flr in bath, lge deck w/ hill view, Pat, 724-9450
NORTH BERKELEY, B&B, long or short term, $575/mo, priv home, 1 furn rm & 1 cozy garden cottage, both fully furn, avail immed, breakfast daily, Helen, 527-3252
NORTH OAKLAND, quiet, new 350-sq-ft cottage w/ priv ent in backyard garden, nr all trans, no smok/pets, $825/mo, ref checks & credit report req, 654-2863, [email protected]
SAN PABLO, Tara Hills, 3 bdrm/2 bth house, safe, quiet, resid neighborhood, convenient to I-80, lge serene backyard w/ deck, creek view, dw, w/d, 2 car garage, $1,400 + util/dep, no pets, Marlene or Hisao, 843-8933, [email protected]
SAN PABLO, rm in a spacious 4 bd/2 bth 2-story home, 5 min from I-80, stores/fitness, $485, util incl + parking, $100 dep, Carmen, (650) 743-0038, [email protected]
TARA HILLS, 2 bdrms for rent in 4 bdrm/2 bth house, share w/ a female, $550/mo, avail now, Liz, X2724, 685-0005, [email protected]
WALNUT CREEK, 1 bdrm, upper unit, 2 blocks from Pleasant Hill BART, new kitchen/appliances, 2 new air conditioners, new drapes, 733 sq ft, carport, pool, picnic area, laundry rm, exer rm, $1,000/mo, lease, no pets, (925) 932-3680

MISC ITEMS FOR SALE

COMPUTER, PENTIUM II-333MHz w/ 40X CD, 52X CD-RW, floppy, zip 100, 327 MB memory, 20 MB hard disk, USB ports, modem & ethernet boards, kybrd, mouse, no monitor, Windows 98SE, Office 2000, all orig manuals & Cds, $75; HP LJ 5L, 6L toner cartridge, new $30, Ken, X7739, [email protected]
FURNITURE, dining rm table w/ 4 chairs, couch, easy chair, desk chair, straight-backed chair, more, see them: http://costard.lbl.gov/~grl/furniture/furniture.html, Gerry, X4693, 526-2360

WANTED


'91-'95 TOYOTA MR2, man trans, clean title, parts for '92 MR2, green front hood & stock 14" or 15" rims pref w/ tires that still have tread, Kwan, X5363

VACATION

KIHEI, MAUI, 1 bdrm condo, across from Kamaole II beach, fully equipped, ocean & garden view from lanai, 4-night min, $90/nite or $525/wk (7 nights), Faye/John X6787, X7505, 724-2982, 524-8734 eves
PARIS, FRANCE, near Eiffel Tower, furn, eleg & sunny 2 bdrm/1 bth apt, avail yr-round by wk/mo, close to stores/rest/trans/shops, 848-1830, [email protected]



Flea Market Policy
Ads are accepted only from Berkeley Lab employees, retirees, and onsite DOE personnel. Only items of your own personal property may be offered for sale.
Submissions must include name, affiliation, extension, and home phone. Ads must be submitted in writing
(e-mail: [email protected] lbl.gov, fax: X6641), or mailed/ delivered to Bldg. 65. Email address are included only in housing ads.
Ads run one issue only unless resubmitted, and are repeated only as space permits. The submission deadline for the April 1 issue is Thursday, March 25.



Lab Inventors Awarded Royalty Checks
On March 1, Berkeley Lab Director Steve Chu, Deputy Director Graham Fleming and the Technology Transfer Department awarded royalty distribution checks to 30 Berkeley Lab inventors who attended the annual ceremony. Fifty-six current Lab employees received royalty checks. Pictured above are: front row, from left, Marvin Cohen, Derek Yegian, Steve Holland, Bill Kolbe, Malcom Howells, Duo Wang, Jim Galvin, and Kathleen Bjornstad; second row, Joe Orr, Nicholas Sauter, Bob Nordmeyer, Pier Oddone, Steve Chu, Ender Erdem, Chin-Fu Tsang, Eleanor Blakely, Ian Brown, Othon Monteiro, and Paul Adams; and back row, Nigel Moriarty, Paul Alivisatos, Tony Hansen, Steve Visco, Lutgard DeJonghe, Fred Buhl, Mario Aranha, Mario Moronne, Steve Selkowitz, Dariush Arasteh, Joe Huang.
Royalty distributions to inventors have been growing every year and were up 20 percent this year. Technology licensing agreements yielded over $653,000 in FY 2004 for 120 scientists whose inventions Berkeley Lab transferred to industry. The average distribution was $5,444, with the largest check totaling about $114,000. Approximately $1.4 million in additional licensing income from FY 2004 will go to the Lab, to be used primarily for research and development.



People, Awards and Honors
Kirtz wins Compton Award

Janos Kirz.
Janos Kirz, the acting director of the Advanced Light Source since 2004, is the co-recipient of the 2005 Arthur H. Compton Award, granted by the Advanced Photon Source Users Organ-ization in recognition of important contributions to the field of x-ray microscopy. Kirz and Günter Schmahl of the University of Göttingen, Germany, received the award for their development of Fresnel zone plates, which are used to focus x-rays for either full-field imaging (Schmahl) or scanning microscopy (Kirz).
"Because of their leadership over the last 30 years, x-ray microscopy has evolved into a powerful method for the study of nanoscale structures and phenomena in many areas of science," the citation reads.
Joe Gray named Kansas State Alumni Fellow

Joe Gray.
Joe Gray, associate lab director for Life and Environmental Sciences, was one of 11 alumni named as Kansas State University 2005 Alumni Fellows. Gray received his Ph.D. in nuclear physics from the school in 1972. The honor recognizes alumni who have distinguished themselves in their careers. Fellows are invited to return to campus as guests and mentors.
IN MEMORIAM: Jock Fugitt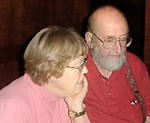 Jock Fugitt (right).
Jock Fugitt, a senior technical associate in the Lab's Engineering Division from 1963 to 1974 and again from 1977 to 1992, passed away last month. According to former colleague Art Ritchie of the Advanced Light Source, Fugitt helped implement several upgrades to the Super Hilac during its heyday, the 1960s through 1980s. Fugitt received a prestigious DOE Energy Savings Award for work he did to the main accelerator radio-frequency system.