Berkeley Lab Currents
March 1, 1996

By Ron Kolb
The last time Berkeley Lab job descriptions underwent a significant Laboratory-wide review, most employees were still using electric typewriters. Today, 20 years later, the Laboratory is in the midst of its most comprehensive review and update of job classifications ever attempted.
Since 1994, when about 1,100 scientists and engineers were mapped into a new classification structure, the Human Resources Department has been working with supervisors and managers to systematically review job "families" throughout the Laboratory. The entire redesign process is expected to conclude sometime next year.
The goal of the effort is to establish a consistent and equitable compensation process. This will ensure that job families accurately reflect work performed, with pay grades closely tied to comparable jobs within the labor market.
"Our classification descriptions have been so vague that it has been difficult for supervisors to determine, and for employees to understand, the classification that is appropriate for a given position," said Klaus Berkner, Deputy Director for Operations. "This Berkeley Lab uniqueness has also made it challenging to compare salaries to the market.
"The changes being made should benefit both the Laboratory and the employee," Berkner said. "We want to develop market-driven pay ranges within which individual salaries are determined, and to identify career paths and promotional opportunities. For example, if a non-exempt employee has as a goal to obtain an exempt position, he or she can see what it will take in terms of knowledge, skills and work experience."
"We need to ensure that our current titles and pay plans are keeping up with the Laboratory's changing mission and work environment," said Human Resources Director Walter Blount. "Our compensation program must be flexible enough to support our multi-disciplinary efforts and yet allow us to link our salaries to appropriate labor markets. Our focus should be rewarding performance and overall contribution."
New job families and classification levels are developed by Human Resources representatives, in consultation with supervisors and managers, to reflect the needs of the Laboratory. Reviewers pay close attention to descriptions commonly used in the marketplace.
The process of placing employees into appropriate job families based upon their duties and responsibilities is called "leveling." Leveling involves separating each position into certain compensable factors and then rank-ordering each position on the basis of each factor. Six factors are used to evaluate most jobs at the Laboratory--knowledge and skills, independence of action, working relationships, supervision of others, education/work experience, and overall impact. Job families can have several levels--for example, entry/intermediate, journey, and specialist. Pay ranges are assigned to classifications, based upon market comparison data established from surveys gathered in Human Resources.
After supervisors complete the leveling process, a Review Team, composed of division and program administrators and Human Resources representatives, collects position descriptions and reviews each proposed reclassification for consistency. In case of disagreement over the appropriateness of the proposed classification level for a position, supervisors may be asked to provide additional supporting information.
According to Blount, the majority of employees' salaries at Berkeley Lab will not be affected by the new classifications.
By last year, some 230 additional positions in the scientific and engineering areas and 200 research associate positions had been completed. Currently in the process of being reviewed are about 500 exempt and non-exempt administrative positions, which are slated for completion by the end of June. A review of all other jobs, mostly technical, will follow next year.

Engineering's Jimmie Johnson demonstrates the properties of liquid nitrogen to a group of 15 home schoolers and 10 students from St. Andrew's Missionary Baptist School in Oakland. The Feb. 27 visit, coordinated by CSEE's Marva Wilkins, also included an introduction to Life Sciences research by Pam Coxson.

By Jeffery Kahn
University researchers labor under a fundamental misconception, says Columbia University professor Richard Nelson. They believe that the lion's share of federal funding has gone to basic, as opposed to applied, science.
Speaking here on Feb. 23 for the "Science and Technology in a Competitive World" lecture series, Nelson said the belief is a myth dating back 50 years.
During World War II, Vannevar Bush, who was Franklin Roosevelt's science advisor, authored the report "Science-The Endless Frontier," which many believe led to a Golden Age of science. Bush contended that research is inherently unpredictable and serendipitous and that it should be funded without thought of practical ends. Furthermore, he maintained, basic research is the pacemaker of technological innovation.
"Bush saw science as the goose that lays the golden egg," Nelson said. "In his model, the government supports basic science at universities, which opens up new technological possibilities. Industry then comes in and plucks them up."
Nelson said the conventional wisdom--that federal funding of university research has followed the Bush model, creating a pipeline of new products--is mistaken. Since the Bush report, more than half of the funding has been applied, Nelson said. Much of it has been related to defense, national security, agriculture, and health.
"The bulk of academic research has been funded by mission-oriented federal agencies such as the Department of Defense and National Institutes of Health," he said. "Many believe this is a recent development, but much of academic research has always been directed towards a mission. There is nothing new here."
While not successful in his advocacy of basic research, Nelson said Bush was effective in stimulating federal support for academic research. This post-World War II increase overlapped with an era when industry cut back its support.
Nelson, who is the George Blumenthal Professor of International and Public Affairs, Business and Law at Columbia, has intensively studied public policy as it affects high-technology industries. He said that circa 1973, a sea change happened in terms of federal science and technology policy. Economic growth slowed, and Japan emerged as an economic force. The focus of federally-funded research shifted towards keeping American industry competitive. Nelson said that for the most part, this has been a mistake. Universities and national labs began focusing on property rights, which resulted in an explosion of patents, but not in a significant increase in the number of inventions. Rather than the rate of invention, he said, it was the pursuit of patents that had changed.
Nelson said that aside from policy issues, the emergence of biotechnology has generated a boom in patents. Other patents seem to be concentrated in the fields of engineering, chemistry, and medicine. Despite this, he argued that the idea of the university as a womb for the development of new products is misbegotten. Research tools, research techniques, and basic knowledge are the real fruits of university research, he said.
Nelson said he is an advocate of research institutions affiliated with universities, such as Berkeley Lab. These institutions provide a degree of insulation from industry's demands for immediate results. He said they allow that which is increasingly rare: The pursuit of long- range research.

On NetDay 96, Saturday, March 9, tens of thousands of parents, teachers, and volunteer engineers will wire thousands of California schools with the technology needed to connect classrooms, libraries, and laboratories to the Internet. NetDay is supported by President Bill Clinton, Vice-President Al Gore and California State Superintendent of Education Delaine Eastin.

The Department of Energy, through BASTEC, the 6-year-old collaborative program with the Oakland public schools, is planning to participate in NetDay in Oakland.

For information on volunteering your time in an Oakland school, or any other area school, please check out the following web site: http://www.netday96.com/. You may sign up for the school of your choice directly via this Web page. Volunteers are needed at all skill levels, including the "willing volunteer" level.

By Bruce Davies
Technology Transfer Department Head Cheryl Fragiadakis presented an overview of current tech transfer issues at a forum held at the Lab on Feb. 27. Among the topics covered at the meeting were trends in federal funding for tech-transfer, policy and personnel changes at DOE, government funding vs. industry partnerships, tech-transfer programs under siege, and the proposed Morella Bill, which is aimed at improving access to national labs.
According to an AAAS analysis of the House-proposed balanced budget plan, Fragiadakis said, U.S. funding for science could drop one-third by the year 2002. Projections indicate a downward spiral for most agencies. Funding for technology transfer in DOE has taken big hits. At the national level, Energy Research's tech-transfer program has gone from $57 million in FY95 to $18 million in FY96. Defense Program funding has dropped from $210 million to $150 million in the same time frame. Berkeley Lab has had to cancel several projects, and re-scope others.
At the same time, national labs continue to receive mixed messages from Congress. "Set aside" funding programs are under fire. DOD's Technology Reinvestment Program, and DOC's Advanced Technology Program are threatened with extinction. Yet both houses of Congress recently passed similar versions of the Technology Transfer Improvement Act of '96 (Morella Bill) that would establish intellectual property rights for companies participating in cooperative research and development agreements and improve incentives for industry/lab collaborations.
Fragiadakis noted that Berkeley Lab receives 81 percent of its funding from DOE, 6 percent as "work for others" from non-federal, and 13 percent as "work for others" from other federal agencies. As federal research dollars dwindle, the Technology Transfer Department aggressively seeks research partners, both for collaborative research, and to license the Lab's patented technologies. In the last two years, the Lab has received research funds from a number of private firms. These include Amgen, Roche Bioscience, Pacific Gas & Electric, IBM, Southern California Edison, Gas Research Institute, Intel, Eaton Corporation, and Rhone Poulenc. Licensing is beginning to generate modest income for the Lab as well.
Funding from industry is growing, Fragiadakis said, but it still represents a very small percentage of total needs. Tech Transfer's goal is to increase alternative funding. To strengthen its marketing to industry and meet the challenges of reduced funding, Tech Transfer works in teams with Berkeley Lab researchers in the negotiation of non-disclosure, materials transfer, and licensing agreements; co-sponsorship of workshops; project management for work with private industry; and development and implementation of industry marketing programs.
There is also a need to disseminate tech-transfer information to more researchers at the Lab. The Tech Transfer Department hopes to support programmatic funding through increased use of e-mail to announce funding opportunities, visits by industry, and "$4K Tech Assistance" deals. For more information about technology transfer at the Lab, contact the department at X6467 or [email protected]

Berkeley Lab Funding--FY95
CAPTION: Technology Transfer Department Head Cheryl Fragiadakis presented an overview of current tech transfer issues in a Feb. 27 forum in Bldg. 90.
Photo by Joe Moore

Heavy equipment was called in to maneuver three large air conditioning units into the second floor of Bldg. 50B on Feb. 22. The units will be used to cool the supercomputers in the new National Energy Research Supercomputing Center (NERSC). Additional support equipment will be craned in on Saturday, March 2. During the all-day move, Bldg. 50F will be closed, as will the road leading up to 50F (south of the Bldg. 50 complex). Photo by Don Fike

The shipment of Bevatron shielding blocks to Brookhaven National Lab will resume on Tuesday, March 5. The FY96 shipment consists of 4,600 tons of blocks, to be shipped from Berkeley Lab by truck and loaded on rail cars in Emeryville for the trip to Long Island, N.Y. The project to transfer the blocks, which will be used at Brookhaven's RHIC accelerator project, began last year.

Beginning March 5, the blocks will be moved from Bldg. 51B between 7 a.m. and 3 p.m. each Tuesday and Thursday. Approximately 150 truck trips will be required to move the blocks over a 7-10 week period.

In order to minimize the impact on Lab traffic, the trucks will enter the Bldg 51B yard by using the downhill lane on Lawrence Road below Bevatron Circle. Please proceed with caution in this area and observe flagman directions for traffic safety. Also observe caution at the horseshoe bend for uphill bound trucks as they must "cheat" into the downhill lane to negotiate the turn. Caution signs will be in place on shipping days as a reminder. Questions or comments should be addressed to Block Project Manager Bob Stevenson at X7724 or [email protected]

Thomas Budinger, head of the Center for Functional Imaging, has been elected to the National Academy of Engineering. Seventy-eight new members (including Bill Gates) were elected; Budinger was the only member from the UC system chosen this year. His citation was for his work in Quantitative Imaging, Space Exploration Experiments and Safety Guidelines for Human Experimentation. He will be formally inducted during the academy's annual meeting Oct. 2 at the National Academy of Sciences in Washington, D.C. The ALS Users' Handbook received a Distinguished Technical Communication award (the highest award possible) in the "Non-Computer User Documents" category in the Northern California Technical Communication Competition held Feb. 10. The competition, which attracts more than 300 publications and online entries from throughout the region, is an annual event sponsored by the Society for Technical Communication (STC). The publications are judged on clarity, precision of language and thought, organization of material, and effectiveness of page layout and graphics. The handbook was a team effort of Jane Cross, Deborah Dixon, Joan Minton, Elizabeth Moxon and Greg Vierra, all of the ALS.


The Berkeley Lab Calendar is published biweekly here on the World Wide Web and in Currents by the Public Information Department. Employees can list a meeting, class, or event in the Calendar by using this submission form. The deadline for submissions is 5 p.m. on Monday in the week that Currents is published.

In addition to the events listed below, Berkeley Lab's Washington, D.C. Projects office is hosting a Science and Technology Seminars series.

Scientific Conferences

"Nuclear Energy in East Asia -- Status and Cooperation" will be presented by Dr. Ryohei Kiyose of the University of Tokyo/Tokai University at 3:30 p.m. in 3105 Etcheverry; refreshments, 3:15 p.m. "Integrable Systems" will be presented by Nicolai Reshetikhin of UCB at 4:30 p.m. in 1 Le Conte; refreshments, 4 p.m., 375 Le Conte. Lockout/Tagout Training (EHS 256), 9 -11 a.m., Bldg. 51-201. "On the Road With RNA Polymerase II: The Regulation of Transcript Elongation" will be presented by Caroline M. Kane of UCB at 4 p.m. in Bldg. 66-316. Noon, lower cafeteria "The Prospect For An Industrial Ecology" will be presented by Braden Allenby of LLNL at 3:30 p.m. in the Lipman Room (8th Floor, Barrows Hall). Spring Contest at 6:30 - 9 p.m. in the Bldg. 66 Auditorium. 7:30 a.m. - 4:30 p.m., near Bldg. 77. Basic Electrical Hazard Awareness-Researchers (EHS 260), 9 - 11 a.m., Bldg. 51-201. "Polyaromatic Hydrocarbons and Microbes: Food from Creosote" will be presented by Dr. Carol Litchfield of George Mason University at noon in Bldg. 50A-5132. "Carbon-Carbon Bond Activation by Energetic Forms of Hydrogen on Ni Surfaces" will presented by John Gland of the University of Michigan at 1:30 p.m. in the Bldg. 66 Auditorium. "Ly Alphas?" will be presented by Wal Sargent of CIT at 4 p.m. in 1 Le Conte; refreshments, 3:30 p.m., 661 Campbell Hall. "Looking for WIMPs in the Galactic Halo: the Cryogenic Dark Matter Search" will be presented by Dan Akerib of UCB/CPA at 4 p.m. in Bldg. 50A-5132; refreshments, 3:40 p.m. First Aid (EHS 116), 8 a.m. - noon, Bldg. 48-109. "Femtosecond X-ray Pulses of Synchrotron Radiation" will be presented by Alexander Zholents of LBNL at 10:30 a.m. in the Bldg. 71 Conference Room. "Magnetoelectronic Effects in Core-Level Photoelectron Spectroscopy" will presented by Leonard E. Klebanoff of the Lehigh University at 3 p.m. in Bldg. 62-203. "Deterministic and Risk-Based Regulation" will be presented by Larry E. Fischer of LLNL at 3:30 p.m. in 3105 Etcheverry; refreshments, 3:15 p.m. "Wiring the Brain--A Physicist Looks at Development" will be presented by Dr. Marla Feller of UCB at 4:30 p.m. in 1 Le Conte Hall. "Classical Geometry of Target Space Duality" will be presented by Orlando Alvarez of the University of Miami at 2:10 p.m. in 430 Birge Hall. "Cell Adhesion, Apoptosis and the Epithelial Phenotype" will be presented by Steven Frisch of the La Jolla Cancer Research Foundation at 4 p.m. in Bldg. 66-316. Biohazards (Blood Safety/Medical Biohazards) (EHS 735), 10 a.m. - noon, Bldg. 51-201.

Introduction to EH&S Safety at LBL (EHS 010), 1 - 3:30 p.m., Bldg. 51-201

General meeting at noon in the lower cafeteria.

Fire Extinguisher Use (EHS 530), 10 - 11:30 a.m., Bldg. 48-109. General meeting at noon in Bldg. 90-1099. "Applications of Surface Vibrational Spectroscopy to Wetting, Adhesion and Etching" will presented by Tom Ellis of the University of Montreal, Canada, at 1:30 p.m. in the Bldg. 66 Auditorium. "LyA or Dwarfs?" will be presented by Andrea Ferrara of Arcetri at 4 p.m. in 1 Le Conte; refreshments, 3:30 p.m., 661 Campbell Hall. "B Decays - A Case Study of High Sensitivity & High Precision Physics" will be presented by Ikaros Bigi of Notre Dame at 4 p.m. in Bldg. 50A-5132; refreshments, 3:40 p.m. Open calendar

March EH&S class schedule
Pre-registration is required for all courses except Introduction to EH&S. To pre-register for all other classes, send a fax to X4072 with your name, employee ID number, extension, and class name, date & code (or call X5999).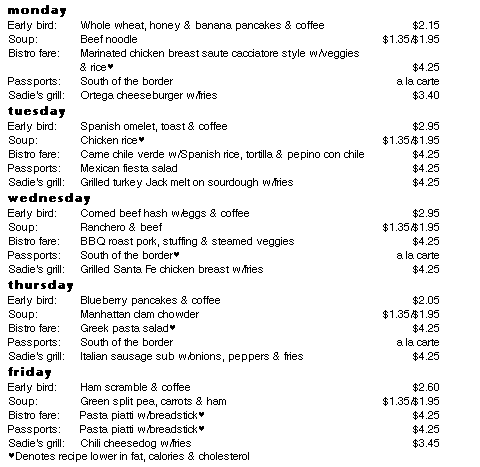 Program Planning and Management
Facilities Engineer / Architect
Facilities Project Management
Facilities Estimator
Facilities Planning
EH&S Professional
Computer Systems Engineering
Computer Systems Engineering Supervisor
Computer Operations Supervisor
Data Security and Change Control
Research Associates
All S&E Appointment Levels
Educational Program Administrator
Contract Administrators
Technical Librarians
Internal Audit
Administrative Generalist
Accountant
HR Administrator
HR Specialist
Procurement Specialist
Communication Specialist
Supervisory
Management
Clerical Assistant
Administrative Assistant
Finance/Budget Assistant
Human Resources Assistant
Travel Assistant
Payroll Assistant
Purchasing/Contracts Assistant
Executive Assistant
Budget Analysts
Flea Market ads may be sent via e-mail to [email protected], Fax to X6641, or Lab mail to Bldg. 65B. The deadline is 5 p.m. Friday.

'80 TOYOTA 2 dr liftback, $995/b.o. Loren, X7729

'85 BMW 325e, 1 owner, most service records avail., 5-spd, snrf, pwr windows,162K mi., runs well, needs some body work, $2K/b.o. Michelle, X4694, 530-9365 (eve.)

'88 FORD Escort, orig. owner, 64K mi., 5-spd, 4-dr w/hatchbk, gd. cond., $2500/b.o. Phil, 528-0749

'89 HYUNDAI Excel, 4-dr, 80K mi., AM/FM cass., p/s, p/b, new tires, clutch & belts, silver, runs great, $1290/b.o. Edas, X7780, 848-6137, 849-1147

'90 PLYMOUTH Grand Voyager SE, 124K mi., V6 w/overdrive, exc. cond., $8600. Jay, 524-7597 (eve.)

'95 SATURN SL2, gold, 4-dr, a/c, all pwr, 1.9L DOHC, 124 HP engine, alloy wheels, warranty, 8.6K mi., $14,650. Clay, 376-4481

MOTORCYCLE, '82 Yamaha Seca 650, exc. cond., $1800. Judy, X6540, 631-6642

SNOW CHAINS for compact car, used once, $20. Rich, X5896, 524-8897

VANPOOL from the Tri-Valley area, Livermore, Pleasanton, Dublin, San Ramon. Philip, X6583 CHILDCARE SHARE, our great babysitter has Mon./Tues. full days, Wed. or Thurs. 1/2 day avail., your home. Jonathan, X4148

EDUCATIONAL SOFTWARE and games, Macs, 386s, 486s, VCR, calculators, books (story, coloring, texts, and dictionaries) to tutor children age 4 through 20 at Mercy Street Housing Project. Volunteer tutors also needed one evening every other week. Alicea, 849-3321

CABINET, audio/video rack-style, 6' tall, 30" wide, 12" deep, has 4 adj. height shelves - 2 glass, wood finish, 2 units avail., $60 ea./b.o. Philip, X6583

DISHWASHER, GE, built-in, works well on all cycles, $50/b.o. Philip, X6583

GOLF CLUBS, Dunlop Diamond Max, used twice, 1-3-5 metal wood, 3-9 iron, wedge, putter, incl. bag and cover, $900 new, sell for $450/b.o. Mark, X6781, 524-5234

GOLF CLUBS, set of "Sting", used twice, irons are 2 through sand wedge, 3 metal woods, swing weight D-1, stiff shafts, standard grips, cost $650 new, sell for $450 firm. Kathy, 837-7062 (eve.)

LIFT TICKET VOUCHERS, Squaw Valley, reg. $45, $38; men's ski boots, Nordica, blk, sz. 11, $100; ladies ski jumpsuit, white w/other colors, sz. 10, $50; water filters, NSA, sink models 50C & 100S. Marek, X5029, 582-5867

SPEAKERS, Polk Audio, monitor series #5, 3-way, 22"h x 10"w x 9"d, $200/b.o. John, X5523

TABLE, solid wood w/veneer top, 60" X 42" & 7 gd chairs, $200/b.o. 763-6258

TELEVISION, 20" RCA, w/remote, '92 model, $150. Steve, X6966

WASHER for clothes, compact, portable, $350; stereo cabinet, wood w/glass doors, $30; men's 10-spd bike, 25" frame, $25; gas range, $200. Rich, X5896, 524-8897

BERKELEY, sublet from mid-March to mid-May, sunny studio, Northside, 1 blk from UCB & LBL bus, $460/mo., utils. incl. 548-8593 (eve.)

BERKELEY, 2 rms avail. in furn. home, nr UCB & Rose Garden, washer/dryer, views, frpl, hot tub, decks, avail. 3/1, $450 & $500/mo. David, 525-4470

BERKELEY, furn. 1-bdrm summer sublet, Northside, residential neighborhood, hardwd flrs, many closets, well maintained, avail. 5/14-8/20, $700/mo. incl. utils. Kristine, 843-0160

BERKELEY, Elmwood area, furn., 1-bdrm apt in duplex, $650/mo + utils. and dep., avail. thru 1996, possibly longer. Lara, X7276, 548-4832

BERKELEY HILLS, unfurn. studio apt, short walk to LBL, LHS, AC bus, quiet, garden, view, $425/mo. incl. utils., plus occasional pet-sitting. John, X5307, 841-7875

CASTRO VALLEY, 2 bdrms avail. in home, one w/pvt bth, laundry & kitchen privs., short/long term, rent + dep. negot. Marek, X5029, 582-5867

CONCORD, 1-bdrm condo, upper unit, quiet complex, new carpet/paint, pool, deck, laundry fac., nr Hwys 4 & 24, walk to BART, water, garbage, basic cable, refs. req'd. $575 + dep. (neg). Martin/Bobbie, 370-6002

EL CERRITO, furn. 2-bdrm townhouse, 1-1/2 bth, 2-car garage, washer/dryer, inner courtyard nr swimming pool, avail. 4/1-9/30, $850/mo. 525-2135

HERCULES, share 3-bdrm home, laundry & kitchen privs., $350/mo. + util. 799-6226

OAKLAND, nr Mormon Temple, 2-bdrm house, share bathrm during weekdays, prefer female, $700/mo. + dep. 531-2058 (msg.)

OAKLAND, Mormon Temple neighborhood, quiet, country setting, lg. rm, pvt bth, share kitchen & utils., $450/mo. 530-7759 (msg.)

WALNUT CREEK, unfurn. 2-bdrm, 1-bth apt, in duplex on hill, Mt. Diablo view, upper unit, washer/dryer installed, fully equipped kitchen, carport, a/c, lg. yd, dog or cat acceptable, 5-min. walk to BART, 1 yr. lease, avail. in March, $875/mo. + utils. & dep. Denise, 935-2285 (eve.)

WANTED: housing in No. Berkeley for 2 yrs., desire sunny, hardwd flrs, W/D hookups, garden & parking. Jonathan, 524-0778

WANTED: 2-bdrm, 1-bth or 3-bdrm, 2-bth house for family of 3 (me, wife & 3 yr. old), or us plus housemate, prefer No. Berkeley & Albany areas, non-smokers, can afford up to $1K/mo. for us, or $1300/mo. w/housemate. X7916

WANTED: 2-bdrm house/apt to rent for 3 mo. starting 3/1. Jacob, X4606

WANTED: furn. 2-3 bdrm house/apt for visiting Danish research fellow, husband & 3 kids, non-smokers, 4/5-6/31 possibly extended to 12/31 w/another Danish family. Susanne, +45 3532 3940 (FAX), [email protected]

WANTED: visiting French scientist, spouse & 3 children, want to exchange 4-bdrm apt in center Paris for house near LBNL starting 6/20 until end of Aug., car exchange also possible. 33 1 43389440 (France), [email protected]

WANTED: 3-bdrm house for working couple, Berkeley/Rockridge area, 6/1. Christa & Harrie, 845-4980

WANTED: furn. house/apt for visiting teacher & wife (no children), 6/23-8/23, East or No. Bay Area, willing to commute to LBNL; also willing to exchange home nr Boston (Marblehead, MA). Karin, X5513, Michael, (617) 631-6860

WANTED: furn. 1-bdrm/apt for visiting scientist, female, nonsmoker, 3/1-5/31, No. Berkeley or East Oakland. Maria, X4135

PINOLE/TARA HILLS, 3-bdrm 2-bth home, lg. lot w/RV prkg, $147K. You find buyer & $1K is yours. X5676, 799-9541 SO. LAKE TAHOE, Tahoe Keys, 3-bdrm, 2.5-bth house, W/D, upstairs living, mountain & water views, XC & downhill skiing nearby. Bob, 376-2211

Currents/The View and the Communications Department Staff
Published once a month by the Communications Department for the employees and retirees of Berkeley Lab.

Reid Edwards, Public Affairs Department head
Ron Kolb, Communications Department head

EDITOR
Pamela Patterson, 486-4045, [email protected]
Associate editor
Lyn Hunter, 486-4698, [email protected]

STAFF WRITERS
Dan Krotz, 486-4019
Paul Preuss, 486-6249
Lynn Yarris, 486-5375

CONTRIBUTING WRITERS
Ucilia Wang, 495-2402
Allan Chen, 486-4210
David Gilbert, (925) 296-5643

DESIGN
Caitlin Youngquist, 486-4020
Creative Services Office

Berkeley Lab
Communications Department
MS 65, One Cyclotron Road, Berkeley CA 94720
(510) 486-5771
Fax: (510) 486-6641

Berkeley Lab is managed by the University of California for the U.S. Department of Energy.

Flea Market is now online at www.lbl.gov/fleamarket