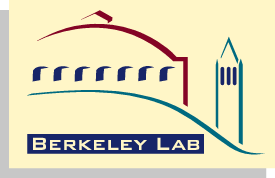 June 7, 1996

By Lynn Yarris
Berkeley Lab scientists have won two of this year's seven 1996 Discover Awards for Technological Innovation. The winners are Ashok Gadgil of the Energy and Environment Division, in the environment category for "UV Waterworks," an ultraviolet-based water purification system; and Xiao-Dong Xiang and Peter Schultz of the Materials Sciences Division, in the computer hardware and electronics category, for "combinatorial synthesis," a high-speed technique for making and testing new materials.
This is the seventh year that Discover magazine has presented its awards, which are intended to "celebrate the outstanding innovations of our time, and specifically, the scientists, engineers, and inventors who too often are the unsung heroes of our technological age." The two 1996 Discover Awards bring the total to four in which Berkeley Lab scientists have played a significant role. The first was in 1993 for the design of the segmented ten-meter mirror of the Keck Telescope which won in the category of sight. The second was for the sulfur lamp which won last year's environment award.
"These honors are a tribute to the innovation and creativity of our scientists and to the breadth and excellence of the work that goes on here," said Berkeley Lab Director Charles Shank. "They are further examples of how national laboratories like Berkeley Lab turn fundamental science into practical solutions."
Secretary of Energy Hazel O'Leary came to the Lab on Tuesday to publicly congratulate the winning scientists and have a personal demonstration of Gadgil's technology.
UV Waterworks is a small, simple device that uses ultraviolet light to quickly, safely, and cheaply disinfect water of the viruses and bacteria that cause cholera, typhoid, dysentery and other deadly diseases.
Unlike other ultraviolet-based water purifiers, UV Waterworks does not require pressurized water-delivery systems and electrical outlets. It is designed to rely on gravity for water flow, which means it can be used with any source of water. It only needs electricity for the UV light, which means it can be powered by a car battery or a 40-watt solar cell.
In developing nations, safe, home-delivered tap water is rare. Each year, waterborne diseases, transmitted mainly through drinking unsanitary water, kill an estimated four million children under the age of five, and make adults sick enough to lose billions of hours of work productivity.
The two most common methods of disinfecting water in developing nations--chlorination and boiling--both have limitations. Chlorine disinfection requires a continual supply of chlorine bleach and trained personnel to make sure chlorine is added to water supplies at effective levels. Boiling is usually done over wood stoves in unvented rooms, which poses health risks of its own and contributes to air pollution and deforestation.
With UV Waterworks, passing water through ultraviolet light inactivates the DNA of pathogens and purifies the water at a cost of about eight cents for every 1,000 gallons. The device can disinfect water at the rate of four gallons per minute, similar to the flow from a typical American bathtub spout.
A pilot project is under way in India and a second project has been proposed for areas in South Africa. Negotiations for licensing the technology to EEG Inc. of Chicago are in their final stages for worldwide use, except in India, where Urminus Industries Ltd. of Bombay already holds the rights.
The combinatorial synthesis technique of Xiang and Schultz promises to dramatically speed the pace of discovery in materials science. It allows researchers to increase the number of chemical compounds that can be created and tested as potential new materials from the current rate of about one a day to as many as 10,000 a day.
Combinatorial synthesis represents a radical departure from so-called "rational" materials design, where researchers try to predict beforehand which specific molecular structures will yield desired properties. With combinatorial synthesis, the strategy is one of sheer numbers--thousands of potential structures are created and screened to find those with the properties being sought.
Schultz, who is also a professor of chemistry at Berkeley, took the idea for combinatorial synthesis from the human immune system. The immune system maintains a library of roughly one trillion differently shaped antibodies each made up of different combinations of protein chains. When faced with an invading agent, such as a virus, the immune system selects the antibodies from this combinatorial library that happen to bind to the virus and creates multiple copies to fight the infection. Schultz used the technique to invent "catalytic" antibodies--antibodies that, because of their shape, promote certain chemical reactions--for which he received the 1995 Wolf Prize in Chemistry.
Though biotechnology researchers have used a combinatorial approach to screen for potentially useful drugs, this is the first time the strategy has been applied to materials.
To create a "combinatorial" library of advanced materials, Xiang and Schultz deposit thousands of distinct combinations of metal-oxide molecules onto a one-inch square grid. The materials are deposited in a checkerboard pattern as thin-film squares and different metal ingredients are stenciled onto the grid through cut-out "masks." Because a different mask is used for each ingredient, each square in the grid receives a unique combination.
Given the millions of potential compounds that exist just from the combination of the five elements that can form metal-oxides, there is an enormous advanced materials "universe" waiting to be discovered. Working at Berkeley Lab's Molecular Design Institute, Xiang and Schultz have already used their combinatorial synthesis technique to discover 26 new magnetoresistive materials.
Symyx Technology, a California start-up corporation, has licensed the combinatorial synthesis technology from the Berkeley Lab for commercial development.
Caption: Ashock Gadgil was recognized for his UV Waterworks.
Caption: Xiao-Dong Xiang and Peter Schultz won for their tiny combinatorial library on a chip.Photos by Len Irish courtesy Discover magazine
Caption: UV Waterworks during field-testing in Bhupalpur India. The handpump is visible feeding the blue plastic surge tank to the unit. The cement structure is opened for routine maintenance.

By Jeffery Kahn
Secretary of Energy Hazel O'Leary and a small army of media came here June 4 to honor and recognize Berkeley Lab Discover Award winners Ashok Gadgil, Xiao-Dong Xiang, and Peter Schultz.
A noon press conference--covered by nearly all the local television stations, CNN, and a host of newspapers--focused on Gadgil's UV Waterworks, a simple and inexpensive way to purify water and prevent waterborne disease in the non-industrialized world.
Lab Director Charles Shank said that Gadgil's ultraviolet-based water purification system and Xiang and Schultz' combinatorial synthesis technique for making and testing new materials exemplify the range of research done here. Different as they are, Shank said, they share a vast potential to improve the world.
Worldwide, 400 children die every hour from waterborne diseases. Gadgil, who is from India and has had several cousins die from these diseases, worked after-hours creating a purification system that uses an off-the-shelf ultraviolet light to kill bacterial and viral contaminants. Running on a car battery if necessary, one unit can provide water for a village of 1,000 people, eliminating the threats of cholera, typhoid, dysentery, and other diseases. Each unit costs between $250 and $600.
"What we've done," said Gadgil, "is build a device that makes water purification so inexpensive that it's almost impossible not to use it."
O'Leary said Gadgil's UV Waterworks is a simple and powerful demonstration of the value of American science.
"This is an extraordinary piece of technology that is robust and inexpensive," she said. "It could save human lives at a cost of pennies. And yet, there are no funds currently available to field test and refine the device.
"It would be a sin not to deploy this," she said. "Wouldn't it be extremely short-sighted, even ignorant, to prevent this laboratory from doing this kind of work? Yet Congress is threatening programs like this. "I am here to push back on the Congress, to say that it is necessary to invest in such programs, to invest in our future."
O'Leary said discussions are under way concerning a two-year field test in South Africa, where the device would be used under conditions that could lead to various improvements. She said that in July she hopes to be able to announce that some $500,000 will be available for these tests.
Ralph Cavanagh, staff attorney for the Natural Resources Defense Council, also spoke during the press conference, delivering a ringing endorsement of the UV Waterworks and this Laboratory.
"There is nowhere on Earth that federal research dollars are spent as well as here," Cavanagh said. "This is a time when research designed solely to benefit the public is under attack. The benefits of such research are magnificently manifested by the UV Waterworks.
"Think of who will be the principal beneficiaries of this technology development effort," he said. "It will be the children of impoverished families in developing countries. That's not a very lucrative market niche. Lives will be saved and human misery alleviated. Without the effort of this Laboratory," he said, "this technology would not have been developed."
Caption: Energy Secretary Hazel O'Leary says she will urge Congress to invest in programs such as those resulting in technologies highlighted at Tuesday's press conference.
Caption: Ashok Gadgil watches as Hazel O'Leary drinks water purified by his unit.

By Lynn Yarris
Are partnerships between national laboratories and private industry dead? Not at Berkeley Lab. More than one hundred research projects are currently being funded in part through private industry, and prospects for future partnerships are encouraging.
Political rhetoric portraying partnerships between the national laboratories and private industry as "corporate welfare" creates the impression that there is little support in Congress for the concept. As with most news from Washington, the devil is in the detail.
"What we are seeing is a much more subtle message on the concept of public laboratory-private industry partnerships as a vehicle for technology transfer," says Cheryl Fragiadakis, head of Berkeley Lab's Technology Transfer Department. "There is strong Congressional opposition to federal funds being given directly to companies for the development of a technology. However, there is support on both sides of the aisle for partnerships between federally-funded labs and private industry when those partnerships yield mission-oriented results that benefit taxpayers."
What has emerged from the debate, according to Fragiadakis, is the idea of partnerships in which federal and private industry funds are combined for a common goal.
"Congress likes the idea of leveraging money for research," she says, "but they want the research to be done because there is a governmental as well as corporate need for it, and not just because some lab somewhere can do it."
Indicative of President Clinton's support for technology transfer through public-private partnerships is the $21.8 million he has requested in the FY97 budget for the ER-Laboratory Technology Research (ERLTR) program. This request is up from the $18.5 million appropriated in FY96 and provides funds for collaborative research and personnel exchanges. Historically, Berkeley Lab has received 16-20 percent of total ERLTR funding each year. Past projects have ranged in size from less than $100,000 to about $2 million.
There are several ways in which private companies can enter into partnerships with Berkeley Lab researchers. Some arrangements are quite formal, such as the Cooperative Research and Development Agreement (CRADA), and specify in writing the terms being agreed to by all participants. Others are less formal, such as the memorandum of understanding (MOU) or the technical assistance agreement (TAA), and may call only for an exchange of personnel.
Berkeley Lab's Tech Transfer Department can advise researchers on which partnership approach--CRADA, MOU, TAA, or other--would best serve their particular situation. The department also fills the role of matchmaker, finding the best fit between industry needs and Laboratory capabilities. To this end, a robust database containing the names of contacts for several thousand companies plus information on the technical needs of those companies is maintained.
Fragiadakis and her staff are well-suited for their matchmaking role. All of the key people have worked in private industry and many have technical backgrounds. Fragiadakis holds an undergraduate degree in chemical engineering and an MBA from UC Berkeley. She also spent 10 years with the Exxon Corporation. Glen Dahlbacka, who handles industrial program development, has a Ph.D. in physics and was VP of business development for Maxwell-Brobeck Laboratories. Marketing manager Bruce Davies is a former public relations/advertising executive whose clients included CBS, Chrysler, Sony, and IBM. Chris Kniel, manager of the ERLTR program, is a civil engineer who spent more than 20 years as a technical manager at the Bechtel Corporation. Viviana Wolinsky, who heads Tech Transfer's licensing operations, is a lawyer with an MBA who worked for Baker and MacKenzie, serving such clients as Borland, SAIC, and Hewlett Packard.
While the Technology Transfer Department has been successful in wooing funds from private industry and is continuing to introduce potential partners to the Laboratory, Fragiadakis cautions that, like many courtships, the process requires patience. Private companies have budgeting cycles too, and even a perfect match can be several years in the making. The all-important first step is getting to know one another.
"Our general experience has been that private industry has a low level of awareness of what Berkeley Lab can offer," she says. "However, each time when we bring in company reps they are bowled over by what they see."
Laboratory researchers can help by being willing to meet with company representatives who visit the Lab and by keeping in mind that they may have to talk with a number of representatives before a partnership is made. Once a partnership is formed, however, everybody--including the Laboratory community as a whole--benefits.
Deputy Lab Director Pier Oddone, to whom Fragiadakis reports, says he strongly supports partnerships with private industry.
"With strong partnerships we can further the goals of the Laboratory in research and also create a direct societal benefit," he says. "Partnerships are especially important in a world of fiscal austerity because they allow usto pool resources toward common research goals."
In its efforts to find alternative funding for research, Tech Transfer also markets and licenses Berkeley Lab-developed technology. This provides additional revenue.
Researchers interested in working with the Technology Transfer Department on partnerships or any other aspect of technology transfer may contact Fragiadakis at X6467 or CAFragiadakis@lbl.gov.
Caption: Deputy Director Pier Oddone with Tech Tranfer department head Cheryl Fragiadakis

By Ron Kolb
Michael J. Palazzolo, who has been a staff scientist in the human genome program since 1991, has been appointed director of the Human Genome Center at Berkeley Lab.
In making the announcement, Laboratory Director Charles Shank said Palazzolo "brings unique talents to this demanding role. Since coming to the Laboratory, he has developed and adapted new technologies to direct sequencing of DNA on a massive scale. His innovations have been key to placing the Berkeley Genome Center at the cutting edge of genomic sciences worldwide."
A Phi Beta Kappa graduate of Columbia University, Palazzolo earned his B.A. in biochemistry, and M.D./Ph.D in Medicine/Physiology. He conducted his doctoral research with the James H. Schwartz Center for Neurobiology and Behavior and the Richard Axel Institute for Cancer Research, both at Columbia.
From 1985 to 1990, he did postdoctoral research at Caltech, and in 1990-91 was a research assistant professor with the Department of Genetics at Washington University School of Medicine, St. Louis.
Palazzolo cited two things that mark the strength of the Genome Center--"the group leaders themselves, with their talents and abilities to work together, and the others at the center who make the work happen. Those are the things that got us here, and I'm confident that they'll serve us well in scaling up in the future."
He said he looks forward to leading the Center through its next phases, including final sequencing of the genome and post-genomics work.
Palazzolo succeeds Mohan Narla, who has served as acting director since January 1994. Narla will assume leadership of a new department in Life Sciences that will combine studies of membrane proteins with innovative microscopics.
Shank credited Narla with reorganizing the Center's programs to feature high throughput genomic DNA sequencing, and with encouraging successful collaborations such as that between the Drosophila Genome Center and the Berkeley campus.

It seems to have become the third "sure thing" in our modern, high-tech world, along with death and taxes: the computer sitting on your desk will become obsolete--and probably a lot sooner than you expect.

When old Macs and PCs at the Lab are put out to pasture, many of them find new life at educational and non-profit organizations. Since Dec. 1, 1995, Berkeley Lab has donated more than $168,000 in computers and other equipment to such organizations as:
Benecia Education Foundation National Council of Negro Women

Charles H. Mason University

Washington Primary School
Images of the Mind Mt. Eden High School
Kensington Hilltop Elementary
The donation process is pretty simple, says Monte Clevenger, who oversees the donations. "All excess DOE property must go through a government screening period, usually 90 days. It becomes eligible for donation if no federal or state agency picks it up."

All non-profit, educational institutes are eligible, private or public. "The teacher or principal can just write me a letter specifying the type of equipment they want, and how it's to be used," Clevenger says. "The request is forwarded to Berkeley Lab property manager Gavin Robillard for approval. We also donate scientific and lab equipment." Everything is donated on a first-come first-served basis.

Clevenger recently received e-mail from students at Napa Junction Elementary, where some old Macs have really made a difference. Excerpts from several of their letters are below.
Dear Monte,

Hi, I'm Katie Henning. I am in Justin Medaris's class. Thank you very much for the computers! Everyone is learning to use a keyboard and get the feel of using a computer. When we get older, we will probably have to use a computer every day of our adult lives. It would be great if everyone could have a computer on our desk. When we are done with a story in writers workshop, we have to put our name on a list to wait until a computer is open to type. When we did our novels (yes, we really did do novels!) I had to take mine home to type on the family computer because there weren't enough in the class room. Mr. Medaris put a program called Type! on the computers so we can practice typing the right way. We can also put some really cool programs on like Hyperstudio. It works like index cards. You put buttons to go to certain cards and you can put text and pictures on each one. It is really cool. Most of the games are educational and fun at the same time.

Thank you very much, Katie Henning

Dear Monte,

I'm a student from Room 5, Mr. Medaris' class. You know, Mr. Medaris, the one you gave all those computers to? We really appreciate you giving us all these computers. In this class there's 33 students including me! We all sit in table groups. If you gave us more computers, then each of us might be able to have our own. Maybe we might even have our own little computer at our desk. That would be totally cool! The one we would have to thank is you. At recess, we stay in and play on computers. Before we didn't have enough computers for all the people that wanted to stay in and play. But now we have plenty of computers for those people! Thank you very much for these computers. We really use them a lot!

Sincerely,
BJ Jasso

Dear Monte,

Hi. I am Lonni Hall. I am in Justin Medaris's class. Thank you so much for giving us the computers. Now, people get on the computer faster to type their stories. Right now I am typing on one of the computers that you gave us. I really like the computers. Our teacher is putting games on them so more people can play during recess. There are 11 computers working, 6 of them are the ones you gave to us. The computers are great. I am typing a story on your computer that you gave us and also this letter. If we get some more computers, then we will have enough for everyone to have one on their desk. That was really nice of you to give us those computers. Everyone loves them.

Sincerely, Lonni Hall

Dear Monte, Thank you so much for the six computers that you gave us. They are so cool. I typed this letter on one of them. Now we all can type because we have so many computers. If only there were more kind, generous people like you. We have a list to see who gets to type on the computer and we are going through it really fast now that we have so many. People play games on the computer at recess. Can you imagine that, kids staying in for recess because of computers? Wow, the world's really changing because of technology.

Love,

Cecilia Kolonie,
a thankful student
Caption: From front to back, Bradley, John, Jon-Louis, Brandie, Cecilia, Danielle, and Katrina, fifth-grade students at Napa Junction Elementary School in American Canyon, are enjoying their new classroom computers, donated by Berkeley Lab through its surplus equipment program. Photo by Justin Medaris

Effective July 1, your paycheck or deposit advice form will have a new look, and will provide more information than ever before. Utilizing the Lab's new PeopleSoft Payroll/Human Resource System, the paycheck or deposit advice form will include:

Pay information

Your pay information will provide more detail. It will also allow you to use up to five direct deposit accounts. Federal and state withholding elections will be printed each pay period to allow you to verify Payroll's records with your W-4 form.

Benefits statement

In the past, benefit statements indicating your benefits were sent by UC's Office of the President (UCOP) once per year. Now this information will be on your paycheck each payday. All benefit elections will be summarized. Your 403(b) and DCP (Deferred Compensation Plan) investments will be listed in their own section on the form.

Monthly leave statement

Monthly leave statements are separate form sent out each month, requiring additional handling. With your new pay statement, this handling and special form will be eliminated, reducing costs to the Laboratory. (Monthly leave balances will be current as of the previous month.

In order to get a better look at the new form, and learn more about it, the following events have been scheduled:

June 12: An example of your new statement will be sent to you via lab mail. This statement will either be a duplicate of your June 1 paycheck if you are monthly paid, or your June 7 paycheck if you are paid biweekly. (Note: year-to-date amounts may vary due to timing differences.)

June 17, 19, & 21, noon: Payroll and Human Resources personnel will be available at the cafeteria to present samples of the new paycheck to interested individuals and to answer questions.

June 20: There will be a brown-bag discussion in the Bldg. 50 auditorium. All employees are invited to attend. Personnel from Payroll and HR will be available to answer questions.

Those who are unable to attend the public forums may send questions to LBLCHECK@lbl.gov.

With the implementation of the new PeopleSoft HR/Payroll system, paperwork will be eliminated and processes associated with submitting a Personnel Action Form (PAF) will be streamlined. Later this year, Payroll will begin testing a new interface to UCOP's Interactive Voice Response (IVR). This system allows each employees to change their enrollment in various benefit programs via telephone during Open Enrollment.


The Berkeley Lab Calendar is published biweekly here on the World Wide Web and in Currents by the Public Information Department. Employees can list a meeting, class, or event in the Calendar by using this submission form. The deadline for submissions is 5 p.m. on Monday in the week that Currents is published.

In addition to the events listed below, Berkeley Lab's Washington, D.C. Projects office is hosting a Science and Technology Seminars series.

Scientific Conferences

BODYWORKS
General meeting in the lower cafeteria at noon.
SURFACE SCIENCE AND CATALYSIS SCIENCE SEMINAR
"Application of Ultraviolet Resonance Raman Spectroscopy to Catalysis and Surface Science" will be presented by Can Li of the Dalian Institute of Chemical Physics, China, at 1:30 p.m. in the Bldg. 66 Auditorium.
EMPLOYEE MUSIC CLUB
Classical Group Rehearsal, 5-7 p.m. in the cafeteria, for info. contact Wesley Steele at X7893.
EH&S CLASS
First Aid (EHS 116), 8 a.m.-noon, Bldg. 48-109
EMPLOYEE DEVELOPMENT FAIR
11 a.m. - 2 p.m. in the new cafeteria addition, continues on Wednesday.
SURFACE SCIENCE AND CATALYSIS SCIENCE SEMINAR
"Kinetics of Elementary Reactions of Importance in Combustion Systems" will be presented by Ferenc Marta of the Hungarian Academy of Sciences, Hungary, at 1:30 p.m. in the Bldg. 66 Auditorium.
LIFE SCIENCES DIVISION SEMINAR
"Regulation of Anchorage Dependent Growth and Cell Cycle by the Novel Integrin Linked Kinase (ILK)" will be presented by Shoukat Dedhar of the Sunnybrook Health Science Center/University of Toronto at 4 p.m. in the Bldg. 66 Auditorium.
EH&S CLASSES
Radiation Protection - Fundamentals (EHS 400), 9 a.m.-noon, Bldg. 48-109
Blood Biosafety and Medical Waste (EHS 737), 10 a.m.-noon, Bldg. 51-201
Radiation Protection - Lab Safety (EHS 432), 2-4:30 p.m., Bldg. 48-109
EMPLOYEE DEVELOPMENT FAIR
11 a.m. - 2 p.m. in the new cafeteria addition
EMPLOYEE MUSIC CLUB
General meeting at noon in the lower cafeteria
EMPLOYEE MUSIC CLUB
Folk Group Rehearsal, 5:30-7:30 p.m. in the cafeteria, for info. contact Larry Bell at X5406.
EH&S CLASSES
Lockout/Tagout Training (EHS 256), 9:30-11:30 a.m., Bldg. 51-201
Laser Safety (EHS 280), 1-3:30 p.m., Bldg. 51-201
AFRICAN AMERICAN EMPLOYEES ASSOCIATION
General meeting at noon in Bldg. 90-1099
BUILDING ENERGY SEMINAR
"The Role of the Architect in a Sustainable Society" will be presented by Greg Van Mechelen, architect/board member of Architects/Designers/Planners for Social Responsibility, at noon in Bldg. 90-3148.
CENTER FOR ENVIRONMENTAL BIOTECHNOLOGY SEMINAR
"Full-Scale Application of Bioremediation Technologies" will be presented by Geoffrey Compeau of Woodward Clyde at noon in 338 Koshland.
SURFACE SCIENCE AND CATALYSIS SCIENCE SEMINAR
"The Role of Transition Metal Promoters on Sulfated Zirconia
Catalysts for Butane Isomerization" will be presented by Robert J. Davis of the University of Virginia at 1:30 p.m. in the Bldg. 66 Auditorium.
PHYSICS DIVISION RESEARCH PROGRESS MEETING
"The Super-Kamiokande Project: Overview and Status" will be presented by Chang Kee Jung of SUNY Stony Brook at 4 p.m. in Bldg. 50A-5132; refreshments, 3:40 p.m.
EMPLOYEE MUSIC CLUB
Rock Group Rehearsal, 5:30-7:30 p.m. in the cafeteria, for info. contact Steve Blair at X5927.
FLAG DAY
EH&S CLASSES
Fire Extinguisher Use (EHS 530), 10-11:30 a.m., Bldg. 48-109
Compressed Gas Safety (EHS 231), 11 a.m.-noon, Bldg. 51-201
Basic Electrical Hazard Awareness-Researchers (EHS 260), 1:30-3:30 p.m., Bldg. 51-201
CENTER FOR BEAM PHYSICS SEMINAR
"Coherent and Incoherent Effects in the Beam-Beam Interaction" will be presented by Robert Siemann of SLAC at 10:30 a.m. in the Bldg. 71 conference room.
LIFE SCIENCES DIVISION SEMINAR
"Interactions of Prolactin and Growth Hormone in the Regulation of Mammary Cell Function" will be presented by David Flint of the Hannah Research Institute, Scotland, at 4 p.m. in Bldg. 66-316.
EMPLOYEE MUSIC CLUB
Classical Group Rehearsal, 5-7 p.m. in the cafeteria, for info. contact Wesley Steele at X7893.
EH&S CLASSES
Introduction to EH&S Safety at LBNL (EHS 010), 9:30 a.m.-noon, Bldg. 66 Auditorium
Chemical Hygiene and Safety Training (EHS 348), 1-4 p.m., Bldg. 51-201
ENERGY & ENVIRONMENT SEMINAR
"Real-World Emissions from Malfunctioning Passenger Cars" will be presented by Tom Wenzel of LBNL at 3:45 p.m. in Bldg. 90-4133; refreshments, 3:30 p.m.
TOASTMASTERS'
General meeting at 12:10 p.m. in Bldg. 2-100, election of new officers.
EMPLOYEE MUSIC CLUB
Folk Group Rehearsal, 5:30-7:30 p.m. in the cafeteria, for info. contact Larry Bell at X5406.
EH&S CLASSES
Adult CPR (EHS 123), 9 a.m.-noon, Bldg. 48-109
BUILDING ENERGY SEMINAR
"Decisions, Decisions.... Can Computers Make a Difference? The Building Design Advisor" will be presented by Konstantinos Papamichael of LBNL at noon in Bldg. 90-3148.
PHYSICS DIVISION RESEARCH PROGRESS MEETING
"B Semileptonic Decay Problem - New Results From CLEO" will be presented by Youngjoon Kwon of CLEO at 4 p.m. in Bldg. 50A-5131; refreshments, 3:40 p.m.
EMPLOYEE MUSIC CLUB
Rock Group Rehearsal, 5:30-7:30 p.m. in the cafeteria, for info. contact Steve Blair at X5927.

Thinking about going back to school, taking a night class, or learning about the Mentor Program? If so, then stop by the Employee Development Fair between 11 a.m. and 2 p.m. on Tuesday and Wednesday, June 11-12, in the Lab's new conference center (adjacent to the cafeteria). Representatives from Human Resources and the Workforce Diversity Office will be available to answer questions and provide resources on:
Educational Opportunities
On- and Off-Site Training
Tuition Reimbursement Program
Employee Development Plan
Mentor Program
Transfer and Promotion Policy
Current Job Opportunities
In addition, Sharon Gadberry, president of the Transitions Management Group, will have information on career development, and school representatives will provide information on several Bay Area schools. Current Lab employees who are students will also be on hand to answer questions about specific school programs.

The Employee Development and Training Unit is sponsoring the Fair. All Lab employees are invited to attend the event, which was organized at the recommendation of the Laboratory Diversity Committee.

Berkeley Lab's Employees' Arts Council is sponsoring a docent-led tour of the "Fabergé In America" exhibition at the M. H. de Young Museum in Golden Gate Park on Saturday, June 15. This is the first exhibition dedicated to the Fabergé creations collected by Americans--the art of Fabergé as seen through the eyes of each generation of major collectors. It marks the 150th anniversary of the birth of Peter Carl Fabergé.

Two docent-led tour times have been reserved: 8:40 and 9 a.m. They begin before the Museum is open to the public and will last approximately 45 minutes to 1 hour. After the tour you may remain in the Fabergé exhibition as long as you like; however, once you leave you will not be re-admitted. You are welcome to tour the rest of the Museum.

Space is limited to 50 people per time slot. For reservations, contact Mary Clary at X4940. Deadline for reservations and payment is Wednesday, June 12.

This month a new, light-gray pavement is being placed on about seven parking spaces in the Blackberry Canyon parking lot, and on four visitors' spaces at Bldg. 65.

The paving is part of Berkeley Lab experiments on light-colored pavements that are predicted to reduce the heating due to absorbed sunlight, and thus reduce the need for air conditioning in hot cities. The pavement will be monitored periodically, but the spaces are to be used for parking as before.

Flea Market ads may be sent via e-mail to fleamarket@lbl.gov, Fax to X6641, or Lab mail to Bldg. 65B. The deadline is 5 p.m. Friday.

'73 DODGE van, 1/2 ton, a/t, p/s, p/b, reblt eng., white/blue top, $1500/b.o. 558-9212

'74 ALFA ROMEO GTV, 115K mi., never hit, no eng. modifications, elec. sunrf, always garaged, Cromadoras, $6300. X6347

'84 VW Rabbit, 180K mi., exc. cond., reliable, maint. records since new, $1300. Dan, 528-9328

'85 MAZDA 626 LX, gray, 4-dr, a/t, p/w, p/l, sunrf, stereo, cass., 124K mi., gd cond., asking $1400. Jerry, 526-8965

'89 FORD Ranger XLT, low mi., superbly maintained, incl. bed liner & Gemtop, $7800/b.o. X7853, 526-7388

ENGINE, Ford 390, w/C6 manual trans., carburetor, headers, etc., like new. 906-9786

LUMBER RACK for pickup truck, fits Toyota Long Bed or equivalent, gd cond., $75/b.o. Gale, X4826, 372-0933 (eve.)

CARPOOL needed for afternoons only, would like to ride in your vehicle, departing LBNL ~4 p.m., headed north to or thru Albany (Gilman & Santa Fe), will share expenses. Peter, X5440, X4323, 527-5115

VANPOOL, riders wanted from Rohnert Park, stopping at Petaluma & Novato, ending at Berkeley BART, Commuter Checks accepted. Shirley, X4521

CHILD for our caregiver, our child is starting school. Alison, 704-0946

EMPLOYEES for The Science Exploration Camp summer science enrichment camp, for children ages 6 - 12, full-day camp, 7/22 - 8/30, applications being accepted for director, asst. director or counselor (2 positions). Janet, 525-5460 (eve.)

HOUSE-SITTING, house, Berkeley area, week of 8/17-25. Jeff, (202) 484-0883, JPHarris@lbl.gov

HOUSE-SITTING, house/apt, 6/20-30. Diana, X4978, (415) 592-4791

BEDS (twin, full & crib), chairs, lounge, steam iron, toaster, pots & pans, cutlery, bedding etc., contents of apt, all 6 mo. old, half or less of new price. Dan, 528-9328

BICYCLE SHOES, Nike, for use with toe clips, sz. 10-11, gd cond., $50 new, $15. Doug, X6626, 237-2233

CORDLESS TELEPHONE, Panasonic KX-T3855, white, lighted keypad, 10 ch. memory, intercom, 6 mo. old, almost no use, exc. cond., $80/b.o. Jan, X4417

MATTRESS, box spring & frame, antique pineapple post type, dbl bed, $50; TV cabinet, 50s style w/tambour doors, $25; elec. typewriter, Canon Typestar 110II, $100/b.o.; portable slide reviewing box, $25/b.o. Hannah, X4781, 528-6386

REFRIGERATOR, like new, $220; mattress, full sz., 6 mo. old, $80; bike, 26", 1 yr. old, $85; study desk w/chair, $30; kid's bike, 12", $12. Jerry, 526-8965

STERLING SILVER, Wallace Spanish lace, 6-pc. place setting, service for 12, incl. serving pieces & case, $1K/b.o.; English saddle, Avante, 15-1/2", all purpose saddle, suede knee rolls, exc. cond., incl. irons, leathers & cover, $250. Linda, 798-6589

TELEVISION, 20" RCA w/remote, 1992 model, $150. Steve, X6966

YARD SALE, multi-family, toys, books, clothes & more, to benefit Hearts Leap School, Sat., 6/8, 10 a.m.-3 p.m., Julia Morgan Theater, 2638 College Ave.

ALBANY, partly furn. 2-bdrm, 2-bth condo, bay view, swimming pool, tennis cts., 24 hr. sec., garage parking, 15 min. bus/BART to LBNL/UCB, nr shopping ctr., no pets, non-smoker, lease, $980/mo. Rai, 524-7941 (eve.)

BERKELEY, nr Oxford/Cedar, summer leases, furn. 1-bdrm apts, avail. 7/1-31 & 7/15 - 8/31, $785/mo.; 2-bdrm apt, avail. 7/1-31, $1200/mo. ($350/wk). 524-8122

BERKELEY, nr Oxford/Cedar, 1 yr. lease, furn. studio, avail. 9/1, $650/mo.; furn. 1-bdrm apts, $775 - $835/mo.; furn. 2-bdrm, 2-bth apt, start in July & Aug., $1200/mo. 524-8122

BERKELEY, furn., modern 2-bdrm, 1-bth apt on ground floor of Victorian family home, nr downtown, BART, shopping & LBNL shuttle, off-st. parking, washer/dryer, TV w/cable, long term $1025/mo. or short term (with linens/dishes/paid utils.) $1150/mo. Chris, X5507, 845-3562

BERKELEY, Northside, Rose & Walnut, short term, furn. 1 & 2-bdrm apts, incl. local phone, utils., linen & weekly cleaning, 4 blks from UCB/LBNL shuttle, $975-$1200/mo. Viki, 549-1876

NO. BERKELEY HILLS, rm avail. for July, share house w/international group, on #7 bus route, cycling distance to Berkeley, parking avail., $400. Deirdre, X4020

EL CERRITO HILLS, 2-bdrm, 1 bth house, ofc. space, dining rm, hardwd flr, 1-car garage, washer/dryer, bay view, yd, $950/mo. X6460, 778-0280

EL CERRITO HILLS, nr Kensington, 3-bdrm, 2-bth home, bay view, sauna, frpl, hardwd flrs, piano, deck, remodeled kitchen w/skylights, palm & fruit trees, min. 1 yr. lease, avail. 8/1, $1500/mo. w/gardener. 528-1614

KENSINGTON, sunny rm in shared house, washer/dryer, dishwasher, view, lg. kitchen, nr #7 bus line, 1 blk from Tilden trailhead, $410/mo. + utils. Christine, X4635, 559-8330

LAFAYETTE, 3-bdrm, 2-bth apt, pool, nr BART, avail. for Aug. $600. Kathleen, X6356

ORINDA, furn., sm. 3-bdrm, 1-1/2 bth house, lg. garden, 3 blks from BART, 12-15 min. drive from LBNL, $1400/mo. Scott, (916) 894-5519, (916) 898-5747

RICHMOND HEIGHTS, furn. 3-bdrm, 2-bth flat in 2-story house, 1800 sq. ft., garage/game rm, next to Wildcat Cyn, lg. yd, view, nr shopping & trans., 7 mi. north from LBNL, avail. June (negot.), $1250/mo. (up to 1 yr.), $1100/mo. long term. Elena, 233-5732

WANTED: 1-bdrm, cottage, apt or share, furn./unfurn., for LBNL employee, 7/1 or earlier. Steven, X6966, 204-9494

WANTED: housing for visiting German scientist (LBNL/ALS), 6/24 - 7/16. Jens, (+49)6221/512-326, Paggel@zooey.mpi-hd.mpg.de

WANTED: house for visiting French scientist w/3 children, 6/20 thru Aug., animals welcome, could exchange 4-bdrm, 2-bth apt & car (Volvo 740) in cent. Paris. 33 1 43389440 (msg.), hagege@glvt-cnrs.fr

SO. LAKE TAHOE, Tahoe Keys, 3-bdrm, 2.5-bth house, upstairs living, fenced yd, water & mountain views. Bob, 376-2211

Currents/The View and the Communications Department Staff
Published once a month by the Communications Department for the employees and retirees of Berkeley Lab.

Reid Edwards, Public Affairs Department head
Ron Kolb, Communications Department head

EDITOR
Pamela Patterson, 486-4045, pjpatterson@lbl.gov
Associate editor
Lyn Hunter, 486-4698, lhunter@lbl.gov

STAFF WRITERS
Dan Krotz, 486-4019
Paul Preuss, 486-6249
Lynn Yarris, 486-5375

CONTRIBUTING WRITERS
Ucilia Wang, 495-2402
Allan Chen, 486-4210
David Gilbert, (925) 296-5643

DESIGN
Caitlin Youngquist, 486-4020
Creative Services Office

Berkeley Lab
Communications Department
MS 65, One Cyclotron Road, Berkeley CA 94720
(510) 486-5771
Fax: (510) 486-6641

Berkeley Lab is managed by the University of California for the U.S. Department of Energy.

Flea Market is now online at www.lbl.gov/fleamarket