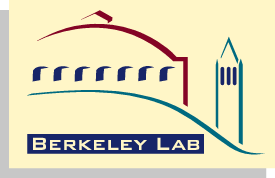 Berkeley Lab Currents
February 23, 1996

By Jeffery Kahn
Decades of study on the biological effects of high-energy heavy charged particles all but came to a halt in the U.S. three years ago when Berkeley Lab, which invented nuclear medicine half a century ago, shut down its Bevalac accelerator.
Although other facilities took up some of the slack when funding ended for the Bevalac, its loss was a blow to charged-particle radiation research. Now, thanks in part to the efforts of the Engineering and Life Sciences divisions, much of what was accomplished in turning the Bevalac into one of the world's finest facilities for heavy-ion radiation biology (see accompanying article) has been transferred to a new facility at Brookhaven National Laboratory.
Life Sciences physicist Jack Miller says creating the new Brookhaven research facility was a two-year labor of love for Bevalac veterans who gave many hours of their own time to the project. Brookhaven's Alternating Gradient Synchrotron (AGS) had never been used for radiobiology, and to do so presented technical challenges similar to those encountered at the Bevalac.
Computer and electronic systems and monitoring devices developed for the Bevalac were refurbished or rebuilt before being moved to Brookhaven. These systems monitor the radiation dose delivered to experimental targets as well as the uniformity and composition of the particle beam, and are critical to the success of accelerator-based biology experiments. Engineering's R.P. Singh was responsible for the software, while Mark Nyman handled much of the electronics engineering. Bernhard Ludewigt of Life Sciences was liaison between biologists and accelerator specialists.
Miller and Life Sciences physicists Lawrence Heilbronn, Cary Zeitlin and Ken Frankel were responsible for installing and running the dosimetry system at the AGS, and Life Sciences biologists Amy Kronenberg and Priscilla Cooper helped design the facility for staging biological samples.
Miller says that the effort to transfer know-how and hardware to Brookhaven really made him appreciate the breadth of resources available at Berkeley Lab. "In addition to engineers and scientists," he said, "we needed computer technicians, electronics specialists, riggers, carpenters and the shipping department, some times on pretty short notice. Everyone came through."
He also praised the staff at Brookhaven for their efforts. "The AGS is optimized for high energy nuclear physics. For radiobiology, the beam had to be dialed down to about 1 GeV/nucleon, well below its comfort zone. This is like getting an internal combustion engine to idle at 20 rpm rather than 700. The accelerator people called this `running in the mud,' but they made it work very well."
The first AGS radiobiology run, using beams of iron ions, took place in October. Forty-one scientists from 12 institutions took part in the highly successful run. Participating LSD researchers included Kronenberg (mutagenesis in human and rodent cells); Cooper and Bjorn Rydberg (DNA damage and repair in human and rodent cells); Mary Helen Barcellos-Hoff (epithelial cell transformation); and Miller (heavy ion fragmentation related to astronaut exposures and shielding).
CAPTION: Mark Nyman and and R.P. Singh (left and right) of Engineering, and Bernhard Ludewigt of Life Sciences were among the many Bevalac veterans who worked long hours over two years to transfer the radiobiology program from the Bevalac to Brookhaven National Laboratory. Photo by Don Fike

By Jeffery Kahn
Life Sciences Division researchers, sponsored by DOE, NASA and others, will be major users of the new Brookhaven facility (see main article). Berkeley Lab, in collaboration with Colorado State University, is a NASA Specialized Center of Research and Training (NSCORT) in radiation biology, with a mandate to train some of the next generation of radiation scientists.
Life Sciences physicist Jack Miller says research in this field has particular importance to two groups of people--astronauts and cancer patients. In terms of biological effects, heavy ions are a two-sided coin. While posing a hazard to astronauts, these highly energetic charged particles provide hope to cancer patients.
"We have a lot to learn about the biological effects of densely ionizing radiation such as cosmic ray heavy ions," Miller says. "The knowledge we gain will not only help protect astronauts but will also improve our understanding of both the basic biology and the therapeutic uses of these particles."
To date, astronauts have not traveled much beyond the safety of the earth's magnetic field. Near Earth, heavy ions are of relatively little concern. However, they may turn out to be a major hazard on interplanetary missions.
For instance, it has been estimated that during a three-year mission to Mars, up to one third of an astronaut's nuclei would be "traversed" by a heavy ion. The very long lead times needed for planning a return trip to the moon or a voyage to Mars dictate that research into the consequences of this exposure be conducted now.
Heavy ions can also be harnessed to attack cancerous tissue. Charged particle radiotherapy--the targeting of a beam of heavy ions on a tumor--was pioneered at this Laboratory and at the Harvard cyclotron, and has spread to facilities in more than 10 countries.
Like x-rays, charged particles are able to pass through tissue. However, whereas x-rays begin to give up their energy as soon as they encounter tissue, charged particles deposit almost all of their energy or radiation dose where they stop. This stopping point can be precisely manipulated to coincide with the location of a tumor through the use of a beam delivery system developed at the Bevalac.

The Laboratory's celebration of Black History Month continues this month with a talk by Troy Duster, UC Berkeley professor of sociology and director of the Institute for the Study of Social Change. He will speak at noon on Monday, Feb. 26, in the Bldg. 50 auditorium on "The Regents' Decision on Affirmative Action and the CCRI: Context and Impacts." All employees are invited to attend.

Duster, who also spoke last year at the Lab, has served on the Committee on Social and Ethical Impacts of Advances in Biomedicine, Institute of Medicine, and is currently a member of the National Advisory Council for Human Genome Research. He is also vice chair of the advisory committee to the National Center for Human Genome Research, on Ethical, Legal, and Social Issues.

He is the recipient of a number of research fellowships, and has published many books and monographs, including one on the social implications of the new technologies in molecular biology.

Six math and science teachers from the South African black township of Oukasie arrived in the Bay Area on Feb. 18 to begin a month-long program of workshops, lectures, and hands-on classroom experiences at the Laboratory and in local schools. They made their first visit to the Lab on Feb. 18, meeting with Glenn Seaborg, among others, and attending a reception held in their honor.

The teachers are participating in the South Africa Project, a team effort between CSEE's Bay Area Science and Technology Education Collaboration (BASTEC) and the Berkeley-Oukasie Sister Community Project. The project has been designed to serve as a model for linkages between South African and U.S. science faculties.

While in the Bay Area, the teachers will be updated on cutting-edge science and science education opportunities, and trained to conduct peer workshops. After leaving the Bay Area, they plan to spend three days in Washington, D.C.

A potluck dinner to raise funds for the Oukasie, South Africa, community is scheduled for 4-9 p.m. on Saturday, March 2, at the home of Emily Benner at 155 Tamalpais, Berkeley. Donations of $3-5 are requested; proceeds will help fund a teacher training center in Oukasie.

The potluck is sponsored by the Berkeley-Oukasie Sister Community Project and BASTEC. Call 849-1890 for more information.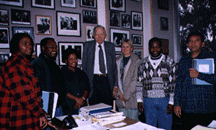 CAPTION: Associate Director-at-Large Glenn Seaborg (center) met with six South African math and science teachers on their first day at the Lab, Feb. 20. The teachers (from left), Doreen Khutoane, Zacharia Makhoba, Glancinah Mateta Ngakane, Susan Patricia Vermaak, Colin Peter Malao, and Dilepkumar Sukha Kala all hail from the South African township of Oukasie. Photo by Don Fike

Berkeley Lab is pleased to announce the open application process for the University of California's Management Skills Assessment Program and Professional Skills Assessment Program. MSAP and PSAP are staff development programs designed to allow participants an opportunity to increase their knowledge about career-related skills, on-the job potential, and planning for future career growth.

MSAP is one of UC's most successful and highly recognized management development efforts. The 4-day in-residence program is scheduled for June 4-7 at the Asilomar Conference Center in Pacific Grove. PSAP will target the upper administrative services levels and is promising to be just as successful. It will be held June 11-14 at the Santa Sabina Center in San Rafael. It is a 3-1/2-day in-residence program.

If you are interested in applying for MSAP or PSAP, contact your division administrator for an application packet. Program information and applications will also be available via the Lab's web site. Go to the Employee Development & Training home page at http://www.lbl.gov/Workplace/EDT or the Work Force Diversity home page at http://www.lbl.gov/Workplace/WFDO/Home.html All completed applications should be mailed to Christa Brothers at M.S. 51-208 by March 8.

For more information, contact Christa Brothers at X4238 or CKBrothers@lbl.gov

The full text of each edition of Currents is published on the Lab's home page on the World Wide Web. View it at http://www/lbl.gov/ under "Research News and Publications." To set up your computer to access the World Wide Web, call the Mac and PC Support Group at X6858.

The "Physics of Star Trek" will be the subject of a free public lecture to be given next Thursday evening, Feb. 29, by the acclaimed astrophysicist and author Lawrence M. Krauss. An internationally recognized expert on the connections between particle physics and cosmology, as well as chairman of the Physics Department at Case Western Reserve University and frequent guest on TV and radio programs, Krauss uses the Star Trek universe to provide audiences with a stylish look at the world of modern physics. On Thursday, with the help of slides, props, and video clips, he will deal with topics ranging from time travel to warp drive, the Big Bang, and the search for extraterrestrial intelligence. The 7 p.m. lecture will be given in Sibley Auditorium on the UC Berkeley campus. It is sponsored by the Center for Particle Astrophysics. DOE has launched a $50 million program to develop new technologies for cleaning up the weapons complex. This initiative, a partnership between the Offices of Energy Research (OER) and Environmental Management (OEM), calls on the scientific community to aid DOE in dealing with the environmental legacy of 50 years of nuclear weapons production. The national labs will have $20 million reserved for them in FY96, while another $20 million is being set aside for university and industrial researchers. The remaining $10 million may go to EPA and NSF scientists. Another $50 million has been projected for FY97 with further increases anticipated. DOE says it expects awards to be in the $100,000 to $300,000 per year range for a typical three-year grant, and a call for research proposals has gone out on the Federal Register. Pre-applications for grants are due Feb. 28 and formal applications are due May 8. The initiative is in part a response to recommendations from the Galvin Report. OER head Martha Krebs said the initiative will help bring together some of the best chemists, biologists, and other scientists from the labs and the universities to "form a community around weapons cleanup problems." Energy Secretary Hazel O'Leary told reporters she will remain in office a second term if President Clinton is re-elected and asks her to stay on. Dismissing Congressional criticism of her overseas travel as part of a broader attack by House Republicans on the value of government and public service, O'Leary said, "The reason the criticism plays so well is because people's impression of government employees, especially bigwigs, is that when we travel, the trips are somehow boondoggles." O'Leary added that her friends believe some of the criticism is directed at her because she is an African-American woman working in a non-traditional role. She pointed out that critics described her chartered plane as "Madonna's plane; not the plane that was used by the White House press corps, not the plane that was used by the University of Oregon basketball team, and not a 35-year-old plane that leaks and has a terrible heating and ventilation system." The history of nuclear energy and the challenges of turning nuclear power from war to peacetime use will be the focus of an upcoming PBS broadcast of "The New Explorers." The program, "Atoms for Peace--The Nuclear Age: What Are Its Achievements ... And Where Did It Go Wrong?" will feature Argonne National Laboratory scientists whose work "images the challenges of the Nuclear Age." It airs 8-9 p.m. ET on Wednesday, Feb. 28 (check local listings).

By Mike Wooldridge
The cost of disposing of Berkeley Lab's medical waste went down last year, thanks to some ingenuity on the part of the EH&S and Life Sciences divisions.
By consolidating adjacent sites where medical waste is picked up, costs were cut from $30,000 in 1994 to $22,000 in 1995, even though the total amount of medical waste increased.
The impetus to improve the system came with a change in contractors in early 1995. The new contractor, BFI Medical Waste Systems, had a different pricing schedule, charging less per pound of waste picked up, but having a higher minimum price for small loads.
"It became much more cost effective for the Lab to combine its pick-up sites," said Gale Moline of EH&S.
Medical waste on the Hill is generally made up of any equipment that comes in contact with blood or other potentially biohazardous material, such as test tubes, pipettes, filters, and tissue culture supplies. Such waste is stored in special red bags in laboratories and picked up at designated locations.
Working with Life Sciences, which generates most of the medical waste, Moline was able to cut the 13 pick-up sites down to eight. This involved installing a locker outside of Bldg. 70A for waste barrels, and combining sites in Life Sciences-heavy areas such as Donner.
Even with consolidation of waste bags, Moline says, the system allows backtracking of individual waste containers to original locations because the new waste contractor has implemented a bar-code system of identifying bags.
Moline says the savings from the simple streamlining should also mean less paperwork.
Contributing to the project from Life Sciences were Stacy Gauny and Mark McCall. n


The Berkeley Lab Calendar is published biweekly here on the World Wide Web and in Currents by the Public Information Department. Employees can list a meeting, class, or event in the Calendar by using this submission form. The deadline for submissions is 5 p.m. on Monday in the week that Currents is published.

In addition to the events listed below, Berkeley Lab's Washington, D.C. Projects office is hosting a Science and Technology Seminars series.

Scientific Conferences


MON., FEB. 26
Shoemobile
7:30 a.m. - 4:30 p.m., near Bldg. 77.
Bodyworks
General meeting at noon in the lower cafeteria.
Black History Month Lecture
Troy Duster, director of UC Berkeley's Institute for the Study of Social Change, will speak on "The Regent's Decision on Affirmative Action and the CCRI: Context and Impacts," at noon in the Bldg. 50 auditorium (see page 1 for details).
TUES., FEB. 27
EH&S CLASS
Basic Electrical Hazard Awareness (EHS 260), 9-11 a.m., Bldg. 51-201
Center for Environmental Biotechnology Seminar
"Environmental Application of X-Ray Spectroscopy" will be presented by Dr. Roger Prince of Exxon at noon in Bldg. 50A-5132.
Transfer Meeting
Members of the Technology Transfer Department will present "What's New in Technology Transfer" at 1:30 p.m. in Bldg. 90-3148 (see page 4 for details).
LIFE SCIENCES DIVISION SEMINAR
"Lipoprotein-Proteoglycan Interactions in Atherosclerosis" will be presented by Alan Chait of the University of Washington at 4 p.m. in the Bldg. 66 Auditorium.
WED., FEB. 28
Forklift Truck Safety (EHS 225), 8-10 a.m., Bldg. 70A-3377 12:10-1 p.m., Bldg. 2-100. "Race, Class, and Environment: Research Questions and Directions" will be presented by Michel Gelobter of Rutgers University at 3:30 p.m. in the Lipman Room (8th Floor, Barrows Hall).
THURS., FEB. 29
Earthquake Safety (EHS 135), 10-11:30 a.m., Bldg. 48-109 "A Surface Science Approach to Environmental and Atmospheric Chemistry" will presented by Vicki Grassian of the University of Iowa at 1:30 p.m. in the Bldg. 66 Auditorium. "From Antarctica to Mars: Searching for Life" will be presented by Chris McKay of NASA Ames at 4 p.m. in 1 Le Conte; refreshments, 3:30 p.m., 661 Campbell Hall. "Poisoning and Promotion in Ammonia Synthesis" will presented by Ken Waugh of the University of Manchester, England, at 1:30 p.m. in the Bldg. 66 Auditorium. "Nuclear Energy in East Asia -- Status and Cooperation" will be presented by Dr. Ryohei Kiyose of the University of Tokyo/Tokai University at 3:30 p.m. in 3105 Etcheverry; refreshments, 3:15 p.m. "On the Road With RNA Polymerase II: The Regulation of Transcript Elongation" will be presented by Caroline M. Kane of UCB at 4 p.m. in Bldg. 66-316. TOASTMASTERS' Spring Contest at 6:30 - 9 p.m. in the Bldg. 66 Auditorium. "The Prospect For An Industrial Ecology" will be presented by Braden Allenby of LLNL at 3:30 p.m. in the Lipman Room (8th Floor, Barrows Hall).
THURS., MAR. 7
SHOEMOBILE
7:30 a.m. - 4:30 p.m., near Bldg. 77. "Carbon-Carbon Bond Activation by Energetic Forms of Hydrogen on Ni Surfaces" will presented by John Gland of the University of Michigan at 1:30 p.m. in the Bldg. 66 Auditorium. "Ly Alphas?" will be presented by Wal Sargent of CIT at 4 p.m. in 1 Le Conte; refreshments, 3:30 p.m., 661 Campbell Hall. "Looking for WIMPs in the Galactic Halo: the Cryogenic Dark Matter Search" will be presented by Dan Akerib of UCB/CPA at 4 p.m. in Bldg. 50A-5132; refreshments, 3:40 p.m. "Femtosecond X-ray Pulses of Synchrotron Radiation" will be presented by Alexander Zholents of LBNL at 10:30 a.m. in the Bldg. 71 Conference Room.
SURFACE SCIENCE AND CATALYSIS SCIENCE SEMINAR
"Magnetoelectronic Effects in Core-Level Photoelectron Spectroscopy" will presented by Leonard E. Klebanoff of the Lehigh University at 3 p.m. in Bldg. 62-203.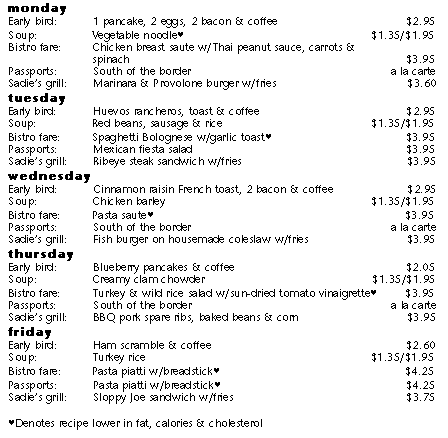 Cheryl Fragiadakis and members of the Technology Transfer Department will present "What's New in Technology Transfer" at 1:30 p.m. on Tuesday, Feb. 27, in Bldg. 90-3148. The meeting will address:
Trends in funding for tech transfer (DOE & other agencies)
Policy and personnel changes at DOE
The messages from Congress
Berkeley Lab activities in this time of change
The meeting is meant to initiate dialog between tech transfer staff and Berkeley Lab researchers and will include a question-and-answer session on how to meet the challenges. If you would like to attend, please contact Mary Hart at mlhart@lbl.gov or X6462.

Nominations for this year's R&D 100 award nominations will be coordinated by the Technology Transfer Department. For copies of the nomination forms and R&D Magazine's handout "How to Win," please contact Bruce Davies at X6461 or sbdavies@lbl.gov. Please submit nominations to the Technology Transfer Department by Wednesday, March 13.

Following are the annual fund returns for the 403(B) and 401(A) accounts, effective Jan. 31, 1996.*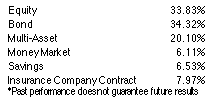 Flea Market ads may be sent via e-mail to fleamarket@lbl.gov, Fax to X6641, or Lab mail to Bldg. 65B. The deadline is 5 p.m. Friday.

'78 DODGE Tradesman van, rebuilt eng. '94, gd cond., 8-cyl., a/c, new parts, furn. (bed, closets, table), runs well, $2500/b.o. Martin, X4800

'84 BMW 325E, baltic blue, metallic, 110K mi., orig. owner, all records, never in accident, leather int., make offer. David, 874-4139, 595-7767 (after 7 p.m.)

'87 ACURA RS, a/t, clean, gd running cond., new tires, $4K. Rudy, 779-9751

'88 FORD Tempo GLS , 50K mi., a/c, a/t, p/s, AM/FM, runs great, exc. cond., $3300. Uwe, X4914, 215-8665 (eve.)

'92 GEO Metro hatchbk, 5-dr, 60K mi., a/t, a/c, AM/FM, garaged, great cond., $4200/b.o. 798-6113

'94 MITSU 3000GT SL, 9K mi., like new, green, tan leather int., $23,900. Nancy, X4497, 215-1009

MOTORCYCLE, '82 Yamaha Seca 650, exc. cond., $1800. Judy, X6540, 631-6642

TIRES, 2 ea., Michelin, 205/65/SR 15, V rated, low mi., $25 ea. R. Arri, X4593

S.F. BALLET, pair of season tickets, 6 performances, Sun. matinees, 2/25 to 6/2, 4th row center. Jon, X6513, 704-0530 CHILDCARE SHARE, our great babysitter has Mon./Tues. full days, Wed. or Thurs. 1/2 day avail., your home. Jonathan, X4148

HEAT REGISTER, old-fashioned, 12"x13" w/2-1/4 depth at floor level or approx. sz. Ruth, 526-2007

INFORMATION regarding Berkeley HS 1986 graduates for ten year reunion planning committee. Alicea, 849-3321

MOUNTAIN BIKE, used, sm. sz., any year. Martin, X4800

VCR, used, Hi-Fi preferred, any brand. Martin, X4800

AIRLINE VOUCHERS (2), America West, ea. worth $100 towards airline ticket, transferable, gd until end of April, $60 ea. Katherine, X4839, 655-0742

BAR STOOLS, set of 4, oak, $75 or $40/pr.; portable oven, $25/b.o.; rocking chair, Ethan Allen, maple, $50; tennis racket, Prince Spectrum, $35/b.o. 526-6730

BICYCLE, 15-spds, w/lock, $50/b.o. Michael, X7463, 841-3088

COLOR PRINTER, new, Epson Stylus Color II (highest rated), in unopened factory carton, Mac or PC compatible, orig. discounted price was $460, asking $400/b.o. Ed, X7501, 649-0409

COMPUTER, laptop, Acernote 786, 8M Ram 500MB HD, 486DX4/75, 256 color display, 2 card slots, trackball, many programs installed, orig. box & manuals, exc. cond., $1500/b.o. 235-3983

DESK, solid mahogany top, 30 x 58, 6-drwrs, $100. Tom, 547-5445

FISH FINDER, Furuno LE-4000 w/transducer, $150; fish finder Eagle model Mach 1, graph recorder w/Transducer model XD-2 w/manual, $125. Al, X7660

FREE-STANDING HEATER, Schwank-Perfection, model #VC2500TN-R, 50K BTU, used twice, exc. cond., $490. Denny, 237-8171

FURNITURE, bricks & boards bookcase, 5' wide, $5; orange crate desk, 4'x3' desktop, $3; night stand w/drwr, $3. Bob, 848-7543

JUICE EXTRACTOR, wheat/grass, almost new, w/orig. carton, paid $150, asking $85. Anne/Peter, X7337, 531-7837

LIFT TICKET VOUCHERS (2), Squaw Valley, $29 ea. R. Arri, X4593

LIFT TICKET VOUCHERS, Squaw Valley, reg. $45, $38; men's ski boots, Nordica, blk, sz. 11, $100; ladies ski jumpsuit, white w/other colors, sz. 10, $50; water filters, NSA, sink models 50C & 100S. Marek, X5029, 582-5867

MODEM, US Robotics, 14.4 KB, w/orig. software, $80; futon, queen sz., (no frame), cover, $75; dome tent, American Camper, 2 season, 3-person, $25. Eddie, X7637

MOUNTAIN BIKE, TREK 7000, alum. 16-1/2" frame, light, $300. Vlad, X5177, 849-1579

PERSIAN RUG, antique, 60 yrs. in the family, perfect cond., hand-knotted Hammedan, 5'X7', predominately red/multi., $700/b.o. 883-1652

PAGER, Motorola Lifestyle, 1 yr. old, gray, 16# memory, time-stamped msg., tone/vibrate, light, clock, $90 new, $70/b.o.; compact stereo, Magnavox, 4 yrs. old, 2-pc., phono, tuner w/16 presets, 3 band eq., dbl cass. deck, single CD player, $400 new, $125/b.o. Lisa, X4166

RECLINER, $25/b.o. Julie, X4583, 232-6919

SAILBOATS (2), 22' Columbia fiberglass w/fin keel, sails, 7.5 HP outboard engine, toilet & galley, slps 4, $2K; Mystic 24' w/full keel, sails, 4 cyl. atomic gas inboard engine, standing headroom, toilet & galley, slps 4, $3K. Nan, 527-4298

SKI VOUCHERS for Sugar Bowl $40 worth for $34. Volker, X6460

SPEAKERS, Polk Audio, monitor series #5, 3-way, 22"h x 10"w x 9"d, $200/b.o. John, X5523

TELEVISION, 20" RCA, w/remote, '92 model, $150. Steve, X6966

VOLLEYBALL NET, full set, new, $30. Edas, X7780, 848-6137, 849-1147

WASHER/DRYER, stacked, elec. 220V, pick up in S.F., $100. (415) 282-0887

WATERBED, queen sz., w/waveless mattress, shelved headboard, heater, running pads, liner, very gd cond., hardly used, asking $150. Dave, 669-0302

WORK-SPACE in Berkeley, 3K sq. ft. shop space to share, incl. use of various machine tools & other metal & wood-working equip., rent will depend on need & contribution to the shop, ~$100-350/mo. X5869

BERKELEY, 2 rms avail. in furn. home, nr UCB & Rose Garden, washer/dryer, views, frpl, hot tub, decks, avail. 3/1, $450 & $500/mo. David, 525-4470

CASTRO VALLEY, 2 bdrms avail. in home, one w/pvt bth, laundry & kitchen privs., short/long term, rent + dep. negot. Marek, X5029, 582-5867

BERKELEY HILLS, Euclid/Cedar, 5 blks from UCB, furn. rm in pvt home, kitchen privs., washer/dryer, deck, S.F. & Golden Gate views, nr trans., shops, tennis cts. & Rose Garden, non-smoking, no pets, $450/mo. + util. 548-1287

EL CERRITO, furn. 2-bdrm townhouse, 1-1/2 bth, 2-car garage, washer/dryer, inner courtyard nr swimming pool, avail. 4/1-9/30, $850/mo. 525-2135

EL CERRITO HILLS, rm avail., no pets, no smokers, $435/mo., 3 mo. lease, then mo./mo., $600 dep. & first/last, 1/3 utils. 237-9873

EL SOBRANTE, 2-bdrm condo., secluded, upper end unit, Parkland views, 10 mi. commute to LBNL thru Tilden Park, parking, pool, tennis, $715/mo. Emily, X7979

KENSINGTON, furn. 3-bdrm house, lg. garden, 1 cat, avail. 5/1 for duration of summer, $1200-$1300/mo. depending upon sz. of family. Ruth, 526-2007

WALNUT CREEK, unfurn. 2-bdrm, 1-bth apt, in duplex on hill, Mt. Diablo view, upper unit, washer/dryer installed, fully equipped kitchen, carport, a/c, lg. yd, dog or cat acceptable, 5-min. walk to BART, 1 yr. lease, avail. 3/1, $875/mo. + utils. & dep. Denise, 935-2285 (eve.)

WANTED: furn. rm or sublet for visiting scholar from Hungary, between 2/20 & 3/17. DAVFOR@DANTE.LBNL.GOV

WANTED: visiting French scientist, spouse & 3 children, want to exchange 4-bdrm apt in center Paris for house near LBNL starting 6/20 until end of Aug., car exchange also possible. 33 1 43389440 (France), hagege@glvt-cnrs.fr

WANTED: 3-bdrm house from end of Aug. '96 for 1 yr. for visiting scientist from Korea, wife & 2 children (6th & 8th grades), prefer furn. Bertha/Donald, 642-9345

WANTED: furn. house/apt for visiting teacher & wife (no children), 6/23-8/23, East or No. Bay Area, willing to commute to Berkeley Lab; also willing to exchange home nr Boston (Marblehead, MA). Karin, X5513, Michael, (617) 631-6860

WANTED: 2-bdrm house in safe area for couple, Berkeley Lab researchers, non-smokers, no pets, sign long lease for right house, $800-$1K/mo. range. Katie/Scott, X4132, 559-8071

BERKELEY, Euclid/Cedar, 1-bdrm condo. in 1923 fourplex, 1100 sq. ft., 9-ft. coved ceilings, plaster detailing, bay windows, formal dining rm, pantry, garage, S.F. view, 7-min. walk to LBNL shuttle, $165K. Jon, X6513, 704-0430 SO. LAKE TAHOE, Tahoe Keys, 3-bdrm, 2.5-bth house, W/D, upstairs living, mountain & water views, XC & downhill skiing nearby. Bob, 376-2211 FOUND: 2 "Master" keys at bldg. 65 bus stop. Romeo, X4025 DOG, female, lab mix, approx. 2-1/2 yrs., med. sz., spayed, shots up to date, wonderful w/children. 778-7133

Currents/The View and the Communications Department Staff
Published once a month by the Communications Department for the employees and retirees of Berkeley Lab.

Reid Edwards, Public Affairs Department head
Ron Kolb, Communications Department head

EDITOR
Pamela Patterson, 486-4045, pjpatterson@lbl.gov
Associate editor
Lyn Hunter, 486-4698, lhunter@lbl.gov

STAFF WRITERS
Dan Krotz, 486-4019
Paul Preuss, 486-6249
Lynn Yarris, 486-5375

CONTRIBUTING WRITERS
Ucilia Wang, 495-2402
Allan Chen, 486-4210
David Gilbert, (925) 296-5643

DESIGN
Caitlin Youngquist, 486-4020
Creative Services Office

Berkeley Lab
Communications Department
MS 65, One Cyclotron Road, Berkeley CA 94720
(510) 486-5771
Fax: (510) 486-6641

Berkeley Lab is managed by the University of California for the U.S. Department of Energy.

Flea Market is now online at www.lbl.gov/fleamarket