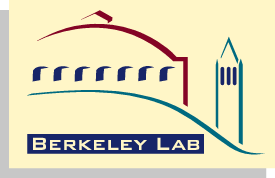 Berkeley Lab Currents
December 4, 1998

By Lynn Yarris
In the aftermath of Hurricane Mitch's devastating rampage through Central America, a device invented at Berkeley Lab is being deployed to disinfect drinking water in areas ravaged by the storm.
The second-strongest storm to sweep through the western Caribbean since Hurricane Gilbert in 1988, Mitch left some 10,000 people dead and laid waste to the economies and infrastructures of Honduras, Nicaragua and El Salvador. Thousands more lives are at risk for lack of sanitary drinking water.
In response, many of the disaster relief efforts are bringing in "UV Waterworks" -- a small, simple device that uses ultraviolet light to quickly, safely and cheaply disinfect water of the viruses and bacteria that cause cholera, typhoid, dysentery, and other deadly diseases.
Invented by Ashok Gadgil, a scientist with the Environmental Energy Technologies Division, UV Waterworks is ideally suited for emergency situations.
"Unlike other ultraviolet-based water purifiers, UV Waterworks does not require pressurized water-delivery systems and electrical outlets," says Gadgil. "It is designed to rely on gravity for water flow, which means it can be used with any source of water."
Needing electricity only to operate its small UV lamp and automatic shutoff valve, UV Waterworks can be powered by a car battery or a 60-watt solar cell. About the size of a microwave oven and weighing seven kilograms (15 pounds), it can disinfect water at the rate of four gallons per minute, similar to the flow from a typical American bathtub spout. Passing water through ultraviolet light inactivates the DNA of pathogens and purifies the water at a cost of about five cents for every thousand gallons.
In addition to their deployment to the Central American countries hit by Hurricane Mitch, UV Waterworks devices are extensively used in Mexico and the Philippines. It is estimated that in Manila alone several thousand people now purchase their daily drinking water from vending stations with UV Waterworks devices. Other countries in which the device is used include Nepal, Bangladesh, India, and South Africa.
UV Waterworks has won major awards from both Discover and Popular Science magazines. Earlier this year, the Smithsonian Institution added a UV Waterworks device to their permanent collection of medical inventions. This device is currently on display at the National Museum of American History. The UV Waterworks technology has been licensed to WaterHealth International, Inc., (WHI) which has been working with Central American relief organizations in response to the Hurricane Mitch crisis.
Gadgil has been busy designing a "disaster relief" version of UV Waterworks with funding from DOE and WHI.
"This version has a pump, a hydrocyclonic separator, and a series of filters to remove silt, suspended solids, and turbidity from inlet water which can then be treated with UV Waterworks to produce potable water," says Gadgil. "The system can be also configured with a granulated activated carbon filter to treat waters with low levels of organic chemical contaminants."
Although this new version of UV Waterworks cannot handle "severe" chemical contamination of the water, it can be used to treat the soil, mud and biological contaminants that are common in most disaster relief situations.
The research prototype of this new version of UV Waterworks weighs 100 kilograms (250 pounds) and can produce more than 5,000 gallons of drinking water daily.
Photo: Images from Honduras in the wake of the devastation caused by Hurricane Mitch (honduras.jpeg)
Photo: Images from Honduras in the wake of the devastation caused by Hurricane Mitch (mitch2.jpeg)
Photo: David Greene of the Environmental Energy Technologies Division with the "disaster-relief" version of a water purification system invented by Ashok Gadgil. Photo by Roy Kaltschmidt XBD9811-02964-05.jpeg

By Ron Kolb
To encourage participation in Berkeley Lab's community awareness and support campaign, Laboratory Director Charles Shank went to a natural source--the people who contributed to its international reputation for quality.
"We exist today as a legacy of the things you accomplished and made," Shank told a luncheon meeting of the Ex-L'ers, an organization of retired Berkeley Lab employees. "Our discoveries fill the world's textbooks and the libraries of human knowledge."
After reviewing several current initiatives that have built upon the scientific and technical foundations the Ex-L'ers helped to establish, Shank appealed to the nearly 100 retirees at Hs Lordship's Restaurant in Berkeley to help him carry the message beyond the Laboratory's borders.
"Science has gotten very complex," he told them at the Nov. 18 meeting. "When people are confused, there is fear and concern." He cited the current controversy with some community members in Berkeley over tritium emissions at the National Tritium Labeling Facility (NTLF).
"The National Institutes of Health have funded this facility for more than 18 years," Shank said. "It offers great biomedical benefits to society, but some people lack an understanding of what we do there, or the value of our work."
He lamented the fact that, despite a record that shows radioactive emissions at less than two percent of the federal regulatory limits set to protect public health, the NTLF continues to be criticized as a toxic danger to the environment.
"We seek help from our employees, our friends, and people like you, who know our value," he told the Ex-L'ers. "We need you to be ambassadors for us. We need community support for the exciting scientific adventures we confront each day."
At the conclusion of the talk, 19 retirees stepped forward and offered to contribute their active efforts to the cause.
The group heard the Director talk about some major strategic thrusts that he said translated into "exciting times at the Lab today, as it has been for the 60-some years of our history." Those programs included the supercomputing effort, centered around the National Energy Research Scientific Computing Center (NERSC) and the Energy Sciences Network (ESNet); the B-Factory at Stanford Linear Accelerator Center, conceived at Berkeley Lab; the Advanced Light Source and its new protein crystallography activity; the human genome sequencing effort; the Sudbury Neutrino Observatory (SNO) in Canada, to which Berkeley scientists made major contributions; and the supernova search that has yielded vital information on the fate of the universe.
"We're challenging nature in every way," Shank said. "And all of these things have a legacy. I want to thank all of you for making what we're doing today possible. My job is to leave that type of legacy for the next generation that follows us."
In earlier business, the Ex-L'ers selected their new officers for the coming year: president, Ken Mirk; first vice president, Tom Beales; second vice president, Per Dahl; secretary, Bob Mortiboy; treasurer, Bud Larsh; activities chairperson, Inge Henle.
More information on the Ex-L'ers can be found on the World Wide Web at http://www.lbl.gov/ex-l-express/.

By Monica Friedlander
Timothy R. Renner, a nuclear physicist at the Advanced Light Source and a leader in the development of accelerated particle beams for cancer treatment, died on Nov. 17 at his home in Piedmont after a long battle with colon cancer. He was 48.
A technique developed by Renner was instrumental in creating a center for the treatment of melanoma of the eye with precise heavy particle radiotherapy. The center, located at the University of California at Davis, became the second busiest eye treatment facility in the world. In October, just one month prior to his death, the center was named in Renner's honor. His colleagues proudly presented him with a plaque that now hangs at the center which reads "The Timothy R. Renner, Ph.D. Proton Eye Treatment Facility."
Renner joined the Experimental Systems Group at the ALS in early 1994 and took over a project to design a crucial optical diagnostic beamline. "With his characteristic energy and enthusiasm Tim had the system working to specifications just in time for Christmas 1994," said Howard Padmore, leader of experimental systems at the ALS.
Over the past four years Renner worked on a new beamline and end station for Intel Corporation to produce a system for spatially resolved photoelectron spectroscopy for analysis of defects in semiconductor microcircuits--a system he completed in about one year.
Renner started his career at Berkeley Lab in the Nuclear Science Division and later moved to the Accelerator and Fusion Research Division. There he joined the biomedical program at the Bevatron, where he specialized in the delivery of ion beams for cancer treatment in clinical trials. Bill Chu, a senior scientist in Life Sciences and head of the biomedical group during Renner's days at the Bevatron, remembers his friend for his unusual dedication.
"Tim truly cared about the cancer patients," Chu said. "He often worked to exhaustion. He demanded the best of his coworkers and he always got that."
Renner designed complex instruments using particles that could be used to treat late stage cancers. He and his colleagues received two Research and Development Awards for the wobbler beam delivery system and for the scanning beam delivery service. He also received a patent for a dosimeter design used in his medical applications work.
After the Bevatron closed in 1993, Renner decided to transfer the technology from the biomed facility to UC Davis, where he was able to take advantage of an existing cyclotron originally built by Ernest O. Lawrence. The center began treating patients in 1995.
Renner continued his work up to the end of his life. "He energized and motivated everyone he worked with," Padmore said. "Even in the last few weeks, when he was very seriously ill, he continued his scientific work, writing a paper on aspects of the focusing of x-ray mirrors. He was a joy to work with--a larger than life person."
Born in Weatherford, Texas, in 1950, Renner graduated from the University of Texas at Austin in 1972 and received his doctorate from the University of Chicago in 1978. After conducting postdoctoral work at the Bevatron, he became a staff scientist at Berkeley Lab, where he worked until two weeks before his death.
His friends remember Renner for his ability to bring out the best in people and attract the loyalty and commitment of everyone who worked with him. Referring to the team Renner led at the eye facility--which included RP Singh, Mark Nyman, Mario Cepeda and Ron Stradtner--Chu said, "I observed that these fellows worked so well together under Tim's leadership that I often thought they were off to Davis for a picnic."
A devoted family man, he used to spend weekends and vacations backpacking with his wife and children. He is survived by his wife, Susie Renner, son Ian, daughter Zoe, his mother Paula Renner, sister Marguerite Renner, and brother Robert Renner. Services were held at Mt. Sinai Temple in Oakland on Nov. 23.
Renner's colleagues at the Laboratory are setting up an educational fund for Renner's children. Anyone who would like to contribute can write a check to "Ian and Zoe Renner" and send it to Gayle Lambert, 130 Ricardo Avenue, Piedmont, CA 94611. A book of remembrances is also being prepared, and an area of the Lab will be dedicated to his memory. If you would like to participate, please send an
e-mail to JPMinton@lbl.gov.
On December 14 at 3:30 the deck at the ALS will be dedicated in Tim's honor, followed by an informal gathering in his memory in Perseverance hall, starting at 4:30.
Photo: Timothy Renner (Renner.jpeg)
Accelerator physicist David Lockhart Judd, known to generations of scientists and students at Berkeley Lab, UC Berkeley, and in throughout the physics community as a mentor, colleague and friend, passed away on Nov. 23 at the Alta Bates Medical Center after suffering a heart attack. He was 75.
Judd's research career spanned more than half a century, beginning with the Manhattan Project. At Ernest Lawrence's invitation, he joined Berkeley Lab in 1951 as head of the Theoretical Physics Group. In 1965 he became head of the Physics Division and in 1967 the Associate Director for Physics.
Judd's research focused on theoretical physics, particularly the theory of high energy particle accelerators. Beginning in the 1970s, in the pioneering days of heavy-ion inertial fusion energy, he made his mark in this field and in its establishment as a program.
"He was really influential in the early days of heavy-ion fusion," said Roger Bangerter, head of the Lab's Fusion Energy Research program. "He was going around the country, setting up meetings, building support."
In the summer of 1976, Bangerter and Judd co-chaired a conference on the subject that some would mark as the birth of the field of heavy-ion inertial fusion.
A teacher at the college level even in his own undergraduate years, Judd is widely and fondly remembered as a lecturer in physics at Berkeley, where he taught nearly every term since 1953.
"I took physics from him and so did my son," Bangerter recalls. "One of his greatest roles in heavy-ion fusion was as mentor to new people coming into the program." Bangerter took classes from Judd while a graduate student at UC Berkeley in the late 1960s.
Judd's special teaching accomplishments included designing and teaching a new course on special relativity, which has since become a regular offering at UC Berkeley, introducing the first regular graduate course in accelerator physics, and modernizing and revising the graduate class in advanced mechanics.
Former Lab Director Andrew Sessler has known Judd since 1955, when they spent a summer at the Midwestern University Research Association (MURA). "He brought a deep knowledge of the Thomas Cyclotron, which had been a classified project for some time and was very relevant to the MURA work," Sessler recalls. "He also brought a knowledge of computational methods in accelerator physics."
Sessler remembers Judd not only for his qualities as a physicist, but as a mentor and a human being. "As head of the Theoretical Group, Dave was my immediate supervisor," Sessler said. "I watched and learned from him, and he was my first teacher about administrative matters. The democratic manner in which he ran things was an important lesson for me."
Born in 1923 in Chehalis, Washington, Judd attended Whitman College at Walla Walla in Washington and began his studies at the California Institute of Technology when World War II began. From 1944 to 1946 Judd served as a lieutenant in the U.S. Navy at Los Alamos, New Mexico, where he worked on the Manhattan Project. After the war he returned to Cal Tech where he received his M.S. and then his doctorate degree in theoretical physics and mathematics in 1950.
Prior to joining Berkeley Lab, Judd worked for the Nuclear Energy Division of RAND Corporation in Santa Monica. It was because of his work on particle accelerators that he was first invited to Berkeley Lab as a consultant in 1950.
Judd was a fellow of the American Physical Society, a member of Phi Beta Kappa and Sigma Xi, and the recipient of an honorary doctor of science degree from Whitman College.
He was an active member of the community and has often given talks to young people interested in science. His hobbies included music, woodworking, boating, camping, and gardening.
Judd is survived by his wife of 53 years, the former Martha Leah Brown, whom he met at Los Alamos; by their sons Bruce Diven Judd of San Francisco, a fellow of the American Institute of Architects, and Ralph Cutler Judd, a professor of microbiology and immunology at the University of Montana at Missoula; and grandsons Ian and Jesse.
A memorial service was held on Monday on the UC Berkeley campus, where Judd taught for much of his life. Memorial contributions may be made to the David L. Judd Memorial Fund in Physics, Attn. D. Estropia, UC Berkeley, 94720-4200.
Photo: David Lockhart Judd (judd.jpeg)

Currents would like to thank everyone who participated in our Readership Survey during the month of October. A summary of your responses is published on Page 4.
News Digest

Stanford Linear Accelerator Center Director Burton Richter has announced he will step down Aug. 31, 1999, ending a 15-year stint as SLAC's top official. Richter will remain a faculty member at Stanford University, which manages SLAC. He will soon take office as president of the International Union of Pure and Applied Physics.
Richter, 67, is a Nobel laureate and a pioneer of the colliders that now dominate high-energy physics.
"All the world knows Burt Richter's qualities as a physicist because they were recognized by the Nobel Prize," said Stanford President Gerhard Casper. "Stanford and I know his qualities as an extraordinarily able, dedicated, and tenacious director of the Stanford Linear Accelerator Center and as a citizen of the university."
Richter, along with Samuel Ting of MIT, won the 1976 Nobel Prize in Physics for pioneering work at Stanford on the development of a new kind of particle collider which resulted in the discovery of the Psi/J particle. He came to Stanford in 1956 after getting his Ph.D. from MIT, and rapidly moved up the ladder. In 1984 he took over as director of SLAC upon the retirement of Wolfgang Panofsky.
"A lab director's job is very different from that of a scientist," Richter said in announcing his retirement plans. "The job is to get resources for other people to do great science, and to keep them moving in the direction you think is most productive. You must always make sure that there is a menu of options for the lab and its users so they can remain on the frontier of science. I think I've done a good job of that."
Richter's role as a builder of the tools of high-energy physics began in the 1950s with the construction of the first colliding beam device.
"It took us about six years to make the beams behave properly," Richter said, but when they did, the device became the model that all subsequent colliding beam storage rings followed.
As SLAC's director, Richter has overseen the conversion of a two-mile-long accelerator from a machine that fired particles at a fixed target into a linear collider that brought two beams into head-on collisions. The conversion was begun in 1983, with the first physics experiments conducted in 1989. More recently, he presided over the construction at SLAC of the Asymmetric B Factory, which he calls one of his proudest accomplishments.
Martha Krebs, director of DOE's Office of Science, SLAC's principle funding agency, said that Richter has been a "leader among leaders" of DOE facilities and has helped provide direction for many of the national labs.
"I can always depend on Burt to speak the truth," she said. "When he's not charming, he is winning."
In an interview, Richter said he was leaving the lab with a mix of sadness and relief and a sense of freedom.
"After a while, dealing with the budget process can be exhausting," he said. "It's time for a new generation to deal with this."
--Lynn Yarris

Photo: Chris Martin (left), director of the Human Genome Sequencing Department, and Gerry Rubin, head of the Berkeley Drosophila Genome Project, cut a cake on Nov. 19 in celebration of the Laboratory's combined genome sequencing initiatives. These efforts place Berkeley Lab in a position of international leadership in the field of genome sequencing. Photo by Don Fike (XBD9811-03013.tif)

According to a paper by Jerome Dobson of Oak Ridge National Laboratory, most differences in body shape and bone structure between modern humans and our distant cousins or ancestors could be explained by an improvement in the thyroid's ability to extract and use iodine. Modern societies add iodine to table salt to avoid iodine deficiency disorders, while coastal residents get sufficient iodine from saltwater fish and seaweed. Dobson theorizes that Neanderthals living in inland Ice Age Europe might have lacked an adequate supply of iodine.

Indoor air could become a lot safer to breathe with a technology developed by scientists at the Idaho National Engineering and Environmental Laboratory. The Indoor Air Quality Monitoring and Control system, made up of a set of off-the-shelf sensors, makes use of a series of computer programs which detect airborne chemicals and compares them to a stored library of readings. The program can be customized for a particular building, with applications ranging from alleviating "sick building syndrome" to detecting decaying produce in potato cellars. The system could also save money and energy. A software program developed by Pacific Northwest National Laboratory will be able to separate information in lengthy documents into easily understandable portions. Called Topic Islands, the software recognizes themes and their evolution within a document and then segregates information into manageable parts using algorithms. The technology is being developed with funds from U.S. intelligence agencies and the Defense Advanced Research Projects Agency.

--Monica Friedlander

David Aston, a registered patent attorney and a member of the Colorado and California State Bar Associations, has been appointed manager of the Lab's Patent Department effective Dec. 1. Aston is replacing Paul Martin, who is retiring after seven years in this position. Martin will continue to serve the Laboratory as patent advisor, handling a variety of intellectual property-related matters.
Aston is a registered patent attorney and a member of the Colorado and California State Bar Associations. He has practiced patent law for approximately 20 years, and has served as associate director at the University of California Office of Technology Transfer for the past six years.

In early 1999 the University of California will establish a center in London that will serve as an international hub for UC's Education Abroad Program. Entitled "California House," the center will serve to facilitate academic and research initiatives, including distance learning and extension programs.
"By launching the London hub, the university is embarking upon a new innovative venture designed to further the academic, cultural, scientific and commercial interests of Californians," said John Marcum, the universitywide director of the Education Abroad Program, at a recent Board of Regents meeting.
UC's Education Abroad Program is the largest American university-based student exchange program, involving 1,850 UC students in programs at 115 host universities in 35 countries worldwide.
In the future UC plans to establish two other Educational Abroad Program hubs in Mexico City and Hong Kong as part of its effort to enhance the university's international programs. Since its inception in 1962, EAP has sent some 30,000 UC students abroad.

By Lynn Yarris
Against the backdrop of the recent signing of the international global climate change treaty by the United States and concerns raised in the aftermath of this year's El Niño, Berkeley Lab researchers have released the first-ever analysis of the potential effect of global climate change on wildfires in California. Prospects do not look good for the Golden State.
"In most cases, climate change would lead to dramatic increases in both the annual area burned by California wildfires and the number of potentially catastrophic fires--doubling these losses in some regions," the researchers conclude. "These changes would occur despite enhanced deployment of fire suppression resources, implying that climatic change could precipitate an increase in both fire suppression costs and economic losses due to wildfires."
The analysis was conducted by Margaret Torn of the Earth Sciences Division, Evan Mills of the Environmental Energy Technologies Division, and Jeremy Fried, associate professor of forestry at Michigan State University. It was sponsored by the U.S. Environmental Protection Agency.
Nearly 85 percent of all catastrophe-related insurance payouts result from natural disasters, with claims averaging about $10 billion per year worldwide over the past decade. Wildfires are among the most pervasive of all the natural disasters, especially for California. According to studies by insurance agencies, of the 38 costliest U.S. wildfires between 1825 and 1995, 22 were in California. The state also ranks number one in terms of economic losses due to wildfire.
"These insurance exposures are increasing precipitously as human developments encroach further and further into the urban/wildland interface," Mills says. "The $2 billion Berkeley/Oakland hills fire of 1991 is a notable example."
Fire danger has long been linked to climate, with hot, dry spells creating the highest risk. Concerns over the consequences of global warming were rekindled this year by the impacts of El Niño. Droughts linked to El Niño were followed by widespread, devastating fires in Florida, Indonesia, and elsewhere.
"The latest predictions suggest that global warming may also create conditions that intensify wildfire danger, by warming and drying out vegetation and by stirring the winds that spread fires," the Berkeley Lab researchers say in a report on their analysis. "Faster fires are much harder to contain, and thus are more likely to expand into residential neighborhoods, incurring substantial damage to insured property."
To evaluate the potential effects of global climate change on wildfire damage in California, the research team of Torn, Mills and Fried combined local weather and fire data, validated fire and fire suppression models, and state-of-the-art general circulation models of global climatic change.
"We tested the case in which emissions of the most important greenhouse gas, carbon dioxide, double their pre-industrial levels--a state of affairs projected to materialize over the next five or so decades," says Torn.
Three regions in Northern California were examined: Santa Clara, the Sierra foothills and Humboldt. Each features a distinct climate, and together harbor most of the vegetation types found in the American west, including grass, chaparral (scrub or brush), oak savanna, and mixed conifer and redwood forests.
Taking a conservative approach, the researchers only reported the results based on the climate change model that, out of two tested, predicted the least impact on wildfire. This model, from the Goddard Institute for Space Sciences, provides standard scenarios for climate change impact assessments used by government and university scientists around the world.
"Climate change would cause fires to spread faster and burn more intensely in most vegetation types," the researchers concluded in their report.
These faster, hotter fires could be expected to frequently escape containment, despite increased fire suppression efforts. This would result in many more acres being burned than under the current climate.
"The biggest impacts are seen in grass vegetation, where the fastest spread rates already occur," says Fried. "In forests, where fires move much more slowly, projected impacts are less severe."
In their modeling, Torn, Mills and Fried found that the most severe effects of global climate change were inflicted on the Sierra foothills where the predicted number of potentially catastrophic fires increased by 143 percent in grassland and 121 percent in chaparral.
"With the number of escaped wildfires more than doubling, climatic change could lead to a significant jump in fire damage in this region," the researchers reported.
In the Santa Clara region, the number of escaped wildfires increased by 53 and 21 percent, respectively, in grassland and chaparral. Only in Humboldt, the third region examined, which is characterized by redwood forests growing in moist, foggy areas, was there little change in wildfire damage as a result of climate change. Even here, however, the analysis projected that fire-fighting costs would increase as a result of more intense fires.
Results of this analysis are being shared with the California Department of Forestry, which has been cooperating with the Berkeley Lab researchers throughout.
Says Torn, "The CDF provided us with all of the fire and analysis-zone data we used and kept us informed about model updates. They have now begun to devote some time to this topic themselves."
Photo: Margaret Torn of Earth Sciences and Evan Mills of EETD conducted a study of the effects of global climate change on California wildfires. Photo by Roy Kaltschmidt (XBD9811-03015)

Do you have an interesting story or anecdote to tell? Did you or one of your colleagues accomplish something that you think others would like to hear about? Are you working on some interesting research? Do you have a picture you would like published in Currents? If so, please send your suggestions to msfriedlander@ lbl.gov. We cannot publish every item submitted, but we will consider all your suggestions.

Stephen B. Abraham, ICSD
Francis M. Bieniosek, AFRD
Nicholas P. Cardo, NERSC
Diana K. Daniels, ASD
Calvin M. Fong, LSD
Paul E. Franke, FACIL
Monica S. Friedlander, DIRC
Kathleen D. Frost, ASD
Maria Del Gonzalez, LSD
Seth B. Rosen, DIRC
Burton Sampley, NERSC
William F. Tschudi, EET
Trent R. Wells, LSD

The full text and photographs of each edition of Currents are published online at http://www. lbl.gov/Publications/Currents/. You may find a link to Currents on the Lab's home page under the heading "Publications."

By Monica Friedlander
Keep Currents the way it is. That, for the most part, seems to be the consensus among the respondents to our Readership Survey, conducted during the month of October. That said, we also received plenty of useful suggestions and comments, all of which the staff are taking into consideration in our continued efforts to make Currents responsive to your needs and interests.
This summary is based on the surveys returned by 140 readers. The survey, published both in the paper and on the Lab website, is not scientific and only reflects the views of those who chose to participate. Nevertheless, it does offer a general overview of readers' major likes and dislikes about the Lab paper.
Most of the respondents said they read Currents cover to cover, starting with the front page. An overwhelming majority said they like the format and look of Currents and only use the online version for reference purposes, if at all.
The respondents rated their interest in the various types of articles and regular features in the paper. Of the four major types of articles we run on a regular basis--science articles, people features, Lab information, and management articles--readers rated the Lab information and science article the highest--both averaging over seven on a 1-to-10 scale. But all four categories were rated consistently high.
Regular features, on the other hand--such as the calendar, flea market, Washington Report, computer and web corners, cafeteria menus, and class schedules--had a lot more variation in ratings. The top rated was the Flea Market (over 7 on a 1-to-10 scale). Somewhat surprisingly, the lowest ratings (just under 4) went to the cafeteria menu, which is now being published on the Lab website instead. Most of you rated the menu either a 1 or a 10. No lukewarm feelings on that one.
Most of the readers felt the length and depth of the articles is just right. Of the 140 responses, only 41 would like a different approach, with 23 of you asking for shorter articles, 16 for more in-depth stories, and two for a better mix of both.
Some disagreement exists among readers regarding the technical content of the articles. Many of you commented that the science stories tend to be too technical and that you would like to see shorter stories or more popularized science. "I think this is mainly for scientific readers," someone said. Others asked for the exact opposite: "I get the distinct feeling you're afraid to tread into technical areas," someone said. "This is the Lab's business." Again, no consensus here.
What many readers did ask for is more emphasis on employee profiles, human interest stories, and examples of personal achievement. "I'd like to read more about the Lab people who make the Lab what it is," one reader said.
Overall, however, most comments were extremely positive. "I look forward to each issue," a few of you said. Perhaps most heartwarming to us was a comment from retiree Jack Kroll.
"After I have read the Currents, I give it to another retired Lab employee at Donner Lab," he said. "And after he is finished with it, he sends it to his son (school teacher) who uses it in his teaching."
Two general areas of criticism, or suggestions for improvement, did emerge. Many of you expressed interest in including some kind of open forum or op-ed/letters section. Also, a number of you felt Currents should lighten up. "The paper has a sterile look to it," one reader said, while another asked for "fun features like cartoons or crossword puzzles." Any cartoonists, photographers, or other artists out there? Please, let us hear from you!
In closing, we at Currents would like to assure all of you who took the time to participate in this survey that we are considering each and every suggestion very carefully. And just because the deadline for the survey itself has passed does not mean that your comments should stop. In fact, we strongly urge all our readers to continue sending us feedback. You may send your comments or suggestions for stories by e-mail (MSFriedlander@ lbl.gov), fax (486-6641) or regular mail (MS 65B).
And thanks again to all of you for participating. Your comments will help us publish a better paper.

By Jon Bashor
For many people, vacation is a time to slip into loose clothing, sprawl out in a comfy chair, and just take life a little slower. Not so for Craig Leres of the Network Research Group in the Information and Computing Sciences Division.
For the past three years Leres has spent much of his free time zipped up in a fireproof suit, harnessed into an aluminum seat and surrounded by the noise and heat cranked out by a 500-horsepower racing engine as he pilots a stock car around an asphalt oval at speeds of 110 mph or more.
Leres has been in interested in stock cars for almost as long as he can remember. As a kid, he used to watch cartoons like Speed Racer and Tom Slick. After years of watching races on TV, he decided to give it a try himself and enrolled in a three-day racing school in Atlanta. He continued taking classes, including most recently, a three-day class at the Buck Baker Racing School at Bristol Motor Speedway in Tennessee in October.
"It's a lot of fun, but it's pretty intense," said Leres, whose office is filled with both computers and toy race cars. "It's difficult, too, but that's what makes it fun."
The focus of the schools, he says, is not to drive fast, but rather to learn your way around the track: keeping an eye on the oil pressure and water temperature, knowing when to let off and get back on the gas, and when to either dive down toward the inside of the track or steer toward the outside. As if that's not enough to do at speeds of 100 mph or more, you also have to watch out for the other drivers.
"The last thing you're worried about is how fast you can go," says Leres, adding that the cars don't have speedometers. "As you learn how to be smooth and hit your marks around the track, higher speeds follow. There's nothing like driving a vehicle specially built to go fast around an oval."
Students are first driven around the class by instructors before trading seats and taking the instructors for a few laps.
The cars Leres has driven are not wannabe Winston Cup winners; they're the real thing. That means the cars have an amazing number of safety features built in, but burn through a gallon of racing fuel every five miles, and need a new set of tires every 50 miles.
Although flirting with car racing is be exciting, Leres says this is only a hobby for him. "There's a big distinction between driving at racing schools and really racing," he says. "At Bristol, there were sometimes as many as six cars on the track at a time and it felt really crowded. In a real race, there can be 40 cars on the track."
Just as he got interested in racing as a boy, Leres also first learned about computers as a youngster. When he was seven or eight his father would bring Craig up to the HILAC, where the boy played with the computers used for collecting data from accelerator experiments.
Leres started here as a summer student in 1978 and continued working part-time while in school and came on board full-time after graduating.
Today, Leres handles software and hardware issues at all levels, from administering systems in his group to helping plan LBLnet infrastructure upgrades. He regularly collaborates with other Internet software developers on UNIX packages such as the Berkeley Internet Name Domain package, the most widely used Domain Name System on UNIX systems.
Leres provides technical support for a number of Lab servers, writing both application and system code and configuring and troubleshooting systems. He works on Lab network infrastructure projects and network security.
Photo: Computer scientist Craig Leres of ICSD with the #23 "Winston No Bull Thunderbird" race car at the Bristol Motor Speedway in Tennessee back in October. (racer.tif)

UC Berkeley's Lawrence Hall of Science (LHS) has a gift and bookstore loaded with entertaining and educational gifts for holiday shopping. As part of a special holiday promotion, The Discovery Corner store offers all UC staff (including Lab employees) and students a 10 percent discount on all store purchases over $10 between Nov. 27 and Jan. 3. (This offer may not be combined with other discounts or used for sale merchandise.)
Gifts for children include microscopes, electricity kits, Air Hog planes, logic and math games, and ingenious constructions sets. Adults will enjoy items such as glass Galileo Thermometers, MC Escher ties, and expanding Hoberman spheres.
The Discovery Corner is open from 10 a.m. to 5 p.m. daily, except for Nov. 26, Dec. 24 and Dec. 25, when the museum is closed.
LHS is located on Centennial Drive just below Grizzly Peak Boulevard. No admission is charged to shop at the store. Regular admission fee is applicable to visit the museum, which currently features an exhibit on "The Realm of Reptiles."
For more information call LHS at 642-1629, or look up its website at http://www.lhs.berkeley.edu.

Crafters and artists may still sign up for space to display and sell their wares at the third annual Berkeley Lab Craft Fair, to be held on Thursday, Dec. 10, from 4 to 7 p.m. in the cafeteria. All Lab employees, their families, former employees, and retirees are invited to participate and attend the event. The fair will also feature a free drawing of craft items and a silent auction with items donated from local businesses. The proceeds from the auction will go to a local charity.

The Craft Fair also needs someone with a Santa suit to lend holiday cheer for about an hour. Contact Shelley Worsham at X6123 (SAWorsham@ lbl.gov) for details.

To reserve space for craft and art displays, contact Ira Wortham at iwortham@lbl.gov. For more information about the fair, look up its website at http://www-library.lbl.gov/craftsfair.

The cafeteria menu is now available on the web at http://www.lbl.gov/Workplace/cafeteria/. Make sure to bookmark the site for easy reference. The menus are being updated on a weekly basis.

Among the new products available through the Lab's Audio Visual Services is a new PC laptop loaded with Microsoft Office, Netscape, and other key software packages, as well as a portable In-Focus projector. These and other items are available for all meeting and presentation needs at the Laboratory.

For more information on how to make the most of your presentations, call Kiley Henner at AV Services, X6068.

Employees interested in carpooling can link to the RIDES website through the Lab's Site Access web page (http://www.lbl.gov/Workplace/site-access/) by clicking on "carpools." RIDES offers free assistance in finding commuting partners. Carpools of two or more persons qualify for a carpooling permit, which entitles them to park in blue triangle zones.

More information on related issues can be found on the Site Access website listed above.

The Telephone Service Center is holding a coordinator training class on Tuesday, Dec. 8, from 10 to 11:30 a.m. in the Bldg. 50 auditorium. The class will give an overview of products and services offered, placing service order requests, and navigating the voice mail system. For additional information or to register call X7997 or send e-mail to tsc@lbl.gov.

Berkeley Lab's Employees' Arts Council (EAC) has planned a trip to Los Angeles in February to visit the art museums in the area. The trip is scheduled for Feb. 18-20.
Currently scheduled exhibits include:
Van Gogh: Masterpieces from the Van Gogh Museum in Amsterdam, Feb. 19, Los Angeles Country Museum of Art. EAC has a limited number of tickets at $15 each.

Getty Museum, Feb. 19. Limited space for the free, 1 p.m. tour group reservation. Built atop a ridge in Los Angeles with breathtaking view of the Santa Monica Mountains and the Pacific Ocean, the Getty Museum collections comprise seven areas of art, from Greek and Roman antiquities to contemporary American and European photographs.

Norton Simon Museum in Pasadena, Feb. 20; tour has scheduled a one-and-a-half hour tour before the museum opens to the public. The collections include seven centuries of European art, from the Renaissance to the 20th Century. Participants will receives a print and selection of postcards, as well as free access to the galleries in the afternoon.

Huntington Library, Art Collections and Botanical Gardens, Feb. 21. Tour of the library or art collections is not offered; tours of the 130-acre gardens are available on a first come basis.
The EAC will provide a list of centrally-located hotels and motels in Los Angeles and Pasadena, directions to the museums, and a list of other attractions.
For reservations or additional information contact Mary Clary at X4940 or e-mail her at mmclary@ lbl.gov.


The Berkeley Lab Calendar is published biweekly here on the World Wide Web and in Currents by the Public Information Department. Employees can list a meeting, class, or event in the Calendar by using this submission form. The deadline for submissions is 5 p.m. on Monday in the week that Currents is published.

In addition to the events listed below, Berkeley Lab's Washington, D.C. Projects office is hosting a Science and Technology Seminars series.

Scientific Conferences

Telephone Coordinator Training
10 - 11:30 a.m., Bldg. 50 auditorium

Green Team Meeting
Noon, Perseverance Hall, Bldg. 54

Music Club
Noon, lower cafeteria Craft Fair
4 - 7 p.m., cafeteria Memorial Session for Timothy Renner
3:30 p.m., location TBA Shoemobile
7:30 a.m.-3:30 p.m., cafeteria

Berkeley Lab Holiday Party
3:30-5 p.m., cafeteria

Items for the calendars may be sent via e-mail to currents_calendar@ lbl.gov, faxed to X6641 or mailed to Bldg. 65B. The deadline for the Dec. 18 issue is 5 p.m. Monday, Dec. 14.

Physics Department, UCB
"Einstein's Clocks" will be presented by Peter Galison of Harvard University.
3 p.m., Gegalle Room, 220 Stephens Hall

Center for Beam Physics
"Numerical Solution of the Fokker-Planck Equation by the Method of Characteristics with Applications to Beam Transport in the Presence of Systematic and Stochastic Synchrotron Radiation Effects" will be presented by Etienne Forest of KEK.
10:30 a.m., Bldg. 71 conf. rm.

Life Sciences Division
"Over-Expression of Bcl-2 Blocks Apoptosis Through a Redistribution of Cellular Glutathione" will be presented by Raymond E. Meyn of the M.D. Anderson Hospital.
4 p.m., Bldg. 66-316 conf. rm.

Life Sciences Division
"Gerontogenes in the Nematode and Their Role in the Response to Stress" will be presented by Thomas E. Johnson of the University of Colorado.
1:30 p.m., Bldg. 66 auditorium

Center for Environmental Biotechnology
"Genetic and Metabolic Diversity of Polycyclic Aromatic Hydrocarbon Degradation" will be presented by Gerben Zylstra of Rutgers University.
Noon, Bldg. 50A-5132

Center for Beam Physics
"A New Kind Of Two-Beam Accelerator" will be presented by Ron Ruth of SLAC.
10:30 a.m., Bldg. 71 conf. rm. Life Sciences Division
"Cellular Tensegrity and Control of Morphogenesis" will be presented by Donald E. Ingber of Harvard Medical School.
Noon, Bldg. 66 auditorium Center for Beam Physics
"Proton Radiography and the Scrounge-atron" will be presented by Ed Hartouni of Lawrence Livermore National Laboratory.
10:30 a.m., Bldg. 71 conf. rm.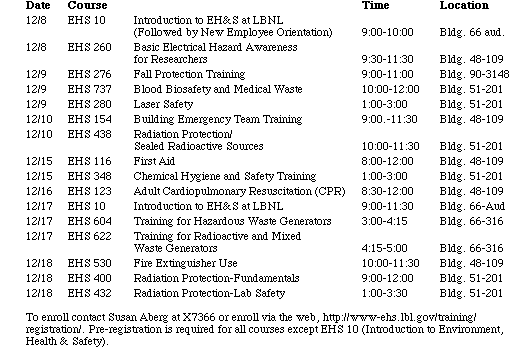 *New employees who have not accrued enough vacation may receive an advance against future vacation accrual for these days.

Berkeley Lab's annual holiday reception will be held on Thursday, Dec. 17, from 3:30 to 5 p.m. in the Lab cafeteria. The celebration will include music by the Lab's Music Club chamber orchestera, food and more. Mark your calendars and come join in the fun.

`81 TOYOTA Corolla, 4 cycl, auto transmission, ac, 90K mi, runs fine, $1,000/b.o., Bill, X5263, (925) 426-7844

`86, NISSAN Sentra station wagon, 124K mi., rebuilt engine, 45K mi., exc cond, automatic, new brakes, ac, avail mid-Dec, $3,500/b.o., Uli, X4125, 644 1429

`93 NISSAN Altima GX, 35K, 5 spd, 4 dr, ac, pwr steering, pwr brakes, radio, cruise control, new tires, must sell, $7,500 ($1,500 below blue book value), Helmut, X4021, 528-8257, eve

`94 FORD Mustang, silver, auto V6 3.8L, 59K mi, new transmission, new tires, fully loaded, pwr steering, pwr brakes, pwr windows, pwr seat, cd/cass, anti-lock brakes, air bag, more, $9,500/ b.o., Lisa, X5314, (925) 906-9786

BERKELEY, studio apt, Durant/ Telegraph, one blk from campus, nicely & fully furn, wooden floor, avail from 12/16/98, 1/15/99, $850/mo, gas & electric incl, Paolo, X4739

BERKELEY, rm w/ private bath in 2 bdrm apt, lg kitchen & living rm, walk to campus, LBNL shuttle and shops, no pets, no smoking, avail 1/99, Erika, 848-8173

KENSINGTON, exchange or rent home, June/July, time/length of stay flexible, 3 bdrm, 1.5 bth, bay view, lg yard, quiet level street, Dick, Alice, 524-1641

MONTCLAIR, 1 bdrm in 3 bdrm house, 3.5 bths, canyon view, fireplace, 2 balc, backyard, deck, washer/dryer, storage room, parking, 15 min from LBNL, UC campus, nr Sibley, Redwood, & Huckelberry parks, Ken, X4527, 338-0231

ACCORDION, 1960s Titano, bright orange w/ black keys, 3 sets of reeds, internal microphone volume & tone controls, mint cond, case, $990/b.o., Saira, X6216

ADJUST-A-BED electric sleeper lounge, single, $150; water colors, framed floral, costume jewelry, Tom, X4719, 841-0262

CAR SEAT, baby, $8; stroller $35; full size futon $60; queen size futon $25; oil filled electric heater, exc cond, de Longhi, $35; travel crib $30; many household items, Uli, X4125, 644 1429

CD-ROM DRIVES, 2, 8X speed, Hitachi CDR-7930, used but perfect working order, $30 ea, Bill, X5263, (925) 486-5263

COFFEE TABLE, redwood burl glass, unique, $350/b.o.; treadmill, lifestyle 8.0, runs great, $150/b.o., Lisa, X5314, (925) 906-9786

COFFEE TABLE and couch table, matching wrought iron & glass, $75; Cardioglide exercise machine, $50; RCA VCR $25; kettle, $5; blender, $10; toaster, $5; Iain, X4692, Debbie, 522-5277

COMPUTER, IBM p/S2 computer (no monitor-but it works), US Robotics, 14.4 external modem, $75 for both, Ira, X6591

DESK, computer, wood, assembled, several shelves, for all but tower-type computer, $70 unassembled, will sell for $40; phonograph-record turn-table, $25. Marie, X4317, 845-2445

MARSHALL 78' MK II master lead 100w guitar amp, near perfect cond, unmodified, $550/b.o., Joel, X5357, 558-3265

MONITOR, Sony 15", PC or Mac, comes w/ mac adapter, exc cond, & resolution, get huge improvement over a 14" screen for only $125; Harman Kardon HD710 single CD player, $150; Ohm bookshelf speakers, $80 pair, Henry, 547-0697, 658-7807

OPERA TICKETS, SF, Madame Butterfly, Sat, 1/9/99, 8 p.m., 2 first row balc seats, $50/ticket, subscriber price, Norman X5624, 841-9216

ORGAN, Baldwin 45H, 2-manual, pedal board, w/ Leslie tone cabinet (speaker) & bench, mahogany, early 60s, you move, Maggie, (925) 837-3914

PLAYSTATION games by Sony, 4 used ones, lots of Goosebump books for sale, Ed,X6047, 527-9933

REFRIGERATOR, GE compact, 25 cu ft volume, 25.24" Hx18.6"Wx 20"D, ice compartments & ice trays, 1 yr old & very well kept, $50; queen size futon w/ wooden frame & thick 7" mattress, incl a well maintained cover, 1 yr old & very clean, 3-way foldable, $120, Rafi, 8486293

SKIS, snow, solomon 9100 198cm w/ marker 54 bindings, never used (new $800) $250/b.o.; volkel p10 pro sl 200cm w/ ess bindings, $250/b.o.; head cr x-10 205cm w/ tyrolia bindings, $125/ b.o.; rossignol quantom 828 195cm, tyrolia bindings, $100/ b.o.; dynamic slalom dp 200cm w/ tyrolia bindings, $100/b.o.; snow ski boots, raichle mens, size 9, like new, $50/b.o., Steve, X6598

SKI POLES: 1 set, 42", the other 44", can be used by a skier around 5' tall, $10 ea, H. Matis, X5031, 540-6718

TV, Sony Trinitron, color, 20", $120; futon, kitchen table, bookshelves, drawer, file cabinet, Bruno, X7311, 524-0901

TRACK BICYCLE, frame & fork, Marinoni Pista, 57 cm C-T, like new, $475, Dick, 526-6087 eves

WEIGHT BENCH (Competition 530) plus weights, rarely used, in exc cond, $150/b.o., Olivia, X4182, 233-1088, eve

AUTHOR'S QUERY for book in progress; would like to contact anyone with personal recollections of the Sandstone, Greenhouse or Ivy test series; I seek information about living and working conditions, off-hours entertainment, etc., not the tests themselves, Paul, X6249, (415) 331-1845, eve

APARTMENT in the Berkeley/ N. Oakland area for two financially secure graduate students, 1-2 bdrms, quiet non-smokers, no pets, Dana, Jan, 601-5879

FILE CABINET, 2 drawer, unfinished, solid pine, well-constructed, $100, Julie, X2420

HOUSE/APT, short-term house-sit/sublet, 12/19 to 1/2/99, prefer 2 bdrm house/apt in Berkeley, Emeryville, Albany, or SF area for visiting Swiss family, couple, 1 adult, 3 children, Donald, 652-6434

HOUSING needed for postdoc & wife from China, already here for 1.5 years, 2 bdrm, in Berkeley, Albany, El Cerrito or Richmond, Ge, X4158, 558-0294, gcong@george.lbl.gov.

HOUSING, 2/18-3/31, 1999, 2-4 bdrm sublet wanted for visiting German scientist & wife, dates negotiable, Mike, X7838, doerner@ikf.uni-frankfurt.de

HOUSING for visiting scholar, seeksg room from 2/11/99 to 3/7/99, Mike X7311, 647-3432, mikek@friction.lbl.gov

HOUSING for visiting German couple w/ small child, 2/21/99 to 4/15/99, Stefan, SAFinsterle@ lbl.gov, X5205, 528-0810

HOUSING for visiting scientist & wife from Switzerland, already in Berkeley, 2 bdrm or lg 1 bdrm, house or apt, furn, for Feb. and March, 1999, Alfred, 524-7717, Alfred.Strohmeier@epfl.ch

NANNY looking for a North Berkeley hills family w/ a baby approx 6-9 months old to share caring, bilingual (Spanish) sitter, our daughter is 6 mos old, start in Jan, Mon-Thurs 8-5, hrs on Fridays negotiable, $6.50/ hr/ per child, Susan, 559-8720

BAHAMAS condo, luxurious, spacious, 1 bdrm in Taino Beach resort, sleeps up to 4, every amenity, on beautiful beach, pool/tennis, maid service, $500/week, X6005

HAWAII, 20 mi below Hilo on rainy side of Big Island, convenient to Univ of Hawaii campus & orchid plantations, 2 bdrm, 2 bth house for rent, unfurn by mo, $450, buy for $55,000, as is, nr schools, shopping, 1 mi to ocean bluff, X6005

HAWAII, hotel rm avail for 4-6 people, $1000/wk, or other place overseas, your choice of place or date in this year, Keller, 524-3780

KIHEI, Maui, oceanfront condo, 3rd flr Sugar Beach resort, 1 bdrm, 1 bth, JBH, 524-1956, after Dec 5, X6318

TAHOE KEYS, South Lake Tahoe, house, 3 bdrm, 2 1/2 bth, fenced yard, quiet area, close to skiing & other attractions, great views of water & mtns, $150/night, (2 night min) Bob, (925) 376-2211

Adorable adult white female cat w/ blue eyes & pink nose, needs new home because the cat she lives w/ hates her, spayed, all current shots, healthy, lots of love to give, mellow, never scratches furniture, always uses litter box, still likes to play, Harvard, 526-5347

Ads are accepted only from LBNL employees, retirees, and on-site DOE personnel. Only items of your own personal property may be offered for sale.

Submissions must include name, affiliation, extension, and home telephone number.

Ads must be submitted in writing--via e-mail (fleamarket@lbl.gov), fax (X6641), or delivered/ mailed to Bldg. 65B. No ads will be taken by phone.

Ads will run one issue only unless resubmitted in writing. They will be repeated only as space permits.

The deadline for the Dec. 18 issue is 5 p.m. Friday, Dec 11.

Due to the large volume of ads received each week, ads are accepted only from LBNL employees, retirees, and on-site DOE personnel. No other ads will be accepted. We encourage past contributors to the Flea Market to use other local services, such as LBNL's online housing listing (call X6198 for information), and the UC Housing Office.

Please note also:
The deadline for ads is 5 p.m. Friday for the following week's issue.
Ads must be submitted in writing, via e-mail (fleamarket@lbl.gov), fax (X6641), or delivery/mail to Bldg. 65B. No ads will be taken over the phone.
No ads will be accepted without your name, affiliation, Lab extension, and home telephone number. You may ask that only one number appear in the ad.
Only items of your own personal property may be offered for sale.
Ads for material for resale in connection with a business will not be accepted.
No ads for services will be taken.
Ads will run one week only unless resubmitted in writing. Ads will be repeated only as space permits, and at the discretion of Currents. If an item does not sell in a reasonable time period, we retain the right to terminate the ad.

Currents/The View and the Communications Department Staff
Published once a month by the Communications Department for the employees and retirees of Berkeley Lab.

Reid Edwards, Public Affairs Department head
Ron Kolb, Communications Department head

EDITOR
Pamela Patterson, 486-4045, pjpatterson@lbl.gov
Associate editor
Lyn Hunter, 486-4698, lhunter@lbl.gov

STAFF WRITERS
Dan Krotz, 486-4019
Paul Preuss, 486-6249
Lynn Yarris, 486-5375

CONTRIBUTING WRITERS
Ucilia Wang, 495-2402
Allan Chen, 486-4210
David Gilbert, (925) 296-5643

DESIGN
Caitlin Youngquist, 486-4020
Creative Services Office

Berkeley Lab
Communications Department
MS 65, One Cyclotron Road, Berkeley CA 94720
(510) 486-5771
Fax: (510) 486-6641

Berkeley Lab is managed by the University of California for the U.S. Department of Energy.

Flea Market is now online at www.lbl.gov/fleamarket