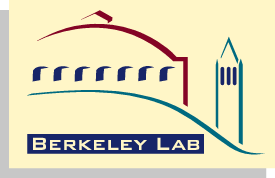 Berkeley Lab Currents
December 20, 1996

By Jeffery Kahn
Researchers here have developed a sensor that, with a simple color change, can instantly detect the presence of toxic E. coli bacteria.
First identified as a threat to humans in 1982, contamination by this bacteria has caused recent illness and death from tainted fruit juices and fast-food hamburgers in the United States, a massive outbreak of food poisoning in Japan, and 10 deaths in Scotland.
Raymond Stevens, a chemist in the Materials Sciences Division, says the sensors his team have developed are capable of providing an extremely inexpensive, on-the-spot litmus test for
E. coli strain 0157:H7, which is responsible for these outbreaks.
"These sensors are modifications of those described by Deborah Charych and Mark Bednarski that turn from blue to red in the presence of influenza virus," says Stevens. "We have redesigned them so that the presence of the toxin produced by this strain of E. coli causes the color change. The greater the color change in the sensor, the higher the concentration of 0157:H7. The color change is instantaneous."
Until now, no technology has existed that would allow food companies, health inspectors, or consumers to determine immediately whether the toxic E. coli is present. Currently, the best detection method requires the taking of a sample that must be cultured for 24 hours. Only then can technicians determine whether the bacteria is present, using a variety of tools ranging from microscopes to dyes. Another detection technique now under development relies on polymerase chain reaction technology to multiply the amount of bacterial DNA present in a sample to detectable levels. Several hours must pass, however, before results can be obtained.
The instant analysis provided by Berkeley Lab's new sensors allows detection of dangerous pathogens can be detected before a food product has been shipped to stores. Another advantage is cost.
"As with Charych's flu sensor, we can make an inexpensive sensor that
can be placed on a number of different materials such as plastic, paper, or glass," Stevens says. "The cost of the sensor is so nominal that it could be part of a bottle cap or container lid. If you open the product and the sensor has turned from blue to red, then you have a contaminated food product."
Stevens, who also is an assistant professor of chemistry at UC Berkeley, developed the sensors with Berkeley postdoc Quan Cheng. They and Charych are members of Berkeley Lab's Biomolecular Materials Program in the Center for Advanced Materials.
Technically, the working part of the sensor consists of a single molecule fabricated into a thin film. This molecule has a two-part composite structure. The surface of the molecule--developed by Stevens and Cheng--binds the bacteria. The backbone underlying this surface is the color-changing signaling system described by Bednarski and Charych.
The Biomolecular Materials Program focuses on adapting nature's biological systems to problems outside the living organism. In this case, Stevens says, "We have made synthetic surfaces that mimic the unique cellular binding sites for the toxins produced by E. coli 0157:H7 interactions. When these toxins are produced, they hunt around for places to bind. When they find the right receptor site, they attempt to bind. This activity in humans causes disease. In the sensor, it is what triggers the color change."
The backbone of the sensor molecule is composed of a long diacetylene lipid, a molecule similar to the phospholipids that are the building blocks for cell membranes. Exposure to UV light links the molecules together by activating a triple bond within the diacetylene lipids, creating a blue-tinted polydiacetylene (PDA) film. PDA films are sensitive to changes on their surface as manifested by the wavelength of light they transmit. When E. coli 0157:H7 toxins bind to their synthetic membrane surface, the backbone chain of PDA reorganizes. The sensor that was blue turns red.
With the ability to instantly detect the toxic E. coli, health authorities would have a powerful new weapon to combat what has been a continuing series of outbreaks. These include more than 380 cases of food poisoning and 10 deaths in Scotland this month, all linked to tainted meat; more than 60 confirmed cases of infections linked to unpasteurized fruit juice in late October in the United States; 9,400 cases of food poisoning in Japan in 1995; and illnesses involving sausage and hamburger meat contamination in the United States in 1993 and 1994.
The 0157:H7 strain thrives in animal fecal material, which is why it often shows up in meat. Pasteurization of milk and juices--a simple treatment with heat--can kill the organism, as can thorough cooking of meats.
Berkeley Lab has several patents pending on its sensors, which now are available for licensing to private industry. The work was funded by DOE's Divisions of Materials Sciences and Energy Biosciences.
CAPTION: Lab researcher Ray Stevens (left) and UC Berkeley postdoc Quan Cheng have adapted Berkeley Lab-developed technology to create a test for the instant detection of toxic E. coli bacteria. Photo by Roy Kaltschmidt

By Ron Kolb
One laboratory, two sites. That philosophy was graphically demonstrated to more than 100 witnesses in Berkeley and Washington, D.C., on Dec. 12 at an "electronic" open house for Berkeley Lab's Projects Office in the nation's capital.
Utilizing the unique capabilities of the MBone to facilitate real-time voice and picture communication on the Internet, Lab Director Charles Shank conducted a "virtual" meeting with Deputy Director Pier Oddone and other members of his senior management team in Berkeley, even though the principals were 3,000 miles apart. Shank, in Washington before an audience of about 75 visitors from the Department of Energy and other federal agencies, hailed the Projects Office "a truly integrated site with our Berkeley-based programs, eliminating barriers of distance through Internet and advanced computing technology."
Martha Krebs, director of DOE's Office of Energy Research, stopped by to recognize the Laboratory's achievement as the personification of the DOE 2000 vision--a fully networked research and development enterprise that is both more productive and more cost-effective. Mark Ginsberg, acting deputy assistant secretary for Building Technologies, noted how these communications technologies could be enlisted to enhance the work of the Projects Office on behalf of energy efficiency and renewables.
The coast-to-coast connection actually involved four sites--the two conference rooms in Washington and Berkeley, the Advanced Light Source, and a research lab in Milwaukee, Wis. As viewers in both meeting rooms watched, ALS Program Director Brian Kincaid and visiting scientist Brian Tonner interacted with Tonner's graduate students at the University of Wisconsin. Later, Tonner and the students conducted remote experiments on Beamline 7 at the ALS while Washington visitors observed. It was a dramatic exhibition of both business and research conducted effectively on-line.
Rob Johnson, head of the Washington Office, said the event served two main purposes--to demonstrate the power of networked collaborations to a broad range of DOE program managers, and to establish the Projects Office as a working laboratory for further development and application of the new technology.
Visitors to the fifth-floor suite, located just a few blocks from DOE's Forrestal Building headquarters, also witnessed demonstrations of the newly installed visualization laboratory, a twin to the "VR cave" in Berkeley that has the capacity to display data in three dimensions, offering new perspectives and leading to greater scientific understanding. The lab is a centerpiece of the National Energy Research Scientific Computing Center (NERSC) and the Energy Sciences Network (ESnet), Berkeley Lab's newest programs driving the technology revolution in computing research and remote communication.
Other exhibits in Washington included a demonstration of the "Radiance" lighting visualization program by Energy and Environment's Steve Selkowitz, and E&E's Ashok Gadgil with his "UV Waterworks" technology, which purifies water using ultraviolet light. The Project Office's 14 researchers and staff work primarily in support of energy efficiency programs of DOE and EPA, as they have since the office was established in 1993.
For more information about the use of the office, its conference rooms, and its audio-visual facilities, contact Moira Howard-Jeweler at 202-484-0885 or [email protected] For more information about the new visualization and networking capabilities, contact Stu Loken at X7474. The Washington, D.C., Projects Office is located at 1250 Maryland Ave. S.W., Suite 500.
CAPTION: The Dec. 12 Open House of the Lab's Washington, D.C., Projects Office attracted many members of the Department of Energy and other agencies (above). Among them were (at left) Berkeley Lab Director Charles Shank; Art Rosenfeld, former head of the Lab's Center for Building Science; and Martha Krebs, head of DOE's Office of Energy Research. Photos by Judy Davis

CAPTION: At the Director's Annual Holiday Reception, held Dec. 10 in the cafeteria, employees from around the Lab came together for food, music, conversation, and a holiday greeting from the Director. Photos by Roy Kaltschmidt


CAPTION: Employees check out Silicon Graphics' "Magic Bus" of displays and demonstrations during a Dec. 5 visit to Berkeley Lab. The 18-wheeler pulled into the cafeteria parking lot for a day of dazzling displays. Photo by Roy Kaltschmidt

As reported in the Nov. 22 Currents, a National Research Council panel concluded that electromagnetic fields (EMFs) pose no threat to public health. There were, however, caveats--in particular, one that involved the research of Robert Liburdy, a cell biologist in Berkeley Lab's Life Sciences Division.
Tests by Liburdy and colleague Joan Harland have shown that exposing human breast cancer cells to typical household levels of EMFs reverses the beneficial effect of melatonin, a hormone that inhibits cancer growth. Liburdy is quick to point out that what he and Harland have observed is a "biological effect," which may or may not translate into a health effect. However, their studies have been reproduced by at least two other research groups. This is sufficient evidence in the view of the NRC panel to merit further investigation. The details of Liburdy's findings will be presented in an upcoming issue of Currents.


By Monica Friedlander
One month ago Cecilia Sanchez was so afraid of computers she did not dare look up a book on the public library's computerized system. Today, the mother of two is surfing the web for children's literature guides. In a matter of days, she has also picked up enough skills to get in touch via e-mail with the orphanage back in Cuernavaca, Mexico, where she grew up.
"I'm not afraid of computers anymore," Sanchez said, her eyes still glued to the screen. "It's great to know I can go anywhere there's a computer and be able to do something with it."
Sanchez took part in a pilot program offered by Berkeley Lab to parents of children enrolled in the Berkeley YMCA Head Start program. The eight-session class, run by the Lab's Center for Science and Engineering Education (CSEE) Nov. 19 through Dec. 6, taught parents the basic computer skills they need to assist their children, many of whom are becoming computer literate at the school or even pre-school level. Course participants also hope to use their new skills to further their own career goals.
"My kids know more than me," said Julia Molina, whose four-year-old twins attend Head Start in Berkeley. Molina bought a computer for her children and is delighted to be able to use it herself for the first time. "It helped me a lot. I can't thank the people here enough."
The course instructor, CSEE's Peter Vail, takes parents from the very basics of plugging in the computers and using a mouse, through the skills needed to format a resume and even post it online. His enthusiasm for the project and for the progress the parents have made in just a few weeks is infectious.
"They have so much fun sending e-mail, they're messing with my mind," he laughed. "I even got some messages in Spanish. It's nice when they realize they can write anything they want. They even found foreign language sites on the web. There are tons of resources out there for them."
The project grew from an idea by Berkeley Lab's education outreach coordinator, Marva Wilkins. "It is important that we provide comprehensive educational programs for students at an early age," she said. "This program is a good way to reach them and their parents at that key time in their lives."
Wilkins assisted Vail with the instruction. Given the small class size, the nine parents received individual attention and were therefore able to make rapid progress.
The pilot course targeted parents with no previous computer experience, although Wilkins hopes that after an initial evaluation, the program will expand to offer classes at different skill levels in the future.
The course was run at the Lab's downtown Berkeley office in the Promenade Building on University Avenue. Parents attended in the morning, often before going to work or picking up their children from school or daycare programs. Many of them stayed after hours to practice. And some hope to use these skills as a springboard to newer and better things.
"I plan to go back to school now and find a job," said Jo Woodward, who is currently unemployed. Should she be successful, the mother of four will have her three-year-old granddaughter, now enrolled in Head Start, to thank for her own new start in life.
CAPTIONS: Class participants, parents of children in the Berkeley YMCA Head Start Program, are learning computer skills for themselves and their children.
Class instructor Peter Vail (right) shows a parent her way around the computer. Photos by Roy Kaltschmidt

Waste Management Group on the Move
In November, the Waste Management (WM) group moved into office spaces in two new locations: Bldg. 85, the new Hazardous Waste Handling Facility; and an adjacent trailer, Bldg. 85B. All actual waste handling operations will continue out of Bldgs 75 and 75A, which comprise the current hazardous waste handling facility. Waste customers should see no interruption in service. Phone numbers, e-mail addresses, etc., are unchanged.
Construction of the waste operations portion of the new facility (Bldg. 85) is in the final phases and should be completed by March. The replacement facility is already permitted by the state of California to manage Berkeley Lab's hazardous and mixed waste, but as with all DOE facilities that handle radioactive material, some elements of the Operational Readiness Review system must be completed prior to start-up. In the case of this facility, WM will complete a "Readiness Review," which should be complete within 45 days following completion of construction.
WM expects start-up of the new facility to occur in April or May 1997. Within a month of start-up, all waste management operations will shift from the existing facility (Bldg. 75) to Bldg. 85.
Bldg. 75 will then go through an extensive and prescriptive "closure" process required by Berkeley Lab's waste permit (issued by the state of California). This year-long effort will be led by the Environmental Restoration Group. The Lab is beginning the process of studying re-utilization of Bldg. 75 (the portion dedicated to waste operations) and all of Bldg. 75A.
If you have questions or want an update on the process, contact Robin Wendt, WM group leader (X6012), or Tim Wan, the Readiness Assessment project leader (X7073).
Sanitary Waste Recycling: Everyone's Job
The new contract between the University of California and the Department of Energy for the operation of the three labs contains new performance measures for waste minimization. Among these is a goal to reduce the amount of routine solid sanitary waste the Lab generates by one third by the year 2000. Berkeley Lab is already being assessed against this measure for calendar year 1996.
Routine solid sanitary waste represents two broad categories: 1) office wastes such as paper, plastic, glass, and aluminum generated primarily in office
space; and 2) dumpster waste, including cardboard, metals, wood, and other debris generated principally in the shops and other support areas of the facility.
This is a "good news, bad news story," says Shelley Worsham, the Lab's recycling coordinator. Most employees are using the office recycling containers for separating white paper, mixed paper, wet waste, aluminum, and glass, resulting in a 82 percent recycling rate for office waste on the site. Berkeley Lab recycles more office paper than some Bay Area cities.
The Lab is not doing so well, on recycling wastes that end up in the dumpsters. Last summer, a group of secondary school teachers visiting the Lab to learn more about waste minimization went "dumpster diving." They discovered that 85 percent of the materials in one dumpster were recyclable, but employees were not placing them in the recycling bins. Everything thrown into a dumpster goes to landfill.
Brian Smith, Berkeley Lab's waste minimization coordinator, and his generator assistance specialists will be visiting the owners of all of the Lab's dumpsters in the next few months to discuss the importance of solid waste recycling. According to Smith, meeting the Lab's recycling goals will require changes in the ways we manage our dumpster waste.
Waste Watchers is brought to you monthly by EH&S's Waste Man
CAPTION: The Lab's new Hazardous Waste Handling Facility, Bldg. 85.


Antonio Gonzales, director of the International Indian Treaty Council and liaison to the United Nations, visited the Lab in early December to speak about the effects of science and technology on indigenous communities. Gonzales called for an ethical approach to indigenous peoples and encourages Lab employees to call him for more information at (415) 512-1501. The talk was arranged by the Work Force Diversity Office in celebration of Native American Heritage Month.

A retirement luncheon is being held for Chuck Courey, Berkeley Lab's chief financial officer, who is retiring Dec. 31 after 37 years of combined University and Laboratory service, 14 at the Lab. The luncheon will be held on Wednesday, Jan. 22, 1997, at the Naval Station, Treasure Island, Casa de la Vista, starting at 11:30 a.m. All friends and colleagues are invited to wish him farewell and bon voyage as he heads off for new journeys.
The cost is $24 per person (includes contribution towards a gift). Please make checks payable to "Chuck's Farewell" and forward to Virginia Pritchett at Bldg. 936B as soon as possible. For more information, contact Pritchett at X4383 or Catherine Parrott at X4217.

In response to recent tax law changes, the UCRS Advisory Board is recommending that Tax-Deferred 403(b) Plan participants be allowed to change their salary reduction agreements more than once a year. The Regents will vote on the Board's recommendation in January 1997. If approved, UC Benefits will amend the Plan to abolish the "one change per year" rule so that participants may start and stop contributing to the Plan as often as they wish to do so.
Pending the Regents' approval, the amendment will be effective retroactively to Jan. 1, 1997; new salary reduction agreement forms (UPAY 801) will be available in late January.

BodyWorks, the Lab's fitness group, is expanding. Starting in January, there will be a new beginner/intermediate class for anyone with physical limitations (such as back, knee or shoulder problems). The intermediate/advanced class will continue for those who are involved in their own workouts or are already enrolled in BodyWorks.
Each session meets at noon, twice a week for six weeks. The cost $72. Classes begin in January. For more information or to schedule an appointment, call X5521 or send e-mail to [email protected]

The full text of each edition of Currents is published on the Lab's home page on the World Wide Web. View it at http://www.lbl.gov/ under "Research News and Publications." To set up your computer to access the World Wide Web, call the Mac and PC Support Group at X6858.

The following Oracle Channel courses are scheduled for the month of January. All classes are held from 8:45 a.m. to 1 p.m. in Bldg. 936-12. The registration deadline is 5 p.m. on the Monday prior to the week the class is to be held. To register for a class, send a fax to X4072 or call X5999.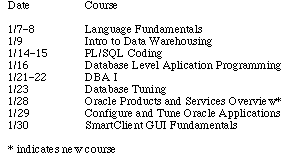 The following on-site computer courses are taught from 9 a.m. to 4 p.m. in the Bldg. 51L computer room (next to the lower level of the Bevatron). The cost for these one-day courses is $100.

The following is a free two-hour course covering the basics of cc:Mail and Meeting Maker. It will be taught three times on Monday, Jan. 13.
To register for any of these courses, send an e-mail to [email protected] (or call X5999) with your name and employee ID number. Cancellations must be made five working days prior to the class you are scheduled to attend.

Pre-registration is required for all courses except Introduction to EH&S. To pre-register for all other classes, send e-mail to LBNL Training-Registration in the HR zone or send a fax to X4072 with your name, employee ID number, extension, and class name, date & code (or call X5999).


The Berkeley Lab Calendar is published biweekly here on the World Wide Web and in Currents by the Public Information Department. Employees can list a meeting, class, or event in the Calendar by using this submission form. The deadline for submissions is 5 p.m. on Monday in the week that Currents is published.

In addition to the events listed below, Berkeley Lab's Washington, D.C. Projects office is hosting a Science and Technology Seminars series.

Scientific Conferences

January 1997
COMPUTER TRAINING CLASS
Word 7.0 Fundamentals, 9 a.m. - 4 p.m., Bldg. 51L computer training room. Call X5999 to register.
ORACLE CHANNEL COURSE
Language Fundamentals, 8:45 a.m.-1 p.m., Bldg. 936-12
COMPUTER TRAINING CLASS
Word 7.0 Fundamentals, 9 a.m. - 4 p.m., Bldg. 51L computer training room. Call X5999 to register.
ORACLE CHANNEL COURSE
Language Fundamentals, 8:45 a.m.-1 p.m., Bldg. 936-12.
COMPUTER TRAINING CLASS
Power Point 7.0 Fundamentals, 9 a.m. - 4 p.m., Bldg. 51L computer training room. Call X5999 to register.
EMPLOYEE MUSIC CLUB
General meeting at noon in the lower level cafeteria.
TOASTMASTERS'
General meeting at 12:10 p.m. in Bldg. 2-100.
ORACLE CHANNEL COURSE
Intro to Data Warehousing, 8:45 a.m.-1 p.m., Bldg. 936-12.
COMPUTER TRAINING CLASS
Word 7.0 Intermediate, 9 a.m. - 4 p.m., Bldg. 51L computer training room. Call X5999 to register.
WORKERS' COMPENSATION SUPERVISORY TRAINING
9:30-11:30 a.m. in Bldg. 51-201.
AFRICAN AMERICAN EMPLOYEES ASSOCIATION
General meeting at noon in Bldg. 90-1099.
COMPUTER TRAINING CLASS
Word 7.0 Intermediate, 9 a.m. - 4 p.m., Bldg. 51L computer training room. Call X5999 to register.
Seminars & Lectures
CHEMICAL DYNAMICS SEMINAR
"The Role of Neutral-Neutral-Reactions in Interstellar Environments" will be presented by Eric Herbst of the Ohio State University at 11:00 a.m. in 425 Latimer Hall.
LIFE SCIENCES DIVISION SEMINAR
"DNA Repair by Light: Structure and Function of DNA Photolyase from E. Coli" will be presented by Johann Deisenhofer of the University of Texas Southwestern Medical Center at 4 p.m. in the Bldg. 66 auditorium.
CENTER FOR BEAM PHYSICS SEMINAR
"Distributed Computing and the Scientific Community: Strategy for the Long Term" will be presented by William E. Johnston of ICSD at 10:30 a.m. in the Bldg. 71 conf. rm.
EARTH SCIENCES DIVISION SEMINAR
"Microbes and Geological Materials: Overview" will be presented by Annemarie Meike of LLNL at 11 a.m. in Bldg. 90-2063.
Items for either calendar may be sent via e-mail to [email protected], faxed to X6641, or mailed to Bldg. 65B. The deadline for the Jan. 10 issue is 5 p.m. Monday, Jan. 6.

The Laboratory will be closed for the holidays beginning Tuesday, Dec. 24, and will reopen on Thursday, Jan. 2.
Dec. 23 and Jan. 2-3 will be minimum support days. During the two-week shutdown, the Lab Mail Room will operate on Dec. 23, Dec. 27, and Jan. 3. There will be no mailstop pickups and deliveries due to the minimum support status, but employees may go to the Mail Room (Bldg. 69) to pick up mail.
During the holiday closure, the Lab will shut down as much heating and ventllating equipment as possible to reduce costs. You can help by:
Setting back thermostats in your own space
Shutting off nonessential lights and equipment
Using smaller portable heaters and workstation lighting while working inside
Keeping outside windows and doors closed.
Turning off computer monitors, and computers themselves if they are not on the automatic back-up system.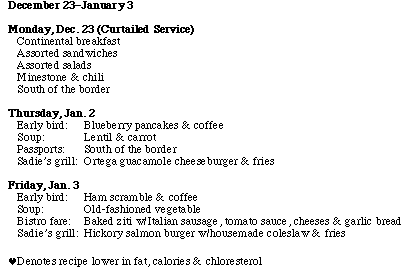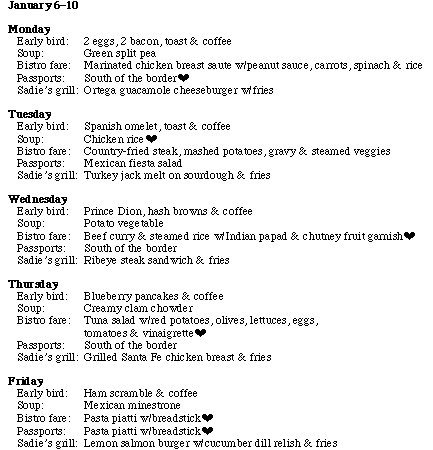 '85 CHEVY Impala, lt blue, V-8, 4-dr sedan, solid, well-maintained, blue book $1500, make offer. Kathy, X4931, 855-9135 (eve.)

'86 CHEVY Sprint, 41K mi., red, gd cond., runs great, a/t, sm. car, $2500/b.o. Simone, X5928, (415) 642-7668 (eve.)

`91 TOYOTA Tercel, 2-door, excellent condition, very clean, Sony Am/Fm Cass, 78 Kmi, $4,500. 841-9733.

'92 TOYOTA Camry LE, beige, 4-dr, a/c, a/t, AM/FM cass., 35K mi., great cond., $10K. X4131, 631-9518

'93 FORD Aerostar van XL, loaded, teal grn, exc. cond., 44K mi., $11.5K. 522-6021

'94 TOYOTA 4x4 Supercab pickup, V-6, 27K mi., 5-spd, ext. warranty, exc. cond., ABS, a/c, p/s, AM/FM/cass., bed liner, dk grn w/stripe, $18.5K. Travis, 524-9281

ENGINE, Ford 390, manual C6 transmission, Hollie carburetor, headers, many extras, very low mi. 906-9786

CARPOOL, 2-person, rider/driver wanted, from the Tri-Valley area to LBNL, 7:30 a.m.-4 p.m. (or thereabouts). Monte, X6761

VANPOOL, rider wanted, from Larkspur/Greenbrae to LBNL/UCB. Nobu, X4584

CARPOOL, rider/driver wanted, from North Bay to UCB/LBNL. 8 a.m. to 5 p.m. (flexible). X4548 or (707) 649-2004.

MONTEREY BAY AQUARIUM, 2 adult tickets, gd until 12/31/96, $9 ea. Bill, X7735, 932-8252 (eve.)

WANTED: Sharks tickets (2) for Fri., 1/24. Joel, X6778, 268-1571

BICYCLE, woman's w/foot brake. 526-6730

BUNK BEDS, solid wood, for children. Jacob, X4606

FREEZER or Refrigerator, used but gd cond. Sudipta, X5173, 526-8527

GOLF CLUBS, used, for 6-ft right-hander. Scott, X4132

MICROSCOPE, monocular and/or binocular, for young student; globe (terrestrial), pre 1940 preferred. 526-2007

SM. CABIN at Tahoe for 2 days during the Christmas holidays. Kala, X7139, (707) 426-5011

WORKING MAC SE/30, under $200. David, X7326

BED, queen sz., platform, natural oak, dresser, 2 bed side stands, $100. Bill, X7385, 595-9070

BED, queen, w/firm mattress, $100; refrigerator, new, $150; office chairs (2), $25/each; microwave, $50; dining table, $20; bookshelf, $30; file cabinet, $50; desk $30. Tao, X7498

BED w/mattress, full sz., gd cond., w/o frame, $50/b.o. Mohammad, 540-0340

BRIEFCASE, black leather, slim hard shell, never used, $50. John, X6008

CD-ROM DRIVE, new, never used, Hitachi CDR-7730, 4x, no driver software. $50/b.o. Ralf, X5270

COMPUTER & MONITOR, 486DX2/66, 15" Samsung monitor, 14/4 internal FAX modem, Colorado 250MB backup, $1200. Jeff, 625-8752

JEWELRY, cultured pearls, necklace, 16", pearls sz., 8-1/2 mm, $700; earrings w/gold, pierced, $100; bracelet, 7", in gold, accented w/twin gold ropes, $350; ring, lavender jade, marquis cut, surrounded by 12 amethyst & 12 diamonds, sz. 6, $300. Linda, 798-6589 (after 4 p.m.)

MOVING SALE, futon & frame, full sz., $80; love seat, $20; armchair, $20; dining table & 4 chairs, $50; folding chairs, lamps, kitchen supplies & more. Ignacio, X7589, 849-4153

MOVING SALE, Sharp 20" color TV, $80; Sanyo VCR, $100;

VCR JVC digital, $150; videotapes T120 (more than 50), $1 ea.; Canon camera, 7 lenses (maco to 300mm) plus accessories, $500; 7-speed BlendMast, $10; all in exc. cond; new genuine leather brief case bag in box, $150, never used. Hong, X6809 or 528-1270 (after 7:00 p.m.)

NORDIC TRACK, $150/b.o.; orig. Health Rider w/workout tapes, $300/b.o.; full futon w/frame, $50/b.o. Anne, X7894, 843-9701 (8-10 p.m.)

SOFABED, beige, pastel floral pattern, 95"w x 39"d x 32"h, folds out into full-sz sleeper, exc. cond., $350; Futon full sz, foam-core, w/matte black, metal tubular frame, gd. cond., $125. Donald, 652-6434 (eve.)

SPEAKERS, Marantz, 15"w x 32"h, $1200 new, asking $175; 2 bookcases, Scandinavian Design, light teak finish, exc. cond., 57"w x 26"h x 12"d, $45, 36"w x 26"h x 12"d, $35; matching TV cart w/shelf, on wheels, 29"w x 20"h x 18"d, $45; 10-gal. aquarium w/walnut-stained pine stand, incl. undergravel filter, etc., $40. 524-9281

SUPER NINTENDO, exc. cond., incl. 1 game, new $140, $70; Super Nintendo games; Players Guide to Super Mario RPG & Donkey Kong Country, 2 - $7/ea. Luba, 937-2318 (after 3 p.m.)

WOOD FLOORING, rustic, wide-plank (12"), 5-16 ft. long, recycl. doug. fir, 200 sq. ft., 1/2 price, $600; 2 sheets 4" rigid insulation 4x8 ft., $10 ea.; misc. lumber, K.D. fir & timbers, negot.; 2 doors, new, clr fir, one 10-lite, 2'8", one 1-lite, dbl. glazed, 2'6", $50 ea. 524-9281

ALBANY, basement in-law apt. for a short person (low ceiling), unfurnished, between Marin and Gilman, close to bus stop and stores, great neighborhood, $395/mo. inc. utilities. Barry, 524-8394

ALBANY, male roommate to lease 1-bdrm, 1-bth in lg. 2-bdrm, 2-bth condo, 1 parking space in sec. garage, access to living rm, kitchen & laundry fac., swimming pool & Jacuzzi on premises, $475/mo. Pierre, 526-7039

NO. BERKELEY, 1 bdrm avail. in 2-bdrm shared apt, a few blks from UCB, BART, LBNL bus & shopping, washer/dryer, backyd, lease, $350/mo. Mia or Monica, 849-3283

NO. BERKELEY, furn. Victorian, lg. 1-bdrm, 1-bth apt, linens, kitchenware, laundry fac., enclosed garden, dbl carport, walk to LBNL shuttle, UCB, BART & shopping, short term OK, utils. & local tele. include. 848-1830

CONCORD/WC BORDER, 4-bdrm, 3-bth house, living, family, formal dining, laundry rm, 2-car garage, yd, weekly gardener provided, walking distance to public & pvt. schools, convenient to BART, $1300/mo. 831-9172

EL CERRITO, 3 bdrm, 1 bth house, near Del Norte Bart, washer/dryer, gas heat, nice neighborhood, fruit trees, small pets, $1195/mo. X7715.

KENSINGTON, rm in shared house, washer/dryer, frpl, view, nr bus line, 1 blk from trail head into Tilden, dishwasher, free parking, avail. starting 1/15 for 3-6 mo. Chris, X4635

KENSINGTON, spacious rm. in lg. house, share house area w/LBNL family, avail. 1/4, $475/mo. incl. utils. Dennis, X7853, 5267388

NO. OAKLAND HILLS, rm in 1930s house, share w/4 others, lg. backyd, frpl, w&d, storage, 4-bridge view, minutes to Rockridge BART, $450/mo. Jen, X4058

WANTED: house in Berkeley for a week, for family reunion of 6 adults + 3 toddlers, Jan. 4-12, could trade our house in Alexandria, VA. Art, (202) 586-6593 (ofc.), (703) 684-1060, [email protected]

WANTED: furn house/apt. in Lamorinda area for staff scientist family, Jan. `til March '97. Masato, X4131, 631-9518

WANTED: furn. 1-2 bdrm apt/house for visiting professor, starting mid-Jan. for 4-6 mo., sublet/house-sitting OK. 652-9347

WANTED: 1-bdrm rental, partly furn. apt/studio in Berkeley nr LBNL bus stop, for visiting scholar & wife, from Jan. '97 to May '98. Jingsong, X5315, 845-9079 (eve.), [email protected]

WANTED: 2-3 bdrm rental, unfurn. house/apt in Berkeley/ Albany/El Cerrito for postdoc, wife & kid by Feb.-March '97. Luis, X6796, 845-2963 (eve.), [email protected]

WANTED: apt/house for a yr. starting 1/1, for postdoc w/wife & 2 children. Fred, X4892, 841-3552

WANTED: sm. apt/rm for Jan.-March, for visiting researcher. Fred, X4892, 841-3552

WANTED: house/apt to sit or sublet for LBL postdoc and his girlfriend in San Francisco or Berkeley, first week in January and/or last 10 days of January; house-sitting experience. Paolo, X4739

WANTED: short-term sublet of rm/apt for visiting Japanese student, Feb.- March in Berkeley, Albany, Oakland area. Alan, X4740.

SONOMA COAST, 2.16 acres, Timbercove, Ft. Ross area, all utils. Nick, 527-1965

BAHAMAS, Taino Beach Resort, nr Freeport, 1-bdrm condo, slps 4, every amenity, pool/tennis, on beach, 60 days adv. notice, $500/wk. X6005

MENDOCINO, on Greenwood Ridge, 15 min. from the beach in Elk, 2-bdrm, 2-bth house, set on 24 acres of redwood forest, panoramic views of the Navarro River Cyn, Anderson Valley & beyond. 849-1726

PARIS, France, furn. apts, by Eiffel Tower (2/1) or in Latin Qtr. (1/1), by wk or mo. 848-1830

TAHOE KEYS at South Lake Tahoe, house, 3 bdrm, 2.5 bth, upstairs living, quiet area, close to skiing and other attractions, great views of water and mountains. Bob, (510) 376-2211.

LOST: gold cross necklace w/sm. diamonds. Debbie, X5532

FOUND: gold & pearl Christmas pin, nr Bldgs. 74 & 83. Don, X6378

SOFTWARE for MacII GS. Ron, 526-6328




Flea Market Deadline
Flea Market items may be sent via Quickmail, e-mailed to [email protected], faxed to X6641, or mailed to Bldg. 65B. The deadline for the Jan. 10 issue is 5 p.m. Friday Jan. 3.

Currents/The View and the Communications Department Staff
Published once a month by the Communications Department for the employees and retirees of Berkeley Lab.

Reid Edwards, Public Affairs Department head
Ron Kolb, Communications Department head

EDITOR
Pamela Patterson, 486-4045, [email protected]
Associate editor
Lyn Hunter, 486-4698, [email protected]

STAFF WRITERS
Dan Krotz, 486-4019
Paul Preuss, 486-6249
Lynn Yarris, 486-5375

CONTRIBUTING WRITERS
Ucilia Wang, 495-2402
Allan Chen, 486-4210
David Gilbert, (925) 296-5643

DESIGN
Caitlin Youngquist, 486-4020
Creative Services Office

Berkeley Lab
Communications Department
MS 65, One Cyclotron Road, Berkeley CA 94720
(510) 486-5771
Fax: (510) 486-6641

Berkeley Lab is managed by the University of California for the U.S. Department of Energy.

Flea Market is now online at www.lbl.gov/fleamarket