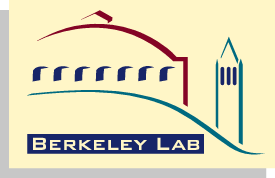 Berkeley Lab Currents
August 30, 1996

By Jeffery Kahn
Melvin Calvin, who was awarded the 1961 Nobel Prize for chemistry for having unraveled the path of carbon in photosynthesis, retired from full-time activity at the Lab and UC Berkeley in 1980. Now 85 years of age and frail, Calvin once led the Bio-Organic Chemistry Group. This group is currently the subject of an oral history project supported in part by UC Berkeley.
The project was initiated a year ago by Vivian Moses, visiting professor of biotechnology at King's College in London, and his wife Sheila, an editor who worked for some years at the Institute of International Studies in Berkeley. When the work is complete--probably by fall 1997--UC Berkeley's Bancroft Library will be a repository for copies of all the tapes and the transcripts.
For Moses, the project is a natural. In 1956, he was a postdoc with the Calvin group during its historic photosynthesis project. Moses left in 1958, but returned in 1960 for an 11-year stint as a staff scientist with the Calvin group.
Moses and his wife are focusing on the years 1945-63 and plan to interview 50 to 60 former group members all over the United States and Europe. They have already taped conversations with 36 people, including Calvin, Martin Kamen (who, with Sam Ruben, in 1940 discovered carbon-14 using the Radiation Laboratory's 60-Inch Cyclotron), Andy Benson, Al Bassham, Dick Lemmon and Ed Bennett. They also have access to transcripts of a series of interviews Calvin gave some 15 years ago which are already in the Bancroft.
Calvin's photosynthesis work began in 1945. On the day the Japanese surrendered, Ernest Lawrence told Calvin that it was "time to do something useful" with carbon-14. Based at the Rad Lab, yet maintaining close links with the Chemistry Department on campus, Calvin set about organizing a team of researchers to solve the riddle of photosynthesis. Developing the new tracer technology as they went, he and his team traced the paths that carbon-14 travels through a plant during photosynthesis, starting from its absorption as labeled atmospheric carbon dioxide to its conversion into carbohydrates and other organic compounds. In resolving the many intermediate steps in the process, the Calvin team showed that, rather than acting directly on carbon dioxide as had been believed previously, sunlight energy is first captured by the plant's chlorophyll, ultimately to fuel the synthesis of organic compounds.
The group was fortunate to inherit ORL (the Old Radiation Laboratory), a wooden building dating from 1885 that was Lawrence's original laboratory and where he designed and built his 37-inch cyclotron. Torn down in 1959, the "laboratory without walls" stood on what is now the site of Latimer Hall. The fortuitous open-plan intimacy of ORL inspired the Calvin group's later design for a new building. Opened in November 1963, the new Calvin Laboratory with its open aspect and radial lab benches fostered and actually catalyzed interaction among its occupants.
The group remains famous for its remarkable record of interdisciplinary collaboration. "It included biologists, chemists, and physicists," Moses says. "We think it may have been the first major multidisciplinary group in the biological sciences anywhere in the world. It was a remarkably harmonious organization--Calvin's scientific leadership, Ernest Lawrence's stewardship, the quality of the scientists, the excitement of the project, adequate funding--all here significant factors contributing to success."
Another favorable factor was the age of the group members. "They were all young," Moses says. "In 1945, Calvin, the undisputed leader at 34, was probably the oldest in the group. There was no jockeying for position in a hierarchy. Looking back, the collaboration was remarkable. Everyone interviewed so far treasures very fond memories of the time."
After receiving the 1961 Nobel Prize, Calvin established the Laboratory's Chemical Biodynamics Division, which he directed for 20 years. Upon his retirement, the unique, circular three-story laboratory which he had built to house his group on the Berkeley campus was renamed the Melvin Calvin Laboratory. Chemical Biodynamics was the predecessor to today's Structural Biology Division.
Moses says he hopes anyone who has memories of Calvin's group will contact him via e-mail at V.Moses@qmw.ac.uk. The Calvin project is supported by the Chemistry Department at UC Berkeley, the Chemical Heritage Foundation in Philadelphia, and the Royal Society and Gresham College, both in London. The UC Office for the History of Science and Technology and the Oral History Unit of the Bancroft Library are collaborators.
Melvin Calvin, here in his photosynthesis laboratory, was awarded the Nobel Prize in 1961 for resolving the riddle of the photosynthetic process.

With this issue of Currents, we are pleased to bring you a special four-page insert devoted to the 65th anniversary of the Laboratory, which found its first home on the UC Berkeley campus in 1931.

Because there is no way to adequately reflect 65 years of achievement in four pages, we have focused primarily on the founding years of the Laboratory through historical photos and a period retrospective by staff writer Lynn Yarris. In a space-constrained timeline, we have tried to include enough highlights to provide a glimpse of the many areas in which the Laboratory has excelled in its first 65 years. A far more complete timeline spans a wall in the Bldg. 50 lobby, where a new exhibit of Lab artifacts was dedicated Monday.

The week of Aug. 26-30 has been filled with special anniversary events, from ribbon cuttings to lectures and video presentations, designed to salute Ernest O. Lawrence and his dedicated colleagues and successors who have made the Laboratory a world class research institution. Our hats go off to the many dedicated people who helped make the celebration memorable. We will bring you an overview of the week's events in our next issue--and next era--of Currents.

As we close out the week, we are also closing out a Currents tradition--weekly publication--so that we may start a new tradition with an exciting new format. Beginning on Friday, Sept. 13, we will launch a new twice-a-month production schedule, accompanied by a weekly electronic news bulletin called "Headlines."

We will also use the opportunity to update Currents. Perhaps most exciting is the addition of "spot" color--not color photos, but a single color, subject to change from week to week--for highlighting. Other changes include a new masthead that incorporates the Lab logo; longer page size; updated fonts; and other features that we hope will make the paper more pleasant to read.

We also plan to devote more space to more fully developed articles about the Lab's work, including science and operations issues. We will have more articles that focus on the Lab's diverse workforce; and a new and improved calendar. As we develop the new format, we hope to introduce more changes, some of which we haven't even thought of yet!

As for our new "Headlines", it will come to your computers as an e-mail once a week, on Mondays, so that we may continue to bring you timely news about the Laboratory. We hope that supervisors of employees without computers will print and post Headlines so that everyone will be kept abreast of our news and event updates. You may "de-subscribe" at any time; however, we hope you will choose to stay with us. We will also continue to bring you Currents online, accessible via the Lab's Home Page.

Although these changes were driven by reduced budgets and staffing--which have made it difficult to maintain a weekly schedule--they create new opportunities to improve the quality of our communications and take better advantage of electronic communications.

With that, we say goodby until Monday, Sept. 9, when we launch Headlines. Until then, have an enjoyable Labor Day holiday! -- Mary Bodvarsson, Editor

CAPTION: Massage therapists Vicki Luisi and Avram Gimbel loosen some tired shoulders during the EH&S-sponsored Ergonomics Fair held Aug. 20-22 in the cafeteria. The Fair gave employees a chance to learn more about ergonomic accessories, equipment and work environments. Photo by Roy Kaltschmidt

"Lawrence and His Laboratory," a state-of-the-art online publication which chronicles the momentous and historic Lawrence years here, has debuted on the Web. "The First 50 Years: The Historians' View" is accessible via the Lab's Home Page, at http://www.lbl.gov.

Written by science historians and first published by the Public Information Department in 1981, the material has been republished on the Web in honor of the Lab's 65th anniversary. Beginning with Ernest Lawrence's first lab in a "disused civil engineering laboratory" on campus, the publication details the evolution of the cyclotrons, the Nobel prizes these machines made possible, and the Lab's gradual maturation into a multidisciplinary institution.

The site features hundreds of historical images from the Lab's online image library (http://imglib.lbl.gov/), which is being developed by the Imaging and Distributed Computing Group, headed by Bill Johnston. Images include original engineering sketches of the cyclotrons, handwritten accounts of discoveries from lab notebooks, and blackboard announcements of Nobel prizes.

The "Lawrence and His Laboratory" website was designed by Mike Wooldridge and Jeffery Kahn of the Public Information Department. The site's archival images were formatted for the web by Mary Thompson and Bryan Frane of the Imaging and Distributed Computing Group. The 1981 print edition was edited by Judy Goldhaber.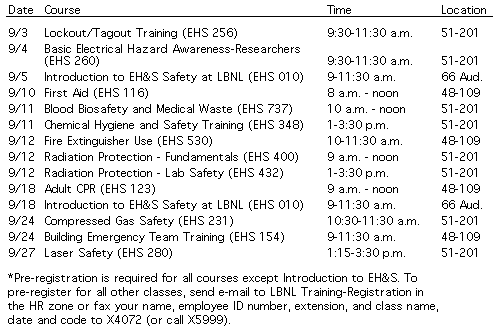 Christine Ervin, DOE Assistant Secretary for Energy Efficiency and Renewable Energy, told reporters that should President Clinton win re-election, she would turn her attention during the second term to energy R&D in buildings. "The buildings sector, more than industry or transportation, is the most diverse in the country," Ervin said. "It is a wonderful opportunity to take diverse programs and put them into a strategic thrust." Ervin wants to expand an existing program called "Building America." The idea is to dramatically improve the energy efficiency of residential and commercial buildings, improve indoor air quality, and reduce construction time, cost, and waste. Ervin's senior advisor is Berkeley Lab physicist Art Rosenfeld, who has been an unflagging advocate of energy efficient technologies for buildings. Sen. Pete Domenici (R-N.M.), whose opposition blocked Congressional proposals to abolish DOE, has let it be known that he is not opposed to reducing the Department's status to a non-Cabinet level. The reason given is that DOE could then be managed by career professionals and not have to undergo the wholesale turnovers in leadership that can occur after every presidential election. As chairman of the Senate's Budget Committee and the Appropriations subcommittee on energy and water, Domenici is considered DOE's most powerful ally on Capitol Hill. His aides say that the DOE missions most important to Domenici are science and nuclear stockpile stewardship. He is not convinced that these missions are best carried out by a political structure that is subject to change every four years. NASA continues to make political and scientific hay from its announcement earlier this month of having found putative carbonate fossils on a Martian meteorite. Both Vice President Al Gore and House Speaker Newt Gingrich were enthusiastic in their response and agreed that exploration of Mars deserves more government spending. Both argued that the "full intellectual power and technological prowess" of NASA should be put into the search for further evidence of life on Mars. Images of the Martian meteorites and information are available on the NASA web site at http://cu-ames.arc.nasa.gov/marslife/index.html.

The Berkeley Lab Calendar is published weekly here on the World Wide Web and in Currents by the Public Information Department. Employees can list a meeting, class, or event in the Calendar by using this submission form. The deadline for each week's edition is 10:30 a.m. Tuesday.
LABOR DAY HOLIDAY
EH&S CLASS
Lockout/Tagout Training (EHS 256), 9:30-11:30 a.m., Bldg. 51-201
SURFACE SCIENCE AND CATALYSIS SCIENCE SEMINAR
"New Materials and Transducers for Chemical Sensors" will be presented by Wolfgang Goepel of the University of Tuebingen, Germany, at 9:30 a.m. in the Bldg. 66 Auditorium.
ORGANIC CHEMISTRY SEMINAR
"The Combinatorial Conspiracy" will be presented by Walter Moos of Chiron Corporation at 11 a.m. in the Pitzer Auditorium, Latimer Hall.
SPECIAL BUILDING ENERGY SEMINAR
"Energy Efficiency as a Guiding Principle in the Building Design Process" will be presented by Lennart Jagemar of Chalmers University of Technology in Gothenburg, Sweden, at noon in Bldg. 90-3148.
PHYSICAL CHEMISTRY SEMINAR
"Frontiers of Electronic Structure Theory" will be presented by Martin Head-Gordon of UCB at 4 p.m. in the Pitzer Auditorium, Latimer Hall.
EH&S CLASS
Basic Electrical Hazard Awareness-Researchers (EHS 260), 9:30-11:30 a.m., Bldg. 51-201
NATIONAL HISPANIC
HERITAGE MONTH VIDEO
"Chicano! History of the Mexican American Civil Rights Movement, Part I: Quest for a Homeland" will be presented at noon in the Bldg. 50 Auditorium.
EMPLOYEE MUSIC CLUB
Folk Group Rehearsal, 5:30-7:30 p.m. in the cafeteria, for info. contact Larry Bell at X5406.
EH&S CLASS
Introduction to EH&S Safety at LBNL (EHS 010), 9-11:30 a.m., Bldg. 66 Auditorium
CENTER FOR ENVIRONMENTAL BIOTECHNOLOGY SEMINAR
"Sleuthing Selenium Fate and Transport in Wetland Channels in the
Grasslands Basin of the Western San Joaquin Valley" will be presented by Nigel Quinn of the Earth Sciences Division at noon in 338 Koshland Hall.
SURFACE SCIENCE AND CATALYSIS SCIENCE SEMINAR
"Nitride and Carbide Hard Coatings" will be presented by Marie-Paule Delplancke of LBNL/Universite Libre de Bruxelles, Belgium, at 1:30 p.m. in the Bldg. 66 Auditorium.
INORGANIC CHEMISTRY SEMINAR
"Thermodynamically Unstable Fluorides and their Remarkable Oxidizing Properties" will be presented by Neil Bartlett of LBNL/UCB at 4 p.m. in the Pitzer Auditorium, Latimer Hall.
BODYWORKS
General meeting at noon in the lower cafeteria
CHEMICAL ENGINEERING COLLOQUIUM
"Sorption and Transport Properties of Stiff Chain Glassy Polymers for Emerging Gas Separations and High Barrier Films and Coatings" will be presented by Benny Freeman of North Carolina State University at 4 p.m. in the Pitzer Auditorium, Latimer Hall; refreshments 3:30 p.m.
STRUCTURAL BIOLOGY SEMINAR
"Computational Studies of Early Events in Protein Folding" will be presented by John Moult of the University of Maryland at 4 p.m. in 102 Stanley Hall.
PHYSICS DEPARTMENT COLLOQUIUM
"Rydberg Wavepackets and Half-Cycle THz Pulses" will be presented by Philip Bucksbaum of UCB/University of Michigan at 4:30 p.m. in 1 Le Conte; refreshments, 4 p.m., 375 Le Conte.
EMPLOYEE MUSIC CLUB
Classical Group Rehearsal, 5-7 p.m. in the cafeteria, for info. contact Wesley Steele at X7893.
EH&S CLASS
First Aid (EHS 116), 8 a.m.-noon, Bldg. 48-109
ORGANIC CHEMISTRY SEMINAR
"Boron is Not Boring: Adventures in Asymmetric Synthesis" will be presented by Donald S. Matteson of Washington State University at 11 a.m. in the Pitzer Auditorium, Latimer Hall.
NATIONAL HISPANIC HERITAGE MONTH SPEAKER
"Inequality by Design" will be presented by Martin Jankowski-Sanchez of UCB at noon in the Bldg. 50 Auditorium.
PHYSICAL CHEMISTRY SEMINAR
"Energetics, Reactivity, and Spectroscopy of Biradicals and Related Ions" will be presented by Robert R. Squires of Purdue University at 4 p.m. in the Pitzer Auditorium, Latimer Hall.
EH&S CLASSES
Blood Biosafety and Medical Waste (EHS 737), 10 a.m.-noon, Bldg. 51-201
Chemical Hygiene and Safety Training (EHS 348), 1-3:30 p.m., Bldg. 51-201
EMPLOYEE MUSIC CLUB
General meeting at noon in the lower cafeteria
NATIONAL HISPANIC HERITAGE MONTH VIDEO
"Chicano! History of the Mexican American Civil Rights Movement, Part II: The Struggle in the Fields" will be presented at noon in the Bldg. 50 Auditorium.
TOASTMASTERS'
General meeting at 12:10 p.m. in Bldg. 2-100
EMPLOYEE MUSIC CLUB
Folk Group Rehearsal, 5:30-7:30 p.m. in the cafeteria, for info. contact Larry Bell at X5406.
SHOEMOBILE
7:30 a.m. - 4:30 p.m., near Bldg. 79
EH&S CLASSES
Radiation Protection - Fundamentals (EHS 400), 9 a.m.-noon, Bldg. 51-201
Fire Extinguisher Use (EHS 530), 10-11:30 a.m., Bldg. 48-109
Radiation Protection - Lab Safety (EHS 432), 1-3:30 p.m., Bldg. 51-201
AFRICAN AMERICAN EMPLOYEES ASSOCIATION
General meeting at noon in Bldg. 90-1099
CENTER FOR ENVIRONMENTAL BIOTECHNOLOGY SEMINAR
"Full Scale Application of Bioremediation Technologies" will be presented by Geoffrey Compeau of Woodward Clyde at noon in Bldg. 50A-5132.
SURFACE SCIENCE AND CATALYSIS SCIENCE SEMINAR
"Single Molecule Flashlights: A Measuring Stick for Acromolecules on Surfaces" will be presented by Shimon Weiss of the Materials Sciences Division at 1:30 p.m. in the Bldg. 66 Auditorium.
INORGANIC CHEMISTRY SEMINAR
"Reactions of Metal-Centered Radicals with Organic Radicals: Thermodynamic Studies and Controlled Radical Polymerization of Olefins" will be presented by Bradford B. Wayland of the University of Pennsylvania at 4 p.m. in the Pitzer Auditorium, Latimer Hall.

If you haven't already, you should mark your calendar for noon on Friday, Oct. 11. That's the day we don our running and walking shoes for the Laboratory's 19th annual event, the Runaround.

Already, volunteers are organizing this year's event, a 3.0 kilometer fun-run around the Lab site, which will culminate in a party--complete with food, music and prizes--at the cafeteria. If you start now, you may even be able to find your oldest Runaround T-shirt (a longstanding tradition) to wear that day.

Once again this year, the University and State Employees (USE) Credit Union will be on hand with free water bottles and prizes. Watch Currents for reminders, preparation tips, and a map of the course as the date approaches.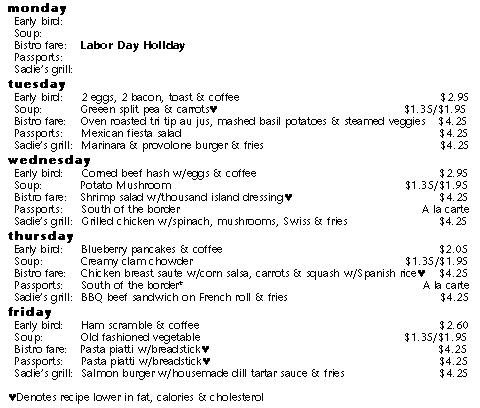 Flea Market ads may be sent via e-mail to fleamarket@lbl.gov, Fax to X6641, or Lab mail to Bldg. 65B. The deadline is 5 p.m. Friday.

'76 MERCEDES BENZ 280, 4-dr, runs well, leaving area, must sell, $1800/b.o. 531-8844

'82 TOYOTA Tercel, 158K mi., a/t, runs very well, well maint., recent brake job, tires, body so-so, $1250/b.o. 741-7732 (eve.)

'84 TOYOTA Tercel 4x4 wgn,
a/t, runs well, reliable, 141K mi., all records, $1995. Nick, X7177, 528-3109

'85 FORD Escort, 2-dr, 4-spd, red, 79K mi., gd body, runs well, $900/b.o. Su, X5364, 559-8673

'88 CORVETTE, blk on blk, 37K mi., coupe w/2 tops, auto, Z52 pkg., exc. cond., all pwr, $16.5K/b.o. Mark, X7451, 895-0151

'88 FORD Tempo, red, 92K mi., new trans., radiator, tires, brakes, fuel pump, trans & motor mount, needs frame work, $1K. Renee, X4597

'90 JEEP Cherokee Laredo, 4x4, blue, a/t, new brakes, a/c recharged, 86K mi., $11.5K/b.o. Bob, X6243

'90 PLYMOUTH Voyager LE, fully loaded, a/t, p/s, p/b, a/c, pwr locks, windows & seats, tinted glass, seats 7, $5500. Allan, 524-4798

'91 TOYOTA Previa, van, a/t,
a/c, seats 6, new brakes, very good cond., $11K/b.o. 601-0453

'94 FORD Aspire, 15K mi., well maint., still 1 yr. waranty, all records, AM/FM cass., $7.5K. Corinne, X6174, X5106, 848-0098 (eve.)

'95 TOYOTA Corolla, 20K freeway mi., 5-spd, a/c, CD player + 4 spkrs., perfect cond., periodic dealer maintenance, leaving country, $12,300/b.o. Martin, X7845, 849-0205

MOTORCYCLE, '91 Suzuki Katana 600, jet black, body in mint cond., new front tire, chain & sprockets, well maintained, always garaged, 40K mi., $2200. Jaime, X7979, 236-9798 ( eve.)

VANPOOL, riders wanted, Petaluma (leave 6:30 a.m.)/Novato/Berkeley, 8 a.m. - 5 p.m., occasionally daily riders welcome, Commuter checks accepted. Kathy, 642-0119

VANPOOL, from the Tri-Valley area - Livermore, Pleasanton, Dublin, San Ramon, (San Ramon riders can be reimbursed for 1/2 their cost & can receive a $50 voucher for other riders from these areas), we need 1-2 more riders. Philip, X6583

FOOTBALL, 2 tickets, 49er opening game vs. New Orleans, Sun., 9/1, 1 p.m., Sec. 47 upper res. Al, X5901, 672-2716

FOOTBALL, 49er/Raiders rights, 50-yd line, $400. 637-1811

SF OPERA, Sat. eve., 9/28, Lohengrin, Civic Aud., 1st row balcony Opera House equiv., 2 tickets, $52 ea. Norman, X5624, 841-9216 (eve.)

AUTOMOBILE, '91-'94 Jeep Cherokee, to buy; baby crib. Mats, X5039, 526-7844 ADJUSTABLE BED w/mattress, exc. cond., single, head & feet move up w/motor, $150/b.o. 653-7188

BICYCLE, Specialized-Hard Rock, 21-spd, boy's, youth 24" wheels, Shimano components, exc. cond., $150/b.o. Sarah, X5176, 682-9486 (before 8 p.m.)

BICYCLE, '86 Miyata Pro, man's, 54 cm frame, Mavic Open 4CD x32 rims, Aero Mighty (175 mm) cranks, 52/42 chain ring, Time pedals and cleats (new), Cinelli bar & stem, Panasonic computer, maintained indoors when not in use, extras, light & fast, 1 owner, $200/b.o. David, X7074, 528-1935 (after 7:30 p.m.)

CHAIR, $20; upholstered rocking chair, $50; dinner table, $20. Rose, X7554, 236-6815

DESK, executive ofc. w/return, walnut panels, strong, top quality, metal frame, $600 new, $400/b.o. Philip, X6583

DRYER, elec., Whirlpool, apt sz., $80; RCA AM/FM cass. boombox, $30; unicycle, $50. Lars, 524-8310

EXERCISE MACHINE, Lifestyler Cardiofit plus, paid $260, take $120; 5-pack of unopened 4 to 6 hr video tapes, $10; blk vinyl couch, $90; director's chair w/grn seat & back, $18; bike, Schwinn Varsity, 10-spd, new tires, lock adapter, totally redone mech., $115, all items are 6 mo. old. Kris, X5571

EXERCISE MACHINE, Nordic Track Pro-Walker, mint cond., $600 new, $425/b.o. Steve, X6228, 631-0668

FUTON, twin sz., w/mattress cover & frame, $75. Fred, X6529, 525-8182

KITCHEN HUTCH, antique maple, 4 doors, 2-drwr, 40.5" x 19.5" x 78", $1500. Lisa, X6268, 841-4855

LAMP SHADES (4), lg., white, $5 ea.; approx. 30 LP records from the early 1970s, folk, light rock, classical, $20 for all. Kathy, X4931

MOUNTAIN BIKE, Gary Fisher Supercaliber, recently tuned, all XT, rapid-fire, Judy XC, nr perfect cond., race ready, $1200/b.o. Tim, X5304

MOVING SALE: entertainment center, $100; stereo spkrs, $300; twin bed w/headboard, $50; glass dining table w/4 chairs, $75; dresser, $10; Chuck Dent surfboard, 6' 1'', $100; desk, $50. Scott, 652-3860

SET OF WEIGHTS, $30; 1-ton chain hoist, $40; boat winch, $10; filtering humidifier, $40; air cleaner, $25; exercise machine/stepper, LCD display of time, # of steps, etc., $65; futon frames (2), $25 ea.; 1950s furniture, hexagonal glass/wood dining table, $70; 5 ft. credenza, $65; single box spring, mattress & frame, $45; Danish, modern, love seat, $45; easy chairs, $15-$25. Viki, 549-1876

SURFBOARD, Doug Haut-7' 10", exc. cond., $140; Delta bench top bandsaw, practically new, $130. X6705

COLOR TV, Sony Trinitron, 20", stereo TV, KV-20V50, $300/b.o.; VCR, Sony, stereo, SLV-720, 18 mo. old, perfect cond., $250/b.o.; cordless phone answer machine, Panasonic KXT 4365, 1 yr. old (2 yr. store guarantee), perfect cond., $140/b.o., leaving country. Martin, X7845, 849-0205

WADING POOL w/slide for toddlers, $15/b.o.; wrought iron fence, w/gate & installation hardware, new, never installed, cost $330, $220/b.o.; kitchen table, heavy pine, dk color, 2 leaves, 48" dia. round w/o leaves, $60/b.o.; chairs available at addt'l cost.; audio/video rack style cabinet, 6' tall, 30" wide, 12" deep, 4 adj. height shelves - 2 glass, wood finish, $60/b.o. Philip, X6583

WATER FILTERS, NSA, sink installation. Marek, X5029, 582-5867

BERKELEY, 3+bdrm, 2-bth house (1 bdrm/bth detached), frpls, newly furn. hardwd flrs, newly painted inside, yd, No. Solano neighborhood, $1266/mo. 849-0649

BERKELEY HILLS, furn. rm in 4-bdrm house, 2 visiting scholars live here, $500/mo. + utils. 548-1287

BERKELEY HILLS, unfurn. studio apt, access to deck, washer/dryer avail., nr LBNL/UCB, $625/mo. utils incl. Marilyn, 848-2273

SO. BERKELEY (2 listings), both 10 min. walk to UCB, 1-bdrm apt, garden, $575/mo. utils. incl.; furn. 2-bdrm. apt, split-level, newly refurbished, skylights, nr bus & shops, all utils. incl., 4-unit brn shingle, $1K/mo. Kathy, 482-1777

CASTRO VALLEY, rm in 3-bdrm house, laundry & kitchen privs., $400/mo. + some util. Marek, X5029, 582-5867

MONTCLAIR, 1 bdrm in 3-bdrm house, on wooded lot, 3 decks, off-st. parking, partially furn., 10-15 min. from LBNL, share w/2 UCB grad students/professionals, $567/mo. (negot.) + 1/3 utils. X4527

OAKLAND HILLS, recently built 3-bdrm, 2.5-bth house, bay views, master bdrm suite, lg. living rm w/frpl, family rm & kitchen w/hardwd flrs, deck, laundry, 2-car garage, convenient loc. 15 min. drive from LBNL/UCB, $1695/mo. 490-3073

SAN PABLO, 3-bdrm, 1-bth house, 2-car garage, fenced yd, nr Contra Costa College & trans., 15 min. drive to Berkeley, $795/mo., dep. + last mo. Ely, X6113, 232-2563

WANTED: accommodation for visiting scientist from Spain w/his wife, from 9/16 - 12/16, furn. 1-bdrm apt w/kitchen, non smoker, able to care for garden. (34-3) 5805729 (FAX), fraxedas@icmvax.icmab.es

WANTED: furn. studio/1-bdrm apt for Sept., for a couple, prefer nr BART, Berkeley/Albany, up to $1K/mo. Viki, 549-1876

WANTED: inexpensive apt or house-sitting situation for visiting Rabbi for 5 wks starting in early Dec., call w/leads or suggestions. 704-8236

WANTED: former LBNL visiting scholar, non smoker, needs a place to live Oct. '96-May '97, prefer Berkeley. C.T.C.Heijning@cpedu.rug.nl

WANTED: academic couple from Toronto want house/cottage Jan.-March '97, non-smokers, able to care for garden. jbaker@venus.yorku.ca

WANTED: 2-bdrm + yd for LHS consultant, physics instructor & fiancée, 5 yr. old & sm. dog. (415) 479-5346, (916) 587-0386

BERKELEY, at Oregon & Fulton, 2-bdrm, 1-1/2 bth townhouse/condo, 1 mi. walking distance to UCB, pvt yd, $119K. 235-3983

NO. BERKELEY HILLS, 1115 Woodside, 3-bdrm, 3-bth home, family rm, view of Tilden Pk, nr LBNL, $350K. 528-2430

CATS (2), neutered Ex-feral, 14 mo. old, male is orange tabby short-hair, affectionate, gd natured, answers to Bruno, female is very beautiful, longhair, black & white, sweet tempered & affectionate, were born to a mother who lost her home in the fire. Julia, 848-6403, (415) 396-9635

DOG, Rex, sm., neutered, middle aged, male terrier mix, has a big dog personality, mellow, likes cats & kids, Vet. reference, 6 mo. supply of program, shots, $50 dowry. Viki, 549-1876

DOG, 16 mo. old, mix breed, female, needs a loving home, active, fun-loving, loves hikes & runs, friendly, healthy, spayed, all shots are current. Karen, X5862, 845-6364

HAMSTERS (2), w/cage & exercise ball. Matt, X6428, 247-0447

LOST: jacket, grn windbreaker, between Bldgs. 46 & 71 on Sat., 8/24. Doug, X7141

Due to the large volume of ads received each week, ads are accepted only from LBNL employees, retirees, and on-site DOE personnel. No other ads will be accepted. We encourage past contributors to the Flea Market to use other local services, such as LBNL's online housing listing (call X6198 for information), and the UC Housing Office.

Please note also:
The deadline for ads is 5 p.m. Friday for the following week's issue.
Ads must be submitted in writing, via e-mail (fleamarket@lbl.gov), fax (X6641), or delivery/mail to Bldg. 65B. No ads will be taken over the phone.
No ads will be accepted without your name, affiliation, Lab extension, and home telephone number. You may ask that only one number appear in the ad.
Only items of your own personal property may be offered for sale.
Ads for material for resale in connection with a business will not be accepted.
No ads for services will be taken.
Ads will run one week only unless resubmitted in writing. Ads will be repeated only as space permits, and at the discretion of Currents. If an item does not sell in a reasonable time period, we retain the right to terminate the ad.

Currents and the Public Information Department Staff
Currents is Berkeley Lab's weekly employee newspaper published by the Lab's Public Information Department, which is managed by Ron Kolb. Kolb can be reached at 510-486-7586 or at RRKolb@lbl.gov.

Mary Bodvarsson (510-486-4014) is Currents' editor and you can use this form to write the editor.

The staff writers for Currents are Allan Chen (A_Chen@lbl.gov), Jeffery Kahn (JBKahn@lbl.gov), and Lynn Yarris (LCYarris@lbl.gov).

Mary Padilla (X5771) produces the "Flea Market" (Fleamarket@lbl.gov) and the "Calendar" (Currents_Calendar@lbl.gov). Production is by Alice Ramirez.

Our mailing address is: Berkeley Lab Public Information Department, One Cyclotron Road Mailstop 65, Berkeley, CA 94720. The office telephone number is 510-486-5771 and our fax is 510-486-6641.