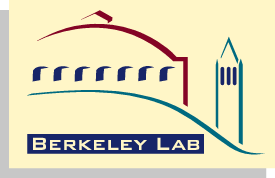 Berkeley Lab Currents
April 5, 1996

By Lynn Yarris
One of the most critical components of a living cell is the outer membrane that separates the interior of the cell from the outside world. The study of cell membranes and other biological structures should get a big lift this fall from the Advanced Light Source (ALS) with the commissioning of beamline 5.0, the Macromolecular Crystallography Facility (MCF).
A cell's outer membrane is a thin wall of fatty molecules embedded with thousands of assorted proteins. Some of these proteins control the flow of materials in and out of the cell. Others function as receptors, receiving chemical signals or messages from other cells. Despite their importance, the workings of these proteins remain a mystery because of the lack of detailed information on their structure.
The standard scientific technique for studying the structure of biological molecules is x-ray crystallography, in which a beam of x-rays is sent through a crystal of protein, forming a diffraction pattern when the beam's photons are scattered by the crystal's atoms. This technique, however, has seen limited use in membrane protein research in part because of the difficulty in growing crystals which strongly diffract. Obtaining useful images therefore requires either a lot of sample material or more photons than conventional x-ray sources can deliver.
"The exceptionally high flux and brightness of the ALS' beams means we can get high resolution images without the need for so much sample material," says Thomas Earnest, a biophysicist in the Structural Biology Division who is working with SBD Director Sung-Hou Kim and ALS scientists and engineers to construct the MCF. "ALS beams also will allow us to collect data from crystals which diffract weakly or have large unit cell dimensions, both of which are typically true for membrane proteins."
This month the ALS will undergo a four-week shutdown for the installation of a 38-pole wiggler magnet that will be the heart of the crystallography facility. The wiggler will provide highly collimated x-rays ranging in wavelengths from 0.9 to 4.0 angstroms. Precise tuning of these photons within this range will make possible the use of the multiple-wavelength anomalous diffraction (MAD) technique that is ideal for images of proteins and other biological molecules.
"We will be able to offer our users faster, higher quality data over a wider dynamic range," says Earnest. "We will also offer them a choice of crystallographic techniques with ultrafast data collection."
The high flux of the ALS crystallography beamline will place a heavy demand for high-speed detector readouts. Otherwise, valuable data could go unrecorded. The immediate step to avoiding this potential problem will be the use of CCD (charged-coupled device) cameras that have a readout time of just under two seconds. CCD cameras are well-suited for the study of macromolecular crystals in a steady state because they acquire diffraction pattern images on a photographic plate over a given exposure time. For future studies of dynamic processes, a new "pixel" detector is now being developed that will provide continual data readouts.
"The pixel detector is based on technology developed for the Superconducting Super Collider," Earnest says. "Its frameless, event-driven readout system will permit the collection of higher-quality data, faster than present detector systems, with the opportunity to continuously monitor time-dependent processes. This will enable us to image the changes that a protein molecule undergoes during a biochemical reaction."
With a data collection area that could ultimately be as large as one square meter, Earnest says the pixel detector will be large enough to image viruses and other biological structures in addition to proteins. This detector is being designed in collaboration with Jacques Millaud of the Engineering Division, Howard Padmore of the ALS, David Nygren of the Physics Division, and researchers at UC San Diego. They expect a quarter-scale version to be ready sometime next year.
With funding from the Department of Energy, the University of California, and private industry, the MCF has been designated an official national user facility. In keeping with this designation, Earnest and Kim have organized a participating research team (PRT) which will include researchers from various UC campuses as well as private industry.
To support the PRT effort, the ALS will also be opening (early this fall) the Structural Biology Support Facilities. Located on the second floor of the Light Source, above the crystallography beamline, and in Bldg. 80, the support facilities will provide state-of-the-art biochemistry and spectroscopy resources, as well high-performance computer capabilities.
"The use of modern molecular biology and biochemistry, combined with state-of-the-art technology at the MCF, is necessary to attack the important and difficult problems presented in structural molecular biology," Earnest says.
CAPTION: Biophysicist Thomas Earnest says the new Macromolecular Crystallography Facility, beamline 5.0 at the ALS, will assist greatly in the study of biological structures, among them, all-important proteins embedded in the outer membranes of cells. Photo by Joe Moore

By Lynn Yarris
Gender bias in our schools greatly stacks the odds against girls getting an education equal to that of boys. Thus concluded a report from the American Association of University Women (AAUW) entitled "How Schools Shortchange Girls." It was also the theme of a noon workshop held in the Bldg. 50 auditorium on April 1, co-sponsored by Women in Science and Engineering, and the Work Force Diversity Office.
Statistics presented in the AAUW report show that girls start kindergarten testing higher than boys in every academic subject, yet finish high school scoring 50 to 60 points lower than boys on the SATs (Scholastic Achievement Tests).
Self-esteem drops, too. Sixty percent of elementary school girls say they are happy with themselves; only 29 percent of high school girls make the same claim.
Educational consultants Barbara Buswell and Linda Kekelis, who developed the one-hour workshop from an AAUW grant, discussed how girls are covertly taught in school to speak quietly, defer to boys, avoid math and science, and value appearance over intelligence. The result is a denial of opportunities in fields such as computer science, where boys are encouraged to excel. For example, only 15 percent of the high school students who take advanced placement exams in computer sciences are girls.
Buswell and Kekelis said that gender bias happens often even with well-meaning teachers. As an example, they showed an excerpt from the NBC news program "Dateline," in which a female teacher, knowing she was being video-taped in her fifth-grade classroom, displayed subtle signs of gender bias. Not only were boys called upon to give answers much more often than girls, but boys would be challenged to defend their answers. Answers from girls passed with little or no comment.
In the same "Dateline" segment, a girl who was the top student in her high school science class described her classroom as a "shark tank," in which she was afraid to ever be wrong. Buswell and Kekelis pointed out that the emphasis of sports for boys better prepares them for life in such "shark tanks" because they are more accustomed to risk-taking and competition.
Participating in sports also lessens the risk of girls becoming anorexic, Buswell and Kekelis said. Statistics show that 80 percent of all girls in this country will have dieted at least once by the time they are 13. Some eight million college-age women are currently diagnosed as suffering from eating disorders.
Buswell and Kekelis also had high praise for the benefits of diaries. Writing down what is going on in their lives not only helps girls in their emotional development, but also raises their self-esteem.
CAPTION: Educational consultants Barbara Buswell (above) and Linda Kekelis conducted a workshop on gender bias in our school systems on April 1 in the Bldg. 50 auditorium. Photo by Don Fike

For the past month, UC employees who are members of the Research Support Unit--including Berkeley Lab research associates--have participated in a mail-in election to determine if they will be exclusively represented by the Communications Workers of America Local 9119, UPTE. The ballots were counted on March 29 at the Public Employment Relations Board (PERB). Of the approximately 3,660 employees eligible to vote, 61 percent (2,238 voters) cast valid, non-challenged ballots. The election results were determined by a majority of the those casting valid ballots.

Of those ballots counted, 1,359 (37 percent of eligible employees) voted in favor of exclusive representation by UPTE/CWA Local 9119; 879 voted no representation. Accordingly, UPTE/CWA Local 9119 has been elected the exclusive representative for the 3,660 members of the systemwide Research Support unit.

UC/LBNL and UPTE have until Monday, April 8, to file objections to the conduct of the election and the election results. If no objections are filed, the results of this election will be certified by PERB on or about April 15. The current "laboratory" conditions for Research Associates will continue until the election results are certified by PERB. What this means for the Laboratory is that during the "laboratory" period no significant changes in policies and/or procedures that impact the terms and conditions of employees in the Unit can occur.

After the election results are certified, the UPTE/CWA Local 9119 and the University will meet to begin negotiations over mandatory subjects of bargaining, as they relate to research associates. These negotiable subjects include, but are not limited to, topics such as salary, hours of work, holidays, sick leave, vacation, health & safety, layoff and leaves of absence.

For more information, contact the Employee/Labor Relations Office at X6700.

Martha Krebs, director of DOE's Energy Research (ER) office, has announced that DOE will ask Congress for contributions to the Large Hadron Collider (LHC) project at CERN that could reach $750 million. Combined with the $80 million in LHC funds the National Science Foundation (NSF) intends to request, this represents what is believed to be the largest U.S. investment ever proposed for a foreign-based science project. It will also make the U.S. the largest user nation of the LHC, which will be the world's most powerful accelerator. Negotiations between DOE, NSF, and CERN resulted in the request, which calls for DOE to contribute $200-250 million to the LHC accelerator, and an equal amount to each of its two detectors, ATLAS and CMS. The total cost of the LHC accelerator is estimated to be about $2.3 billion; the cost of the detectors is placed at $500 million apiece. In her announcement, Krebs said the U.S. labs to be impacted the most would be Berkeley Lab, Fermilab, Brookhaven and Argonne. Berkeley Lab physicists and engineers are leading the planning and development of ATLAS, which will be used for top quark and supersymmetry studies. Major participants in the funding negotiations included Krebs, ER Deputy Director Jim Decker, NSF Physics Division Director Robert Eisenstein, and CERN Director Chris Llewellyn Smith. DOE Deputy Secretary Charles Curtis has released a draft of a "strategic laboratory missions plan" that includes the first-ever breakdown of how the department distributes program funds. Admitting that the funding information could be misused, Curtis said it was a "risk worth taking" because it will help DOE with any restructuring of the national lab system. According to the report: "The size of each laboratory depends primarily on the funding that Congress allocates to perform each of the department's missions, the character of cost-cutting efforts at each laboratory, and the decisions that each of the departments make on how best to execute its mission among the laboratories, universities, and private sector. The future size of a particular laboratory also depends on the work that other agencies or private sector organizations choose to support at that laboratory." The report contains profiles of all the national labs, including their facilities, key R&D activities, and percentage of funding devoted to each DOE mission. It also lists the "distinctive competencies" and significant partnerships and collaborations at each lab. Curtis called the report a "work-in-progress" and said DOE will issue a final version in June. Your news is important to us. If you or your group has news about recent awards, appointments, accomplishments, articles in print and other items of interest to our readers, please send to Mary Bodvarsson via QuickMail, e-mail (mgbodvarsson@lbl.gov), or fax (X6641).

The full text of each edition of Currents is published on the Lab's home page on the World Wide Web. View it at http://www/lbl.gov/ under "Research News and Publications." To set up your computer to access the World Wide Web, call the Mac and PC Support Group at X6858.


The Berkeley Lab Calendar is published biweekly here on the World Wide Web and in Currents by the Public Information Department. Employees can list a meeting, class, or event in the Calendar by using this submission form. The deadline for submissions is 5 p.m. on Monday in the week that Currents is published.

In addition to the events listed below, Berkeley Lab's Washington, D.C. Projects office is hosting a Science and Technology Seminars series.

Scientific Conferences

PHYSICS DEPARTMENT COLLOQUIUM
"The Shape and Color of Atoms at Surfaces" will be presented by Miguel Salmeron of LBNL at 4:30 p.m. in 1 Le Conte Hall.
EH&S CLASS
First Aid (EHS 116), 8 a.m.-noon, Bldg. 48-109
EARTH MONTH LECTURE
"Environmentally Responsible and Non-toxic Building Products" will be the subject of a talk by Greg Van Mechelen, of Architects/Designers/Planners for Social Responsibility, at noon in the Bldg. 50 auditorium.
BUILDING ENERGY SEMINAR
"The Industrial Assessment Center at SFSU: A DOE Sponsored Project" will be presented by Ahmad R. Ganji from SFSU at noon in Bldg. 90-3148.
LIFE SCIENCES DIVISION SEMINAR
"Molecular Mechanisms for a FGF-1-Induced Epithelial-Mesenchymal Transition in a Carcinoma Cell Line" will be presented by Pierre Savagner of NIH at 4 p.m. in Bldg. 66-316.
PHYSICS DIVISION RESEARCH PROGRESS MEETING
"Is There Evidence for Superpartners & Other New Physics from CDF & Other Data?" will be presented by Gordon Kane of the University of Michigan at 4 p.m. in Bldg. 50A-5132; refreshments, 3:40 p.m.
EH&S CLASS
Lockout/Tagout Training (EHS 256), 9:30-11:30 a.m., Bldg. 51-201
BODYWORKS
Special meeting at noon in Bldg. 90-4133.
TOASTMASTERS'
Officer's Meeting at 12:10 p.m. in Bldg. 2-100
PHYSICS DEPARTMENT SEMINAR
"Vacuum Arc Metal Plasma: Production, Properties and Applications" will be presented by Ian Brown of LBNL at 1 p.m. in 240 Bechtel.
SPECIAL SURFACE SCIENCE AND CATALYSIS SEMINAR
David King of the University of Cambridge, England, will speak at 1:30 p.m. in Bldg. 66-316, title to be announced.
EH&S CLASSES
Introduction to EH&S Safety (EHS 010), 9:30-11:30 a.m., Bldg. 51-201
Fire Extinguisher Use (EHS 530), 10-11:30 a.m., Bldg. 48-109
EARTH MONTH ACTIVITY
The Laboratory is sponsoring a tour of the Richmond Sanitary Service recycling facility, 11:45 a.m. - 1:15 p.m. Sign up with Shelley Worsham, X6123.
AFRICAN AMERICAN EMPLOYEES ASSOCIATION
General meeting at noon in Bldg. 90-1099.
BUILDING ENERGY SEMINAR
"Environmental Accounting" will be presented by Betsy Cantwell of LLNL at noon in Bldg. 90-3148.
SURFACE SCIENCE AND CATALYSIS SEMINAR
"Synthesis of Highly Organic Polymeric Materials via a Monomer Self-Assembly Approach" will be presented by Douglas Gin of UCB at 1:30 p.m. in the Bldg. 66 Auditorium.
DEPARTMENT OF ASTRONOMY COLLOQUIUM
"Going Out With a Bang" will be presented by Schuyler VanDyk of UCB at 4 p.m. in 1 Le Conte Hall; refreshments, 3:30 p.m. at 661 Campbell Hall.
EARTH MONTH ACTIVITY
Hal Wollenberg and Preston Holland of the Earth Sciences Division will lead a geology tour of the Laboratory from noon to 1 p.m.. Meet in the Bldg. 65 parking lot.
EH&S CLASSES
Radiation Protection-Fundamentals (EHS 400), 9 a.m.-noon, Bldg. 48-109
Radiation Protection-Lab Safety (EHS 432), 2-4:30 p.m., Bldg. 48-109
DEPARTMENT OF MATERIALS SCIENCE AND MINERAL ENGINEERING AND DEPARTMENT OF NUCLEAR ENGINEERING JOINT COLLOQUIUM
"The Plutonium Legacy: the Problems and Solutions" will be presented by Bruce Matthews of LANL at 3:30 p.m. in 3105 Etcheverry; refreshments, 3:15 p.m.
PHYSICS DEPARTMENT COLLOQUIUM
"Using Atoms to Probe the Particle Physical Physics Frontier: Precise Measurements of Parity Violation and Tests of Time Reversal Symmetry" will be presented by Norval Fortson of the University of Washington at 4:30 p.m. in 1 Le Conte Hall.
EARTH MONTH ACTIVITY
The Laboratory is sponsoring a tour of the Sutta Company recycling facility, 11:45 a.m. - 1:15 p.m. Sign up with Shelley Worsham, X6123.
EH&S CLASS
Laser Safety (EHS 280), 1-3:30 p.m., Bldg. 51-201
EARTH MONTH ACTIVITY
The Recycled Products Fair will be held from 11:30 a.m. to 1:30 p.m. on the cafeteria lawn.
ENERGY AND RESOURCES GROUP Colloquium
"Population, Immigration, and the Environment: Environmental Justice Across Borders" will be presented by Cathi Tactaquin of the National Network for Immigrant and Refugee Rights, Santos Gomez of the Pacific Institute for Studies in Development, Environment and Security, and Hannah Creighton of Urban Habitat at 3:30 p.m. in 160 Kroeber Hall.
EARTH MONTH ACTIVITY
A litter pickup will be held from noon to 1 p.m.; meet in front of the cafeteria
CEB FORUM
"Novel Expression Systems for In-Situ Bioremediation" will be presented by Abdul Martin of Stanford University at noon in 338 Koshland.
DEPARTMENT OF ASTRONOMY COLLOQUIUM
"The Star Formation History of Dwarf Galaxies in the Local Group" will be presented by Tammy Smecker of UCI at 4 p.m. in 1 Le Conte Hall; refreshments, 3:30 p.m. at 661 Campbell Hall.
BUILDING ENERGY SEMINAR
"Retrofitting Duct Systems: Results from a 25-House Field Study in Sacramento" will be presented by Iain Walker of LBNL at noon in Bldg. 90-3148.
SURFACE SCIENCE AND CATALYSIS SEMINAR
"Strain Accommodation in Metal Epitaxy" will be presented by Robert Hwang of Sandia National Laboratories at 1:30 p.m. in Bldg. 62-203.
JOINT PHYSICS/NUCLEAR SCIENCE RESEARCH PROGRESS MEETING
"Accelerator-Driven Transmutation Technology for Destruction of Nuclear Waste" will be presented by Charles Bowman of LANL at 4 p.m. in the Bldg. 50 Auditorium; refreshments, 3:40 p.m.
OPEN CALENDAR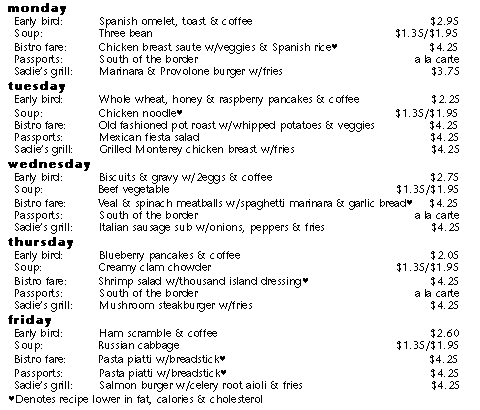 In response to the IRS code regarding tax-deferred retirement plans, this month UC Benefits is sending a statement of Maximum Annual Contribution to employees who contributed to the 403(b) plan in 1995. This statement is the maximum annual amount that each employee may contribute to the tax-deferred 403(b) plan. The Lab's payroll system will automatically stop contributions to the plan if the employee's maximum is reached during the current tax year.

Employees hired before Jan. 31, 1996, may obtain their maximum annual contribution by calling UC Benefits' automated telephone service, "At Your Service" (1-800-888-8267 and press 1). Please note: This information will be available after April 10. In addition, At Your Service will provide a personalized description of the applicable IRS limits and the data elements used in their individual calculation. Employees who want to begin participating in the 403(b) plan should find out about the maximum amount they can contribute annually before completing a Salary Reduction Agreement.

Employees hired (or rehired) on or after Feb. 1, 1996, must request a calculation and obtain a signature from the Laboratory's Benefits Office before completing a Salary Reduction Agreement to begin participation in the 403(b) plan.

An appeals process exists for participants who believe that incorrect data elements were used in their calculation. For information about the process, contact the Benefits Office at X6403.

Attention all fitness enthusiasts! Deborah Durgo, owner of Designer Fitness in Walnut Creek, will share her tips on shaping up at the next BodyWorks meeting, scheduled for noon to 1 p.m. on Wednesday, April 10, in Bldg. 90-4133. All employees are invited to attend. A sign-up sheet will be available for all employees interested in having Durgo at the Lab for future workouts.

A memorial service will be held for Charles Tobias at 10 a.m. on Sunday, April 14, in the Great Hall of the Faculty Club at UC Berkeley. Tobias, a long-time senior staff scientist in the Materials Sciences Division and professor emeritus of chemical engineering at UC Berkeley, died on March 6 after a long illness (see Currents, March 15).

Flea Market ads may be sent via e-mail to fleamarket@lbl.gov, Fax to X6641, or Lab mail to Bldg. 65B. The deadline is 5 p.m. Friday.

'80 MAZDA GLC, white, 130K mi., $700. Kate, 704-8236

'82 AUDI Coupe, 5-spd, a/c, AM/FM cass., many new parts, runs well, $750/b.o. Howard, X5867, (408) 268-8513

'85 NISSAN Sentra, silver, 2-dr, 5-spd, 140K mi., looks very good, runs great, needs new clutch, $1500. 524-3751

'86 VW GTI, sunrf, leather, sports pkg., new muffler, battery, smog & tires, $3800. 528-3575

'90 GEO Metro, 2-dr hatchbk, blue, AM/FM, 75K mi., $2200. Bruno, X7311, 658-6830

'91 CHEVROLET Cavalier RS sedan, 4-dr, gray, a/c, AM/FM, 71K mi., $4700. Bruno, X7311, 658-6830

'92 CHEVY Corsica, p/s, p/b, a/c, royal blue, $7700/b.o. John, X4631, Ronnie, 709-0220

'95 HONDA Civic/HB/DX, a/t, dark blue, 16K mi., AM/FM cass., alarm, amenities, immac. cond., $11,800. 845-7217

WHEELS & TIRES, 14" Al mag wheels w/BFG 234/50 tires, exc. cond., $425/four. Stephen, 527-8210

VANPOOL, riders wanted from Rohnert Park - stopping at Petaluma & Novato - ending at Berkeley BART, Commuter Checks accepted. Shirley, X4521 HOUSE SITTER for 5 wks in early part of summer (June/July), 1-bdrm w/pvt. yd, No. Oakland, 10 min. walk from BART/shuttle, free rent in exchange for cat-sitting (2 cats). Anna, 652-8974

MEMBERS for Gliding Club, we have 4 instructors, 4 sailplanes & 1 tow plane, we fly locally from the Byron Airport & in the summer from Truckee. Mike, 254-0609

BIKE, 24" Specialized Rock Hopper, 5-spd, like new, purchased $350, selling for $150; wooden doll house, ready for decoration, $50. 527-7654, (eve./msg.)

CD ROM DRIVE, 7 disks changer, brand new, NEC-Multispin 4XC, Quad-speed, SCSI-II, external, will sell for $300. Masato, X4131, 631-9518

DINING SET, Victorian, very lg. turned-leg table & buffet, chairs & leaves, seats 6 - 12, $950; wall map, 1907 US/DOI map, 5 ft. X 6 ft., $200; table saw, 8.25" Makita tabletop, unused, $200; freezer, 5.5 cu. ft., mini-chest style, $85. Karl, X6129

DISHWASHER, full sz., portable Kitchen Aid, solid wood chopping block, incl. faucet attachment, 3 yr. old, $500; MTB, full Deore XT/XTR, $650; MTB, commuter special, $200; Windsurfer, 11.5' w/2 sails & hardware, $650. Rick, X7341

FUTON, queen sz. bed, $100; futon, queen sz. couch, $100. Ben, X6683

GOLF CLUBS, set of "Sting", used twice, irons are 2 thru sand wedge, 3 metal woods, swing weight D-1, stiff shafts, standard grips, cost $650 new, sell for $450 firm. Kathy, 837-7062 (eve.)

LIFT TICKET VOUCHERS, Squaw Valley, reg. $45, $39; men's blk ski boots, Nordica, sz. 11, $100; ladies ski jumpsuit, white w/colors, sz. 10, $50; NSA water filters, sink models 50C & 100S. Marek, X5029, 582-5867

MACINTOSH QUADRA 650 CD, 16 MB RAM, 1 MB VRAM, 500 MB hard drive, 68040 processor w/built-in FPU, Ethernet, 24 bit graphics accelerator (gives 2-monitor capability), software, CPU only, $1400/b.o. X5124

MOVING SALE, futon, black steel frame, table, 2 chairs, halogen lamp, all like new, $250. Bruno, X7311, 658-6830

MOVING SALE, mountain bike, $100; couch, $40; desk, $20; full sz. mattress w/box spring & frame, $50; sm. dressers, $5 ea. 597-0664

PING-PONG TABLE, Porter tournament, folds up, very gd cond., $100. Peter, X7337, 531-7837

LABEL PRINTER, Seiko Instruments, stand alone, MAC/PC labels & accessories, all for $70; 3M portable overhead projector w/extra lamp, sacrifice $360. Yvonne, X5792

RECEIVERS, stereo surround, Denon-AVR 1000, $275; Sony GX808ES, $300; Onkyo-TX-SV727, new, $450; CD player, Technics, 5-disc changer, $100. Mark, X6825

SPEAKERS, BSR 3-way 10" woofer, exc. cond., 13x23", $75/pr. Debbey, X6430, 527-8210

RECLINER, brown vinyl, gd cond., $50. Dave, X6817, 548-4549

VIRTUAL OFC. CARD, long distance savings, conf. call, faxing, voice mail, pages & more, $10 + $10/mo. Mike, X6182, (707) 645-7482

VOLLEYBALL, Spalding, new, $9/b.o. Edas, X7780

ALBANY, between Solano & Marin Ave., 2+ bdrm, ground floor of duplex, wall-to-wall carpet, frpl, lg. sunny kitchen, back & front yd, off-st. parking, $1050/mo., $1500 sec. dep., mo.-to-mo. or long-term lease. 524-3887

BERKELEY, 1-bdrm apt to sublet 4/25 - 6/6, nr LBNL & UCB on Oxford X Cedar, $800, can prorate if needed. Kate, 704-8236

SO. BERKELEY, 3-bdrm, 1-bth house, 2 levels + basement, skylights, lg. backyd/garden, redwood sun-deck, hardwd flrs, frpl, avail. on mo./mo. basis, $1200/mo. (213) 254-8797

CASTRO VALLEY, 2 bdrms avail. in home, 1 w/pvt. bth, laundry & kitchen privs., short/long term, rent & dep. negot. Marek, X5029, 582-5867

CROCKETT, 3-bdrm, 2-bth house, secluded w/trees, spacious living rm, lg. wrap-around deck w/Carquinez Strait view, 15 mi. to LBNL, 5 min. to I-80, $1050/mo. Frank, 540-0838

EL CERRITO, Waldo St., 1-bdrm town house, garage, backyd, nr shops & trans., 1 yr. lease, $650/mo., $1K dep. 235-3983

EMERYVILLE, sublet from mid-June to mid-Aug., 2-bdrm apt, swimming pool, spa, garage, free shuttle to BART, exc. loc., $700/mo. incl. utils. Tony, X5210

OAKLAND, No. Lake Merritt, avail. 5/1, 1-bdrm $575/mo., 2-bdrm $825/mo. + elec. Jin, X7531

RICHMOND, well-maintained, partially furn. 3-bdrm (1 lg.), 2-bth, house, remodeled kitchen, nr E.C. Del Norte BART & I-80 between San Pablo & Arlington, nr shopping ctr., washer/dryer, 1-car garage, backyd w/deck, non-smokers, no pets, $980/mo. + dep. Rose, X7554, 233-8620 (msg./eve.)

WANTED: visiting French scientist w/family of 3 children looking for a house to rent in the Bay area starting 6/20 until end of Aug., animals welcome, could exchange 4-bdrm, 2-bth apt & car (Volvo 740) in cent. Paris. 33 1 43389440 (msg.), hagege@glvt-cnrs.fr

WANTED: 2-3 bdrm house/apt to sublet for Illinois professor attending family wedding in Berkeley, 5/17-28. Tenny, 643-5340

WANTED: 2-bdrm, 1-bth house/duplex by 6/1 for family of 3 (me, wife & 3 yr. old), prefer No. Berkeley & Albany areas, non-smokers, no pets, up to $1K/mo. X7916

WANTED: furn./unfurn., 1 or 2-bdrm apt, condo or town house, prefer No. Berkeley, Albany or Berkeley, other areas nr LBNL considered, beginning 1st or 2nd week of May. (202) 333-4173

PINOLE/TARA HILLS, 3-bdrm, 2-bth home, lg. lot w/RV prkg, $147K. You find buyer & $1K is yours. X5676, 799-9541 FOUND: pendant in Bldg. 90 basement (vending machines), Fri., 3/29. X7618 (identify & claim) COUCH, black vinyl, repairable, u-haul. John, X4631 DON'T FORGET to set your clocks ahead one hour at 2 a.m. on Sunday, April 7 (or the night before)

Currents/The View and the Communications Department Staff
Published once a month by the Communications Department for the employees and retirees of Berkeley Lab.

Reid Edwards, Public Affairs Department head
Ron Kolb, Communications Department head

EDITOR
Pamela Patterson, 486-4045, pjpatterson@lbl.gov
Associate editor
Lyn Hunter, 486-4698, lhunter@lbl.gov

STAFF WRITERS
Dan Krotz, 486-4019
Paul Preuss, 486-6249
Lynn Yarris, 486-5375

CONTRIBUTING WRITERS
Ucilia Wang, 495-2402
Allan Chen, 486-4210
David Gilbert, (925) 296-5643

DESIGN
Caitlin Youngquist, 486-4020
Creative Services Office

Berkeley Lab
Communications Department
MS 65, One Cyclotron Road, Berkeley CA 94720
(510) 486-5771
Fax: (510) 486-6641

Berkeley Lab is managed by the University of California for the U.S. Department of Energy.

Flea Market is now online at www.lbl.gov/fleamarket