Molecular Foundry Workshop Puts Nanoscale Science in the Spotlight

Lab Testifies in State Hearing on Diversity
Currents on the Move
Friends of Science Gets off to a Good Start
Rubin to Temporarily Head JGI, Genomics
Campisi Wins Aging Research Award
Somorjai Named University Professor
Calendar
Berkeley Lab Currents
Bulletin Board
MoveSMART Schedule Update
Flea Market
Flea Market Policy
---
Molecular Foundry Workshop Puts
Nanoscale Science in the Spotlight
By Lynn Yarris
Why aren't you starting sooner?" was the single most asked question at the Molecular Foundry workshop held at Berkeley Lab last Thursday and Friday, April 5 – 6, according to Paul Ali-visatos, one of the workshop's organizers and the man named to direct the Molecular Foun-dry, scheduled to open in early 2006.
More than 350 people attended the workshop which was organized to explore the future of nanoscience and the role of Berkeley Lab's Molecular Foundry, one of three Nano-scale Science Research Centers (NSRCs) now being established by the Department of Energy (DOE).
"Success in the development of nanotechnology will require that investigators have access to a breadth of facilities," said Alivisatos. "The Molecular Foundry will meet these needs. State-of-the-art, multidisciplinary, staffed by professionals available for assistance and collaboration, it will be a user facility open to researchers from university, industry, and government laboratories."
MSD and ALS director Daniel Chemla told attendees of the Molecular Foundry workshop that one of the major challenges facing nanoscale research is making the leap from individual units to functional systems. Photo by Roy Kaltschmidt
Lab Director Charles Shank opened the workshop with a brief welcoming address, then gave way to Patricia Dehmer, associate director of science for DOE's Office of Basic Energy Sciences, which is funding the Molecular Foundry and the other NSRCs.
"Your role here at this workshop is not just to listen but to be participants," she told the registrants who filled the auditoriums in both Building 50 and Building 66. "Your opportunity for expressing your views on how this new center's facilities can be designed and operated is truly unique."
DOE has made nanoscale research a top priority, and Deh-mer used a broad definition to encompass that research. For example, she said, "I like to think of biotechnology as organic nanotechnology."
DOE is now third in terms of federal funding received for nanoscience, trailing both the National Science Foundation and the Department of Defense — but Dehmer said she expects DOE to be number one within a few years.
Dehmer's remarks were followed by a presentation on the challenges and opportunities in nanoscience given by Daniel Chemla, who directs both the Materials Sciences Division, which oversees the Molecular Foundry, and the Advanced Light Source, which will be a major scientific asset for nanoscience research. It was Chemla who first proposed the concept of the Molecular Foundry in 1991.
"The idea for the Foundry is to give everybody in the nanoresearch community the tools to make new molecules and nanosized objects," he said. "Nanoscience requires a truly multidisciplinary approach. We must assemble and support high quality interdisciplinary teams, and we have to educate and train the first generation of nanoscientists."
Chemla went on to describe nano-sized building blocks, top-down and bottom-up approaches to fabrication, and the need to design and construct multicomponent devices and machines that operate at the molecular level.
"Nano-objects provide new opportunities for control of quantum states and coherence, as well as integration and interconnectivity on an unprecedented scale," he said.
For these objects, the new research cycle will flow through a pattern, he said, of "design, synthesis, measurement, and analysis."
Alivisatos followed Chemla's remarks with a presentation on the current plans for Berkeley Lab's Molecular Foundry. The Foundry will be housed in a six-level building to be constructed between the National Center for Electron Microscopy (NCEM) and Building 66. Organizationally, the Foundry will consist of six core facilities: Inorganic Nanomaterials; Organic, Polymer and Biopolymer Synthesis; Theory; Nanofabrication; Biological Nanostructures; and Imaging and Manipulation. Each of these facilities will be headed by a senior Berkeley Lab scientist and supported by staff scientists, technicians, postdoctoral associates, students, and administrative personnel.
"There's been a revolution in our thinking about how to make materials," Alivisatos said. "We are now applying Eli Whitney's concept of interchangeable parts to materials creation."
Under current plans, the Molecular Foundry will host both short– and long-term visitors, as well as collaborators. Core staff will also maintain active research programs of their own to ensure they remain at the forefronts of their fields.
"The Molecular Foundry will be a comprehensive user facility that draws its inspiration from the microlabs," Alivisatos said. "We will enable our users to design, synthesize, and characterize state-of-the-art materials, and provide them with rapid access to the latest developments in materials creation."
Attendees of the workshop also heard detailed discussions of critical areas of nanoscience and technology by such experts as Fraser Stoddard of UCLA, whose demonstration of the first molecular-sized RAM device won the 2001 "Breakthrough of the Year" award from Science magazine. Attendees also received updates on the DOE nanoscience centers at Oak Ridge and Los Alamos-Sandia national laboratories.

Lab Testifies in State Hearing on Diversity
The California State Senate's newly organized Select Committee on Oversight for the UC-managed DOE laboratories held its first hearing on March 26 in Santa Fe, New Mexico. The committee chairman, Senator Richard Polanco (D-Los Angeles), called the hearing to discuss hiring practices and diversity issues at the three UC labs.
Testifying for Berkeley Lab was Reid Edwards, public affairs manager for the Laboratory. Edwards talked about the growing diversity of the Lab's workforce, noting management's commitment to this effort through its divisional diversity plans. He also pointed to programs of the Lab's Center for Science and Engineering Education to increase the diversity of future generations of scientists and engineers.
The hearing focused mostly on concerns of the Hispanic community of New Mexico regarding employment and diversity issues at Los Alamos National Laboratory. Berkeley Lab, however, was recognized by State Senator Richard Alarcon (D-Sylmar) for its comparatively diverse workforce, and was encouraged to continue this progress.

Currents on the Move
As a result of our move last week, the Communication Department is publishing a shortened edition of Currents this time, in keeping with a shortened production schedule. For the next few weeks our temporary headquarters will be in Building 7, Room 220. We expect to be settled in our new home in Building 65 by early summer. Thank you for your understanding during this transition period.

Friends of Science Gets off to a Good Start
By Lynn Yarris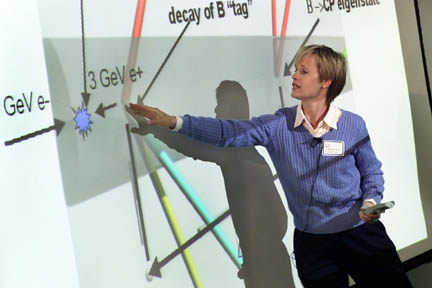 Natalie Roe of the Physics Division told Friends of Science members how the B factory and its detector system enable researchers to track the decay of B mesons in search of matter/antimatter asymmetry.
Friends of Science, Berkeley Lab's latest bid to promote public understanding of the science we do here, got off to a promising start when more than 30 people came to Perseverance Hall on the evening of April 8 to hear a lecture by physicists Pier Oddone and Natalie Roe entitled "What's the Matter with Antimatter? The Leftover Universe."
"I enjoyed the lecture very much," said Genevieve Dreyfus of Berkeley. "Once I understood what the philosophy or impetus for the research was, I learned a lot. Now I want to know more about the universe."
Said Lois Rice, an environmental planner who drove all the way from Gilroy to attend, "I thoroughly enjoyed the Friends of Science lecture. It was a pleasure to listen to such a technical subject presented so well in layman's terms. It gave me a sense of the landscape in the subatomic particle picture, and I will eagerly attend future lectures in the series."
The inaugural Friends of Science opened with a reception at 5:30 p.m., followed by a warm welcome by Berkeley Lab Director Charles Shank. Attendees were then presented with an introduction to the mystery of why nature favored matter over antimatter in the aftermath of the Big Bang and what the B factory — the asymmetric collider of electrons and positrons, built at SLAC by a collaboration that included Berkeley Lab — can contribute towards solving this mystery.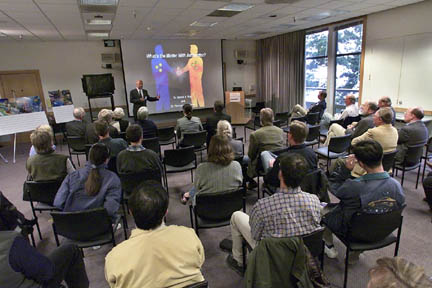 Deputy Director Pier Oddone, who conceived the idea for the B factory, where the asymmetry between matter and antimatter is studied, discussed experimental results and explained what they tell us about our Universe. Photo by Roy Kaltschmidt
Oddone, the Laboratory's deputy director for science, came up with the original concept for an asymmetric B factory; and Roe, of the Physics Division, was one of the leaders in the development of the Silicon Vertex Detector (SVX), which is nestled in the heart of the giant (1,200-ton) BaBar particle detector system for tracking and identifying CP violation in the decay of B mesons. CP violation is one indicator of an imbalance between matter and antimatter.
The idea behind Berkeley Lab's Friends of Science program is to increase the public's knowledge of science and technology through a greater understanding of Berkeley Lab programs and their impact. From better understanding should come better informed discussions and debates of science and technology issues in community forums. Friends of Science also hopes to foster familiarity with and better appreciation for Berkeley Lab's scientific and technological advances and the people who make these achievements possible.
The Friends of Science program is being maintained by the Lab's Office for Public Affairs, which is managed by Reid Edwards. It was formally proposed by Terry Powell, who heads the Lab's Community Relations Department, and Rollie Otto, director of the Center for Science and Engineering Education.
The next Friends of Science event is scheduled for May 6 and will include a lecture by Michael Siminovitch of the Environmental Energy Technologies Division on the energy-efficient Berkeley Lamp.

Rubin to Temporarily Head JGI, Genomics
Director Charles Shank has announced that Eddy Rubin, currently acting division director for Life Sciences, will become interim director of the Joint Genome Institute (JGI) as well as acting division director of the Laboratory's Genomics Division.
Trevor Hawkins, who headed the JGI and Genomics until now, has been given the title of consulting director as he reduces his JGI affiliation prior to joining Amersham as that company's senior vice president for genomics.
Rubin is an internationally respected scientist in the fields of genetics and genomics. He holds a B.A. in physics from UC San Diego, an M.D. from the University of Rochester Medical Center, and a Ph.D. in Biophysics, also from Rochester.
"I want to thank Eddy for his willingness to provide transitional leadership as the search for a new director proceeds," Shank said. "Once again, I also want to acknowledge Trevor's continuing assistance during this critical period."
Berkeley Lab is beginning a nationwide search for permanent JGI leadership in partnership with the other founding national labs of the JGI (Livermore and Los Alamos) and the DOE Office of Biological and Environmental Research.

Campisi Wins Aging Research Award
On April 11, Judith Campisi of the Lab's Life Sciences Division received the 2002 Irving Wright Award of Distinction from the American Federation for Aging Research (AFAR) at the federation's annual meeting in New York City. Named for AFAR's founder, cardiologist Irving S. Wright, the award honors individuals who have made exceptional contributions to basic or clinical research in the field of aging.
Among her many honors, Campisi, internationally recognized for her research on the cellular and molecular basis of aging, has also received the NIH Merit Award from the National Institute on Aging and the Allied Signal Award for Research on Aging. She is a professor at the Buck Institute and head of the Divisional Center of UC's Center for Research and Education in Aging.
Mary Tinetti, professor of medicine at Yale University, also received the Wright Award at AFAR's annual meeting.
This is the first time the prestigious award has recognized outstanding women scientists.

Somorjai Named University Professor
Gabor Somorjai of the Lab's Materials Sciences Division and a professor of chemistry at UC Berkeley was awarded the prestigious title of University Professor — only the 23rd individual in the UC system to be honored with this title by the UC Regents. Somorjai is regarded as the father of modern surface chemistry.
As UC's newest University Professor, he will travel to other campuses within the UC system to share his talents and expertise.
"The title University Professor is reserved for scholars of international distinction who are recognized and respected teachers with exceptional ability," said UC President Richard Atkinson in announcing the appointment.
Born in Hungary in 1935, Somorjai immigrated to the United States and earned his Ph.D. in chemistry from UC Berkeley in 1960.
Somorjai has spent almost 40 years studying the chemistry of surfaces and developed techniques and instrumentation to study reactions at the molecular level on single crystal surface.
"We found that rough surfaces do a lot of chemistry and that chemical reactions take place at surface defects, the atomic steps and kinks of a surface," he said.
Some of his current research projects include studies of friction. "We are still learning how ice is slippery and how concrete is not," he said.
Somorjai is the author of more than 850 scientific papers and three textbooks. In 1998, he received the Wolf Prize in Chemistry. He was elected to the National Academy of Sciences and the American Academy of Arts and Sciences.

Calendar
APRIL 22, MONDAY
NEW RESULTS FROM SNO WITH KEVIN LESKO
2:00 p.m., Bldg. 50 auditorium
APRIL 24
,

WEDNESDAY

DELL NOTEBOOKS & PERIPHERALS
11 a.m. – 2:00 p.m., Perseverance Hall
APRIL 25, THURSDAY
DAUGHTERS AND SONS TO WORK DAY
9 a.m. – 4 p.m.
SHOEMOBILE
7:30 a.m. – 3:30 p.m., cafeteria parking lot
MAY 2, THURSDAY
STUDENTS INTERN PRESENTATION (ERULF PROGRAM)
9:30 a.m. – 11:30 p.m., Bldg. 2, Room 200
MAY 3, FRIDAY
NEW EMPLOYEE ORIENTATION & SAFETY TRAINING
8:00 a.m., Bldg. 50 auditorium
STUDENT INTERN PRESENTATION (ERULF PROGRAM)
9:30 a.m. – 11:30 p.m., Bldg. 2, Room 200
Send us your announcements
Announcements for the General Calendar and Bulletin Board page may be sent to MSFriedlander@lbl.gov. Seminar & Lectures items may be mailed to currents_ calendar@lbl.gov. You may also fax items to X6641 or mail them to Bldg. 65B. The deadline for the May 3 issue is 5 p.m. Monday, April 29.
Seminars & Lectures
APRIL 22, MONDAY
DEPARTMENT OF PHYSICS COLLOQUIUM
String Theory, Quantum Gravity and the Real World
Petr Horava, UC Berkeley, 4:30 p.m., 1 Le Conte Hall
INFORMATION TECHNOLOGIES SEMINAR
The Anatomy of a Windows Hack
Jesper Johannson, Microsoft Corp., Noon, Bldg. 50 auditorium
APRIL 25, THURSDAY
GLENN T. SEABORG CENTER SEMINAR
Relativistic Chemistry and its Applications to Actinides
Zhiyong Zhang, Computing Sciences, 5 p.m., Bldg. 70A-3377
PHYSICS DIVISION RESEARCH PROGRESS MEETING
Rare B Decays at BaBar
Anders Borgland, Physics Division, 4 p.m., Bldg. 50 auditorium
MAY 1, WEDNESDAY
NUCLEAR SCIENCE DIVISION COLLOQUIA
Neutrino Physics
Hitoshi Murayama, UC Berkeley, 11 a.m., Bldg. 50 auditorium

Berkeley Lab Currents
Published by the Communications Department for the employees and retirees of Ernest Orlando Lawrence Berkeley National Laboratory. Ron Kolb, department head. One Cyclotron Rd., Berkeley CA 94720, Tel: 510/486-5771, Fax: 510/486-6641
EDITOR: Monica Friedlander, (510) 495-2248, msfriedlander@lbl.gov
STAFF WRITERS: Lisa Gonzales, Paul Preuss, Lynn Yarris
FLEA MARKET/CALENDAR: 486-4698 fleamarket@lbl.gov /currents_calendar@lbl.gov
Berkeley Lab is managed by the University of California for the U.S. Department of Energy.

Bulletin Board
Dell Computer Demos & Talks
Dell representatives will offer short presentations and displays on Dell notebook computers, portable projectors and related peripherals on Wednesday, April 24 from 11 a.m. to 2 p.m. in Perseverance Hall. Entitled "Dell Notebooks: Projecting the Future," the event is sponsored by the Lab's Computing Infrastructure Support (CIS) Department.
On display will be the company's new Latitude C400 — a 3.6-pound unit with a 12.1" screen — two other notebook models, two NEC projectors, a new projector from Panasonic, Dalite screens, Bose speakers, and SmartBoard, an interactive whiteboard.
CIS staff members will show visitors how to order computers using the Lab's Basic Ordering Agreement.
The program will start at 11 a.m. with an hour of demonstrations. At noon, Brian Santrock of Dell will talk about where the company's notebook technology is heading and will discuss the firm's under-three-pound notebook, set to debut in May.
Dell representatives will be available for discussion and demonstration of their products from 1 to 2 p.m.
All employees are invited. Refreshments will be served.
Spring Blood Drive
The American Red Cross Blood Services and Berkeley Lab are once again asking employees to take a few moments out of their busy schedules to help replenish the blood banks to meet the needs of sick and injured patients in the community. The next opportunity to help is the onsite Spring Blood Drive being held on May 15 (8 a.m. to 1 p.m.) and May 16 (8 a.m. to 2 p.m.) in Building 70A-3377. Donors are encouraged to schedule appointments on the BeADonor website (http://www.beadonor.com/) using company/group code "LBL."
To donate blood, donors must be in good health, at least 17 years of age, and weigh at least 110 pounds. Please note that some of the eligibility criteria have changed recently, especially regarding travel in Europe. For more information see the BeADonor website, which also includes moving stories of some of the people whose lives were touched by the generosity of donors like you.
For additional information contact Charlotte Bochra at X4268.
Cal Day Tomorrow
On Saturday, April 20, UC Berkeley will host its biggest public event of the year, featuring faculty lectures, campus tours, athletic events, exhibits, demonstrations, and a variety of music, drama and dance performances. The campus museums will be free of charge for the day.
To make planning easier for visitors, the day's program is available online at http://www.berkeley.edu/calday.
Cal Day runs from 9 a.m. to 4 p.m. For more information, call 642-2294.
ERULF Intern Presentations
On Thursday, May 2, and Friday, May 3, students enrolled in the DOE Energy Research Undergraduate Laboratory Fellowship (ERULF) will present their spring semester work in 20-minute talks, scheduled from 9:30 to 11:30 a.m. in Building 2, Room 100.
The undergraduate students have been working at the Lab since mid-January and will complete their semesters here on May 10.

MoveSMART Schedule Update
MoveSMART classes, offered by the EH&S Division, will be held at the following times in Building 51, Room 201.
EHS 62
April 22: 8:30 - 11:30 a.m.
1:00 - 4:00 p.m

April 23: 8:30 - 11:30 a.m.

April 24: 8:30 - 11:30 a.m.
EHS 66 (refresher course)
April 23: 1:00 – 2:00 p.m.
2:00 – 3:00 p.m.
April 24: 1:00 – 2:00 p.m.
2:00 – 3:00 p.m.
MoveSMART trains employees who lift and carry heavy items on strategies to help prevent work-related injuries.

Flea Market
AUTOS / SUPPLIES
'01 INTEGRA GSR, 654 mi, 3+ yrs wrty, VTEC eng, perf cond, gleaming blk on blk leather, all opts, I can't drive it, below KBB, $19,600/bo, Jody, X7004, 528-5324
'01 TOYOTA, RAV4, all-wheel drive base, white ext/oak int, at, ac, alumin wheels, cd, pwr win, roof rack, exc cond, 17K mi, $20,000, Alexey, X4930
'98 HONDA ACCORD Coupe EX, blk on blk, ac, sunrf, upgraded cd/stereo/ speakers, recently serviced, new tires, very clean, 55K mi, $14,000/bo, Susan, X5429, 964-0007
'98 DODGE TRUCK, ext cab, blk/blk, runs/looks great, cd, 28K mi, salvage title, bargain, $11,000, Shelley, X6123
'95 INFINITI Q45T Rare Metallic Claret, 94K mi, loaded, exc cond, V8 4.5 Liter, 1 owner, 10 cs Bose 200 watt Premium Sound, sunrf, prem alloy wheels, 4 wheel abs, taupe leather int, dual pwr seats, remote keys, $16,000, Sreela, X4391, (415) 929-1009
'95 FORD T-BIRD LX, 2 dr, 4.6 L V8, loaded, white w/ gray cloth seats, exc cond, < 40K mi, $8,900, Wright, X4165, (925) 777-1742
'92 FORD TAURUS, all pwr, cd, 96K mi, clean, good cond, $3,500/bo, Dan or Judy, 245-9038
'91 TOYOTA 4 RUNNER 4x4, 6 cyl, at, ac, pwr steer/win/locks, tinted glass, moonrf, alloy wheels, good cond, 75K mi on eng, $6,300/bo, Rick, X4258, (925) 360-3617
'91 MERCEDES 190E, blk, sunrf, tan int, cd changer, 4 dr, 124K mi, great shape, $10,000/bo, Shelley, X6123, Holly, (925) 945-0524
'87 HONDA CIVIC DX 2-dr hatch, good cond, at, am/fm, maroon, 1 owner, $2,000, Tennessee, 865-2553
'81 DATSUN 280ZX, exc body cond (orig blue/gray paint), runs ok, $2,000/bo, Pat or Claudio, 234-5009
MOTORCYCLES
'94 HARLEY DAVIDSON, blk, 44K mi, very gd cond, many extras, $13,000, Fred, X4352, 524-4138
HOUSING
ALBANY, beautiful, elegant 2 bdrm/2 bth, 2 fireplaces, jacuzzi, central heat, hardwd flrs, w&d, 1 car garage, exc schools, near library & pub trans, avail after 4/22, $2,300/mo + $1,000 dep, Jianmin, 243-1832 eve, (415) 396-3494 day
ALBANY, elegant furn 2 bdrm/2 bth condo, 1200 sq ft, light, quiet, modern kitchen, dw, w&d, exercise rm, pool, bus to Albany schools across the street, easy access to pub park, freeway, Marin & Solano Ave, by wk/mo, Geoffrey, 848-1830
BERKELEY, Claremont/ Elmwood resid area, apt avail 5/15, furn, util, spacious, garden view, use of patio, quiet, no smoking/ pets, convenient to Lab, pub trans, shops, 1 person only, Xavier, X4041, Winnie, 848-4487, winmcl@ aol.com
BERKELEY, comfortable furn bdrm in lge flat overlooking garden, great location near hills/Claremont Hotel/cafes/restaurants, 3 mi from Lab, full access to kitchen/bth, $700/mo incl util, ideal for short term visiting scholar, cable computer access, friendly canine flatmate, Ros, 548-4202, ros.davidson@ attbi.com
BERKELEY, furn rooms in 6 bdrm/2 bth 'House of Scholars', info/images at website, housintscholar. home.mindspring.com, $670-790/mo, Anushka, 486-8153, housintscholar@mindspring.com
EL SOBRANTE, 2 bdrms avail in 3 bdrm house, must like pets (owner has Border Collie mix), common kitchen, 1 bth & liv rm, patio, shared w&d, no smoking, quiet house, avail now, $500/mo + 1/3 util, $500 dep/bdrm, Karen, X4384, KSEdwards@lbl.gov
NORTH BERKELEY HILLS, 10 min walk to Lab, furn room, own ba + use of kitchen in shared house, avail 4/20-9/30 to Lab visiting scientist, vgo@pacbell.net
OAKLAND 3 bdrm house avail 5/1-8/30, lge garden, great for kids, 1 block from bus to BART, $1,800/mo, Arthur, X2289, aljones@ lbl.gov
ORINDA, avail now: renov 1 bdrm apt in duplex, ~450 sq ft, quiet & friendly neighborhood, spacious beautiful garden w/ orange trees, offstreet parking, 15 min drive to Lab, BART & shopping, mo-to-mo or lease neg, $1,100 + 1/3 of util (~$20-50/mo), no indoor smoking or pets, pics at photos.yahoo.com/orinda_apt, Klaus, X2232, Ingrid, (925) 254-0539 (9-5)
SAN LEANDRO, big, 3 bdrms for 2 people, priv bth, off str parking, storage, w&d, dw, fireplce, patio, plants, lots of room, walking dist to shops, recreation, freeways (880/580) & BART, quiet/safe neighborhood, 1 person needed to share this space, avail 5/1, $850/mo + first & last, util split 50/50, Shelley, X6123, Holden, 614-8535
HOUSING WANTED
VISITING PROFESSOR seeks 2 bdrm house/cottage/apt, 8/1-10/12, Mary, X5853, Mkihanya@ lbl.gov
VISITING RESEARCHER & family from Germany seek 3 bdrm house in Berkeley or nearby, mid-Aug-Dec, non-smokers, Bernhard, bernhard.herz@ uni-bayreuth.de, Stefan, X5205, 666-8330
YOUNG COUPLE from Switzerland seeks furn apt from 8/8-9/4, sublet ok, kkberneis@lbl.gov, X6605
MISC FOR SALE
2 CENTURY CHILD CAR SEATS, 20-40 lbs, ages 1-4, $50; Kettler child tricycles, ages 2 1/2 - 4, $50, all in exc shape, Joe, X7082
COMPUTER, Mac G3 Minitower, 224 MB, 6G, 56K modem, 17" monitor, 24x cd, zip, virtual PC w/ Win 95, ext keybrd, trackball/mouse, $400/bo; dryer, Kenmore lge cap, gas, 9 mo old, Steve, 548-9925 after 4
CRIB, Jenny Lind style, natural hardwood, w/ mattress, like new, $75, Dan or Judy, 245-9038
ERGONOMIC kneeling chair, $30, Brett, X4886
FREEZER, 16.1 cu ft upright, white, Wards HMG 4538-0, $75, Ron, X4410, 276-8079
FREEZER, Tappan 18 cu, frost free, white, 4 yrs old, $100; bookshelf, brn, $15; shower head, $5; util table, lge, $20; square table, wht, $10; cabinet, wht, $20; all in good cond, price neg, Hanjing, X2468, 528-2649
GARAGE SALE: 946 Country Run Drive, Martinez; antique oak drop leaf table w/ matching stray seat chairs, oak 2 drawer file cabinet, lge pine book shelves, books, clothes, etc, Sat, 4/20, 9 a.m.-3 p.m.
GIRLS' BIKES, 2 full size vintage (50-60's), 3 spd: 1 Raleigh dk grn, 1 Schwinn grn, all orig parts, good working cond, $65/ea, Conway, 528-8553
HOME ENTERT CABINET, solid oak, 60Wx73Hx16D, 36Wx29H opening for TV, 4 glass drs, 2 wood drs, shelves for VCR, $250/bo, Haiping, (925) 938-1366
MOVING WARDROBE BOXES, 7, used once, take all for $7 ea, John, X5523, 614-7696
MUST SELL: 23" Panasonic TV, $100; oak entert center 6x4 ft, rm for tv, stereo, videos, $100; desk, $20; pine book shelf, $20; water filter syst, $100; solid oak din table, 2 leaves, 6' hutch w/ 2 glass drs & storage, server, $1,000; Medella briefcase-type breast pump, $100, Shelley, X6123, Holly, (925) 945-0524
SHOEI RF-700 Helmet, brand new, white, men's med, $145, Philip, X7307, 558-8856
TABLE incl 2 leaves & 4 chairs, formica wood look c. 70's, $25; liv rm set w/ 2 end tables, coffee table, occasional table, wood/marble insets, $75/set or $20/ ea, Tom, X8648, 547-5445
VACATION
CHRISTMAS in the Bavarian Alps, tour w/Cell Block 7 Dixieland Jazz Band, 13 nights in town of Grassau at the foot of the Alps, 12/5-12/19, $3,895/person double occup, Tom, X5487
FREE
CAT: quiet, loving home wanted for affectionate cat (Calico/F/4 years old), who can no longer cope with our multi-critter household, Marilee, X4145

Flea Market Policy
Ads are accepted only from LBNL employees, retirees, and onsite DOE personnel. Only items of your own personal property may be offered for sale. Submissions must be in writing and include name, affiliation, work and home phone number. Email to fleamarket@lbl.gov or fax toX6641. Ads run one week only unless resubmitted, and are repeated only as space permits. The deadline for the May 3 issue is Thursday, April 25.